Fort Worth, known as the "City of Cowboys and Culture," has a vibrant food scene that reflects its Western heritage and diverse population. From barbecue and Tex-Mex to fine dining and craft cocktails, there's no shortage of delicious options to choose from. But if you're looking to step back in time and savor a taste of history, the city's oldest restaurants are a must-visit. Some of these dining establishments have survived economic downturns, wars, and changing preferences and have become beloved landmarks in the community.
Many of them have also hosted famous guests over the years, including politicians, celebrities, and even notorious outlaws. In this blog post, we'll take a closer look at the oldest restaurants in Fort Worth, their unique histories, and what makes them special. We'll also highlight some of their signature dishes so that you can plan your culinary adventure accordingly. So put on your boots and get ready to explore the delicious part of Fort Worth's dining scene!
13. The Smoke Pit
Founded: 1953
Location: 2401 E. Belknap St., Fort Worth
Years in Service: 70 years
Status: thesmokepitcatering.com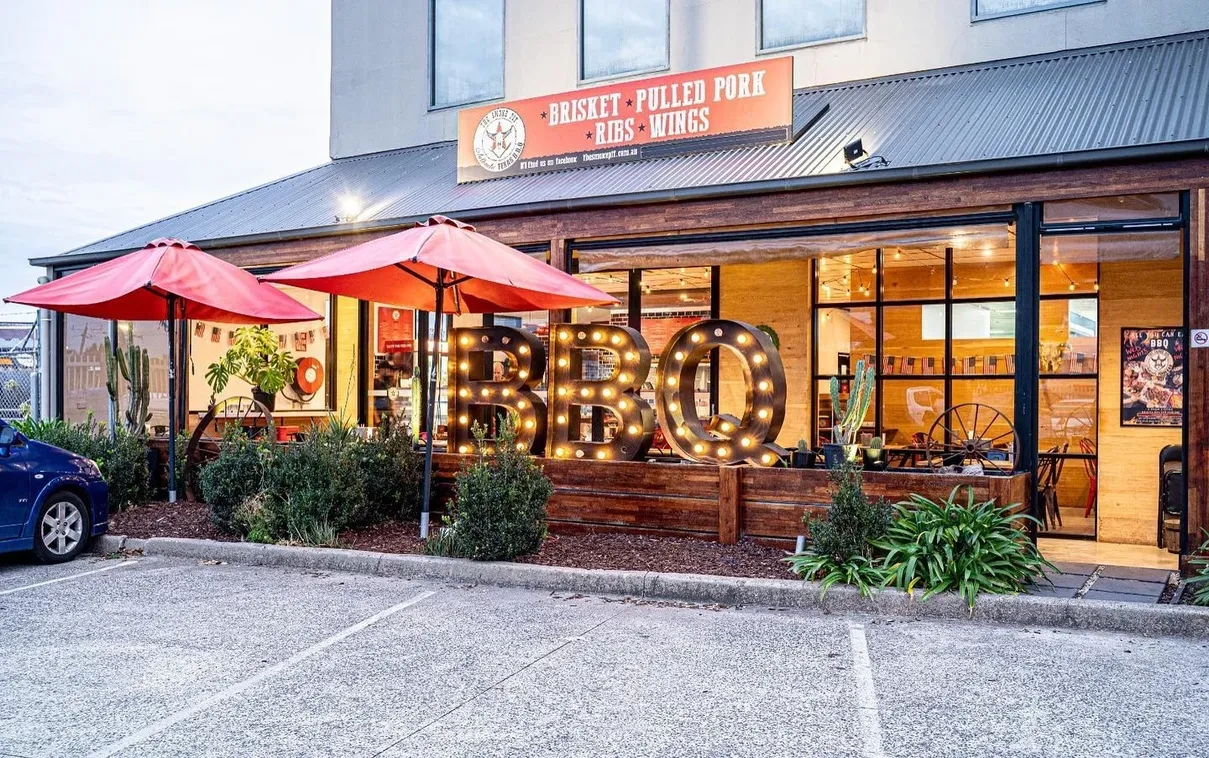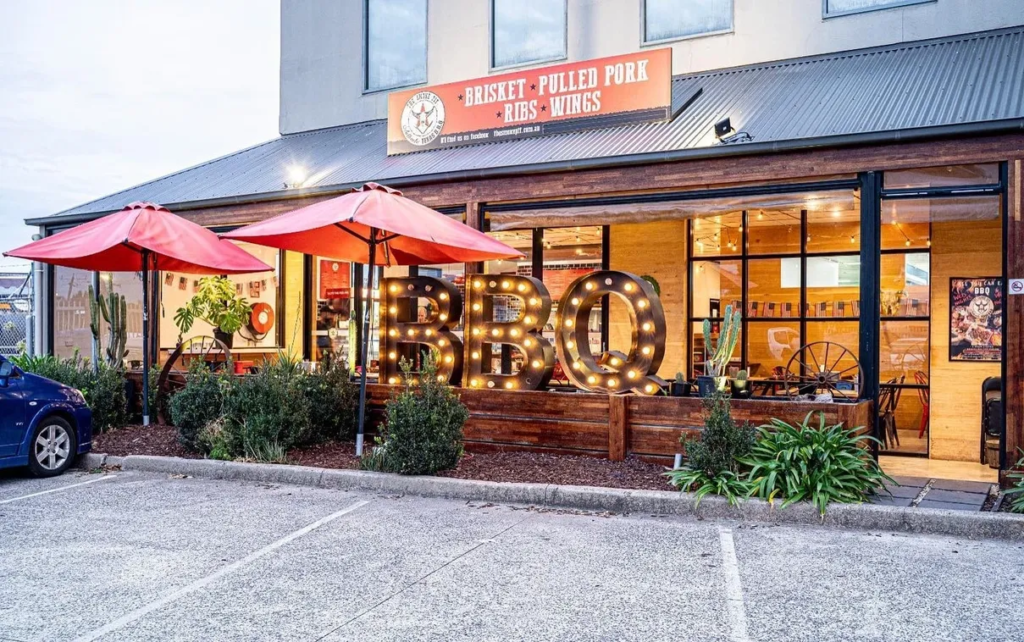 photo source: thesmokepit.com.au
After Betty Mullins acquired the Smoke Pit in 1967 from a close relative, the windowless Trinity Riverside shack started developing a reputation for both its "scenery" and "cue," as well as both. Mullins managed to run the diner with her five lovely daughters, and customers ranged from blue-collar employees to police officers and legislators.
In a laid-back, diverse setting, this typical barbecue business provides a sizable assortment of smoky meat, comprising beef, sausage, ribs, turkey, ham, and bologna, offered by the pound. Mullins passed in 1993, and the Smoke Pit's current owners still cater to a largely male crowd, banking on cold beer, barbecue, and buxom waitresses. The restaurant permanently closed last 2018.
Did You Know?
Sammie's Bar-B-Q, which serves the largest smoked pork chop and the least expensive, coolest beer in town, serves up remnants of the Smoke Pit.
---
12. Margie's Original Italian Kitchen
Founded: 1953
Location: 9805 Camp Bowie W. Blvd., Fort Worth
Years in Service: 70 years
Status: margiesitaliankitchen.com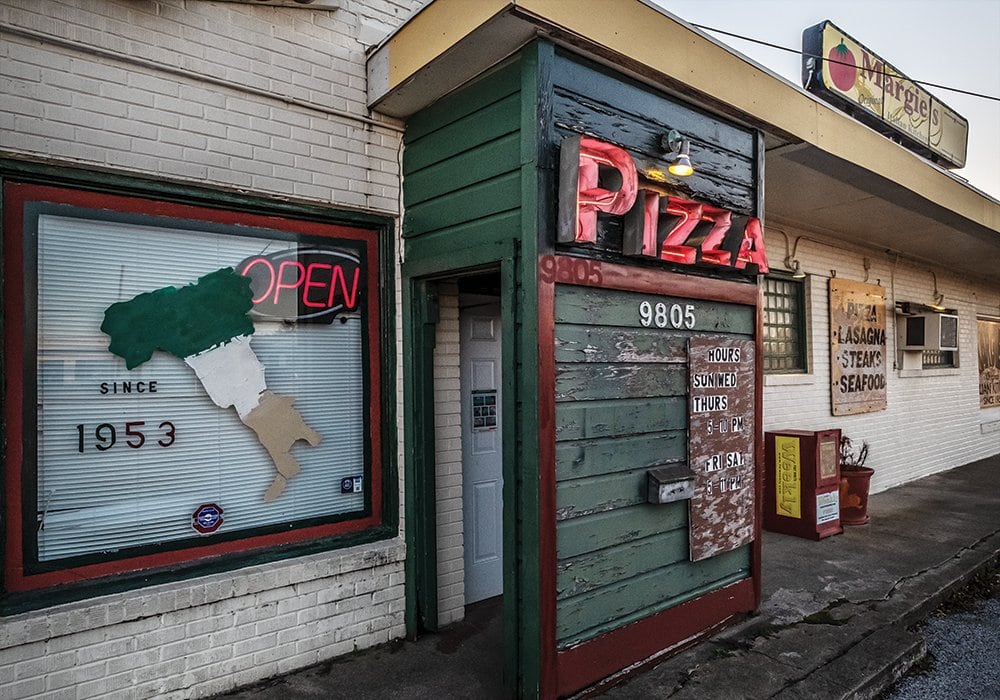 photo source: fortworthmagazine.com
In a desolate section of the U.S., a little Italian restaurant has struggled for survival for almost 70 years. The oldest Italian restaurant in Fort Worth, Margie's, is only open for supper Wednesday through Sunday and advertises "indoor plumbing and air conditioning" on its front. Margie Walters, a native of Florence, Italy, moved to Fort Worth in 1951 and founded the restaurant there alongside her mother and brother.
She passed away in 1991, and now Keith Kidwell, owner of M&M Steakhouse, who also co-founded Fuzzy's Taco Shop also with the late Paul Willis, owns the pasta and pizza restaurant, which is located further along Camp Bowie West. Margie no longer exists, but her legacy of providing high-quality meals continues.
Did You Know?
Most of their meals are freshly prepared every day using only the greatest ingredients, thanks to Margie's tenacity in figuring out the best method to make her meals.
---
11. George's Specialty Foods
Founded: 1951
Location: 4424 White Settlement Road, Fort Worth
Years in Service: 72 years
Status: Unspecified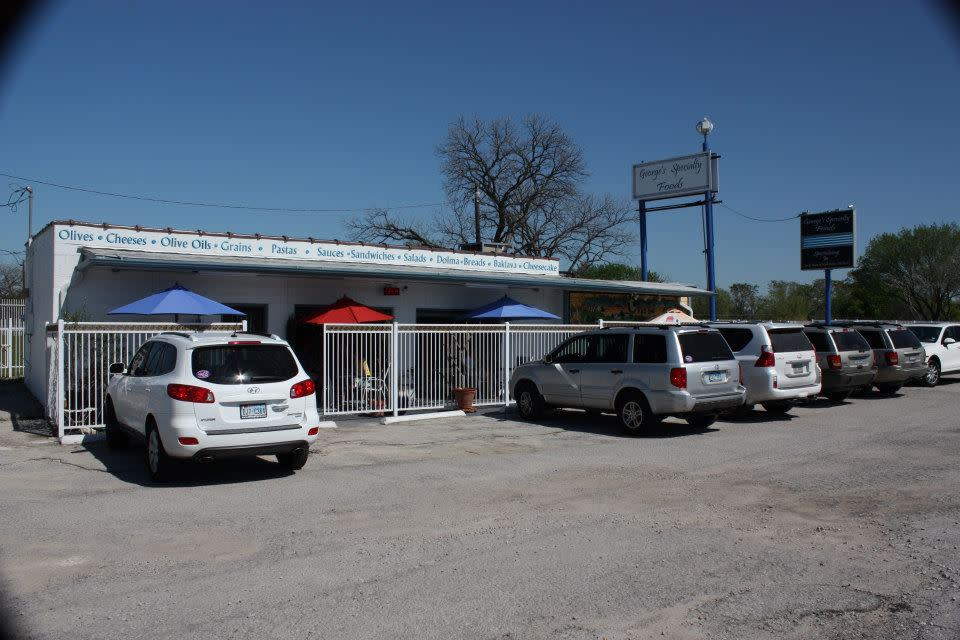 photo source: simpleviewinc.com
The Greek restaurant George Phiripes is still operating in the exact same spot near the Trinity River that he originally launched more than 60 years ago, and not much has shifted in terms of the ambiance or nearby innovation. His son Nick now owns the establishment, which is a hybrid of a restaurant and mini-market selling items from the Mediterranean region, like jarred olives, olive oils, feta cheese, and phyllo dough.
Just serving food during the day, the little café is well-known for its Greek salads and gyro sandwiches, both of which are served with pita bread as well as a dill dipping sauce on the side. The Greek Turkey sandwich made the shop popular and is still well-known today, along with new products.
Did You Know?
George's Specialty Foods was originally called George's Cash and Carry.
---
10. Cattlemen's Steak House
Founded: 1947
Location: 2458 N. Main St., Fort Worth
Years in Service: 76 years
Status: cattlemenssteakhouse.com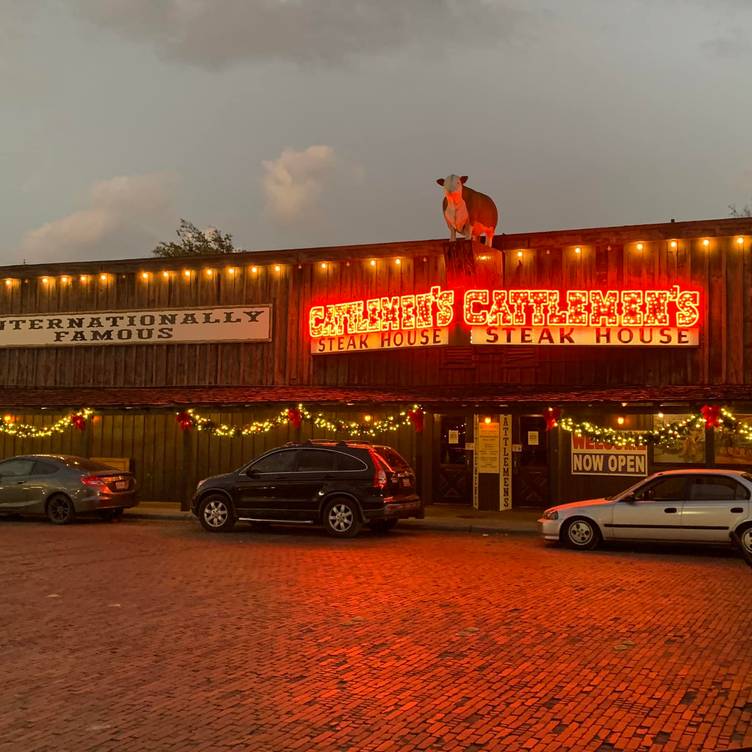 photo source: opentable.com
Jesse and Mozelle Roach first launched Cattlemen's Steakhouse in 1947, and it has been a Stockyards landmark for more than 75 years. Dining room walls honor the beef-producing stock cattle business and showcase stunning murals of the old Stockyards, strictly adhering to their heritage. You may choose from a selection of dishes that include top-notch beef that has been cooked in the dining room.
Jessie Roach, the company's founder, opted to leave his insurance job in favor of a career in the restaurant industry after securing prime investment property in the busy Fort Worth Stockyards. The Farmer's Daughter and other Cattlemen's sites were owned by Roach until his death in 1988, but only the Stockyards original is still open.
Did You Know?
Before ultimately transitioning into a top steakhouse, Cattlemen's began as a café, adding barbeque, and then became a prime steakhouse.
---
9. Kincaid's
Founded: 1946
Location: 2458 N. Main St., Fort Worth
Years in Service: 77 years
Status: kincaidshamburgers.com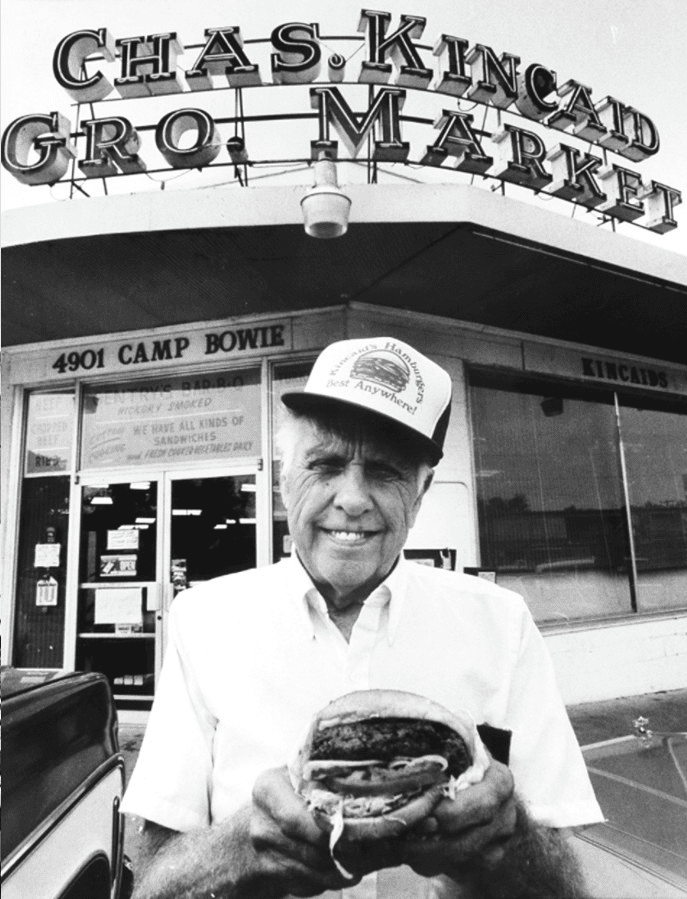 photo source: kincaidshamburgers.com
The problematic part about this is that although Charles Kincaid opened his supermarket and butcher shop in 1946, burgers weren't actually offered until 1964. In 1967, the grocer-turned-hamburger grill was bought by Gentry, Kincaid's regular butcher. The demand for Kincaid's award-winning burgers increased quickly.
In order to share their affection for Kincaid's burgers with other communities, the Gentry family launched a second store in Southlake, Texas, in 2005. Today there are six sites, along with the original on Camp Bowie Boulevard, serving them. The family takes care in preparing their meals with only the best, and most recent ingredients, exactly like O.R. did.
Did You Know?
In 1982, Kincaid's earned the first of several honors for "Best Burger in America," as demand for the hamburgers proceeded to soar.
---
8. Sammie's Bar-B-Q
Founded: 1946
Location: 3801 E. Belknap St., Fort Worth
Years in Service: 77 years
Status: sammiesbarbque.com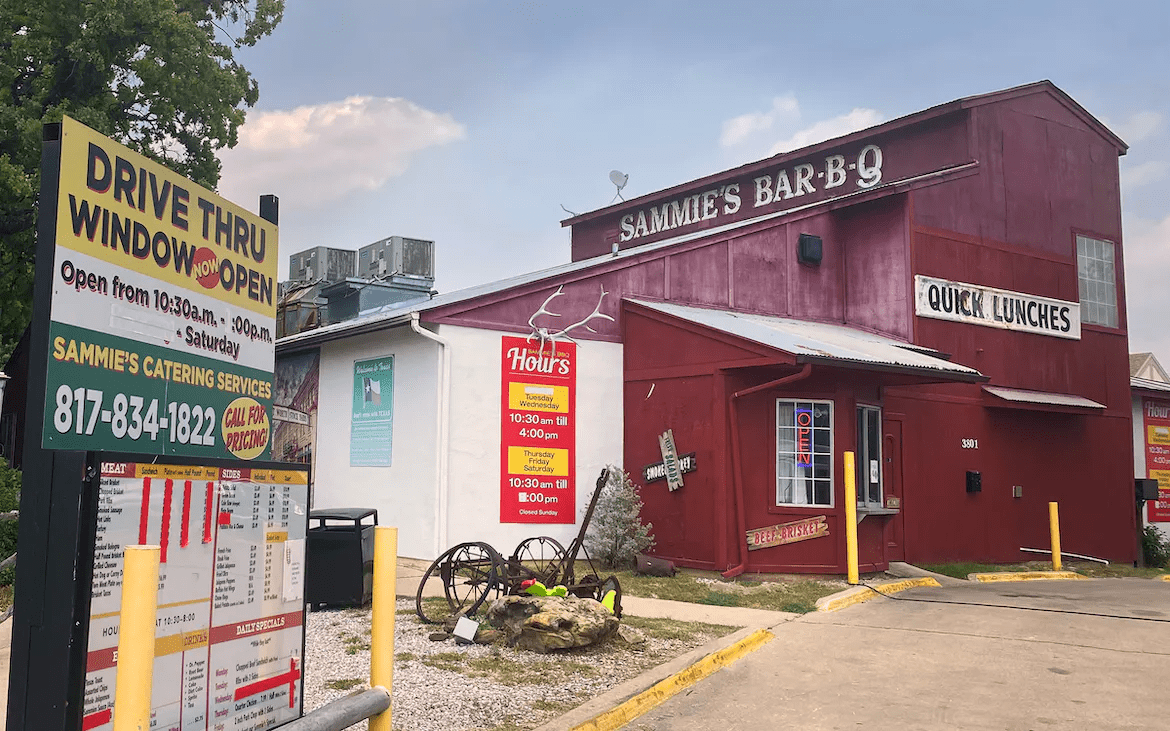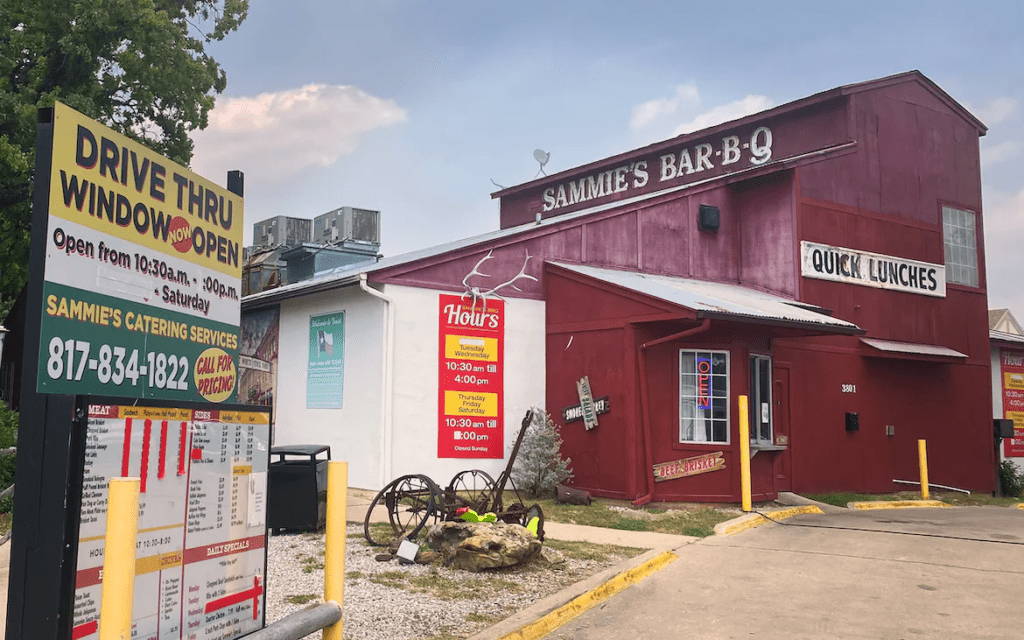 photo source: texasmonthly.com
On Belknap Street, within the parking lot of the current building, Sammie Norwood began his barbecue restaurant. The restaurant used to provide curbside service in its early years. The restaurant's ownership has changed a few times, but presently Bobby Platt, whose father bought Sammie's in 1973, is in charge and maintains the original cooking techniques and recipes.
Spice-rubbed meats are smoked over oak wood that has been aged for a year, and the bbq sauce still seems to be runny and acidic. This wonderful delicacy is topped with Sammy's thick and meaty barbecue sauce, which has been stored in warm water to maintain it at the ideal temperature. Be aware that catfish is available for all-you-can-eat on Friday and Saturday.
Did You Know?
On East Belknap Street, Sammie's Bar-B-Q remains a "can't miss stop" for more than 70 years.
---
7. Mexican Inn Cafe
Founded: 1936
Location: 5017 S Hulen St, Fort Worth
Years in Service: 87 years
Status: mexicaninncafe.com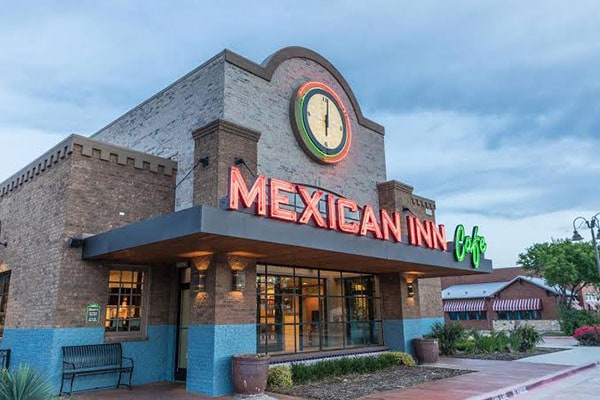 photo source: mexicaninn.com
The Mexican Inn, which serves Tex-Mex cuisine on the first floor and offers a casino on the second, was founded by professional gambler Tiffin Hall near the intersection of 5th and Commerce Streets in downtown Fort Worth. Until Hall established his empire and added other locations, the money from the table games was what kept the restaurant solvent. The restaurant was eventually acquired by the same company that also runs Spring Creek Barbeque and Shady Oak Barbeque & Grill after the kingpin passed away in 1973.
Tiffin insisted on polite service and freshly prepared meals from the start. The soft, hot, and flavourful corn tortilla and the irresistible crispy fried corn snacks that have undoubtedly contributed to the restaurant's popularity over the years are made from ground masa. During the 1940s, Tiffin's enterprises were both thriving, and his notoriety grew.
Did You Know?
Although the staff at the Mexican Inn remember him as being quite courteous to them, he was known in Fort Worth as the "Kingpin of Gambling" and was frequently in legal trouble.
---
6. Joe T. Garcia's
Founded: 1935
Location: 2201 N. Commerce St., Fort Worth
Years in Service: 88 years
Status: joets.com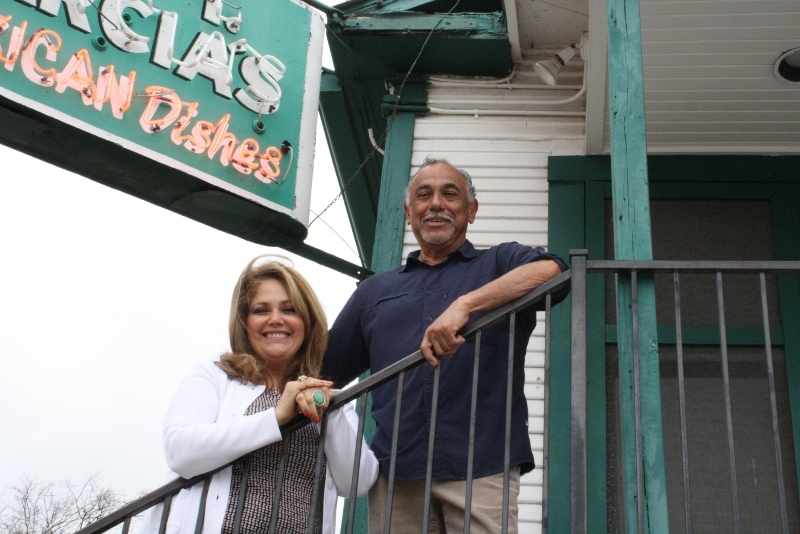 photo source: foodwaystexas.org
When the restaurant is packed, Joe T. Garcia's accommodates about 2,000 people instead of the 16 people it could sit when it first debuted as Joe's Bar-B-Q. When Jessie and Joe T. Garcia originally opened their little grocery shop there, locals from the neighboring meatpacking plants would come to lunchmeats and sandwich fixings.
Although Joe's BBQ was prepared over a charcoal fire, the enchilada and taco platters were what ultimately attracted large audiences, including celebrities like Jimmy Stewart and John Wayne. It wasn't until 1970 that work on the fabled patio, which housed the swimming pool Garcia's grandkids grew up in, began.
Did You Know?
Hope, his youngest daughter, and his wife assumed leadership after Joe's untimely passing in 1953.
---
5. Arlington Steak House
Founded: 1931
Location: 1724 W. Division St., Arlington
Years in Service: 92 years
Status: thearlingtonsteakhouse.com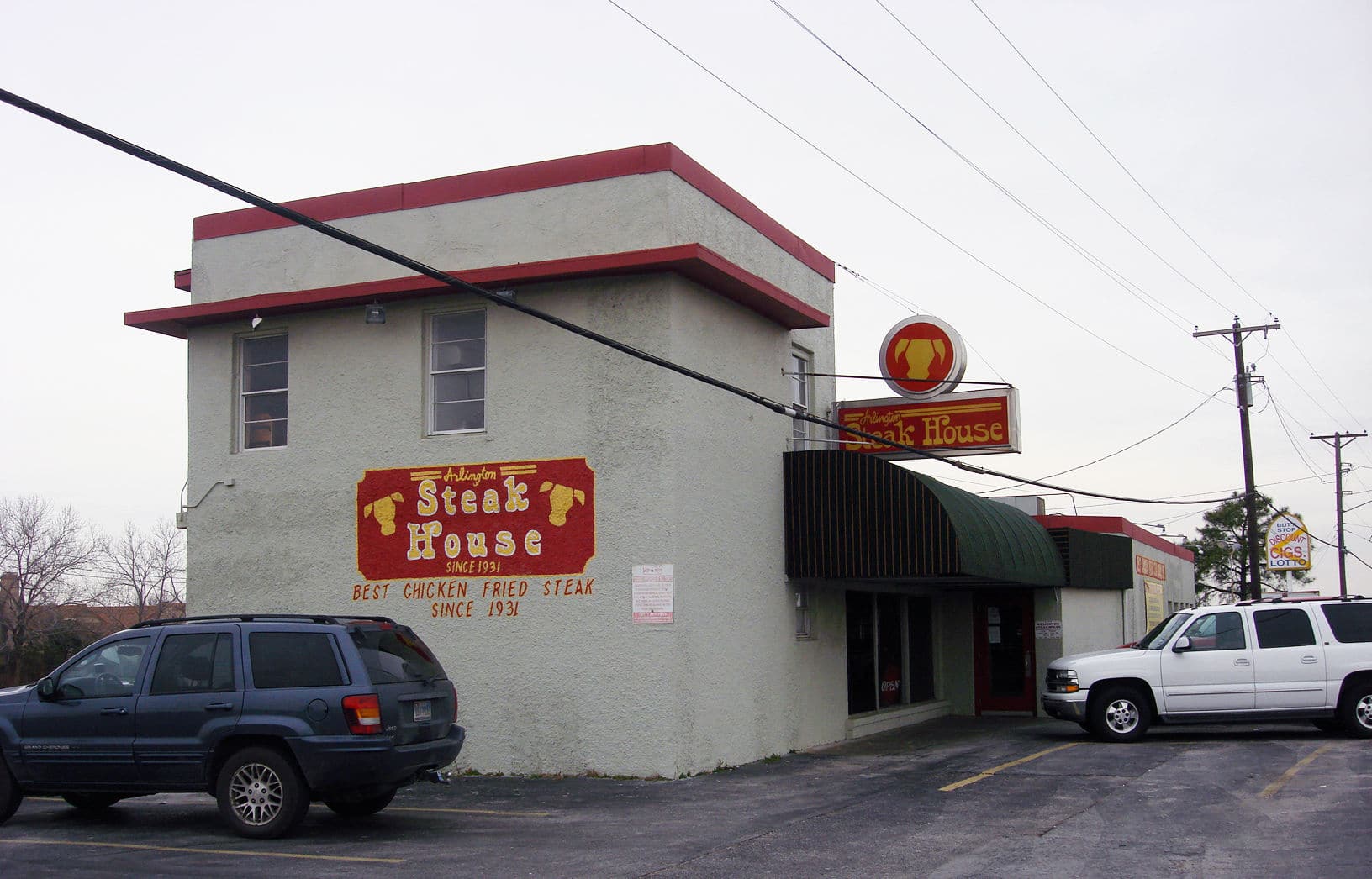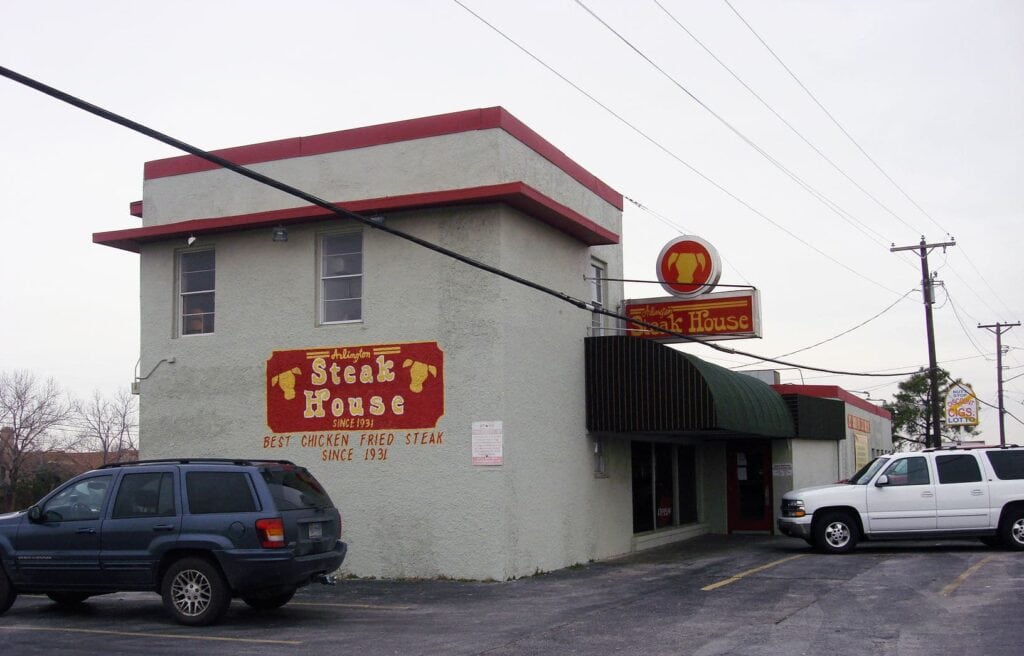 photo source: fortworthbusiness.com
The Arlington Steak House does indeed have a long history that dates back to the time it was known as the Triangle Inn and was a popular pit stop for gamblers going to the adjacent Top O' Hill Terrace casino, which has since become Arlington Baptist College. Arlington designated the steak restaurant as a historical landmark due to it being the city's oldest continuously operating business.
The Arlington Historic Preservation Commission awarded the steakhouse a historical marker in 2013 in recognition of its handmade "hot rolls" as well as chicken fried steak, both of which have been available since 1931. The chicken fried steak platter costs less than $9 and includes two sizable chicken fried steaks, as well as two sides and a drink.
Did You Know?
The structure was formerly a portion of a bygone railroad station that passed through Arlington.
---
4. Bailey's Barbecue
Founded: 1931
Location: 826 Taylor St., Fort Worth
Years in Service: 92 years
Status: https://baileysbbq.vercel.app/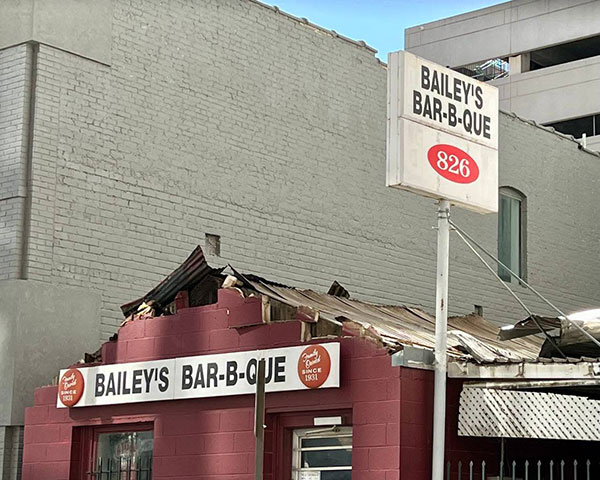 photo source: fortworthmenu.com
Bailey's Barbecue, although modest, has been an iconic Fort Worth landmark for many years. Before opening his eponymous barbecue joint within the exact tiny red masonry structure it occupies today, J.T. Bailey served as a Navy cook. Brenda Phifer, his grandniece, is now in charge of the lunch-only establishment, and she is aware that her clients—mostly city employees — enter and out quickly.
On soft buns, the unseasoned, oak-smoked meat is presented sliced or diced before being placed in brown paper bags. In addition to the regular special, which always includes chips and a beverage, other options include smoked sausage, smoked turkey, and pulled pork. It's worth trying pulled pork, it is offered only one way, and that way is spicy.
Did You Know?
Remarkably delicious Texas barbecue is served at Bailey's Barbeque hot, quickly, and in a trademark brown bag.
---
3. Carshon's Deli
Founded: 1928
Location: 3133 Cleburne Rd, Fort Worth
Years in Service: 95 years
Status: carshonsdeli.com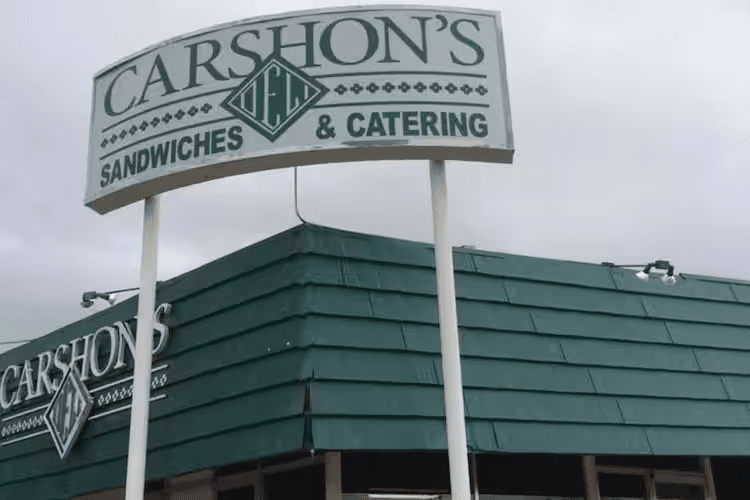 photo source: zomato.com
The Carshon's deli, which was founded by Jewish immigrant David Carshon in downtown Fort Worth in collaboration with Morris Chicotsky's Houston Street butchers shop, has moved around a few times but remains the city's sole kosher deli. Polish sausage, smoked fish, split peas, and matzo ball soups, as well as the strawberry delight pie with sweet crumble coating, are also well-liked and distinctive menu items.
Carshon's relocated to W. Berry Street close to TCU and stayed there during the 1950s and 1960s, it has been here since the early 1970s. From its inception in 1928, Carshon's has likewise been a family-run business. The shop sells delicious sweets, and deli items, including sandwiches and side dishes made in the New York manner.
---
2. Riscky's
Founded: 1927
Location: 140 E Exchange Ave #101, Fort Worth
Years in Service: 96 years
Status: risckys.com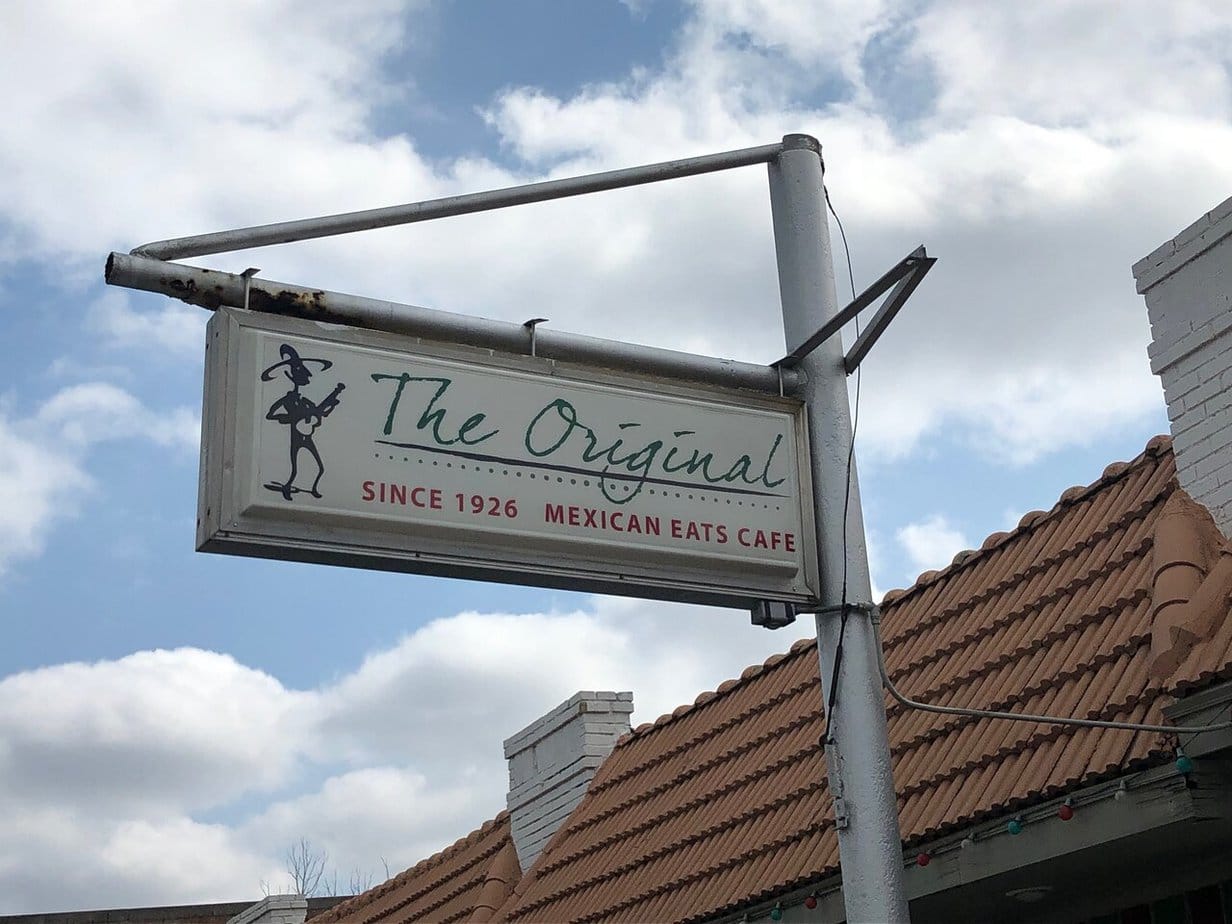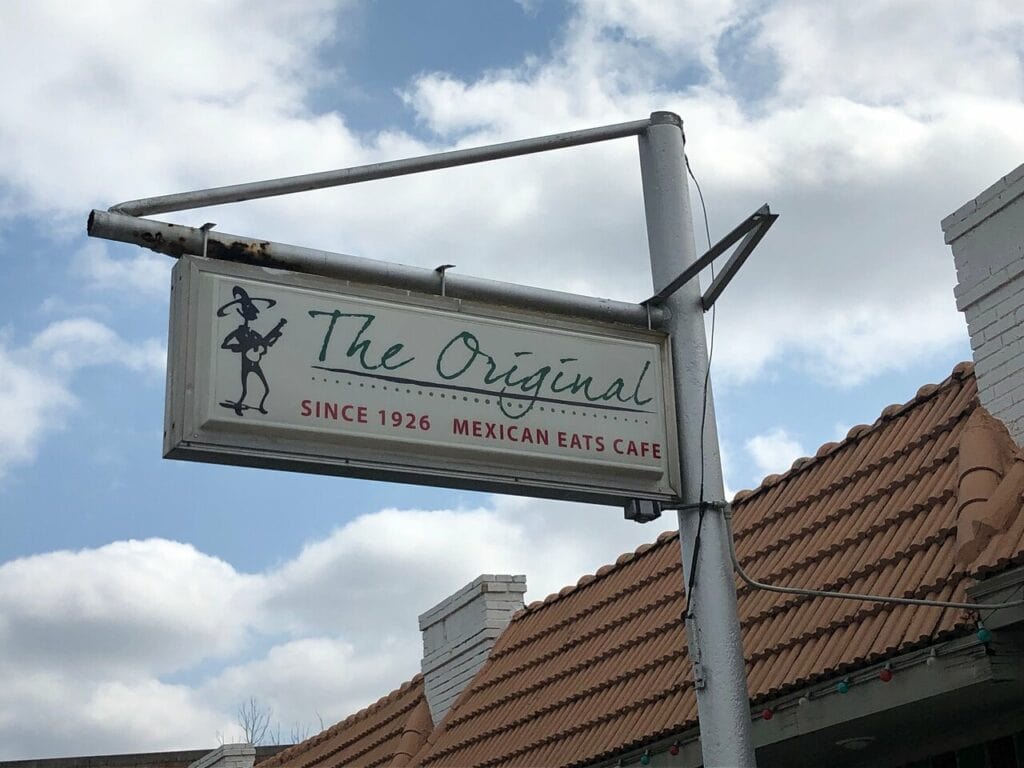 photo source: tripadvisor.com
After four generations of the same ownership, Riscky's historic Azle Avenue store is still operational and continues to provide BBQ lunch specials. Riscky's Grocery & Market was founded by Polish immigrants Mary and Joe Riscky. At the previous Theo's Saddle Sirloin Inn in Stockyards, there are currently six barbecue joints, a burger restaurant, and a steakhouse.
Calf fries were first served to Fort Worth diners at the saloon and inn, which was constructed in the 1920s. In 1993, the Riscky family claimed control, and the fries remained on the menu. Since it first opened more than 90 years ago, Riscky's BBQ has been catering to the best ribs, chicken, BBQ sandwiches, and other delectable dishes.
Did You Know?
Riscky's famous barbecue is hand-rubbed with "Riscky Dust" and slow-smoked for several hours.
---
1. The Original Mexican Eats Cafe
Founded: 1926
Location: 4713 Camp Bowie Blvd., Fort Worth
Years in Service: 97 years
Status: originalmexicaneatscafe.com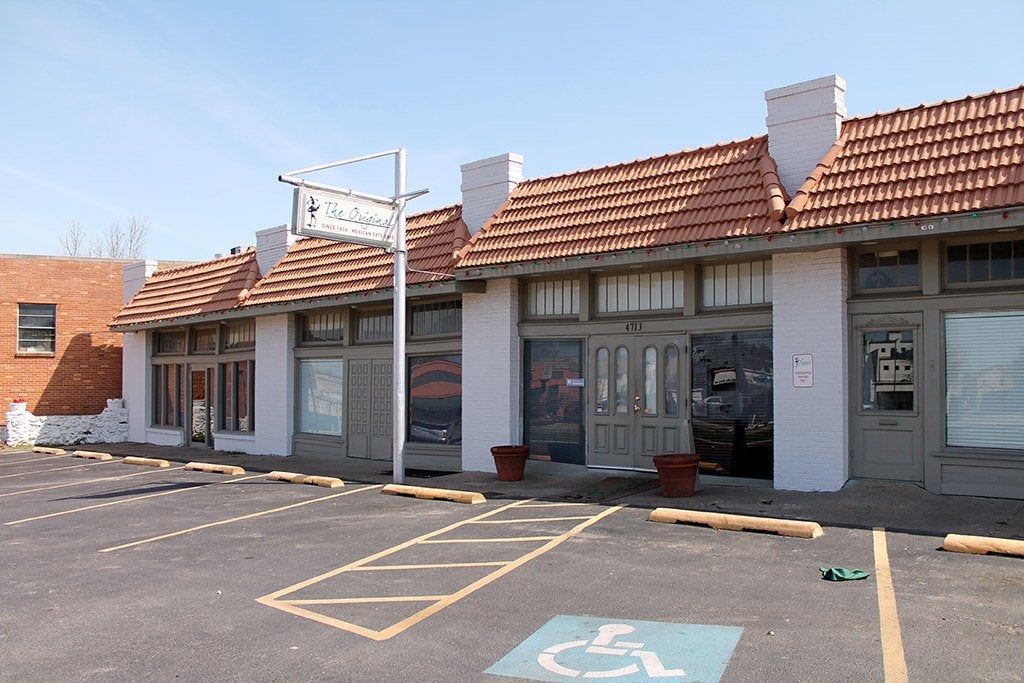 photo source: fwtx.com
The Original Mexican Eats Cafe, which was first established by the Pineda family, is now entirely operated by Robert Self, who installed patio dining that is partially covered in 2013. Despite the fact that everything in this place seems to be slathered in cheese sauce or chile con carne, people continue to flock here for the no-frills Tex-Mex and excellent margaritas.
It's not uncommon for celebrities to come by to enjoy the fantastic Mexican cuisine and ambiance. With generations of patrons, The Original is Fort Worth's oldest restaurant. Here, countless first dinners, first dates, proposals, and celebrations have occurred. To create the greatest Tex-Mex possible, The Original only employs the finest, highest quality ingredients.
Did You Know?
A menu dish was named after President Franklin D. Roosevelt since he frequented this restaurant on his trips to Fort Worth.
---
OTHER POSTS YOU MAY BE INTERESTED IN