Breweries in Texas have been around for centuries, originally built by European immigrants to give themselves a taste of home. While many private breweries existed mostly off the record in the late 1800s, the larger establishments remain well-known artifacts of Texan history.
Not all these breweries still exist, but they are staples in their hometowns, whose recipes are often repeated and still enjoyed. Here are the 8 oldest breweries in Texas.
8. Spoetzl Brewery
City: Shiner
Founded: 1909
Founder: Herman Weiss (brewmaster)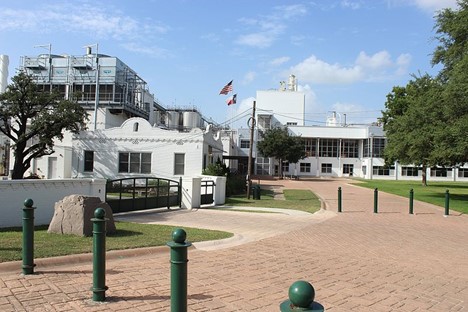 photo source: Wikimedia Commons
Spoetzl Brewery is the oldest independent brewery in Texas and one of the oldest in the country. It is now owned and operated by the Gambrinus Company out of San Antonio (they also own Trumer Brewery). Its Shiner Bock is a famous dark lager that you can get across the country, named for the town in which it was founded in 1909.
Spoetzl was opened as The Shiner Brewing Association by Czech and German immigrants in Shiner, Texas. They resolved to brew the beers they grew up drinking in their home countries. They appointed Herman Weiss as their first brewmaster, which we listed as the founder for lack of the many names of the immigrants who founded the association that began the brewery.
In the Spring, this association would brew Lenten beer, a Bock beer traditional to Bavaria. Spoetzl came into the picture in the 1910s, when he took his family (and his now-famous malted barley Bavarian beer recipe) to Texas.
Did you know?
Of the 13 Texas breweries at the start of Prohibition, only 5 survived, including Spoetzl. They made do by brewing "near beer" and selling ice. After Prohibition ended, they resumed a simpler operation in the area surrounding Shiner.
---
7. Magnolia Brewery
City: Houston
Founded: 1892
Founder: Hugh Hamilton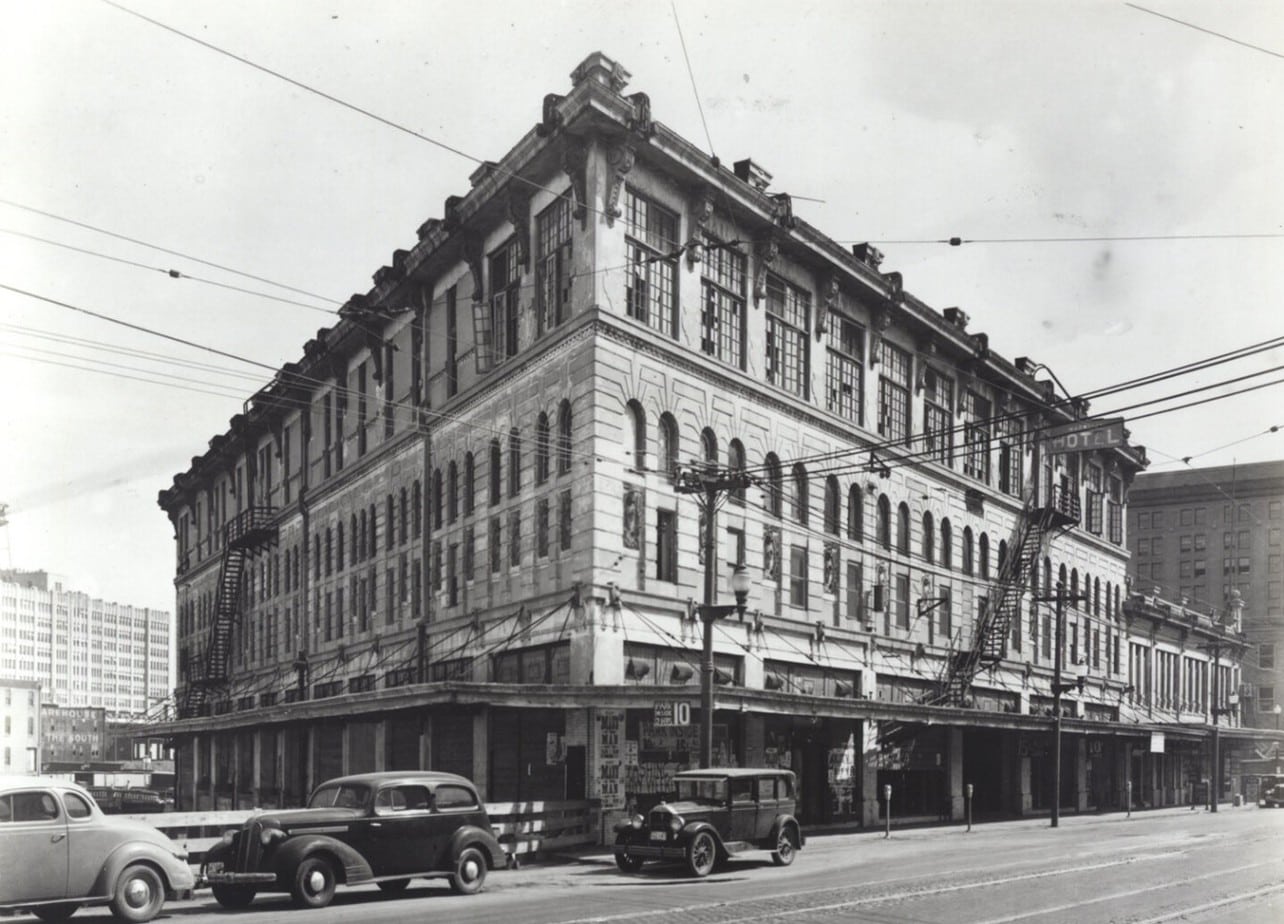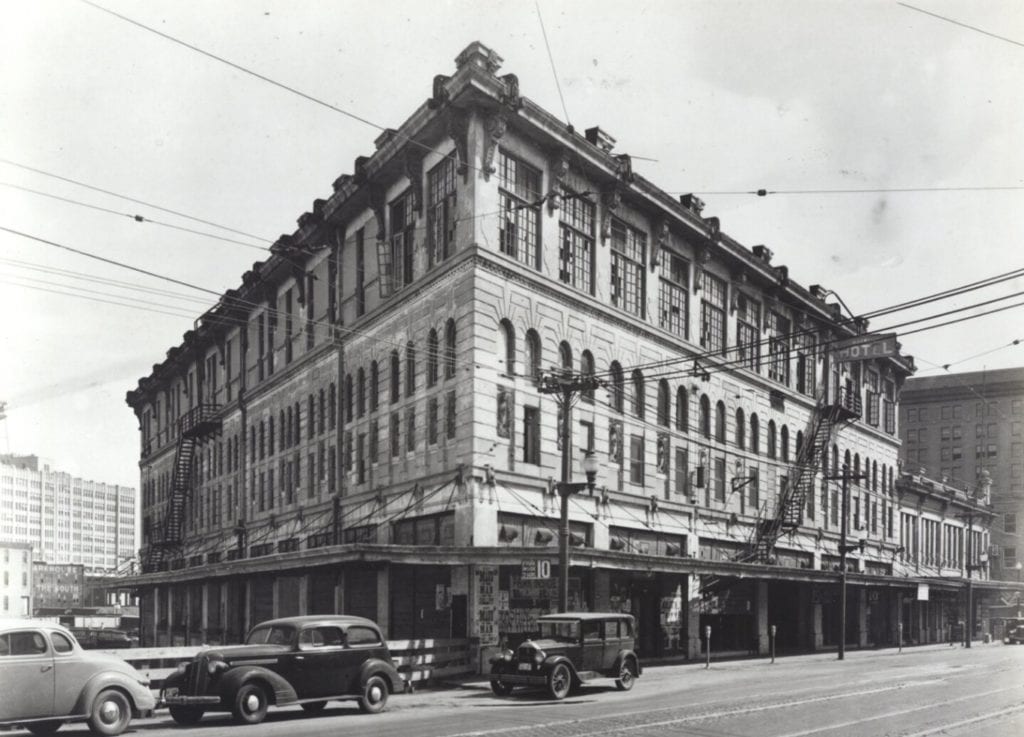 photo source: Heritage Society
The Houston Ice & Brewing Co. no longer exists, but it was founded in 1892 and reached the height of its local popularity around 1913. Its Southern Select beer first made waves at the Belgium World's Fair.
Now known as the Magnolia Ballroom, the building of the Houston Ice & Brewing Co. is a local institution. Their Magnolia Brewery created the Southern Select, as well as Hiawatha and Magnolia beers. After Prohibition, Houston Ice & Brewing did not return to production, but resurrected the Southern Select brand as a distributor, contracting breweries in New York to make it for them.
Did you know?
Unfortunately, distribution costs became so high after Prohibition that Houston Ice & Brewing sold the Southern Select beer brand to the Galveston-Houston Brewery, which continued to deliver it to thirsty Texans until the early 1950s.
---
6. Lone Star Brewery
City: San Antonio
Founded: 1884
Founder: Adolphus Busch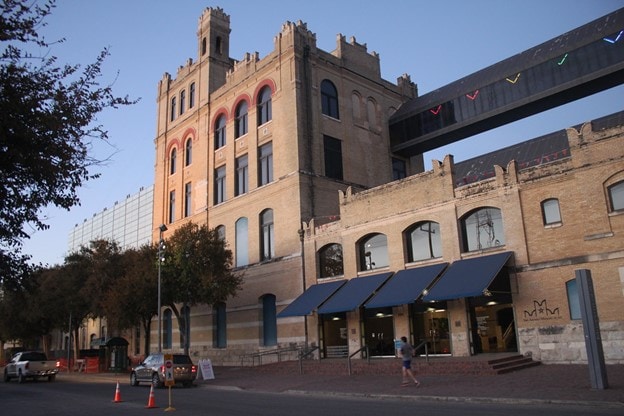 photo source: Flickr
Adolphus Busch, the Busch in Anheuser-Busch, purchased the Alamo Brewing Company of San Antonio in 1884 to form the Lone Star Bottling Works. They became later known as the Lone Star Brewing Company whose eponymous beer is now known as the national beer of the entire state.
It was the first brewery in Texas to be mechanized, which pushed out a lot of local competition (see below). It underwent many names and iterations over the years, including Sabinas Brewing during Prohibition and Champion Brewing Company. It finally settled on Lone Star and began producing the famous beer in 1940. This brand is now owned by the Pabst Brewing Company and produced by contract by Miller Brewing in Fort Worth, Texas.
Did you know?
Lone Star Beer has made many appearances on film and television, including Dallas, True Detective, Urban Cowboy, and The Mentalist. Fans of The Big Bang Theory may recognize it from the bar scene in the third season, or from numerous appearances as George Cooper's (Sheldon's dad) favorite beer in Young Sheldon.
---
5. Pearl Brewing Company
City: San Antonio
Founded: 1883
Founder: J.B. Behloradsky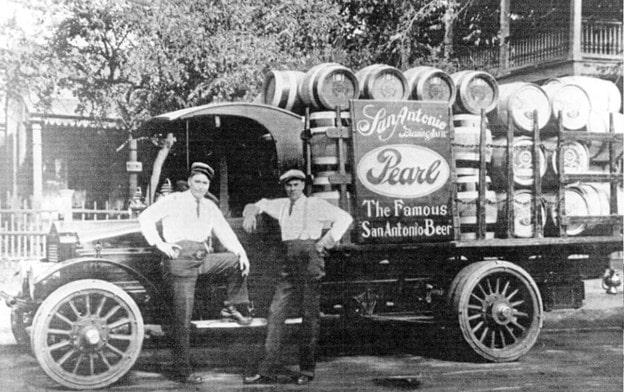 photo source: Pearl
J.B. Behloradsky created the City Brewery in 1883. It was bought by Otto Koehler in 1887 and consolidated with other breweries into the San Antonio Brewing Company, after which it became known as the Pearl Brewing Company. These buildings all have crisscrossing histories, but this entry concerns the specific place where Pearl beer was created.
Pearl beer was brought to San Antonio from Bremen, Germany, originally by the Kaiser-Beck brewery. Their brewmaster was infamous for mentioning that a pure brew of the beer had large, shining bubbles that looked like pearls, or "perlen," hence the beer's name.
Did you know?
As part of the San Antonio Brewing Association, the Pearl Brewing Company contributed to the precipitous growth of beer production in the area. By 1916, the association was putting out 110,000 barrels per year.
---
4. Mayer's Summer Garden
City: Dallas
Founded: 1881
Founder: Unknown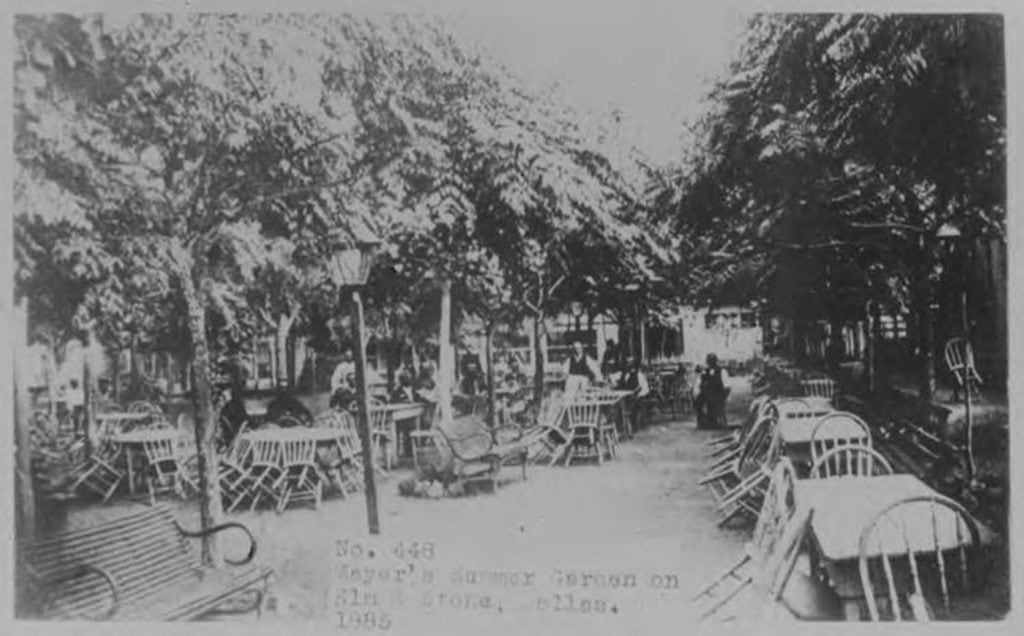 photo source: SMU Libraries
Mayer's Summer Garden was founded in 1881 in two locations on Elm Street in downtown Dallas. It had a hopping nightlife, complete with live music, food, amazing beer, and even a zoo that included exotic animals like peacocks.
Sunday blue laws were enacted in the 1890s that made it more difficult for a place like Mayer's to stay open. Despite the inherent healthiness of drinking outside at a beer garden or "Biergarten," these laws, which forced church attendance, business closures, and temperance, closed the Garden.
Did you know?
Outdoor electric lights were completely unknown to Dallas until they were first installed at Mayer's Summer Garden. This made it even more of an incredible sight in its heyday.
---
3. Degen's Brewery
City: San Antonio
Founded: 1879
Founder: Charles Degen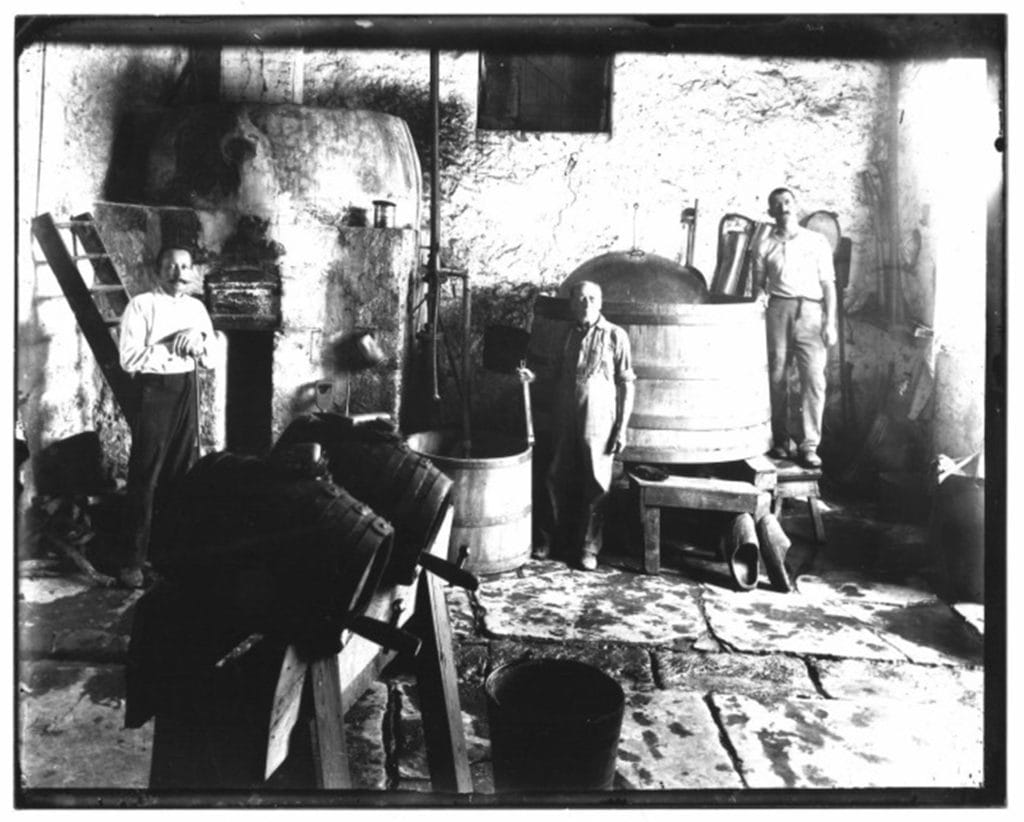 photo source: The Portal to Texas History
Degen's Brewery shares a common history with Menger's Brewery. The hotel mogul William Menger died in 1871 after running a successful brewery out of the Menger Hotel. Degen was Menger's brewmaster, who took over Menger's operations after he died and until the place closed in 1877.
After that, Degen opened his own brewery, where his beer became so widely enjoyed that the United States Health Bulletin named it the purest (and healthiest) beer in the country. "Degen's Famous Beer" was served until his brewery closed in 1911, but the legend persists as many have tried to replicate his famous brew.
Did you know?
Unlike most German immigrants living in Texas, Degen did not brew lager beer. Instead, he brewed a German Altbier, which comes out of Dusseldorf and is known for being top-fermented, dark, and fruitier than a lager. Degen bent the German brewing laws a bit by using Piloncillo sugar out of Mexico to make his recipe, which likely contributed to the beer's deliciousness.
---
2. Kreische Brewery
City: La Grange
Founded: 1855
Founder: Heinrich Ludwig Kreische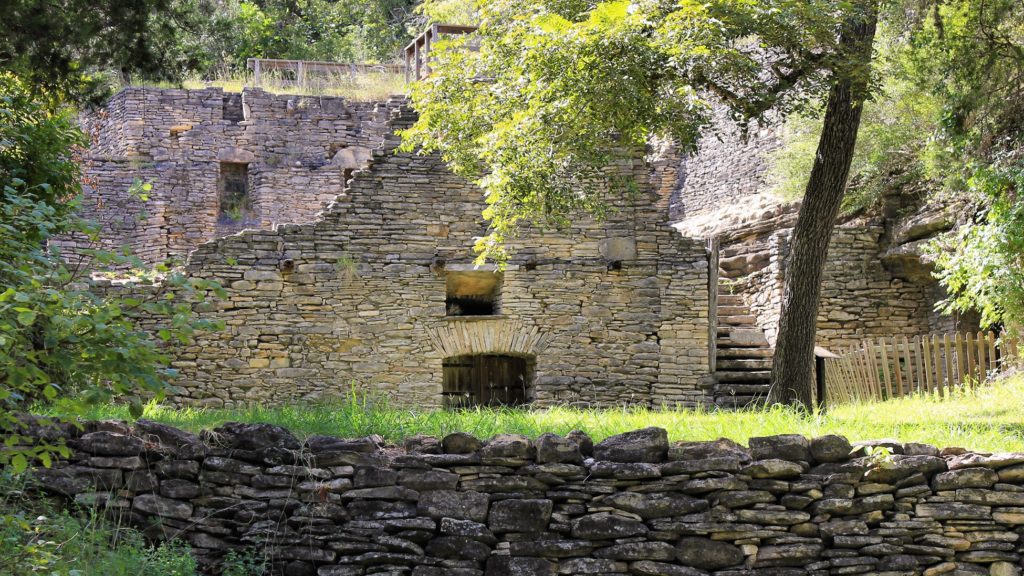 photo source: Wikimedia Commons
Heinrich Ludwig Kreische, a German immigrant, purchased 172 acres in La Grange in the place now known as Monument Hill. As a skilled stonemason, he built his family a three-story home on the land. At the same time, he began utilizing the local spring, routing it to the house for use in his plans for a commercial brewery, one of the first in Texas.
Kreische's Bluff Beer was a mainstay for the Fayette County citizenry in the mid-1800s. When the beer was ready, he raised a banner that said "Frisch Auf" so the town would know to come running (it's German for "Freshen Up"). The ravine that housed his brewery can still be toured today.
Did you know?
Kreische's property included a tomb of fallen soldiers, which he maintained until his tragic death in a wagon accident in 1882. Afterward, the property fell into disarray and the brewery closed in 1884.
---
1. Western Brewery
City: San Antonio
Founded: 1855
Founder: William A. Menger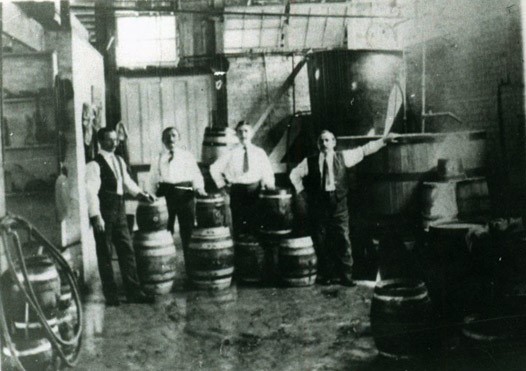 photo source: TSHA
William Achatius Menger was a miller's son and business mogul in the Texas frontier. He built the Menger hotel in San Antonio, which was not only vitally important to the area as elegant housing for civilian travelers and military personnel but was also the largest brewery in Texas for years.
Using his business acumen, Menger set up a revolutionarily efficient supply chain of malt and hops from his suppliers in New York to this hotel in San Antonio. It came via the Indianola port and was then freighted the rest of the way. Menger's Western Brewery bought out its competition and continued to grow.
Did you know?
When the railroads came to San Antonio, Texas in 1877 (6 years after Menger had died), increased tourism and trade meant booming business for the Western Brewery … and opportunities for expansion for everyone else. National beer companies opened divisions in Texas, with huge brands like Anheuser-Busch pushing Western Brewery out of existence. It was shuttered in 1878 and converted into another wing of the hotel.
---
The Takeaway
Texas is now synonymous with a good German lager. This comes from its history with immigrants, who journeyed west to find new lives but found themselves thirsty for the taste of home. These old breweries grew and changed over the years, many closing or consolidating, but what remains is a colorful history of brewmasters, beer drinkers, and the amazing recipes that brought them together.
OTHER POSTS YOU MAY BE INTERESTED IN