Root beer is a sweet, carbonated beverage typically made with sassafras root and other herbs. The drink has been around since the 18th century when European settlers in America first brewed it. It has since become popular throughout the country and is often associated with summer and childhood nostalgia.
The drink is traditionally served cold, but in recent years it has been introduced in various flavors—most commonly chocolate and cream soda.
The beverage is also commonly enjoyed with ice cream or candy. It gained popularity during the 19th century and remains popular. Today, there are hundreds of brands of root beer on the market. But which ones are the oldest? Here's a list of the ten oldest root beer brands worldwide.
10. Bundaberg Root Beer
Year Established: 1960
Founder: Neville and Gladys Fleming
Headquarters: Queensland, Australia
Present Owner: Fleming Family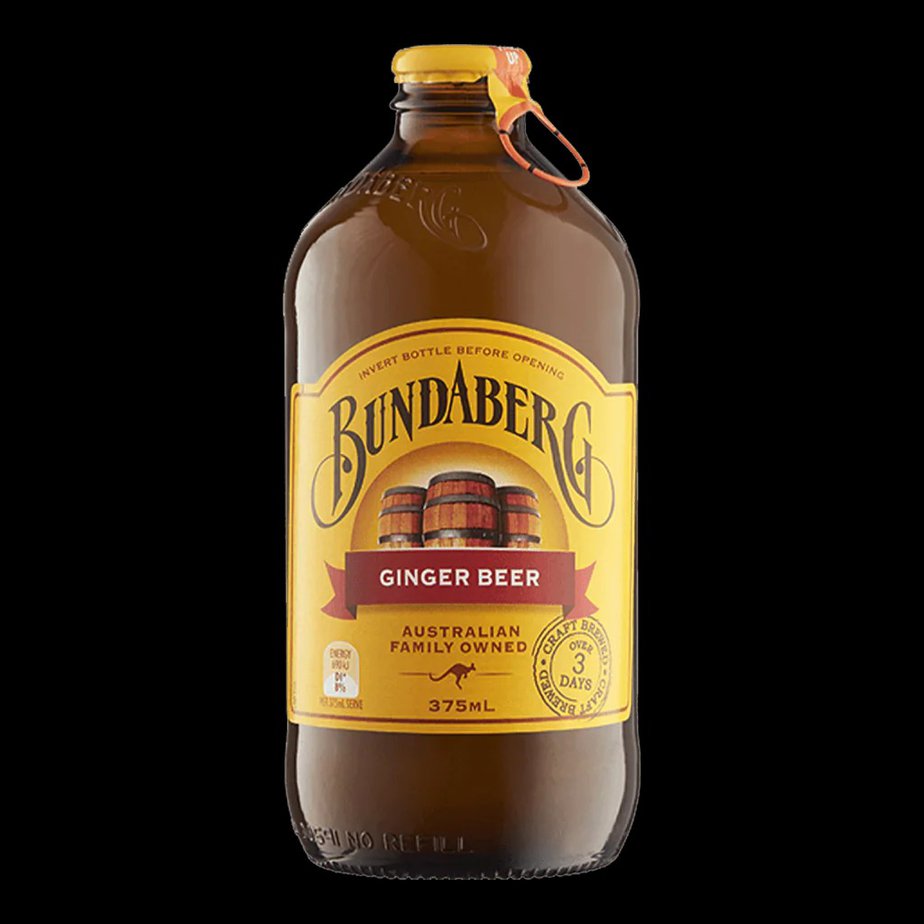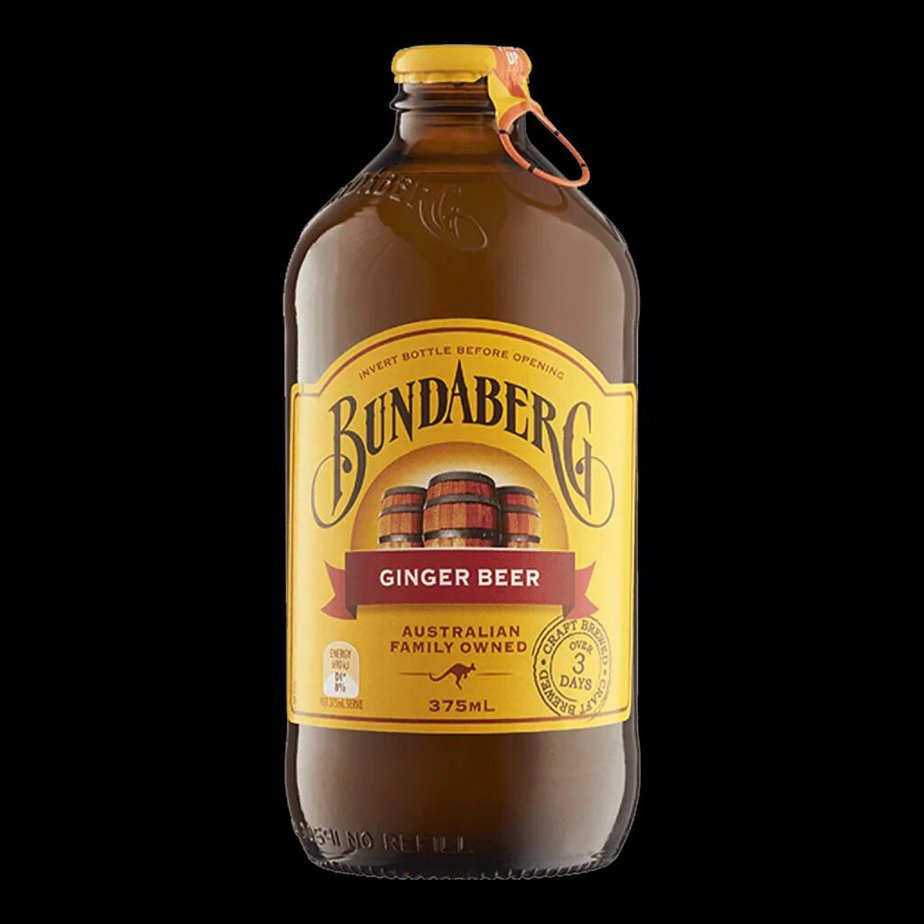 photo source: Boozy.ph
Australian company Bundaberg Root Beer is run by a family and produces non-alcoholic drinks. They are a Bundaberg, Queensland-based company that exports to more than 61 nations worldwide and is well known for its ginger beer and other carbonated beverages.
As a packaging and fermenting enterprise, the company was founded in Bundaberg in 1960. The company, then known as Electra Breweries, was purchased in 1968 by Mr. and Mrs. Fleming (senior), Cliff, and Lee Fleming.
A mother, father, son, and daughter then managed it. Sales and brand awareness for the firm have increased locally and abroad over time. The Bundaberg Barrel, one of Australia's Big Things, was inaugurated by Bundaberg Brewed Drinks in Bundaberg East in 2005.
The Barrel offers interactive displays on the brewing process, 3D holographic videos, and taste-testing opportunities.
Did You Know?
In March 2018, the firm partnered with PepsiCo to market its beverages across the United States, albeit the two remain independent businesses.
---
9. Mug Root Beer
Year Established: 1940
Founder: Belfast Beverage Company
Headquarters: San Francisco, CA, United States
Present Owner: PepsiCo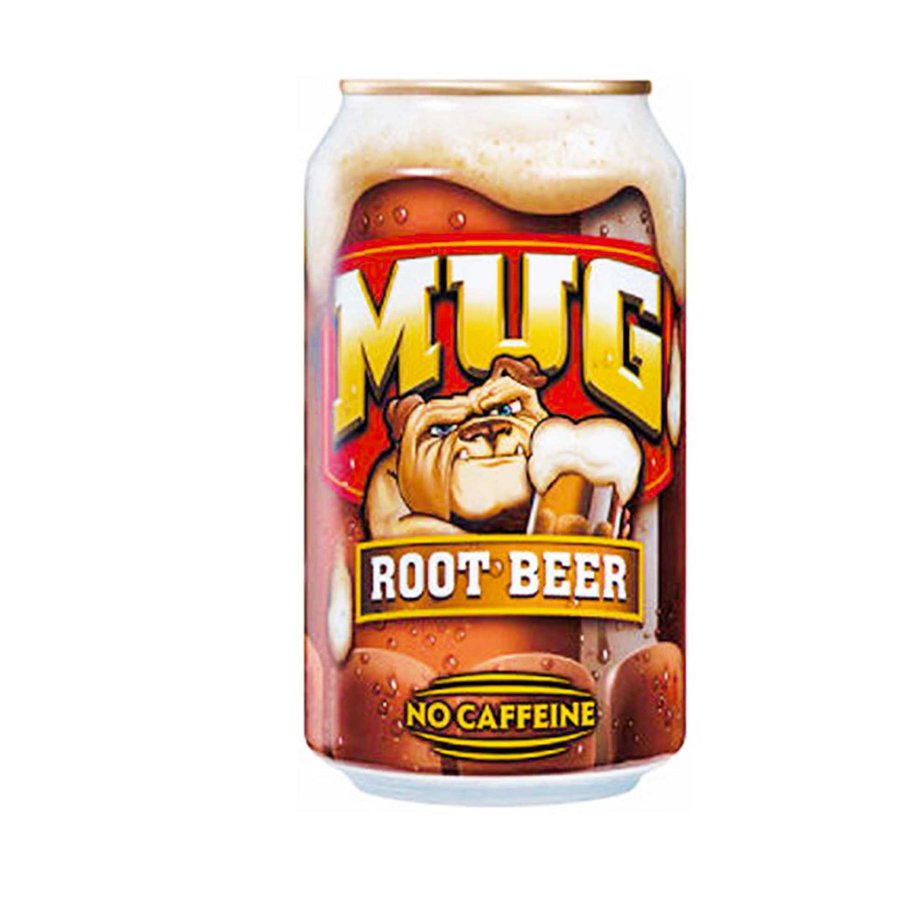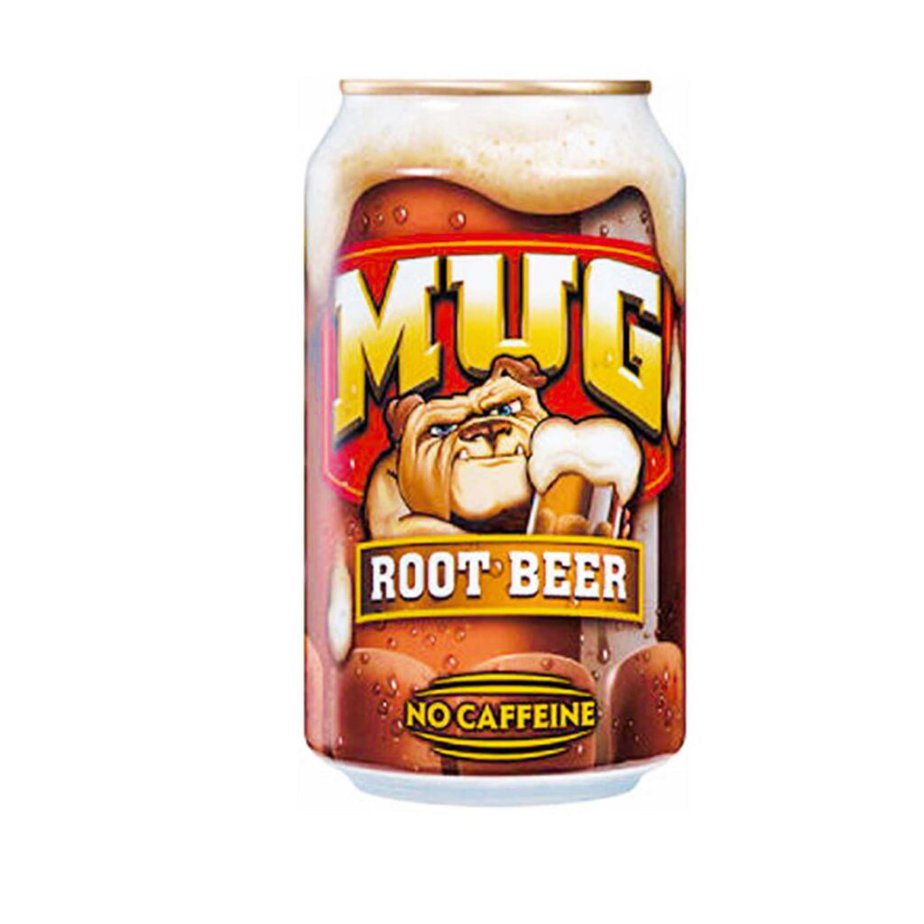 photo source: Beagley Cooperman
The Belfast Beverage Company in San Francisco, California, first offered Mug Root Beer under the name Belfast Root Beer in 1940. Since 1877, the business has been well-known for producing ginger ale and sparkling water.
Around 1925, the New Century Beverage Company — which had introduced Crush Soda in 1918 — acquired the Belfast Beverage Company.
Late in the 1960s, Diet Mug Root Beer (now Sugar-Free Mug) was created. Unfortunately, the later-introduced Mug Cream Soda and Diet Mug Cream Soda aren't as common. In 1986, Mug became Pepsi's new root beer brand, taking the place of the On-Tap Draft Style.
Did You Know?
A bulldog named "Dog" clutching a cup of Mug Root Beer has served as the company's mascot since PepsiCo acquired Mug Root Beer in 1986.
---
8. Frostie Root Beer
Year Established: 1939
Founder: Hedinger Brands, LLC
Headquarters: Detroit, MI, United States
Present Owner: Intrastate Distributors Inc.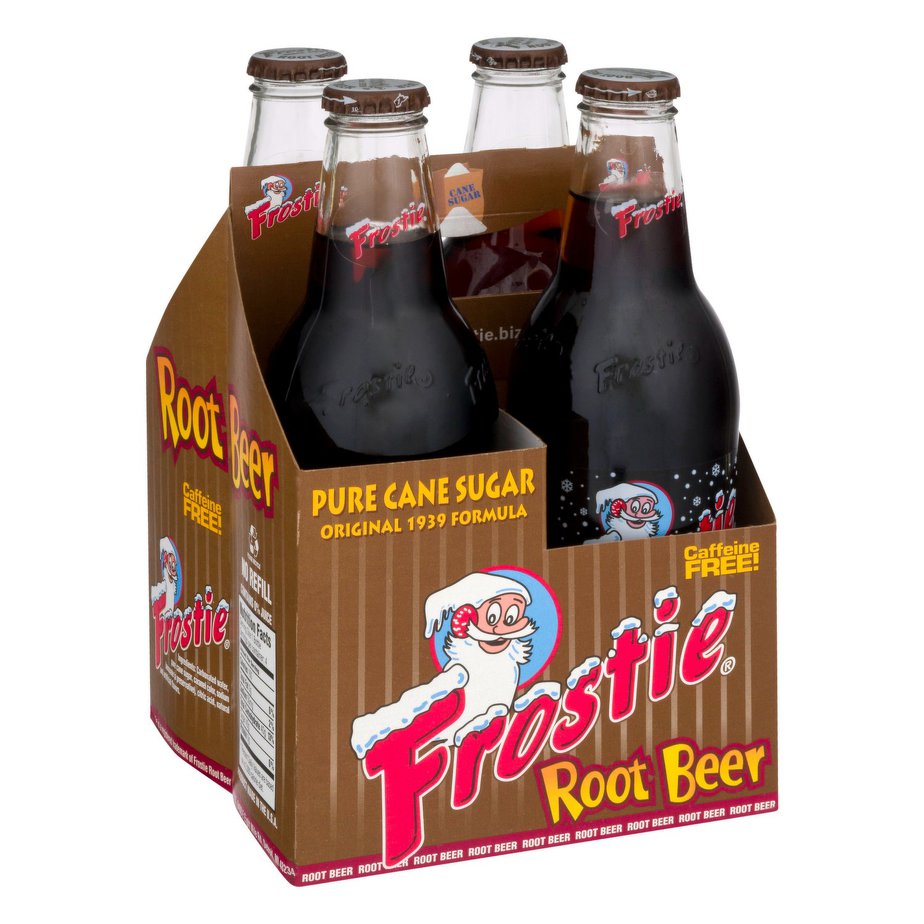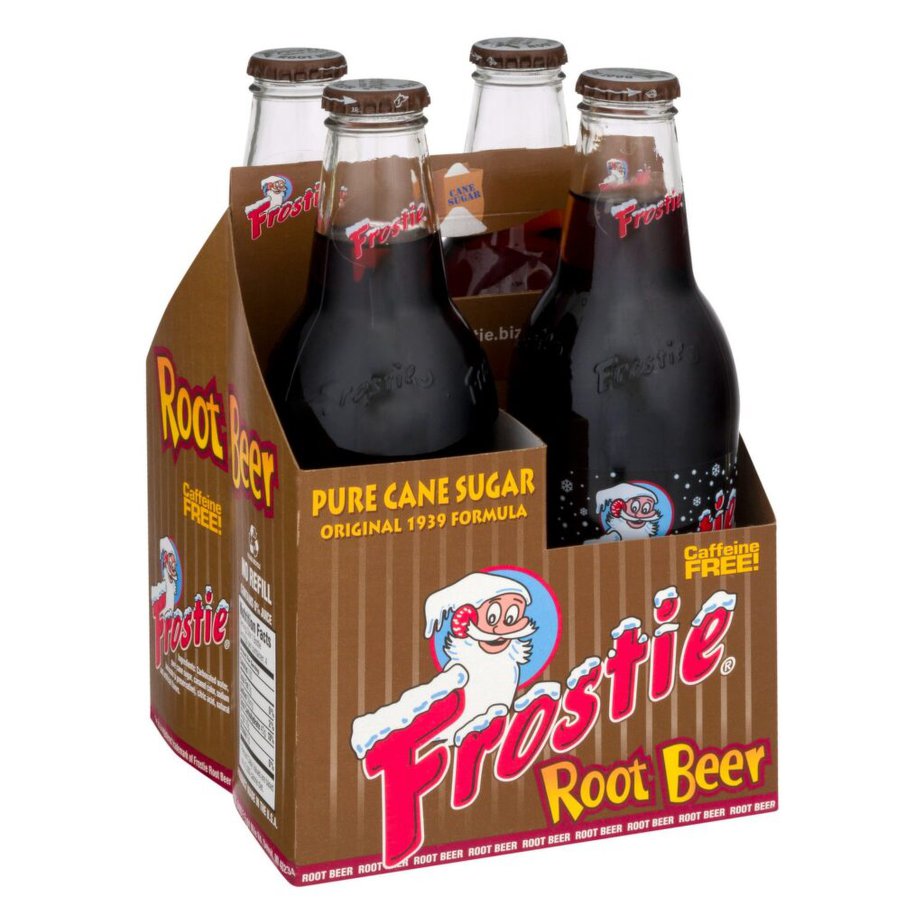 photo source: FRESH by Brookshire's
The first Frostie Root Beer, an American brand, was created in 1939 by George Rackensperger's Frostie Beverage Company in Catonsville, Maryland. Frostie Enterprises, the parent business, bought Stewart's Restaurants, a rival rootbeer brand, and chain, in 1971.
In 1974, Frostie Enterprises acquired the Dog n Suds Root Beer Drive-in and its name, leading to another expansion. The Monarch Beverage Company of Atlanta, Georgia, purchased the Frostie brand towards the conclusion of 1979.
The Frostie brand was sold to Leading Edge Brands of Temple, Texas, in 2000 after years of under-promotion by Monarch in favor of Dad's Root Beer.
Did You Know?
Leading Edge Brands sold the Detroit, Michigan-based Intrastate Distributors Inc. the Frostie beverage label in 2009.
---
7. Dad's Root Beer
Year Established: 1937
Founder: Ely Klapman
Headquarters: Jasper, IN, United States
Present Owner: Hedinger Brands, LLC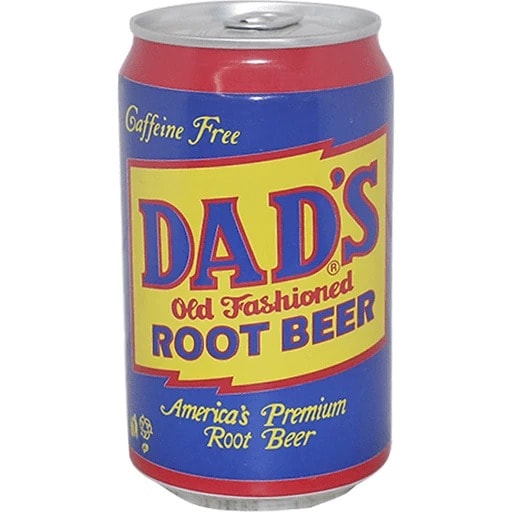 photo source: WalterMart Delivery
In the 1930s, Barney Berns and Ely Klapman created Dad's Root Beer in the basement of Klapman's house in Chicago. It is now one of the most well-known soft beverages in the country.
The Dad's Root Beer Company of Chicago was awarded the first trademark registration, which had been in use since February 1937, on February 14, 1939, after it had been submitted on September 24, 1938.
Dad's distinct and delectable flavor won over a devoted following. So, in memory of Ely Klapman's father and other fathers who formerly brewed root beer for their families at home, the name Dad's Old Fashioned Root Beer was chosen (popular in the early 20th century).
Did You Know?
The 1 cent offer, which allowed customers to buy the Papa half-gallon at regular price and receive the Mama quart for 1 cent, was a popular promotion in the 1940s.
---
6. Stewart's Root Beer
Year Established: 1924
Founder: Frank Stewart
Headquarters: Point Pleasant Beach, NJ, United States
Present Owner: Bill and Gary Dake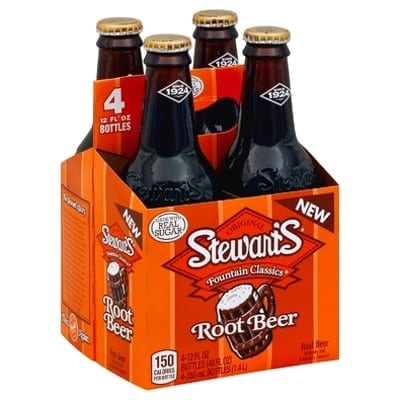 photo source: Lucy Supermarkets
Stewart's is a well-known "ultra-premium" soda brand with a long history of selling sodas in glass bottles. Their website chronicles the brand's romantic journey from its beginnings as a sideline root beer stands in the 1920s to its current status as a nationally renowned entity.
Being as large and corporate as Stewart's poses a risk that the emphasis may switch from improving product quality to reducing expenses if more stakeholders are involved. The fact that this root beer contains cane sugar rather than high fructose corn syrup may be the only thing that distinguishes it from generic varieties in supermarkets.
Did You Know?
Although it comes in a nice bottle and looks expensive, the beer is weak and dull, according to some reviews.
---
5. IBC Root Beer
Year Established: 1919
Founder: Griesedieck Family
Headquarters: St. Louis, MO, United States
Present Owner: Keurig Dr. Pepper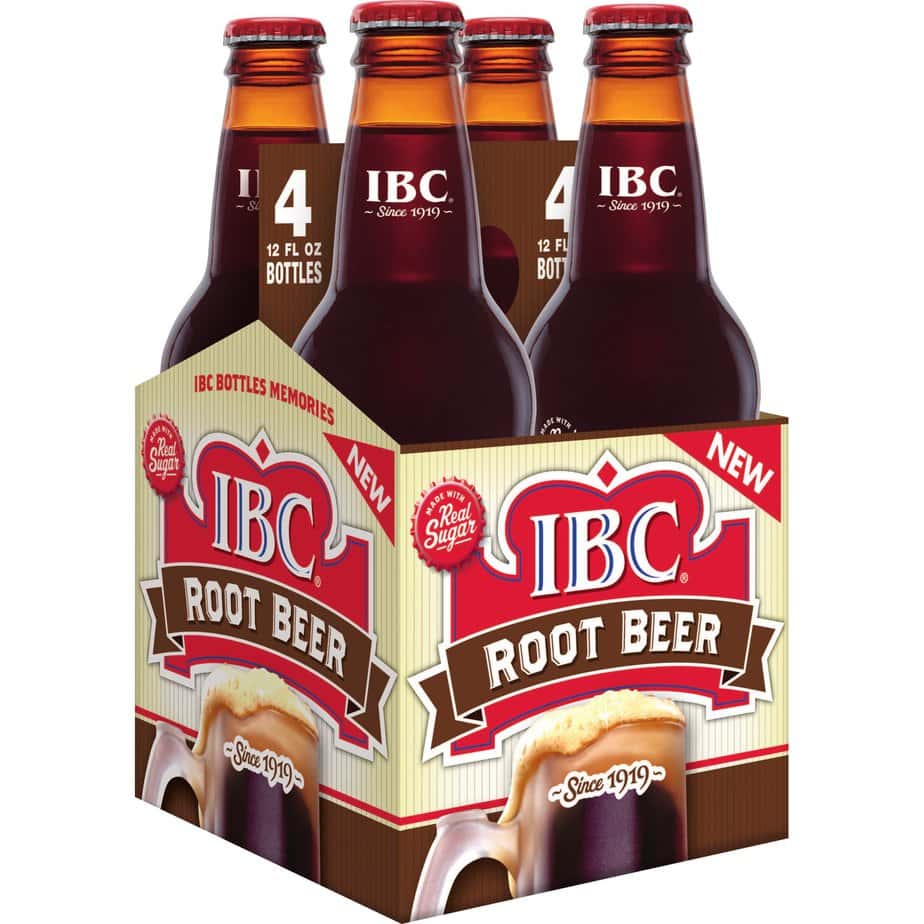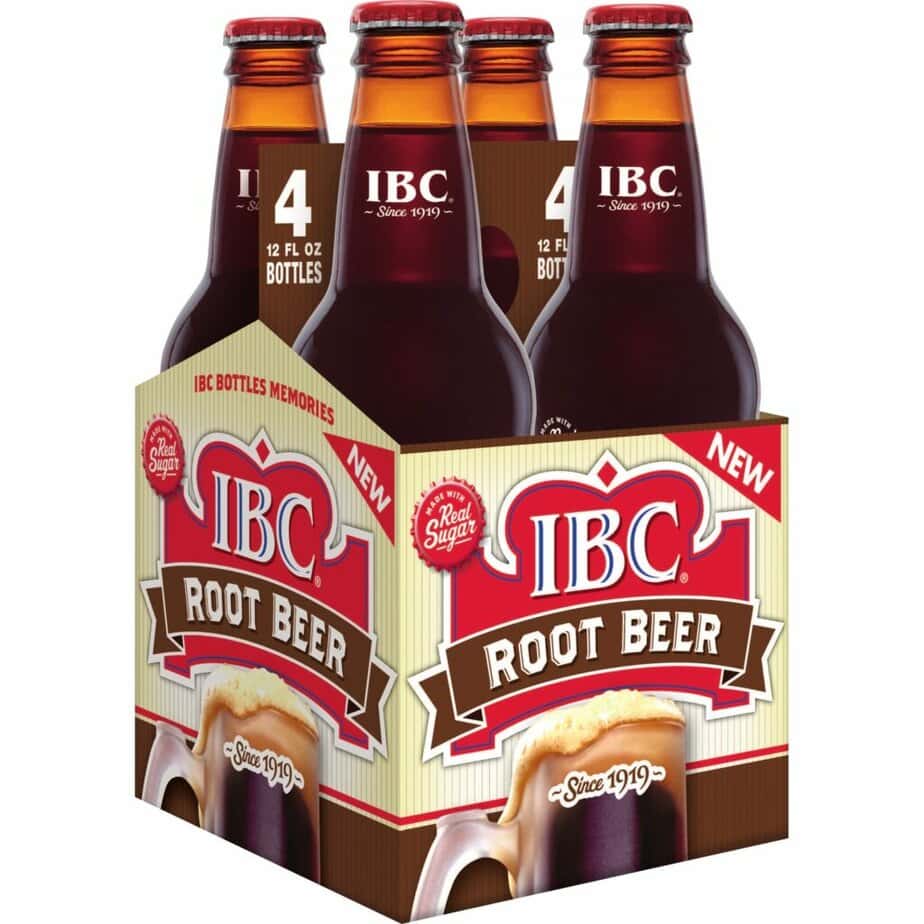 photo source: Lazada Philippines
The Independent Breweries Company, now known as IBC Root Beer, was established in 1919 in St. Louis, Missouri, by the Griesedieck family. During the Prohibition era, root beer found a market as a drinkable substance. The Kranzberg family, who managed the Northwestern Bottling Company, bought the trademark from the Independent Breweries Company after it folded.
The IBC trademark was sold to Taylor Beverages in 1976. Then in 1980, it was sold to the Seven-Up Company. The 1986 merger of Dr Pepper and 7 Up led to the nationwide distribution of IBC. Cadbury Schweppes purchased Dr. Pepper/Seven Up in 1995.
The IBC emblem is no longer molded into the bottle but is now printed on a plain brown bottle.
Did You Know?
The bottles are now sold in four-bottle packs (instead of the original six).
---
4. A&W Root Beer
Year Established: 1919
Founder: Roy Allen
Headquarters: Lexington, KY, United States
Present Owner: Keurig Dr. Pepper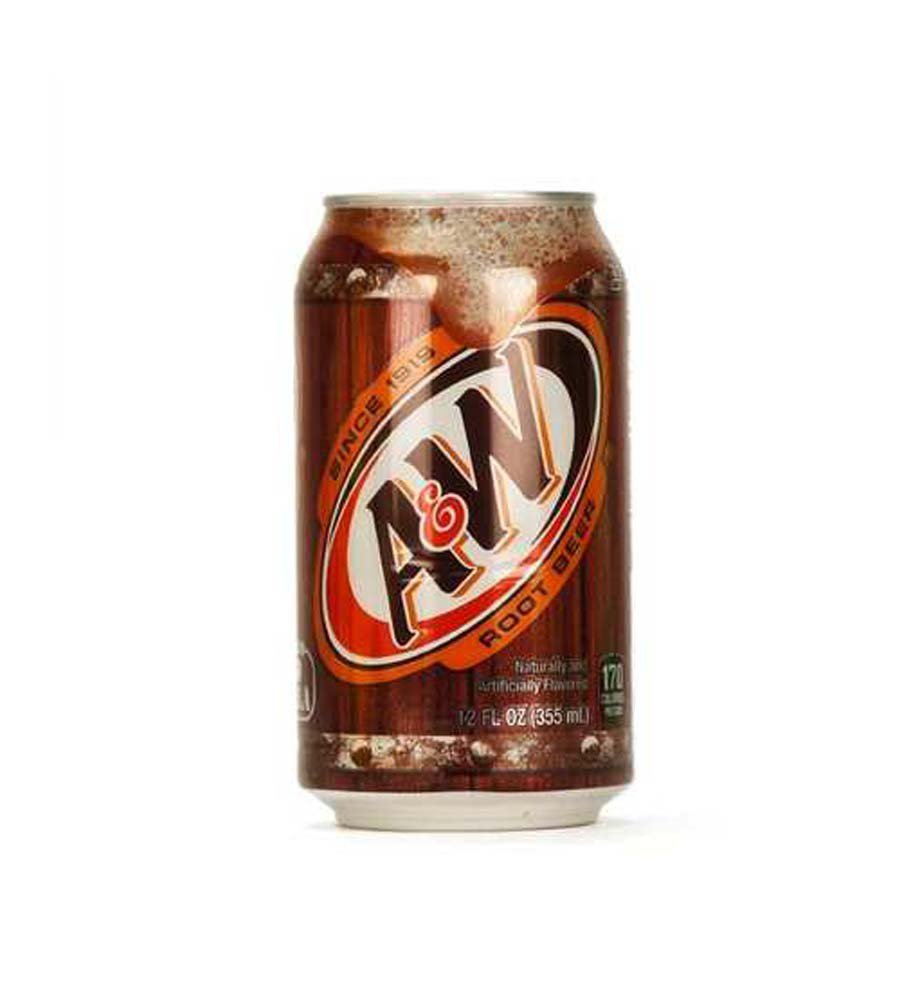 photo source: Brettos Deli
Since its establishment in 1919 by Roy W. Allen, A&W Root Beer has predominantly been sold in the United States and Canada. In 1922, Allen and Frank Wright formed a partnership that gave birth to the A&W brand and the foundation of a chain of A&W restaurants. A&W Root Beer's initial price was five cents, equivalent to $0.78 in 2021.
Keurig Dr Pepper is the owner of the A&W brand's rights (except in Canada) and licenses the name to the chain of A&W restaurants in the United States. In addition, several American bottlers distribute A&W Root Beer brands. In 1989, A&W and Minnesota-based business Carousel Snack Bars arranged to transform 200 locations—primarily kiosks in malls—into "A&W Hot Dogs & More."
Did You Know?
A&W has new owners as of December 2011, and its global headquarters has returned to Lexington, Kentucky. Since then, A&W has been a franchisee-owned business in the US and Southeast Asia.
---
3. Barq's Root Beer
Year Established: 1898
Founder: Edward Barq, Sr.
Headquarters: New Orleans
Present Owner: Coca-Cola Company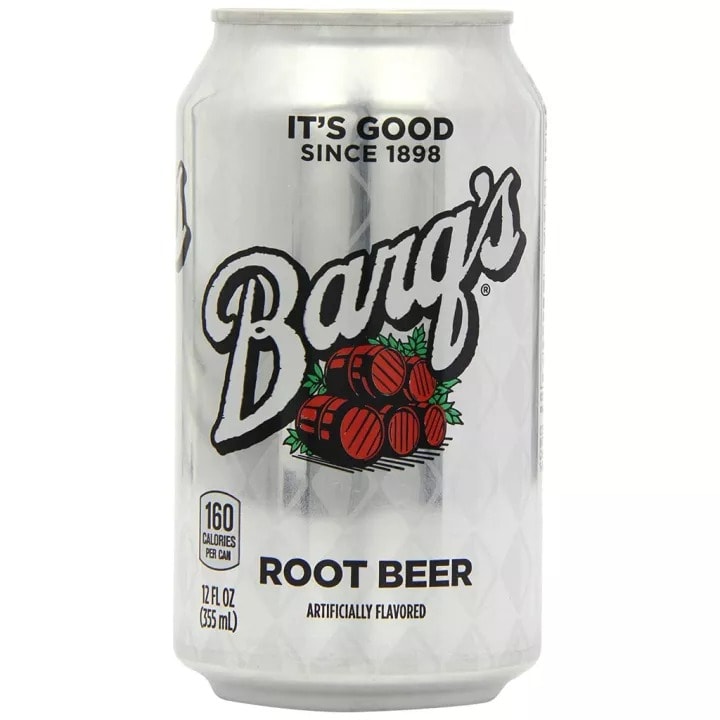 photo source: Lazada Philippines
Edward Charles Edmond Barq and his older brother Gaston established the Barq's Brothers Bottling Company in the French Quarter of New Orleans. The brothers packaged their own-made soft drinks as well as carbonated water. Their first and most well-liked invention was an orange-flavored drink they dubbed Orangine.
In 1897, Edward Barq and his newlywed wife relocated to Biloxi, Mississippi. The Biloxi Artesian Bottling Works was inaugurated the following year. According to some versions, he introduced what would eventually become known as "Barq's root beer" the following year, but according to others, production didn't begin until 1900.
Did You Know?
Caffeine isn't added to the Barq's from Coca-Cola Freestyle machines.
---
2. Saranac Root Beer
Year Established: 1888
Founder: Francis Xavier Matt
Headquarters: Utica, NY, United States
Present Owner: Nick Matt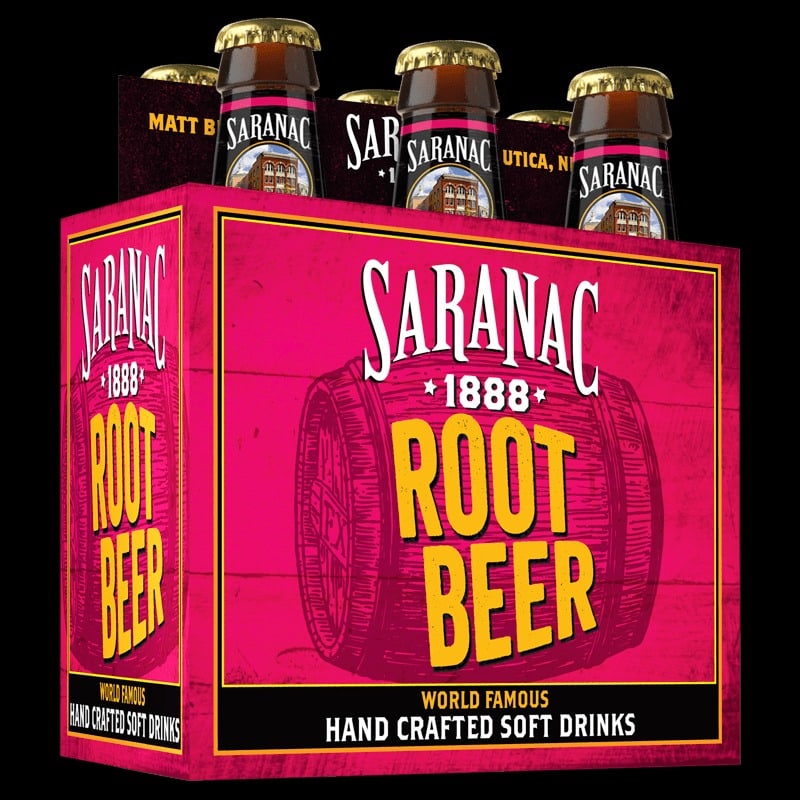 photo source: Beverages2u
Francis Xavier Matt learned to brew while he was a pupil of the Duke of Baden, and upon his arrival in the city of Utica in 1880, he was regarded as a skilled brewer.
With Charles Bierbauer, a skilled old-world brewer, Matt developed a reputation in the west side of Utica that led to his appointment as brewmaster, supervisor, and treasurer of the newly established West End Brewing Company in 1888.
Utica Club and Saranac, the brewery's current flagship beer, helped it become well-known across the Northeast. The business was then renamed Matt Brewing Company. Nick Matt, the chairman, and CEO, and Fred Matt are in charge of the business, which is owned by members of the fourth generation of the family (president).
Did You Know?
The New York, Susquehanna, and Western Railway (NYS&W) provides service to the brewery from a line that passes right next to it and goes through the center of Schuyler Street.
---
1. Hires Root Beer
Year Established: 1875
Founder: Charles Elmer Hires
Headquarters: Evanston, IL, United States
Present Owner: Dr. Pepper Snapple Group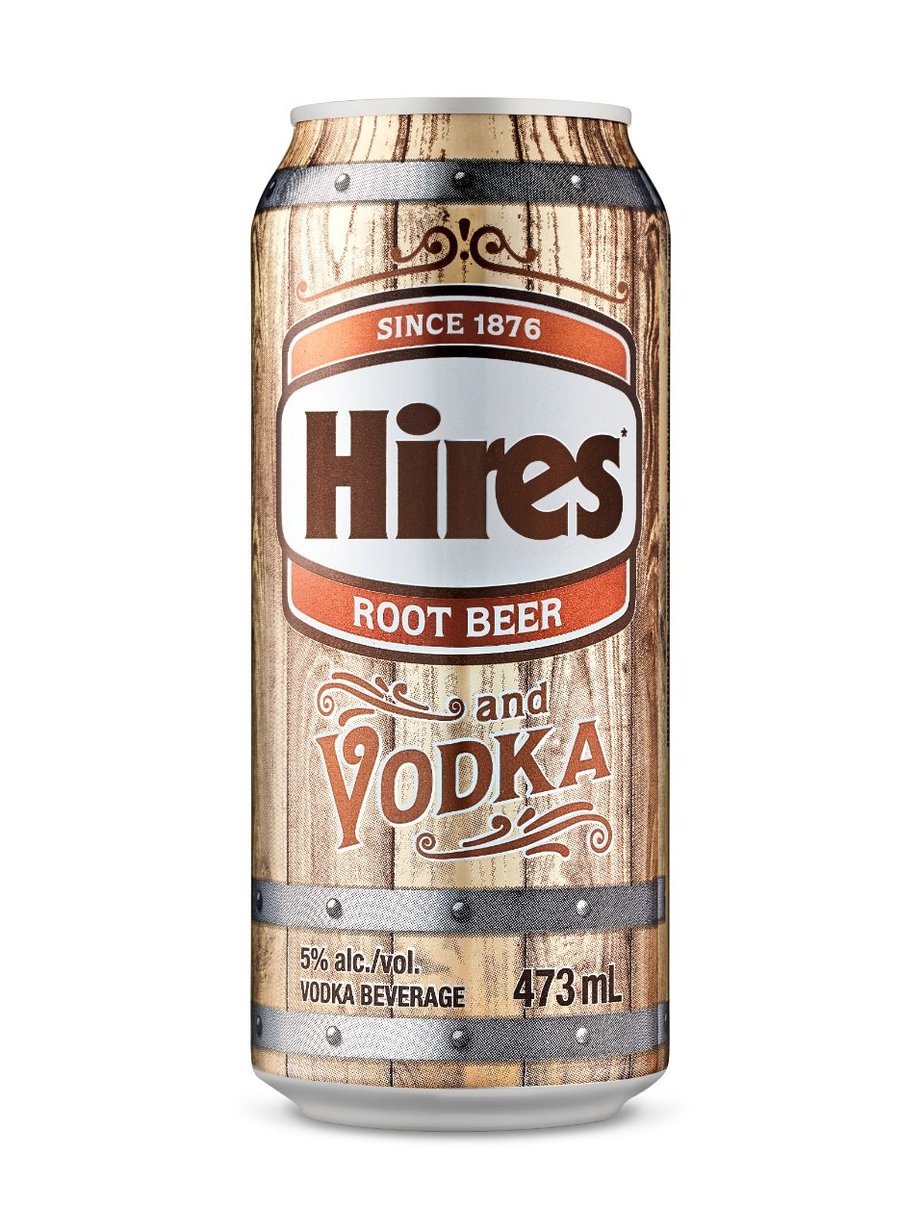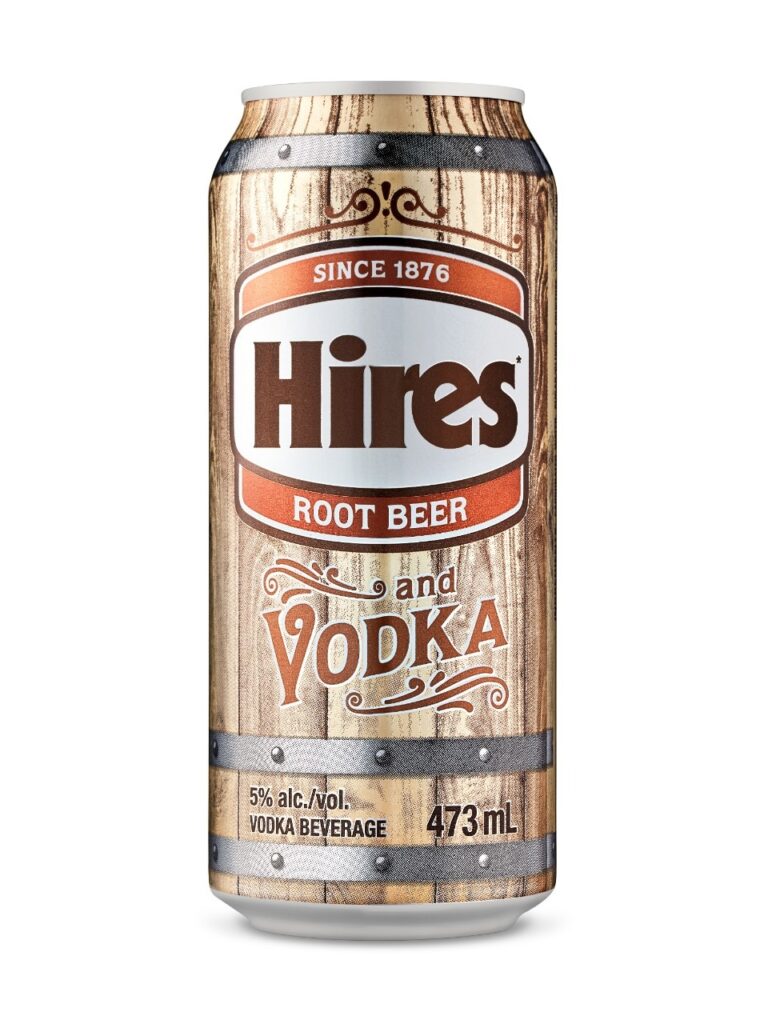 photo source: LCBO
The longest continually produced root beer in the United States and the rest of the globe, Hires Root Beer was first introduced in 1875.
Charles Elmer Hires, a pharmacist in Philadelphia, Pennsylvania, invented Hires Root Beer. According to the official narrative, Hires had root beer for the first time while on his honeymoon in 1875, a traditional American libation that dates back to the colonial era.
By 1876, Hires had created his formula and sold five US gallons (19 L) of root beer for every 25-cent packet of powder. At the 1876 Centennial Exposition in Philadelphia, he attracted new clients by offering complimentary glasses of it. Hires advertised it as a potent concentration of 16 berries and wild roots. In addition, it was advertised as making cheeks pink and purifying the blood.
Did You Know?
Since the 1990s, shops and vending machines have started selling Mug Root Beer, owned by Pepsi, in place of the Hires brand in Canada. Additionally, DPSG distributes Stewarts Root Beer in that country.
OTHER POSTS YOU MAY BE INTERESTED IN