In today's food obsessed world, new restaurants tend to pop up overnight and disappear soon after opening. According to a study on failed restaurants by Ohio State University, 60% of restaurants fail within the first year and 80% do not make it past five years.
While this may be true of many modern eateries, numerous old world restaurants have withstood the test of time and remain in operation today.
All of the restaurants on the following list have been open for hundreds of years (one of them for over 1,200) and continue to bring in customers as historic landmarks that serve the kinds of food that people still love to eat.
7. Sobrino de Botín
Year Established: 1725
Location: Madrid, Spain
Cuisine: Traditional Spanish and Castillian
Average Meal Cost: $50
Reservations: Sunday – Monday: 1-4PM; 8PM-12AM. Make a reservation online here.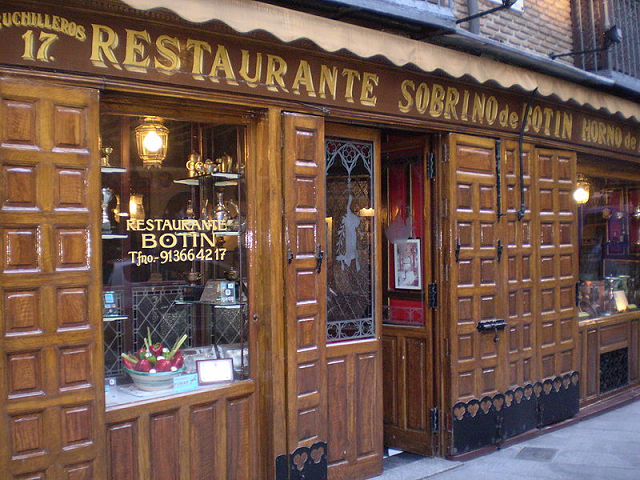 Image Source: Wikimedia Commons
Sobrino de Botín's claim to fame is that the restaurant holds the Guinness World Record as the oldest restaurant in the world. Although all of the other restaurants on this list are much older, Sobrino de Botín received the distinction because it remains in its original building with the same interior from the 18th century.
The restaurant, which was originally named Casa Botin, was opened by a French cook name Jean Botin and his Austrian wife. The Botins never had children and passed the restaurant on to Mrs. Botin's nephew and was renamed Sobrino de Botín as sobrino means nephew in Spanish.
Sobrino de Botín has captured the interests of many authors and has been mentioned in novels by Ernest Hemingway, Frederick Forsyth, Graham Greene, and James A. Michener.
Year Established: 1673
Location: Newport, Rhode Island, USA
Cuisine: American
Average Meal Cost: $40
Reservations: Monday – Sunday: 5-9PM. Make a reservation online here.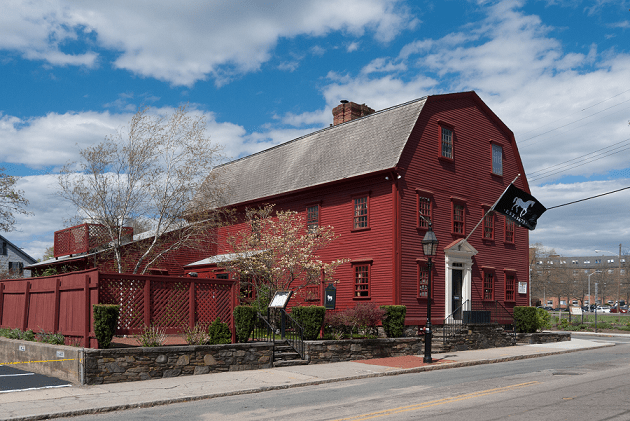 Image Source: Wikimedia Commons
The building that houses the White Horse Tavern was first built in 1652 and was eventually sold to William Mayes in 1673. At this time, the original building received an expansion and was opened as a tavern – many people believe that the White Horse Tavern is the oldest restaurant in America as well as the country's oldest bar.
Since the building is so large, it has historically been used a court house, a city hall, and the meeting place of the Rhode Island General Assembly.
The building was even used to quarter both British and American soldiers during the Revolutionary War. After several years of use and neglect, the building was restored in 1954 through a donation from the Van Beuren family and the restaurant was re-opened as the White Horse Tavern in 1957.
Year Established: 1621
Location: Berlin, Germany
Cuisine: German
Average Meal Cost: $35
Reservations: Thursday – Tuesday: 12-11PM. Call restaurant for reservations.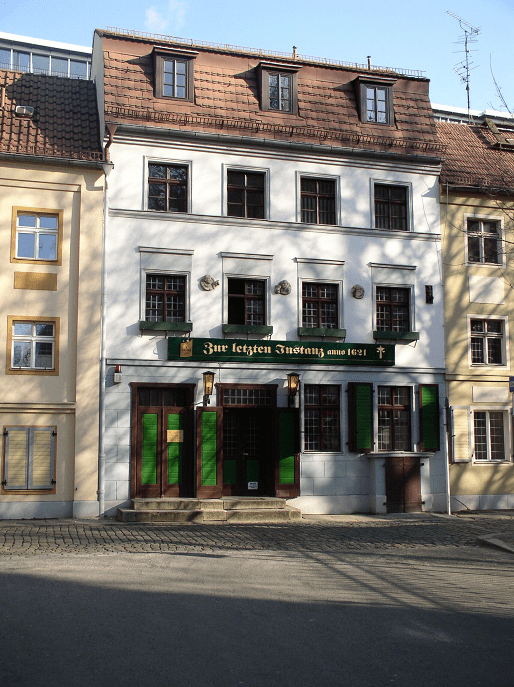 Image Source: Wikimedia Commons
Zuten Letzten Instaz is located one block away from the historic Berlin Wall and serves as the city's oldest tavern. The restaurant received its name in 1924 by then owner G. Hoffmann, prior to this, the tavern was nicknamed Maria Beil.
Although the building is one of the oldest houses in Berlin, it was reconstructed in 1963 after taking heavy damage during World War II and while the interiors are no longer original, the current design reflects the style of the original house.
As one of the city's most famous restaurants, several well noted guests have visited Zur Letzten Instanz including, Napoleon Bonaparte, Ludwig Von Beethoven, and former German Chancellor Angela Merkel.
4. La Tour d'Argent. Paris, France. Established 1582
Year Established: 1582
Location: Paris, France
Cuisine: French
Average Meal Cost: $500
Reservations: Monday – Sunday: 12-2PM; 7-10:30PM. Make reservations here.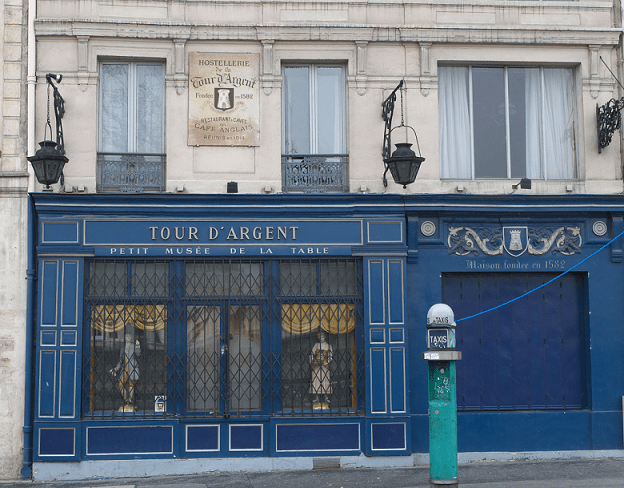 Image Source: Wikimedia Commons
La Tour d'Argent is a high end, one Michelin star rated restaurant that claims to have served King Henry IV. At one point, the restaurant boasted one of the restaurant world's highest achievements, three Michelin stars – it lost one star in 1996 and the second one in 2006.
Although the restaurant cannot prove that it served King Henry IV, other famous people like Franklin D. Roosevelt, Marlene Dietrich, and Charlie Chaplin have dined at La Tour d'Argent.
La Tour d'Argent fist opened in 1582, making it the oldest restaurant in Paris. The restaurant is so iconic, that it has appeared in literature such as Ernest Hemingway's A Moveable Feast and La Tour d'Argent served as the inspiration for the restaurant featured in Pixar's 2007 movie Ratatouille.
Year Established: 1465
Location: Kyoto, Japan
Cuisine: Japanese
Average Meal Cost: $30
Reservations: No Reservations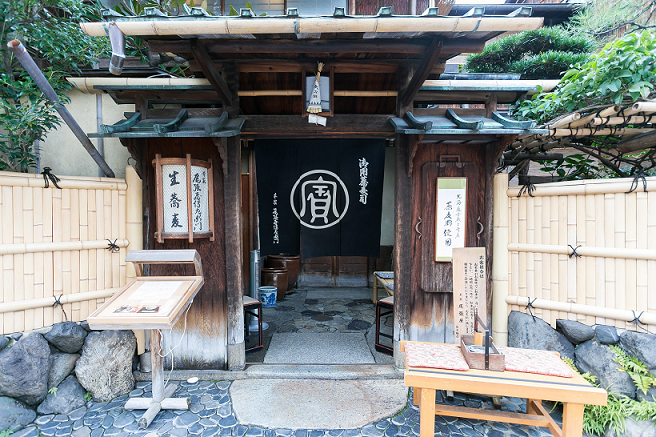 Image Source: Flickr via City Foodsters
Honke Owariya started life as a confectionery shop that relocated from the Owari region (in Nagoya) to Kyoto after the original owners were summoned by the Emperor at the time. The shop initially offered its famous soba rice cakes, but eventually began making soba noodles around 1700 making Honke Owariya the oldest soba shop in Kyoto.
Honke Owariya's signature soba noodles are made from high quality buckwheat flour from Otoineppu, Hokkaido and the restaurant claims that Kyoto's pure water is the true secret behind its foods' special flavor.
Year Established: 1421
Location: Stockholm, Sweden
Cuisine: Traditional Swedish and German
Average Meal Cost: $40
Reservations: Monday: 4-10PM; Tuesday – Thursday: 4PM-12AM; Friday – Saturday: 3PM-12AM; Sunday: 3-11PM. Make reservations here.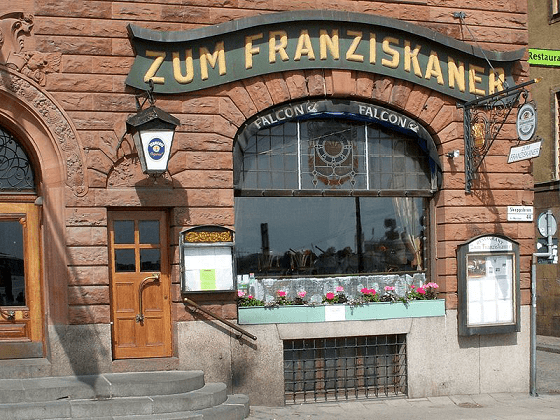 Image Source: Wikimedia Commons
Zum Franziskaner is Stockholm's oldest restaurant and was founded by German monks in 1421 when King Erik of Pomerania allowed monks to charge for food and drinks. The food that the restaurant serves combines the founders' German roots with the flavors of local Scandinavian cuisine.
Although the Zum Franziskaner is not located in its original building, the food and drinks have remained the same since it first opened nearly 600 years ago.
1. St. Peter Stiftskeller
Year Established: 803
Location: Salzburg, Austria
Cuisine: Traditional Austrian
Average Meal Cost: $70
Reservations: Wednesday – Friday: 12-11PM; Saturday – Sunday: 10AM-11PM. Make a reservations here.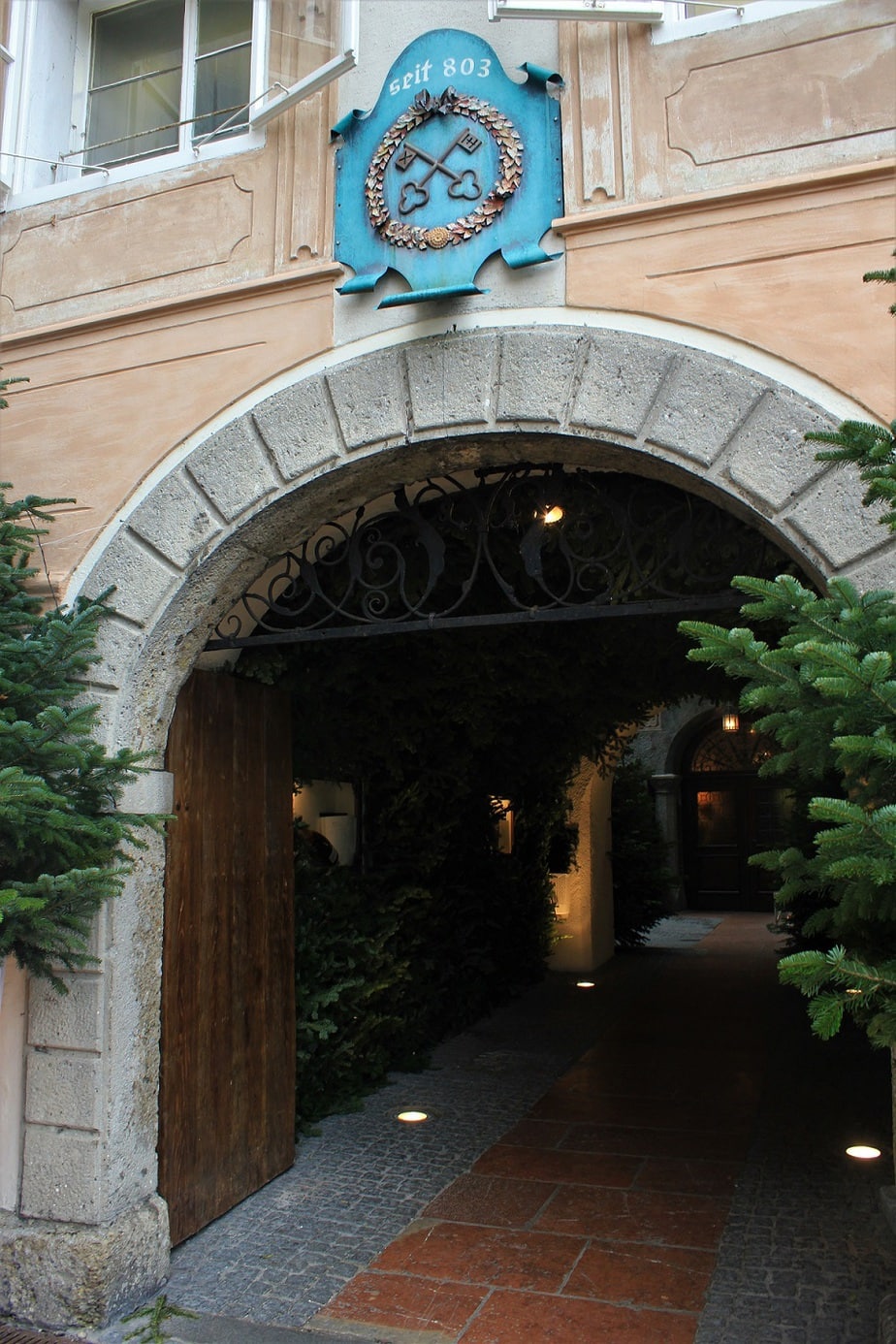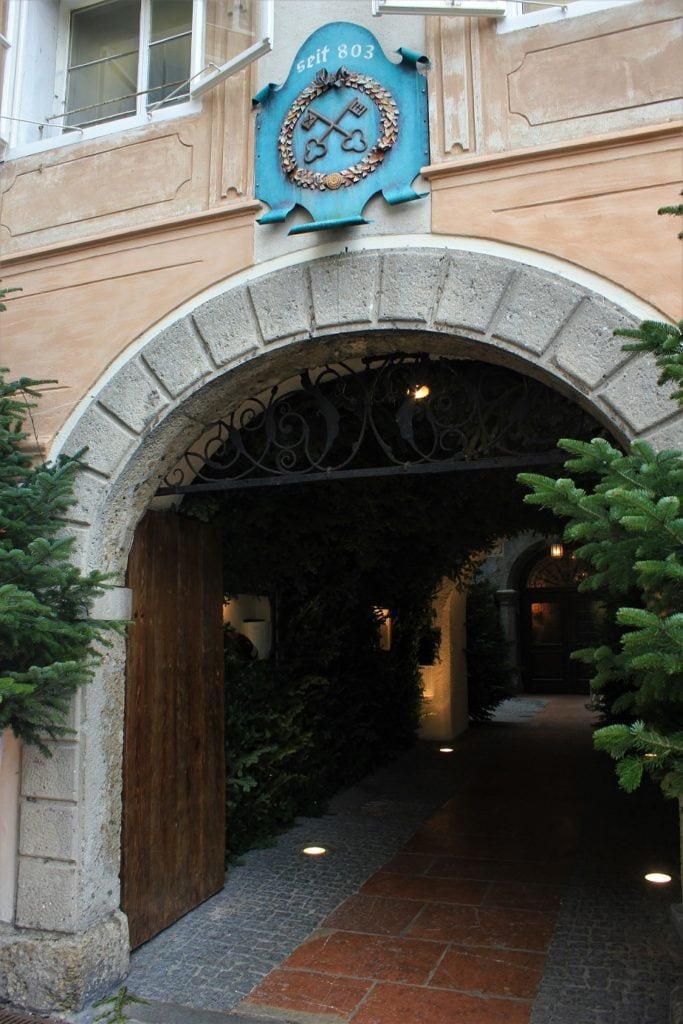 Image Source: Wikimedia Commons
St. Peter Stiftskeller, which is located within the walls of St. Peter's Abbey, dates back to 803 AD and is the oldest restaurant in the world. The restaurant was supposedly first mentioned by the English scholar Alcuin of Yok in 803 AD when he served Emperor Charlemagne and Bishop Arno of Salzburg.
Although the building has gone through many renovations, many of the original dining rooms still stand as they were carved into the stone cliffs adjacent to the Abbey's original structure.
One of St. Peter Stiftskeller's hallmarks is its daily Mozart Dinner Concerts, which are performed in the Baroque Hall by the Amadeus Consort Salzburg and consists of about six musicians and two singers who all wear period costumes.
OTHER POSTS YOU MAY BE INTERESTED IN