Zac Efron is one of the most famous actors currently on the scene. He gained world fame when at a young age, he was chosen to play the role of Troy Bolton in High School Musical.
This famous actor was born in San Luis Obispo to David Efron and Starla Baskett. His father worked as an electrical engineer at Diablo Canyon Power Plant, while his mother served as an administrative assistant. The two had been married for over three decades before giving birth to their first son. Zac's family is of Jewish origins, even though none of its members is religious.
Zac Efron grew up with his younger brother, Dylan, and the two always share a deep bond. But Dylan is not his only sibling. Just a few years ago, Zac's father had a daughter from his second wedding, whom he called Olivia. Olivia is more than 30 years younger than Zac and is beloved by the whole family.
Keep reading if you want to know more about Zac's brother and sister. Below you will find a list of Zac Efron's siblings ranked oldest to youngest.
3. Zac Efron (October 18, 1987 – present)
Current Age (as of February 2023): 35 years, 3 months, 21 days
Birthplace: San Luis Obispo, California, USA
Profession: Actor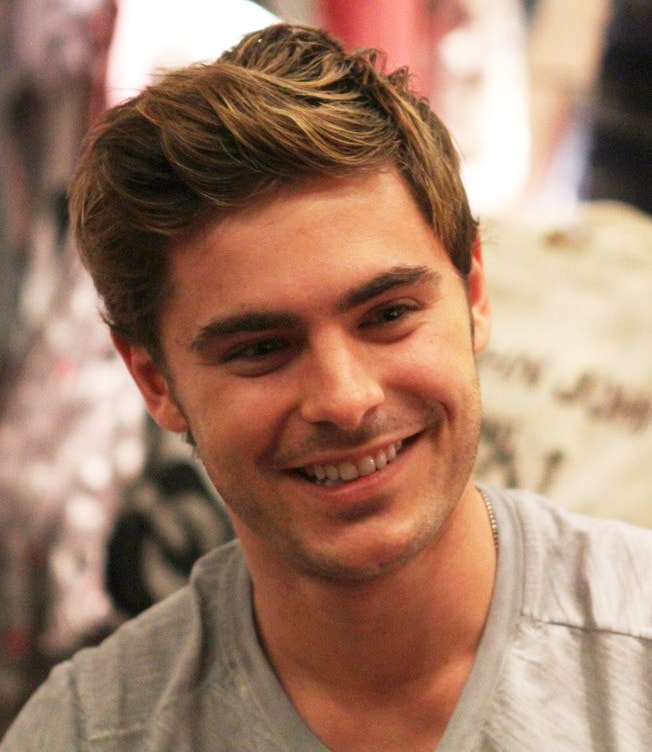 photo source: commons.wikimedia.org
Zac Efron is the oldest member of his family. He was born in 1987 and is now 35 years old. When he was a child, he was a great student and could not accept failure. According to records, he would get angry if he received a B instead of an A.
From a young age, he took singing and acting classes taking part in several shows, among which Peter Pan, Little Shop of Horror, and Gypsy. His drama teacher was particularly fond of him and recommended him to an agent in LA. As a consequence, Zac was able to sign a contract with Creative Artists Agency, an American talent and sports agency based in LA.
In 2006, Zac graduated from Arroyo Grande High School and was accepted into the University of Southern California. However, he decided to attend the Pacific Conservatory of the Performing Arts instead.
Zac began his acting career in the early 2000s. During these years, he took part in several tv series such as Firefly, ER, and The Guardian. However, his breakthrough came when he was chosen to play the role of Troy in High School Musical, which premiered on Disney Channel in 2006.
Since then, Zac has been featured in many movies such as Mike and Dave Need Wedding Dates, Extremely Wicked, Shockingly Evil and Vile, and more recently, The Greatest Beer Run Ever. In 2008, Forbes listed Zac in his Celebrity 100 list at 92.
Talking about his personal life, Zac dated Vanessa Hudgens in 2005 while working on the movie that turned their lives upside down and made them famous worldwide. Unfortunately, the two broke up five years later, in 2010. In 2014, Zac started a relationship with model and entrepreneur Sami Miró. However, the two split up in 2016.
Unfortunately, similarly to many Hollywood stars, Zac struggled with alcoholism and drugs. Luckily, he has been sober since 2013. This famous actor also struggled with mental illnesses such as insomnia, agoraphobia, and depression.
In 2019, Zac was diagnosed with an extremely dangerous illness. According to doctors, he had contracted a form of typhoid or similar bacterial infection. This happened while he was filming his series Killing Zac Efron in Papua New Guinea. Zac was soon flown to St Andrews War Memorial Hospital, where he received treatment. Luckily, he managed to recover fully.
Zac was vegan from 2020 to 2022. However, he recently decided to reintroduce meat to his diet. He also practices intermittent fasting.
Did You Know?
Zac has lived in LA for most of his life but decided to move to Australia in 2021.
---
2. Dylan Efron (February 6, 1992 – present)
Current Age (as of February 2023): 31 years, 2 days
Birthplace: California, USA
Profession: YouTuber and Producer
View this post on Instagram
Dylan Efron was born in 1992 and is now 30 years old. He has always been very close to his older brother, and the two seem to share a deep bond.
Dylan graduated from Cali Polytech in 2013, majoring in economics. Despite this, he soon left his degree behind for a life of adventure and outdoor activities.
Dylan is pretty active on social media pages and has a Youtube channel and an Instagram account on which he promotes a healthy lifestyle. In particular, his Instagram account now has over 800k followers thanks to its stunning content.
Some of Dylan's hobbies include fishing, in particular, fly fishing, traveling, and basketball, he is, in fact, a huge fan of the Los Angeles Lakers. Recently, he joined his older brother on a trip to Australia and explored many other countries throughout his lifetime.
Talking about his love life, it seems that Dyland used to date Vanessa's Hudgens younger sister, Stella. Unfortunately, the love story did not last long. Dylan is now dating his current girlfriend, Courtney King.
Similarly to his brother Zac, Dylan also had the chance to work in the movie industry. He was, in fact, chosen to serve as assistant and executive producer for the movie Get Hard, featuring Will Ferrell and Kevin Hart.
---
1. Olivia Efron (2019 – present)
Current Age (as of February 2023): c. 3/4 Years Old
View this post on Instagram
Olivia is Zac Efron's youngest sibling, born in 2019.
Nobody knew about her existence until her brother, Zac, posted a photo on his Instagram account on July 19, 2021, with the caption 'My sister Olivia, little heartbreaker.'
Olivia is Zac's step-sister as she was born from her father's second marriage. Fans were taken aback as nobody seemed to know that Zac's parents had divorced.
Did You Know?
You can also visit Dylan's profile if you want more pictures of Olivia. Here you will find a video of the whole family playing together.
OTHER POSTS YOU MAY BE INTERESTED IN