Blake Lively is the best-known sibling in her Lively ensemble as the actress who gained fame thanks to her portrayal of Serena van der Woodsen in the CW drama Gossip Girl from 2007 to 2012.
As the daughter of Ernie Lively, an actor and successful acting coach, Blake and her four siblings took after their father and followed in his footsteps.
Though Blake is the most notable amongst fans for her roles in blockbusters like The Town, The Shallows, and Green Lantern, the Lively family has achieved their own milestones in Hollywood. Join us while we take a closer look at Blake and her family as we rank the Lively siblings from oldest to youngest!
5. Lori Lively (November 9, 1966 – Present)
Age (as of October 2022): 55 years, 11 months, 2 days
Born: United States
Occupation: Actress, Acting coach, Host
Known For: Dead Space
View this post on Instagram
Lori Lively is an actress known professionally for her role in the 1991 science-fiction horror film Dead Space. Born into a dynastic acting family, it was inevitable that her parents' theatrical influences would rub off on her.
As the daughter of Elaine and Ronnie Lively, she's the half-sister of Blake and Eric Lively. In 2022, she primarily spends her time as an acting coach, with her last on-screen role coming in 2017 for a short film titled Mother's Day.
She worked consistently from the 90s to the 2010s, appearing in projects like ER, The Ghost, Cold Case, Simon Says, The Mentalist, and I Kissed a Vampire.
---
4. Jason Lively (March 12, 1968 – Present)
Age (as of October 2022): 54 years, 6 months, 30 days
Born: Carroll County, Georgia
Occupation: Actor
Known For: Night of the Creeps
View this post on Instagram
Jason Lively is the 54-year-old older brother of Blake Lively. He is an actor whose resume screams quality over quantity. Though it's not extensive, the properties he's involved in are recognizable by even the most casual moviegoers and television watchers.
He's acted in The Dukes of Hazzard, Brainstorm, 21 Jump Street, Night of the Creeps, and National Lampoon's European Vacation. His last role came in 2017, where he played Ike in the American Western Hickok, which starred Luke Hemsworth.
Did You Know?
Jason Lively reportedly works at a computer company and was a former owner of Jimmy Crack Corn, a mobile roasted corn business. He is married to Lani Lively and has three children.
---
3. Robyn Lively (February 7, 1972 – Present)
Age (as of October 2022): 50 years, 8 months, 4 days
Born: Powder Springs, Georgia
Occupation: Actress
Known For: Teen Witch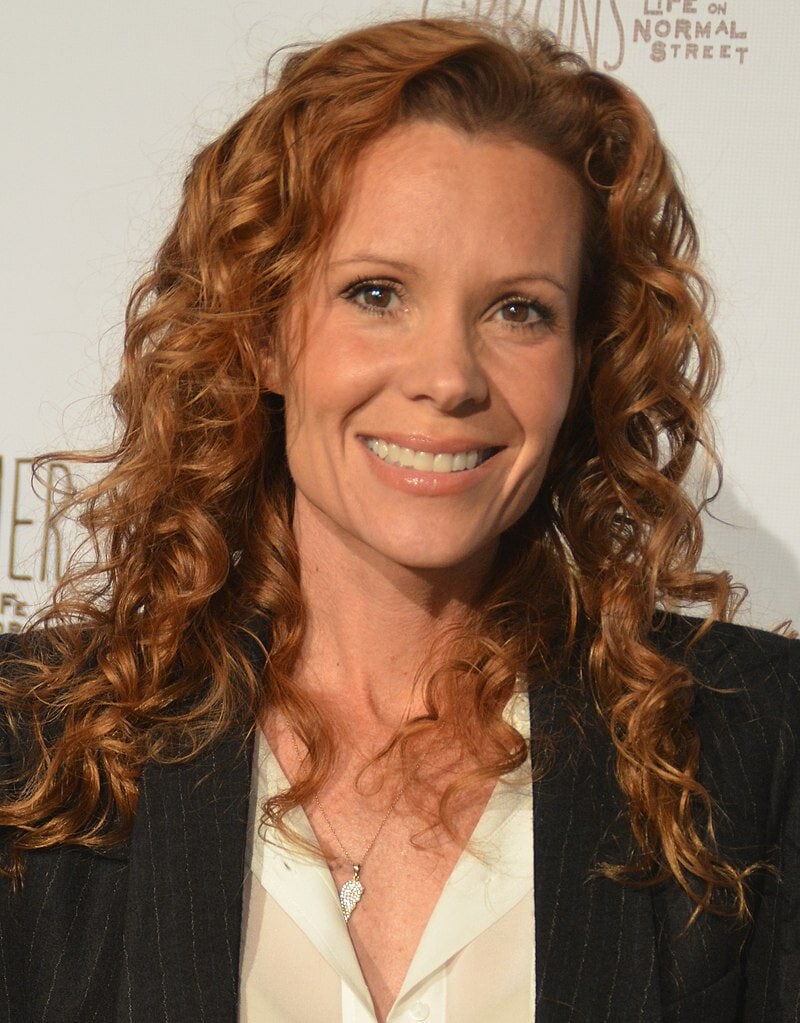 photo source: commons.wikimedia.org
Apart from Blake, Robyn Lively has had the most successful on-screen career of the Lively siblings. She's best known for roles in iconic, culture-shifting television shows like Teen Witch, Twin Peaks, and Doogie Howser, M.D.
Robyn got her first taste of life as an actress at 6-years-old with her debut in the made-for-TV movie Summer of My German Soldier in 1978. She's appeared in other notable projects like Silver Spoons, Wildcats, The X-Files, CSI: NY, Nip/Tuck, and 30 Rock. As far as we can tell, her career is still alive and well when she starred in the 2020 thriller Through The Glass Darkly.
Her longstanding career in the business is even more impressive considering how customary it is for executives, agents, and directors to toss aside aging actresses in favor of what's newer and younger. She's withstood the test of time and earned consistent roles almost every year since 1984.
Did You Know?
Robyn Lively was nominated for a Young Artist Award for Best Performance in 1984, 1985, and 1987. In 1991, she was nominated for a Daytime Emmy Award for Outstanding Performer in a Children's Special in an episode of ABC's Afterschool Special titled "The Less Than Perfect Daughter."
---
2. Eric Lively (July 31, 1981 – Present)
Age (as of October 2022): 41 years, 2 months, 11 days
Born: Atlanta, Georgia
Occupation: Actor
Known For: Brother of Blake Lively
View this post on Instagram
Eric Lively's first film appearance came at 2-years-old in Brainstorm – a science fiction film that starred Christopher Walken.
After his hot start in the business, guest starring on an episode of Full House at 13-years-old and appearing in American Pie, he took a hiatus from film to study photography in New York City.
There's no better place to find unique subjects than in the most eclectic city in the world. He attended Parsons The New School for Design to continue his pursuit of photography and modeled for Abercrombie and Fitch throughout college.
Other notable television and film projects he's appeared in include 24, The Client List, Armed and Innocent, BFFs, and Speak.
Did You Know?
Eric played pop star Pink's boyfriend in her music video for "Please Don't Leave Me" in 2009.
---
1. Blake Lively (August 25, 1987 – Present)
Age (as of October 2022): 35 years, 1 months, 17 days
Born: Los Angeles, California
Occupation: Actress, Director
Known For: The Sisterhood of the Traveling Pants
View this post on Instagram
Blake Lively is the youngest of the Lively siblings at 34-years-old!
The baby of the family has also turned herself into the centerpiece of the Lively ensemble, thanks to her widely-praised roles in films like Accepted, The Sisterhood of the Traveling Pants, The Age of Adeline, and The Town.
Born in Los Angeles, the daughter of a talent scout and director, Blake made her entrance into acting in a film titled Sandman at 10-years-old. The film was her father's directorial debut.
As a child, she absorbed everything from her parents, attending their acting classes and imitating what she managed to pick up while keenly observing them. She explained how watching them was instrumental in her early development as a young actress because it equipped her with the tools needed in the technical side of acting that she relies on today.
Her role in The Sisterhood of the Traveling Pants (2005) was the springboard that vaulted her into the mainstream. Her performance garnered her a nomination at the Teen Choice Awards.
In 2007, Blake starred as Serena van der Woodsen in the CW show Gossip Girl. She intended on rejecting the role to pursue her college education, but after a guarantee that she'd be able to attend college part-time while filming, she accepted the part.
Apart from acting, she's become a fixture in the media's spotlight for her high-profile marriage to Deadpool star Ryan Reynolds. They met on the set of his film Green Lantern, which he starred in as the Green Lantern Corps greatest hero, Hal Jordan.
In 2021, Blake made her directorial debut, directing her close friend Taylor Swift's music video for I Bet You Think About Me. It was a resounding success, and she and Taylor earned a nomination for an Academy of Country Music Award.
Lively has also won the 2017 People's Choice Award for Favorite Dramatic Movie Actress in The Shallows.
Did You Know?
In 2021, Blake Lively launched a line of non-alcoholic drink mixers called Betty Buzz.
OTHER POSTS YOU MAY BE INTERESTED IN