Simone Biles is a world-class gymnast who's captured the hearts of Olympic enthusiasts and athletes. Her gravity-defying acrobatic performances made us question whether Newton's laws of physics are still relevant.
She's regarded as the greatest gymnast of the decade, commanding respect not just from her fans but from her fiercest competitors.
She flipped and tumbled onto the scene as early as 2012, despite being too young to compete. Her talent at 14 was unmistakable, and those plugged into the sport knew they'd see a sea of gold in her future. That has come to fruition, and she's racking up medals, commercial deals, and other accolades like it's a shopping spree.
Join us while we take a closer look at Simone's life, career, and the four siblings that have supported her along the way while we rank the Biles siblings from oldest to youngest!
6. Ron Biles Jr.
Personal and professional information on Ron Biles Jr. is unknown.
Did You Know?
As former uncles to the star gymnast, they don't fit the typical brotherly mold. All that matters is Simone affectionately refers to Ron Jr. and Adam as her brothers, which earns them a spot on this list!
---
5. Ashley Biles-Thomas (1990 – Unknown)
Age (as of July 19, 2022): Approx. 32
Born: Columbus, Ohio
View this post on Instagram
Personal and professional information on Ashley Biles-Thomas is unknown, save for the few details we know about her criminal past. Simone has been put under the microscope for the mischief some of her siblings have been involved in, which opens the door for online critics to attack the squeaky-clean athlete.
Ashley Biles-Thomas was arrested a few weeks before the start of the Tokyo Olympic Games for violating probation and driving under the influence. After a stint in foster care, Ashley, Tevin, Adria, and Simone were adopted in 2003 by their grandparents. Simone calls them "the only real parents I've ever known."
Did You Know?
Ashley is a mother to at least one daughter and lives in Columbus, Ohio. You can also find her on Instagram.
---
4. Adam Biles (1993/94 – Present)
Age (as of July 19, 2022): Approx. 28
Born: Columbus, Ohio
Information on the personal and professional life of Adam Biles is unknown.
Did You Know?
He is the son of Nellie Biles and Ronald Biles.
---
3. Tevin Biles-Thomas (1994/1995 – Present)
Age (as of July 19, 2022): Approx. 27
Occupation: Military
Tevin was at the center of a media frenzy over his involvement in a triple-homicide in August 2019 in Fort Stewart, Georgia.
After a dispute on New Years Eve over unwelcome guests, a fight broke out and ended in gunfire. Tevin pleaded not guilty during the trial.
The fallout from the incident weighed heavily on Simone. She expressed her grief for the three victims on Twitter. "My heart aches for everyone involved, especially for the victims and their families. There is nothing that I can say that will heal anyone's pain, but I do want to express my sincere condolences to everyone affected by this terrible tragedy."
Did You Know?
A mistrial was declared in Tevin's murder case after legal documents were accidentally included in evidence for the jurors to review. Eventually, Tevin was acquitted on all charges in 2021 because the accuser's description of the shooter wasn't accurate to Tevin.
---
2. Simone Biles (March 14, 1997 – Present)
Age (as of July 19, 2022): 25
Born: Columbus, Ohio
Occupation: Olympic Gymnast
Known For: Gymnastics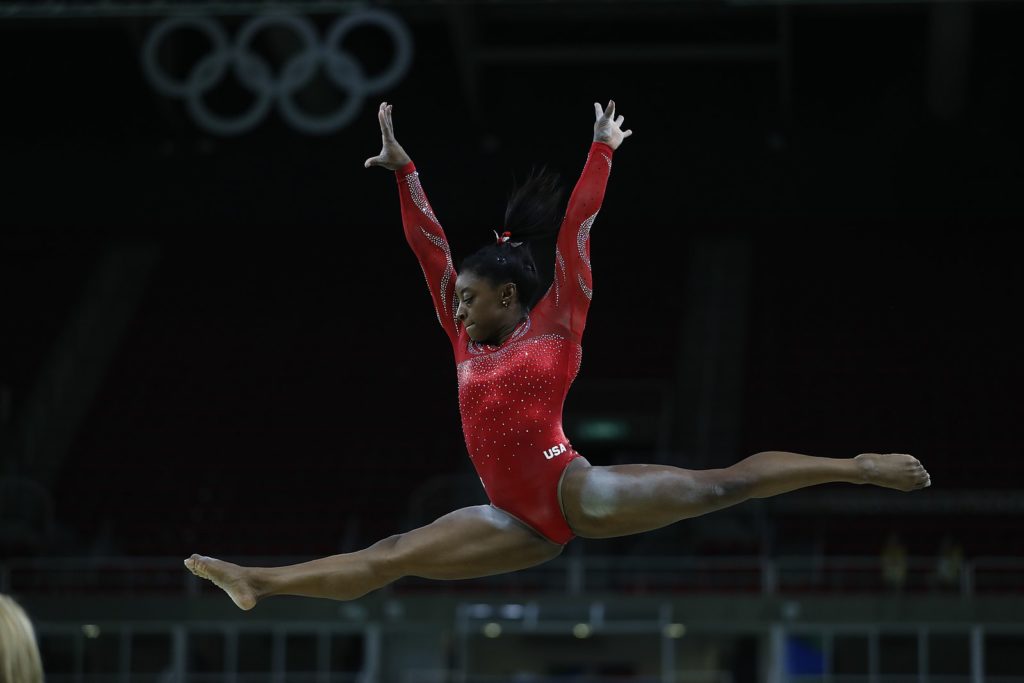 photo source: commons.wikimedia.org
Simone Biles has become the face of elite gymnastics. For the friends and coaches who grew up around her, her journey to the top of the athletic food chain was as inevitable as Thanos controlling the infinity stones. Thankfully for us, Simone is much more benevolent.
Her ascent, as is the case for practically every Olympian, started early in her life. She was far from being a late bloomer, quickly distinguishing herself as one of the best among her peers throughout each division she was in as she got older.
This 4-foot 8-inch powerhouse of muscle and grace is one of the most decorated gymnasts ever. With seven Olympic medals, she ties Shannon Miller for the most by an American. Olympic careers are notoriously short. That's why an emphasis is put on training as early as five or six.
That means Simone, now 25, has a few more appearances down the pipeline. It's all but guaranteed she'll stand alone as the winningest American gymnast someday soon.
But it doesn't take medals to recognize she already stands alone on her own planet as one of the most dominant athletes. Others who belong in the same company would be names like Michael Phelps and Michael Jordan. She's one of the rare athletes that was able to build a bridge for non-fans to take an interest in the sport.
Some of her other honors include owning the most World medals (25), most World gold medals (19), most World all-around titles (5), and as of this year, she was the proud recipient of the highest American civilian honor – the Presidential Medal of Freedom given by President Joe Biden. Biles has been in a relationship with NFL safety for the Houston Texans, Jonathan Owens, since August 2020. On February 15, 2022, they got engaged.
Did You Know?
Starting in 2018, it was impossible to avoid the bombshell report conducted on USA gymnastics and their involvement in the cover-up of team doctor Larry Nassar's recurring sexual assault on female gymnasts dating back several years since its discovery.
The case sparked dozens of high-profile victims to come forward and recount their experiences with the doctor. One of those victims was Simone Biles.
In January 2018, she released a statement on Twitter that confirmed she was sexually assaulted and had no qualms about calling out USA Gymnastics for their role in turning a blind eye to the abuse.
In 2021, she testified to the Senate Judiciary Committee, blaming "the entire system" as the framework that enabled his abuse to go unpunished for so long. Like any transcendent athlete, struggle goes hand in hand with success, and Simone is no stranger to both. But as we know, that's the stuff that turns generational talents into legends, and for Simone, she's well on her way.
---
1. Adria Biles (January 27, 1999 – Present)
Age (as of July 19, 2022): 23
Born: Columbus, Ohio
Occupation: Former Gymnast
View this post on Instagram
Adria Biles is the youngest of the Biles Siblings at 23-years-old!
Adria Biles and Simone have a very close relationship, with much of that having to do with Adria being a former gymnast! She began her journey at nine and competed at the junior elite level. She held her own with her superstar sister, training alongside her until 2016.
In an interview for ESPN, Adria described her sister as "fearless." She continued, "When we were little kids, we'd stand on a railing on the second floor of our house, then jump off onto the couch down below on the first floor.
She'd go first, and I'd follow. We were both gymnasts, so we were always trying things around the house. Nothing scared her." She also described her sister as bossy but her best friend.
Did You Know?
Just as a supportive younger sister would, she was first to Simone's defense during the Tokyo Olympics when much was made about Simone deciding to step away from the competition due to mental health concerns. It was also the first competition her family hadn't attended due to the Covid pandemic restrictions on spectators.
OTHER POSTS YOU MAY BE INTERESTED IN