Johnny Mathis is an acclaimed American recording artist responsible for selling over 400 million records worldwide. His style is eclectic, blending influences from soul, rhythm and blues, country, Brazilian, and even pop.
To put Johnny in a box and relegate him to a single genre would be as hard as discovering what dark matter is. Is that a touch extreme? Perhaps, but we hope it illustrates how diverse his style is.
That lack of a defined genre helped him maintain his relevance. Joined by six siblings, come and spend some time with us as we learn more about Johnny and his family while we rank the Mathis siblings from oldest to youngest!
7. Marguerite Mathis McMillan (August 19, 1928 – January 10, 2009)
Age (at time of death): 80 years, 4 months, 22 days
Born: Upshur County, Texas
Personal and professional information about Marguerite Mathis McMillan is unknown. Marguerite was the oldest of Johnny Mathis's siblings.
---
6. Clemmie L. Mathis Jr. (September 30, 1930 – June 12, 2007)
Age (at time of death): 76 years, 8 months, 13 days
Born: Upshur County, Texas
Personal and professional information about Clemmie L. Mathis Jr. is unknown.
---
5. Elizabeth Ann Mathis Douds (April 19, 1933 – 2021)
Age (at time of death): 87-88
Born: Upshur County, Texas
Personal and professional information about Elizabeth Mathis Douds is unknown.
---
4. Johnny Mathis (September 30, 1935 – Present)
Current Age (as of December 2022): 87 years, 2 months, 15 days
Born: Gilmer, Texas
Occupation: Singer, Songwriter
Known For: Gold & Platinum Selling Artist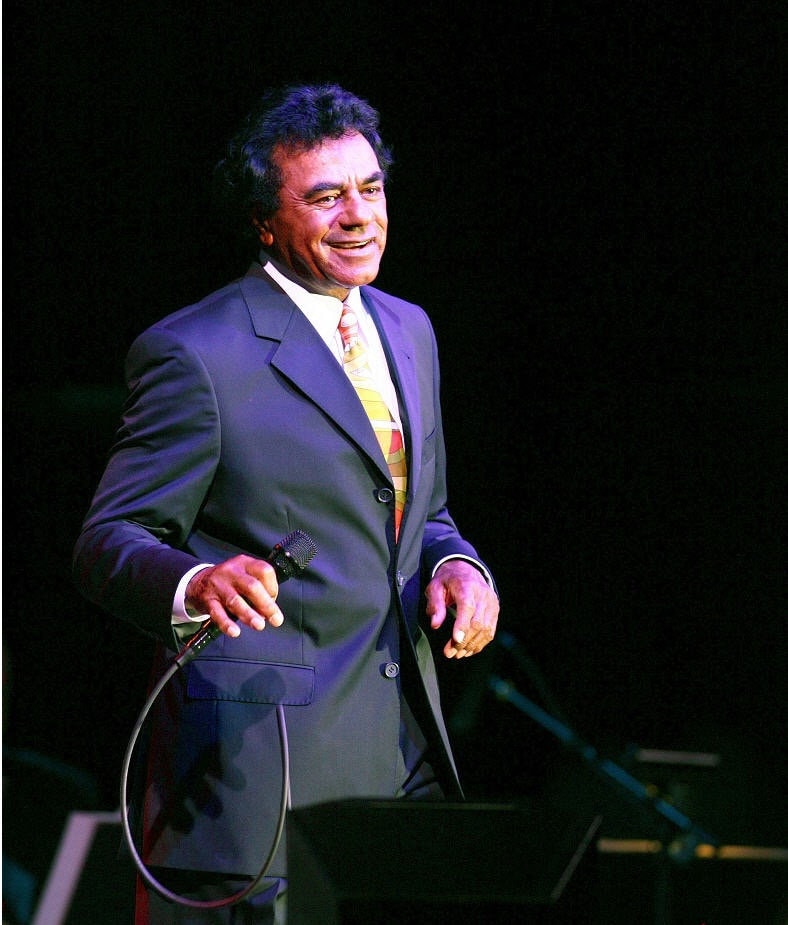 photo source: commons.wikimedia.org
Johnny Mathis is the undisputed patriarch of the Mathis siblings and son of Clem and Mildred Mathis.
His father, a singer/pianist, was the first to discover his son's transcendent talent for music. Seizing the opportunity in front of him and maybe to live vicariously through him, he bought him an upright piano for $25.
Clem became Johnny's teacher, educating him on music composition, how to craft melodies and construct a song, and how to play the piano. Before long, they took their father-son project public when Johnny took his act to the local churches, school, and of course, home, performing in front of family and friends.
By 13, Johnny was getting a formal education in music from professional voice teacher Connie Cox, who accepted him as her student in exchange for housework. He trained with her for six years, sharpening his vocals and learning about classical and operatic singers.
By the time he reached high school, his voice had more training than usual, and he was well-versed in various styles that merged into the distinct style he'd become famous for. His friend Mel Saunders formed a band in high school that would be Johnny's first as a lead singer. At Mel's funeral, Mathis thanked his childhood friend for being the first to give him the opportunity.
Johnny's first big break happened during a casual jam session at the Black Hawk Club in San Francisco, which attracted the club co-founder Helen Noga — his future music manager. George Avakian, head of Popular Music A&R for Colombia Records, was on vacation while Mathis was performing.
Noga caught wind of his serendipitous arrival to their city and persuaded him to watch him at the 440 Club. One sit-down was all it took. He telegrammed his record company, saying, "Have found a phenomenal 19-year-old boy who could go all the way. Send blank contracts."
Throughout his illustrious career, Johnny has had several dozen albums reach either gold or platinum, with 73 singles that reached the Billboard charts. With over 400 million records sold worldwide, he's in rarified air as the third-biggest selling artist of the 20th century behind Elive Presley and Frank Sinatra.
With a style that incorporates traditional pop, Brazilian, soul, disco, jazz, soft rock, blues, etc., critics called him "the velvet voice."
A catalyst for Mathis's success was his The Ed Sullivan Show appearance in 1957. Johnny taped twelve television specials and made over 300 guest appearances, 33 of which were on Johnny Carson's The Tonight Show.
Over the years, they built a friendship, and Carson said of Mathis, "Johnny Mathis is the best ballad singer in the world."
In 2003, the Academy of Recording Arts honored Mathis with a Lifetime Achievement Award for his creative contributions and the magnitude of his significance in popular culture and music. He's also been inducted into the Grammy Hall of Fame for his songs "Chances Are," "Misty," and "It's Not for Me to Say."
In an interview with CBS News Sunday Morning in 2017, Mathis confirmed speculation surrounding whether he was homosexual. "I come from San Francisco. It's not unusual to be gay in San Francisco. I've had some girlfriends and boyfriends, just like most people. But I never got married, for instance. I knew that I was gay."
In philanthropy, he's supported organizations like the American Cancer Society, the Muscular Dystrophy Association, the NAACP, and the March of Dimes.
Did You Know?
Mathis was quite a prolific athlete! He participated in various sports, including high jumping and basketball.
---
3. Ralph Mathis
Personal and professional information about Ralph Mathis is unknown.
---
2. Linda Mathis
Personal and professional information about Linda Mathis is unknown.
---
1. Michael Mathis (October 6, 1945 – March 12, 2013)
Age (at time of death): 67 years, 5 months, 6 days
Born: California, USA
Michael Mathis is the youngest of Johnny Mathis's siblings.
Unfortunately, personal and professional information on Michael and almost all of his siblings is a mystery. However, we know he is buried at Cypress Lawn Memorial Park in San Mateo County, California.
Did You Know?
Michael Mathis is the son of Clemmie Sr. and Mildred Mathis.
OTHER POSTS YOU MAY BE INTERESTED IN