For Baltimore Ravens faithful, they'll recognize Michael Oher as a Super Bowl-winning offensive tackle that captured the hearts of millions through his electric style of play and disregard for safety as one of the main focal points of an impenetrable offense. Michael was tasked with the most important job in the NFL, only second to the quarterback, as their main security detail.
Excuse the secret service terminology, but it's the best way to explain in a nutshell the job description of an offensive tackle. He played an impressive eight seasons in the NFL, which is practically a lifetime in arguably the most violent, physically demanding, dangerous professional sport in America. That's why these warriors only play once a week!
For movie fans, you'll know Michael as the subject of an award-winning and heartwarming biopic — The Blind Side, which chronicles his childhood, from his struggles as a young boy living in impoverished neighborhoods to his search for identity in a world that had all but rejected him, leading to his encounter with an affluent suburban family he would lovingly call his own.
Today we wanted to do a deeper dive into the Oher siblings to try and learn more about the support system that helped write a chapter in the story of the man we've all come to know. Join us while we rank the Oher siblings from oldest to youngest!
11. Rico Oher
Information on Rico Oher is scarce. He is Michael Oher's half-brother. Rico is believed to be the eldest of Michael Oher-Tuohy's siblings.
It's rumored he lives in Memphis, Tennessee and is the father to two children.
---
10. Tara Oher
No public information is available about Tara Oher. She is Michael's half sister.
---
9. Carlos Oher
Carlos Oher is Michael Oher's half-brother. Public information about Carlos is not available.
---
8. John Oher
Information on John Oher isn't publicly available.
---
7. Marcus Watkins
Marcus Watkins is the older half-brother of Marcus. He currently works in the cleaning business. Marcus appears to be the closest of Michael's biological siblings.
---
6. Andre Oher
No information is available on Andre Oher.
---
5. Juan Antonio "Deljuan" Oher (1982 – September 16, 2007)
Age: 24
Born: Memphis, Tennessee
Occupation: N/A
Children: N/A
Juan Antonio "Deljuan" Oher was Michael Oher's half-brother.
Juan Oher tragically passed away in a car accident in 2007. Michael said that he and Juan did have a relationship thanks to their similarly relaxed, calm personalities. It's not what you'd expect from one of the best offensive tackles in the NFL, but maybe that's because there's no better place to channel aggression than on the football field.
---
4. Michael Oher (May 28, 1986 – Present)
Age: 36
Born: Memphis, Tennessee
Occupation: Former NFL Offensive Tackle
Children: 0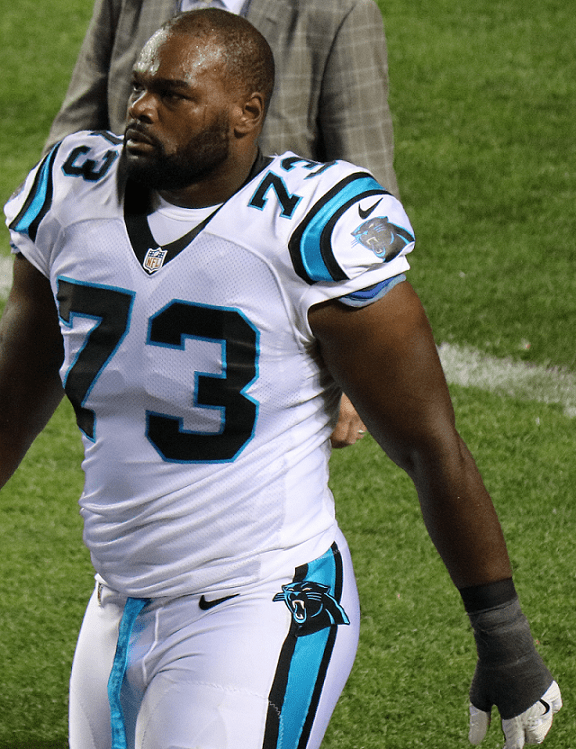 photo source: Wikimedia Commons
Michael Oher is a former professional football player and the 23rd pick in the first round of the 2009 NFL Draft, which is on the complete opposite end of the spectrum when you learn about the humble beginnings he came from. Oher became a college football superstar in Mississippi, earning All-American honors, including the Unanimous All-American.
His life is fit for a fairytale. For those of us who aren't Baltimore Ravens fans, we became acquainted with Michael and his family through the Academy Award-winning biographical sports drama film The Blind Side (2009).
Based on the book of the same name written by Michael Lewis, it covers the unlikely story of a young boy with next to nothing who encounters the Tuohy family, who takes him under his wing. Sandra Bullock and Tim McGraw star as parents Leigh Ann Tuohy and Sean Tuohy, while Quinton Aaron portrayed Michael Oher.
The film wasn't immune to criticisms, but it didn't reflect the brilliant performances of the three leads. The Blind Side grossed $309 million and netted Sandra Bullock an Academy Award for Best Actress, a Golden Globe Award for Best Actress in a Motion Picture — Drama, and Screen Actors Guild Award for Outstanding Performance by a Female Actor in a Leading Role.
Michael excelled in athletics from an early age. That wasn't specific to football. He earned scholarship offers in track and basketball, where he averaged 22 points and ten rebounds a game, leading his high school team to an impressive 26-7 record and winning the district championship. He was also the state runner-up in the discus competition.
Did You Know?
Michael was almost ineligible for entry into the NCAA program due to his 0.76 GPA. With diligence and hard work, he bumped it up to 2.52 at the end of his senior year and joined a Division 1 school in Ole Miss. He remains very close to his adoptive family and siblings.
---
3. Denise Oher
Age: N/A
Born: Memphis, Tennessee
Occupation: FedEx worker
Children: N/A
Denise Oher is the younger sister of Michael Oher, born to the same mother and father, Denise. Michael Oher wrote a book titled I Beat The Odds: From Homelessness to The Blind Side and Beyond. He describes how Denise is his only fully related biological sister.
As far as we know, Denise currently works at FedEx.
Did You Know?
Michael said in a Q&A that he met Denise for the first time as adults in 2010. Like Michael, she was also placed in a foster care system, which explained why they lost contact.
---
2. Collins Tuohy-Smith (December 29, 1986 – Present)
Age: 35
Born: Memphis, Tennessee
Occupation: Actress, Entrepreneur
Children: 0

photo source: Wikimedia Commons
Collins Tuohy-Smith is the adoptive sister of Michael Oher and currently co-owns and is the Director of Marketing and Sales for the Whimsy Cookie Company in Memphis, Tennessee. Proving herself as a natural-born entrepreneur, she operates a lifestyle blog called Collins Closets, which offers advice on skincare, fashion tips, interior decorating, and travel.
Carrying on the legacy her mother and father exemplified every day during her youth, Collins is actively involved in The Making it Happen Foundation, which helps underprivileged youth like Michael was. Its mission is to "provide hope and improve the standard of living and quality of life for all the children fighting to survive in the invisible cracks of our society."
Did You Know?
Collins Tuohy married Cannon Smith in 2016. He is the brother of Molly Smith – the co-founder of Black Label Media. Through the production company, Molly Smith was responsible for bringing the award-winning The Blind Side script to the attention of the right executives. You can find Collins on Instagram, where she stays very active.
---
1. Sean Tuohy Jr. (July 4, 1993 – Present)
Age: 28
Born: Memphis, Tennessee
Occupation: Assistant Director of Football Operations
Children: 0
View this post on Instagram
Sean Tuohy Jr. is the youngest sibling in the Oher and Tuohy family!
Sean is currently an assistant director of football operations at Arkansas. Sean is an accomplished athlete in his own right as a member of the first basketball team in Loyola's history to win a post-season game.
He continued to pursue academics, graduating with his bachelor's degree in Communications with a specialization in journalism and marketing from Loyola University in Maryland. He then achieved his master's degree in Humanistic Studies.
Did You Know?
Sean played the guard position for the Loyola Greyhounds.
OTHER POSTS YOU MAY BE INTERESTED IN