If you're a fan of Two and a Half Men, then Jon Cryer needs no introduction. With a star in his name on the Hollywood Walk of Fame for Television and two Primetime Emmy Awards, this actor has reached world fame after a lifetime of working in the film and entertainment industries.
Jon probably got his passion for acting from his father, Donal David Cryer. He's, in fact, not only one of the founders of San Francisco's American Conservatory Theater but also an incredible actor who is particularly known for his role of Firmin in The Phantom of the Opera.
Jon's mother, Gretchen was also a playwright and actress known for several movie appearances and musical productions such as I'm Getting My Act Together and Taking It on the Road.
The couple had three children, Robin, Jon, and Shelley, before their divorce in 1971. Two years later, David married his second wife, Britt Swanson, and had five other kids.
Some of Jon's siblings and step-siblings decided to follow in their brother's career, but most of them kept their life private, hiding from the media. If you would like to know more about Jon Cryer's siblings, then keep reading.
We created a list of all his brothers and sisters ranked from oldest to youngest.
8. Robin Cryer (1963 – present)
Age: 50 Years Old
Parents: Gretchen Cryer, David Cryer
Married To: Unknown
Robin Cryer is Jon's oldest sibling. She came into the world in 1963 and is currently 50 years old. Robin was Gretchen and David Cryer's first child. The two waited five years after marriage before giving birth to their first kid.
---
7. Jon Cryer (April 16, 1965 – present)
Age: 57 Years Old
Parents: Gretchen Cryer, David Cryer
Married To: Lisa Joyner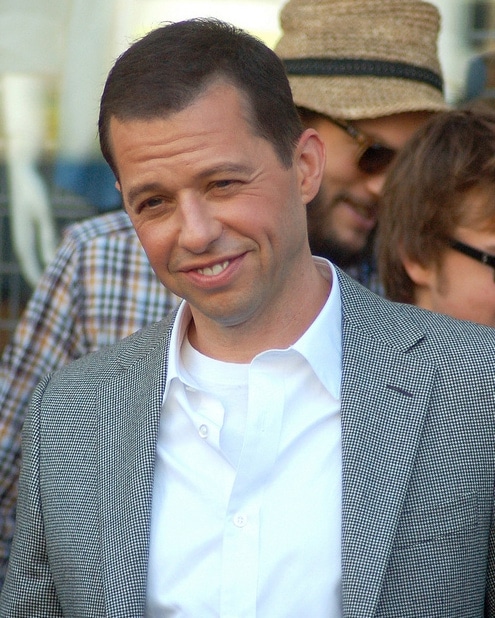 photo source: commons.wikimedia.org
Jon Cryer came into the world in 1965 and is an American actor particularly known for his role as Alan Harper in the tv series, Two and a Half Men.
Jon was born in NYC and, at the young age of 12, decided he wanted to pursue a career in acting, probably inspired by his father. In his teenage years, he attended Stagedoor Manor Performing Arts Training Center every summer until he graduated from the Bronx High School of Science in 1983.
Following his graduation, Jon decided to move to London to attend the Royal Academy of Dramatic Art despite his mother wanting him to go to college. Here he joined a short summer course focusing on Shakespeare.
Jon made his debut in the cinematic industry in 1984, playing the role of a teenage photographer in the movie Small Affair. Two years later, he finally got a serious role in the film Pretty in Pink.
In 1998, Jon produced his first film, called Went to Coney Island on a Mission from God… Be Back by Five. He then started to get interested in tv series. Jon appeared in several shows, such as Partners, The Trouble with Normal, and The Famous Teddy Z.
Finally, in 2003, he got the role of his life as a co-leading character in Two and a Half Men. His stunning performance earned him two Primetime Emmy Awards, and in 2011, he was also added to the Hollywood Walk of Fame for Television.
Throughout his career, Jon also took part in many movies such as Hit by Lightning, Superman IV: The Quest for Peace, Hot Shots!, Tortured, Shorts, Holy Man, and Hiding Out.
Despite many people believing Jon to be homosexual, he has repeatedly confirmed his heterosexuality. In fact, in 1999, he married British actress Sarah Trigger. The two had a son together, Charlie Austine, however, the marriage did not end up well. In fact, the couple divorced in 2004.
Since then, Jon has started to date reporter Lisa Joyner whom he married in June 2007. The wedding took place in Mexico, and the couple decided to adopt a baby girl.
Did You Know?
Jon went to school with screenwriter and film director Boaz Yakin.
---
6. Shelley Cryer (Unknown – present)
Age: At Least 50
Parents: Gretchen Cryer, David Cryer
Married To: Micheal Stern
Shelly Cryer is one of Gretchen Cryer and David Cryer's two daughters. Unfortunately, we couldn't find any information about her age, however, considering that her parents divorced in 1971, she must be at least 50 years old.
Despite this, we managed to gather some news about her life. Shelly married Micheal Stern in 2006. Her husband is the son of Isaac Stern, an American violinist and symphony conductor.
Micheal was inspired by his father to pursue a musical career and is now the director and chief conductor of the Kansas City Symphony in Missouri. Before moving to the US, he also conducted the Orchestre National de Lyon in France, performing in several European cities, ranging from Paris to Lille and Bordeaux.
Micheal and Shelley have two daughters. Hannon, who was born in 2007, and Nora, who came into the world in 2009. While Micheal is private about his daughters' lives, Shelly likes to share pictures of her family on her Facebook profile.
The two girls seem to also like music, in fact, they have written a few songs on their own. They also made a cover of Maroon 5's Girls Like You while trying to kill time during the Covid-19 pandemic.
Unlike the rest of her family, Shelley doesn't have any musical talent. According to her, she cannot sing in tune or play any instrument.
Shelley is a native of Greenwich, Connecticut, and is extremely interested in charity projects, in particular, in improving and assisting the lives of the many Afghan refugees living in her community.
Shelley is also the founder of the Nonprofit Sector Workforce Coalition and the Initiative for Nonprofit Sector Careers.
Did You Know?
In 2008, Shelley published her first book concerning her career, The Nonprofit Career Guide: How to land a Job That Makes a Difference.
---
5. Bill Cryer
No personal or professional information in available about Bill Cryer
---
4. Rachel Britt Saul (1974 – present)
Age: 48 Years Old
Parents: Britt Swanson, David Cryer
Married To: Unknown
Rachel Britt Saul was born in 1974 and is currently 48 years old.
---
3. Daniel Russell Cryer (1976 – present)
Age: 46 Years Old
Parents: Britt Swanson, David Cryer
Married To: Unknown
Daniel Russell was born in 1976 and is currently 46 years old. Similarly to his half-brother Jon, he decided to follow in his father's footsteps and pursued an acting career.
He grew up in Teaneck, New Jersey, where he attended public schools and played football. Daniel was extremely good in school and managed to get into Princeton University, from which he graduated in 1998.
After graduation, he officially launched his acting career. In 2002, he took part in Manchild, a British television comedy/drama series. The following year, he played a small role in Mile Drama, and two years later, in 2005, he made an appearance in the movie Zemanovaload.
Did You Know?
Apart from his acting career, Daniel also excels in the visual arts.
---
2. Carolyn Elizabeth Cryer (1979 – present)
Age: 43 Years Old
Parents: Britt Swanson, David Cryer
Married To: Unknown
Similarly to some of her siblings, Carolyn Elizabeth likes to keep her life private. For this reason, we couldn't find any info regarding her.
However, we know she was born in 1979 and is Britt and David's second daughter.
---
1. William David Cryer (1987 – present)
Age: 35 Years Old
Parents: Britt Swanson, David Cryer
Married To: Unknown
William David Cryer is Jon Cryer's youngest sibling, as he was born in 1987 and is currently 35 years old. Unfortunately, we couldn't gather any extra information regarding his private life.
OTHER POSTS YOU MAY BE INTERESTED IN