Chelsea Handler is a famous American comedian and actress mostly known for her show Chelsea Lately.
She was born in Livingstone, New Jersey, to Rita and Seymour Handler. Her father was Ashkenazi Jewish, while her mother was from Germany. Chelsea was the youngest of six siblings. Are you curious to discover more about her family? In this article, we will discuss Chelsea Handler's siblings ranked oldest to youngest.
6. Chet Handler (1962- 1984)
Age (at time of death): Died At The Age Of 22 Years Old
Profession: Unknown
View this post on Instagram
Chet Handler was Chelsea's oldest brother. He was born in 1962 and tragically died in 1984 at the young age of 22 years old. His death was a shock for the family as he died falling off a cliff while hiking in Jackson Hole in Wyoming.
At the time of the accident, Chelsea was only nine years old. The famous comedian remembered her brother in an Instagram post published on her account in 2017. The post reads: "33 years ago this month my brother Chet died.
He was 22, and the oldest of 6 kids. We were never 6 again. Only 5. The number was never the right number again. But, because of that day, I learned how to live and love and laugh."
Did You Know?
Chelsea declared that she never fully dealt with the trauma until she started to go to therapy.

---
5. Roy Handler (August 31, 1962 – present)
Current Age (as of November 2022): 60 years, 2 months, 21 days
Profession: Chef
View this post on Instagram
Roy Handler is Chelsea's second oldest brother. He came to the world in 1962 and is currently 60 years old.
Roy graduated from high school in 1980 and immediately started to work in restaurants. After seven years, he decided to take control of his life, and, following his father's advice, he enrolled in the Culinary Institute of America in 1988, considered one of the best culinary schools in the US.
Rory graduated in 1990 and was hired in a Five Diamond property. In 1995, he decided to change jobs and went to work at Morris County Golf Club. Here he had a few issues with the Executive Chef, who was not in favor of changes.
Rory kept working as a chef and soon after he landed his first Executive Chef Position at Newton Country Club in Newton, New Jersey. Throughout his career, he specialized in northern Italian cuisine and served as chef for her sister's crew. He worked with Chelsea for a total of six years, but in 2015 he decided he had had enough of the show business and left the job.
Roy soon decided to work for another of his sisters, Simone, who invited him to join her in Palau, an archipelago of over 300 rock islands. Here, Roy brought fine dining for the first time to the region.
Roy made the news in 2014 when he was scandalized after finding nudes of his sister online. Apart from this, he also appeared on his sister's show and is now living in Koror.
Did You Know?
Roy wrote A Brother's Testimony chapter for Lies Chelsea Handler Told Me book.
---
4. Glen Handler (October 22, 1963 – present)
Current Age (as of November 2022): 59 years, 30 days
Profession: Internal Audit at KYOCERA Document Solutions America
View this post on Instagram
Glen Handler was born in 1963 and is currently 58 years old. He is a very private person and for this reason, we don't have much information about his life.
Did You Know?
Glen contributed to a chapter of the book Lies Chelsea Handler Told Me.
---
3. Simone Handler-Hutchinson (March 15, 1965 – present)
Current Age (as of November 2022): 57 years, 8 months, 6 days
Profession: Principal Healthcare Compliance Manager at Genentech
Simone was born in 1965 and is currently 57 years old. She lives in San Francisco and is Chelsea's oldest sister.
Did You Know?
Simone took part in Chelsea's show in 2016.
---
2. Shoshanna Handler (October 31, 1969 – present)
Current Age (as of November 2022): 53 years, 21 days
Profession: Unknown
View this post on Instagram
Shoshanna Handler is Chelsea's youngest sister, as she was born in 1969 and is currently 52 years old.
She is now living in West Caldwell, New Jersey, together with her husband, a daughter, and a son.
Shoshanna has an Instagram account with almost 1500 followers where she frequently posts photos of her family.
Did You Know?
Shoshanna Handler is the author of the chapter Sisterly Love, written for Chelsea's bestseller book Lies Chelsea Handler Told Me.
---
1. Chelsea Handler (February 25, 1975 – Present)
Current Age (as of November 2022): 47 years, 8 months, 27 days
Profession: Comedian, television host, and actress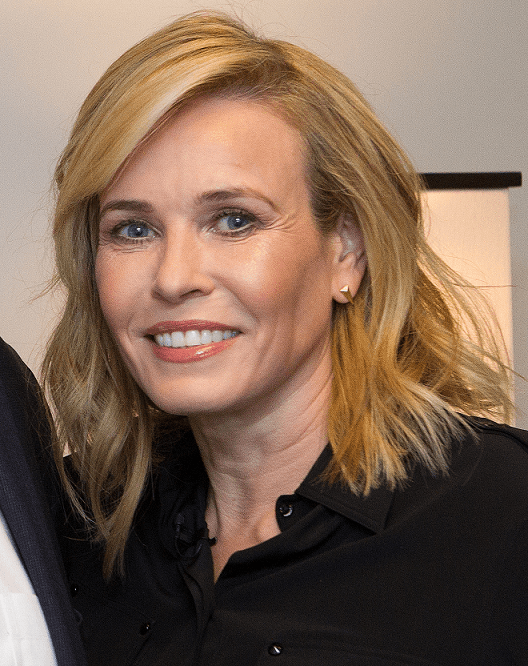 photo source: Wikimedia Commons
Chelsea Handler is the youngest of the Handler siblings at the age of 47.
Chelsea has made a name for herself in the world of comedy and as a late night talk show host. She began her career in 2002 as a member of the all-female cast of Oxygen's hidden camera reality television series Girls Behaving Badly.
After appearing on several more shows such as Weekends at the D.L., The Bernie Mac Show, My Wife and Kids, and as a correspondent on The Tonight Show, Chelsea landed her own sketch show on the E! network in 2006. While the show only lasted one season, E! decided to give Chelsea her own late night comedy show, titled Chelsea Lately in 2007.
Chelsea Lately was a hit and ran until 2014. Following the end of Chelsea Lately, Handler released a documentary series and stand-up specials.
Behind the scenes, Chelsea has produced numerous series. She has also written several books.
Did You Know?
In 2012, Chelsea Handler was named to Time magazine's 100 most influential people in the world on its annual Time 100 list.
OTHER POSTS YOU MAY BE INTERESTED IN