If there's one player that has the potential to become the next face of basketball, capable of attempting to follow the impossible legacy left by Lebron James, it has to be the man with the 5-syllable last name. Giannis "The Greek Freak" Antetokounmpo is 6'11" of unstoppable force and skill.
As the 15th pick in the 1st round, hindsight tells us 14 mistakes were made by every team who passed on the two-time MVP winner and 2021 NBA champion. Dealing with one Antetokounmpo is enough to handle on the court, but Giannis has four brothers, most of whom are looking to make a name for themselves in the NBA.
Let's take a look at this vertically gifted family while we rank them from oldest to youngest!
5. Francis Antetokounmpo (October 20, 1988 – Present)
Age (as of June 17, 2022): 33
Born: Lagos, Nigeria
Occupation: Musician, Professional Soccer
Team: AE Sparti, Aittitos Spaton
View this post on Instagram
Francis is the oldest of this 5-sibling Greek family to parents Veronica and Charles Antetokounmpo. He wasn't the best basketball player, but that will never take away his distinction as the first! That means he was better than all of them at one point. Now that's something he can take to the bank!
Francis strayed from the basketball family business while playing as a semi-pro to pursue a professional career in soccer, playing for Greek clubs AE Sparti and Aittitos Spaton. But athletics isn't the only thing Francis relied on to make a name for himself, and it's where he strays from his siblings.
Taking after his mother, Veronica, an avid music enthusiast, Francis set aside his athletic career to try his hand at becoming a musician. He released his first single in July 2020, titled "Shekosi." The music video for the single is featured on the brothers' official YouTube page AntetokounBros Tv with over 164k views. His next single, "Jump On It," touts 88k views.
Did You Know?
Francis's birth inspired his parents to leave Nigeria in search of a new home. They flew to Athens, Greece, without Francis, who stayed with his grandparents until mom and dad found a place that could fit them and the four future NBA players that would soon come.
---
4. Thanasis Antetokounmpo (July 18, 1992 – Present)
Age (as of June 17, 2022): 29
Born: Athens, Greece
Occupation: Professional Basketball
Team: Milwaukee Bucks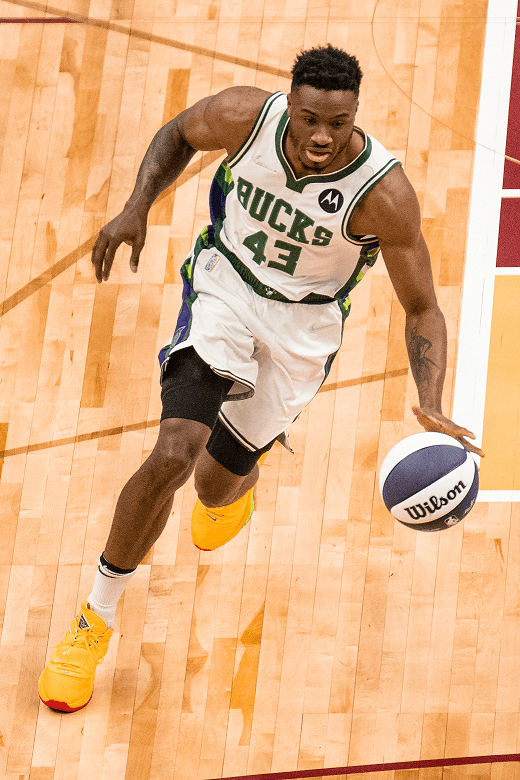 photo source: Wikimedia Commons
Giannis isn't the only Antetokounmpo to wear a Milwaukee Bucks jersey! Thanasis has carved his path and identity as a productive player in the greatest league on earth, alongside his superstar brother. They both shared an unforgettable moment as they became 2021 NBA champions after beating Chris Paul's Phoenix Suns.
His journey to the NBA was filled with forks in the road and certainly wasn't as smooth as the trek for Giannis, who showed MVP-caliber potential from a young age. Thanasis moved around the Greek basketball circuit, playing for obscure teams until he took a role on the developmental league team – Delaware 87ers (2013-2014).
He quickly proved he belonged with his fellow NBA hopefuls, averaging 12 points, 4.3 rebounds, and 1.3 blocks in 50 games. After his D-league stint, he was selected as the 51st pick in the 2nd round of the NBA Draft by the New York Knicks. After a step forward, a few steps back, and another push forward, he found his home in Milwaukee in 2019, where he currently plays.
Did You Know?
Thanasis played for the senior Greek national team, the 2016 FIBA World Olympic Qualifying Tournament, and in EuroBasket 2017. During his time in EuroBasket, he was nicknamed "The Elevator," courtesy of Greek sportscaster Vangelis Loannou, because of his jumping ability.
---
3. Giannis Antetokounmpo (December 6, 1994 – Present)
Age (as of June 17, 2022): 27
Born: Athens, Greece
Occupation: Professional Basketball
Team: Milwaukee Bucks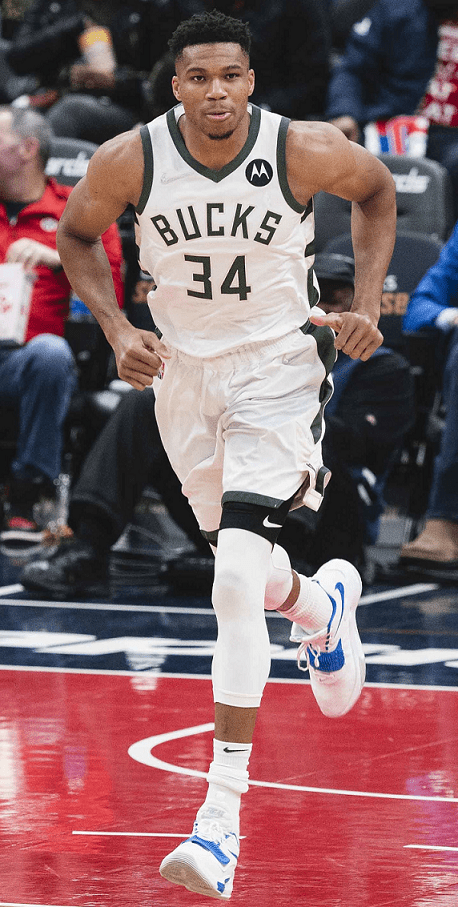 photo source: Wikimedia Commons
Giannis Antetokounmpo is the new cream of the crop in basketball. After his induction into immortality as a 2021 NBA Champion and Finals MVP, he officially earned a spot amongst the list of current all-time greats like Stephen Curry, Lebron James, Chris Paul, and Kevin Durant.
He is almost 7 feet and 245 lbs of unbridled energy that can extend the length of a court in just a few strides. The league has seen legends come and go, but it's safe to say that none are quite like Giannis — a true one of one.
He was raised in Athens with his brothers and introduced to basketball through the Filathlitikos youth teams in 2011.
Drafted in 2013 and by 2016, he led the Milwaukee Bucks in all five major statistical categories. He became the first player in NBA history to land in the top 20 in points, rebounds, assists, steals, and blocks. Three years was all it took to go from the lanky European kid to the man we know now. His ascension also netted him a Most Improved Player award in 2017.
In 2019 and 2020, he won back-to-back MVP awards and a 2020 Defensive Player of the Year Award to sprinkle on top of an already historic season. Through the years, Giannis and his team struggled to take that next step in the playoffs and reach the top of the mountain known as the Larry O' Brien trophy.
As is typical with young stars, they outgrow their draft team and seek a big-market team with better players in pursuit of a championship, but Giannis flipped the script.
The superstar opted to stay with his small-market team and stick it out, expressing his commitment to winning one only with the Bucks. For that, he's engraved in history as a Milwaukee great. Based on how competitive they are each year, it looks like it'll stay that way.
Did You Know?
Antetokounmpo is the result of a misspelling on his passport when coming to America. The original last name is Adetokunbo, but the family adopted the new surname, symbolic of a fresh start.
---
2. Kostas Antetokounmpo (November 20, 1997 – Present)
Age (as of June 17, 2022): 24
Born: Athens, Greece
Occupation: Professional Basketball
Team: ASVEL Basket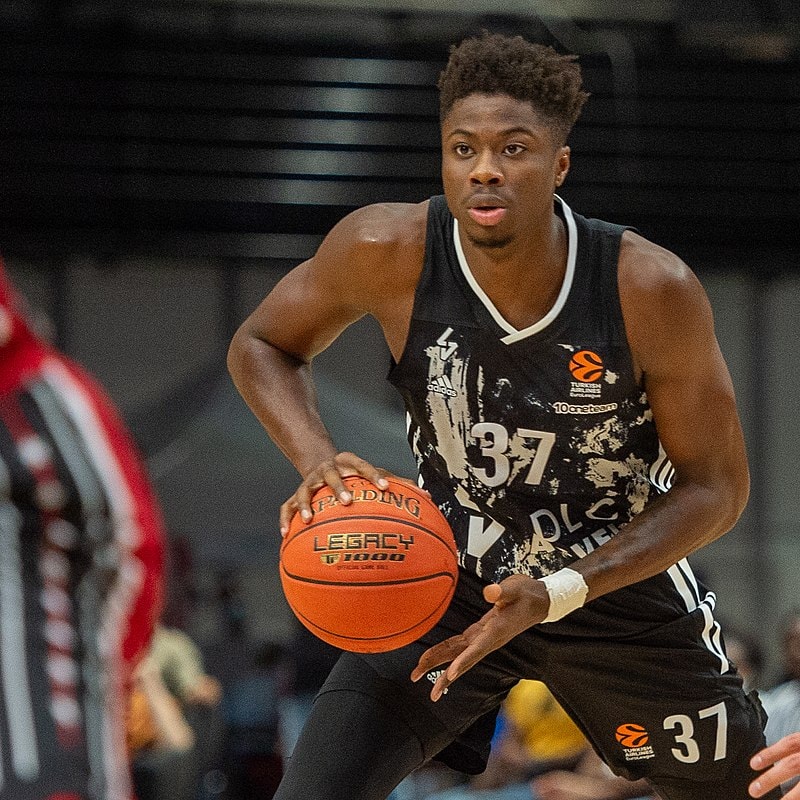 photo source: commons.wikimedia.org
Kostas is a professional basketball player who's played in Europe and America. He's the current power forward and center for ASVEL of the French Betclic Elite. As far as names go, we've heard better.
He was drafted 60th in the 2nd round of the 2018 NBA Draft (the last pick) to the Philadelphia 76ers and then traded to the Dallas Mavericks on a two-way contract, playing in the NBA and its developmental league affiliate, the Texas Legends.
After a brief campaign with the Lakers with next to no playing time, it turned out to not be such a waste. Landing on a team with LeBron will usually pay off. For Kostas, that held true.
Did You Know?
In a historic playoff run that took place in "the bubble" in Orlando, he became the first Greek-born player to win an NBA championship after defeating the Miami Heat in six games.
---
1. Alex Antetokounmpo (August 26, 2001 – Present)
Age (as of June 17, 2022): 20
Born: Athens, Greece
Occupation: Professional Basketball
Team: Raptors 905 (G-League)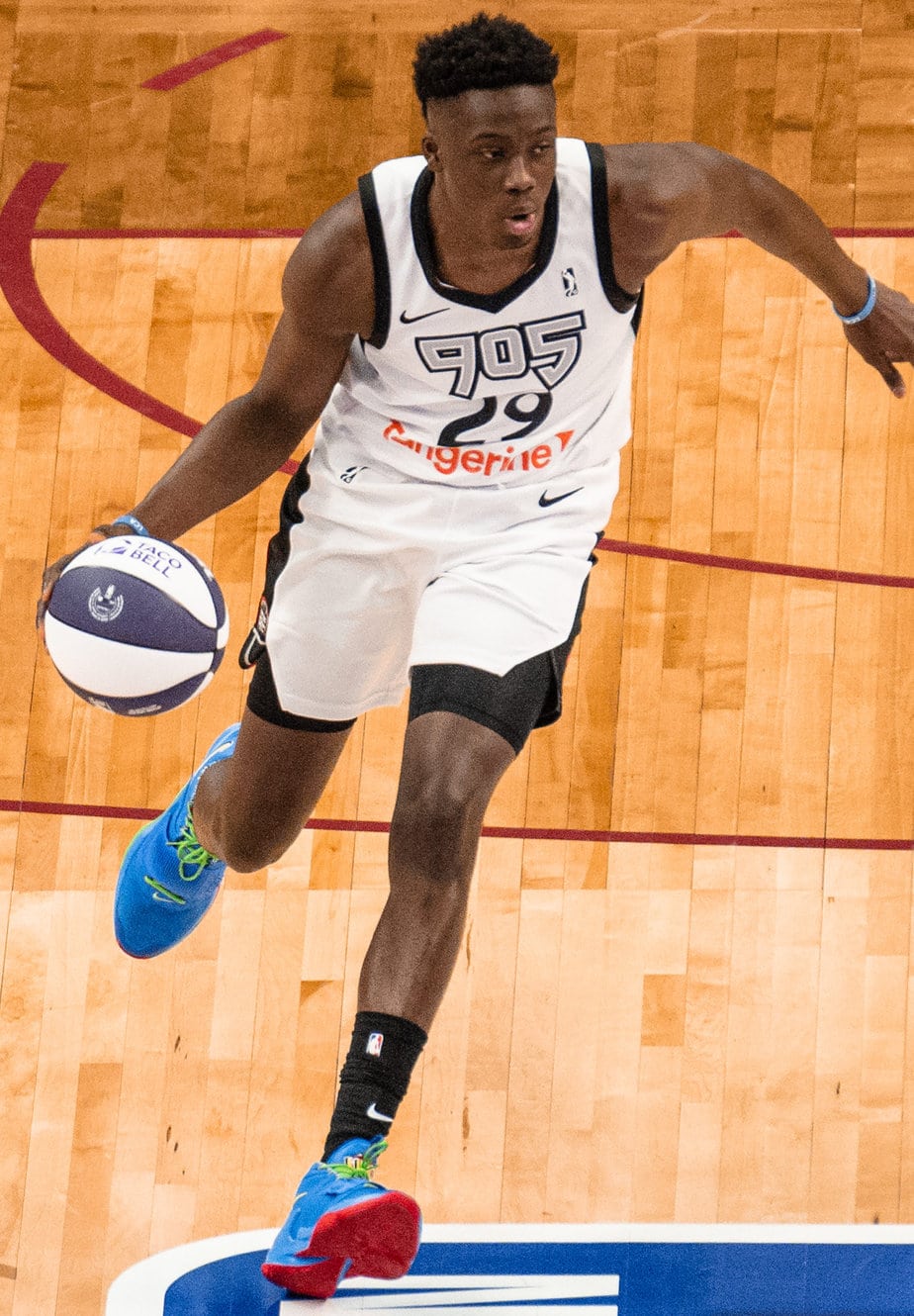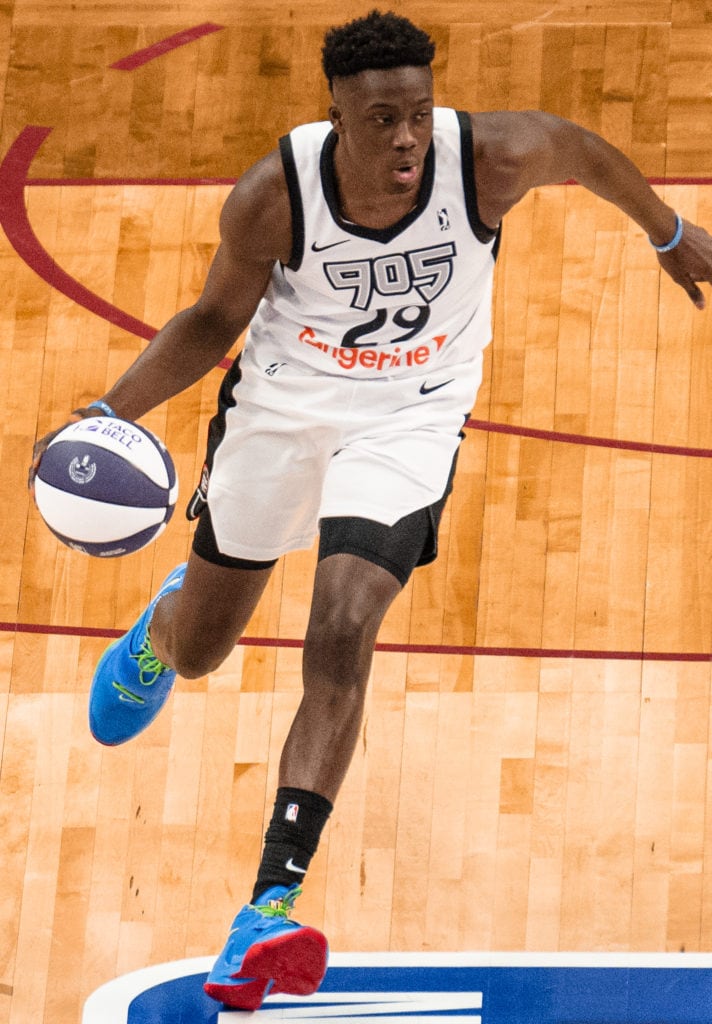 photo source: wikipedia.org
Alexandros Antetokounmpo is the youngest sibling in this basketball family!
Alex is a 20-year-old Greek-Nigerian basketball player best known for playing for the Toronto Raptors G-League affiliate Raptors 905 after going undrafted in the 2021 NBA Draft.
At just 20, we're yet to see Alex realize his full potential, but given that he's an Antetokounmpo, the sky is the limit, and we look forward to seeing what he accomplishes next.
Did You Know?
Alex and his mother were never official Greek citizens. That is until they were bestowed honorary Greek citizenship via the Prime Minister of Greece, Kyriakos Mitsotakis, in September 2021.
OTHER POSTS YOU MAY BE INTERESTED IN