Whether we like it or not, the world is shaped by the richest among us. Money is responsible for creating either the superhero, supervillain, or the antihero. The kind that obeys the laws of physics, of course! Money gives the option to buy politicians to shape policy to enrich the wealthy. Or it can bring back dignity to the ones less fortunate. Money and its power to create or destroy are two sides of the same coin. That's why it's so important that it falls in the hands of someone ready to wield it and use it for means beyond just selfish ones.
A billion dollars is a number saved for a select few. To reach it, you generally need to be a CEO of a Fortune 500 company, an oil magnate, an heir with a royal bloodline, or an owner of an aerospace manufacturer, with years and years spent working sleepless nights to achieve financially elite status.
Well, today we're going to look at some of the youngest black billionaires in the entire world.
8. Oprah Winfrey
Age: 68
Born: 01/29/1954
Occupation: Media Personality
Net Worth: $2.7B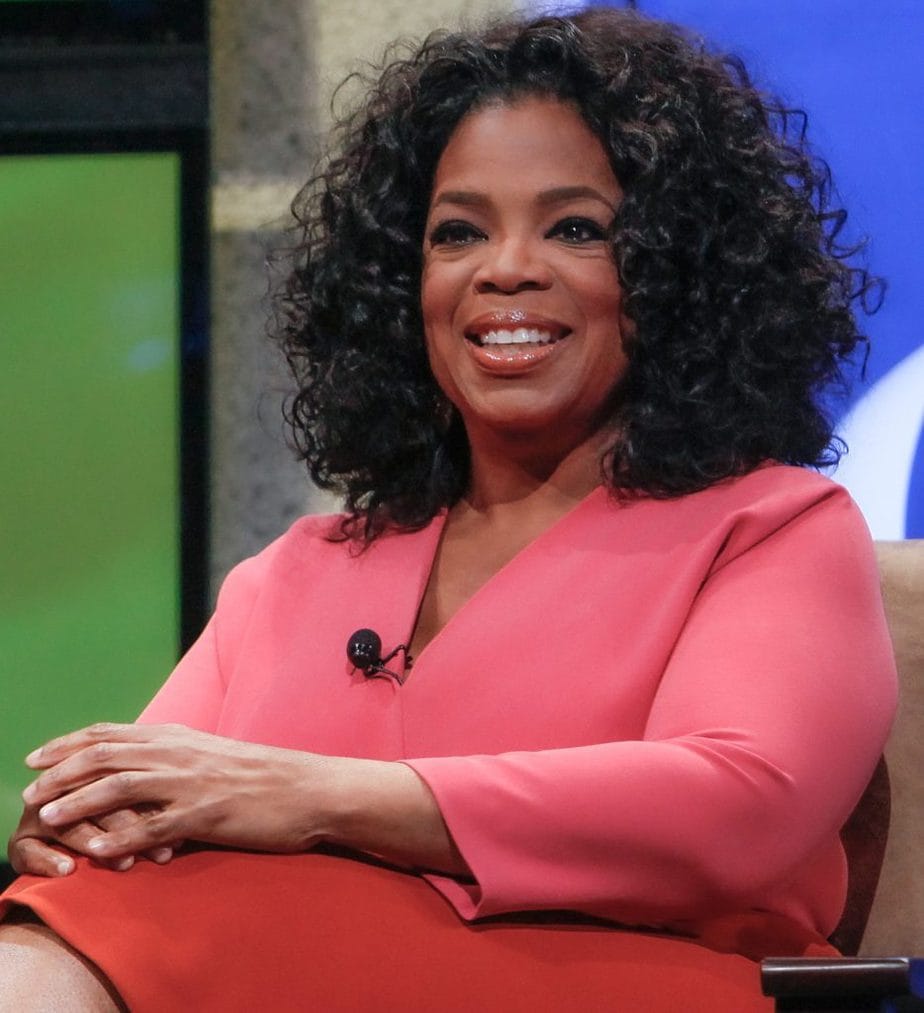 photo source: commons.wikimedia.org
Oprah Winfrey is one of the most powerful and famous women on the planet. She's been a staple of American entertainment and conducted interviews with the world's most relevant celebrities, politicians, and titans in almost every industry. The media mogul is the CEO of Harpo Productions and the Oprah Winfrey Network.
Oprah was one of the pioneers of a new style of interview, using a measured, empathetic, intimate approach to getting the big scoop. Whether it was a scandal, heartbreaking, or wholesome, she is a master at bringing the best from her subjects in her informal, relaxed style.
Did You Know?
Oprah has amassed so much wealth in her career that rapper Lil Yachty wrote a song praising her wealth. It was appropriately titled "Oprah's Bank Account."
---
7. Patrice Motsepe
Age: 60
Born: 01/28/1962
Occupation: Businessman
Net Worth: $3B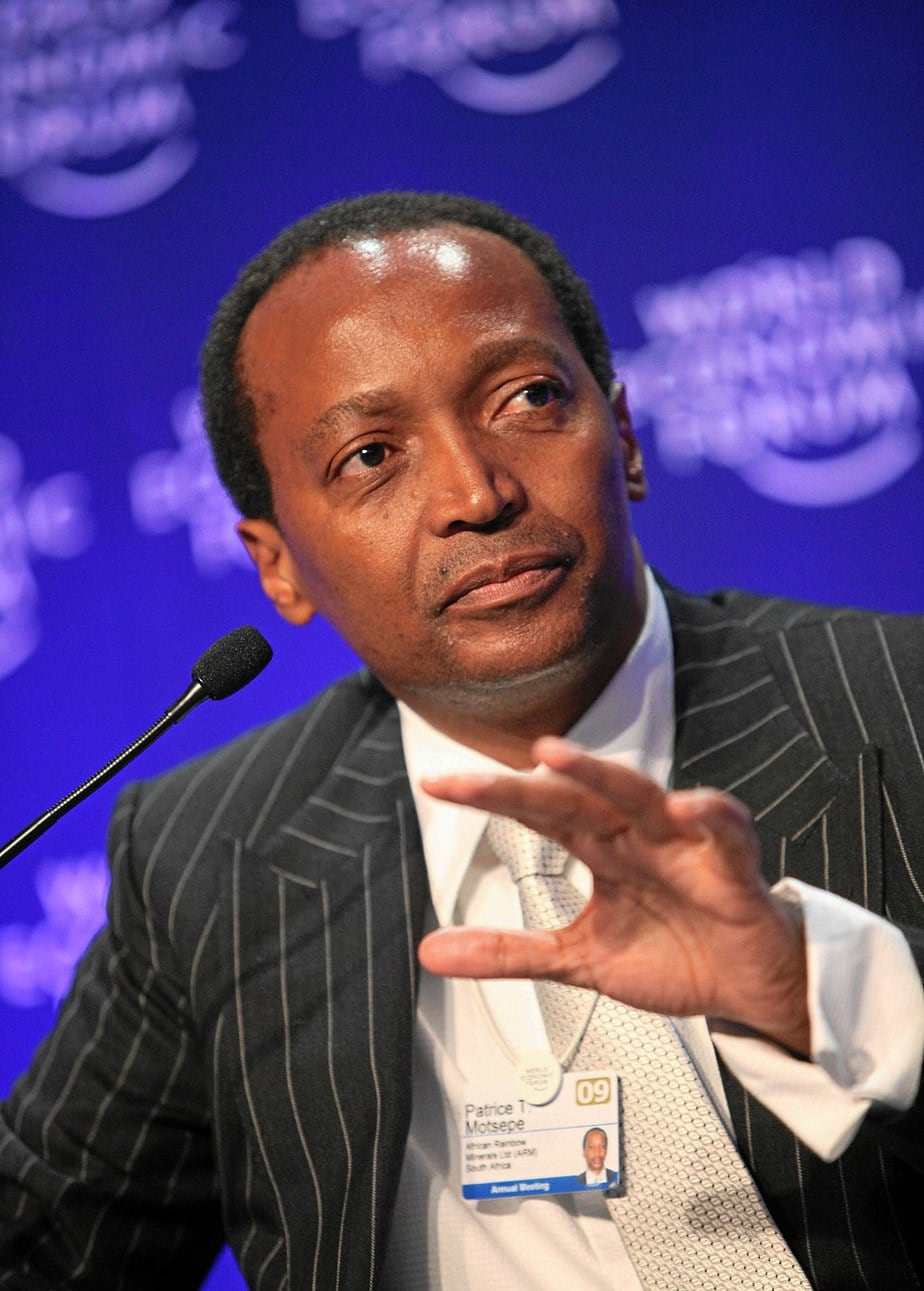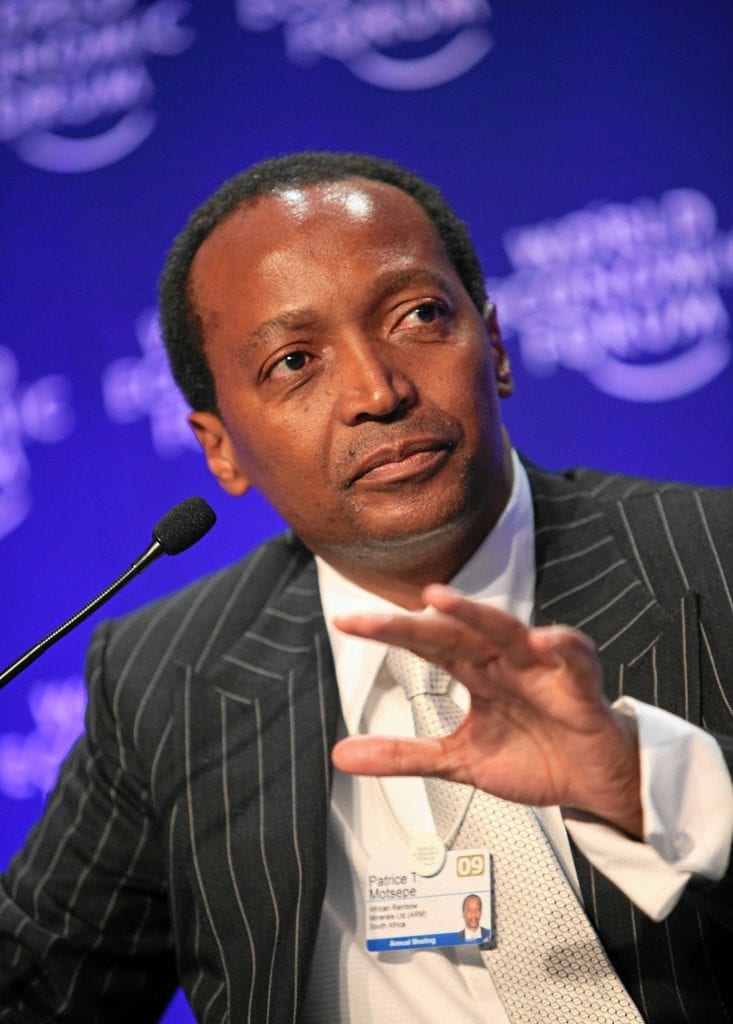 photo source: commons.wikimedia.org
Patrice Motsepe is a South African mining magnate and businessman. He's the founder of African Rainbow Minerals, which specializes in the collection of gold and other precious metals. He also serves as President of the Confederation of African Football.
In 2013, he used his power for good and pledged to commit half of his wealth to various charitable causes.
Did You Know?
Motsepe has been an important advocate for the empowerment of black youth and black-owned business around the world. In 2011, he was named chairman of the Black Business Council.
---
6. Robert Smith
Age: 59
Born: 12/01/1962
Occupation: Businessman, Chemical Engineer, Investor
Net Worth: $6.7B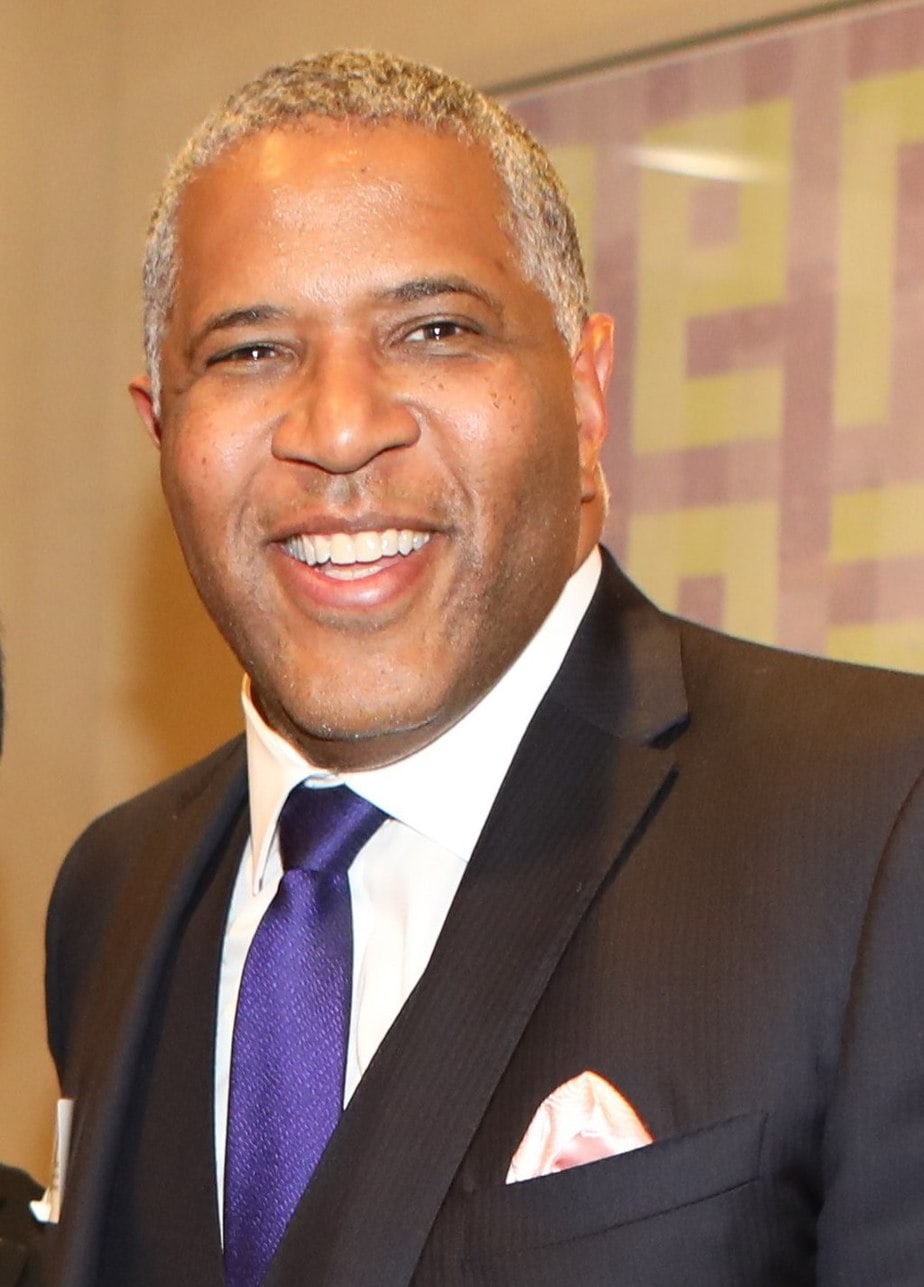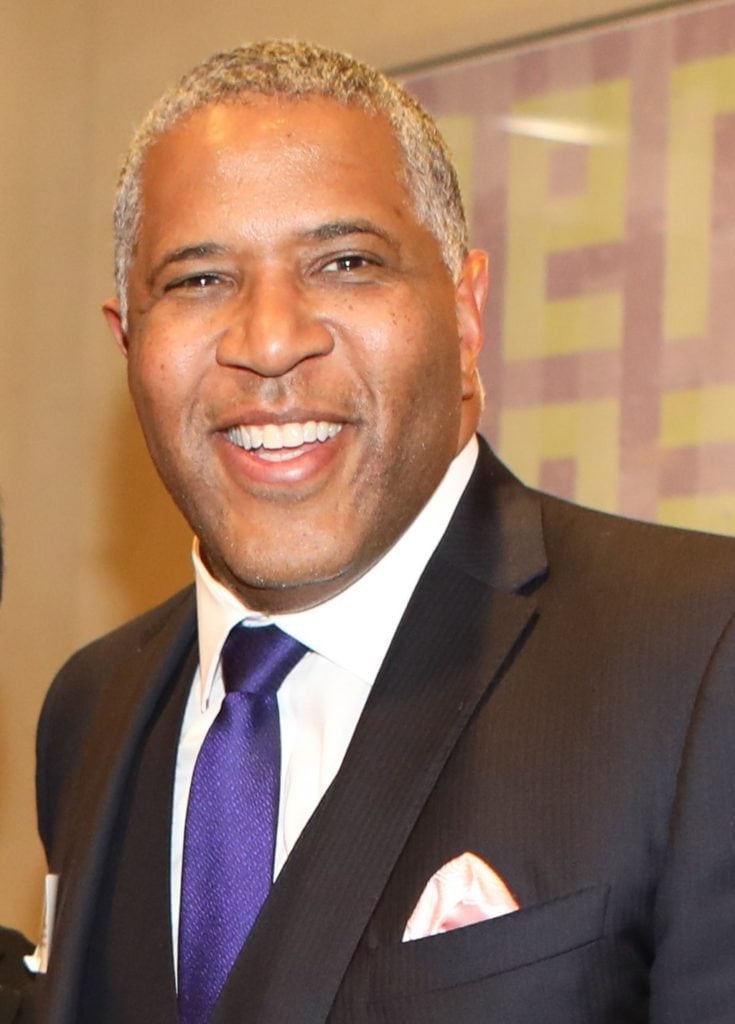 photo source: commons.wikimedia.org
Robert Frederick Smith, not to be confused with Robert Smith (lead singer of The Cure), is a man who wears many hats. On top of being your everyday businessman, he's a philanthropist, chemical engineer, and investor. He's the CEO of the private equity firm Vista Equity Partners. The firm focuses on financing software, data, and technology to help boost new startups.
Smith graduated from Cornell and worked at Goodyear and later at Kraft General Foods as a chemical engineer. Ready for more, he took on Wall Street and worked for Goldman Sachs in technology and investment banking.
Did You Know?
Robert F. Smith achieved an MBA from Columbia University.
---
5. Michael Jordan
Age: 58
Born: 02/17/1963
Occupation: Businessman, Former NBA Player
Net Worth: $1.6B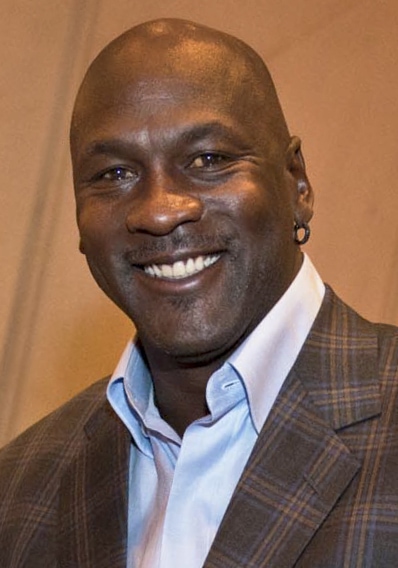 photo source: commons.wikimedia.org
Michael Jordan is regarded as the greatest basketball player to lace them up and take to the hardwood. His net worth is reflective of that. Retired from the game since 2003, he's perhaps best known as the owner of the Jordan brand. His shoes and lifestyle apparel are a staple in youth culture, and you'll find lines wrapping around the block whenever a new shoe release looms.
Jordan is the first billionaire player in NBA history, and he is the majority owner of the Charlotte Hornets franchise.
Did You Know?
Since 2004, Michael Jordan once owned Michael Jordan Motorsports, a professional race team.
---
4. Tyler Perry
Age: 52
Born: 09/13/1969
Occupation: Actor, Director, Producer, Screenwriter
Net Worth: $1B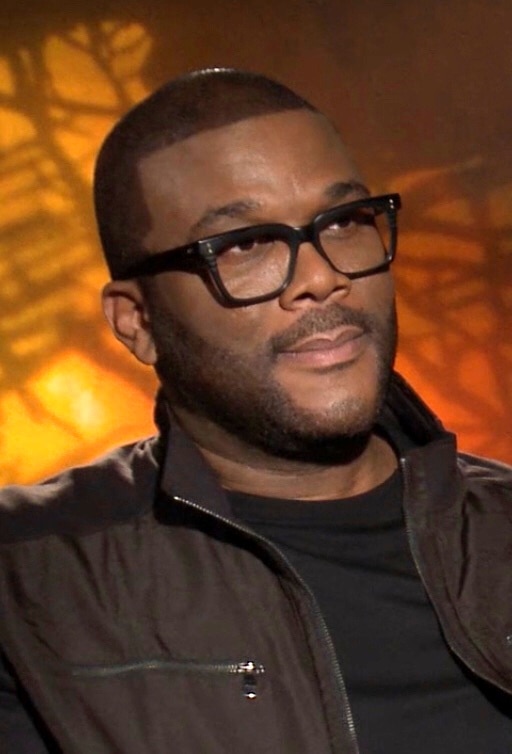 photo source: commons.wikimedia.org
Tyler Perry is a multimedia mogul and owner of Tyler Perry Studios. In 2011, Forbes listed him as the highest-paid man in entertainment when he earned upwards of $130 million between 2010 and 2011. He's since been overtaken by action star Dwayne Johnson, but Perry is still rich.
We'd imagine The Rock isn't too far behind. Tyler Perry inked a multi-year deal with fellow billionaire Oprah Winfrey as part of an effort to bring scripted television to the OWN Network.
Did You Know?
Prince Harry and Meghan Markle credit Perry for providing them 24-hour security and housing for three months to ensure they were able to safely relocate to California. This was in March 2020, following the suspension of their British Royal protection after disbanding from the royal family.
---
3. Jay-Z
Age: 52
Born: 12/04/1969
Occupation: Rapper, Businessman
Net Worth: $1.4B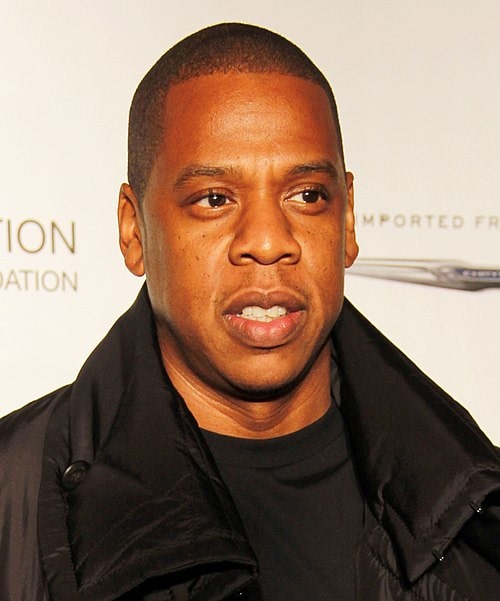 photo source: commons.wikimedia.org
Jay-Z is a living legend in the rap game. Aside from being regarded as one of the most gifted rappers to release a record, he's proven to be a prolific businessman, record executive, and entrepreneur. Former CEO of Def Jam Recordings, he is responsible for giving the platform for artists like Kanye and Rihanna to showcase their talents.
In 1999, he founded the clothing brand Rocawear. You may have seen their clothing sported on all the young, up-and-coming rappers of the early 2000s. Relentless in his venture capitalist pursuits, he founded the acclaimed entertainment company Roc Nation in 2008.
Did You Know?
Jay-Z is married to superstar and entertainment royalty, Beyoncé. Together, they form quite the power couple and now a power family with their three children
---
2. Kanye West
Age: 44
Born: 06/08/1977
Occupation: Rapper, Businessman, Fashion Designer
Net Worth: $1.8B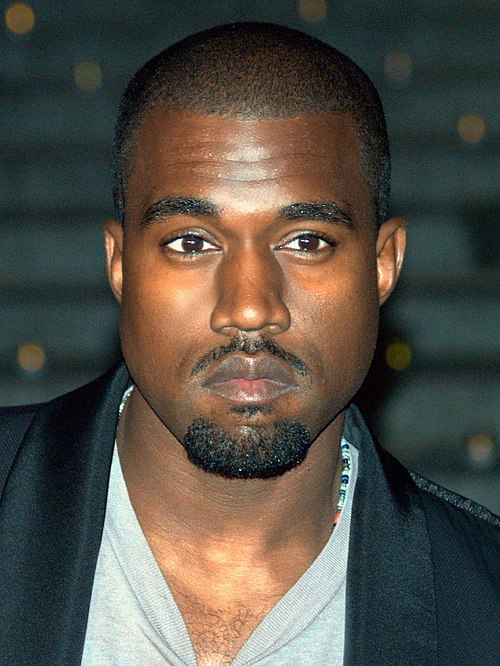 photo source: commons.wikimedia.org
Kanye West is an innovator in every sense of the word. Using rap as the vehicle to launch him into bold new ventures like fashion design has made him one of the highest-earning individuals on the planet. Separate from his early timeless music that captures the essence of the coming of age struggles, he's just as known for his role in the streetwear chic fashion space.
Kanye has ruffled feathers and is no stranger to falling into controversy through remarks, actions, and price points of his clothing. But there's no doubt that Kanye has made a profound impact on American culture in more ways than just one.
Did You Know?
Kanye West is married to media personality and entrepreneur Kim Kardashian. Together they have four children.
---
1. Muhammed Mustapha
Age: 9
Born: 2013
Occupation: Social Media Personality
Net Worth: $1.2B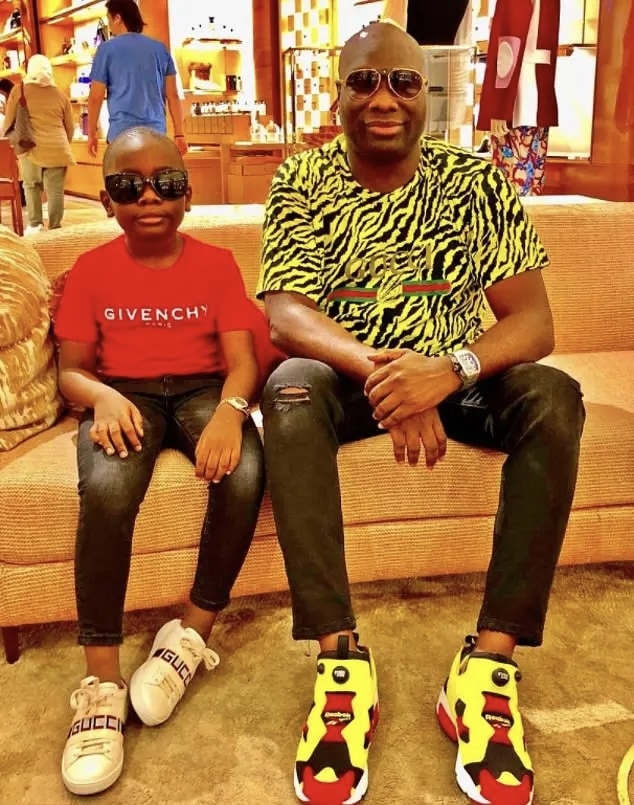 photo source: ladunliadinews.com
Muhammed Mustapha is the youngest billionaire on the planet!
At just nine years old, Muhammed Mustapha owns an excess of $1 billion, alongside some modest luxuries like a mansion, private jet, and a few supercars that really put the icing on the cake. Unlike the others we mentioned here, Muhammed has no official occupation at nine thanks to the billions he has inherited from his parents. Though he inherited his billions, he still belongs to this exclusive club.
According to various reports, Mustapha is the son of multimillionaire Nigerian internet celebrity Ismailia Mustapha. He can be seen on his Instagram account, @momphajnr, wearing the latest designer brands like Gucci, Prada, and Dior.
Did You Know?
Unsurprisingly, there's been controversy that surrounds the young boy's wealth. The Nigerian anti-corruption agency presented claims to court that the family has potentially hidden wealth in luxury watches and "movable assets" for the purpose of evading taxes. It's alleged that his father's company, Ismalob Global Investment Limited, was used to defraud people of more than $79 million collectively.
OTHER POSTS YOU MAY BE INTERESTED IN