Susan Sarandon has become as synonymous with her Herculean efforts in philanthropic and political activism as she has been in her acting career. She's been nominated and awarded several times for her work on the big screen.
In 2022, at 75-years-old, she hasn't lost a step and is slated to appear in a few upcoming projects, including the superhero film Blue Beetle in 2023.
As just one of nine siblings, it's no surprise Susan has stayed young in mind and spirit. With a few of her brothers and sisters also involved in the industry, the Sarandon family is still a family unit. How often can that be said in the world of show business?
Though the ages of most of her siblings are a mystery, we'll do our best to delve deeper into the lives of Susan and her siblings while we rank them from oldest to youngest!
9. Susan Sarandon (October 4, 1946 – Present)
Age (as of July 28, 2022): 75
Born: Queens, New York
Occupation: Actress, Activist
Known For: Thelma & Louise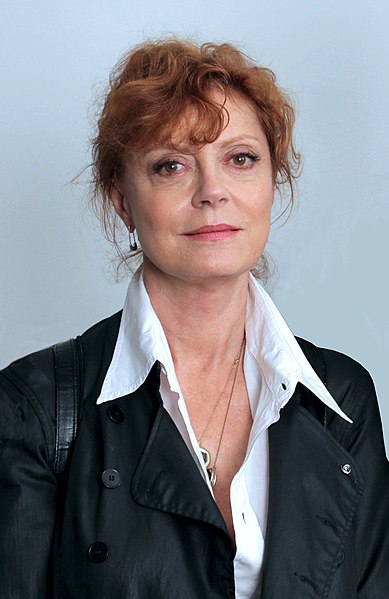 photo source: commons.wikimedia.org
Susan Sarandon is the daughter of Phillip Tomalin and Leonora Criscione. She is the eldest of the nine-sibling Sarandon troupe.
As you'd expect, that means she had the responsibility of acting as a second mother and third parent to the rest of her family. In an interview in 2014 with Time Out Magazine, she elaborated on the effects the undertaking of becoming a motherly figure had on her and how it helped prepare her for a career in television and film.
Throughout her career, Sarandon has won an Academy Award for Best Actress in Dead Man Walking, a SAG Award, and several nominations for Daytime Emmy's, Primetime Emmys, and nine Golden Globes Awards.
Apart from her career, Sarandon has been steadfast in her fight against the political war machine. She's become an outspoken figure who often makes appearances during presidential campaigns, standing proudly behind progressive candidates like Bernie Sanders and Alexandria Ocasio-Cortez.
She routinely offers her time and resources to rally enthusiastic young people to get involved in politics.
Did You Know?
Susan Sarandon was cemented as an adopted hometown hero of New Jersey with her induction into the New Jersey Hall of Fame in 2010.
---
8. Phillip L. Tomalin Jr. (June 7, 1952 – Present)
Age (as of July 28, 2022): 70
Born: New York, New York
Occupation: Film Crew
Known For: Brother of Susan Sarandon
Phillip L. Tomalin Jr. is the 70-year-old brother of Susan Sarandon.
He's known for his work as a crew member behind the scenes for Stargate, Nothing to Lose, Crash, and Thelma & Louise.
---
7. Tim Tomalin
Information on the personal and professional life of Tim Tomalin is unknown.
---
6. Meredith Carroll
Information on the personal and professional life of Meredith Carroll is unknown.
---
5. O'Brian Tomalin
Besides being one of Susan Sarandon's brothers, O'Brian Tomalin is also known for his work behind the camera on Bull Durham and The Hudsucker Proxy.
He is the son of Phillip Tomalin.
Did You Know?
O'Brian Tomalin was credited as a writer for the 1976 and 1977 films Acapulco Gold and Dogs.
---
4. Bonnie Lyon
Information on the personal and professional life of Bonnie Lyon is unknown.
---
3. Amanda Tomalin
Amanda Tomalin was raised as a Roman Catholic, attending Catholic schools throughout her childhood alongside Susan, following in the traditions of her mother and father.
They come from a mix between Welsh, Italian, and Irish ancestry.
---
2. Missy Tomalin
Personal and professional information on Melissa "Missy" Tomalin is unknown.
---
1. Terry Tomalin (November 25, 1960 – May 19, 2016)
Age (as of July 28, 2022): 55
Born: New York, New York
Occupation: Editor
Known For: Outdoors Editor of Tampa Bay Times
Terry Tomalin is the youngest of the Sarandon siblings whose age is listed!
Terry was a beloved colleague and friend who spent more than 25 years as the outdoors editor of the Tampa Bay Times.
The newspaper described him as "a well-known outdoorsman across the state. Boat captains respected him, both for his fearlessness and generous spirit. He had an encyclopedic knowledge of all things Florida."
He graduated from the University of South Florida in 1983 and worked his way up the media hierarchy as an investigative reporter, a police reporter, and so forth, all within Florida.
Three years later, he left his job in between the slabs of concrete walls at the newspaper and backpacked through New Zealand. It turned out to be the best career choice of his life, as he was named the Times' outdoors writer when he returned.
Terry tragically passed away after suffering a heart attack at 55-years-old after he and his 14-year-old son Kai were taking their lifeguard test together at the North Shore Aquatic Center in St. Petersburg, Florida. "We are devastated," said his wife, Kanika Tomalin, who served as Deputy Mayor of St. Petersburg and married Terry in 1999.
Did You Know?
Terry Tomalin founded the annual Tampa Bay Frogman Swim in 2010, which has helped raise over $1 million for the Navy SEAL Foundation.
OTHER POSTS YOU MAY BE INTERESTED IN