If you're a history buff and a foodie, then you should definitely put Kentucky on your travel list. The state is home to some of the oldest restaurants in the country, each with its own unique story and culinary tradition. From elegant dining rooms to rustic taverns, these time-honored establishments have been serving up delicious meals and drinks for decades and sometimes even centuries.
In this article, we'll take a trip down memory lane and explore the 10 oldest restaurants in Kentucky. Get ready to discover the rich gastronomic heritage of the Bluegrass State and experience the flavors of the past. Whether you're a local or a visitor, these historic eateries are a must-visit for anyone who wants to taste the history and culture of Kentucky. So, let's start our journey and see what these old-school restaurants have to offer!
10. Varanese
Year Established: 2007
Cuisine: Combination of traditional, old-world recipes, New American cuisine
Owner: John Varanes
Website: 2401 E. Belknap St., Fort Worth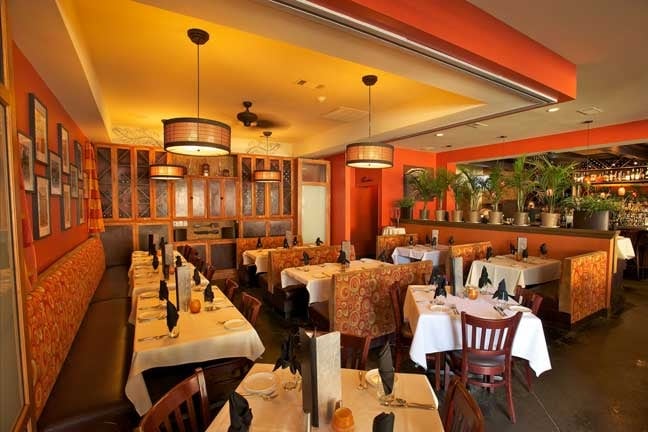 photo source: AmericasCuisine.com
Varanese is a restaurant located in Louisville, Kentucky, USA, and was established in 2007. The restaurant offers a unique blend of traditional, old-world recipes and New American cuisine. The owner of the restaurant is John Varanese, who has over 25 years of culinary experience. Varanese has a warm and inviting atmosphere, with a spacious dining room, a patio, and a bar.
The restaurant's menu features a range of dishes, including seafood, steak, pasta, and vegetarian options. Some of the popular dishes include Grilled Salmon, Shrimp and Grits, and Braised Beef Short Ribs. The restaurant also hosts live music on certain nights, adding to the ambiance.
Did You Know?
The restaurant has won several awards, including the OpenTable Diners' Choice Award, the Wine Spectator Award of Excellence, and the Best Chef Award from Louisville Magazine.
---
9. Proof on Main
Year Established: 2006
Cuisine: Contemporary American
Owner: Unspecified
Website: https://www.proofonmain.com/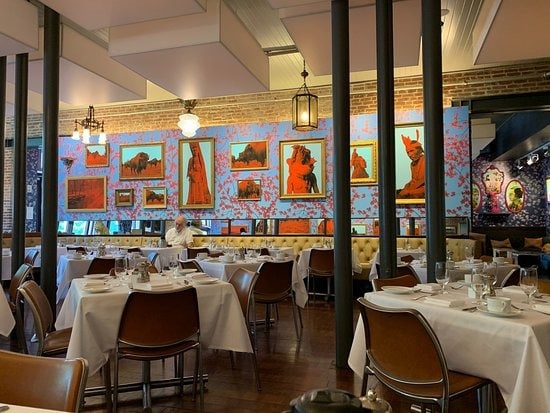 photo source: TripAdvisor
Proof on Main is a restaurant located in Louisville, Kentucky, USA. It was established in 2006 and featured contemporary American cuisine with a focus on seasonal and locally sourced ingredients. The restaurant also offers a daily prix fixe menu with multiple courses, showcasing the chef's creativity and the freshest ingredients available.
The restaurant has a modern and sophisticated atmosphere, with a dining room and bar featuring contemporary art and design. The bar at Proof on Main is known for its extensive selection of bourbon and whiskey, as well as craft cocktails. The menu at Proof on Main changes seasonally and features dishes like Grilled Octopus, Kentucky Bison Steak, and Wild Mushroom Risotto.
Did You Know?
The restaurant itself has been recognized for its design, winning a James Beard Foundation Award for Outstanding Restaurant Design in 2009.
---
8. Bourbons Bistro
Year Established: 2005
Cuisine: Southern-inspired cuisine
Owner: Jason Brauner
Website: https://bourbonsbistro.com/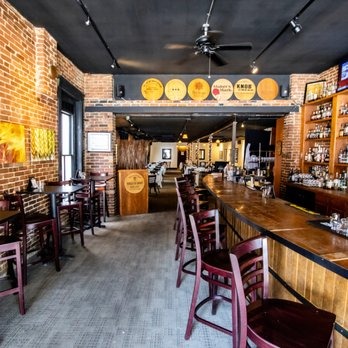 photo source: Yelp
Bourbons Bistro, situated in Louisville, Kentucky, USA, opened its doors in 2005 and specialized in Southern-inspired cuisine with a strong emphasis on bourbon and whiskey. The proprietor of the restaurant is Jason Brauner, a certified bourbon steward with more than two decades of expertise in the food and beverage sector.
The restaurant's menu is comprised of delectable dishes such as Bourbon Glazed Pork Belly, Chicken and Waffles, and Blackened Catfish. Bourbons Bistro is renowned for its vast selection of over 130 bourbons and 400 whiskeys and its bourbon tastings, flights, and cocktails made with bourbon and other spirits.
Did You Know?
The restaurant has received numerous accolades for its food and drink offerings, including being named the "Best Bourbon Selection" by Louisville Magazine and the "Best Southern Food" by Louisville A-List.
---
7. DiFabio's Casapela
Year Established: 1995
Cuisine: Italian cuisine
Owner: Jonathan B. Riley
Website: https://difabios.com/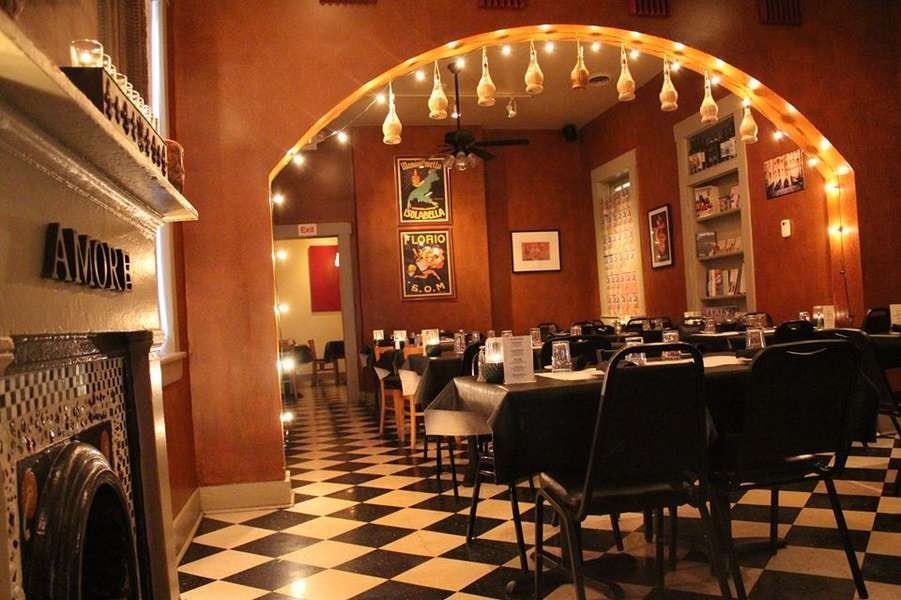 photo source: Thrillist
DiFabio's Casapela is a beloved Italian restaurant established in 1995, located in the United States. The restaurant's menu is packed with classic Italian dishes, including pasta, pizza, and seafood, as well as a selection of salads and appetizers. Guests can indulge in mouth-watering dishes like Lobster Ravioli, Chicken Parmesan, and Margherita Pizza, which are all popular choices among diners.
The website of DiFabio's Casapela is user-friendly and informative, providing visitors with all the information they need about the restaurant. Guests can browse the menu, check the hours of operation, and place orders online. The restaurant also has a strong social media presence, frequently posting updates on specials and events, which helps keep customers engaged and interested.
Did You Know?
DiFabio's Casapela is known for its warm and inviting atmosphere, with a cozy dining room and a well-stocked bar area.
---
6. Porcini
Year Established: 1992
Cuisine: Northern Italian cuisine
Owner: Tim Coury
Website: https://www.porcini502.com/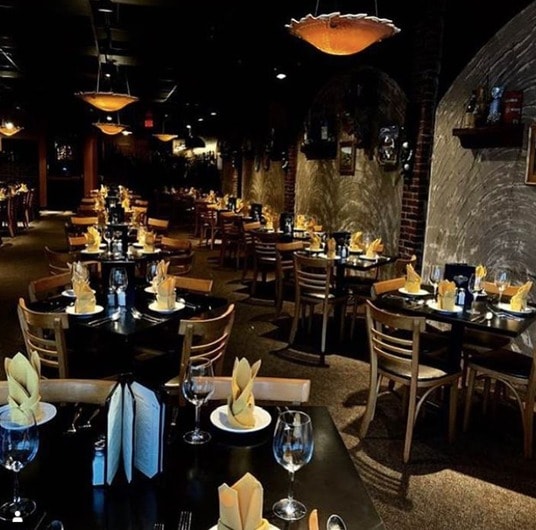 photo source: Pinterest
Porcini is a Northern Italian restaurant that has been a staple in the United States since 1992. Owned by Tim Coury, the restaurant offers a diverse menu of classic Northern Italian dishes, including pasta, seafood, and meat dishes, all made with high-quality ingredients and expertly prepared. The Linguine con Vongole, Veal Saltimbocca, and Gnocchi Bolognese are among the popular dishes on the menu. With a welcoming and sophisticated atmosphere, Porcini is a great choice for special occasions and intimate gatherings.
Porcini also offers catering services for events outside the restaurant. The restaurant is known for sourcing its ingredients locally whenever possible and importing key ingredients directly from Italy to ensure authenticity. Porcini's extensive wine list features both Italian and international selections and a full bar with a variety of cocktails and spirits. Private dining options are also available for groups of up to 50 people, with custom menus and personalized service.
Did You Know?
With numerous awards under its belt, including Best Italian Restaurant from Louisville Magazine and Diner's Choice Awards from OpenTable, Porcini is a top choice for authentic Northern Italian cuisine in a sophisticated setting.
---
5. Le Relais
Year Established: 1936
Cuisine: French cuisine
Owner: Anthony Dike
Website: https://www.lerelaisrestaurant.com/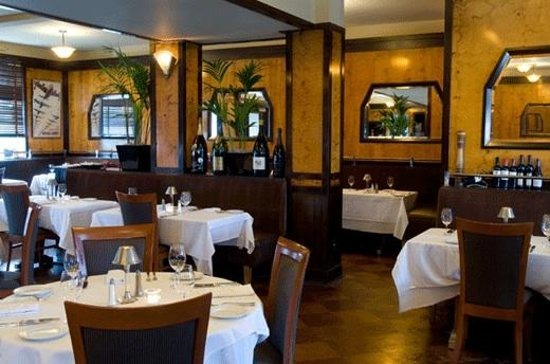 photo source: TripAdvisor
Le Relais, a Louisville-based restaurant established in 1980, offers a classic French dining experience in a refined and elegant atmosphere. Housed in a beautiful historic building, the restaurant features tasteful decor that reflects the charm and sophistication of traditional French dining. Its candlelit tables, white tablecloths, and impeccable service add to the ambiance that makes diners feel like they have been transported back to the golden age of French cuisine.
The menu at Le Relais boasts classic French dishes like Coq au Vin, Escargot, and Steak Frites, as well as seafood and vegetarian options. The restaurant also has an extensive wine list with a variety of French and international wines to complement each dish. It is a perfect location for special occasions, intimate dinners, or anyone looking to indulge in the timeless elegance of French cuisine in Louisville.
Did You Know?
Le Relais has private event spaces that cater to weddings, corporate events, and other special occasions. The restaurant's experienced staff can collaborate with guests to develop customized menus and wine pairings that guarantee an unforgettable dining experience.
---
4. Lobby Bar & Grill at the Brown Hotel
Year Established: 1923
Cuisine: American cuisine
Owner: Unspecified
Website: https://www.brownhotel.com/dining/lobby-bar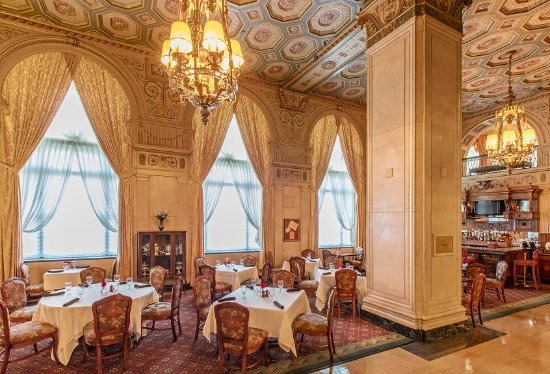 photo source: TripAdvisor
The Lobby Bar & Grill at the Brown Hotel is a renowned American restaurant situated in Louisville, Kentucky, USA. The restaurant is housed in the iconic Brown Hotel, a Georgian Revival masterpiece constructed in 1923, and it has been a mainstay of the city's dining scene since the hotel's inception. The restaurant attracts both locals and tourists and is regarded as a beloved spot for dining and socializing.
The menu at the Lobby Bar & Grill is a fusion of classic American cuisine and contemporary culinary trends, emphasizing fresh, locally sourced ingredients. The restaurant also has an extensive selection of wines and cocktails, making it a perfect spot for a pre-dinner drink or a night out with friends. The Lobby Bar & Grill has an elegant and refined ambiance with a design that draws inspiration from the Art Deco movement.
Did You Know?
The Kentucky Hot Brown, a popular local delicacy consisting of turkey, bacon, and Mornay sauce, and the Lobster Mac and Cheese, a luxurious take on a beloved comfort dish, are among the most sought-after items on the menu.
---
3. Four Pegs
Year Established: 1876
Cuisine: Barbecue cuisine
Owner: Chris Williams
Website: https://www.fourpegs.net/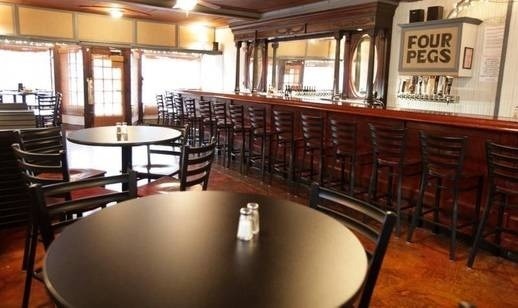 photo source: Pinterest
Four Pegs is a neighborhood bar and grill that has established itself as a must-visit spot in Germantown, Louisville. Four Pegs has gained a reputation for being a local favorite for a casual night out. The establishment's atmosphere is laid-back and inviting, with a blend of indoor and outdoor seating options that includes a cozy patio area. The vintage-inspired interior features exposed brick walls, wooden accents, and distinctive artwork, creating a comfortable and eclectic environment that attracts people of all ages.
One of the main draws of Four Pegs is its impressive selection of craft beers. With more than 20 rotating taps and an array of bottles and cans, Four Pegs caters to all beer enthusiasts, from casual drinkers to aficionados. Their creative menu of elevated pub fare is also a major highlight, and they prioritize using locally sourced ingredients whenever possible. Popular dishes include the Blackened Fish Tacos, the Bison Burger, and Fried Chicken and Waffles.
Did You Know?
To keep things fresh and exciting, Four Pegs offers weekly specials and events, including trivia nights and live music performances, which make it a fun and vibrant spot to visit any day of the week.
---
2. Matt Winns Steakhouse
Year Established: 1875
Cuisine: Steak
Owner: Richard Sutton
Website: https://mattwinnsteakhouse.com/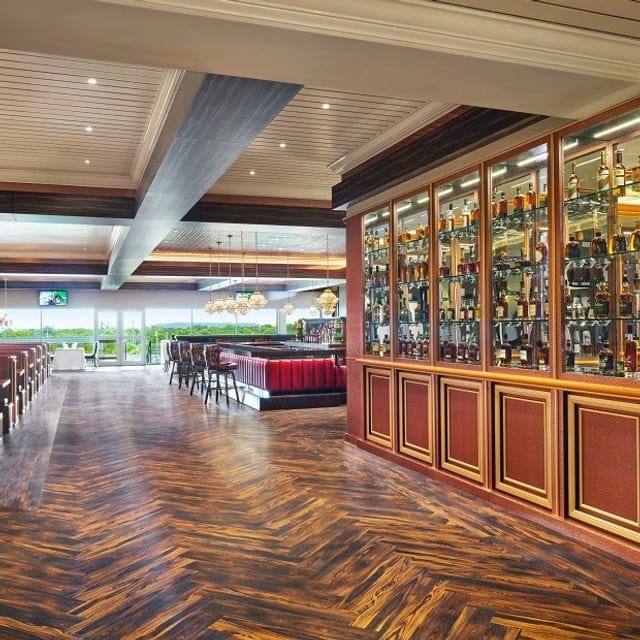 photo source: OpenTable
Matt Winn's Steakhouse is not just any ordinary restaurant, as it is located within the historic Churchill Downs racetrack in Louisville, Kentucky. This steakhouse is named after one of the most iconic figures in horse racing history, Matt Winn, who was responsible for transforming the Kentucky Derby into the world-renowned event that it is today.
Matt Winn's Steakhouse is a must-visit for steak lovers, as the menu features some of the best steaks in town, cooked to perfection and served with a variety of house-made sauces and sides. In addition to the steaks, the restaurant also offers other delectable options, such as Bourbon Braised Short Ribs and Grilled Salmon. To complement the dishes, Matt Winn's Steakhouse also has an extensive wine list featuring selections from around the world.
Did You Know?
The elegant decor and unparalleled views of the racetrack make dining at this steakhouse a unique and memorable experience for any occasion, be it a romantic dinner for two or a celebration with friends and family.
---
1. Doc Crow's Southern Smokehouse & Raw Bar
Year Established: 1869
Cuisine: American Southern cuisine
Owner: Schenley Distillers
Website: https://www.doccrows.com/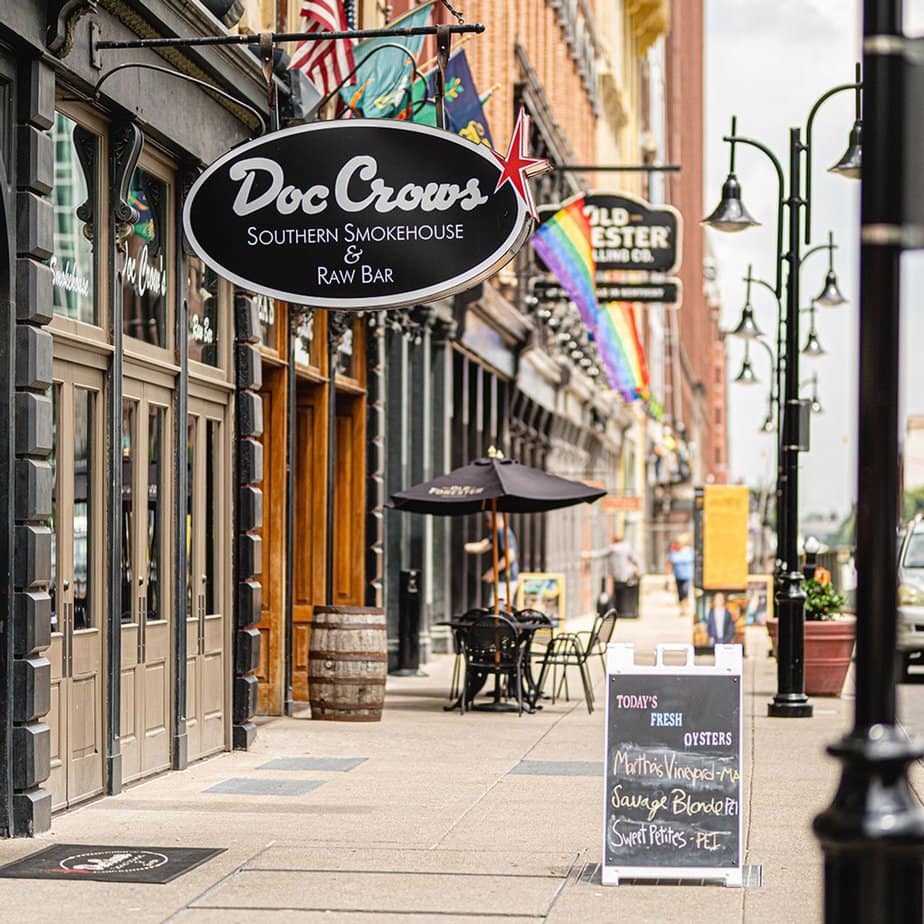 photo source: OpenTable
Doc Crow's Southern Smokehouse & Raw Bar is the oldest restaurant in Kentucky and is a vibrant and bustling restaurant that has quickly become a favorite among locals and visitors downtown. From the moment you step inside, you are greeted with a lively atmosphere that combines contemporary design with Southern hospitality, making it a great spot to enjoy a meal or drinks with friends and family.
The menu at Doc Crow's is a tantalizing mix of Southern-style barbecue, seafood, and raw bar items, emphasizing slow-smoked meats cooked over hickory wood for hours to achieve a smoky and tender flavor. Some of the most popular dishes include the smoked brisket, pulled pork, and baby back ribs, which are all served with a variety of house-made sauces and sides.
Did You Know?
Doc Crow's boasts a raw bar selection that features fresh oysters, shrimp cocktails, and ceviche, all served with the restaurant's signature house-made sauces.
---
OTHER POSTS YOU MAY BE INTERESTED IN