Paris has a long history of importance in France and by the end of the 12th century, Paris had become the political, economic, and cultural center of France. The country's nobility developed lavish tastes in every aspect of their lives and food was no exception. The earliest restaurants in Paris were established as inns hoping to entice French nobility to stop in for some drinks, food, and good times. All of the restaurants on this list were successful in attracting high class clientele, which is why they have survived for so long. Today, Paris is widely considered to be one of the greatest food cities in the world. Additionally, Paris is believed to be the birthplace of the modern restaurant.
7. Le Grand Véfour
Year Established: 1784
Location: 17 Rue de Beaujolais
Still Open: Yes
Operating Hours: Mon – Fri: 12:30PM – 2PM, 8PM – 10PM; Sat – Sun: closed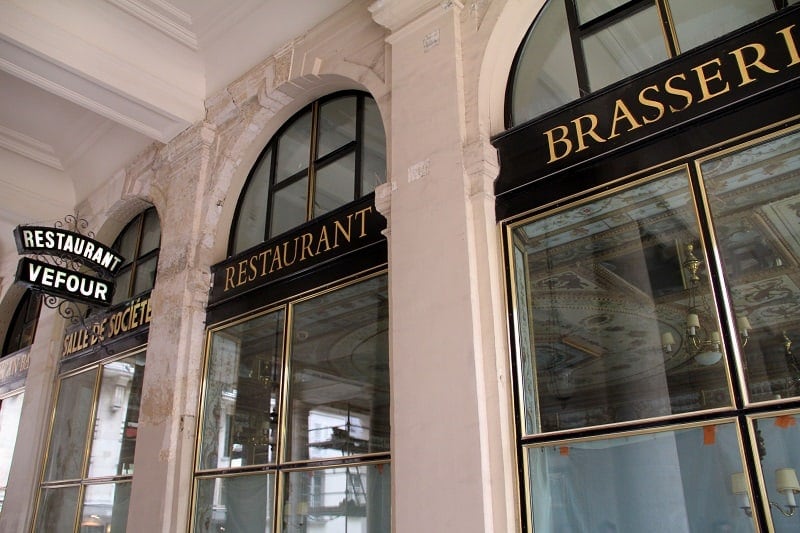 photo source: Wikimedia Commons
Situated next to the gardens of the Palais Royal, Le Grand Véfour is a direct link to what Paris was like in the late 18th century. Le Grand Véfour has retained all of its original décor, which is grand, ornate, and reflects the tastes of France's nobility at the time. In 1782, a soft drinks manufacturer named Antoine Aubertot rented one of the the houses near the Palais Royal from the Duke of Orleans. Two years later, Aubertot turned the house into a café named "Café de Chartres" in honor of the duke of Chartres, first son of Louis d'Orléans.
Le Grand Véfour built up a solid clientele and reputation for good food over the next few decades. Three more owners would go own to run Le Grand Véfour before it was purchased by Jean Véfour in 1820. Véfour was determined to turn the rundown café into one of the greatest restaurants in Paris. He completely overhauled the kitchen and menu and succeeded in elevating every aspect of Le Grand Véfour. Since then, Le Grand Véfour has faced some ups and downs but has always remained a popular spot to visit.
---
6. Lapérouse
Year Established: 1766
Location: 51 Quai des Grands Augustins
Still Open: Yes
Operating Hours: Mon – Sat: 7PM – 1AM; Sun: closed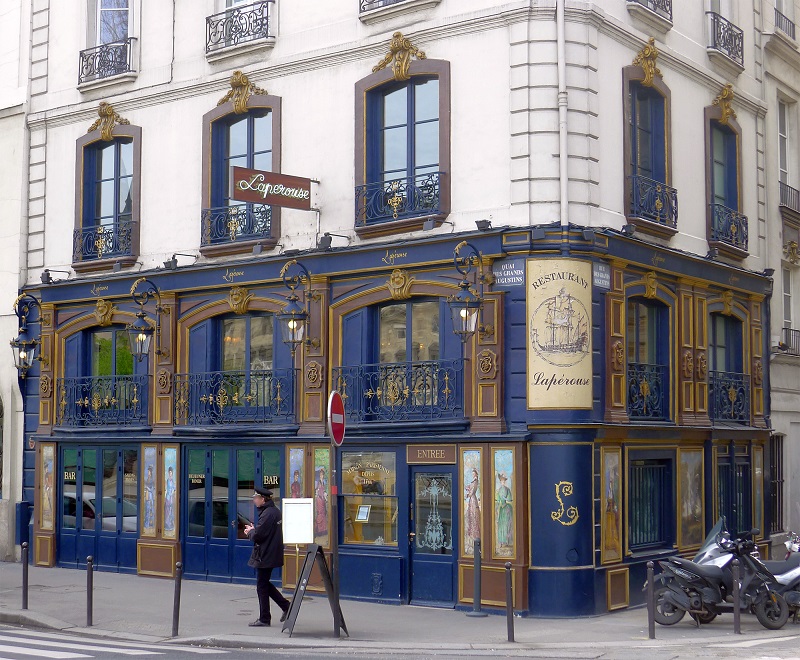 photo source: Wikimedia Commons
Lapérouse was established in 1766 by King Louis XIV's personal limonadier or beverage maker, Monsieur Lefèvre, who turned the former mansion into a wine merchant. After the Marché de la Vallée, which specialized in the sale of poultry and game was built across the street, Lapérouse started selling high quality food. Lapérouse soon became famous for its food and wine and was visited by France's elite as well as the nearby merchants and their employees and clients.
Lefèvre converted the previous maids' quarters into private rooms to keep his customers safe while they conducted business transactions. The famous "petits salons" of Lapérouse attracted literary, artistic, and political figures, such as Georges Sand, Alfred de Musset, Emile Zola, and Victor Hugo. Eventually, France's elite started using the private salons to indulge in their wildest fantasies in addition to enjoying some of Paris' best food and drinks. While Lapérouse is just a regular restaurant today, visitors can still access the salons and witness all of their original décor.
---
5. Au Chien Qui Fume
Year Established: 1740
Location: 33 Rue du Pont Neuf
Still Open: Yes
Operating Hours: Mon – Sun: 8AM – 1AM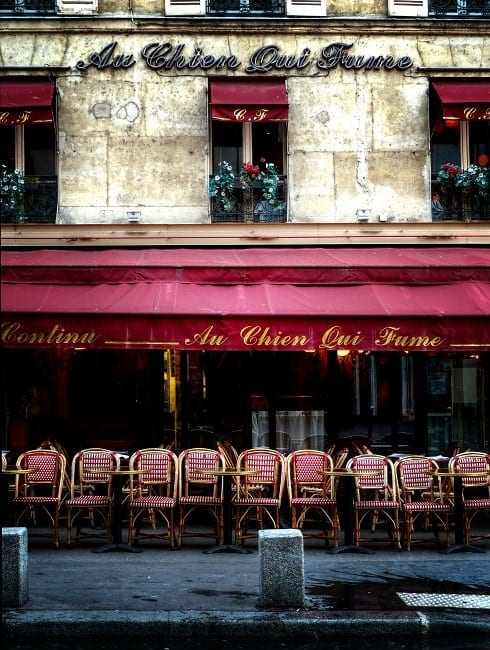 photo source: Wikimedia Commons
Au Chien Qui Fume traces its history back to 1740 when the first inn on the site was built. The spot chosen for the inn was ideally located next to Paris' central market known as the Halles au Roy and the local tradesman came to the inn to relax and eat. About one hundred years later, the original inn was torn down when the area underwent new development. However, a new inn was built on the original site a few years later.
In 1920, a new owner took over the inn and his two dogs, a cigar-smoking poodle and pipe-smoking terrier became the new mascots – this is where the restaurant got its name, Au Chien Qui Fume which roughly translates to "the smoking dog". Around this time, the central market transformed into Les Halles, which brought even more customers into Au Chien Qui Fume. While Les Halles was replaced with the Forums des Halles and the Centre Beaubourg, Au Chien Qui Fume has remained open and still continues to serve traditional foods and drinks.
---
4. Stohrer
Year Established: 1730
Location: 51 Rue Montorgueil
Still Open: Yes
Operating Hours: Mon – Sun: 7:30AM – 8:30PM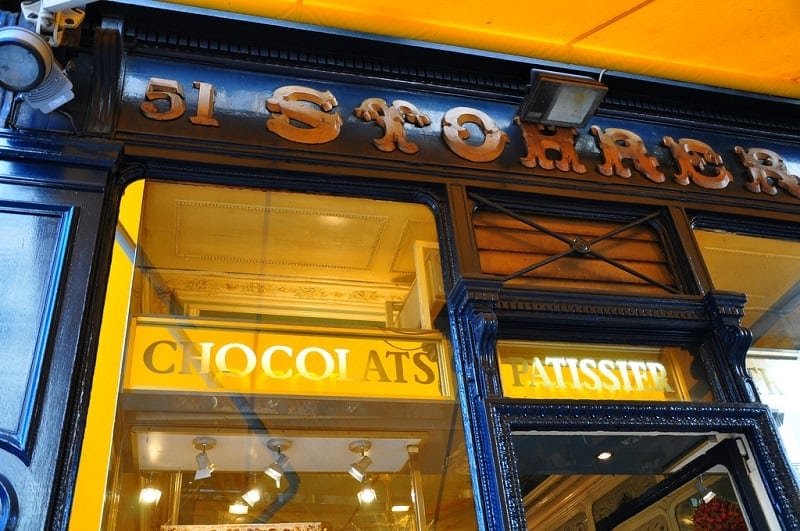 photo source: Flickr via Kimberly Vardeman
Stohrer is the oldest pâtisserie or bakery in Paris and has been serving sweet treats to Parisians and tourists for over 800 years. The bakery was opened in 1730 by Nicolas Stohrer, pastry chef for King Stanislas I of Poland. When the King's daughter, Marie Leszczynska, married King Louis XV of France, she brought her favorite pastry chef, Stohrer, with her to the palace at Versailles. A few years later, Stohrer opened his own shop and it has remained in business ever since.
While Stohrer is known for many desserts and pastries, one of its most famous is the Baba au Rhum, which Chef Stohrer invented for King Stanislas who thought the local French kouglof cake was too dry. Chef Stohrer soaked the cake with a syrup laced with an herbal liquer but switched to rum when he opened his bakery. The offerings at Stohrer have expanded over the years, but the bakery still serves the classics its known for and has cemented itself as a national treasure.
---
3. Le Procope
Year Established: 1686
Location: 13 Rue de l'Ancienne Comédie, Latin Quarter
Still Open: Yes
Operating Hours: Sun – Weds: 11:45AM – 12AM; Thurs – Sat: 11:45AM – 1AM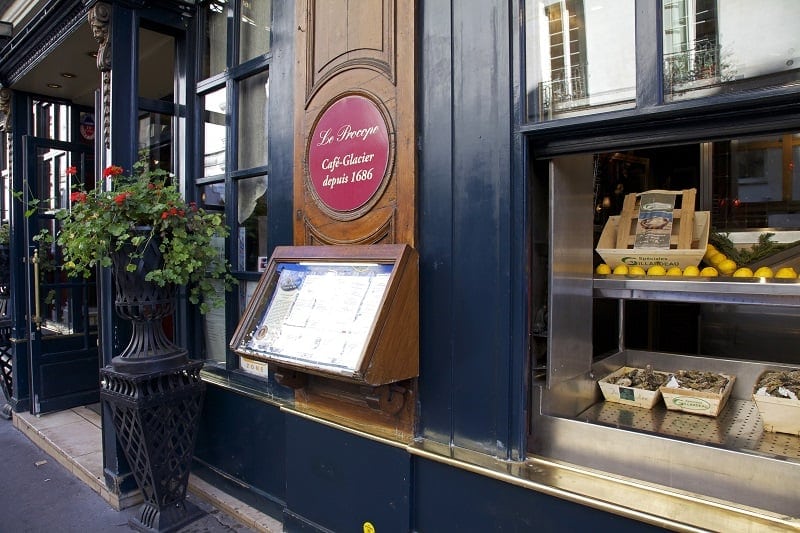 photo source: Wikimedia Commons
Established in 1686 by an Italian chef named Francesco Procopio dei Coltelli, Le Procope or Café Procope is considered the oldest café in Paris – it is also widely called the oldest continuously operating restaurant in the city. Many people also believe that Le Procope was the first ever European coffeehouse and that it birthed coffeehouse culture as we know it. Coltelli served Italian sorbets as well as the newly discovered coffee and Le Procope a hot spot for artists, intellectuals, actors, and other distinguished people after the Ancienne Comédie Française theatre opened nearby.
In its early days, many great French writers such as Jean-Jacques Rousseau, Voltaire, and Denis Diderot often spent time at Le Procope. Voltaire's loved Le Procope so much that his favorite table has been preserved and now serves as a shrine to the author. Le Procope became so prolific that famous thinkers and writers from around the world also stopped by, including Thomas Jefferson and Benjamin Franklin. In the late 1980s, Le Procope was renovated to mimic 18th century designs and now serves a full menu.
---
2. A La Petite Chaise
Year Established: 1680
Location: 36 Rue de Grenelle
Still Open: Yes
Operating Hours: Mon – Sun: 12PM – 2PM, 7PM – 11PM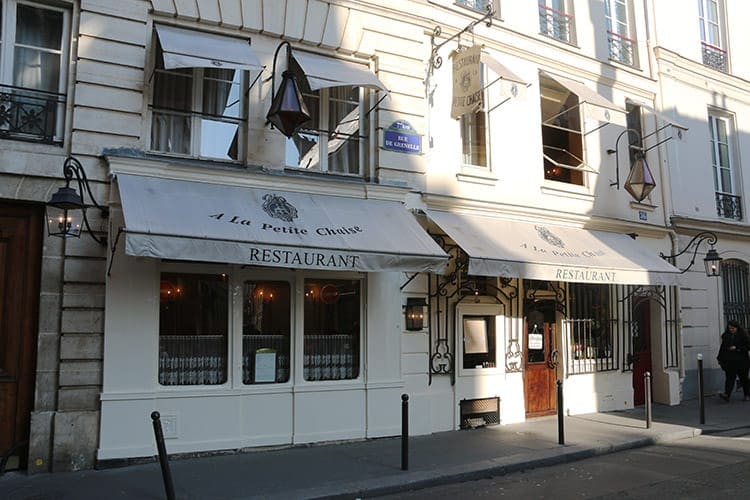 photo source: A La Petite Chaise
A La Petite Chaise was founded in 1680 during the reign of King Louis XIV. The building was originally constructed in 1610 and according to some historical documents, a man named Georges Rameau selling wines and some food from the building. A La Petite Chaise considers this to be the restaurant's official origins because various owners have been selling wines and food from the building since then.
Eventually, A La Petite Chaise built up its reputation through word of mouth and the greatest lords of the time stopped in to have bite. In the 19th century, famous policeman Vidocq made several arrests at A La Petite Chaise. Another famous face that frequented A La Petite Chaise around this time was famed gourmet Brillat Savarin, who highlighted the restaurant's food in his book Physiologie du goût (The Physiology of Taste). Today, A La Petite Chaise is still one of the best restaurants in Paris to experience traditional French cuisine.
---
1. La Tour d'Argent
Year Established: 1582
Location: 17 Quai de la Tournelle
Still Open: Yes
Operating Hours: Tues – Sat: 12PM – 2PM, 7PM – 9PM; Sun and Mon: closed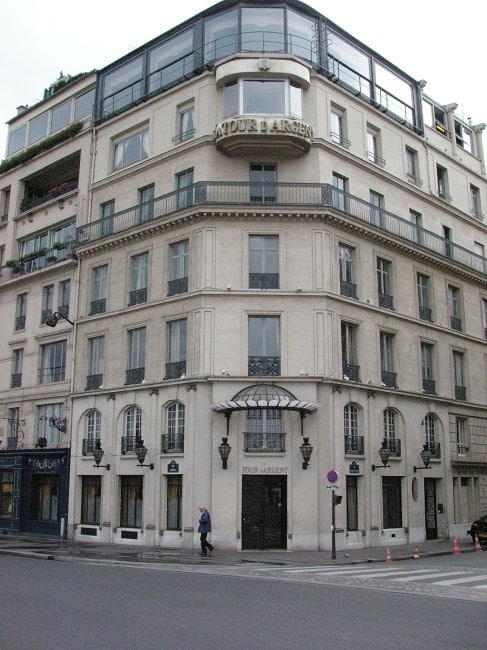 photo source: Wikimedia Commons
The iconic La Tour d'Argent has a history dating all the way back to 1582, making it the oldest restaurant in Paris. According to the restaurant's official history, La Tour d'Argent was opened in 1582 by a man named Rourteau. He wanted to establish an inn that would service nobelmen. Rourteau named his new establishment "L'Hôstellerie de La Tour d'Argent" because of the silvery reflections cast by the nearby Château de la Tournelle (La Tour d'Argent translates to "The Silver Tower").
Throughout the centuries La Tour d'Argent was frequented by French nobility including Henry IV, the Duke of Richelieu, the Czar of the Russian Empire Alexander II, and the King of Prussia William I. In addition to its famous clientele, La Tour d'Argent made many important contributions to French cuisine. It was the first restaurant to introduce forks in France and 19th century owner Frédéric Delair started the tradition of carving a duck on the end of a fork for table side service. La Tour d'Argent has stood the test of time by continuously innovating, renovating, and changing with the times.
OTHER POSTS YOU MAY BE INTERESTED IN