Mr. Olympia is the most prestigious bodybuilding competition in the world, and the winners are considered the best of the best. Over the years, Mr. Olympia has become synonymous with strength and determination. The man who wins the title is celebrated and seen as a role model for many others who want to achieve their goals.
The history of the Mr. Olympia competition is one of the most recognized in bodybuilding and fitness. Determined competitors worldwide have been showcasing their bodies for years for the chance to be named champion. The youngest Mr. Olympia champions are part of a rare group of men who were perfect examples of the ideal human body.
Read on as we show you the most pumped-up young champions of Mr. Olympia ever.
14. Brandon Curry (October 19, 1982 – present)
Age Won: 37 years
Nationality: American
Nickname(s): Beefcake, The Prodigy
Height: 5'8
Weight: 255 lbs.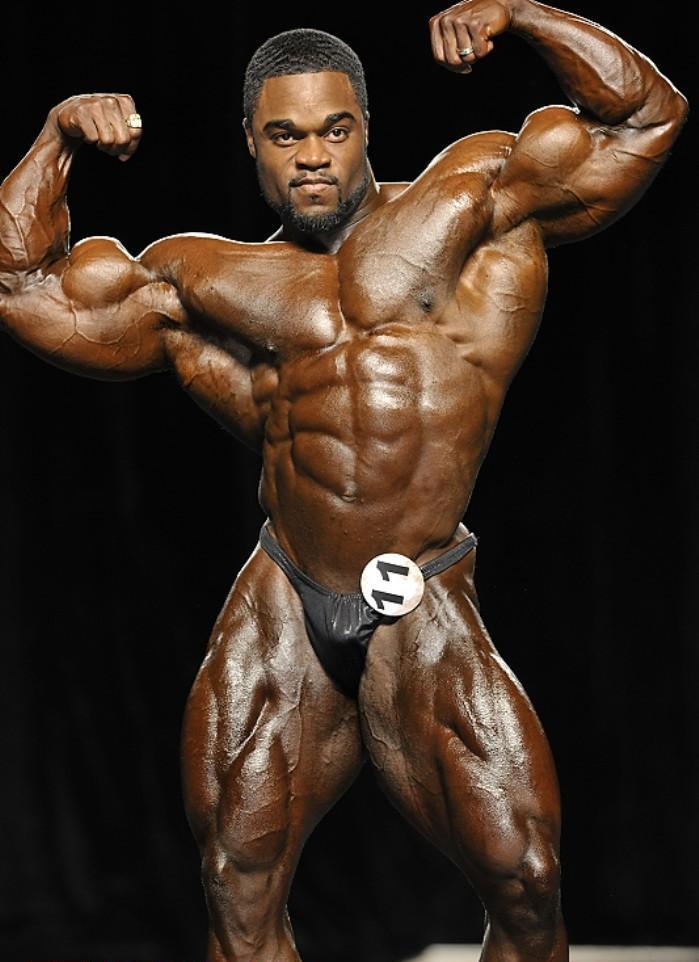 photo source: TheNewsCrunch
Nashville, Tennessee, is where Curry was birthed and reared. His first exposure to weight training came when he was given a set of dumbbells with the Hulk Hogan logo for his sixth birthday. Curry's parents signed him up for gymnastics lessons as a kid, but he soon lost interest.
At Nashville's Hunters Lane Comprehensive High School, Curry participated in football, track & field, and wrestling.
He started as a football player before focusing on bodybuilding and entering competitions. He made Olympian history in 2019 by winning the Arnold Classic and Mr. Olympia contests. His success surprised people despite his bulky and strong appearance.
Did You Know?
Curry is a married father of four and the owner of the supplements firm Scitec Nutrition in addition to his bodybuilding profession.
---
13. Mamdouh Elssbiay (September 16, 1984 – present)
Age Won: 36
Nationality: Egyptian
Nickname(s): Big Ramy
Height: 5'9
Weight: 295 lbs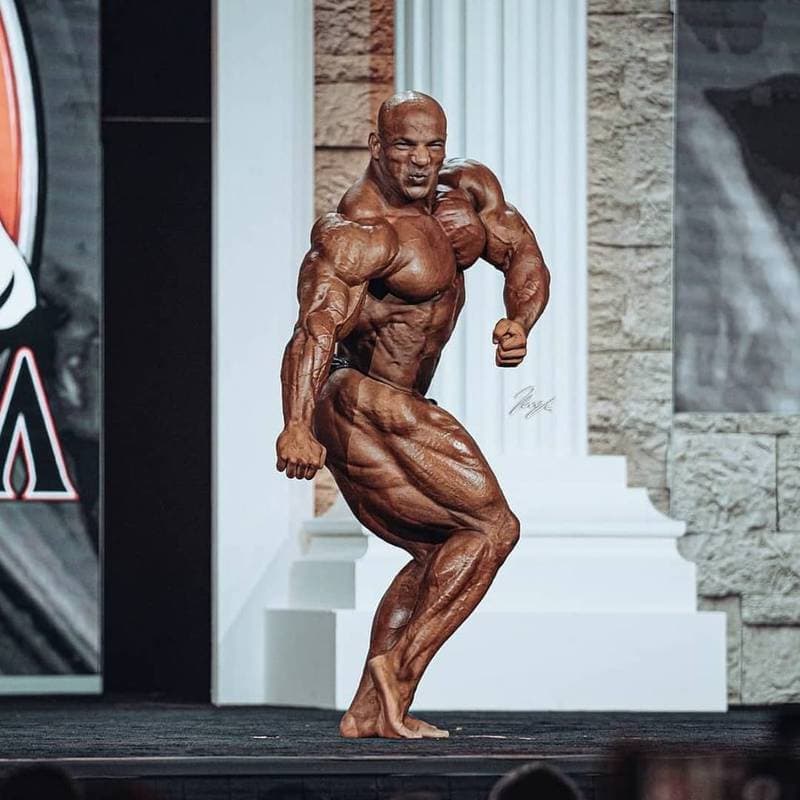 photo source: The National
Egyptian IFBB professional bodybuilder Mamdouh Elssbiay is also known as Big Ramy. He has crowned Mr. Olympia in 2020 and 2021. He is now the first non-American to win Mr. Olympia since 1997 and the second Arabian to compete in the Mr. Olympia competition.
In addition to Mr. Olympia, he has also triumphed in the New York Pro and Arnold Classic Europe. Big Ramy goes down in history with luminaries like Jay Cutler and Phil Heath as one of the greatest bodybuilders.
Did You Know?
Before he began his professional training, Mamdouh Elssbiay worked as a fisherman in Kuwait.
---
12. Hadi Choopan (September 26, 1987 – present)
Age Won: 35 years
Nationality: Iranian
Nickname(s): Unspecified
Height: 5'7
Weight: 200 lbs.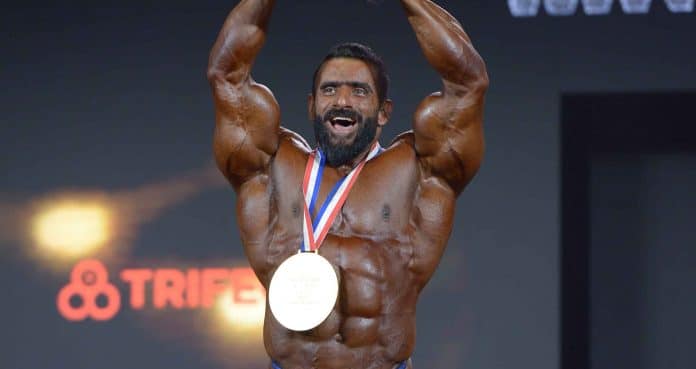 photo source: Generation Iron
From 2011 until 2016, Hadi Choopan was a consistent part of the Iranian National Bodybuilding Team. Choopan has participated in and won several competitions hosted by the International Federation of BodyBuilding and Fitness.
Choopan invoked Ahura Mazda before winning Mr. Olympia 2022 on Instagram. Ahura Mazda is the ultimate god of Zoroastrianism, a pre-Islamic religion in Iran. This has been viewed as a rebellion against Islam and the Islamic state, which convicts blasphemy with death, considering Iran's civil turmoil and rallies.
He is the seventeenth guy to triumph in the contest. In addition to a trophy and a gold medal, he also won $400,000.
Did You Know?
Hadi Choopan was turned down for a visa to take part in the 2018 Arnold Classic because President Donald Trump had barred any Iranian nationals from visiting the country in 2018. Hadi Choopan voiced his dissatisfaction and characterized the occurrence as discriminatory.
---
11. Franco Columbu (August 7, 1941 – August 30, 2019)
Age Won: 35 years
Nationality: Italian
Nickname(s): The Sardinian Samson
Height: 5'5
Weight: 185 lbs.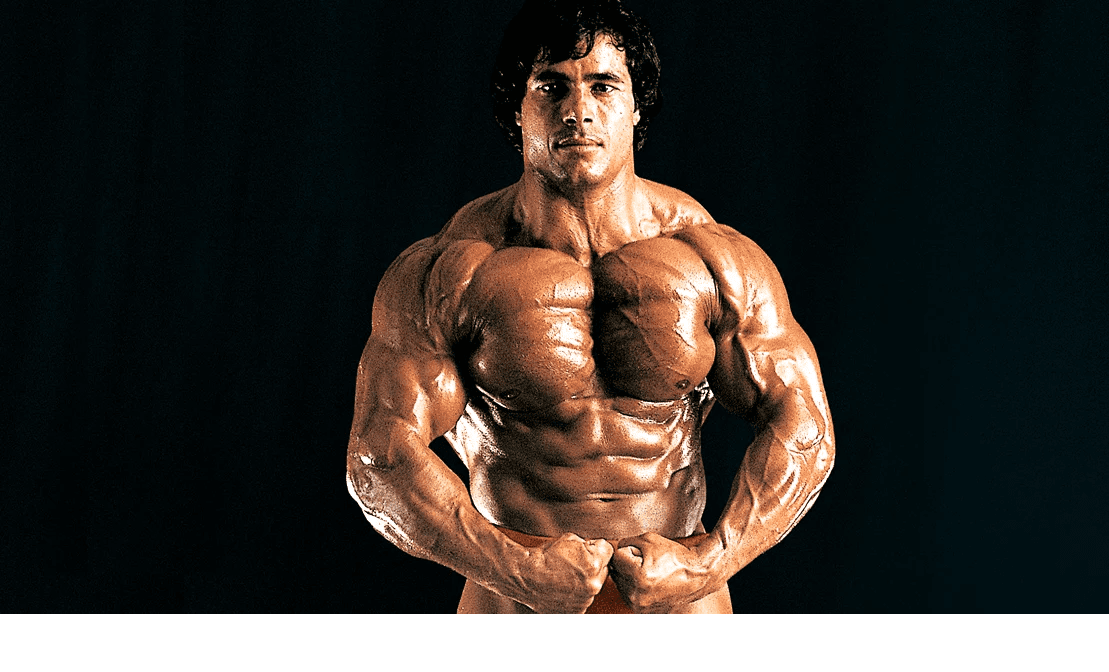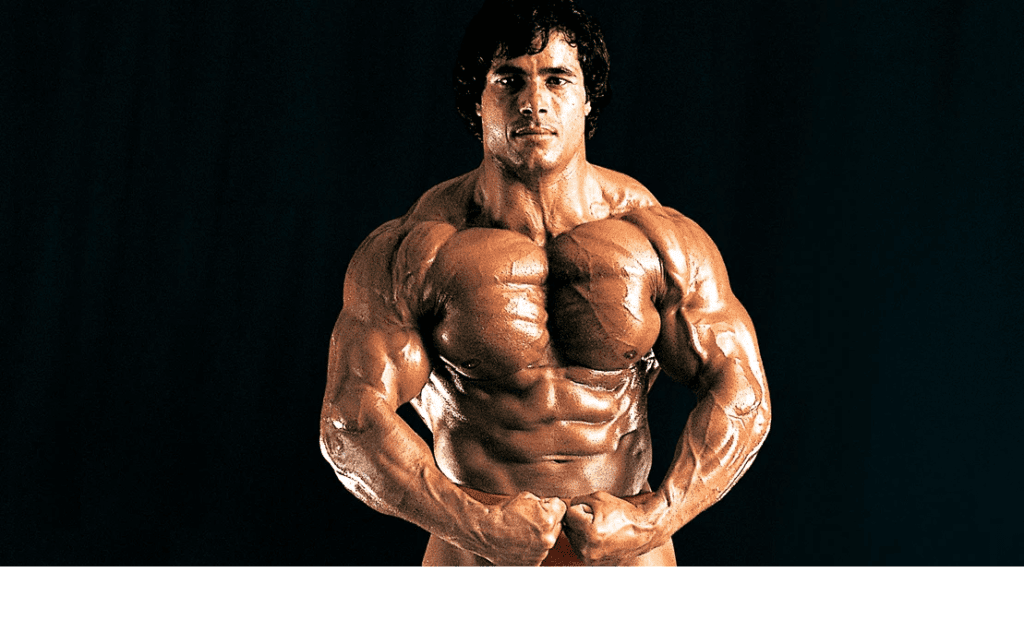 photo source: Muscle & Fitness
Franco Columbo immigrated to America, underwent top-notch training, and spent years competing in various competitions, including Mr. Olympia and The World's Strongest Man. The 5ft 5-inch dynamo, known for his remarkable muscular perfection, ruled the bodybuilding world from the 1960s until the 1980s.
In addition to competing in and succeeding in Mr. Olympia and several powerlifting events, Franco Columbo also created a reputation for himself as a boxer and a strong man.
In 1978, he set a record by blowing into a hot water bottle for 55 seconds, which earned him a place in the Guinness Book of Records.
Did You Know?
Franco Columbo appeared in many films and TV shows, including the renowned documentary Pumping Iron, which is still very popular among bodybuilders nowadays.
---
10. Frank Zane (June 28, 1942 – present)
Age Won: 35 years
Nationality: American
Nickname(s): The Chemist
Height: 5'9
Weight: 200 lbs.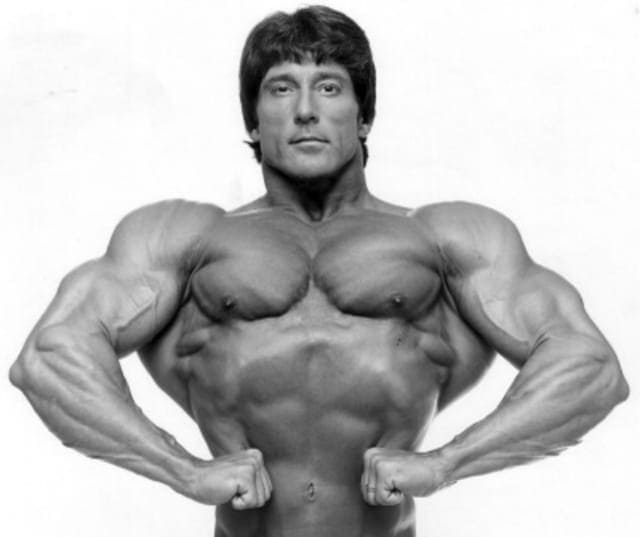 photo source: Fitness Volt
From 1977 through 1979, Frank Zane won three Mr. Olympia titles. During his rule, the focus shifted from the masses to aesthetics. With his broad shoulders creating a characteristic V-taper, Zane's body has the second-thinnest waistline of all Mr. Olympias.
Joe Weider advised him to train with higher weights, although he was known for using light weights, which led to many of his triumphs. Later, Zane discovered the size required for Olympia victory.
Did You Know?
Frank Zane's bachelor's in science earned him the moniker "The Chemist."
---
9. Ronnie Coleman (May 13, 1964 – present)
Age Won: 34 years
Nationality: American
Nickname(s): The King, The GOAT
Height: 5'11
Weight: 300 lbs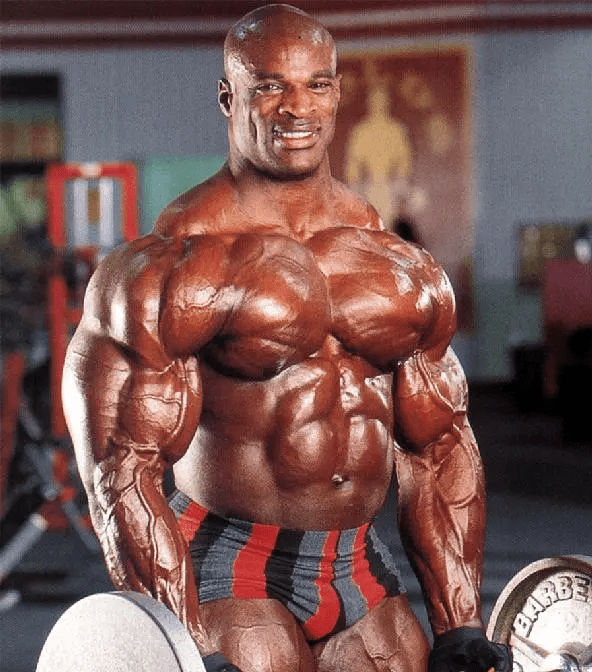 photo source: Evolution of Bodybuilding
Ronnie Coleman was a police officer before he decided to pursue bodybuilding after a gym owner offered him a free membership in exchange for helping him prepare for competitions. Then it started. Until Jay Cutler came in and seized the crown in 2006, Coleman kept winning year after year.
He is also renowned for his rigorous training regimen, which has been documented in several little movies on his tremendous journey to eight straight Mr. O titles, the most there are.
Did You Know?
Ronnie Coleman earned a BSc in accounting with honors from Grambling State University in 1984.
---
8. Jay Cutler (August 3, 1973 – present)
Age Won: 33 years
Nationality: American
Nickname(s): None
Height: 5'9
Weight: 260 lbs.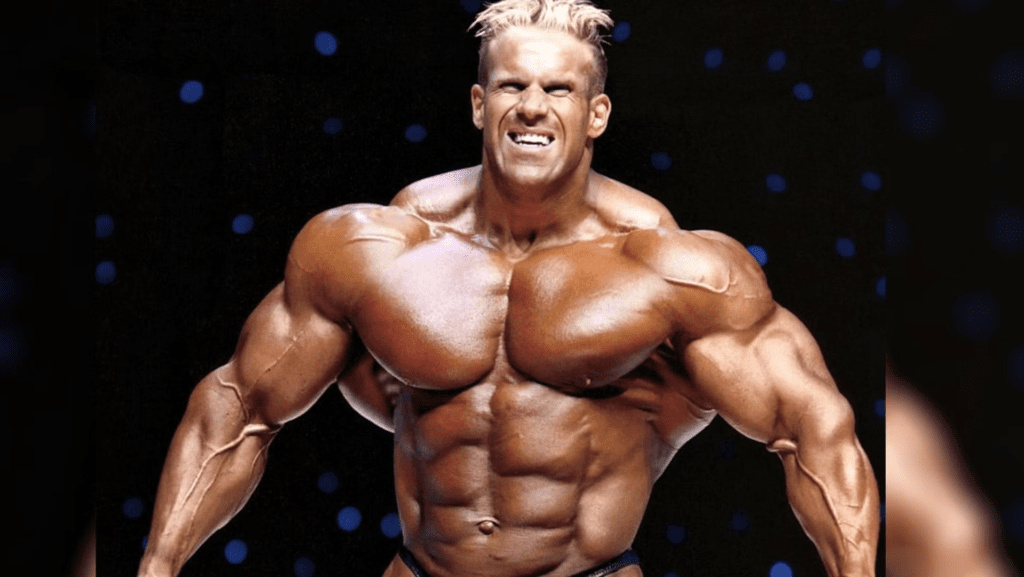 photo source: Sportskeeda
Jason Isaac Cutler was born on August 3, 1973, in Worcester, Massachusetts. He was raised in the neighborhood of Sterling and went to Wachusett Regional High School in Holden.
Personal trainer Marcos Rodriguez encouraged Cutler to start competing in bodybuilding. He got his first overall victory at the 1993 Iron Bodies Invitational, where he aspired to become one of the biggest competitors ever. The 1992 Gold's Gym Worcester Bodybuilding Championships was his debut competition, where he finished in second place.
He frequently participated in bodybuilding-related documentaries as he made a reputation for himself in the bodybuilding community, such as Mitsuru Okabe's pre-contest documentary Battle for the Olympia 2001, which featured numerous contestants as they trained for the 2001 Mr. Olympia Competition.
Did You Know?
Cutler has been on the covers of health and fitness publications throughout his career, including Muscle and Fitness, Flex, and Muscular Development. He stopped competing in 2013 and has since concentrated on his bodybuilding supplement company, Cutler Nutrition, and various online businesses.
---
7. Phil Heath (December 18, 1979 – present)
Age Won: 32 years
Nationality: American
Nickname(s): The Gift
Height: 5'9
Weight: 240 lbs.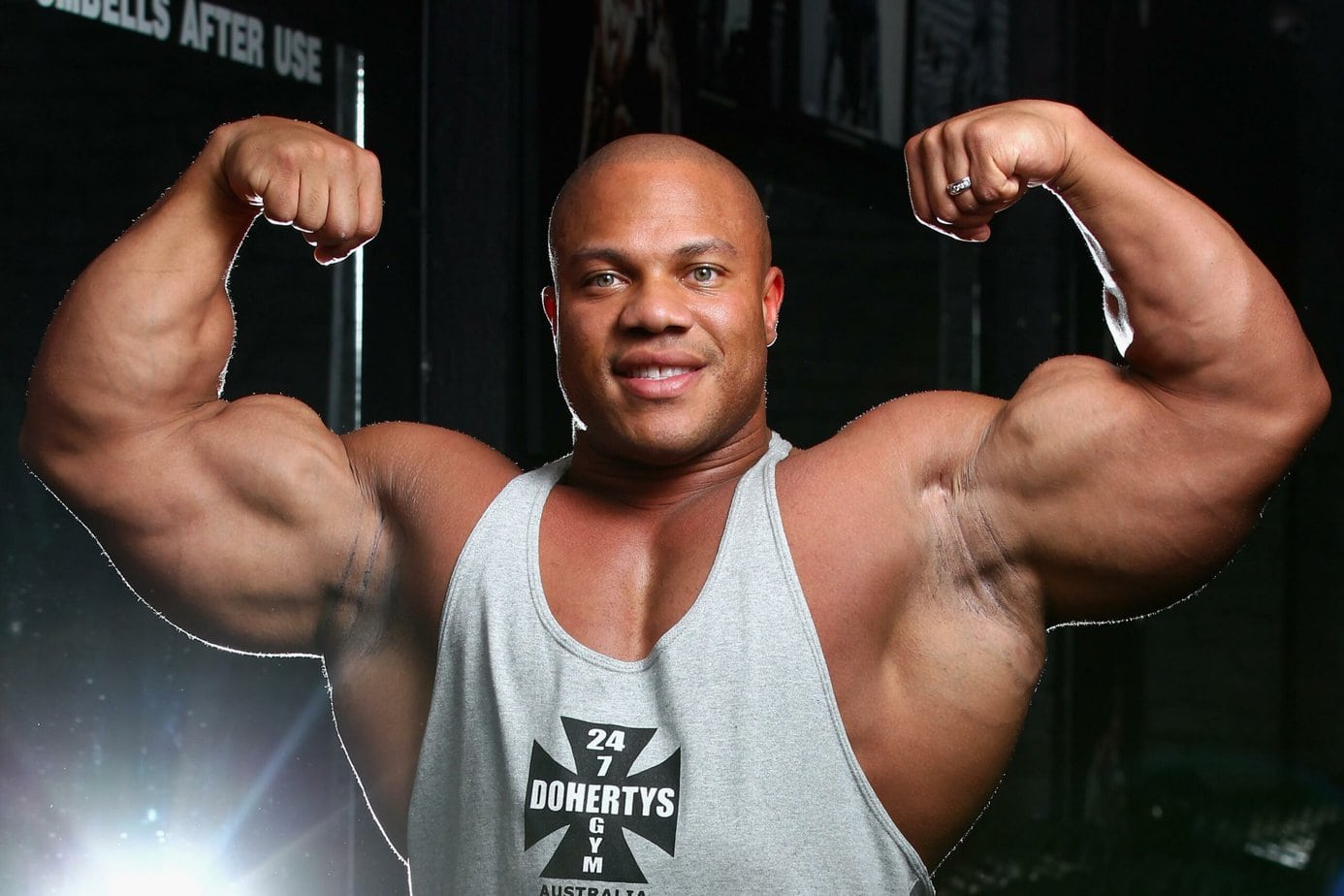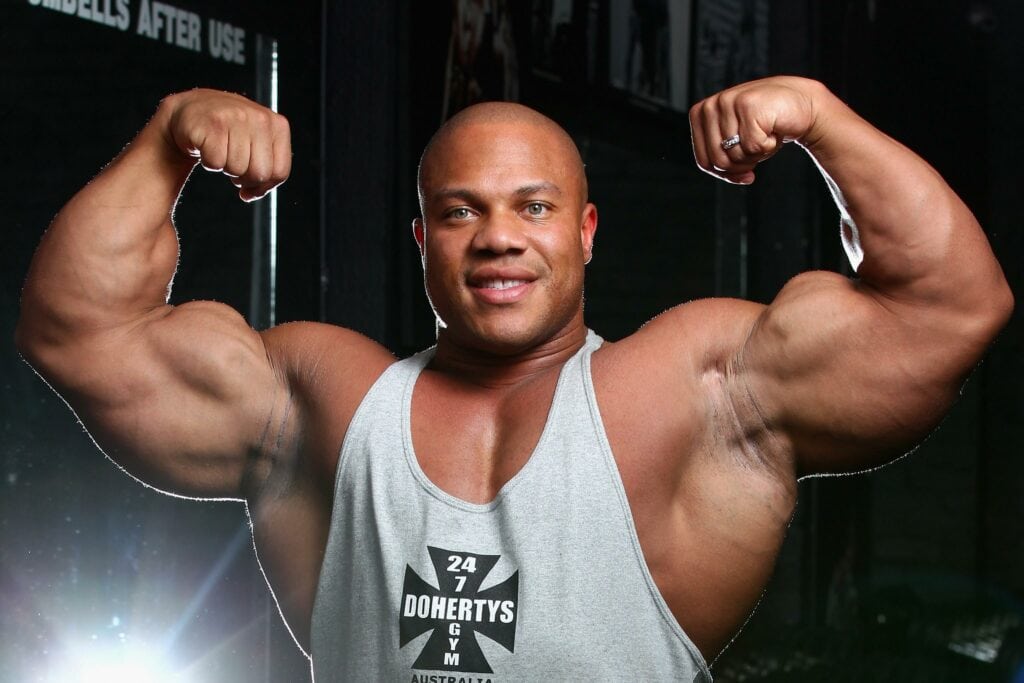 photo source: bleacherreport.net
From 2011 through 2016, Phil Heath won six Mr. Olympia competitions, including the 50th Mr. Olympia competition in 2014. He shares Mr. Olympia's record with Dorian Yates, is virtually tied with Arnold Schwarzenegger's seven victories, and is shy of Ronnie Coleman's eight victories.
For the following six years, Heath kept defending the championship, establishing himself as one of the world's most muscular men. Schwarzenegger and he have the second-longest winning run in Olympia history. Heath has well-rounded, full-bodied muscles that are complemented by excellent fitness. Flexing brought his figure to life, with excellent muscular definition and quality evident everywhere.
Did You Know?
When Heath first started lifting weights, he was a varsity basketball player at his school who wanted to increase his vertical leap and court presence.
---
6. Dorian Yates (April 19, 1962 – present)
Age Won: 30 years
Nationality: English
Nickname(s): The Shadow
Height: 5'9
Weight: 260 lbs.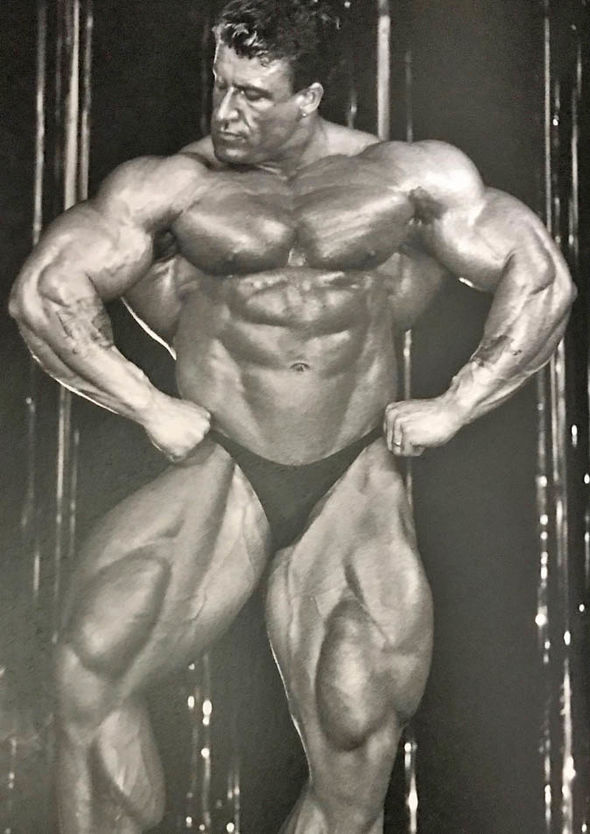 photo source: Daily Express
Initially in Warwickshire, England, Dorian Andrew Mientjez Yates was born in Solihull. He was raised in the rural Warwickshire town of Hurley on a farm. To travel to a party, Yates and his skinhead gang mates were stopped while crossing Birmingham when they were 18.
They claimed to have found a store window that had been half damaged the day after the riots in Birmingham's central business district. When one of Yates's companions tried to take a hat off a mannequin, the hat dropped and shattered the rest of the shop window. Yates would begin weight training while their six months each in detention at Whatton Youth Detention Center.
Six-time Mr. Olympia winner Dorian Yates is a bodybuilding icon. He dominated tournaments throughout his time and rose to business fame.
Did You Know?
To assist others in realizing their aspirations, Dorian Yates founded his own supplements business and built several gyms after he stopped competing.
---
5. Larry Scott (October 12, 1938 – March 8, 2014)
Age Won: 28 years
Nationality: American
Nickname(s): The Legend, The Golden Boy
Height: 5'7
Weight: 205 lbs.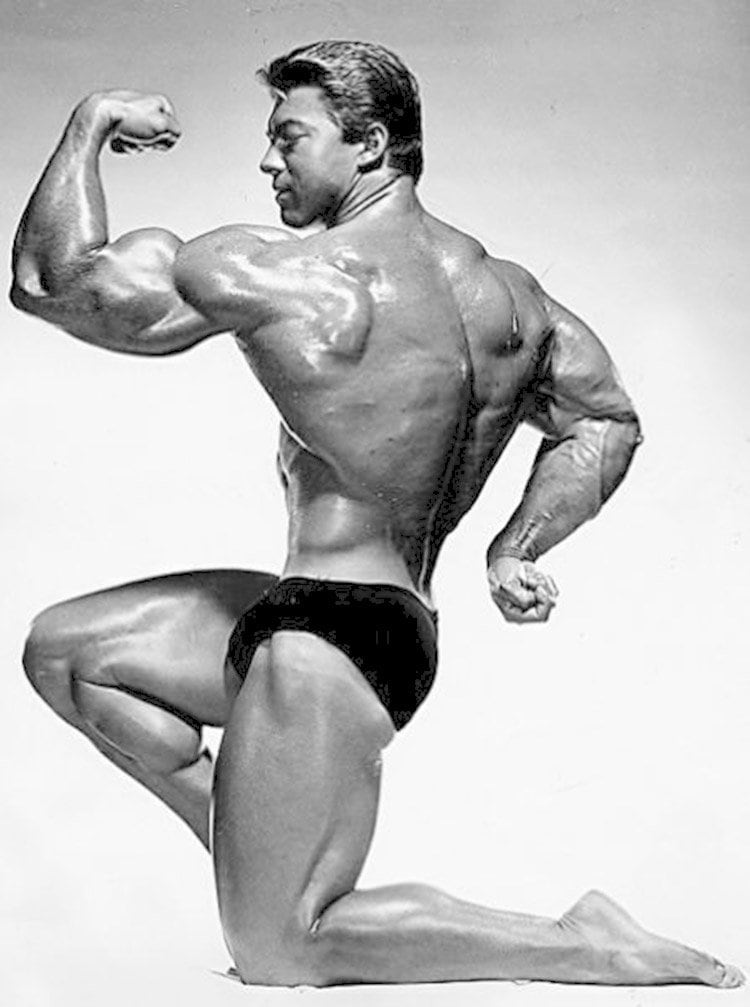 photo source: Greatest Physiques
In Blackfoot, Idaho, Larry Dee Scott was born. He started working out when he was 16, and at age 20, he became Mr. Idaho. Scott is renowned for having enormous arms and popularizing the Preacher curl workout, which is why it is sometimes called "Scott curls." Scott was the only bodybuilder to never lose in a Mr. Olympia when they participated, he won in both appearances before quitting.
The 1964 film Muscle Beach Party featured him in a supporting role. His small shoulders were a weakness when he began weight training in 1956. He worked out with well-known bodybuilder Vince Gironda, and he was most renowned for the growth of his arms, especially his amazing and extremely large biceps.
Did You Know?
Larry Scott, who was 75 years old, passed away from complications related to Alzheimer's disease in his Salt Lake City residence.
---
4. Sergio Oliva (July 4, 1941 – November 12, 2012)
Age Won: 28 years
Nationality: Cuban
Nickname(s): The Myth
Height: 5'10
Weight: 225 lbs.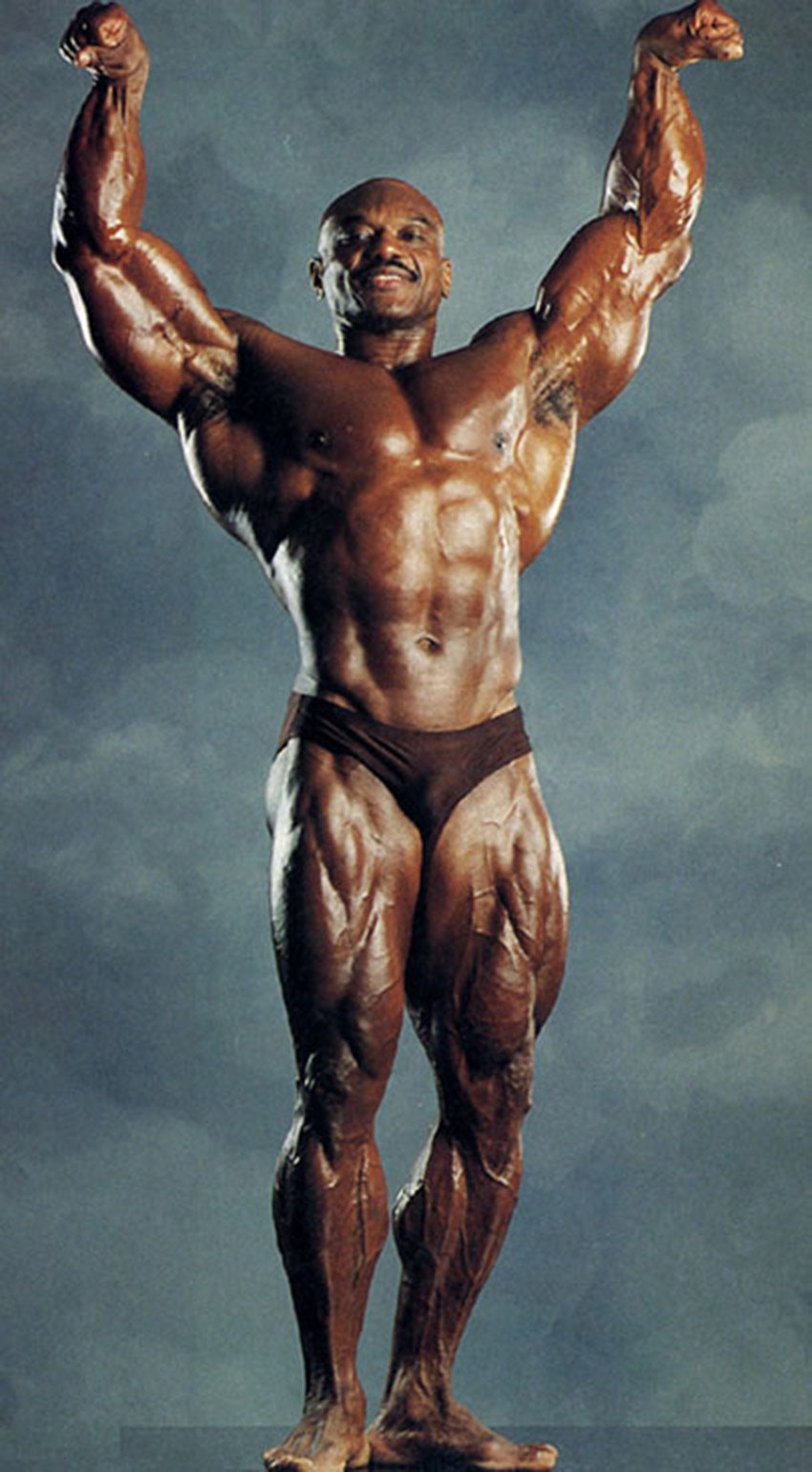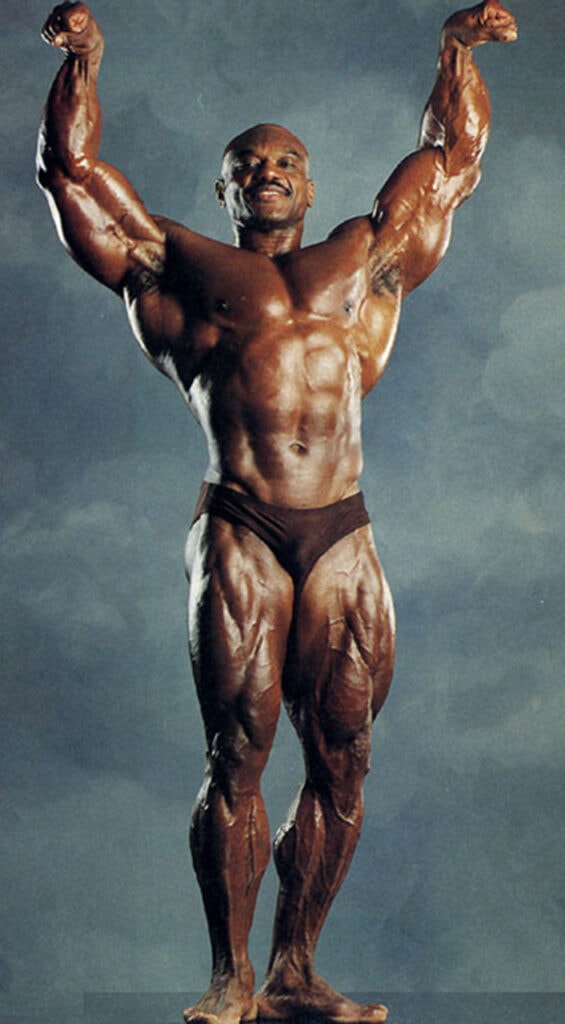 photo source: Wikipedia
In Guantanamo, Cuba, Sergio Oliva was born on July 4, 1941. Oliva accomplished clean & jerks with more than 400 pounds as a youngster after just one year of training. The Cuban authorities were alerted, and Oliva was chosen to represent Cuba in the forthcoming 1961 Pan American Games.
Oliva sneaked out of his accommodations when the guards were preoccupied while he was representing Cuba at the Games in Jamaica. Then, once he was securely inside the American embassy, he raced as fast as he could. He arrived panting and claimed political refuge, which was granted.
The next three years in a row, Oliva won the Mr. Olympia title. Oliva easily won the 1968 Mr. Olympia title. He defeated Arnold Schwarzenegger, the four-time Mr. Universe champion, Mr. Europe, and Mr. International to win his third Mr. Olympia title in a row in 1969.
Did You Know?
Sergio Oliva spent more than 25 years working as a police officer in Chicago.
---
3. Samir Bannout (November 7, 1955 – present)
Age Won: 28 years
Nationality: Lebanese
Nickname(s): The Lion of Lebanon
Height: 5'7
Weight: 205 lbs.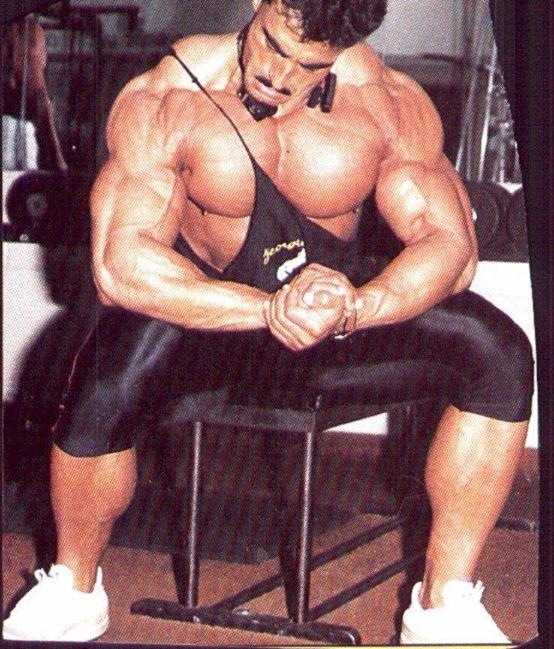 photo source: Fitness Volt
One of the finest bodybuilders in the sport's history, Samir Bannout was born in Beirut, Lebanon. He won the Mr. Olympia competition in 1983.
When he was 18, he started his competitive career, winning his first trophy in the 1974 Teenage Mr. Universe competition. In the USA, he competed against and beat bodybuilding superstars before being inducted into the IFBB Hall of Fame. This triumph inspired him to migrate there. Samir holds the record to be the first Middle Eastern to win the Mr. Olympia competition.
Did You Know?
In the 1974 Mr. Universe competition, Samir Bannout was the youngest competitor.
---
2. Lee Haney (November 11, 1959 – present)
Age Won: 25 years
Nationality: American
Nickname(s): Total-Lee Awesome
Height: 5'11
Weight: 255 lbs.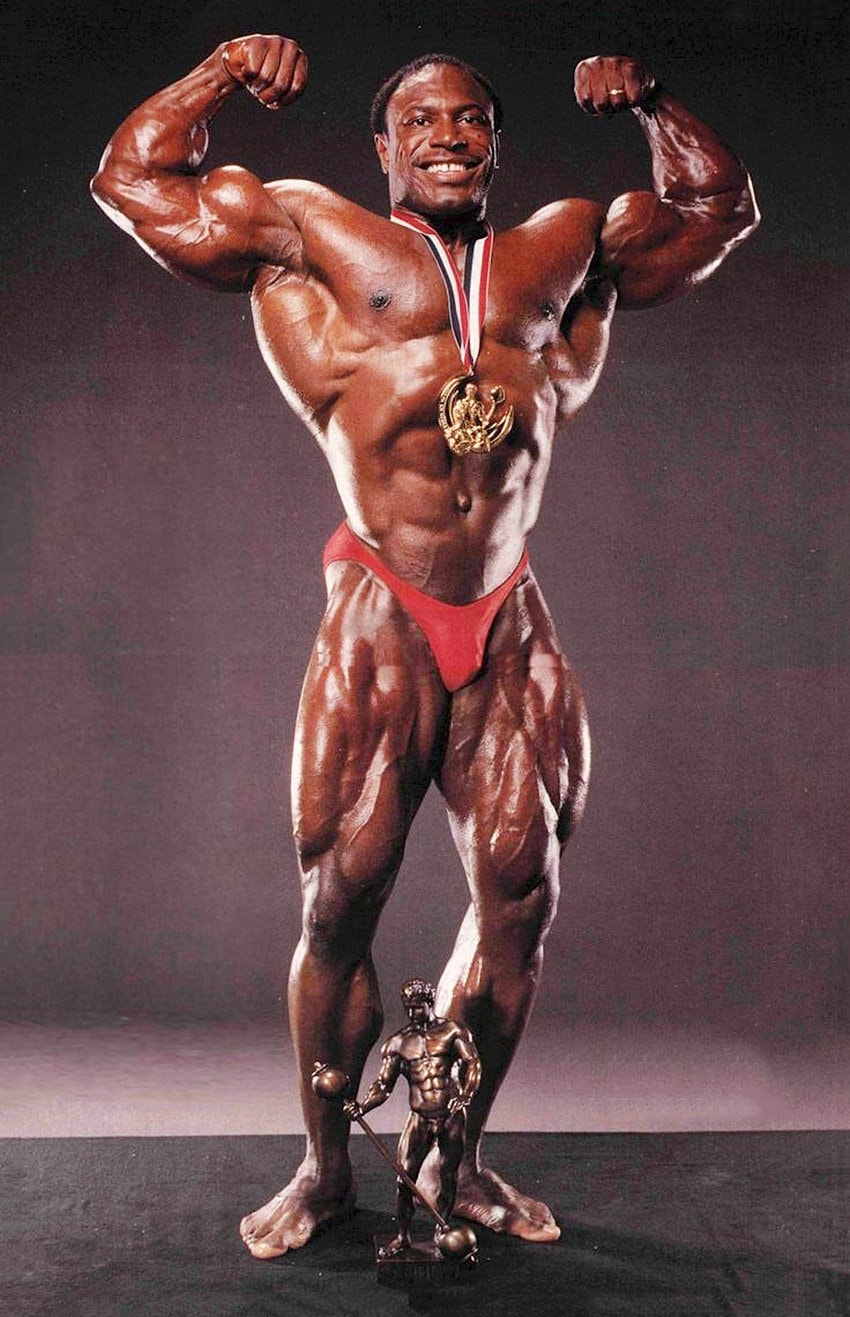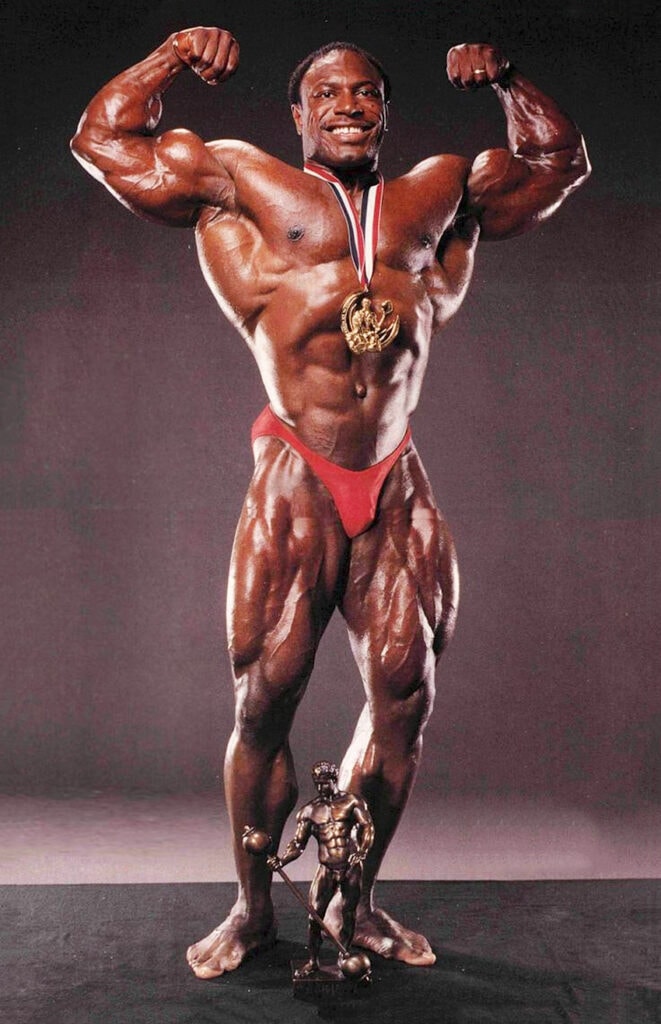 photo source: greatestphysiques.com
With a degree in juvenile therapy, Lee Haney left Spartanburg Methodist College. The devoted born-again Christian Lee Haney hosts his program, "TotaLee Fit with Lee Haney," which regularly features renowned Christian athletes as guests. He emphasizes the value of both spiritual and physical development in the program.
He emphasizes the value of both spiritual and physical development in the program. Haney, who has won eight Mr. Olympia championships alongside Ronnie Coleman, is recognized as one of the finest bodybuilders ever competed.
Did You Know?
Lee Haney served as the President's Council on Physical Fitness and Sports chairman after being nominated by Bill Clinton.
---
1. Arnold Schwarzenegger (July 30, 1947 – present)
Age Won: 23 years
Nationality: Austrian, American
Nickname(s): The Austrian Oak
Height: 6'2
Weight: 235 lbs.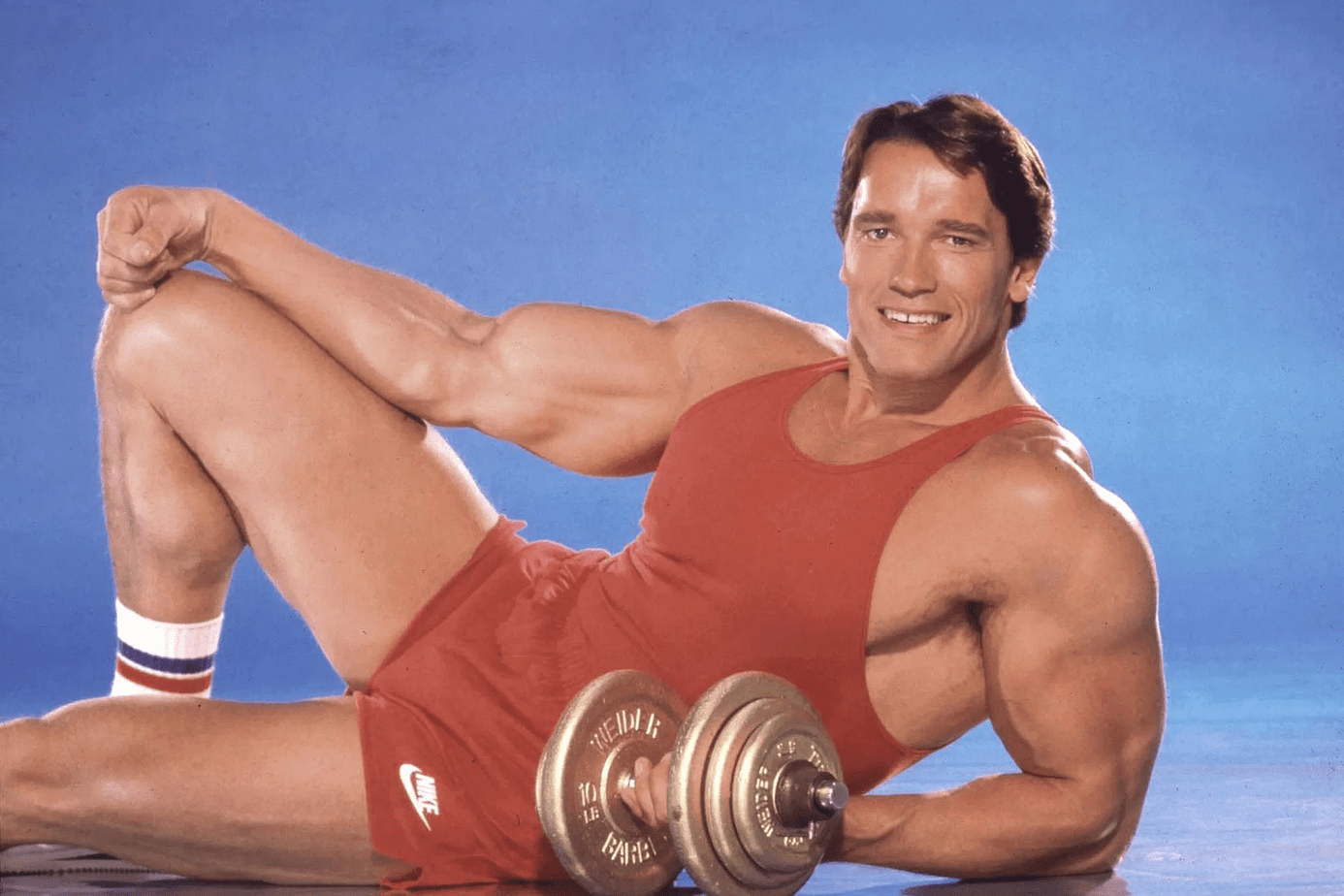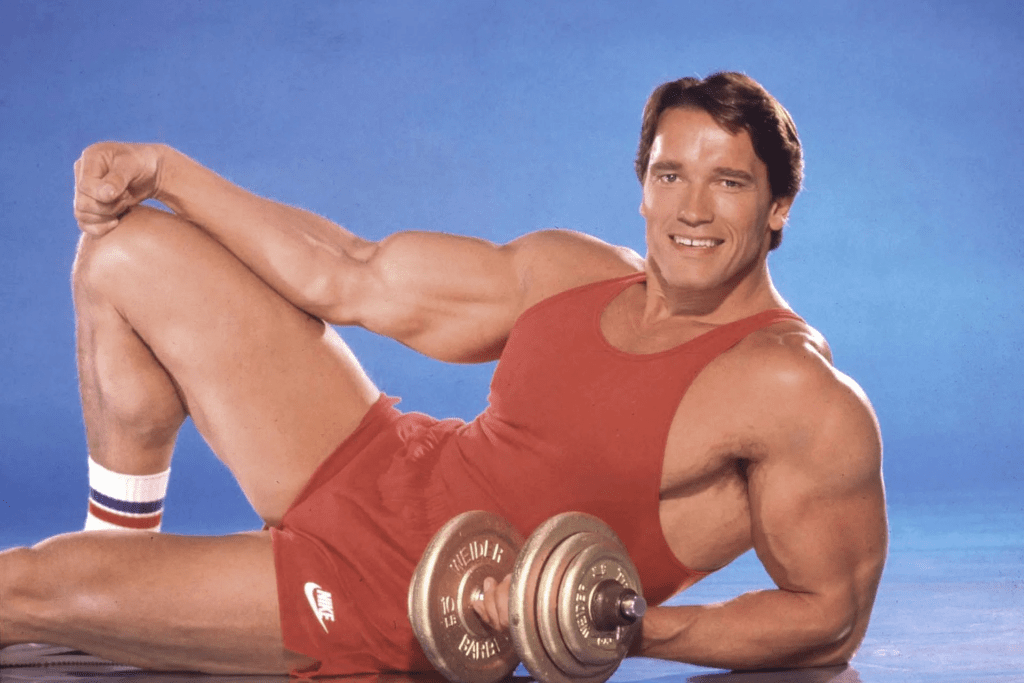 photo source: Sportskeeda
Schwarzenegger wanted to dominate the bodybuilding world and achieve Mr. Olympia status. In 1969, he debuted and was defeated by three-time champion Sergio Oliva. To this day, Schwarzenegger still maintains the record for becoming the youngest Mr. Olympia at 23, having returned to the tournament in 1970 and winning.
Arnold Schwarzenegger is an Austrian-American actor, director, entrepreneur, author, and political figure. When he was 15 years old, he started weightlifting, and at age 20, he was crowned Mr. Universe. He continued to play a prominent role in bodybuilding and wrote several books and articles about the sport while also winning the Mr. Olympia title seven times.
Did You Know?
In recent years, he inspired the Arnold Sports Festival, the second-most significant professional bodybuilding competition. The annual Arnold Classic bodybuilding competition honors Arnold, who is regarded as one of the most important individuals in the history of the sport and its most charismatic spokesperson.
OTHER POSTS YOU MAY BE INTERESTED IN