The Olympic Games are a representation of the peak of human potential. Olympic athletes are the result of thousands of hours dedicated and sacrificed to their respective sport. For as much of an achievement it is to reach the elite level, it's mixed with a little tragedy when you recognize that to make it, you have to forego the things we sometimes take for granted. Things like a normal childhood filled with parties, social events, and casual hang-outs.
Olympic gymnasts start young and practically still in their diapers. They spend their days living and breathing the sport. It's important to start early to lengthen the athletes' competitive window since the games come around just once every four years. Even then, it's rare to make it to the ultimate stage without a little dose of luck and natural-born gifts.
Today we're going to be taking a look at the gymnasts who had their youth, natural ability, and that little touch of luck on their side that made them the youngest ever to compete.
8. Guan Chenchen
Age: 16
Born: 09/25/2004
Olympics: 2020 Tokyo
Country: China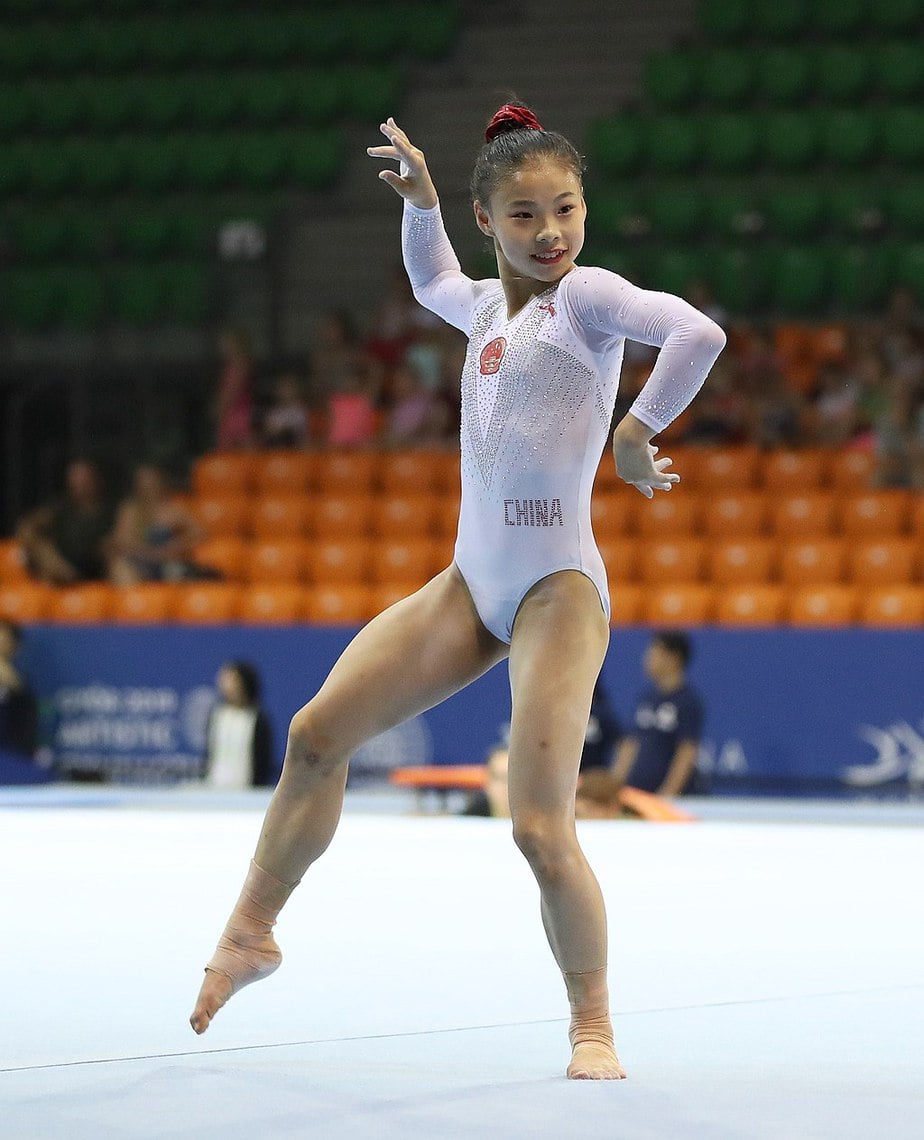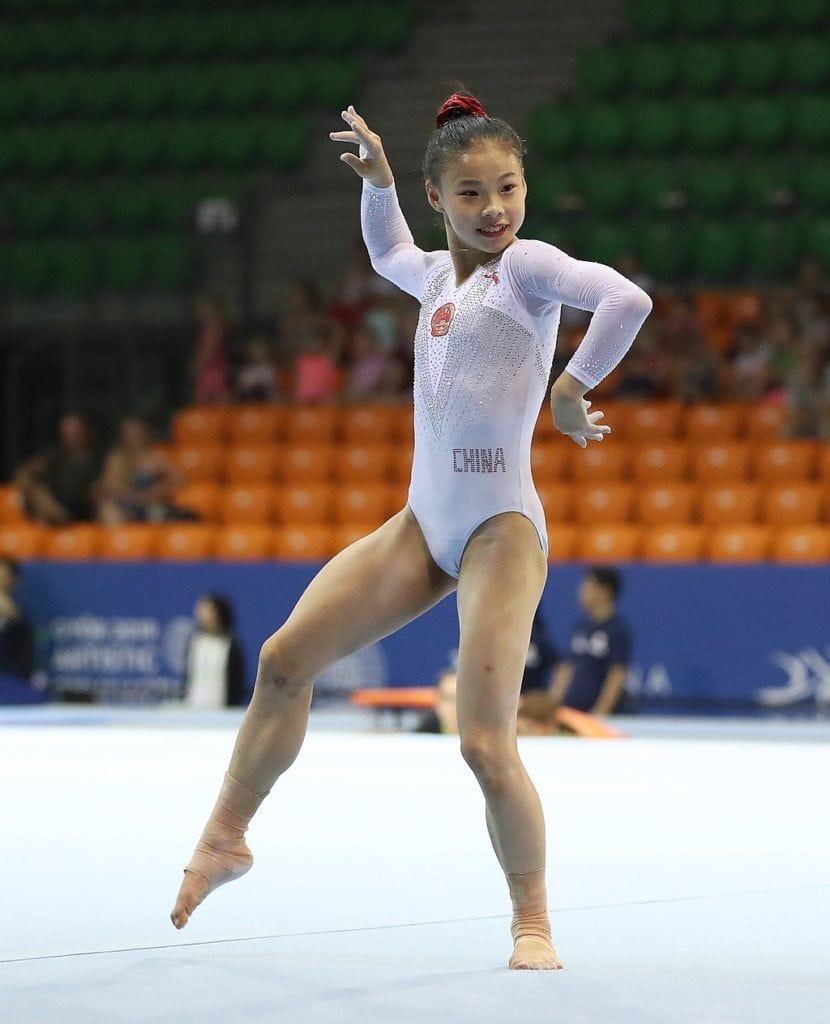 photo source: commons.wikimedia.org
Guan Chenchen was 16-years-old when she made her debut on the balance beam in the 2020 Tokyo Olympic Games. Competing for China, she represented her country well by taking home the gold medal and becoming the 2020 Olympic champion and 2020 Chinese national champion on the balance beam.
Chenchen, who's now only 17-years-old, shows a lot of promise and a bright future for Chinese competitive gymnastics. If she's this dominant at such a young age, there's no telling how much hardware she'll bring home when her career is over.
Did You Know?
Guan also competed in the Chinese Junior National Championships and finished third. In 2019, she competed for the City of Jesolo Trophy, where she finished second on the balance beam and helped her team take home the silver medal.
---
7. Ou Yushan
Age: 16
Born: 01/13/2004
Olympics: 2020 Tokyo
Country: China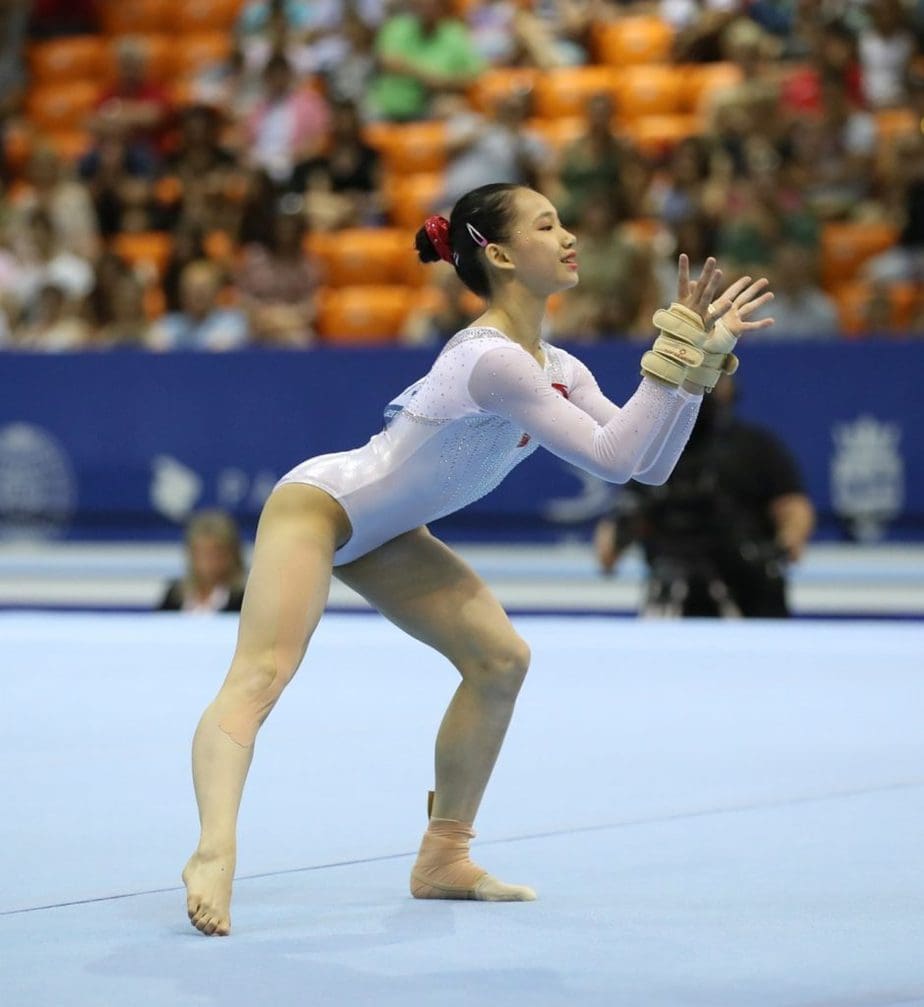 photo source: commons.wikimedia.org
Ou Yushan was 16-years-old when she represented China in the 2020 Summer Olympics. After suffering an Achilles injury, she was only able to participate on the vault, uneven bars, and balance beam during qualification rounds. Despite her injury, she helped the Chinese team finish third but was unable to qualify for an individual final.
Even though she ran into an untimely injury, her pre-Olympic career is nothing short of impressive. If her success in the Junior World Championships is any sign of what's to come, she'll have no problem bouncing back and ending up on a Wheaties box as an athlete of the year.
Did You Know?
Yushan won silver medals for the team and floor exercise. She and her team took the bronze for the All-Around.
---
6. Sunisa Lee
Age: 16
Born: 03/09/2003
Olympics: 2020 Tokyo
Country: United States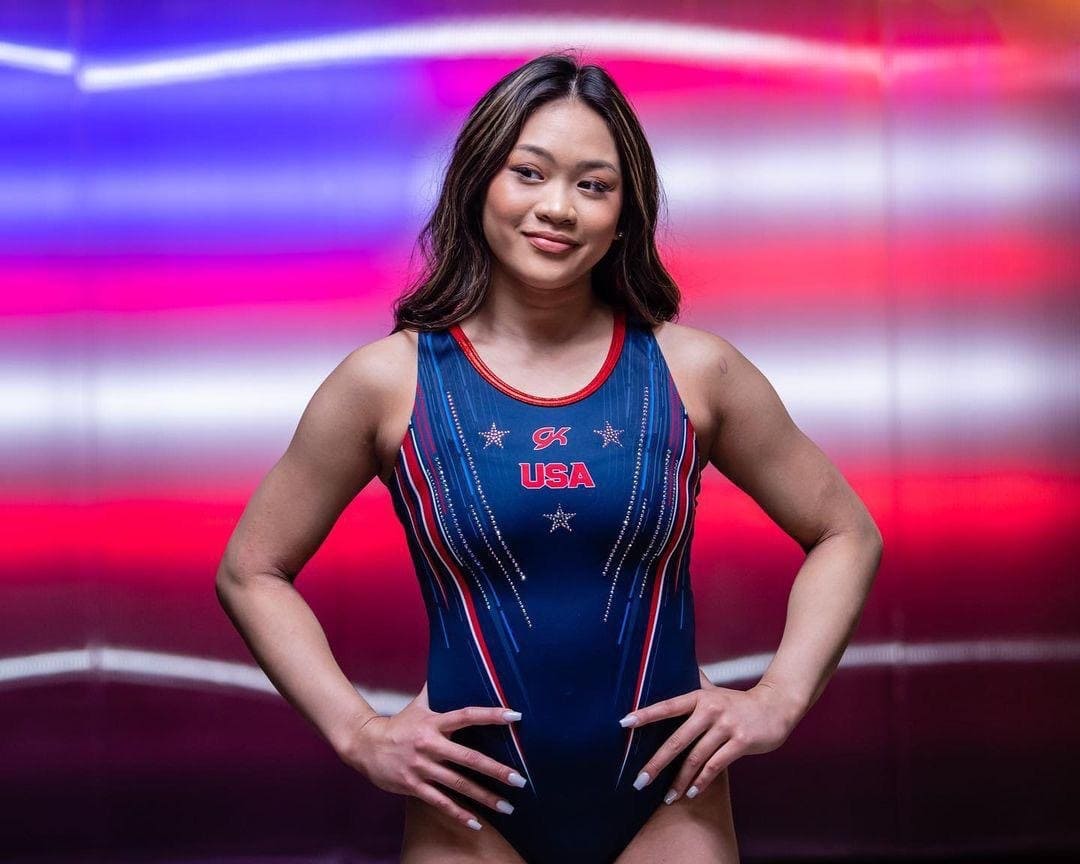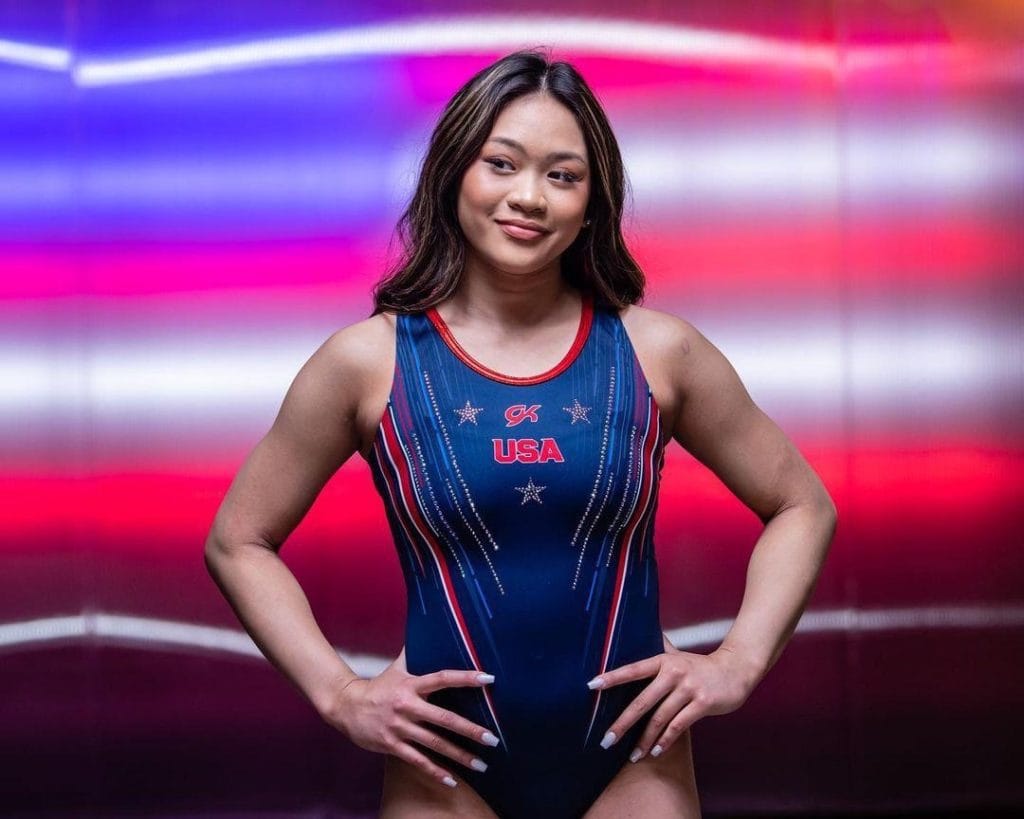 photo source: asiasociety.org
Sunisa Lee was 16-years-old when she competed for the United States at the 2020 Tokyo Olympics. Her 5-foot frame packs a wallop and her bronze medal on the uneven bars proves it. Her team took home the silver medal and gold for the All-Around. With her six world championships and Olympic medals, she's tied with another gymnastic superstar, Gabby Douglas, and three others as the 9th-most decorated American female gymnast.
Sunisa has made a couple of television appearances. She was a contestant on season 30 of Dancing with the Stars, a Peacock docuseries titled, Golden: The Journey of USA's Elite Gymnasts, and a YouTube series called, Defying Gravity: The Untold Story of Women's Gymnastics.
Did You Know?
In celebration of her success, the governor of Minnesota (her hometown), Tim Walz, along with the Mayor, declared July 30th, 2021 "Sunisa Lee Day."
---
5. Dominique Moceanu
Age: 14
Born: 09/30/1981
Olympics: 1996 Atlanta
Country: United States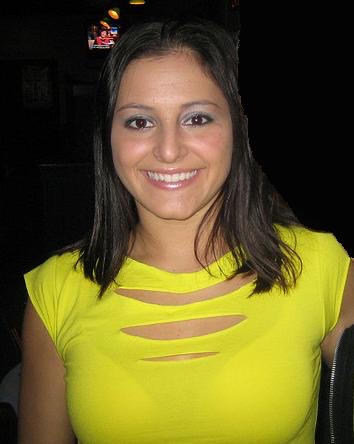 photo source: commons.wikimedia.org
Dominique Moceanu was 14-years-old when she represented the U.S. in the 1996 Atlanta Olympics. At just 14, she became the youngest Olympic gold medalist in U.S. gymnastics history. She was part of the Magnificent Seven, the name bestowed on the women's team that won America its first gold medal in the team event. They are forever etched in the American history books because of their incredible achievements.
Dominique was diagnosed with a stress fracture in her right tibia which forced her to sit out in the Olympic trials. Because of her impressive National scores, she was voted on the team regardless.
Did You Know?
Post-career, Moceanu wrote a New York Times bestselling autobiography, Dominique Moceanu: An American Champion. She's also studied business management and wrote a memoir, Off Balance.
---
4. Carla Marangoni
Age: 12
Born: 11/13/1915
Olympics: 1928 Amsterdam
Country: Italy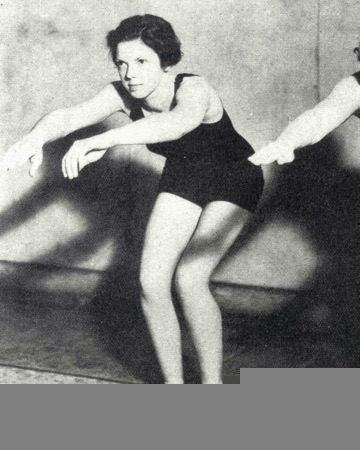 photo source: youngestolympicathlete.wordpress.com
Carla Marangoni was an Italian 12-year-old gymnast who competed in the 1928 Summer Olympics. She was one of the first Italian women to win an Olympic medal with silver.
According to her birth certificate, she was born as "Carla" but had been wrongly mentioned in official Olympic Statistics as Clara. Until 2018 when she passed away at 102, she was the last surviving athlete from the 1928 Summer Games.
Did You Know?
Marangoni was the 6th and last youngest to take home a medal in the Olympics at 12. Marangoni became an accountant, working at the Pavia Transportation Department during World War 2 and afterwards. Because of no professional opportunities coming up after her performance in the games and certainly nothing lucrative, she had to let go of the sport shortly after.
---
3. Ines Vercesi
Age: 12
Born: 01/05/1916
Olympics: 1928 Amsterdam
Country: Italy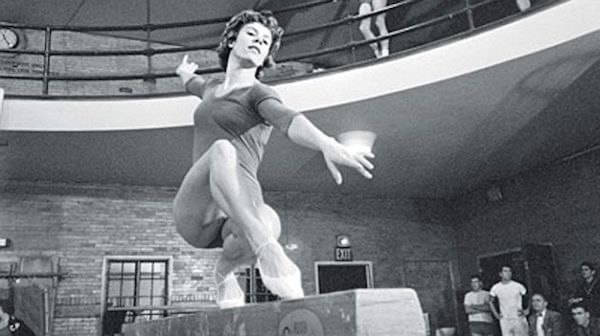 photo source: thegymter.net
Ines Vercesi competed alongside Carla Marangoni in the 1928 Amsterdam Olympic Games and won the silver medal as a member of the Italian gymnastics team.
Her team, called Piccole Ginnaste Pavesi, were on their very first trip abroad which makes it all the more impressive they were able to place in second.
Did You Know?
Ines and her team received honors from the Dutch Queen and her town, Pavia, welcomed them with open arms on their return. While in Roma during their victory tour, Duce Benito Mussolini was there to greet and congratulate them.
---
2. Luigina Giavotti
Age: 11
Born: 10/12/1916
Olympics: 1928 Amsterdam
Country: Italy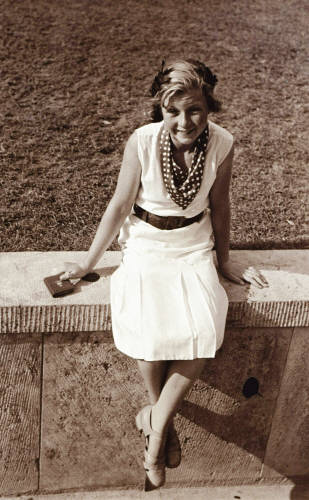 photo source: twitter.com
Luigina Giavotti was only 11-years-old when she competed alongside Ines Vercesi and Carla Marangoni for the Italian team in the 1928 Amsterdam Olympic Games. This was unprecedented for the time and to be just behind her two 12-year-old contemporaries makes their achievements extraordinary.
She was the youngest medalist of the Amsterdam games and the youngest female Olympic medalist of all time. Her record will forever stay unbroken because of current Olympic rules, which prohibit anyone under 16-years-old from competing.
Did You Know?
Luigina Giavotti and the rest of her team were trained in their home city, Pavia, by their physical education teacher, Gino Grevi. Despite having very few resources to properly accommodate an Olympic athletes' demanding training regiment, he was adamant about forming a team and recruiting the best students across the city's school systems.
---
1. Dimitrios Loundras
Age: 10
Born: 09/06/1885
Olympics: 1896 Athens
Country: Greece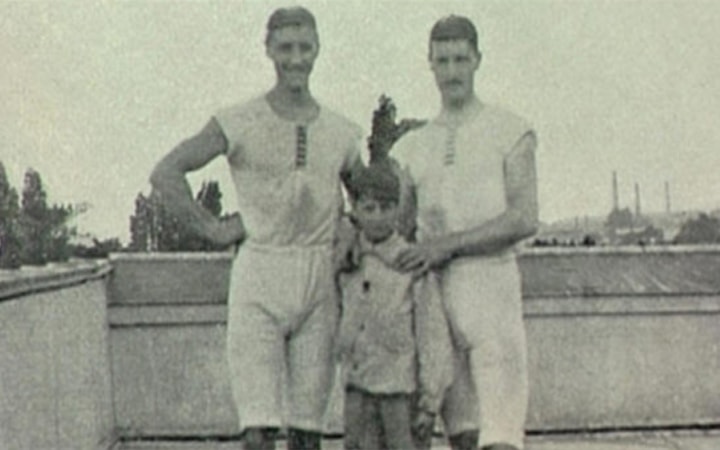 photo source: celebsdaily.co
Dimitrios Loundras is the youngest gymnast to compete in the Olympic Games!
Dimitrios was 10-years-old when he participated in the 1896 Olympic Games in Athens, Greece. He and his team received the bronze medal with the help of his showing on the team parallel bars.
Loundras became a naval officer in the Royal Hellenic Navy after graduating from the Hellenic Navy Academy in 1905. Nowadays, it's universally unheard of for an Olympic athlete to be devoting time to anything other than their athletic pursuits but in the case of Dimitrios, he made sure to keep busy by serving in various commands.
Did You Know?
Loundras fought in World War 1 and achieved the rear admiral rank before retiring from service in 1935. Five years later he was recalled to service during the Greco-Italian War and appointed head of the Aegean Naval Command. After this final stint in the military, he was allowed to rest in 1945 with the distinction of vice admiral.
OTHER POSTS YOU MAY BE INTERESTED IN