When you think about bodybuilding, you probably don't remember the other side to this fake tan and glittery bathing suit sports. But female bodybuilders are some of the hardest working members of the fitness community.
Female bodybuilding started in the 1970s when women began competing professionally, but there were earlier records of strong women competing in amateur contests and circus performances.
Originating in Europe, the competitions were adapted to the male gaze, as it was more of a bikini show or a beauty contest, a contrast to what they are now. But these shows mark the start of female bodybuilding as we know it today.
This fitness sport might seem glamorous, but it needs dedication, intensive body training, dieting, meal prepping, spending hours at the gym, countless calorie counting, and cardio. And while bodybuilding does not have an age or weight limit, it is still more appealing to the younger generations.
We could praise all bodybuilding women for their work and dedication, but this time we're taking a look at some of the oldest female bodybuilders still in the game that may serve as an inspiration!
9. Brenda Raganot
Age: 55
Born: September 8, 1966
Years Active: 1984-present
Best Win: IFBB Ms. International Championship
Nationality: Filipino-American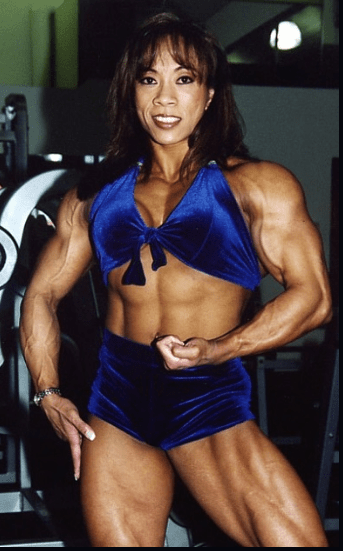 photo source: Deviant Art
Brenda Raganot is a Filipino-American professional bodybuilder, having been active since 1984. Her bodybuilding career started in high school, where she was influenced by another famous bodybuilder – Rachel McLish.
After winning the NPC National Championship, Raganot got her professional card in 1998.
Raganot has competed in more than 20 professional contests, having won several times. Her best title is IFBB Ms. International lightweight competition which she won in 2000 and again in 2005. During her career, Brenda switched between lightweight and heavyweight classes.
Did You Know?
During her time, Raganot was noted as one of the top professional female bodybuilders, ranking in the top 10 in different competitions. She currently lives in Washington, where she works as a United States postal clerk.
---
8. Tazzie Colomb
Age: 55
Born: August 20, 1966
Years Active: 1998-present
Best Win: IFBB Europa Supershow
Nationality: American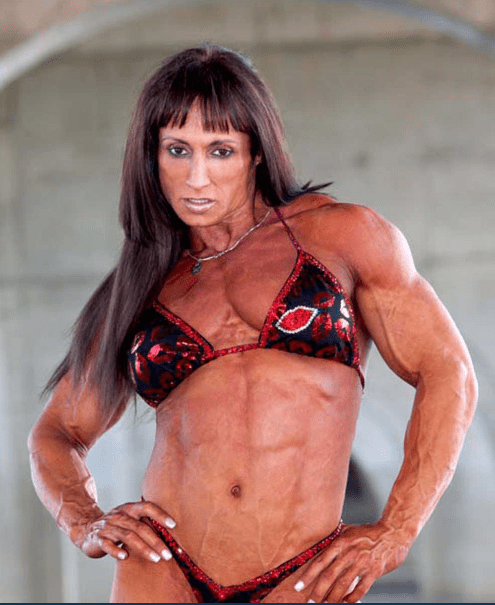 photo source: Wings of Strength
Tazzie Colomb is one of the longest-competing IFBB female professional bodybuilders of all time. She started her career in 1998 and has been in more than 20 professional bodybuilding competitions. Colomb also competed in powerlifting, but she wasn't as successful.
After debuting with a boom in the NPC Junior Nationals, Tazzie won the NPC USA Championship in 1992, qualifying as a professional bodybuilder. Despite this, the best title in her career was the International Federation of Bodybuilding and Fitness (IFBB) heavyweight championship in 2007.
Did You Know?
Like many bodybuilders, Colomb became a personal trainer during her career as she has trained many celebrities. She currently lives in Louisiana and still competes professionally.
---
7. Andrulla Blanchette
Age: 56
Born: July 29, 1966
Years Active: 1986-present
Best Win: IFBB Ms. Olympia Championship
Nationality: English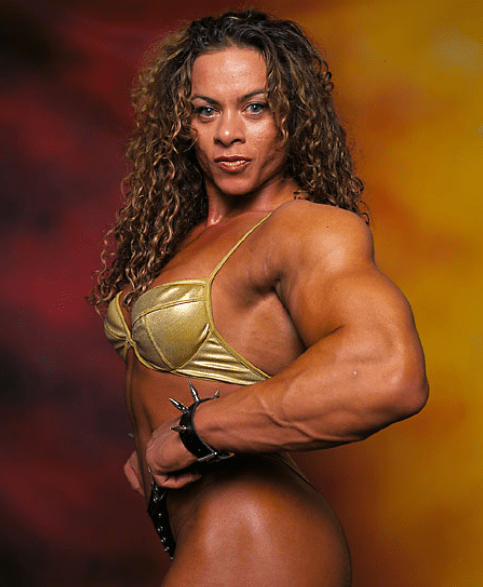 photo source: Deviant Art
Named Women's Physique World's European Bodybuilder of the Year in 1996, Andrulla Blanchette started as a judo player in 1986. She wanted to build her strength by lifting weights, as she is Black Belt First Dan in Judo, but she fell in love with bodybuilding instead.
After turning professional, Blanchette won Ms. Olympia in 2000, the only British bodybuilder to win this title. She is considered the most successful British bodybuilder in the world and has competed in more than 30 competitions worldwide.
Did You Know?
Andrulla lives in London as a photographer and a design worker, but her main focus is her career as a personal trainer. She has starred in numerous United Kingdom television shows and movies in the last two decades.
---
6. Marie Mahabir
Age: 59
Born: August 8, 1962
Years Active: 1996-present
Best Win: NABBA World Physique Championship
Nationality: Caribbean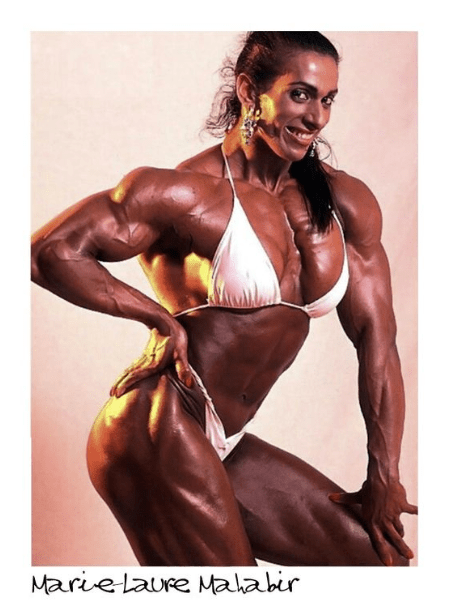 photo source: Pinterest
Marie Laure Mahabir, born in Le Moule, a French commune in Guadeloupe, started her career in 1996 after winning IFBB World Pro Championship in 1989. Soon after, she became a personal trainer, training for professional bodybuilding competitions.
Mahabir started bodybuilding when she was a teenager, influenced by her step-father, an amateur bodybuilder. Bodybuilding champion Raymond Jollet was her mentor at the beginning of her career. Her best records are three titles from the NABBA World Physique Championships in 1985, '86, and '87.
Did You Know?
After turning professional, Mahabir moved to Paris, where she continued to be a personal trainer. During her time in France, she reached the top five in Ms. International and Ms. Olympia competitions in 1994. In one interview, Marie expressed her desire to be a school teacher.
---
5. Colette Guimond
Age: 60
Born: September 14, 1961
Years Active: 1987-present
Best Win: NPC Steel Rose Championship
Nationality: French-Canadian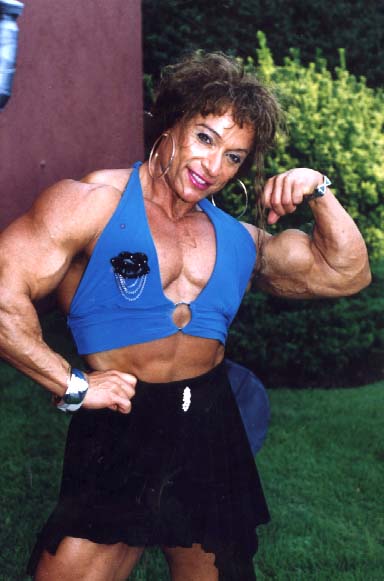 photo source: Muscle Ville
Colette Guimond, a French-Canadian bodybuilder, started her career in 1987 when she was 26. Not much is known about her personal life outside of competing, but she was successful soon after, winning the 1989 Montreal Championship after only two years of practicing.
Guimond won in the lightweight class of the 1995 NPC Steel Rose competition but had to take a break in 1997 after being in a car accident. Due to this, she went on a six-year-old hiatus before coming back in 2003 and winning NPC Jan Tana Amateur championship in the heavyweight class.
Did You Know?
Guimond needed nine surgeries after being in a near-fatal car accident. She was allowed to compete soon after recovering from the last surgery, but Colette lost confidence in her body and waited almost six years to return to the scene.
---
4. Valentina Chepiga
Age: 60
Born: April 27, 1962
Years Active: 1988-present
Best Win: IFBB Ms. Olympia Championship
Nationality: Ukrainian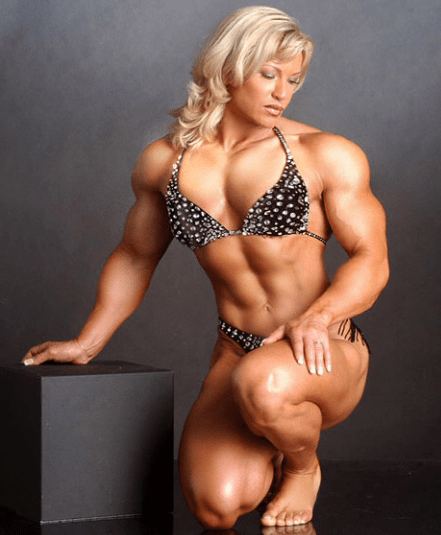 photo source: Deviant Art
Валентина Чепіга, professionally known as Valentina Chepiga, is a professional bodybuilder from Ukraine. Before getting into bodybuilding in 1988, Valentina graduated from Kharkiv National University of Construction and Architecture with a degree in Gas Heating and Air-Conditioning.
But that was not the path she took, as she turned professional soon after starting bodybuilding, becoming a personal trainer in 1992. Chepiga is the only Ukrainian bodybuilder to win the Ms. Olympia contest in 2000, competing in the heavyweight class.
Did You Know?
Valentina Chepiga competed in over 20 professional bodybuilding competitions and won five times. She ranked 1st on the IFBB Women's Bodybuilding Professional Ranking List from October 2000 to October 2001.
---
3. Gladys Portugues
Age: 64
Born: September 30, 1957
Years Active: 1980-present
Best Win: IFBB Ms. Olympia Championship
Nationality: American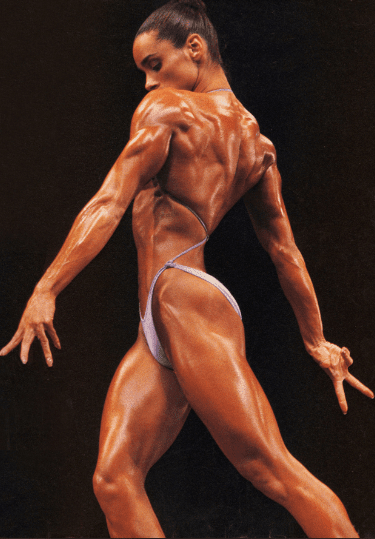 photo source: Twitter
Gladys Portugues is a professional female bodybuilder, author, and actress who has been active since the 1980s. She was a college student when she got interested in professional bodybuilding after watching Rachel McLish win the Ms. Olympia title in 1980.
Portugues did not manage to win the same title as her idol, but she placed twice in the top 10 of the contest. Due to her success, Gladys played herself in the movies Pumping Iron II: The Women and The Morning After. She was also featured in two books: Hard Bodies and Hard Bodies Express.
Did You Know?
Gladys married Belgian actor Jean-Claude Van Damme in 1987 before divorcing five years later. The couple remarried in 1999, after which they had two children together. Van Damme is known for the martial art skills he used in his movies.
---
2. Gayle Moher
Age: 65
Born: April 7, 1957
Years Active: 1995-present
Best Win: IFBB Jan Tana Classic Championship
Nationality: British-American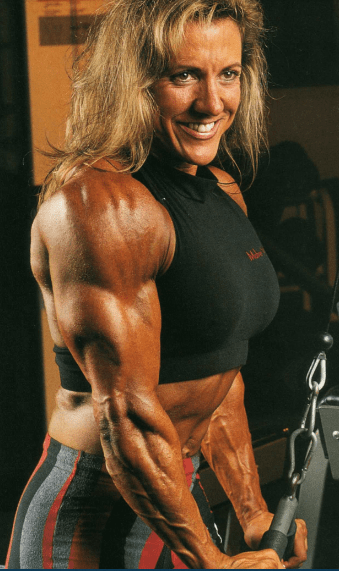 photo source: HW Motivation
Having been competing in more than 30 professional bodybuilding competitions over the last 27 years, Gayle Moher is one of the oldest female bodybuilders active today. Born in 1957, Moher took a different path competing in beauty pageants as a teenager.
Her focus shifted after visiting the United States in the 1990s, where she became interested in bodybuilding. Moher turned professional after winning the NPC Nationals in 1996, but her most tremendous success is the Jan Tana Classic championship by the International Federation of Bodybuilding in 1999.
Did You Know?
Gayle Moher was featured in the episode Muscle Worship of the 2007 documentary Hidden Lives. This 45-minute documentary shared the stories about the different yet extraordinary lives of various women and those around them.
---
1. Ernestine Shepard
Age: 86
Born: June 16, 1936
Years Active: 1995-present
Best Win: N/A
Nationality: American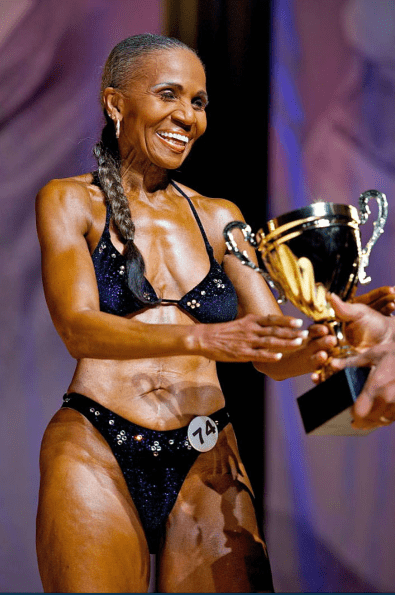 photo source: Baltimore Sun
The oldest competitive female bodybuilder ever is the 84-year-old Ernestine Shepard. She started with her sister in the early 1990s but continued alone after her sister passed away.
A retired school secretary lives by her mantra of being dedicated, determined, and disciplined, having been competing professionally for over 30 years.
Shepard was named the oldest female bodybuilder in the world by the Guinness Book of World Records in 2010, and while she's not competing anymore, she's still active. Since she was 56 years old, Shepard has won two bodybuilding titles and ran nine marathons.
Did You Know?
"6-pack granny" has stared in Beyoncé's visual music video "Black is King" in 2020, a visual companion of the 2019 album The Lion King: The Gift. The album was produced, written, and directed by Beyoncé for the musical drama film of the same name.