Bodybuilding is one of the most physically challenging, mentally demanding, and often overlooked athletic endeavors one can undertake. It requires a level of discipline unlike any other. If you follow the sport and the successful bodybuilders, you'll also know that a common thread between the greats is the tremendous sacrifices they've made to reach the pinnacle of what a physique is capable of.
To look like a God out of Greek mythos, things like friends and relationships need to fall to the wayside. That's especially true in the early years of a bodybuilder's career when the struggle to afford six meals a day is staring you in the face every day, which is a career unto itself! A competition-ready physique is more impressive as a reflection of the willpower and sacrifices the human spirit can endure than it is for aesthetics alone.
Most bodybuilders at the elite level need to start early to develop the muscular maturity to join the ranks of the best-built. Today, we're going to look at the youngest bodybuilders ever.
8. Ronnie Coleman
Age: 24
Born: 05/13/1964
Hometown: Monroe, Louisiana
Nickname: The King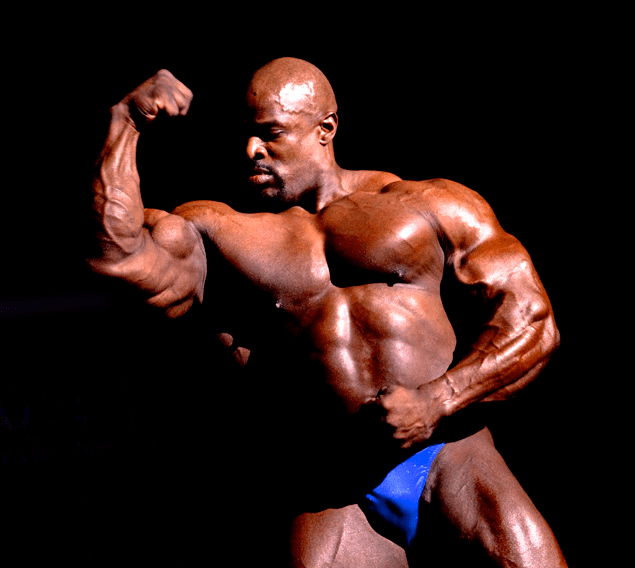 photo source: commons.wikimedia.org
He might be #8 on this list, but a strong case could be made that Ronnie Coleman is the greatest bodybuilder of all time, as his nickname The King would suggest. For bodybuilders, Coleman started relatively late. He was 24-years-old. Maybe Ronnie knew just how genetically gifted he was and decided to give the competition a head start.
That head start didn't last long enough. He was crowned Mr. Olympia eight consecutive times. Coleman completely changed the perception of what a bodybuilder could achieve in both accomplishments and size. In his prime, he was the first true mass monster. He was bigger and stronger than the competition and a trailblazer for the sport. After his reign in the 90s and early 2000s, hundreds of bodybuilders started to follow the Ronnie Coleman blueprint but none have achieved the size and definition that made him so unique.
Did You Know?
The harsh demands Ronnie Coleman put on his body caught up with him post-career. He was notorious for his intense training sessions that were atypical of a bodybuilder and took a devastating toll on his back. Several surgeries later, he walks with the assistance of canes. A man like Coleman doesn't have much to regret, however. He took his body to its limits and beyond. As a result, he became immortalized as maybe the greatest to ever step on the stage.
---
7. Phil Heath
Age: 23
Born: 12/18/1979
Hometown: Seattle, Washington
Nickname: The Gift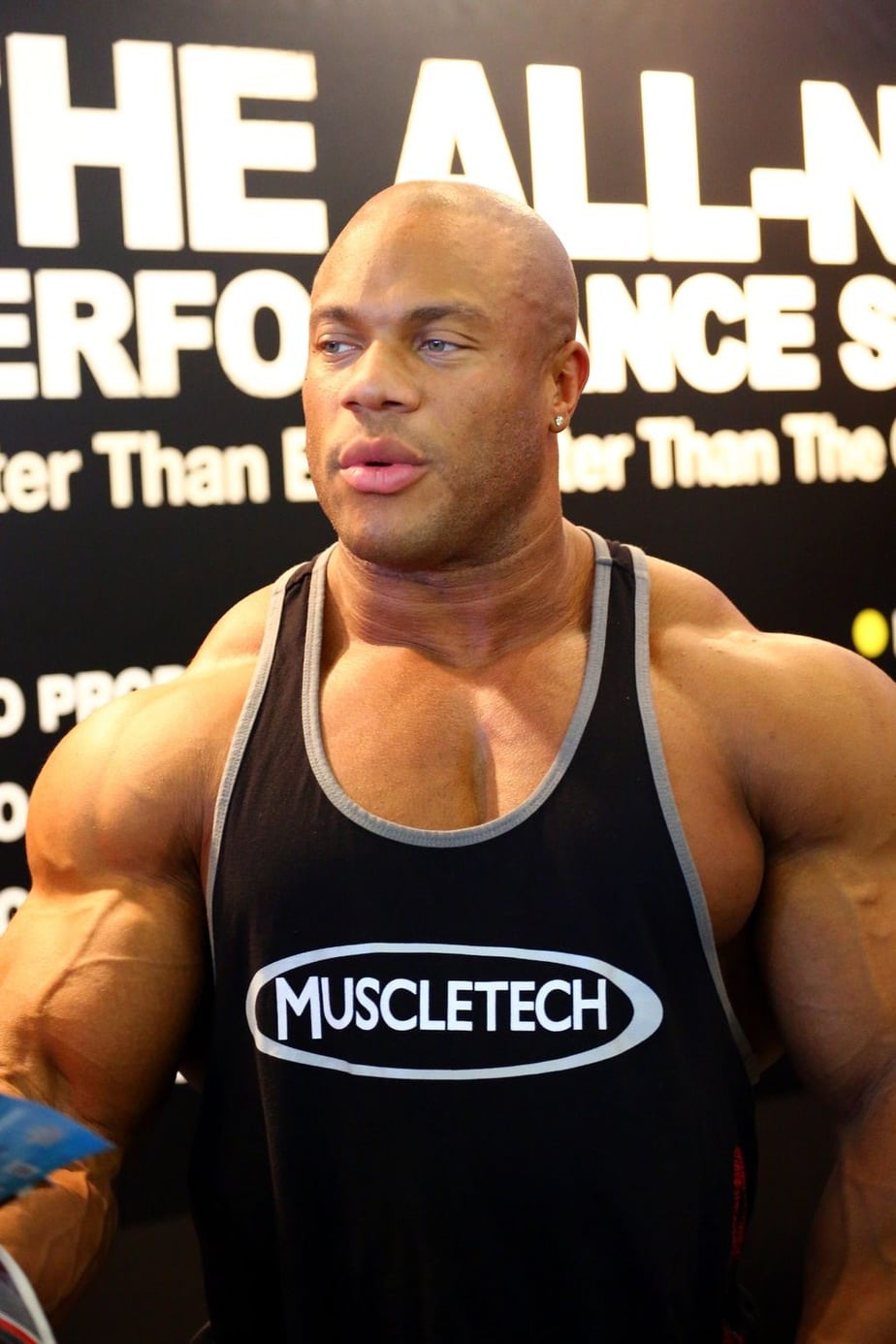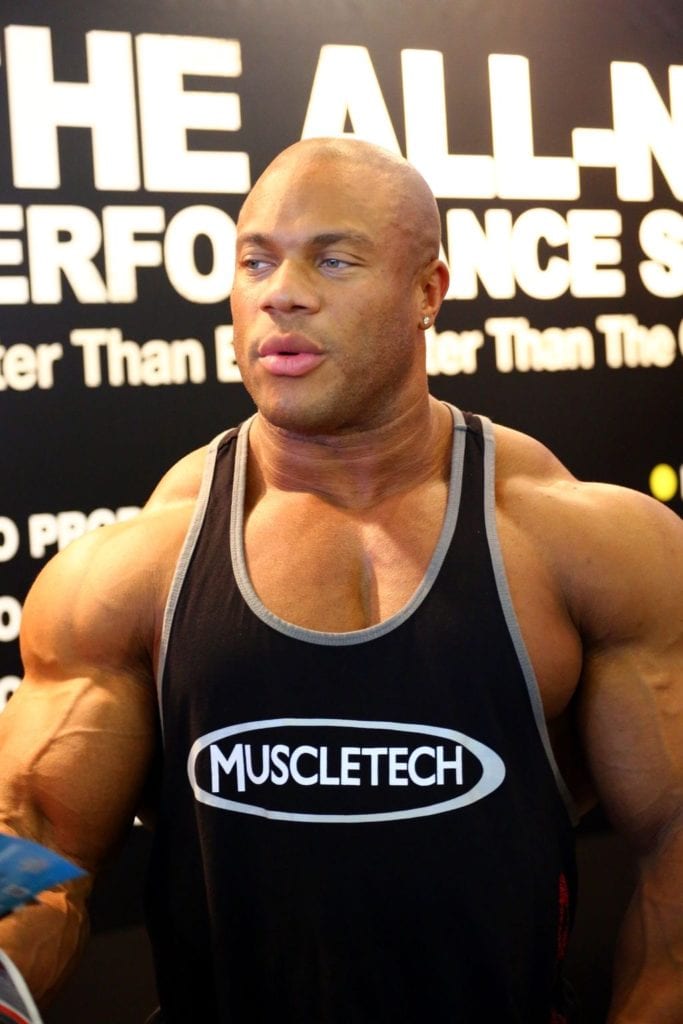 photo source: commons.wikimedia.org
Phil Heath is a 7x Mr. Olympia winner, rivaling one of his bodybuilding hero's, Ronnie Coleman. Like Ronnie, he also was a consecutive winner of the title from 2011 to 2017. Seven wins put him amongst the crème of the crop when it comes to names in the fitness industry. He's tied with Arnold Schwarzenegger for the second most Olympia wins.
Foreshadowing the charmed career Heath would have, as a rookie in his 2008 Mr. Olympia debut he placed third. That made him the first novice to place top three since bodybuilding great Flex Wheeler.
Did You Know?
Phil Heath is a natural athlete. He played Division 1 basketball as a shooting guard for the University of Denver.
---
6. Kai Greene
Age: 21
Born: 06/12/1975
Hometown: Brooklyn, New York
Nickname: The Predator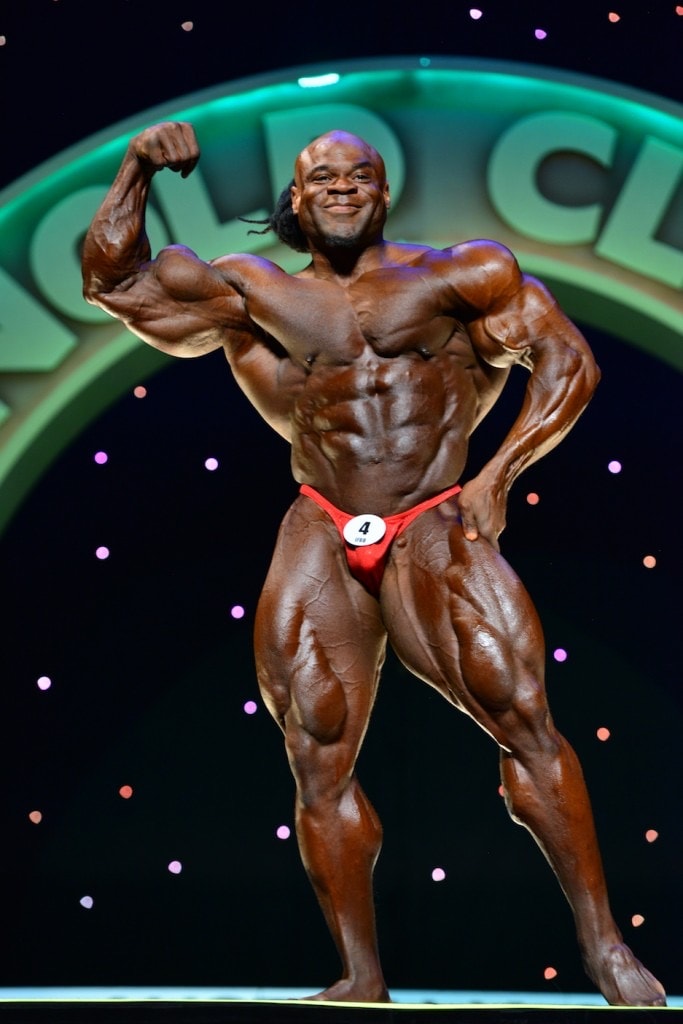 photo source: commons.wikimedia.org
Kai Greene played an important role in revolutionizing the sport of bodybuilding thanks to his unusual, theatrical onstage posing routines. His world-class physique doesn't hurt either. Greene placed second in three Olympia competitions and is regarded as the greatest to never take first place.
His talents extend beyond lifting things up and putting them back down. Greene is a passionate artist known for creating self-portraits and even held an exhibit for his work. He's also appeared in the hugely popular Netflix series Stranger Things.
Did You Know?
Kai Greene launched his own podcast in October 2020, titled Getting It Done.
---
5. Jay Cutler
Age: 20
Born: 08/03/1973
Hometown: Sterling, Massachusetts
Nickname: A Cut Above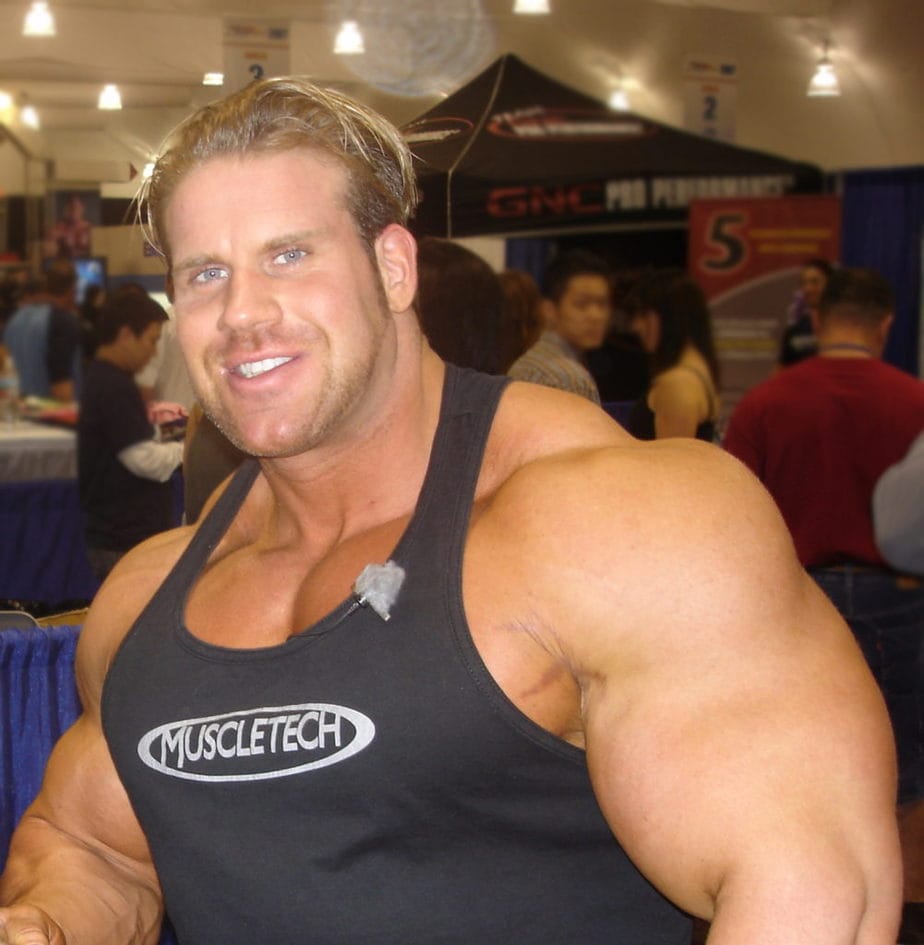 photo source: commons.wikimedia.org
Jay Cutler is one of the greatest bodybuilders of all time and has four Mr. Olympia's to prove it. Seen as the golden boy of bodybuilding, his popularity boomed when he became the true rival to Ronnie Coleman's throne. Their battles became the stuff of legend in the bodybuilding world, meeting each other each year on stage in the greatest shape of their lives. Both credit each other as the sole reason they chose to push themselves to heights they wouldn't have achieved if it weren't for their competitive rivalry.
Cutler became the face of bodybuilding for years and appeared on the covers of Muscle and Fitness and Flex regularly.
Did You Know?
Cutler has the brains to go with the brawn. He graduated from Quinsigamond Community College in 1993 with a degree in criminal justice.
---
4. Arnold Schwarzenegger
Age: 15
Born: 07/30/1947
Hometown: Austria
Nickname: Arnie, The Governator, The Austrian Oak, etc.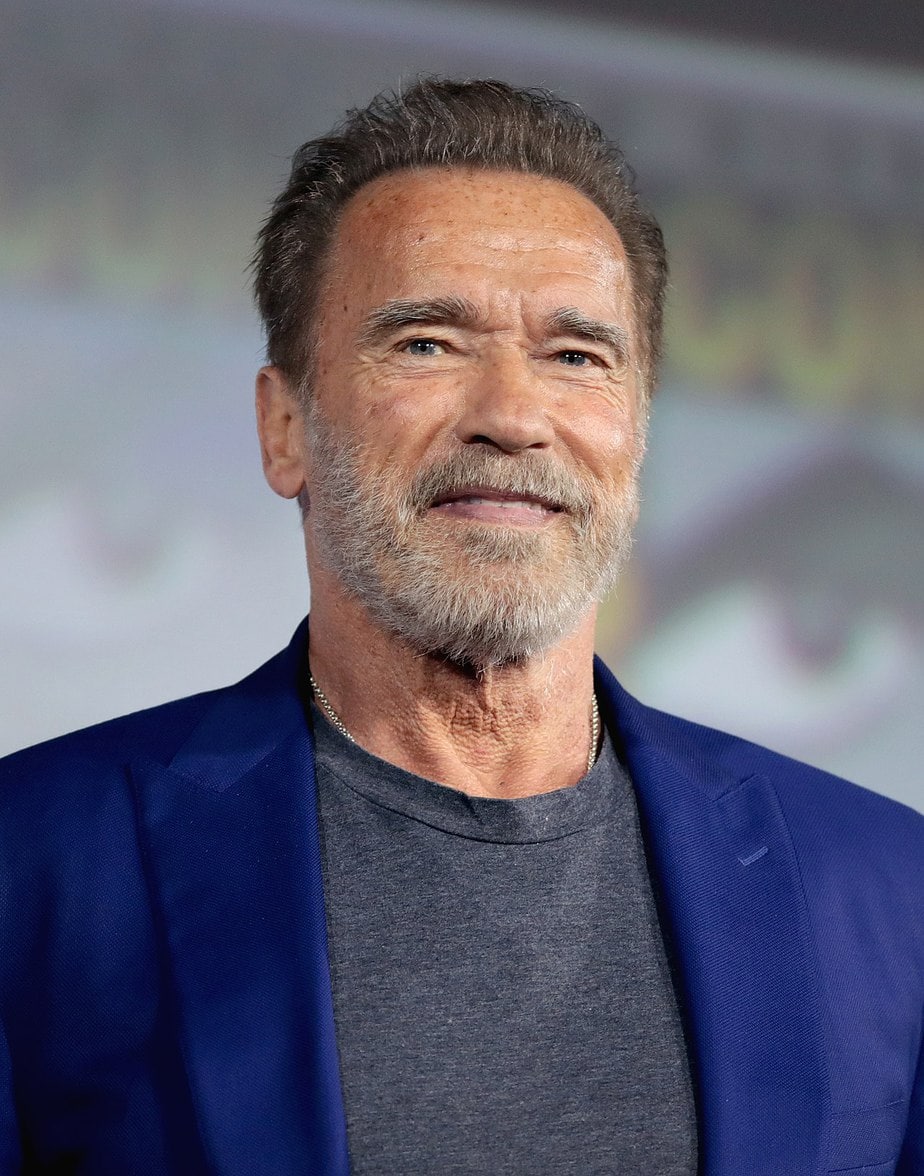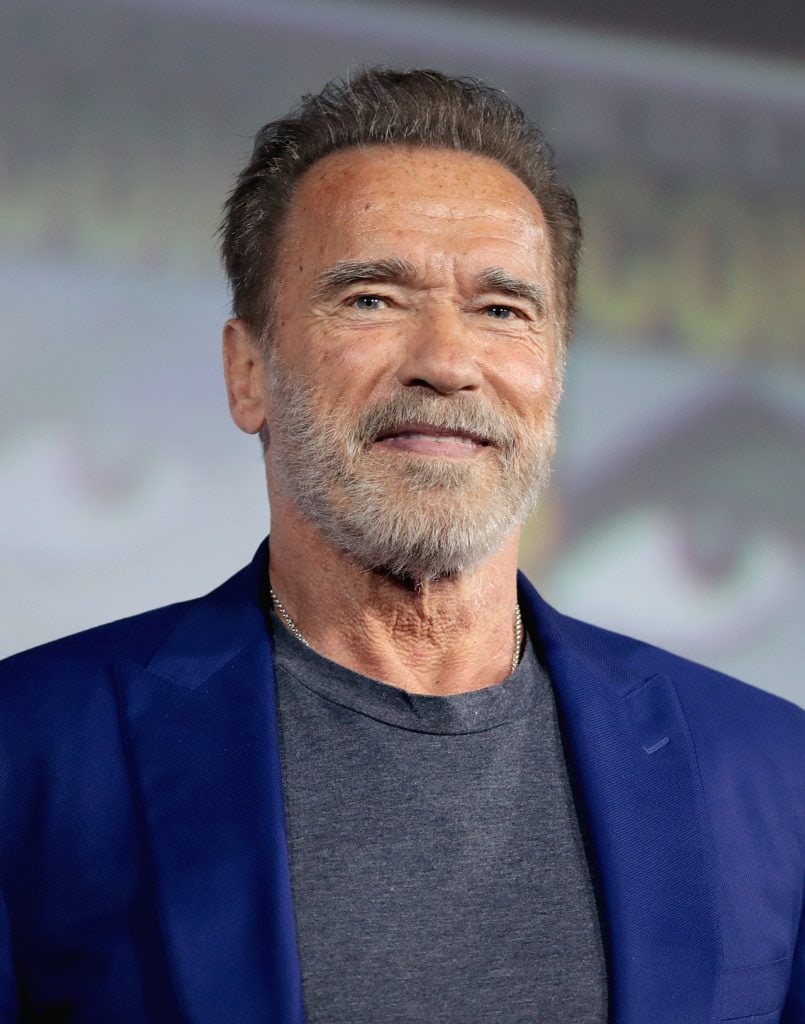 photo source: commons.wikimedia.org
It's Numero Uno. It's the Terminator himself. It's Arnold. Need I say more? Well, if you've been living under a rock, Arnold Schwarzenegger is the most recognizable face of bodybuilding and essentially the grandfather of the whole thing. On top of his awe-inspiring accomplishments in the world of muscles and strength, he is probably the most accomplished bodybuilder outside of the gym. He's dabbled and excelled at every venture he's pursued. To newer generations, they may only know Arnold as one of the world's highest-grossing actors and entertainers.
Arnold picked up a weight at 15-years-old. Five years later, he was Mr. Universe and a 7x Mr. Olympia winner. He's the subject of the holy grail documentary dedicated to bodybuilding, Pumping Iron. Did I mention he was also governor of California from 2003 to 2011?
Did You Know?
Arnold founded the famous bodybuilding event, The Arnold Sports Festival, in 1989. Over its years, it gained more and more reputability and prestige and is now considered one of the premier competitions and attracts the world's best physique pros to come and compete.
---
3. Prisais Townsend
Age: 7
Born: 2015
Hometown: California
Nickname: N/A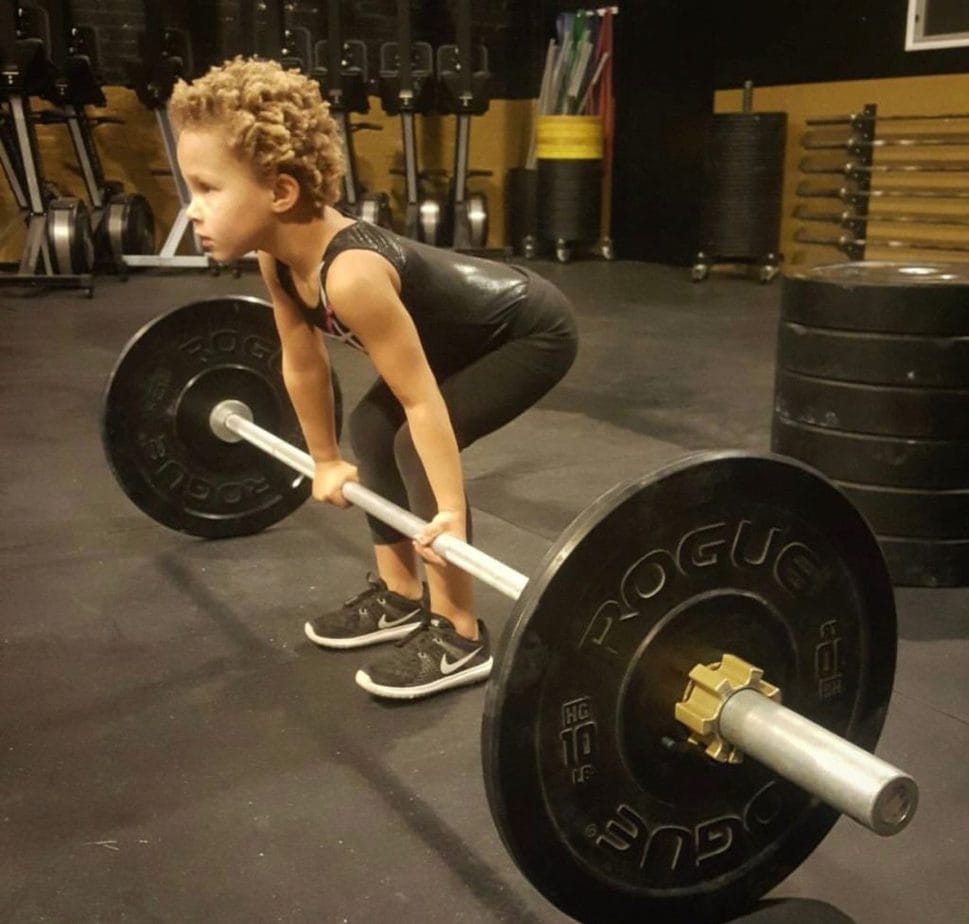 photo source: gcpawards.com
Prisais Townsend is the daughter of James Townsend, a former NFL player turned professional trainer. Fitness runs in the blood of the Townsend family. However, what can't be inherited is a strong work ethic. For Prisais, she has it in spades, and it turned her into a CrossFit, gymnastic, and bodybuilding phenom.
At just 10-months-old, she started accompanying her father to the gym after showing a keen interest in fitness. She was in awe of her father. Taking notice, James decided to lightly train his daughter and introduce her to the world of iron. That was all it took for the spark to ignite. At 7, her career is barely beginning.
Did You Know?
Prisais was the winner of the 2020 Global Child Prodigy Awards.
---
2. Giuliano Stroe
Age: 6
Born: 06/18/2004
Hometown: Romania
Nickname: N/A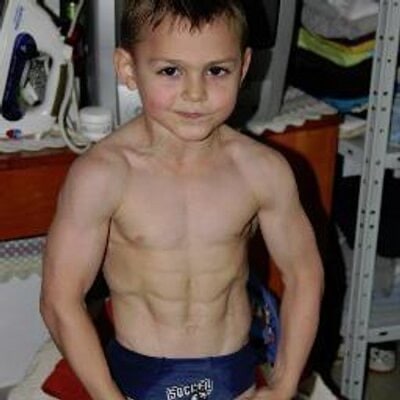 photo source: twitter.com
Giuliano Stroe was just 6-years-old when he kicked off his bodybuilding career. The Romanian gymnast was recorded in the 2009 Guinness Book of World Records after setting a record for the fastest 33-foot hand-walk with a weighted ball between his legs.
It seems like an odd thing to keep a record for but it helps emphasize how genetically talented Stroe is.
Did You Know?
Giuliano has showcased his impressive feats of strength for a live audience and even started a YouTube channel.
---
1. Richard Sandrak
Age: 6
Born: 04/15/1992
Hometown: Ukraine
Nickname: Little Hercules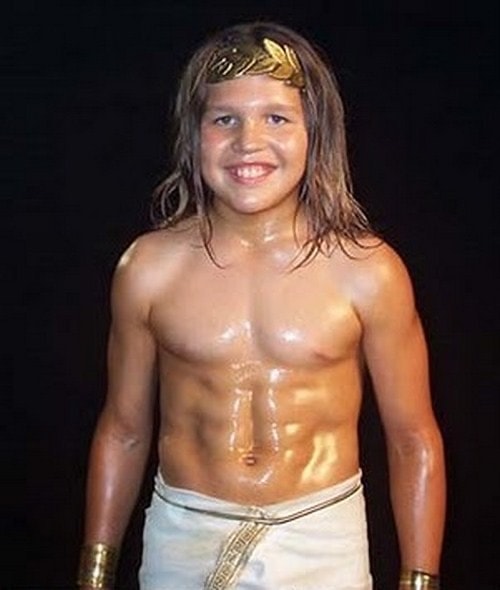 photo source: informationcradle.com
Richard Sandrak is the youngest bodybuilder of all time!
Sandrak was an online sensation and dubbed the Little Hercules for his uniquely defined physique at such a young age. His background in martial arts and bodybuilding was clearly responsible. He was featured in the documentary, The World's Strongest Boy.
The Ukrainian-born Sandrak was son to Pavel, a martial arts world champion, and Lena, an aerobics competitor. A through-line we see amongst the physically elite is the that they come from parents who were also athletes and genetically gifted in some way.
Did You Know?
In an interview Richard held with Inside Edition, he announced that he quit bodybuilding after suffering burnout with the daily grind and demands of the sport following his father's imprisonment. He still enjoys fitness but chooses to adopt a more mainstream, enjoyable, casual approach that promotes a healthier overall lifestyle. He also said he'd like to become a NASA engineer one day.
OTHER POSTS YOU MAY BE INTERESTED IN