Johnny Depp is one of the most famous actors in the world. Throughout his career, he took part in plenty of movies ranging from Fantastic Beasts and Where to Find Them to Waiting for the Barbarians and Into the Woods. Johnny is known for his weird and intriguing characters and unique acting style.
This famous actor was born in 1963 to Betty Sue Depp and John Christopher Depp. His mother was a waitress, while his father was a civil engineer. The two moved often during Johnny's early years and eventually settled in Miramar, Florida. John and Betty divorced in 1978 when Johnny was 15 years old. Later on, his mother married again to a man called Robert Palmer.
Johnny Depp grew up with three siblings, a brother, and two sisters. If you would like to know more about them, keep reading. Below you will find a list of Johnny Depp's siblings ranked oldest to youngest.
4. Daniel Depp (November 14, 1953 – present)
Current Age (as of January 2023): 69 years, 2 months, 13 days
Birthplace: Kentucky, USA
Profession: Writer
View this post on Instagram
Daniel Depp is Johnny Depp's oldest sibling, as he was born in November 1953 and is now almost 70 years old. He is a writer and the author of a book titled Loser's Town.
In an interview with The Scotsman, Daniel opened up about his childhood and said, " I was born in eastern Kentucky in the mountains – a real Truman Capote Appalachian childhood. Then my mom remarried and we lived in Owensboro for a while and Lexington. I went to at least five different high schools."
Daniel and Johnny Depp are technically half brothers as they have different fathers, however, they did grow up together and are extremely close.
Referring to them as half-brothers sometimes even irritates Daniel, who declares, "It's a little irritating, everybody referring to me as John's half-brother (…) It's never a term we used. It never occurred to us. We grew up very closely." In fact, he took care of little Johnny when he was in his early teen years.
When Daniel was young, he started to get a deep passion for movies and spent hours at the cinema. However, his dream was always to become an architect. He said that he loved the combination between art and science in the profession.
Unfortunately, he could never study architecture as it was way too expensive for his parents. So, he decided to study European History at the University of Kentucky. According to Daniel, he was not the ideal pupil and often dropped out during his years in college.
At the age of 25, Daniel married and had his first child. He, therefore, decided to leave university once and for all and move to Maine, where his wife had found a good job position. He later relocated to San Jose, California, where he taught middle school kids English.
Throughout his life, Daniel tried several different jobs. Some of these include digging ditches, working in libraries and bookstores, and, his favorite, managing an art library at night. In the meanwhile, he always kept writing stories and novels.
Did You Know?
Talking about the creation of his book, Daniel remembered his brother's support saying, "Johnny's been incredibly supportive and I don't think the book would have got done without him saying 'You've got to finally publish something' you're killing me! Whatever I wanted to do, he'd be supportive."
---
3. Debbie Depp (May 10, 1956 – present)
Current Age (as of January 2023): 66 years, 8 months, 17 days
Birthplace: Lexington, Kentucky, USA
Profession: Teacher
Debbie is Johnny's Depp older sister, born in May 1956. She is also Johnny's half-sister, as the two share a different father.
Unlike her older brother Daniel, not much is known about Debbie. However, we managed to find some information. According to records, she now lives in Kentucky with her husband, Richard Rassel. Debbie works as a teacher and chose not to testify during her brother's famous trial.
---
2. Christi Dembrowski (December 21, 1960 – present)
Current Age (as of January 2023): 62 years, 1 month, 6 days
Birthplace: Owensboro, Kentucky, USA
Profession: Production assistant, producer, and manager
Christi Dembrowski is Johnny Depp's youngest sibling, as she was born in 1960.
On May 27, she testified in Johnny Depp's trial and shared their traumatic childhood. During the trial, Christi stated, "Dad never reacted when mom hit him or screamed at him. Basically, he would let her scream and get it out and be done. The way you dealt with my mom, he always tried to keep the peace."
She continued by stating that their mother would often call them names and throw things at them. During this period, she and Johnny promised themselves that domestic violence would never be a part of their adult life.
Christi also declared that unlike what Johnny's ex-wife had said, her younger brother's drug addiction was never an issue for them. Despite this, she reported being concerned about Johnny's pain medication.
Christi also loves cinema and has worked as a production assistant and film producer. She is now working for Johnny Depp's production company. Christi started to work with her younger brother in 1995 with the movie Dead Man.
Since then, she has collaborated with him in many other productions, including Mortdecai, Dark Shadows, and The Rum Diary. Christi is now in close contact with her brother, serving as his manager.
Concerning her private life, Christi has married a man called Daniel Dembrowski. He is a professor at the University of Seattle and has published several books. Together they had one kid, but we couldn't find any information about him or her.
Did You Know?
Talking about her childhood, Christi declared, "As a young child, none of what was happening in our home felt good, so as I got older, you know, both Johnny and I actually decided once we left, we were never going to repeat anything ever similar to our childhood."
---
1. Johnny Depp (June 9, 1963 – present)
Current Age (as of January 2023): 59 years, 7 months, 18 days
Birthplace: Owensboro, Kentucky, USA
Profession: Actor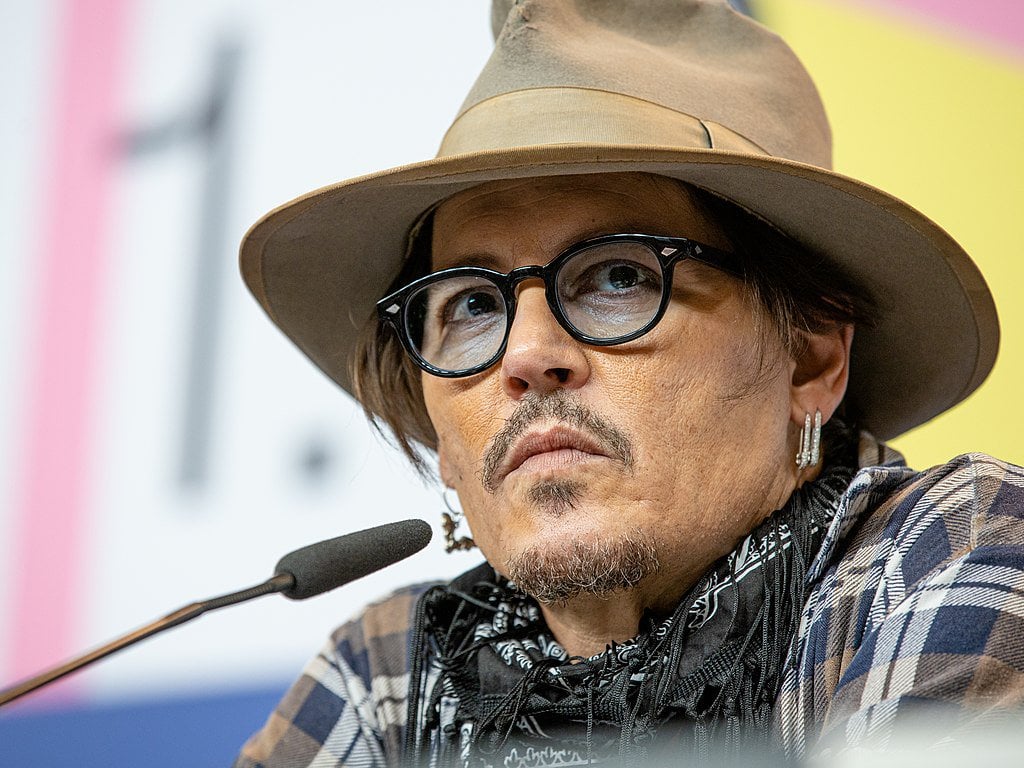 photo source: commons.wikimedia.org
Johnny Depp is the youngest member of his family. He was born in June 1963.
He is one of the most famous actors currently on the scene and is known for his unique and crazy roles ranging from Edward Scissorhands, Willy Wonka, Captain Jack Sparrow, and many more.
When Johnny was 12 years old, his mother gave him his first guitar. He, therefore, started to play in different bands and, in 1979, decided to drop out of school to become a rock star. Two weeks later, he tried to return to school, but the principal suggested he follow his dream.
Johnny's first band was called The Kids. They were quite successful in Florida but decided to move to Los Angeles to get a contract with a record label. During these years, The Kids changed their name to the Six Gun Method.
In 1984, Johnny married his first wife, Lori Anne Allison, a make-up artist. She was also the sister of the band's bassist and singer. However, the two divorced in 1985.
Johnny Depp debuted in 1984 with the movie A Nightmare on Elm Street, however, he became famous all over the world in the 90s when he took part in movies such as Donnie Brasco, What's Eating Gilbert Grape, and Fear and Loathing in Las Vegas. He was cast in several films by famous director Tim Burton, including Ed Wood and Sleepy Hollow.
In the new millennium, Johnny took part in renowned productions ranging from the Pirates of the Caribbean, Chocolate, and Sweeney Todd: The Demon Barber of Fleet Street.
Throughout his career, Johnny has won incredible accolades, including a Screen Actors Guild Award and a Golden Globe Award. He was also nominated for three Academy Awards and two BAFTA awards.
In recent years, Johnny Depp has also become famous for his tumultuous relationship with Amber Heard. The two split up after two years in 2017. The divorce drew plenty of media attention for both sides' alleged abuse that occurred during the marriage. In 2018, Johnny decided to sue his ex-wife for defamation as Amber had called him a 'wife beater.' The trial occurred in 2022 when a seven-member jury ruled that Amber's allegations of sexual violence and domestic abuse were false.
Throughout his life, Johnny struggled with alcoholism and addiction to different drugs. According to him, he started to take drugs when he was only 11 and began to smoke the following year. In an interview, he also said that by age 14, he had already used "Every kind of drugs there were."
Did You Know?
In 2012, Johnny was listed on the Guinness World Record after becoming the world's highest-paid actor earning a total of $75 million within a year.
OTHER POSTS YOU MAY BE INTERESTED IN