Andrew Cunanan's name rings in infamy as the man that murdered legendary fashion designer Gianni Versace while on his spree-killing frenzy that ended with the deaths of four others between April and July 1997. His life is one of horror, violence, and manipulation.
Cunanan's inclination for gaining the favor of wealthy older men, his expensive taste, high-profile crimes, and dangerous lifestyle made him the perfect subject for popular culture to obsess over.
The media microscope was focused on every detail of his life through documentaries and film adaptions since his death.
He's also joined by three siblings, but despite not knowing much about them or their relationship with Andrew, we'll do our best to learn more about the Cunanan family as we rank Andrew's siblings from oldest to youngest!
4. Regina Cunanan
Personal and professional information about Regina Cunanan is unknown, but it is believed that she is the eldest of Andrew's siblings.
---
3. Elena Cunanan
Personal and professional information about Elena Cunanan is mostly unknown.
We know that she was Andrew's older sister and spoke on occasion about her brother, who she says gave no warning signs that pointed to him becoming a notorious killer. "Something horrible must have happened to him in his adult life," Elena once said.
She and their brother Christopher also spoke on ABC's PrimeTime Live Show, saying he "didn't have a violent bone in his body." The realization that the brother they thought they knew was a façade left an irreparable impact on their identity.
However, Elena also explained that she accepts the reality of what happened, and at his memorial service, she shared the pain of the families who lost their loved ones at the hands of Andrew.
"We accept it … We won't be in denial." She continued, "I pray that in his last moments, he looked up to God and asked for forgiveness."
---
2. Christopher Cunanan
Personal and professional information on Christopher Cunanan is also unknown.
However, he did join his sister in an ABC PrimeTime interview to shed more insight into their brother's upbringing.
"He was raised with special treatment," Christopher told Diane Sawyer.
The entire family was unaware he was leading a double life as a gay gigolo, which they only found out after he murdered two of his friends. Elena also stated that he had never confided in them that he was homosexual, and even when confronted with it, he denied it.
---
1. Andrew Cunanan (August 31, 1969 – July 23, 1997)
Age (at time of death): 27 years, 10 months, 23 days
Born: National City, California
Occupation: Gigolo
Known For: Murder of Gianni Versace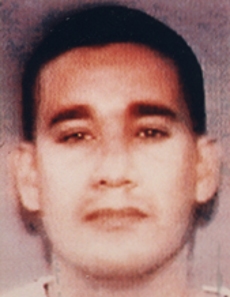 photo source: wikipedia.org
Andrew Cunanan was the youngest of the Cunanan siblings at 27-years-old.
Andrew didn't fit the mold for your typical serial killer. Then again, they seldom do. His non-threatening physical appearance, the way he seamlessly navigated through social gatherings, and the blood-thirst brewing underneath are what horror movies are made of.
Born in California to Modesto and Mary, the youngest of the Cunanan bunch, he received the treatment you'd expect for the youngest of the family. His siblings have attested to that.
His father, wanting the best for Andrew, enrolled him in private schools and granted his every desire. Whether it be his own bathroom, claiming of the master bedroom, or even a sports car, he had it all, as Elena recounted.
Andrew's parents had differing philosophies on life. His mother was a devout Catholic and preached the virtues of a humble life.
His father understood that to get ahead in life, to make money, you needed to have a certain amount of charisma and social awareness.
He even gave him a book titled The Amy Vanderbilt Complete Book of Etiquette: A Guide to Contemporary Living to train Andrew on how to function in the upper echelons of society. Unfortunately, no one knew it would be used in such a sinister way.
Despite Modesto and Mary's differences, they chose to stay together until he turned 18. Their split left a trail of devastating ripple effects on the entire family, especially Andrew.
In 1988, Modesto was implicated in an embezzlement scheme and accused of siphoning $106,000 in the stock market. He sold the family home, fled to the Philippines, and left his family with nothing in the wake of his crimes while Andrew was attending the University of California.
That same year, Andrew went looking for his father in the Philippines, found him, and was so disturbed by the sight of his father living in filth, that he returned home soon after.
Using his formal training in the art of social etiquette, Cunana began working as a prostitute for diplomats. He frequented neighborhoods in San Diego, where he built his clientele.
Friends reported that by 1997, he had been drinking heavily and abusing painkillers. In hindsight, it marked the beginning of his descent into madness. The killings began the same year.
On April 27, 1997, Cunanan murdered his friend, Jeffrey Trail, after having a heated argument at Trail's apartment. After taking his gun and bringing it to their mutual friend (David Madson), he called Trail to pick up his weapon. When he arrived, Cunanan struck him repeatedly in front of Madison.
His second victim was David Madson, who some believed to be an accomplice, and others a hostage since surveillance footage showed them both leaving in the apartment elevator.
On May 2nd, Cunanan and Madson were seen eating lunch at a bar north of Minneapolis. This was the last time Madson would be seen alive. His body was found on May 3rd near Rush City, Minnesota.
The same day, Cunanan drove to Chicago, where he murdered 72-year-old Lee Miglin, a well-respected real estate developer.
On May 9th, his fourth attack took place. He shot and killed 45-year-old cemetery caretaker William Reese. No connection was linked to Reese and Cunanan, which leaves little doubt that this killing was random and done to steal his 1995 red Chevrolet truck. With it, he journeyed to Florida to carry out his final murder.
By this point, Andrew Cunanan was on the FBI's Ten Most Wanted Fugitives. Despite authorities focusing their resources on him, he flew under the radar for another two months in Florida, even while using his real name to pawn a stolen item.
Maxing out credit cards, running out of physical cash, and with nothing left to pawn, Cunanan traveled to Gianni Versace's mansion at 116 Ocean Drive in South Beach and shot Versace on the steps of his home on July 15th.
Andrew took his life on July 23, 1997. He was found in a luxury houseboat in Miami Beach.
In the aftermath, Modesto took to the media to defend his upbringing. "He never saw violence in our household," he told an ABS-CBN Philippines television program. He also denied that his son was homosexual.
Did You Know?
There have been several portrayals of Andrew Cunanan in entertainment. The most notable came in 2018 when Darren Criss portrayed the spree-killer in the Assassination of Gianni Versace: American Crime Story in a 9-episode series for FX.
In 1997, a profile done on the killer by Vanity Fair described him as having a prolific intellect. He was an avid reader and scored 147 on an IQ test as a third-grader.
OTHER POSTS YOU MAY BE INTERESTED IN