Coco Chanel is one of the most famous designers in the world. She was born in 1883 to Eugénie Jeanne Devolle Chanel, known as Jeanne and Albert Chanel. Her mother worked as a laundry woman for a charity hospital in Saumur, while her father was an itinerant street vendor who mainly sold clothes and undergarments.
Chanel had a total of six siblings but grew up only with some of her sisters as, after her mother died, her brothers were sent to work on farms.
If you would like to know more about her family, keep reading. Below you will find a list of Coco Chanel's siblings ranked oldest to youngest.
7. Pierre Chanel
Pierre Chanel is one of Coco Chanel's siblings. Unfortunately, no public information about his life is available.
---
6. Julia Chanel (September 11, 1882 – May 1, 1910)
Age at Time of Death: 27 years, 7 months, 20 days
Julia Chanel was born on September 11, 1882, and was Coco's oldest sister. She was born out of wedlock in Aubenas, but her birth was legitimized only after her parents' wedding on November 17, 1884, in Courpière, Puy-de-Dôme. Unfortunately, her mother died of tuberculosis in 1895, when Julia was only 13 years old.
Consequently, she was sent, together with her sisters, to an orphanage in Aubazine, as their father did not have enough money to support the family. Here Julia learned several skills ranging from sewing to embroidering and ironing.
Unfortunately, little is known about Julia's life after her orphanage experience. We know that she ended up raising a kid by herself, whom she called André Palace. According to official records, she died of tuberculosis in 1910, however, some people claim she committed suicide.
Biographer Lisa Chaney writes: "The macabre story goes that she threw herself in the snow naked until she lost consciousness and froze to death."
---
5. Coco Chanel (August 19, 1883 – January 10, 1971)
Age at Time of Death: 87 years, 4 months, 22 days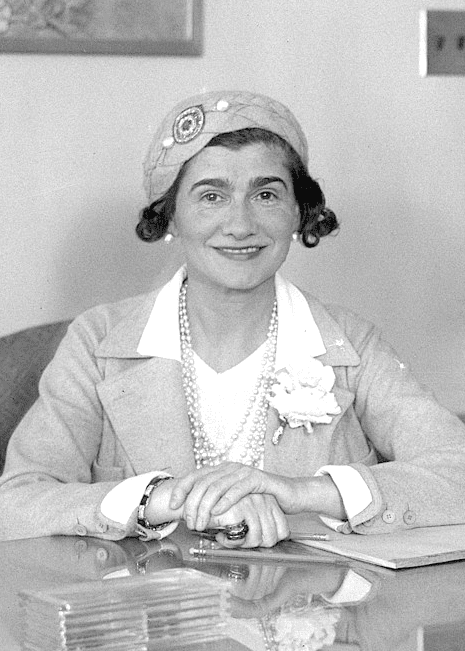 photo source: Wikimedia Commons
Coco Chanel was a fashion designer who founded the famous Chanel brand. She became particularly famous following War World I. Her style was sporty and casual chic. This soon replaced the so-called corseted silhouette, which had been in style during and before the war.
According to this type of fashion, women were supposed to wear corsets, which were not only time-consuming but also quite expensive.
Coco did not only design clothes but also jewelry, handbags, and perfumes. Her most famous fragrance is, without a doubt, Chanel No. 5, which is still extremely popular today. Coco was also the inventor of her iconic logo with the two intertwined 'C's.
With the outbreak of War World II, her brand had to close. The fashion designer decided to remain in France and collaborated with the Nazi-German occupiers to boost her career. She was often heavily criticized for this choice. In particular, she maintained a close relationship with Baron Hans Günther von Dincklage, a German diplomat who served as her liaison.
Following the end of the war, Coco was extensively interrogated about her relationship with Dincklage. However, in the end, she was not charged as a collaborator after Winston Churchill's intervention.
After the end of the war, Coco decided to move to Switzerland and return to Paris only in 1954 to reopen her brand.
Did You Know?
Coco Chanel is the only fashion designer mentioned on Time magazine's list of the 100 most influential people of the 20th century.
---
4. Alphonse Chanel (1885 – 1953)
Age at Time of Death: 68 Years Old
Alphonse was one of Coco Chanel's brothers. Unfortunately, not much is known about him apart from the fact that when his mother died, he was sent to work on a farm despite his young age.
---
3. Antoinette Chanel (1887- 1922)
Age at Time of Death: 35 Years Old
Antoinette Chanel was born in 1887 and was one of Coco's youngest siblings. Unfortunately, she was sent to the orphanage with her sisters when she was extremely young, at the age of 8 years old.
She eventually managed to leave when, together with her sister Coco, she was sent to a religious boarding school in Moulins. Here, the two met Gabrielle, their young aunt. Coco and Gabrielle soon decided to perform as singers at shows in the area.
Even though it took a bit longer to convince Antoinette, she eventually decided to join them. The three became known as the "the three graces."
Only a little information is known about Antoinette following this period. However, some claim that she played a key role in Coco's early career as a fashion artist as she often supported her in the 1910s.
Similarly to her sister Julia, Antonietta's late life is largely a mystery. While living in Paris, we know that she met a Canadian pilot named Oscar Fleming, whom she deeply fell in love with. The two tied the knot in 1919 and decided to move to Canada. However, Antoinette's lifestyle seemed to be way too liberal for Oscar's traditional family.
This is probably why she eventually decided to leave her husband and move to Buenos Aires, where she died in 1920. According to records, the cause of her death was Spanish flu. However, it was later clarified that she died two years later as a drug overdose victim.
---
2. Lucien Chanel (1889 – 1941)
Age at Time of Death: 52 Years Old
Lucien Chanel was born in 1889 and died in 1941 at the age of 52 years old. Unfortunately, we do not have much info about his life. According to records, he died of a heart attack. Lucien worked as a farm laborer all his life.
---
1. Augustine Chanel (May 28, 1891 – November 26, 1891)
Age at Time of Death: 5 Months, 29 days
Augustine Chanel was Coco Chanel's youngest sibling, as he was born in 1891. Unfortunately, he did not survive childhood and died before celebrating his first birthday.
OTHER POSTS YOU MAY BE INTERESTED IN