In general Shih Tzus live moderately long lives, typically ranging from 10 to 16 years, with the average being 13 years. However, there are always exceptions to any rule, and of course there have been Shih Tzus who live much longer. There are numerous owners across various dog forums who claim that their Shih Tzu is 17, 18, even 20 years old! While there might be some older Shih Tzus out there, the three on this list have verified ages and well-documented stories. So they're the only three old Shih Tzus included on this list at the time of this writing.
As of July 2020, the information on this list is as accurate as possible and will be updated as needed.
3. Marnie (October 26, 2001 – March 5, 2020)
Oldest Age Reached: 18 years, 4 months, 10 days in 2019
Country of Origin: New York City, New York, USA
Owner: Shirley Braha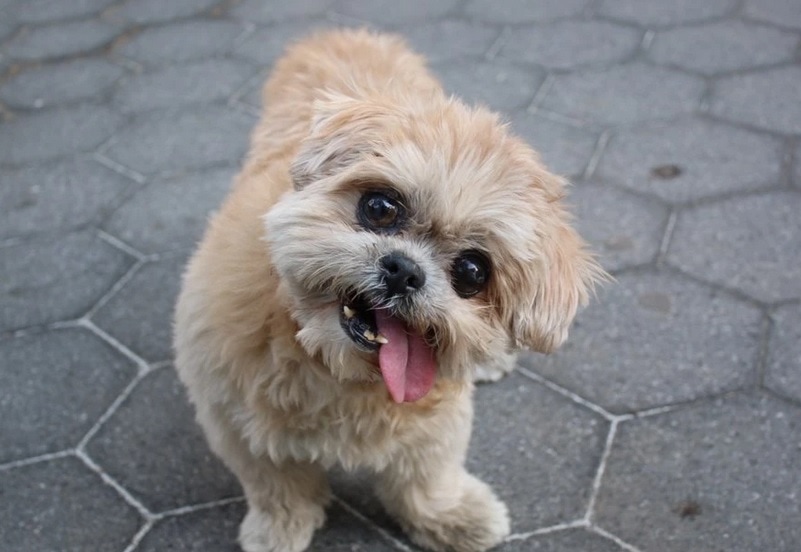 photo source: The New York Times
While
Marnie
wasn't the oldest Shih Tzu ever, she is probably the most famous. At the time of Marnie's death in early 2020, she had nearly 2 million followers on her Instagram run by her owner Shirley Braha. All of Marnie's photos and videos received hundreds of thousands of likes and became an internet celebrity.
Before Marnie was adopted by Braha, who moved her to New York City, Marnie was found wandering the streets in Connecticut. After being picked up by animal control, Marnie was brought to an animal shelter, where she was dubbed "Stinky" because of her overwhelming odor. Unfortunately, Marnie had a lot of health problems at the time, including decaying teeth, partial visual impairment in her left eye, and partial hearing loss. Additionally, Marnie's head was permanently tilted to the left, which became her distinguishing feature.
Despite being warned of all of Marnie's health problems, Braha decided to adopt Marnie anyway and hoped to make what she thought would be her last weeks comfortable. Braha's intial prognosis turned out wrong and Marnie lived eight more years and skyrocketed to internet stardom. Marnie died peacefully and was treated very well before she died.
Did You Know?
Due to Marnie's celebrity as well as her owner Shirley Braha's connections – Braha is a TV producer, TV program creator, and music label founder – Marnie spent time with many human celebrities, including Demi Lovato, Selena Gomez, Larry King, Betty White, and several others.
---
2. Teddy (August 1, 2000 – December 12, 2019)
Oldest Age Reached: 19 years, 4 months, 10 days in 2019
Country of Origin: Phoenix, Arizona, USA
Owner: Dwain and Denise Lamon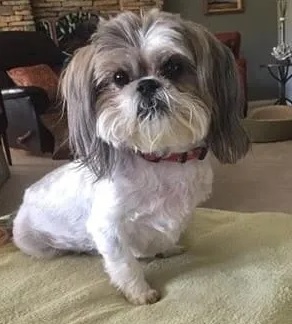 photo source: allshihtzu.com
All Shih Tzu, a website which provides comprehensive information about owning Shih Tzus, decided that it would start keeping track of the oldest living Shih Tzu. According to All Shih Tzu, the oldest living Shih Tzu documented and verified was Teddy from Phoenix, Arizona. Unfortunately, Teddy passed away back in December 2019 at the age of 19 and the website is looking for the current oldest living Shih Tzu.
Teddy's age was verified by the Lookout Mountain Veterinary Clinic in Phoenix, which held his records and listed his dated of birth as August 1, 2000. The senior dog was owned by Dwain and Denise Lamon, who obtained Teddy when he was a puppy from a local breeder in Glendale, AZ. The Lamons took great care of Teddy, which is why he had very few health problems. Of course, because of his age, Teddy did have some hearing loss, but surprisingly had very healthy teeth because he had regular professional dental cleanings when he was younger. In the end, Teddy passed away just from being old.
Did You Know?
According to Dwain Lamon, his family chose Teddy out of his littermates because he was the only one not cuddling up to his mom and trying to climb out of the fence. Dwain said that he was really drawn to Teddy's independence.
---
1. Smokey (January 18, 1986 – unknown)
Oldest Age Reached: 23 years old in 2009 (last known update)
Country of Origin: St. Petersburg, Florida, USA
Owner: Joe and Mary Slatton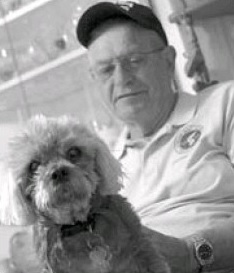 photo source: Chicago Sun Times via pressreader.com
Back in 2009 after NBC's "Today" show did a feature on a 21-year-old dachshund dubbed the oldest living dog, Joe Slatton and his wife Mary contacted their local news to say that their dog Smokey was much older. According to the Slattons, Smokey was 23-years old at the time, making him the oldest known Shih Tzu in the world. The Slattons' claims that Smokey was older than the so called oldest dog at the time, was backed up by the VCA St. Petersburg Animal Hospital, which holds records giving Smokey's birth date as January 18, 1986.
The Slattons had adopted Smokey in 2000 after his original owner, who kept good records, moved to a place where she couldn't have pets. Joe Slatton couldn't help himself and took another dig at the "oldest dog" featured on "Today" when he said that not only was Smokey older, but he was more active – Smokey still loved taking long walks at the time of the interview. However, Slatton said that Smokey did show some signs of aging as he had gone deaf and needed about 15 hours of sleep to get his energy back up.
Did You Know?
Not long before the interview, Joe Slatton started taking Smokey to Home Depot and discovered that the Shih Tzu really enjoyed looking at the appliances.
OTHER POSTS YOU MAY BE INTERESTED IN