Dachshund, affectionately called doxies or wiener dogs, are a pretty popular breed of dog all around the world. The life expectancy of a dachshund is between 12 to 16 years, but all of the dogs on this list far exceeded this average. With the exception of Lady, all of the other old dachshunds were at least 20 years old. The oldest dachshund was a whopping 25 years old, which is impressive for any breed!
5. Lady (2001 – Unknown)
Oldest Age Reached: 17 years old in 2018 (no recent updates)
Type of Dachshund: Long-haired
Country of Origin: Brooklyn, Connecticut, USA
Owner(s): Rick and Michelle Riendeau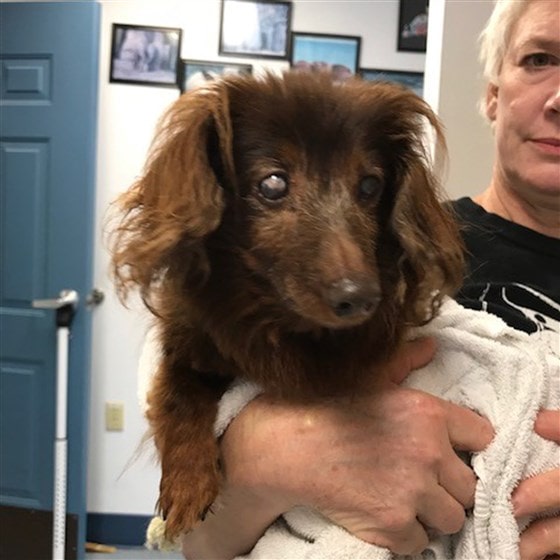 photo source: TODAY
While all the other dachshunds on this list were featured in the news for reaching milestone birthdays,
Lady
made national news because she had finally come home after she went missing fiver years earlier. In late 2018, Rick and Michelle Riendeau were reunited with 17-year old lady after she was picked up by animal control in Norwich, Connecticut, which is where the Riendeaus were living when Lady got lost.
Lady's microchip turned up a phone number for Rick's former employee and animal control was able to track the Riendeaus down in Brooklyn, Connecticut.
Of course, the Riendeaus were shocked to get the phone call from animal control as it had been more than five years since they last saw Lady.
According to Rick, "When I called and they said this dog is a redheaded, long-haired dachshund, my heart dropped. I ran upstairs, I said (to my wife), 'We've got someplace to go. Lady's alive.'" Since the 2018 story, there have been no updates on whether or not Lady is still alive.
Did You Know?
Despite missing for so long and being 17 years old, Lady had very little health problems and was only partially deaf and blind.
---
4. Fudgie (August 25, 1993 – Unknown)
Oldest Age Reached: 20 years old in 2013 (no recent updates)
Type of Dachshund: Smooth (short-haired)
Country of Origin: Hong Kong (originally from Boston, Massachusetts, USA)
Owner(s): Mari Hinden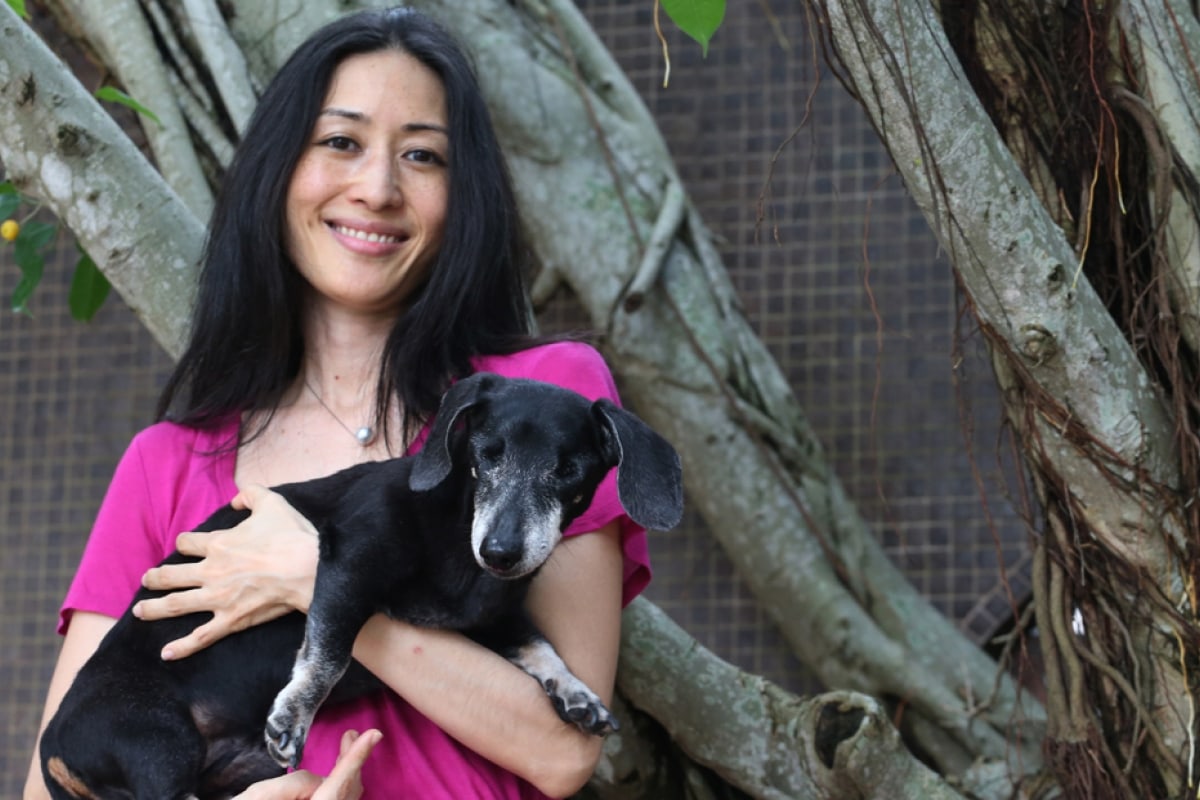 photo source: South China Morning Post
To celebrate Fudgie's 20th birthday in 2013, his story was featured in the South China Morning Post news site. Fudgie was adopted by Mari Hinden while she was living in Boston. At the time of the news story, Hinden had returned home to Hong Kong and brought Fudgie with her.
Unfortunately, there aren't any recent updates on Fudgie, so he may or may not have lived past 20. Hinden believed that Fudgie was the oldest dachshund in Hong Kong back in 2013. Her claim was backed up by her vet, who mentioned that Fudgie might even be the oldest dog in the world.
For the most part, Fudgie was pretty healthy for his age. He was blind and lost some of his hearing, but was still able to walk around on his own just fine. Hinden said that he spent most of his time sleeping, but was still affectionate and protective.
Did You Know?
Fudgie moved around with his owner Mari Hinden living in Boston, New York, Texas, San Diego, Los Angeles, and finally Hong Kong.
---
3. Otto (February 14, 1989 – January 14, 2010)
Oldest Age Reached: 20 years, 334 days
Type of Dachshund: Dachshund-Terrier Cross
Country of Origin: Shrewsbury, England
Owner(s): Lynn Jones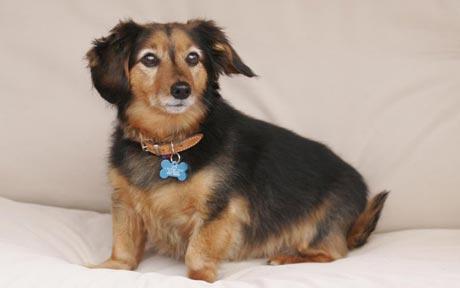 photo source: Telegraph
A few months after Chanel, who is on this list, died, Otto was declared the world's oldest living dog by Guinness World Records. Unfortunately, like Chanel, Otto passed away just a few months after he was celebrated for being the oldest dog. Otto was just a month shy of his 21st birthday when he was euthanized after receiving a diagnosis of stomach cancer.
Otto was born and raised in Shrewsbury, England and was owned by Lynn Jones. According to Jones, Otto lived so long because he ate wholesome food, had regular vet checkups, and of course plenty of love. Although Otto had arthritis and was slightly deaf, he still liked to run around with the neighborhood kids. According to Jones, when Otto was younger he could run just as fast as a greyhound.
Did You Know?
Otto was presented with his Guinness World Records certificate whilst filming the November 4, 2009 edition of The Paul O'Grady Show in the UK which was covering the subject of elderly dogs.
---
2. Chanel (May 6, 1988 – August 28, 2009)
Oldest Age Reached: 21 years, 114 days
Type of Dachshund: Wire-haired
Country of Origin: Port Jefferson Station, New York, USA
Owner(s): The Shaughnessy Family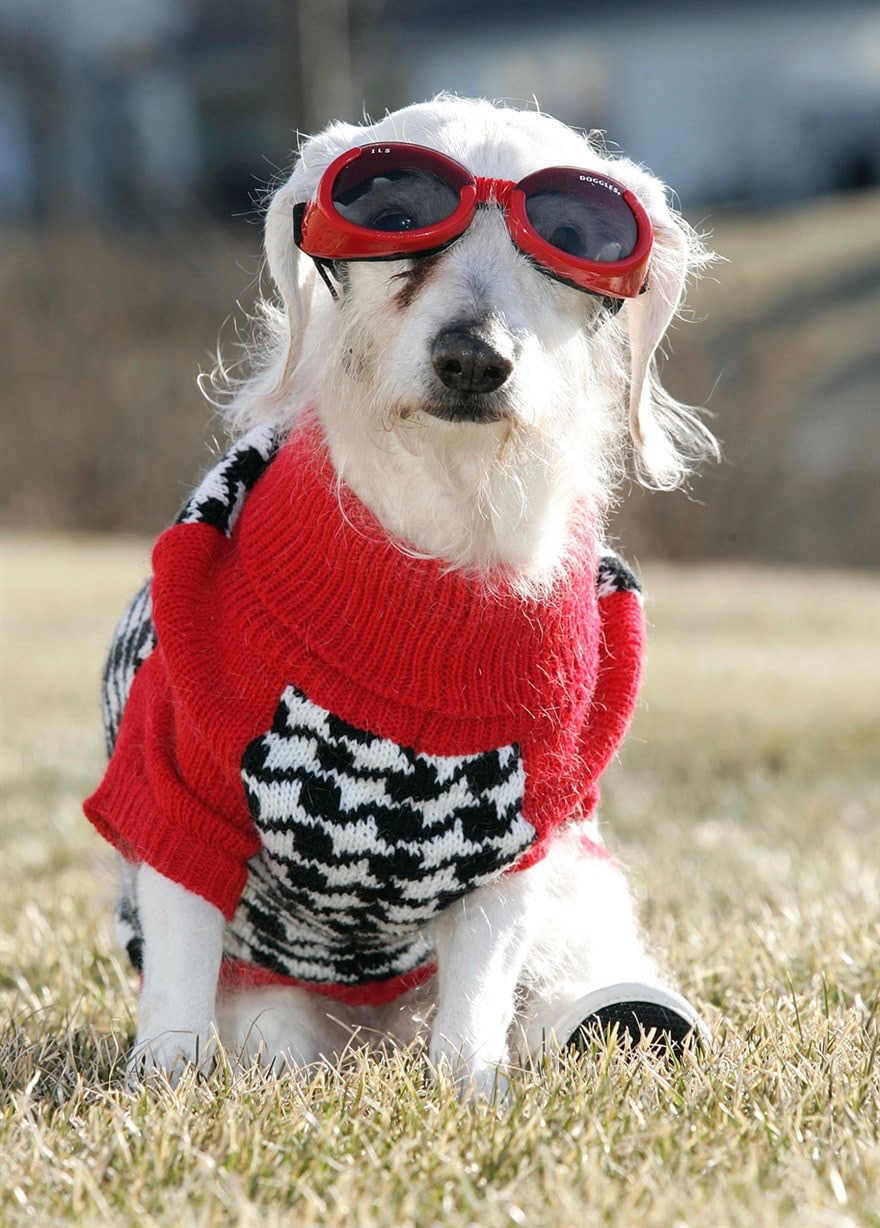 photo source: TODAY
A few months before Chanel passed away during the summer of 2009, she had been officially recognized by Guinness World Records as the world's oldest living dog. Guinness presented Chanel with her certificate on her 21st birthday.
Chanel was adopted by Denice Shaughnessy when she was just six weeks old. Since Shaughnessy is in the military, Chanel has traveled around the world with her and lived Germany for six years. Chanel and her family were living in Port Jefferson Station in New York when she died from natural causes.
Due to her age, Chanel had a few health problems and had to wear tinted goggles for her cataracts. Chanel also often sported a sweater because she got cold easily. While some people might scoff at the thought of a dog being pushed around in a baby stroller, Chanel needed to be transported in one because she could no longer walk long distances.
Did You Know?
Chanel became a minor celebrity after she was declared the world's oldest dog and in the months before her death, she made appearances on several TV shows including Live! With Regis and Kelly and the Today Show, and the Kathy Lee Show.
---
1. Rocky (March 1987 – April 18, 2012)
Oldest Age Reached: 25 years
Type of Dachshund: Smooth (short-haired)
Country of Origin: Shingle Springs, California, USA
Owner(s): Robert Rowland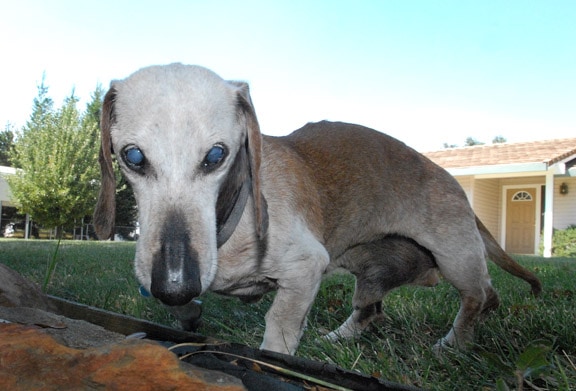 photo source: Mountain Democrat
While Rocky may not be a Guinness World Record holder, his story was covered by a local news website in 2011 and Rocky is now widely recognized as the oldest dachshund ever in the world, living to the age of 25. At the time that Rocky and his owner Robert Rowland were interviewed, Rocky appeared to still be in tip-top shape and was running around. Rowland said that he had owned Rocky since he was two weeks old.
According to Rowland, Rocky lived so long because the dog lived a very active life. Rowland liked to take Rocky to car shows, fishing, and pretty much everywhere that Rowland went. The only real sign of Rocky's advanced age was his cataracts, but he could still see objects a few inches from his face.
About a month after Rocky's 25th birthday, Rowland made the decision, along with his vet, to put Rocky down. Despite being fairly healthy for his age, Rocky's joints had worn out and his legs were no longer strong enough to hold up his body.
In an update from 2018, Rowland said that he wasn't sure if he would ever get another dog. However, as fate would have it, Rowland adopted another dachshund not long after Rocky passed away when its original owners could no longer care for him. Rowland decided to name this newer dachshund Rocky II.
Did You Know?
Even though Rocky was 25 years old, his owner Robert Rowland said that his lab work showed that Rocky had little or no signs of damage to his liver or other vital organs and appeared to be only about two years old internally.
OTHER POSTS YOU MAY BE INTERESTED IN