Juliette Lewis is an actress instantly recognizable even to the most casual of moviegoers. You might not remember the name, but her face and unmistakable brand of offbeat, quirky characters in our favorite comedies leave a permanent mark on us. Between her keen eye for scripts and versatility as a comedic and dramatic actress, she's been a mainstay through the generations.
Juliette isn't the only daughter of Geoffrey Lewis and Glenis Batley, whose interest is in the theatrical. There are nine Lewis siblings who, for the most part, have pursued careers in showbiz behind and in front of the camera.
Though there isn't much information publicly available for most of her family, we'll do our best while we rank Juliette and her eight siblings from oldest to youngest to find out who stands at the top of this sibling hierarchy.
9. Emily Colombier
No public information is available on Emily Colombier.
She is the daughter of famous character actor Geoffrey Lewis and Paula Hochhalter. She is the step-sister of Juliette Lewis.
---
8. Peter Lewis
No public information on Peter Lewis is available.
---
7. Miles Lewis
Very little information is available for Miles Lewis.
However, it appears that Miles unfortunately passed away.
---
6. Hannah Lewis
Little information is available for Hannah Lewis.
---
5. Matthew Lewis
No public information is available for Matthew Lewis.
---
4. Lightfield Lewis (September 8, 1970 – Present)
Age (as of June 9, 2022): 51
Born: Los Angeles, California
Occupation: Actor, Director
Notable Film: Jerry Maguire
View this post on Instagram
Lightfield Lewis is the 51-year-old brother of the family's biggest star, Juliette.
His most notable career achievements are in the Tom Cruise-led film Jerry Maguire (1996), where he plays a room service waiter, and in The Underground Comedy Movie.
Did You Know?
Lightfield played Sean Trombitas in the TV series Good Advice, which aired from 1993 to 1994.
---
3. Juliette Lewis (June 21, 1973 – Present)
Age (as of June 9, 2022): 48
Born: Los Angeles, California
Occupation: Actress, Singer
Notable Film: What's Eating Gilbert Grape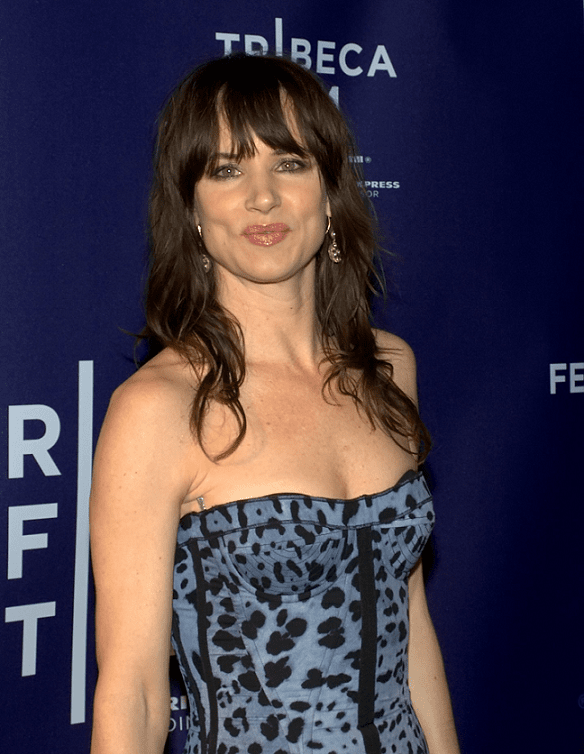 photo source: Flickr via David Shankbone
Juliette Lewis is without question the figurehead and bright shining star of the Lewis ensemble, catapulting into fame through her roles in undisputed Hollywood classics like Cape Fear (1991), Natural Born Killers (1994), and The Basketball Diaries (1995).
Even at a young age, she was dubbed the "it girl" of the silver screen throughout the 1990s. Like many actresses before her, she drew attention to herself through outstanding performances in the indie and arthouse circuit, building a resume that directors like Martin Scorsese couldn't ignore.
Lewis is the daughter of Geoffrey Lewis and Glenis Batley, a graphic designer. At just 2-years-old, her parents divorced, leaving her to bounce back and forth between homes in Los Angeles throughout her childhood.
Despite the rocky relationships with her mother and father, she managed to take the trauma as a child of divorce and channel it into memorable performances.
Her first major appearance that didn't include an uncredited role in Bronco Billy (1980) was in the television film Home Fires (1987). She turned heads immediately as a unique actress thanks to her quirky and offbeat style.
With Juliette beginning to pick up work as an in-demand talent, she filed to become legally emancipated from her parents at only 14-years-old. A common misconception is that she had done this to cut ties with her family. The reality is it was done with their approval and as a way to work freely.
By 2003, Juliette began a musical career! She started the rock band Juliette and the Licks with the former drummer of Hole, Patty Schemel. She saw modest success with her debut EP, …Like a Bolt of Lightning (2004).
Juliette Lewis is involved in philanthropic work and has supported the charity Little Kids Rock. The nonprofit's mission is to allow children to play music by donating equipment and music instruction to public school districts across the country.
Did You Know?
Juliette Lewis joined the ranks of several celebrities who practice Scientology. She was involved in the organization beginning in the 1990s, and it wasn't until December 2021 that she no longer identified as a Scientologist.
---
2. Brandy Lewis (December 13, 1975 – Present)
Age (as of June 9, 2022): 46
Born: Los Angeles, California
Occupation: Producer
Notable Film: Gone in 60 Seconds
View this post on Instagram
Brandy Lewis is the daughter of Geoffrey Lewis and Glenis Dugan Batley. Brandy worked behind the camera as a producer on films like Gone in 60 Seconds, The Other Sister, and The Evening Star.
According to IMDb, she's also working as a producer on an untitled project featuring Juliette.
Did You Know?
Brandy Lewis is married to actor Ethan Suplee, who you'd recognize from award-winning films like American History X (1998) and Blow (2001). They have two children together.
---
1. Dierdre Lewis
Age: 25-40
Born: Unknown
Occupation: Actress
Notable Film: Condition Red
Dierdre Lewis is the youngest Lewis sibling!
Dierdre Lewis is an actress known for her roles in Condition Red (1995), Strange Weather (1993), and Land's End (1996). Her exact age is unknown, but it's suspected to be between 25 and 30.
Did You Know?
Dierdre's resume seems to be almost exclusive to the 90s, with the exception of her role as Dr. Baines in the television series Hack (2003).
OTHER POSTS YOU MAY BE INTERESTED IN