The piano is a musical instrument that has been around since the Renaissance period and has become one of the most widely listened to forms of music since then. The techniques and styles used by today's pianists are very different than what was previously thought of as being correct.
Originally, the piano was thought of as being a strictly classical instrument. It was only used in music halls and theaters at that time, and it wasn't until the early 1900s that people began to realize the potential of having their own pianos in their homes. In this article, we will be discussing which nine youngest pianists in the world have made it to where they are now.
9. Lucas Debargue (October 23, 1990 – present)
Age: 32 years old
Nationality: French
Birthplace Paris, France
Parents: Unspecified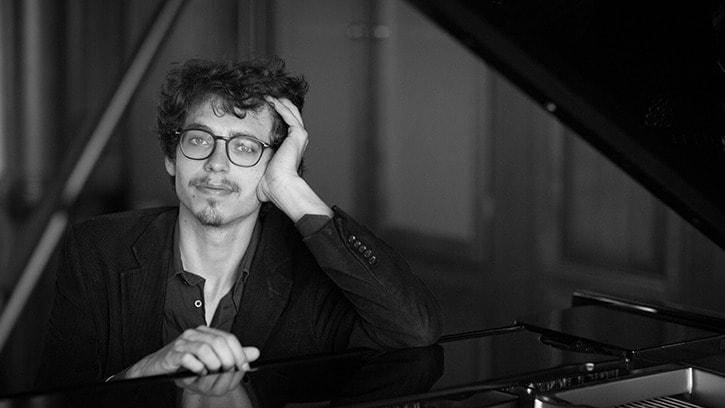 photo source: Seattle Symphony
Lucas Debargue, a French pianist and composer, began taking piano lessons at the age of 10 in Compiègne, where he was raised. At age 15, he gave up learning the piano because his interest in books had grown. He moved to Paris at the age of 17 to enroll in the Paris Diderot University's Arts and Literature program. He gave up studying literature in 2010 and picked up the keyboard again.
Debargue received the Special Medal of the Moscow Music Critics Association in 2015 for the musician "whose great gift, artistic vision, and creative independence have delighted the critics as well as the audience" and the fourth place prize at the XV International Tchaikovsky Competition. Following the show, Debargue received invitations to solo recitals, concerto engagements, and chamber music performances in concert houses.
Did You Know?
He made the decision to pursue a career as a professional musician and train for competitions after meeting with his teacher Rena Chereshevskaya.
---
8. Emily Bear (August 30, 2001 – present)
Age: 21 years old
Nationality: American
Birthplace Illinois, United States
Parents: Andrea Bear, Brian Bear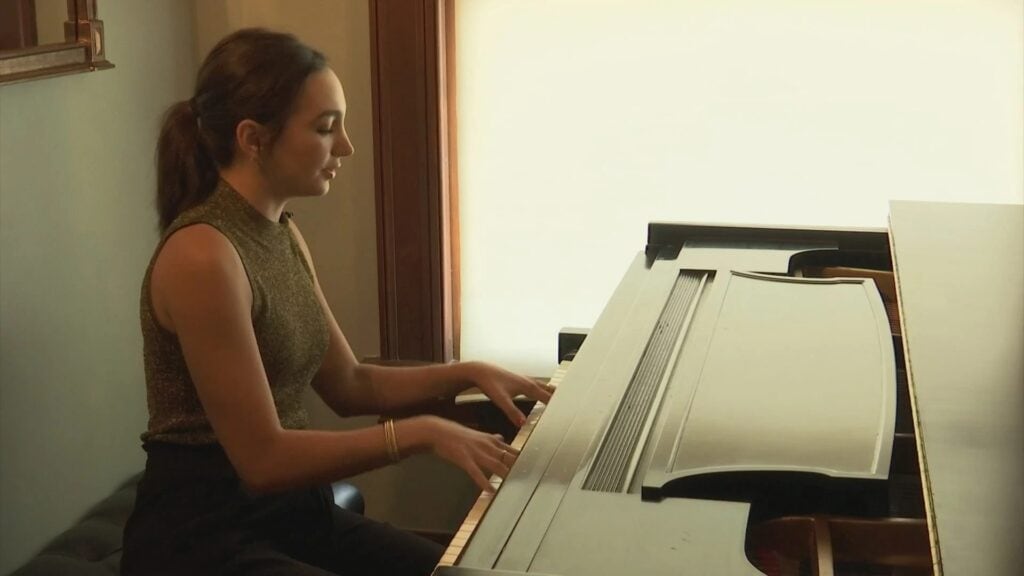 photo source: MyStateline.com
American composer, pianist, songwriter, and singer Emily Jordan Bear. At age five, Bear made her formal piano debut at the Ravinia Festival, becoming the festival's youngest performer ever. Bear had started learning to play the piano and compose music as a young child. Since then, she has performed her own music and other pieces with orchestras and groups around Europe, Asia, and North America.
She was the youngest recipient of two Morton Gould Young Composer Awards and two Herb Alpert Young Jazz Composers Awards. Diversity, an album of Bear's original jazz compositions, was published in 2013 and was produced by her instructor Quincy Jones. She is featured on the 2015 Broadway cast album of the musical Doctor Zhivago and composes and performs classical, jazz, and pop music as well as music for film and television.
Did You Know?
She began making performances on The Ellen DeGeneres Show when she was six years old, which helped her become more well-known.
---
7. Yunchan Lim (March 20, 2004 – present)
Age: 18 years old
Nationality: South Korean
Birthplace Siheung, South Korea
Parents: Unspecified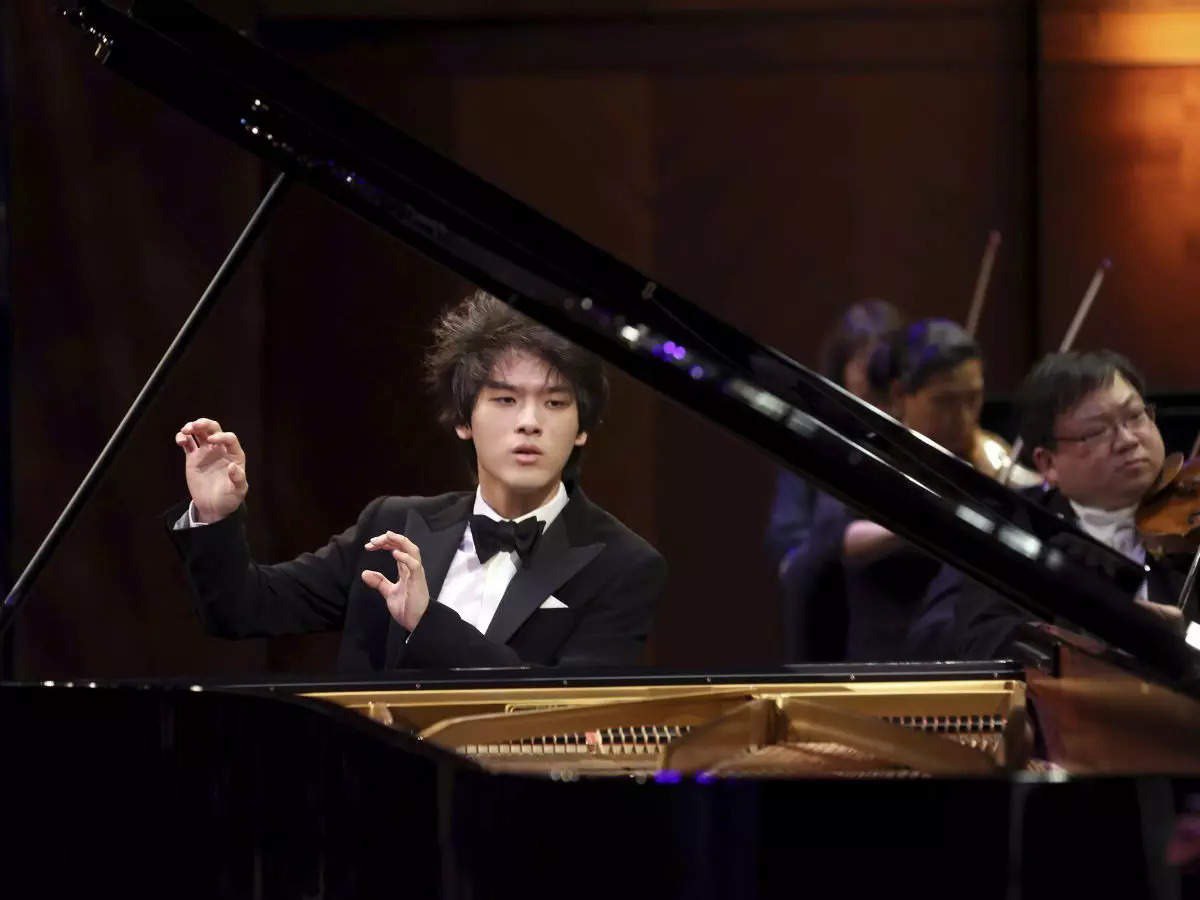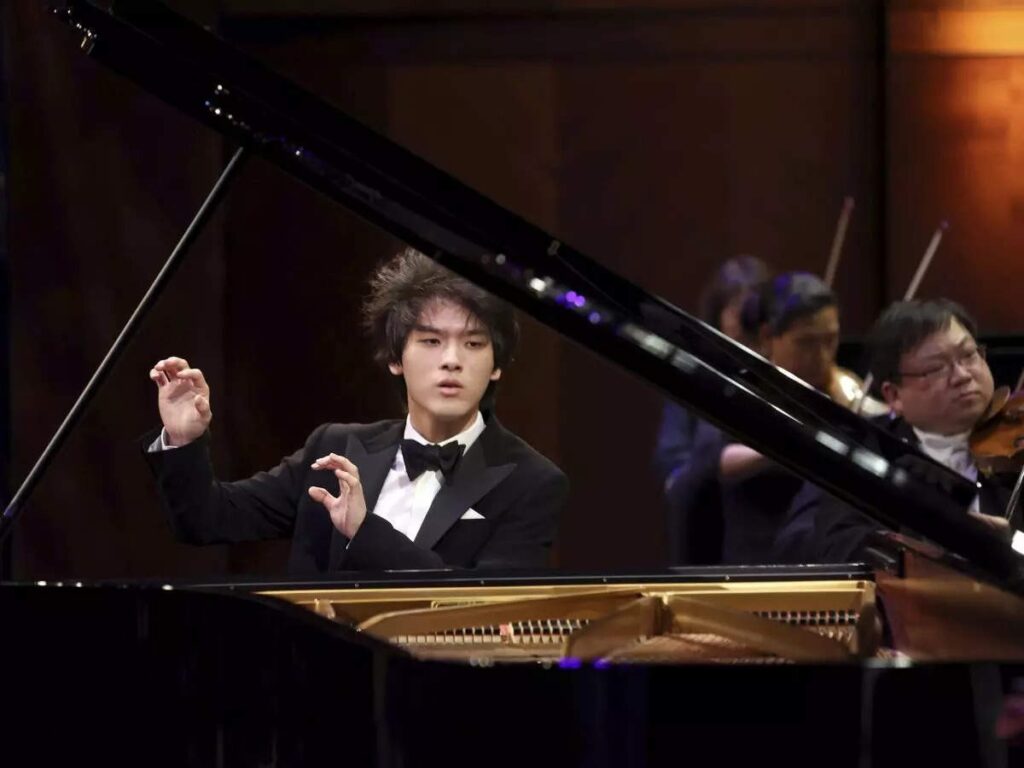 photo source: The Economic Times
South Korean pianist Yunchan Lim comes from Siheung. Lim took home the Chopin Special Award and second place in the 2018 Cleveland International Piano Competition for Young Artists. He won the Isang Yun Competition at age 15 in 2019, becoming the competition's youngest-ever champion. He was the youngest winner of the Van Cliburn International Piano Competition in Fort Worth, Texas, in June 2022.
The Korea Symphony, Suwon Philharmonic, Busan Philharmonic, Fort Worth Symphony, Cleveland Orchestra, and other orchestras are just a few of the ones with whom Lim has performed. As of right now, Lim is being taught by Minsoo Sohn at the Korea National University of Arts.
Did You Know?
He competed in the Thomas & Evon Cooper International Competition as the youngest competitor in 2018, and he took home third place and the audience prize.
---
6. Alma Deutscher (February 19, 2005 – present)
Age: 17 years old
Nationality: British
Birthplace Basingstoke, United Kingdom
Parents: Guy Deutscher, Janie Steen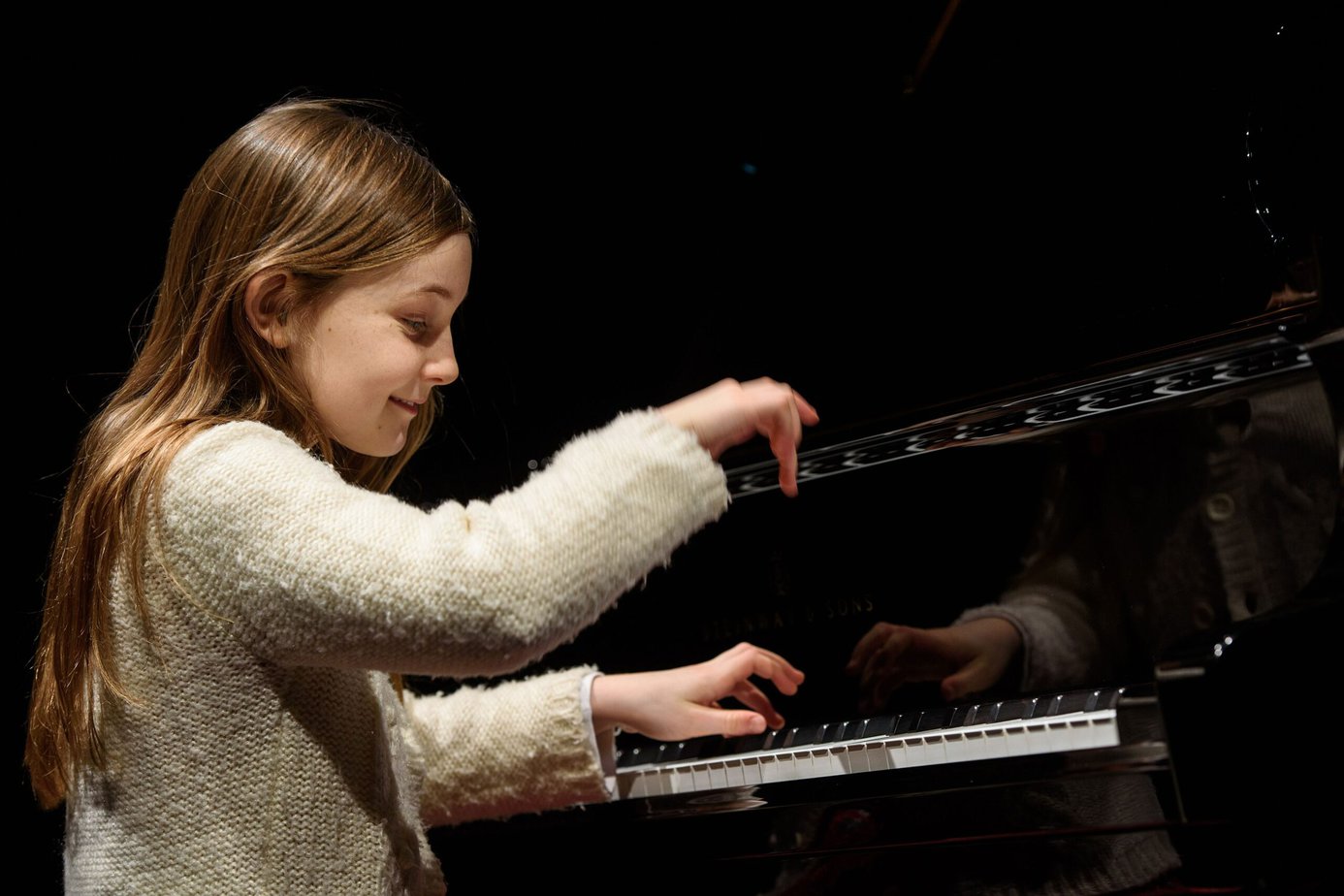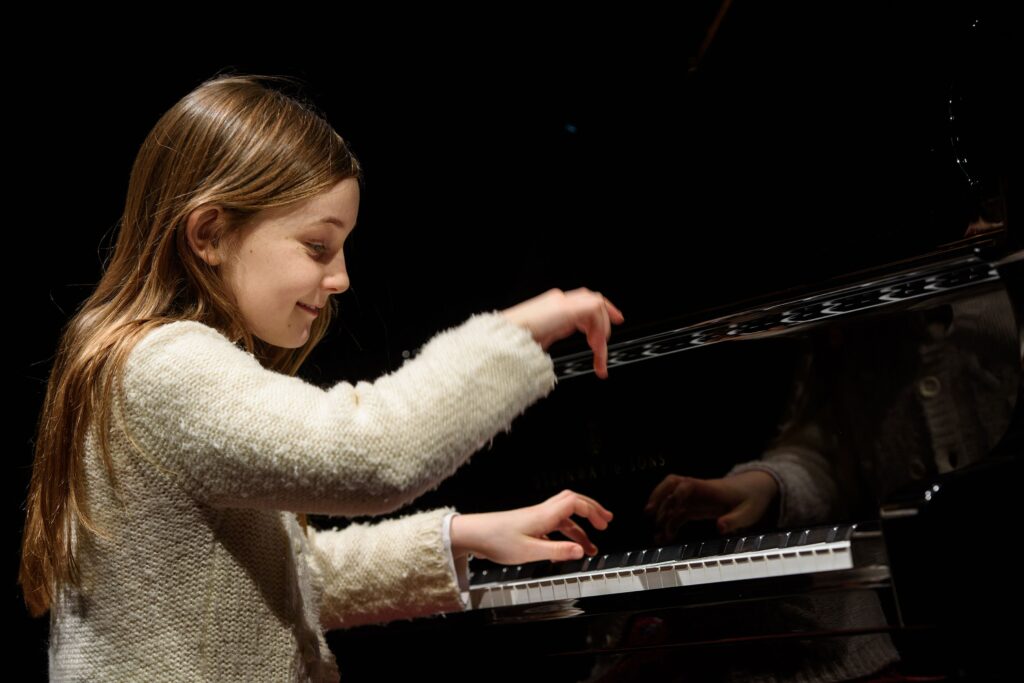 photo source: The Globe and Mail
Alma Elizabeth Deutscher is a violinist, pianist, and composer from the United Kingdom. At the age of five, Deutscher, a child prodigy, wrote her first piano sonata. She finished The Sweeper of Dreams, a little opera when she was seven. She composed a violin concerto at age nine. She created Cinderella, her first complete opera when she was ten years old. When Deutscher was twelve, her piano concerto had its debut.
Deutscher was the subject of her father's language study investigations in the early years of her existence. He made cautious never to tell his daughter that the sky was "blue" in an effort to comprehend why ancient societies did not use the term "blue" to describe the color of the sky.
Did You Know?
In a concert including only her own music, she made her Carnegie Hall debut in 2019.
---
5. Lydian Nadhaswaram (September 5, 2005 – present)
Age: 17 years old
Nationality: Indian
Birthplace Tamil Nadu, India
Parents: Varshan Satish and Jhansi Satish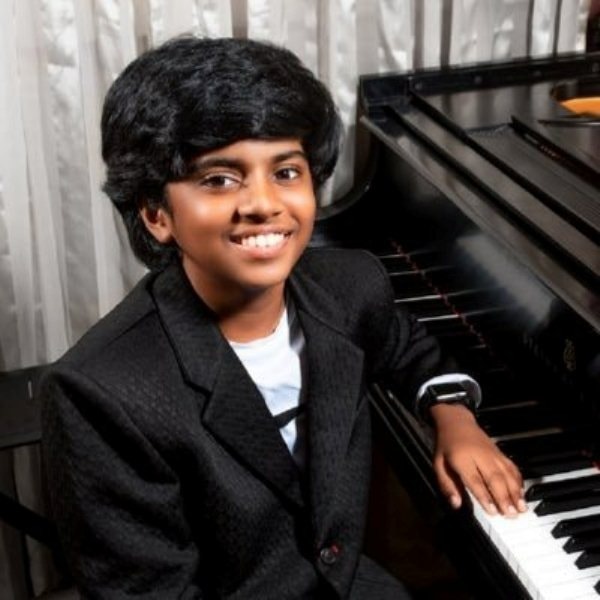 photo source: WikiBio
Indian musician Lydian Nadhaswaram is from Chennai, Tamil Nadu. Varshan Satish, a composer of Tamil music, and Jhansi welcome Lydian into the world as their second child. He began playing the drums at age two and the piano at age eight, which he taught himself. He studies under Augustine Paul, the century-old Madras Musical Association Choir's music director.
A.R.'s Vande Matram song was played by Lydian in a video on YouTube. During a visit to Lydian's home, Rahman was playing the piano in front of him. With the Malayalam-language fantasy film Barroz: Guardian of D'Gama's Treasure, directed by Mohanlal, and starring himself in the lead, it was revealed in September 2019 that Lydian will make his debut as a film composer. He previously portrayed the part of Guddu in the movie Atkan Chatkan.
Did You Know?
On The World's Best on CBS in 2019, he participated and won, taking home a $1 million prize.
---
4. Elisey Mysin (October 25, 2010 – present)
Age: 12 years old
Nationality: Russian
Birthplace Stavropol City, Russia
Parents: Olga Mysin, Andrey Mysin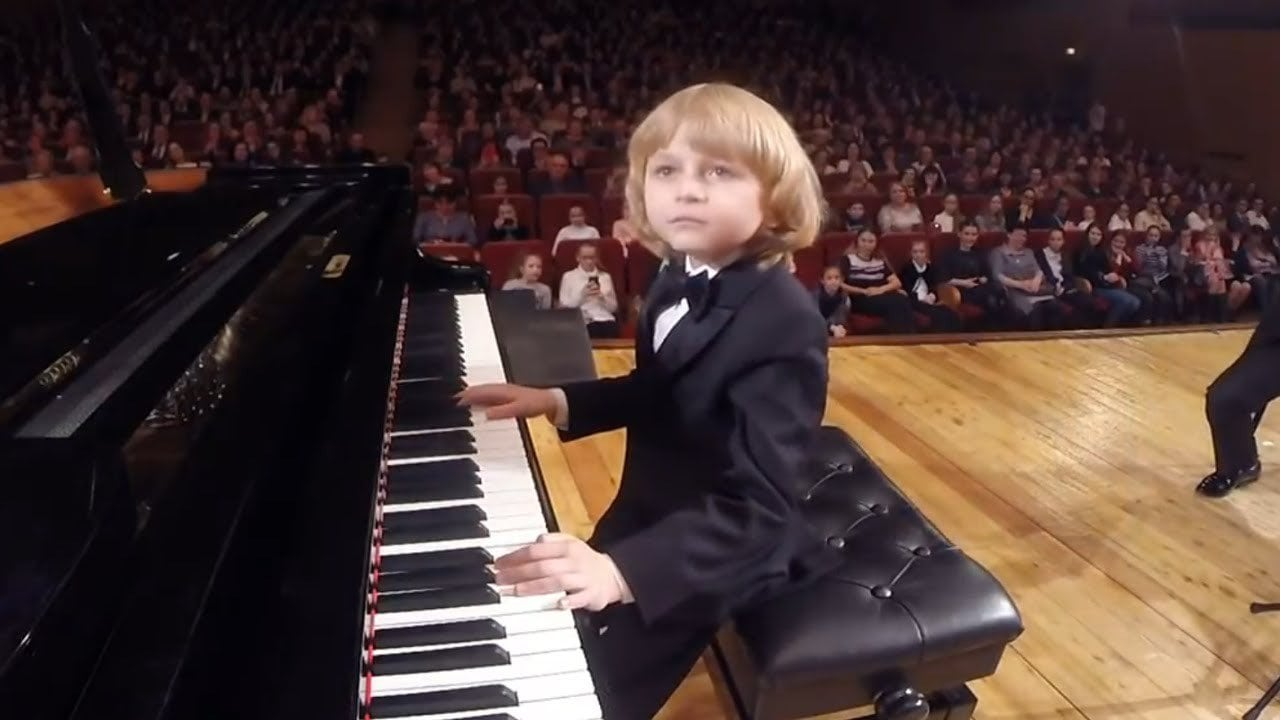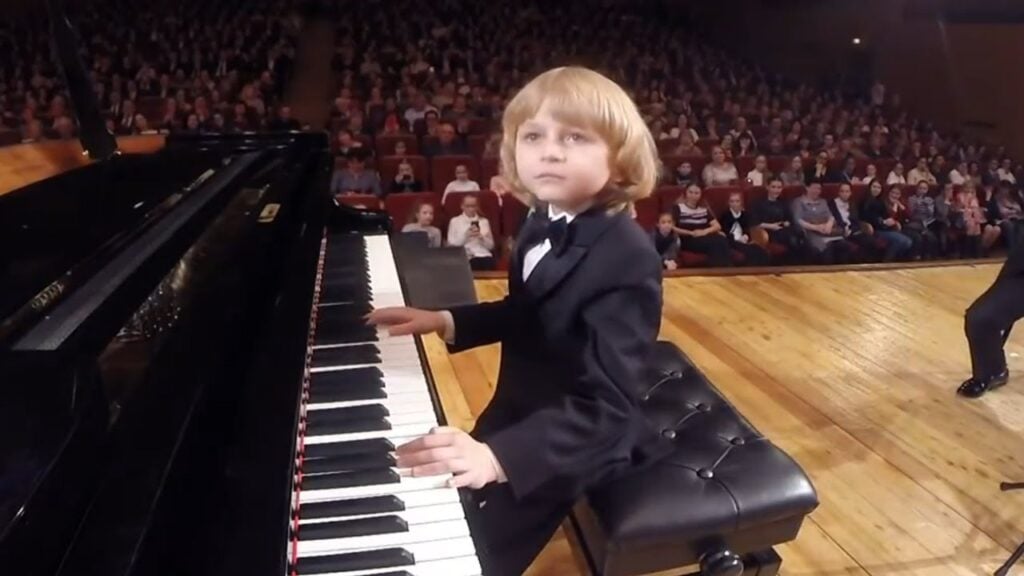 photo source: The Music Man
Stavropol, in southwest Russia, is where Elisey Mysin was born. Elisey's family claims that even before he was born, he had a deep passion for the piano. When his elder sister practiced the piano, their mother noticed that Elisey began to move and respond to the music.
It's understandable that Elisey began piano lessons at the age of three. Elisey's prodigious levels of talent were instantly obvious, beyond those of a bright person. The skill Mozart himself had displayed at the same age started to be used by his teachers to contrast him with him. Elisey more than meets the standard.
Did You Know?
He performed with renowned Russian pianist Denis Matsuev on Russian television when he was just five years old.
---
3. Evan Le (May 31, 2011 – present)
Age: 11 years old
Nationality: Vietnamese
Birthplace Torrance, California, United States
Parents: Lyon Le, Quoc Le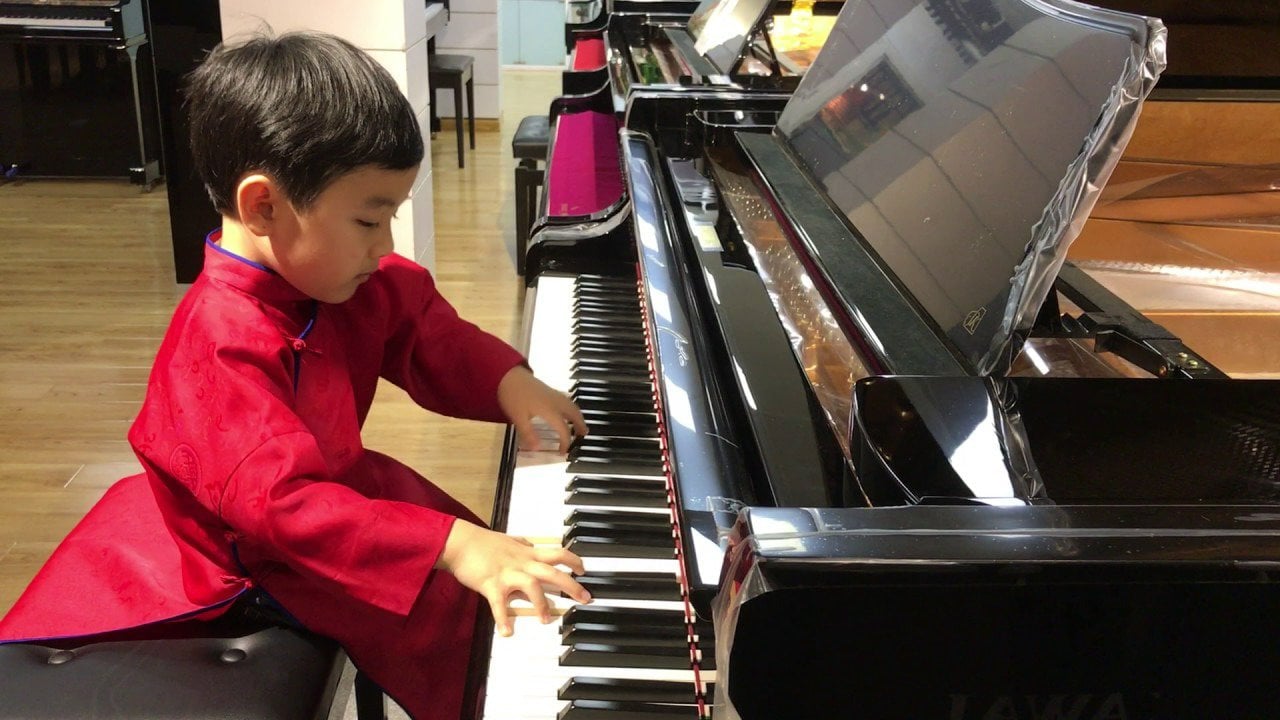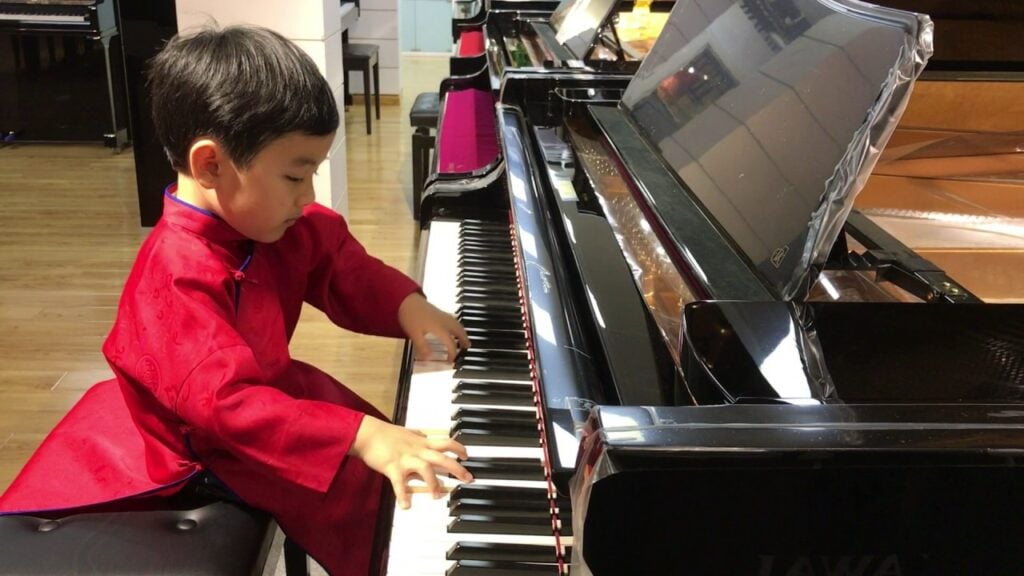 photo source: The Music Man
California is the place of Evan Le's birth and Evan Duy Quoc Le is his full name. He is a Vietnamese man's son. His parents immigrated to the United States from Vietnam and were granted naturalization. Lyon and Quoc, Evan's parents, never considered exposing their kids to music because they are not musically inclined. Evan, however, started playing with a toy piano when he was just 2.5 years old and became interested in music.
On his YouTube page, Evan has posted several of his performances. He has more than 100,000 subscribers and has attracted the attention of numerous well-known TV shows, including America's Got Talent, as well as millions of people on social media. Evan has performed for some of the finest composers while competing in several music contests. In several of these tournaments, he won first place.
Did You Know?
Evan received invitations to play in the "Slovak State Opera Chamber Orchestra" and the "Cal State Long Beach Festival Orchestra."
---
2. Alberto Cartuccia Cingolani (April 5, 2017 – present)
Age: 5 years old
Nationality: Italian
Birthplace Caldarola, Italy
Parents: Alessia Cingolani, Simone Cartuccia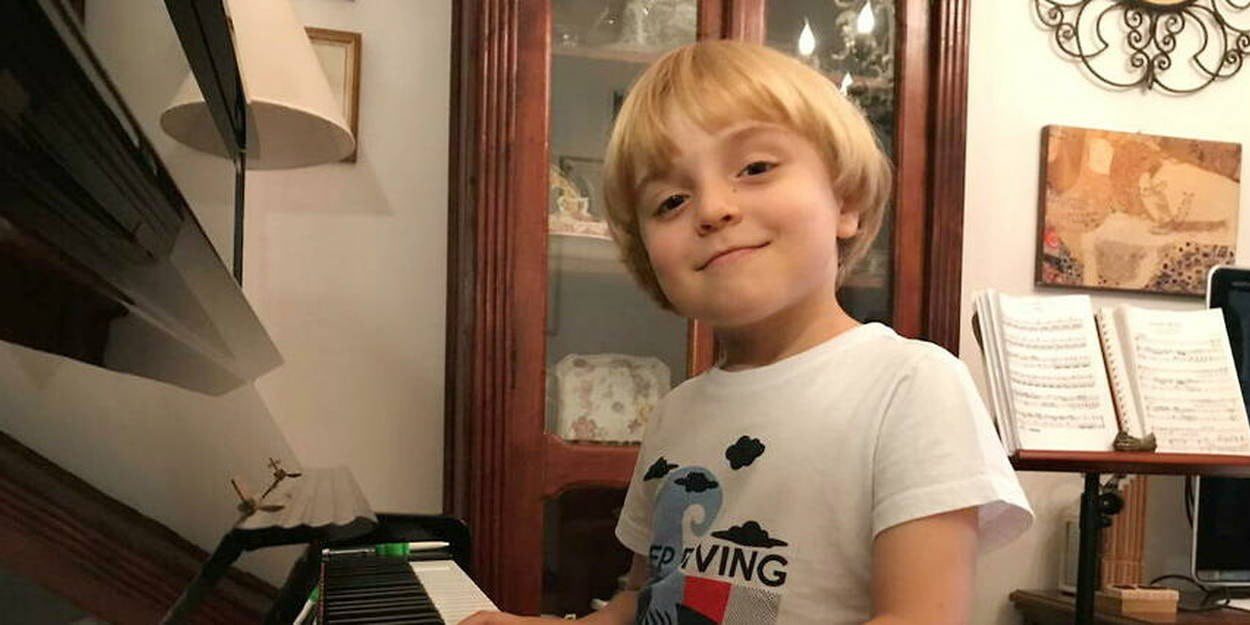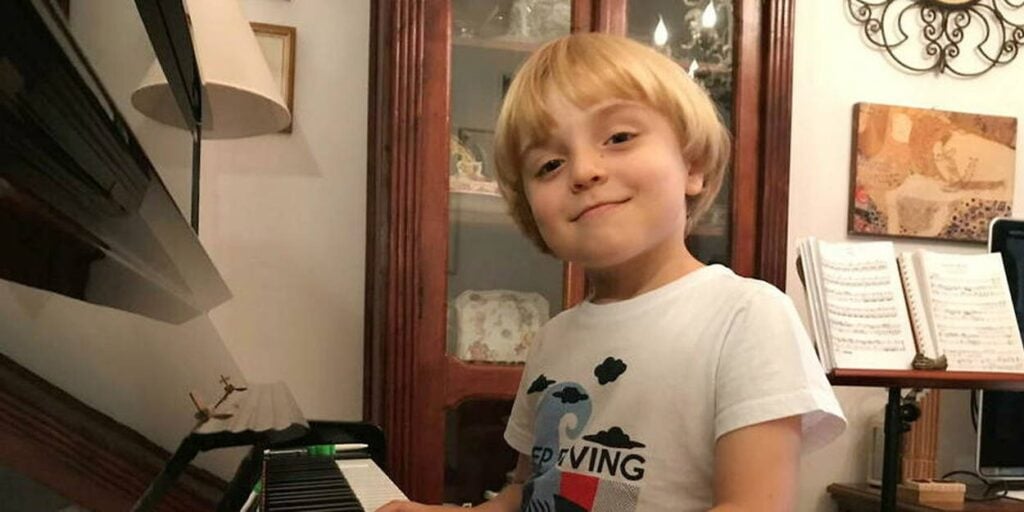 photo source: GExperience
Italian pianist Alberto Cartuccia Cingolani, who only began learning the piano in 2020, recently dazzled the crowd by playing Mozart's Piano Sonata No. 16 in C major at a competition. Alberto hails from a musical household where his mother teaches voice singing and his father teaches music.
When he was three years old, his parents took him to his first piano lesson and saw that he had a natural knack for the instrument. They started with 10-minute practice sessions, and as Cingolani became older, they got longer. He has what is known as absolute pitch, which is the capacity to recognize and duplicate any musical note, even though he could not read music when he began and is still learning.
Did You Know?
He began performing at the young age of 5 on various evenings throughout Italy.
---
1. Brigitte Xie (June 19, 2017 – present)
Age: 5 years old
Nationality: Chinese
Birthplace Connecticut, United States
Parents: Nicole Sun, Tao Xie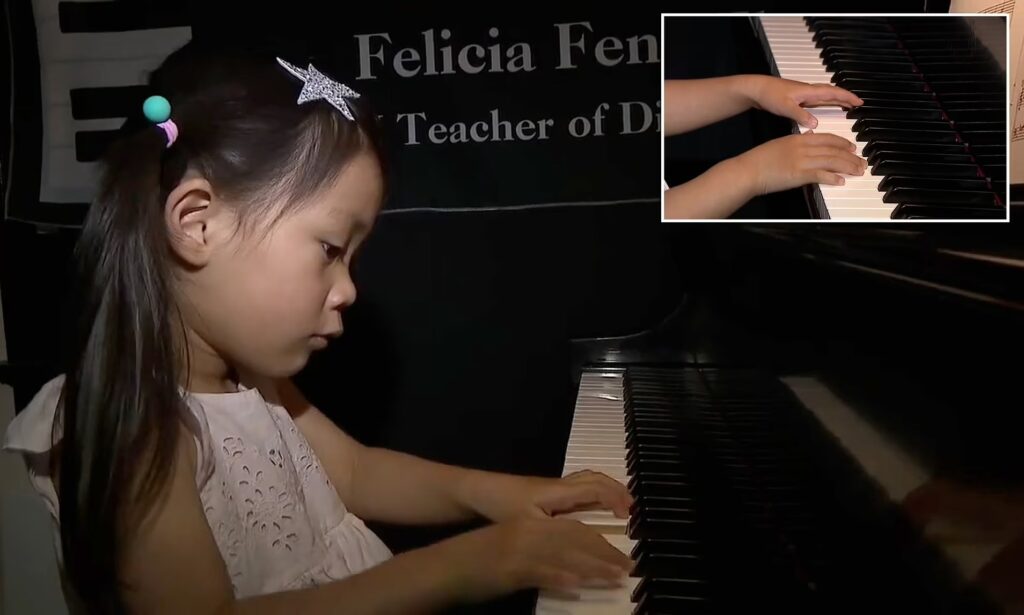 photo source: Daily Mail
Brigitte Xie, the youngest pianist in the world, is proficient in reading music. Even a piece of Beethoven's classical music can be played by her. About a year ago, Brigitte's father, Tao Xie of Ridgefield, Connecticut, enrolled her in online piano lessons through Zoom. During the COVID-19 pandemic, using video conferencing technology to attend various classes became commonplace.
The youngest winner of the prestigious Elite International Music Competition is Brigitte Xie. She was allowed to perform at Carnegie Hall thanks to that victory. She was slated to perform there in November 2020 as a part of the American Protégé International Music Talent Competition. But due to the ongoing COVID-19 crisis, it was postponed to this November and is now scheduled for November 2022.
Did You Know?
Brigitte Xie, who is only four years old, has already been awarded a spot to play the piano at Carnegie Hall in New York City.
OTHER POSTS YOU MAY BE INTERESTED IN