The guitar is one of the most influential stringed instruments, and the second most popular musical instrument after the piano. Guitars are generally classified into three basic types: classical, acoustic, and electric, with each guitar having different levels of complexity.
While most guitars are 6-stringed, it's also common to have a guitar with 4 to 8 strings, which adds a bit of sophistication to playing the guitar.
Due to its popularity, many popular guitarists worldwide of all ages play stringed instruments. As music is a universal language, it is therefore not surprising that several young guitarists have blossomed into true musicians, creating lovely music through the years.
Don't go anywhere – we're about to explore eight of the youngest guitar players out there!
8. Hunter Hallberg (September 21, 2004 – Present)
Became Guitarist: about 9 years
Current Age (as of June 2022): 17 years, 8 months, and 19 days
Country of Origin: USA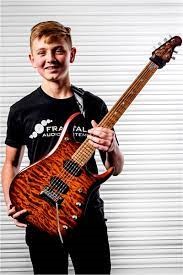 photo source: Twitter
Hunter Hallberg is a progressive instrumental guitarist based in Denver, Colorado. The music competition was a global event that pitted him against the very best in the London held competition. The guitarist impressed many with his composition and performance, which ultimately won him the Music Radar Young Guitarist Of The Year at only 13 years of age.
The win was not the first in his career; three years earlier, he won fourth place in a local solo contest despite scoring the best in technical performance with a Dream Theater song. He later proceeded to win the inaugural annual 106.7 FM KBPI & Denver School of Rock's Best Kid Guitar Player contest.
Did You Know?
Hunter Hallberg was interested in playing the guitar while learning to play the piano, and dropped piano classes for guitar.
---
7. Jasmine Star (2003 – Present)
Became Guitarist: about 9 years
Current Age (as of June 2022): c.18/19 years old
Country of Origin: The United Kingdom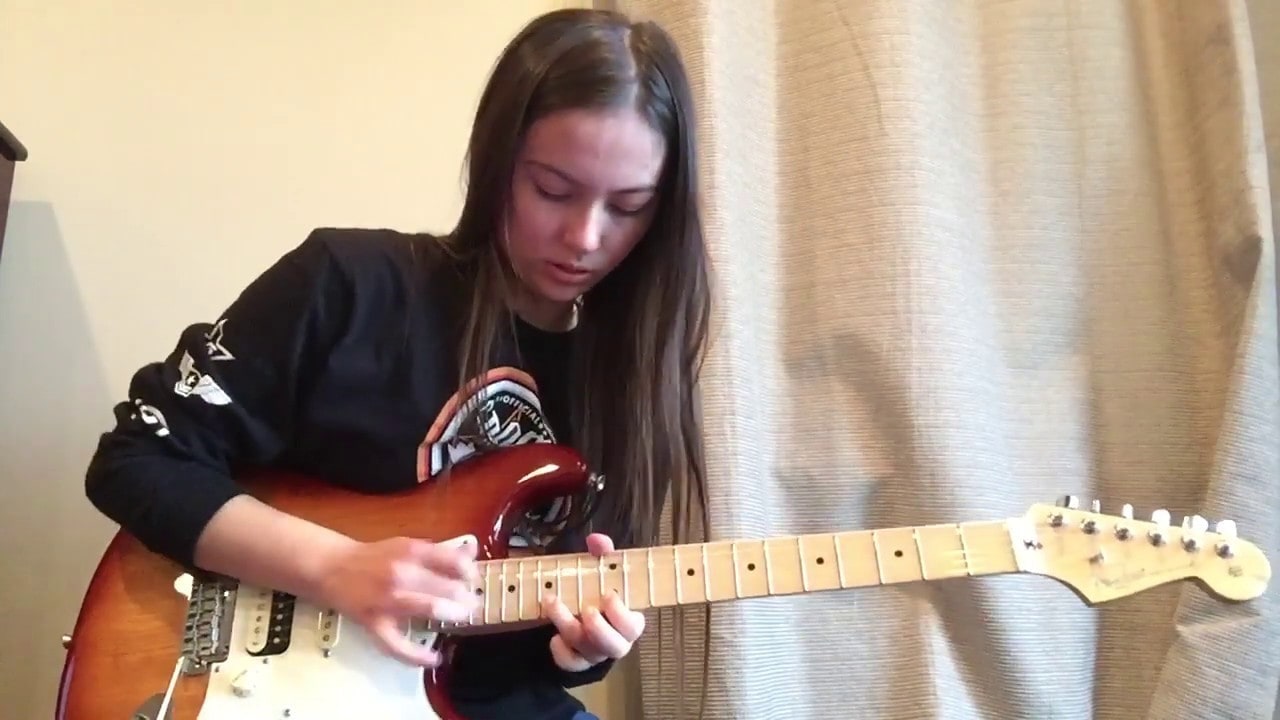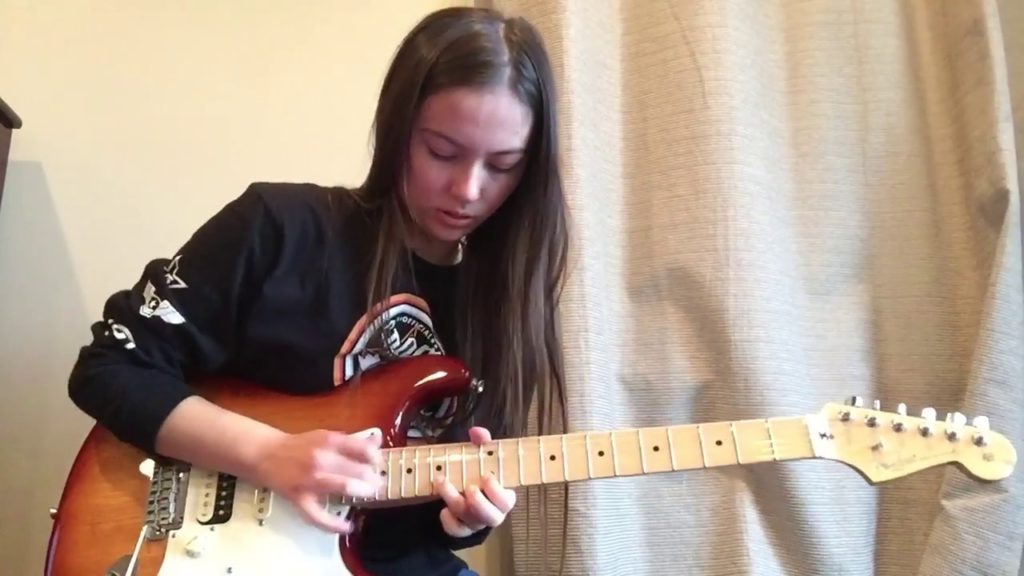 photo source: google.com
Jasmine Star is an L.A. guitar sensation and talented musician. She attracts millions of viewers to her TikTok, Instagram, and YouTube account who want to listen to her electrifying performances. The young star was catapulted to fame at age 14 when she performed alongside the famed Marten Andersson from the rock band Steelheart at a classical music event.
Star has continued to receive praise and accolades from all quarters as she gains popularity. The young guitarist was named a "Distinguished Artist" by her former school, Orange County Music and Dance — an honor it reserves for professional performers who have extraordinary artistry, passion, and dedication to music.
Later on, Star was one of the finalists in the Young Guitarist of the Year 2020. She is well-versed in a wide array of compositions, and plays popular songs by her favorite artists on her social media accounts.
Did You Know?
Jasmine Star is a multi-talented musician who has created compositions, performed collaborations, and received accolades from her mentors. She is also a well-trained pianist.
---
6. Juho Ranta-Maunus (2006 – Present)
Became Guitarist: about 8 years
Current Age (as of June 2022): c.15/16 years old
Country of Origin: Finland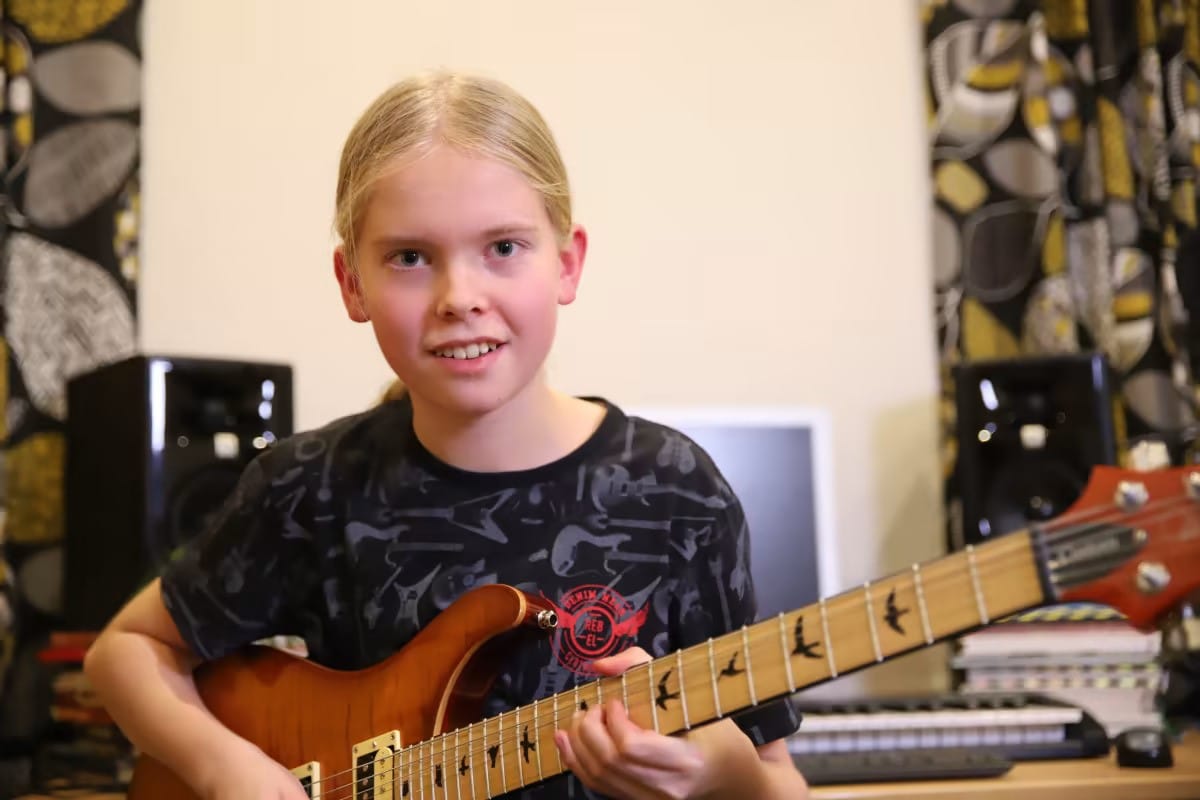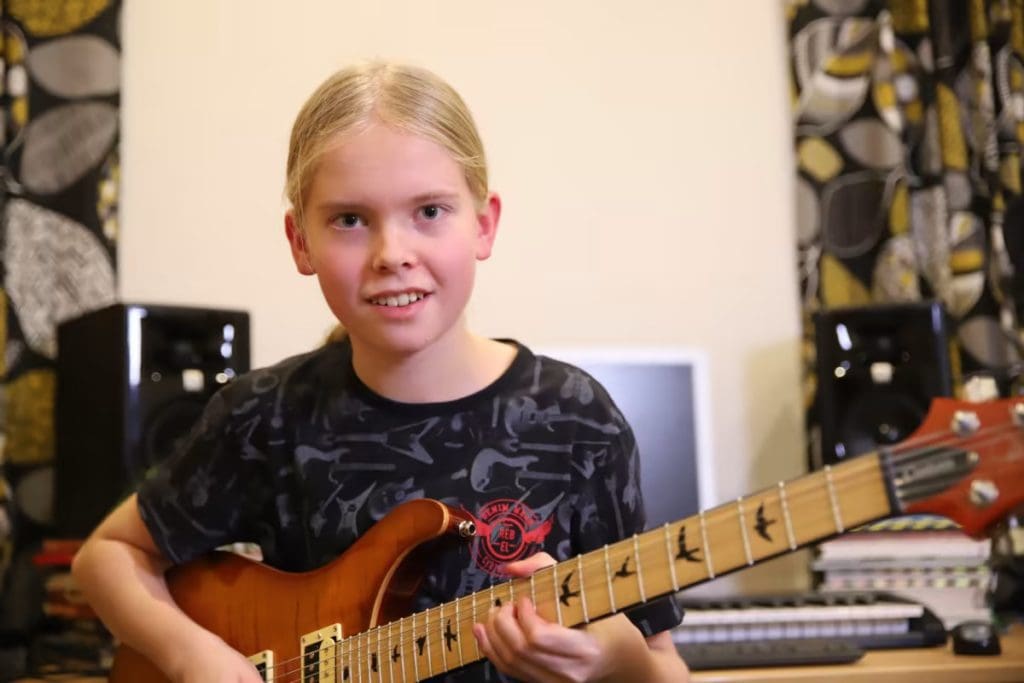 photo source: Yle Uutiset
Despite his extraordinary talent, it was a great surprise to Juho Ranta-Maunus that he had won the Young Guitarist of the Year 2020 title, which is organized by Guitar World Magazine annually. The feat is extraordinary, considering he competed against a 17-year-old at the finals.
In 2020, the boy was only 14 years old but had performed as a solo artist, a lead guitarist, and an orchestra soloist.
The young Finnish artist lives in Seinäjoki, Finland, where he has been practicing and honing his craft since he was eight. Ranta-Maunus took music classes at South Ostrobothnia Music Institute, where he fell in love with the guitar and has played ever since.
Ranta-Maunus plays as part of the band, Metal Code Eternal, where he continues to wow audiences with his extraordinary skills.
Did You Know?
Despite being only 15 years old, Juho Ranta-Maunus is a published artist with albums on Spotify and several music videos on YouTube.
---
5. Taj Farrant (May 21, 2009 – Present)
Became Guitarist: about 7 years
Current Age (as of June 2022): 13 years and 19 days
Country of Origin: Australia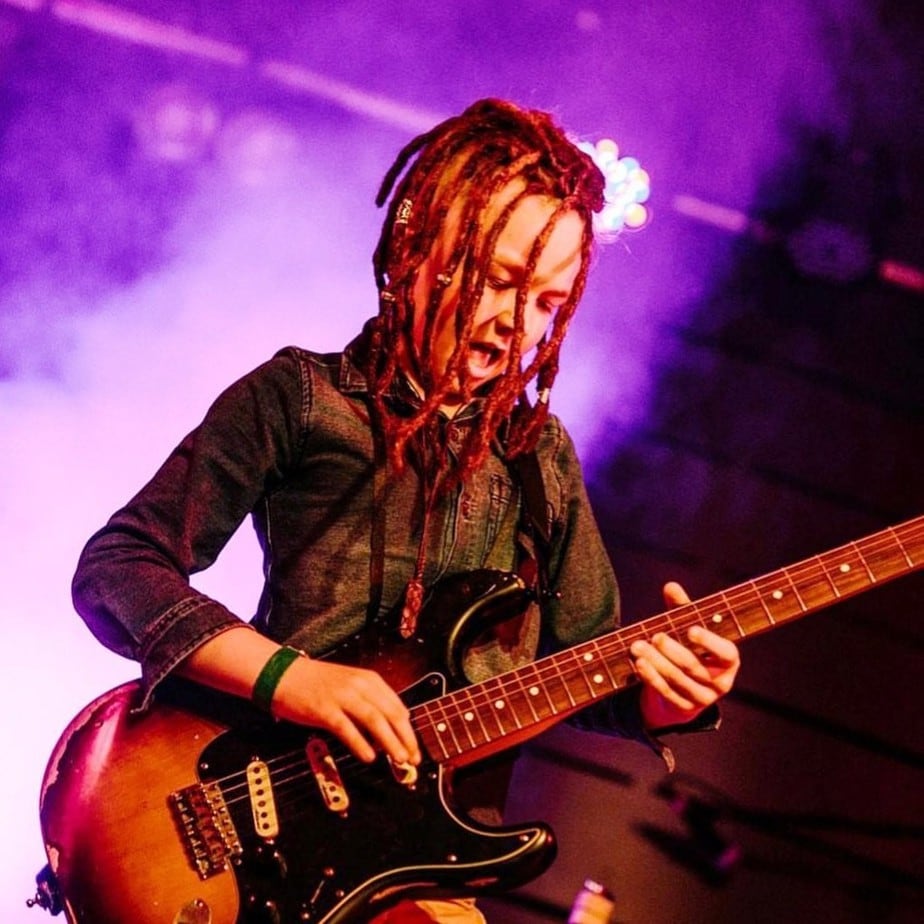 photo source: Twitter
It takes a lot of skill and dedication to master the guitar in just two years, but that's what Taj Farrant did after seeing AC/DC in concert. While most of us would love merely to attend another concert, Farrant made it his goal to start playing the guitar. By age 9, he was selling out audiences on The Ellen DeGeneres Show and Australia's Got Talent.
Farrant checks all the boxes for a major guitar artist with a huge following across all of his social media channels; currently, one of his music pieces, "The Tennessee Whiskey," has over 10.2 million views on YouTube.
With these impressive feats, it was not surprising when the then 10-year-old artist became the First Universal Signing for 2020. Farrant continues to perform at music events, and draws crowds almost everywhere he goes.
Did You Know?
Taj Farrant's skill opened unique doors for him, with the young artist being invited on stage by Carlos Santana. This gesture was indicative of an old guitarist passing the torch to the younger generation.
---
4. Pinxi Liu (YOYO) (December 12, 2006 – Present)
Became Guitarist: about 6 years
Current Age (as of June 2022): 15 years, 5 months, 28 days
Country of Origin: China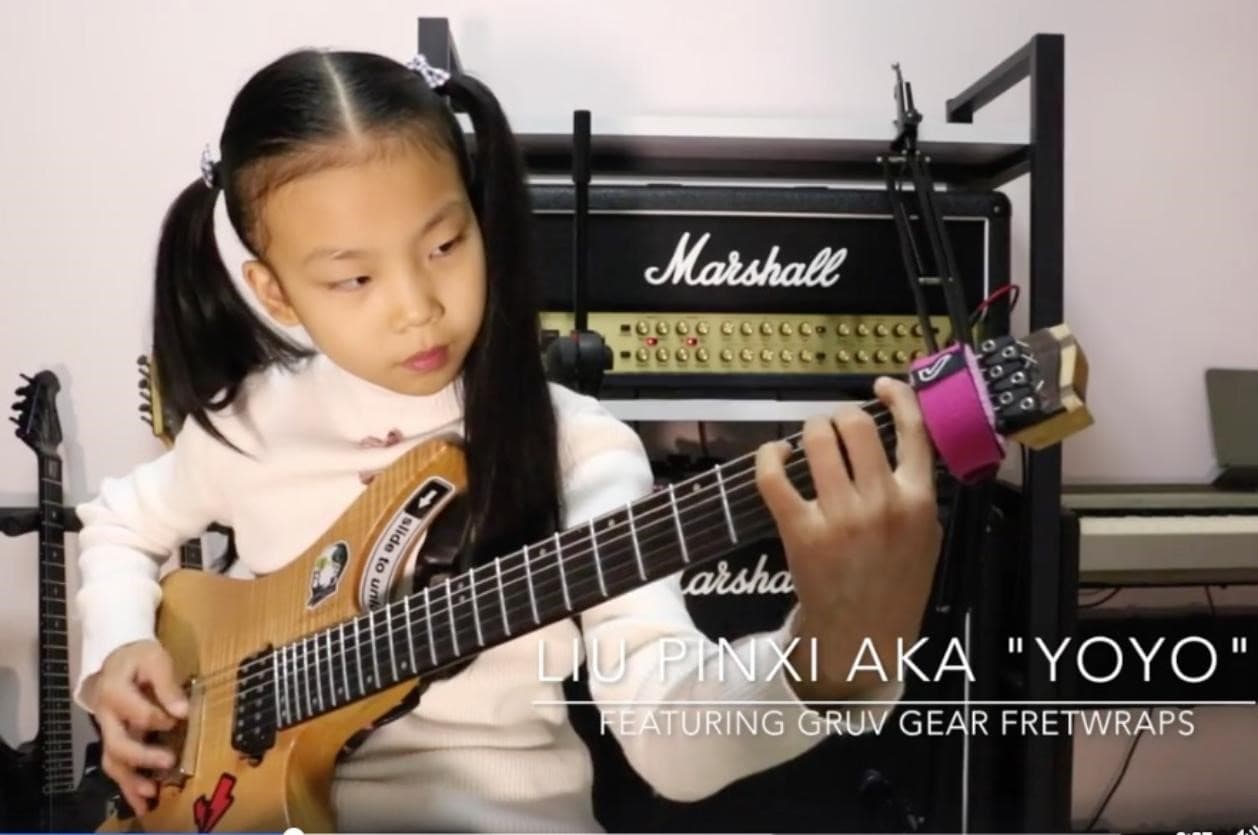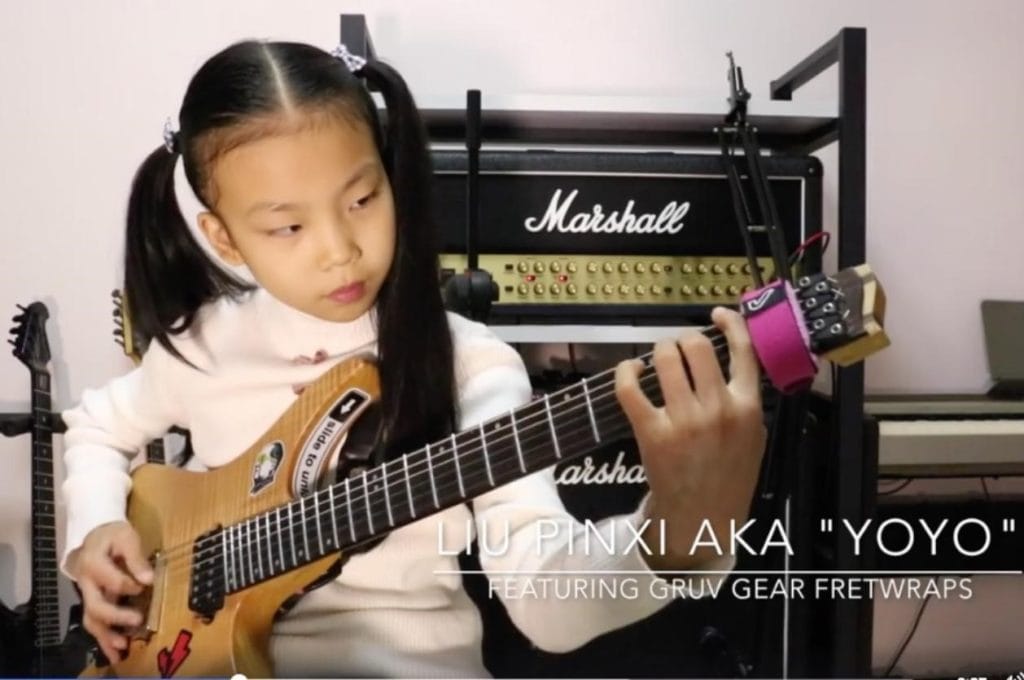 photo source: google.com
Pinxi Liu is a famous guitarist playing under the moniker "YOYO." She hails from Hubei province in China.
Since the age of six, Liu's classmates were jealous of their peer's extraordinary guitar-playing skills. She can play both the classical guitar and the electric guitar with ease.
YOYO's popularity rose in October, 2015, when she debuted at China (Shanghai) Musical Instruments Exhibition. Despite being only nine years old, the musician was invited as a guest performer, and experienced the limelight for the first time.
Did You Know?
Three of YOYO's YouTube videos each have over one million views.
---
3. Zoe Thomson (April 4, 2003 – Present)
Became Guitarist: around 5 years
Current Age (as of June 2022): 19 years, 2 months, and 5 days
Country of Origin: The United Kingdom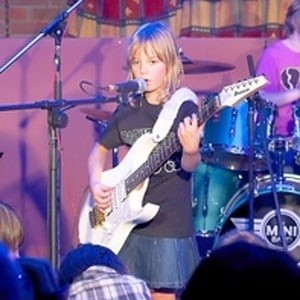 photo source: famousbirthdays.com
Zoe Thompson is an English musician born and raised in Cold Ash, Berkshire, England. She was the lead rock guitarist of Mini Band before leaving the group in 2018.
Thompson started her musical career by learning to play the piano at the tender age of five. With her parents' support, she went on to become a child guitar star, hitting headlines after her cover of the hit, "Enter Sandman" by Metallica, went viral.
Thompson started performed at big shows from a young age, and has already rubbed elbows with the likes of Mike Shinoda, Zakk Wylde, and Metallica, who has praised her skills.
Did You Know?
Daisy Rock Guitars offered to sponsor Thompson by producing all the guitars she uses — an extremely unique offer for a young musician.
---
2. Julian Lage (December 25, 1987 – Present)
Became Guitarist: about 5 years
Current Age (as of June 2022): 34 years, 4 months, and 15 days
Country of Origin: USA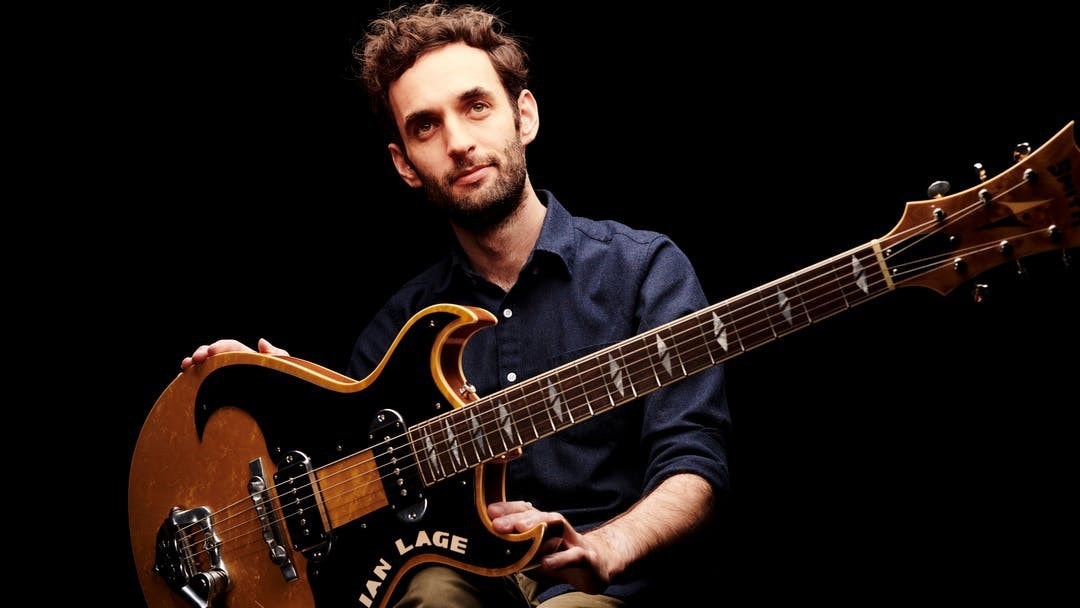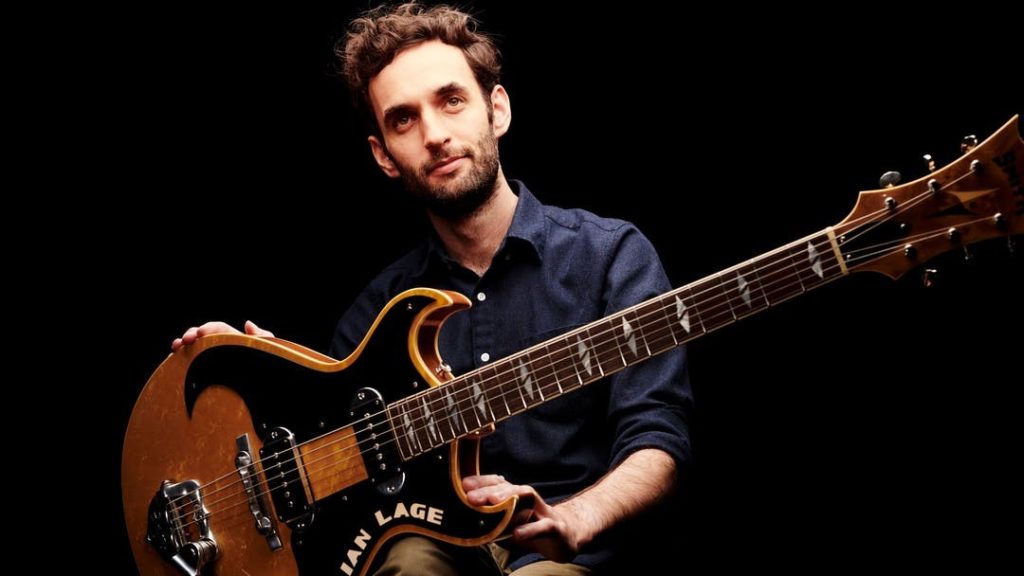 photo source: Grammy Awards
The word "prodigy" gets thrown around so often that we fail to appreciate the meaning.
Julian Lage would be as close as one can get to the term, having been a renowned guitarist that played at the Grammys at age 12 and becoming a faculty member at Stanford at only 15. He is a jazz player who studied at the San Francisco Conservatory of Music, Sonoma State University, and the Ali Akbar College of Music. Berklee College of Music awarded him a Bachelor's in Music in 2008.
Did You Know?
Julian Lage was offered several contracts in his teens, and won an Independent Music Awards Instrumental Album with several Emmy nominations.
---
1. Konstantina Andritsou (2010 – Present)
Became Guitarist: 4 years
Current Age (as of June 2022): c.10/11 years old
Country of Origin: Bulgaria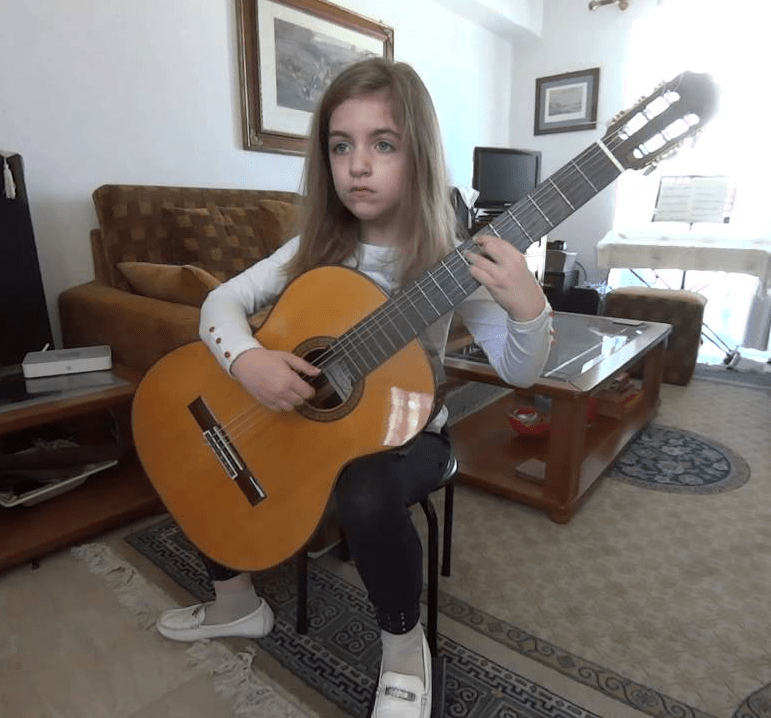 photo source: YouTube
Konstantina Andritsou is the youngest guitar player on record.
Andritsou is a professional Bulgarian guitar player who lives in Greece. The young musician has been playing the guitar since she was four, and was further catapulted to fame by her large YouTube presence.
The young guitar player made her debut on the world stage in Athens, Greece. You can listen to her debut album on YouTube to appreciate her skill, where she has over 27 million views.
Did You Know?
Where most individuals need years of training and practice before becoming notable in their field, Konstantina Andritsou was clearly born with innate musical talent. While there is not much recent news about her career, the young guitarist certainly has a strong foundation in the music industry to continue to make a name for herself.
OTHER POSTS YOU MAY BE INTERESTED IN