Music is nearly as old as time. For centuries, civilizations of people have been tapping out beats, dancing to rhythms, and losing themselves in melodies. Still, no one can deny that music has changed and evolved over time, and instruments that were popular in ancient times have been superseded by sophisticated ones.
Consider the guitar: there's no doubt that we take its existence for granted. It's probably one of the first instruments that come to mind for many when asked to picture a musical instrument. However, though the guitar certainly has its precursors (for example, the lute or the mandolin), it's a comparatively new invention, just under 200 years old.
Stay right here to discover eight of the most popular guitar brands of all time, ending with the oldest.
8. Taylor
Production year: 1974
Most famous guitar: The Grand Auditorium
Best for: Country and alternative genres
Products: Acoustic, electric, classical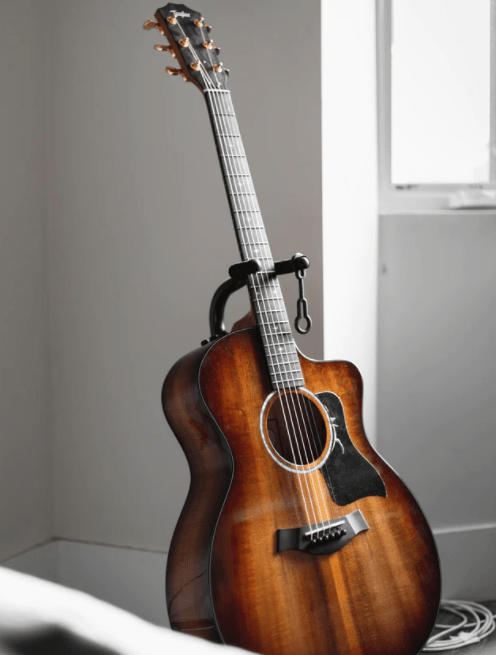 photo source: unsplash.com
Born in Southern California, the Taylor guitar brand was founded by Bob Taylor and his partner, Kur Listug. The two first met while working in a guitar shop in San Diego called—ironically—the American Dream. Taylor and Listug went on to buy the business after the owner relayed his plans to sell. They were just 19 and 21 years old.
Despite its widespread popularity in the world of music, Taylor is among the youngest of the most prominent guitar brands. Nevertheless, they employ more than 1,200 people throughout their locations, sell in hundreds of retailers across North America, and distribute to 60 countries.
Did you know?
Taylor guitars are favored by major artists in the music industry, particularly in the country and alternative genres. A few big names who regularly use Taylor guitars are Taylor Swift, Steven Curtis Chapman, Dave Matthews Band, Zac Brown Band, and Jason Mraz. Taylor is also among one of the more sustainable guitar brands on the market.
---
7. Guild
Production year: 1952
Most famous guitar: D-150 Acoustic
Best for: Folk and rock genres
Products: Acoustic, electric, classical, jazz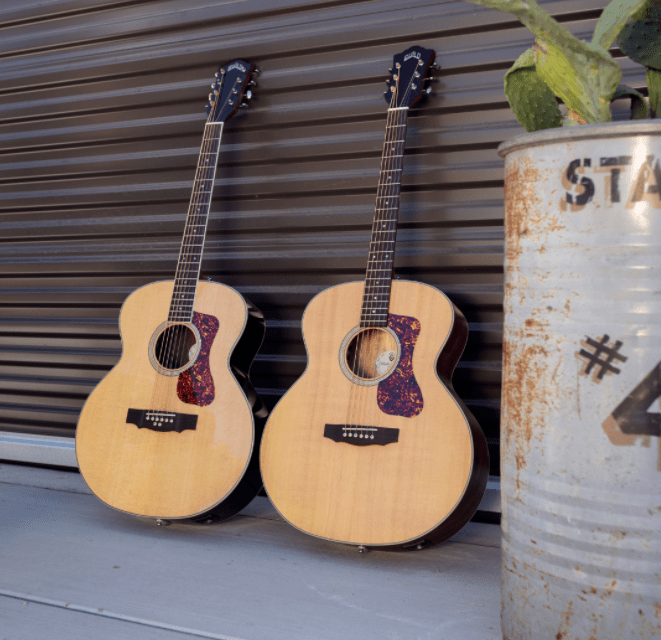 photo source: Guild.com
The Guild name has been around since the 1950s, when the guitar brand was founded in New York by Alfred Dronge. Its early years focused on the production and sale of electric guitars, due to Dronge's passion for the jazz sound. Because of his ties with New York jazz musicians, the brand was endorsed at the time by the likes of Johnny Smith, Don Arnone, and Carl Kress.
Guild guitars are known for their warmth and richness of sound. They have a reputation for being among the best-made guitars on the market, with even their budget options featuring outstanding craftsmanship.
Some of the most popular Guild models of all time are those in the Starfire line, the Thunderbird, S-100 Polara, and the D-150 acoustic, which remains popular to this day.
Did you know?
In 1998, the Goo Goo Dolls performed their soon-to-be iconic hit, "Iris," for the City of Angels soundtrack. The band's lead singer and guitarist, Johnny Rzeznik performed with several Guild guitars for several Grammy performances, including jumbos, 12-strings, and the S7CE Peregrine.
---
6. Fender
Production year: 1946
Most famous guitar: Stratocaster
Best for: All genres (classic rock, jazz, blues, metal, R&B)
Products: Acoustic, electric, jazz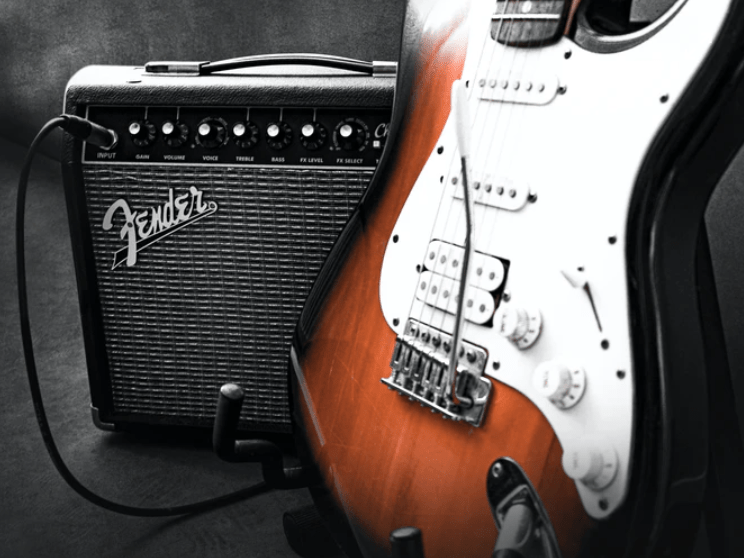 photo source: unsplash.com
When you hear the name "Fender," you pretty much know exactly what someone is talking about: one of the most famous guitar brands in existence.
Having cranked out the likes of the renowned Stratocaster, Telecaster, and the Tim Armstrong Hellcat guitars, Fender is one of the most iconic names in the music world, and certainly in the world of guitars. The brand got its start more than 70 years ago, when Leo Fender founded the company in Fullerton, CA. It proceeded to revolutionize the music industry with guitars, basses, and amplifiers.
Endorsed and played by countless musicians from every genre, Fender accommodates every genre, from country and pop to metal and jazz.
Did you know?
The Fender name is so big today that it owns five other companies—EVH Guitars, Gretsch, Charvel Guitars, Jackson Guitars, and Squier. It also acquired brands such as Guild (sound familiar?), SWR Sound Corporation, Tacoma Guitars, and Kaman Music Corporation, to name just a few.
---
5. Rickenbacker
Production year: 1932
Most famous guitar: 330
Best for: Classic rock
Products: Electric, basses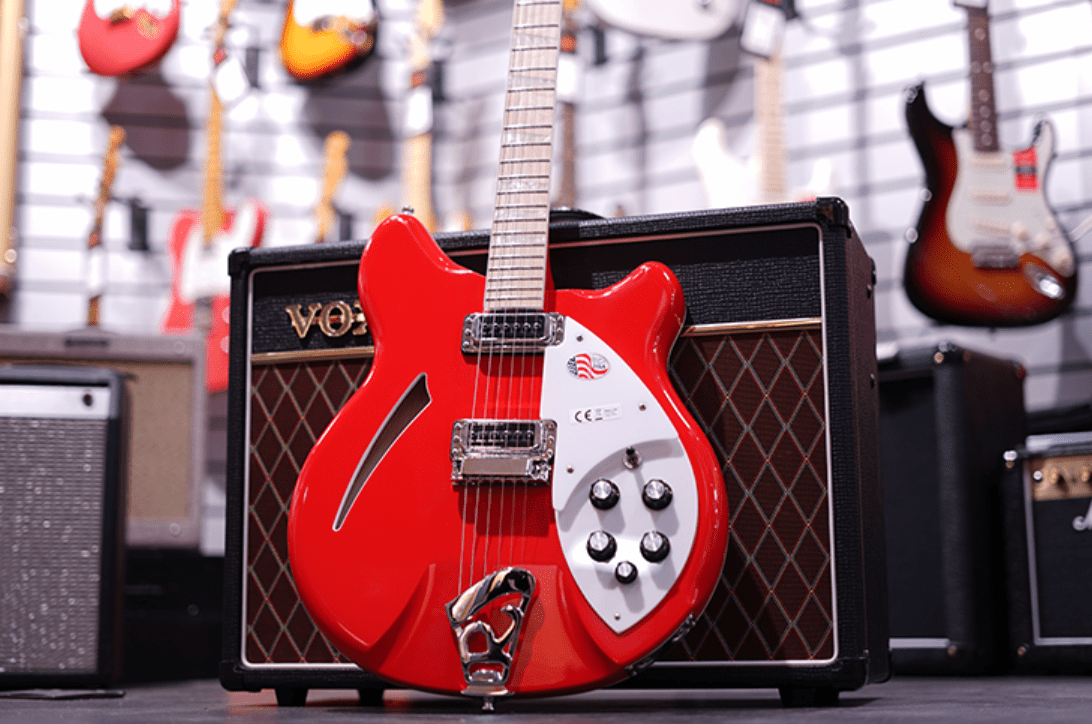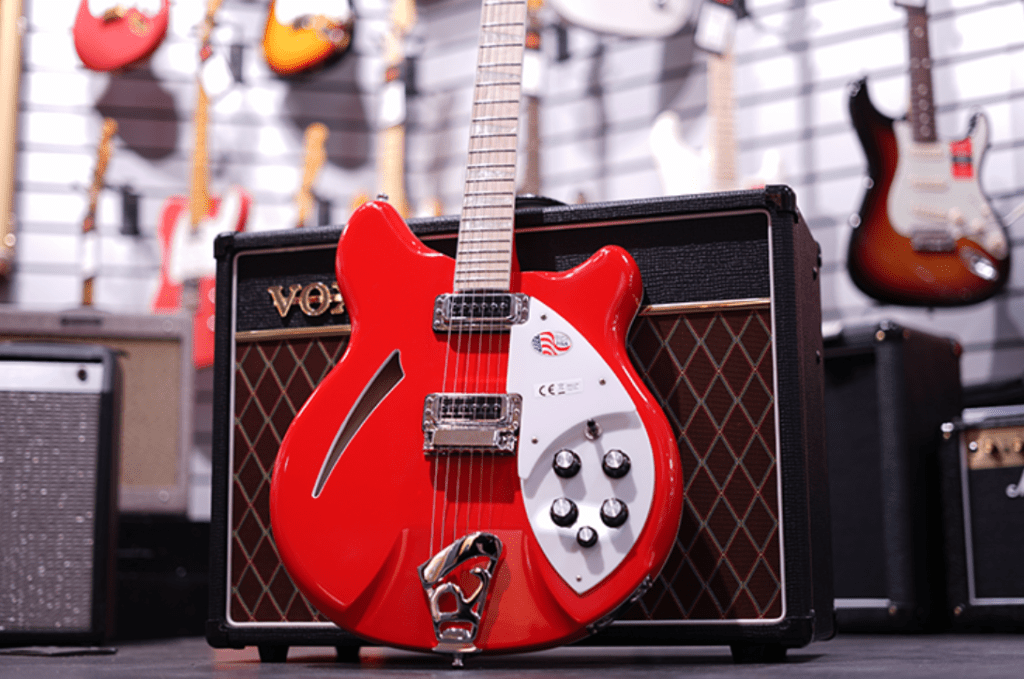 photo source: guitarguitar.co.uk
Where would rock and roll be today without the electric guitar? A better question: would it sound totally different than the sound we associate with it today?
No one could deny that rock wouldn't be the same at all without the electric guitar. Arguably, the Rickenback brand is to thank for the genre we know and love today, thanks to their invention of the electric guitar in 1935. Originally a steel or "Hawaiian" guitar, it revolutionized the music industry in subsequent decades.
The list of Rickenback players is seemingly endless, consisting of hundreds of famous artists who use (or have used) the guitar for their music.
Did you know?
Rickenbacker was the first guitar company to make the electric guitar—a steel guitar—in 1935, which was called The Frying Pan. By the time rock and roll took form in the 1950s, the company began building on its electric guitar offerings, expanding their production to accommodate the new genre.
---
4. Gibson
Production year: 1902
Most famous guitar: Les Paul
Best for: All genres
Products: Acoustic, electric, classical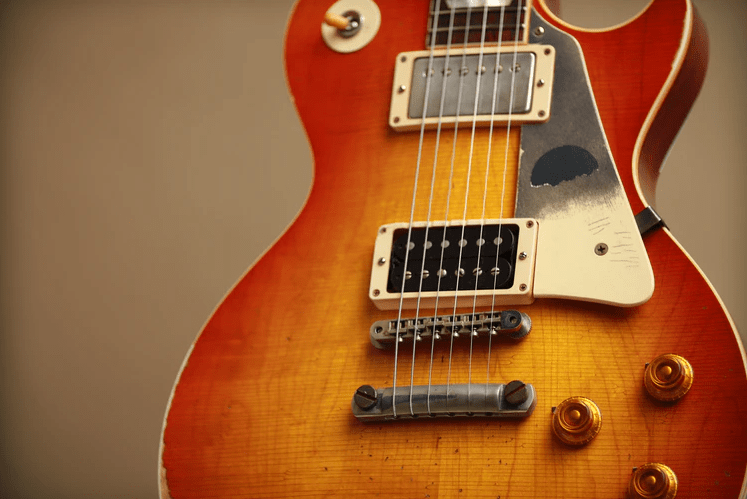 photo source: unsplash.com
For some, the model "Les Paul" may be even more renowned than its maker, Gibson.
Gibson has been a major name in the guitar and music arena for nearly 120 years, cranking out iconic guitar models such as the Les Paul, the Flying V, and the Explorer. Originally founded in 1902 in Kalamazoo, Michigan as the Gibson Mandolin-Guitar Mfg. Co. Ltd., the brand is now headquartered in Nashville, Tennessee—home of country music.
While the Gibson brand is primarily known for its state-of-the-art guitars, they also make and restore other string instruments, such as bass guitars, mandolins, and banjos. The Gibson company also owns Epiphone, Kramer, Maestro, Steinberger, and Tobias.
Did you know?
The Les Paul model was named after star guitarist, Les Paul, who enjoyed the height of his fame from the 1930s on. In the early 50s, he backed popular musicians such as Bing Crosby, performed at the White House, and cranked out several hits with his wife, Mary Ford, who was a famous singer at the time.
---
3. Yamaha
Production year: 1887
Most famous guitar: AES-620 SH Red Rocker
Best for: Jazz, contemporary, blues
Products: Acoustic, electric, classical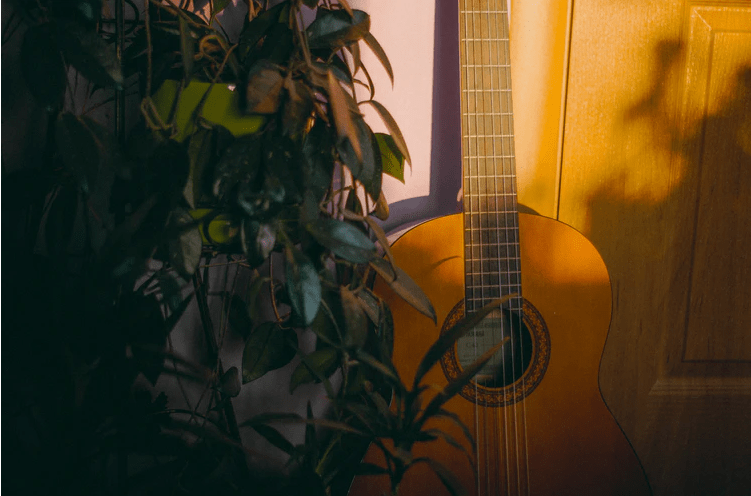 photo source: unsplash.com
While not as prominent of a guitar brand as some of the others mentioned, Yamaha produces some of the best guitars around. We've officially entered 19th century territory when it comes to guitar production—Yamaha was one of the first major names to manufacture high quality instruments.
Well-known for a range of musical instruments, a Yamaha guitar's sound quality is truly unparalleled across the board, but varies depending on the model. The brand makes guitars for every style, genre, and sound that a musician wants to achieve, producing rich tones and bright notes alike.
Yamaha guitars are great for musicians of all skill levels, but are an especially good choice for beginners due to how comfortable and player-friendly they are!
Did you know?
The Yamaha Corporation, to date, is the world's largest manufacturer of musical instruments, including pianos, drums, guitar, bass instruments, woodwinds, violins, violas, celli, and vibraphones. The brand has also expanded through the years to produce computer-related products, sporting goods, and home appliances.
---
2. Washburn
Production year: 1883
Most famous guitar: Dime 333
Best for: Blues, rock
Products: Electric, acoustic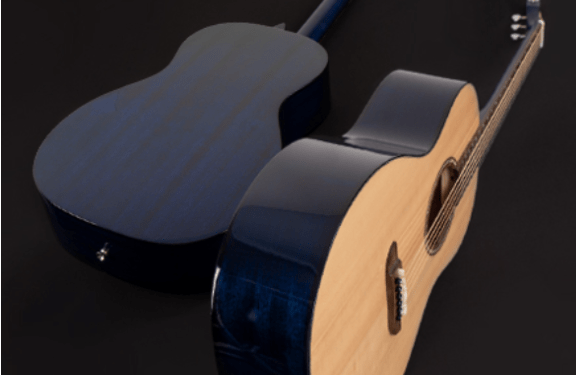 photo source: Washburn.com
Washburn guitars are one of the oldest brands established, and it has been crafting guitars for musicians for 130+ years from its hometown: Chicago. During the 1930s, the city became the center for the Delta Blues, a sound that is strongly associated with Chicago and with Washburn guitars, by extension. Thus, the brand began to create guitars that were specifically geared toward blues musicians.
Today, Washburn is a division of U.S. Music Corp, which has been owned by JAM Industries since 2009. They offer both expensive and cheaper models to accommodate a range of budgets, but even their cheaper guitars are known to have a high-quality sound.
Did you know?
The Washburn 22-Series Hawk, owned by Reggae musician Bob Marley, earns a place as one of the top 10 most expensive guitars in the world, as of 2021. Its value is an estimated $1.2 million to date.
---
1. CF Martin & Co.
Production year: 1833
Most famous guitar: D-28; Martin Dreadnought
Best for: Folk, country, blues, acoustic rock
Products: Acoustic, classical, electric (minimally)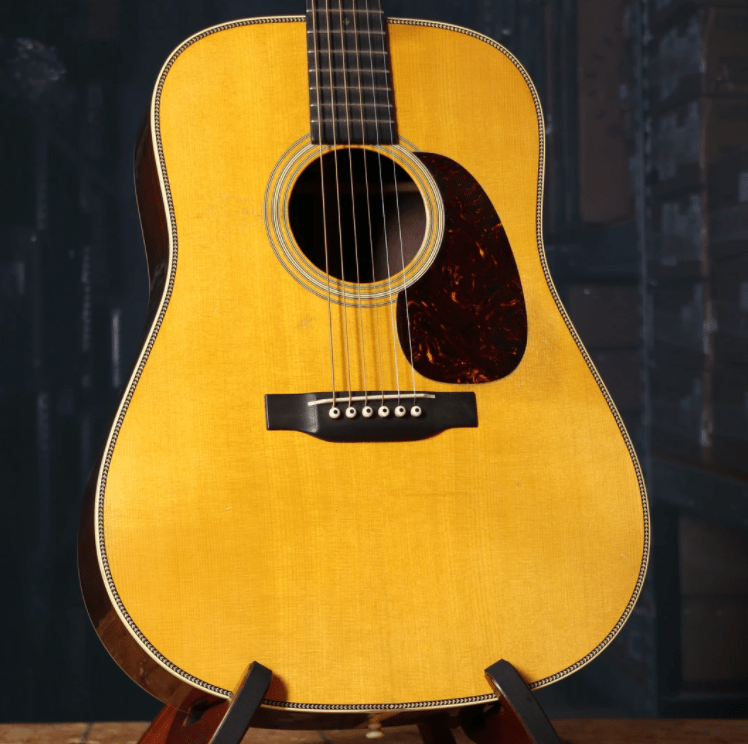 photo source: kenstanton.com
CF Martin & Co. is the oldest guitar brand. With a birth year of 1833, just 24 states were a part of the U.S. when the guitar was officially invented! It set the standard for the shape, sound, and other common qualities of the modern-day guitar.
The brand has survived nearly 200 years, and—now known as simply the Martin guitar—is still played today by famous artists, including Dierks Bentley, Elle King, Maroon 5, and Lewis Capaldi.
Martins are primarily known for their acoustic options and focus, but have dabbled in lesser-known electric models from time to time. They offer a fairly wide range of options for musicians with different budgets are also expensive guitars, ranging from $399 – $4,999.
Did you know?
Martin Guitars were among the first of guitar brands to ethically source the wood they use to make their instruments, using only "imperfect wood" for production. They place a heavy emphasis on sustainability, and care about their impact on the environment.
OTHER POSTS YOU MAY BE INTERESTED IN