Galway is a city with a rich history and vibrant nightlife. For centuries, pubs have been an integral part of the social scene in this Irish city, serving as gathering places for locals and travelers alike. If you're a history buff or love a good pint, you'll be fascinated by the 9 oldest pubs in Galway.
From centuries-old buildings to traditional music sessions, these pubs have stood the test of time and are popular destinations for visitors worldwide. So, whether you're looking for a cozy spot to enjoy a pint of Guinness or want to soak up some of Galway's rich history, these pubs should be on your list of places to visit.
Join us as we take a trip down memory lane and explore some of Galway's oldest and most iconic pubs.
9. The King's Head Pub and Bistro
Year Founded: 1989
Founder: Grealish family
Address: 15 High St, Galway, H91 AY6P, Ireland
Website: thekingshead.ie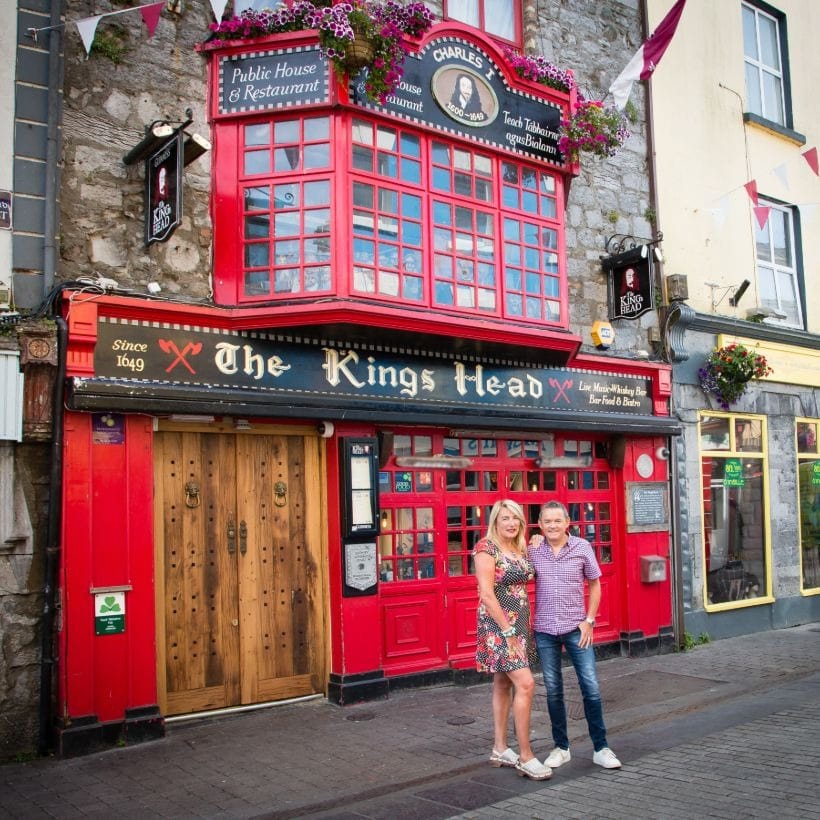 photo source: This is Galway
The King's Head Pub and Bistro is a well-known establishment in Galway, Ireland, founded in 1989 by the Grealish family. It is located at 15 High St, Galway, H91 AY6P, Ireland, and offers a traditional Irish pub experience with a modern twist. The King's Head Pub and Bistro is a popular spot for locals and tourists, offering a wide range of food and drinks.
The menu includes classic Irish dishes such as fish and chips, shepherd's pie, Irish stew, and vegetarian and gluten-free options. The pub also has a selection of craft beers, whiskeys, and cocktails.
In addition to its food and drinks, The King's Head Pub and Bistro hosts live music and entertainment throughout the week. It has become a hub for Galway's cultural scene, often frequented by artists, writers, and musicians.
Did You Know?
The King's Head Pub and Bistro has won several awards, including Best Traditional Pub and Best Gastropub in Galway.
---
8. Monroe's Tavern
Year Founded: 1964
Founder: John Monroe, Margaret Monroe
Address: 14 Dominick St Upper, Galway, H91 WD2H, Ireland
Website: monroes.ie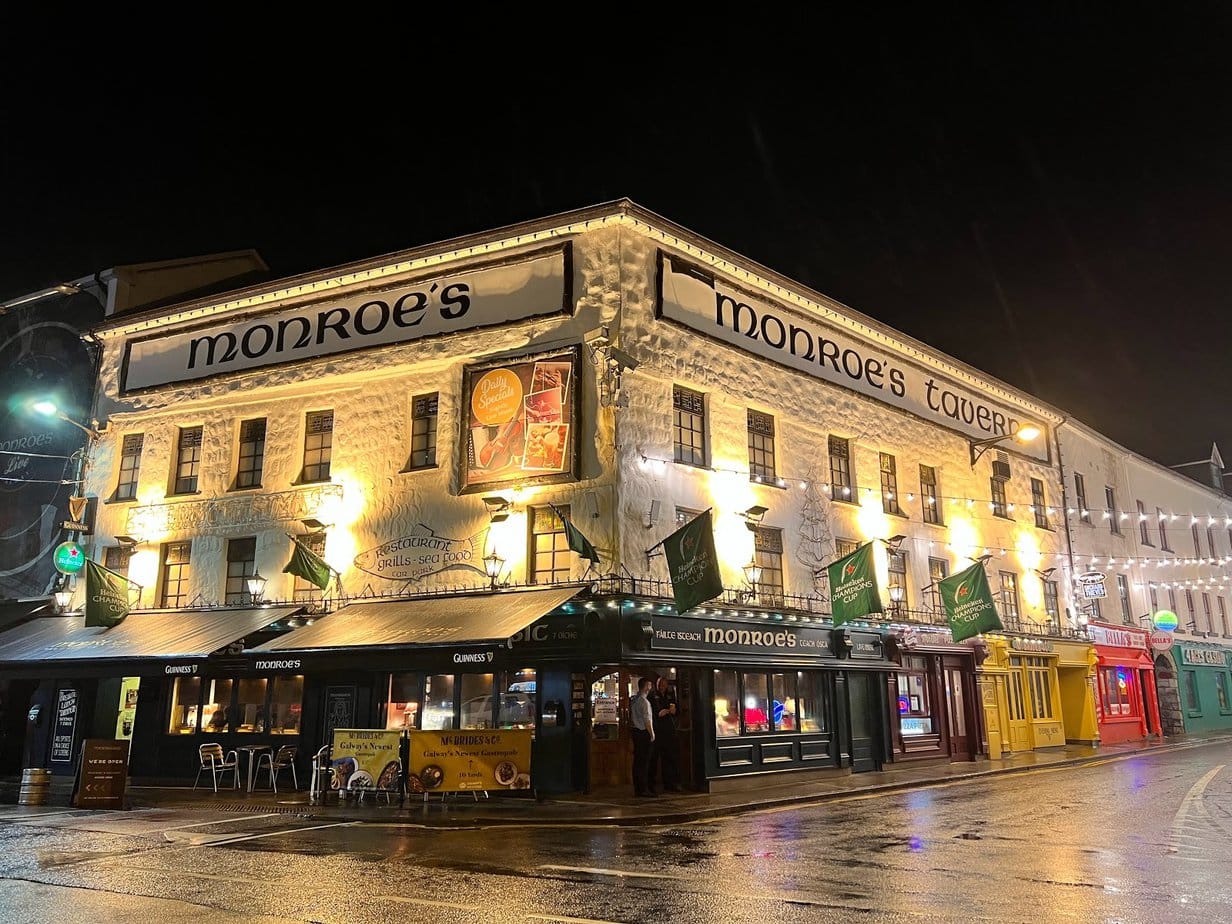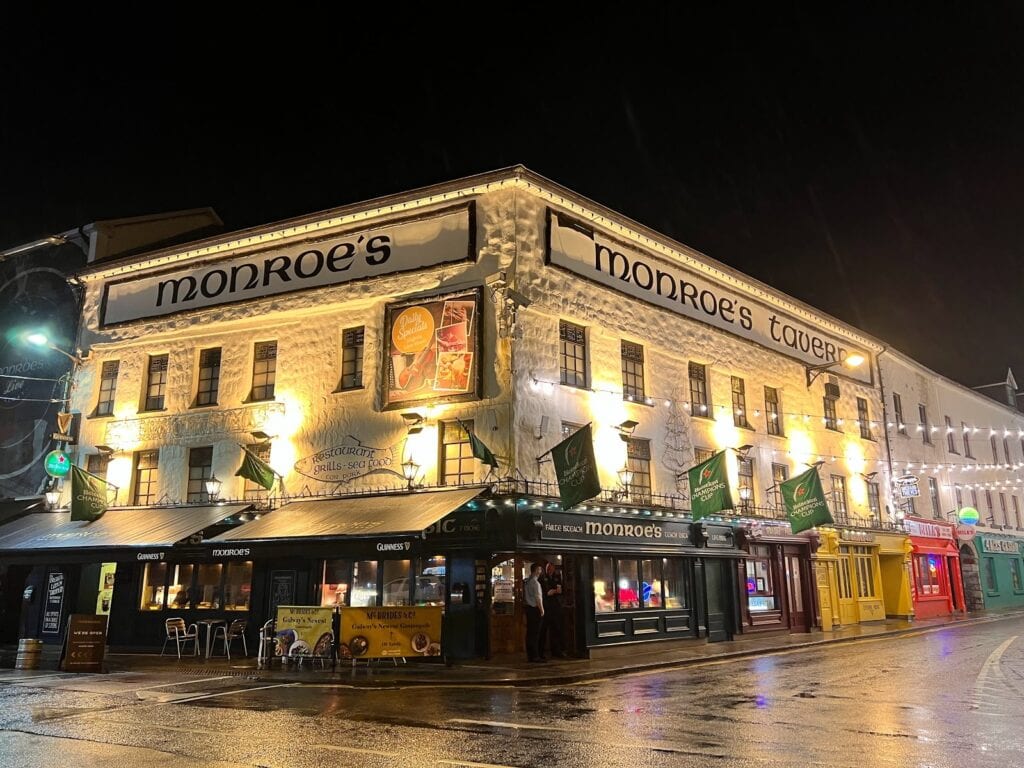 photo source: FANZO
Monroe's Tavern is a long-established bar and live music venue in Galway, Ireland. It was founded in 1964 by John Monroe and Margaret Monroe, and it has remained a popular destination for locals and visitors alike. Monroe's Tavern is known for its delicious pub food in both the main bar area and the performance space.
Over the years, Monroe's Tavern has become a key player in Galway's music scene, hosting performances by both local and international artists. The venue has also been a popular spot for comedians, DJs, and other performers, and it has a reputation for providing a diverse and exciting lineup of events.
Did You Know?
Famous Irish musician Van Morrison owned Monroe's Tavern in the early 2000s.
---
7. The Crane
Year Founded: 1930s
Founder: Paddy Smith, Angela Smith
Address: 2 Sea Rd, Galway, H91 YP97, Ireland
Website: thecranebar.com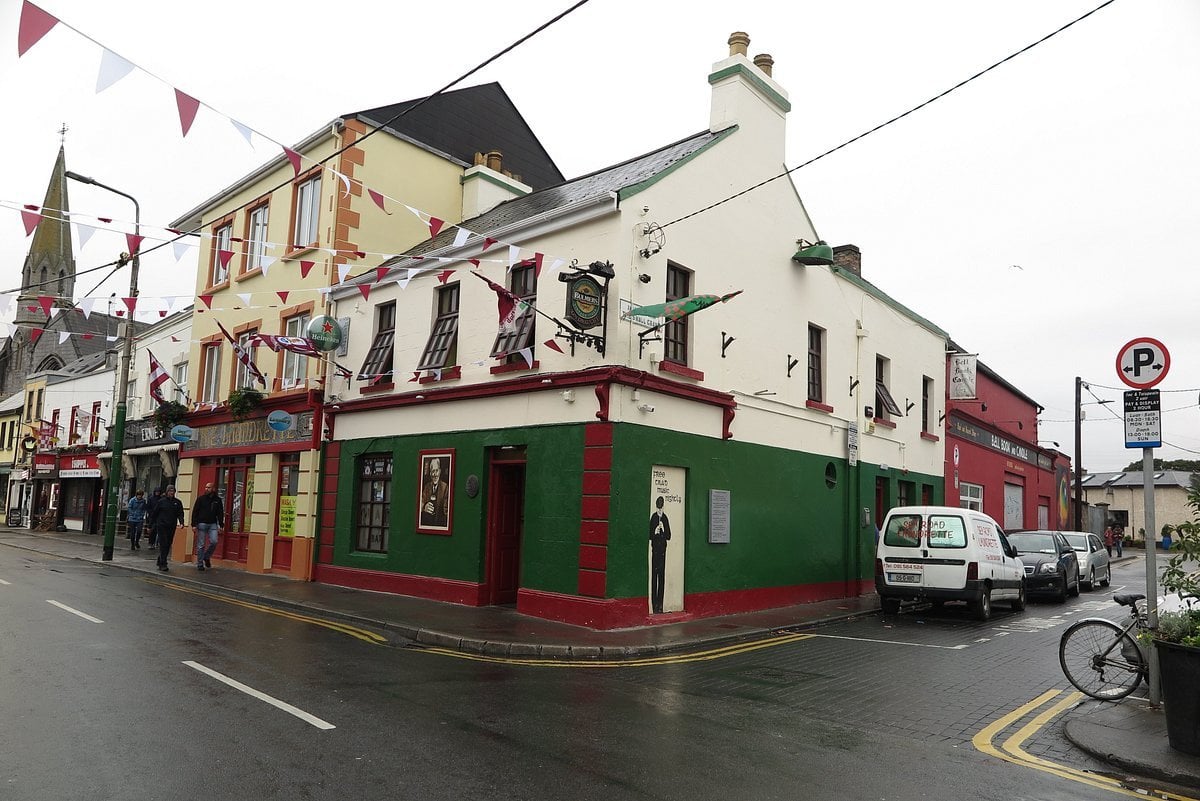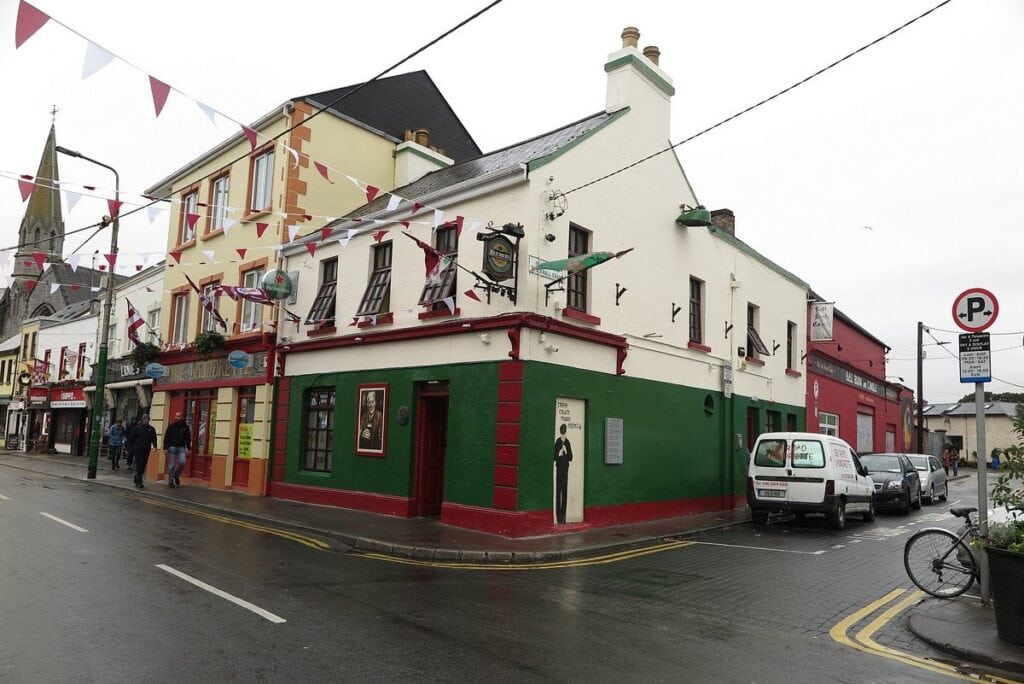 photo source: TripAdvisor
The Crane has a rich history that spans back over eight decades. Originally established as a traditional Irish pub in the 1930s, it quickly gained a reputation as a hub for local musicians and artists.
Paddy Smith and Angela Smith, passionate about traditional Irish music and culture, became the owners of The Crane in the 1960s. They helped establish the venue as one of Galway's premier live music and entertainment destinations.
Over the years, The Crane has hosted countless performances by local and international musicians, theatrical productions, poetry readings, and other cultural events. Its traditional Irish music sessions, which occur several times a week, are particularly popular with locals and visitors. These sessions are open to musicians of all skill levels and offer a unique opportunity for musicians to come together and share their love of Irish music.
Did You Know?
The pub's decor, which includes vintage photographs and musical instruments, adds to its cozy and inviting ambiance.
---
6. Tígh Neachtain
Year Founded: 1894
Founder: Richard Martin
Address: 17 Cross Street Upper, Galway, H91 F9F7, Ireland
Website: tighneachtain.com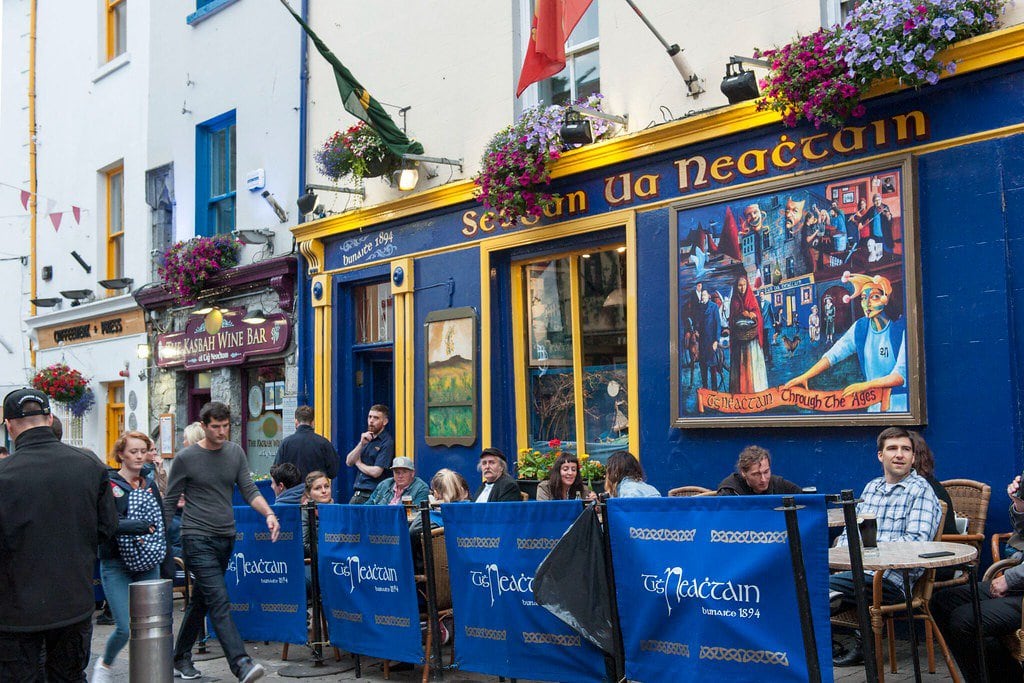 photo source: Flickr
Tígh Neachtain, located in the heart of Galway city in Ireland, has a rich history and cultural significance that draws locals and tourists alike. Founded by Richard Martin in 1894, the pub has remained a beloved institution in Galway's social scene for over a century.
The pub's reputation for great drinks and food, including classics like fish and chips and Irish stew, has only increased its popularity.
Beyond the food and drinks, Tígh Neachtain is known for its live music performances. The upstairs room regularly hosts talented Irish musicians, both established and up-and-coming. This has helped to cement the pub's reputation as a hub of cultural activity in the city. The pub's website provides information about upcoming events and a history of the venue and its founder.
Did You Know?
Tígh Neachtainis was named after a Galway merchant known for his philanthropic work and advocacy for the Irish language.
---
5. Murty Rabbit's Bar
Year Founded: 1872
Founder: Cormac O' Coinin
Address: 23 Forster St, Galway, H91 W1WK, Ireland
Website: Unspecified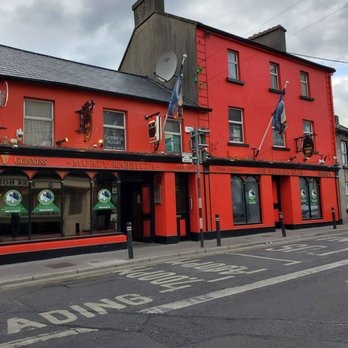 photo source: Yelp
Murty Rabbit's Bar is a historical and traditional Irish pub located in the heart of Galway, Ireland. The bar's interior is cozy and inviting, with warm lighting, wooden furnishings, and old photographs and memorabilia adorning the walls. The bar offers a wide selection of drinks, including local craft beers and ales, whiskey, gin, and other spirits.
In addition to drinks, Murty Rabbit's Bar serves pub food, such as Irish stew, fish and chips, and burgers. The bar also has a friendly and welcoming atmosphere, with patrons often conversing with each other and sharing stories and experiences.
Did You Know?
Live music is a regular feature at Murty Rabbit's Bar, with local musicians performing traditional Irish music and other genres in the evenings.
---
4. Taaffes
Year Founded: 1867
Founder: Unspecified
Address: 19 Shop St, Galway, Ireland
Website: taaffesbar.ie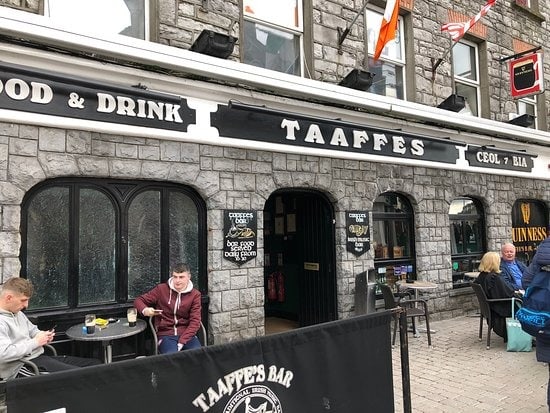 photo source: TripAdvisor
Taaffes is a historic Irish pub at 19 Shop St, Galway, Ireland. Taaffes is known for its traditional Irish pub atmosphere, low ceilings, dim lighting, and cozy seating areas. The bar has a wide selection of drinks, including a range of Irish whiskies and locally brewed beers. It also serves pub food, such as fish and chips, Irish stew, and burgers.
In terms of online presence, Taaffes has a website at taaffesbar.ie, where visitors can learn more about the pub's history, view its menu, and book a table. Overall, Taaffes is a must-visit spot for anyone looking to experience traditional Irish pub culture and enjoy a relaxed evening with good food, drinks, and music in Galway.
Did You Know?
Taaffes is said to have inspired the character of "The Dive Bar" in the book and movie adaptation of "The Commitments," a story about a fictional Dublin-based soul band.
---
3. O' Connell's
Year Founded: 1862
Founder: Maureen O'Connell
Address: 8 Eyre Square, Galway, H91 FT22, Ireland
Website: oconnells-bar-524733.webfom.com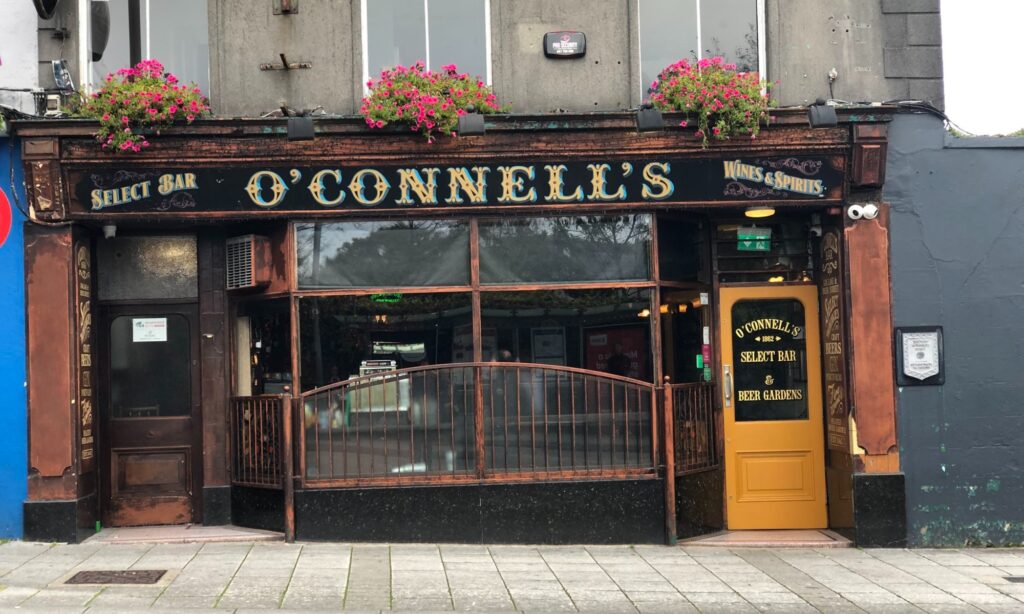 photo source: The Passenger
O'Connell's, a historic pub in the heart of Galway, is an establishment that locals and tourists have loved for more than a century. The pub was founded in 1862 by Maureen O'Connell, and its legacy has been carried forward by generations of patrons who have come to appreciate its unique charm and friendly atmosphere.
Upon entering the pub, one is greeted with an interior that is quintessentially Irish in its decor. The dark wood furnishings, stained glass windows, and cozy fireplace all create a warm and welcoming atmosphere. The pub's walls are adorned with photographs and memorabilia from years ago, providing a glimpse into the pub's rich history.
Did You Know?
One of the main attractions of O'Connell's is its wide selection of drinks. The pub offers a vast range of beverages, including Irish whiskey, local beers, spirits, and a variety of non-alcoholic drinks.
---
2. Garavans Bar
Year Founded: 1650
Founder: Garavan family
Address: 46 William St, Galway, H91 RX54, Ireland
Website: garavans.ie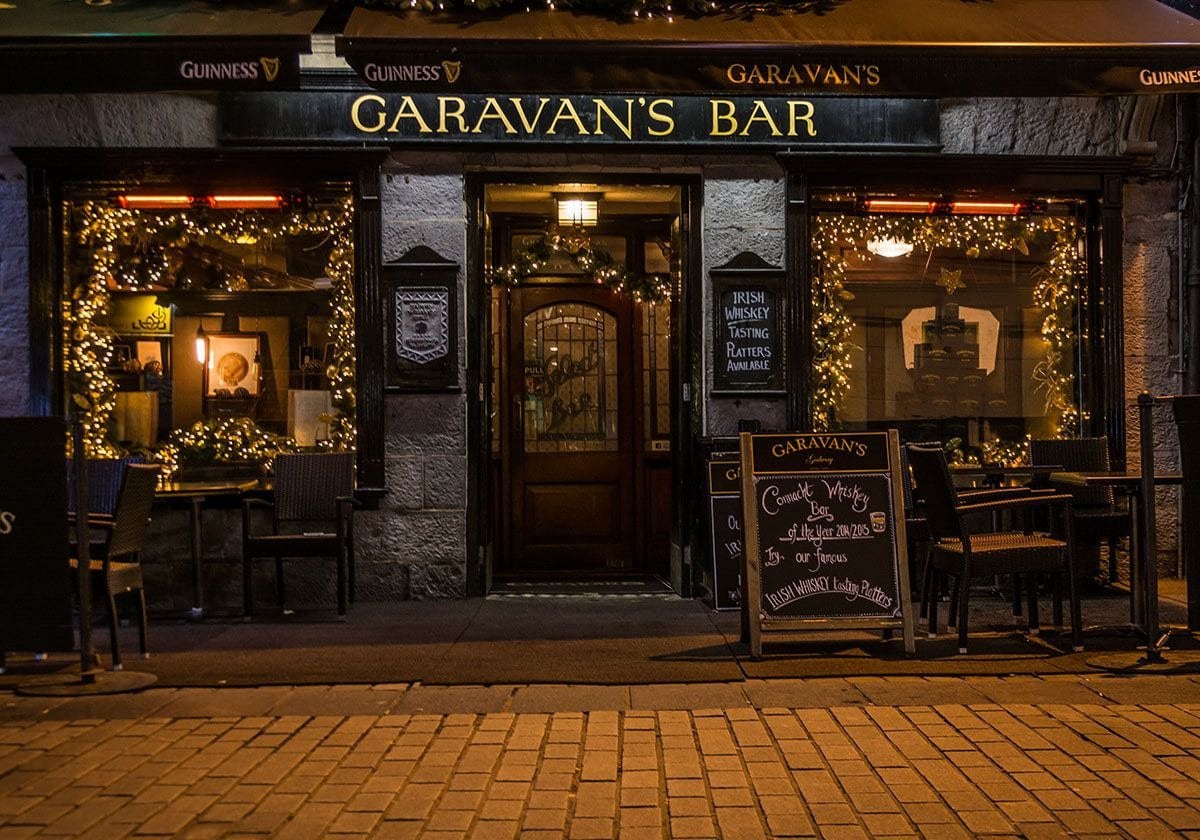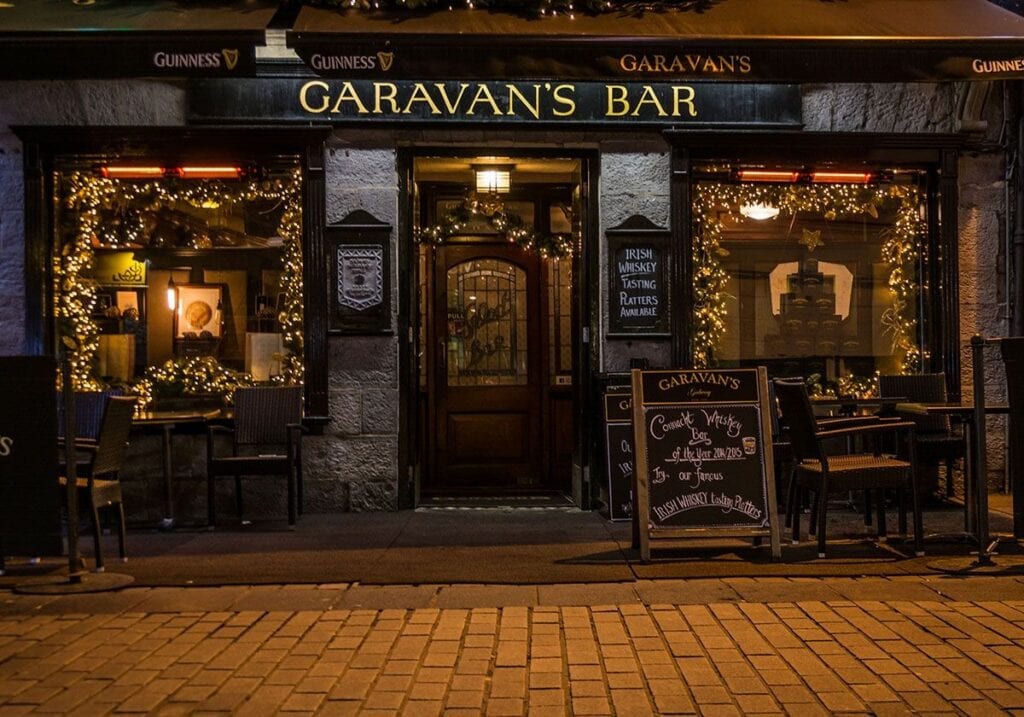 photo source: Twitter
Garavans Bar was founded in 1650 by the Garavan family, and it has been a cherished gathering place for locals and visitors for over three centuries. The pub is located on William Street, in the heart of Galway's vibrant city center, and it is renowned for its warm atmosphere, friendly service, and rich history.
Garavans Bar also hosts various special events and activities throughout the year. These include charity fundraisers, themed parties, and cultural festivals, which celebrate Ireland's rich history and traditions.
The pub's location in the heart of Galway's bustling city center makes it a popular destination for both locals and tourists, who come to experience the lively energy of the city and the warmth of its people.
Did You Know?
Garavans Bar has also earned a reputation for its commitment to quality and sustainability.
---
1. The Quays
Year Founded: c. 1620
Founder: Unspecified
Address: Quay Ln, Galway, Ireland
Website: quaysgalway.ie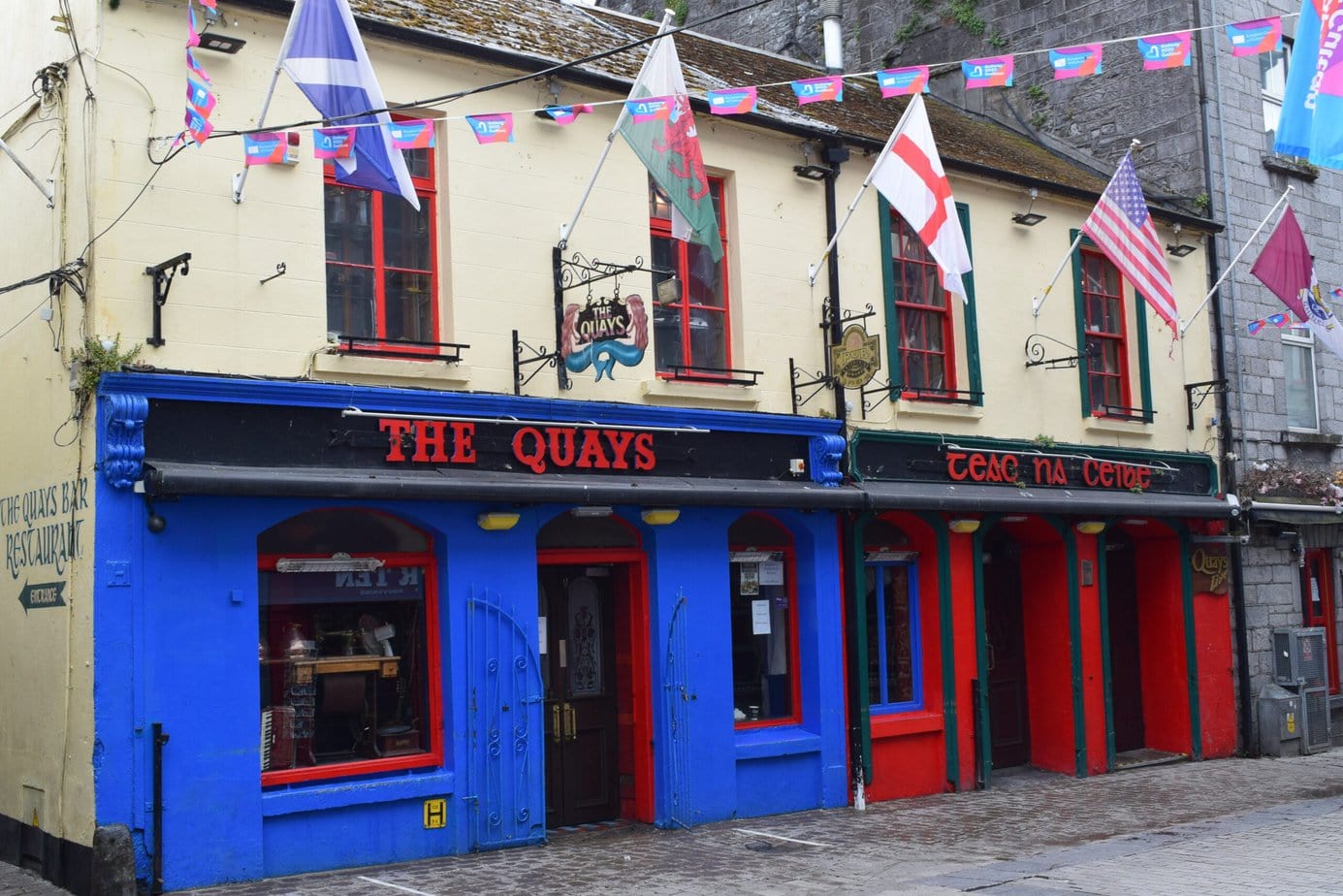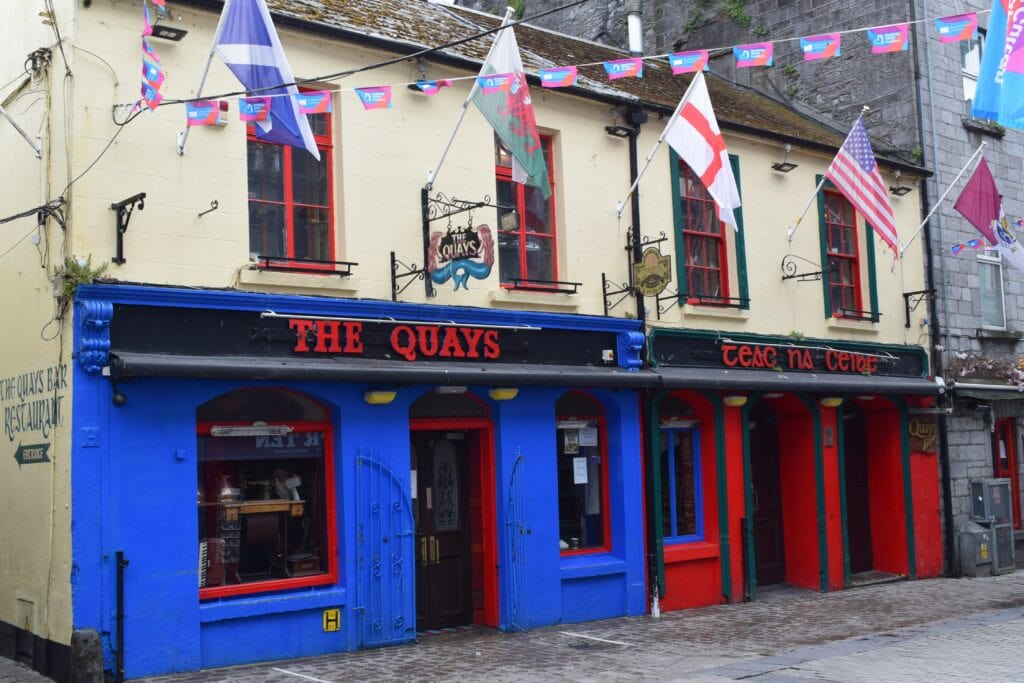 photo source: Wikimedia Commons
The Quays, a pub founded around 1620, is known for its commitment to sustainability and is considered the oldest pub in Galway. The pub has implemented various eco-friendly initiatives, such as using biodegradable straws and cups, recycling, and reducing water usage.
The Quays' dedication to sustainability has earned recognition from various organizations, and it has become a model for other businesses looking to reduce their environmental impact.
For those looking to host events or gatherings, The Quays has a private function room that can accommodate up to 80 people. The room is perfect for weddings, birthday parties, and other special occasions, and the pub's friendly staff members are happy to work with guests to create a tailored experience that meets their needs.
Did You Know?
The Quays regularly hosts fundraising events and has partnered with community groups for social inclusion.
---
OTHER POSTS YOU MAY BE INTERESTED IN