If you ask ten people what's their favorite food, at least seven will say pizza. Yet, society considered this revered meal the food of the poor people for a long time.
Today, many would describe it as a luxurious delicacy, proving that pizza has an intriguing history and evolution. The story of this dish likely started in South Italy, Gaeta, dating back to 997 B.C.
Emigrants were the first pizza lovers, but that changed after World War II. Allied troops contributed to this food becoming more popular, as they enjoyed eating it while stationed in Italy.
However, some sources claim that modern pizza started as Pizzarelli or kosher cookies that Roman Jews ate after returning from the synagogue. Others believe focaccia is the origin of the pizza we know today.
But the first official mentions of this dish are from 16th century Naples, the period when pizza was only a street food well-off people avoided. Nonetheless, the Spanish are responsible for the modern pizza recipe, as they brought the tomato from the Americas and created the well-known taste millions love.
This article will identify the oldest pizza based on the longest-standing pizzerias and first historical mentions.
10. Pizza from Regina Pizzeria
Date of origin: 1926
Place of origin: Boston, Massachusetts, USA
Main ingredients: Cheese, mushrooms, peppers, onions, and anchovies
photo source: pizzahalloffame.com
Regina Pizzeria welcomed its first guests in Boston's residential North End, introducing their original family recipes. Their pizzas typically included a small topping variety: onions, peppers, mushrooms, cheese, and anchovies, but they also implemented pepperoni afterward.
Even though it started as a neighborhood restaurant, Regina was successful from the beginning due to making pizzas with a Neapolitan-style thin crust and growing their own veggies.
Even though the Polcari family opened this pizzeria in the early 20th century, they still run it with the same consistency and dedication.
Did You Know?
The oldest pizza, named Regina, is also the most famous in this restaurant and is available at all of Polcari's locations. This brick oven pizza is based on an authentic family recipe, but Regina pizzeria also serves authentic Italian cuisine.
---
9. Pizza from Frank Peppe Pizzeria Napoletana
Date of origin: 1925
Place of origin: New Haven, Connecticut, USA
Main ingredients: Tomatoes with grated pecorino romano cheese, garlic, oregano, and olive oil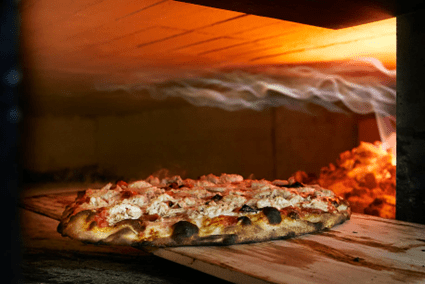 photo source: Washington Post
Frank Pepe, an Italian immigrant, dreamed of opening his restaurant much before he started selling his tomato pies on the market in New Haven.
After finally saving enough money, Pepe took over his employer's business and renamed it Frank Pepe Pizzeria Napoletana.
Pepe's first pizza is known as the New Haven-style thin-crust apizza, baked in a coal-fired brick pizza oven. But he started with two pizza varieties — the tomato pie and pizza with anchovies.
Did You Know?
The first pizza Frank Pepe made didn't contain mozzarella. Even today, Frank Pepe Pizzeria Napoletana chefs advise people not to order with cheese because it makes pizza too heavy and rich.
---
8. Pizza from Totonno's Pizzeria Napolitana
Date of origin: 1924
Place of origin: New York City, NY, USA
Main ingredients: Handmade mozzarella, daily made dough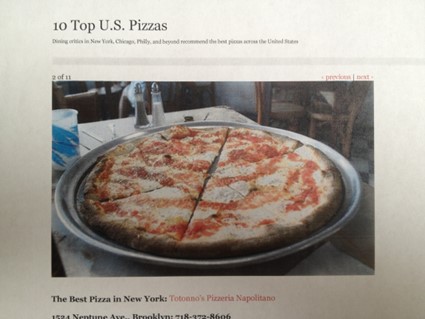 photo source: Totonnos Coney Island
This Coney Island restaurant is the oldest continuously operating pizzeria in the USA, and its story started with an Italian family immigrating from Naples.
Anthony (Totonno) Pero first made pizzas for Lombardi's grocery store in Manhattan, becoming the first pizzaiolo.
The oldest pizza in Totonno's Pizzeria Napolitana included handmade mozzarella and fresh dough, the same ingredients they use today.
In general, this restaurant still makes pizzas the same way it did in 1924 — using a coal-fired brick oven, as new coal ovens don't pass NY's current environmental laws.
Did You Know?
Totonno family claims passion is the most significant ingredient for their pizzas and why their pizzeria is among the longest-running in the world. Moreover, they rarely change anything in the restaurant, ensuring people can taste the same pizza today they would 98 years ago.
---
7. Pizza from O'Scugnizzo's Pizzeria
Date of origin: 1914
Place of origin: Utica, NY, USA
Main ingredients: Handmade sauce and dough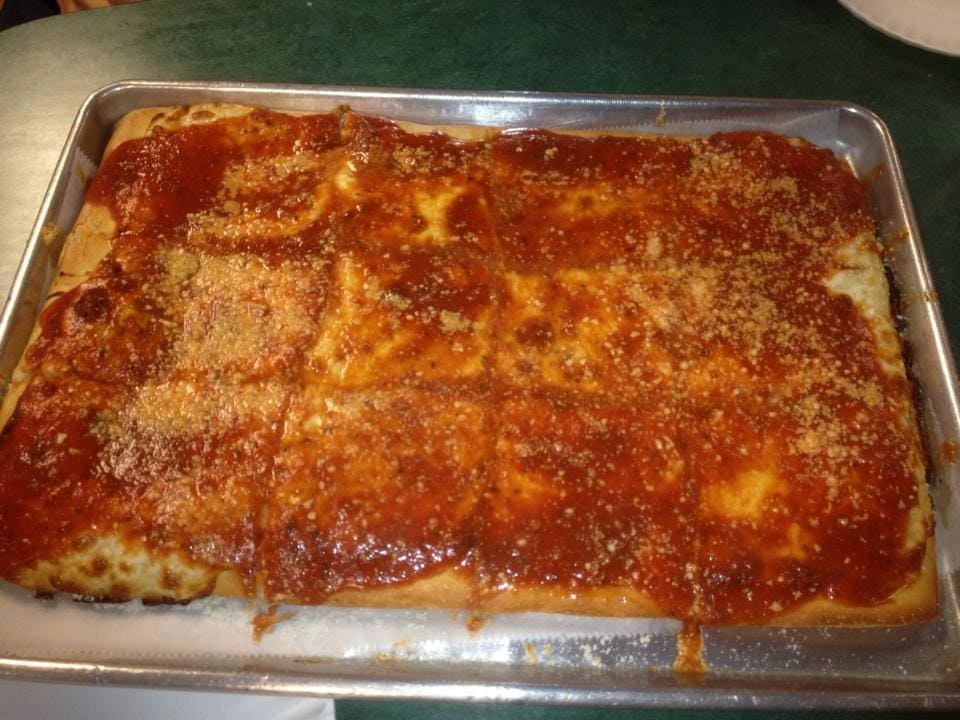 photo source: Utica Pizza
Eugeno Burlino opened O'Scugnizzo's Pizzeria more than 100 years ago, and it was known as Eugeno Burlino Pizzeria initially.
O'Scugnizzo's oldest pizza is a tomato pie (a pizza without mozzarella cheese), but the restaurant is also well-known for its square pizza, the first one in Utica.
Even though Eugeno passed away long ago, his son, Angelo Chops Burlino, took over the business. However, Angelo follows his father's recipes and adds passion to every pizza he makes, explaining why many people call this pizzeria the Pizza King.
Did You Know?
The upside-down pizza is among the oldest pizzas in the world and O'Scugnizzo's. This pizza has sauce on top of cheese and toppings on the bottom.
---
6. Pizza from Papa's Tomato Pies
Date of origin: 1912
Place of origin: Trenton, New Jersey, USA
Main ingredients: Pizza dough, tomato sauce, cheese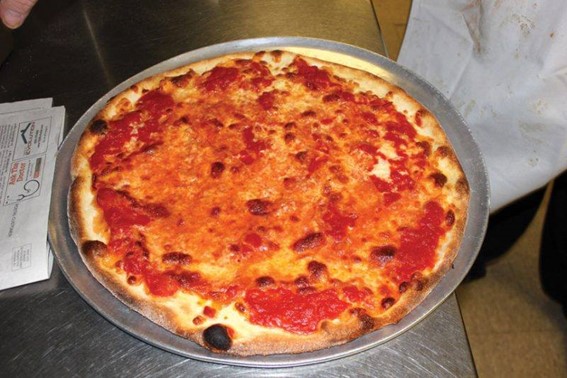 photo source: Papa's Tomato Pies Facebook Fan Page
Papa's Tomato Pies is the oldest continuously family-owned pizza restaurant in the USA and the home of mustard pie. However, Trenton tomato pie is the oldest pizza in this pizzeria, and Papa's Tomato Pies was the second in the world to introduce it to their menu.
Even though most people consider it the same as pizza, Trenton tomato pie has a different making process. The latter is typically circular and has a thin-crust variety and cheese.
Thus, chefs put the mozzarella and toppings first, and only then the tomato sauce.
Did You Know?
Giuseppe Joe Papa made his first pizza when he was just a boy. But the process of making it didn't change, and Papa's Tomato Pies pizzas still taste as they did in 1912, thanks to using the handmade sauce and meatballs, fresh-cut mozzarella, peeled and cut tomato, and olive oil.
---
5. Pizza from Lombardi's
Date of origin: 1905
Place of origin: New York City, NY, USA
Main ingredients: Purist tomato sauce, fresh whole milk mozzarella, basil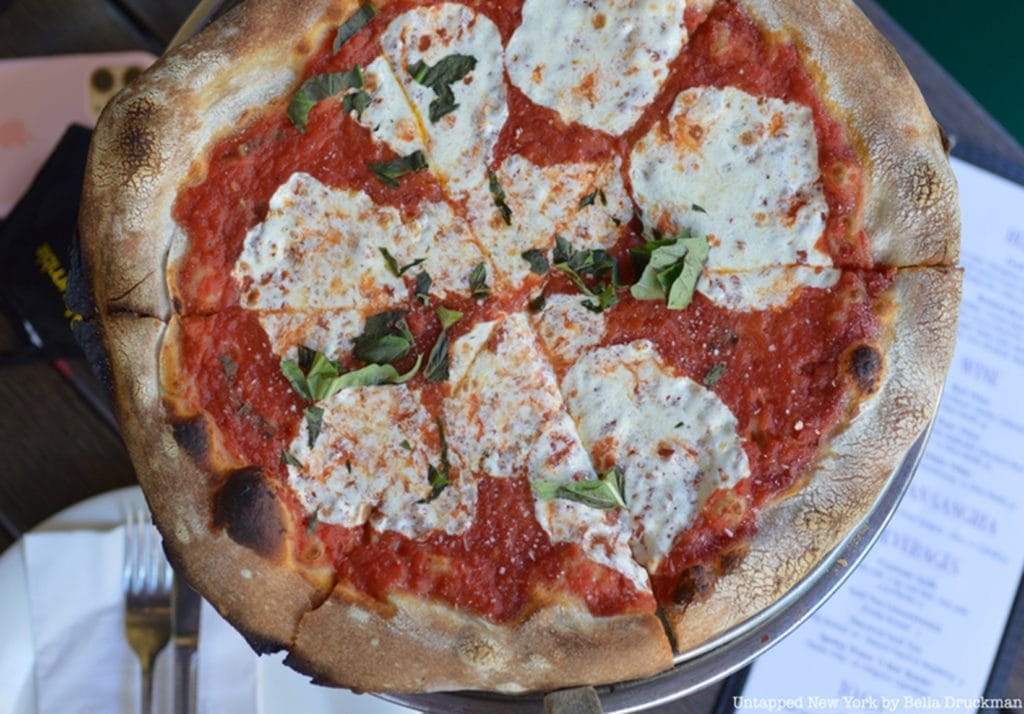 photo source: Untapped Cities
The original Lombardi's is America's first pizzeria, and its story began when the Italian immigrant Gennaro Lombardi opened a grocery store on Spring Street in 1897.
However, this restaurant closed between 1984-1994, surrendering the title of the oldest continuously running pizzeria to Papa's Tomato Pies in New Jersey.
The oldest pizza in Lombardi's are the tomato pies, and Gennaro first sold them to workers from the area's factories during lunchtime. But the restaurant became famous thanks to their unique Margherita pizza recipe, the one they haven't changed all these years.
Did You Know?
Lombardi is credited with developing New York Style pizza, and the Pizza Hall of Fame celebrates his pizza as the oldest in the country. Moreover, Lombardi's chefs still use the original Margherita recipe – fresh mozzarella, tomato sauce, light dough, and sweet basil.
---
4. Pizza from Lombardi Pizzeria 1892s
Date of origin: 1892
Place of origin: Naples, Italy
Main ingredients: Provolone cheese, tomato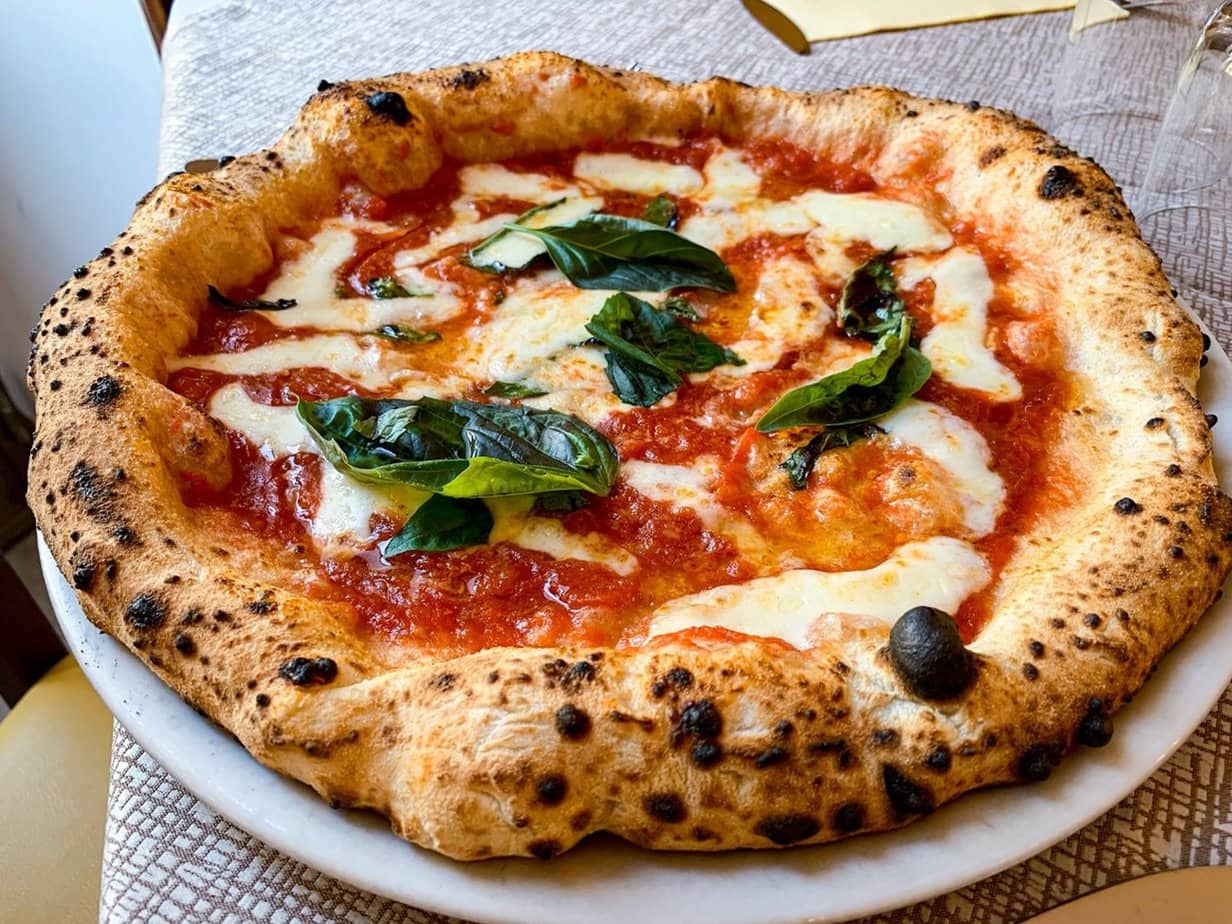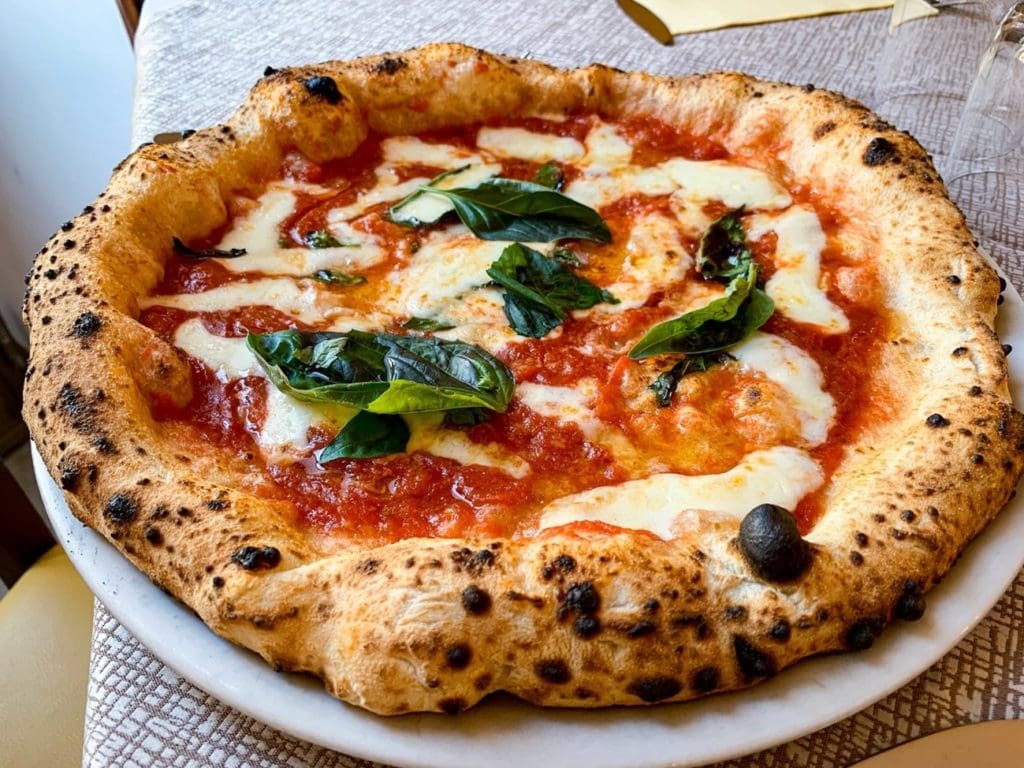 photo source: Pizzeria Lombardi Facebook Fan Page
Errico Lombardi opened Lombardi Pizzeria with his family in 1892, right before the turn of the century. Before starting his pizza business, Errico explored the New World with his brother and wanted to make a fortune.
His brother, Gennaro, stayed in the USA and opened Lombardi's pizzeria, but Errico returned to his beloved Naples and started the restaurant with his son.
Today, the Lombardi family still runs this pizzeria, using the same tasty recipes they used in 1892.
Did You Know?
Pizza with provolone cheese is among the oldest dishes in Lombardi Pizzeria and guests' favorites. However, their other recipes include similar ingredients, such as bright tomatoes and fresh basil.
---
3. Pizza Margherita by Raffaele Esposito
Date of origin: 1889
Place of origin: Naples
Main ingredients: Tomato, basil, mozzarella cheese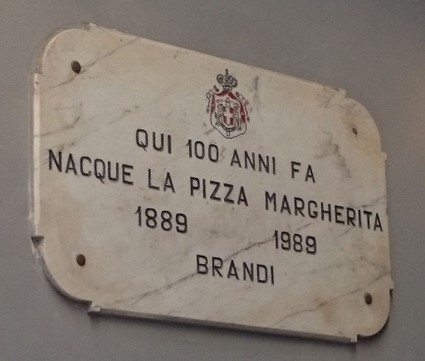 photo source: Wikipedia
Raffaele Esposito was an Italian chef who owned a tavern called Pizzeria di Petro e basta così, and Neapolitan people considered him the premier pizza-maker.
Because of that, he received a request to prepare a pizza for Queen Margherita of Savoy, who was visiting Naples with King Umberto I.
The queen enjoyed most the pizza with tomatoes, mozzarella cheese, and basil, inspiring Esposito to name this dish Pizza Margherita and use it to promote his restaurant.
Even though historians consider the legend of Pizza Margherita false history, many people still call Raffaele Esposito the father of modern pizza and inventor of Margherita.
Did You Know?
It's unclear whether Esposito is indeed the creator of pizza Margherita since various sources indicate pizzas with the same toppings were already present in Naples between 1796 and 1810. But many people also believe Esposito was the first pizza master who made this dish with mozzarella cheese.
---
2. Pizza from L'Antica Pizzeria Da Michele
Date of origin: 1870
Place of origin: Naples
Main ingredients: Tomato, leaven dough, garlic, oregano, basil, mozzarella.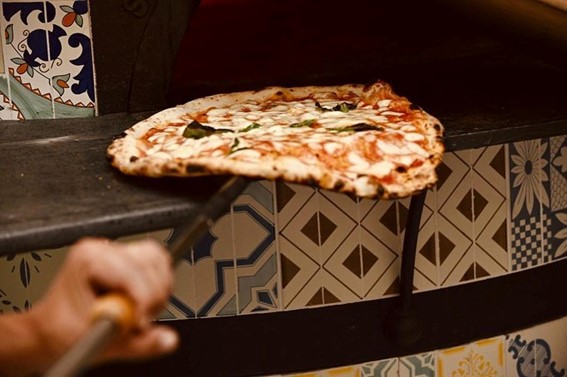 photo source: Da Michele Facebook Fan Page
Family Conduro, led by Salvatore, started a long tradition of pizzaiolo masters by opening a pizzeria in the center of Naples in 1870.
However, Michele Conduro, Salvatore's son, perfected the pizza-making art by learning from famous Torre Annunziata masters and taking his recipes to the next level.
Even though the restaurant has different management, L'Antica Pizzeria da Michele is still run by family Conduro and uses the same ingredients as Michele.
The oldest two in this pizzeria are also the only two pizzas they serve — Margherita and Marinara.
Did You Know?
L'Antica Pizzeria da Michele is unique because it has always served only two pizza variations, as they want to preserve their pizza's unique flavor and authenticity. They use only natural ingredients and the ancient, proven method of leavening the dough to make their Margherita and Marinara pizzas.
---
1. Pizzas from Antica Pizzeria Port'Alba
Date of origin: 1738
Place of origin: Naples
Main ingredients: Lard, sheep milk cheese, basil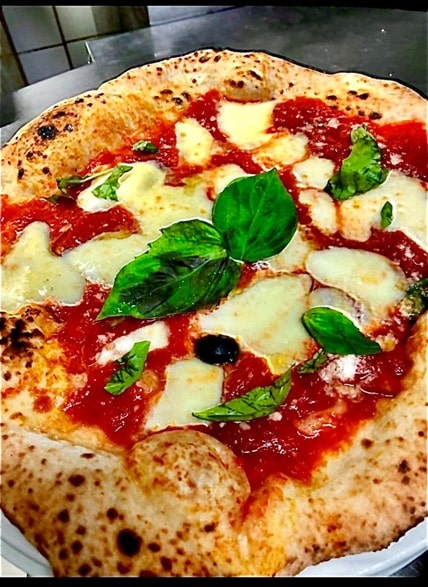 photo source: Antica Pizzeria Port Alba
Antica Pizzeria Port'Alba is considered the first pizzeria in the world, and likely served the oldest pizza credible sources can track.
This restaurant quickly became the principal meeting point for Neapolitan men, and it replaced street vendors who made pizza in wood-fired ovens and brought it onto the street.
But the principal patrons of Antica Pizzeria Port'Alba were students, artists, and other underprivileged people, explaining why their oldest pizza had simple toppings – oil and garlic. The Mastunicola is among the oldest pizzas in this pizzeria, and it was made from lard, sheep milk cheese, and basil.
Did You Know?
Customers could pay for the oldest pizza in Antica Pizzeria Port'Alba eight days after their meal back in 1738. This system was known as pizza a otto.