Beer is one of humanity's oldest drinks and dates back to at least the 5th millennium BCE. We know that beer dates to around this time because there are written records of the drink from the ancient Egyptians and ancient Mesopotamian civilizations. The earliest commercial breweries emerged in these civilizations around 2500 BCE.
While none of the breweries on this list are quite that old, they are all centuries old and still running. The two oldest breweries on this list are nearly 1,000 years old!
Almost all of the breweries on this list started out as part of monasteries/abbeys. Monks had breweries with dedicated equipment and used the beer not only for their own consumption, but as payment. While most of the breweries are no longer attached to functioning monasteries, they all maintain their brewing traditions and even have beers dedicated to their founding monks.
10. Hubertus Brewery
Year Established: 1454
Country of Origin: Laa an der Thaya, Austria
Available Beers: 1454 Jubiläumsbräu; Biersyphon; Dunkel; Easy Pils; Festbock; Gerstengold; Herrnpils; Hirschel; Keltenbier; Lager Classic; Märzen; Pils; Privat; Radler; Spezial; Zwickl; Zwickl Festbock; Zwickl Hernpils; and Szigeti Chambier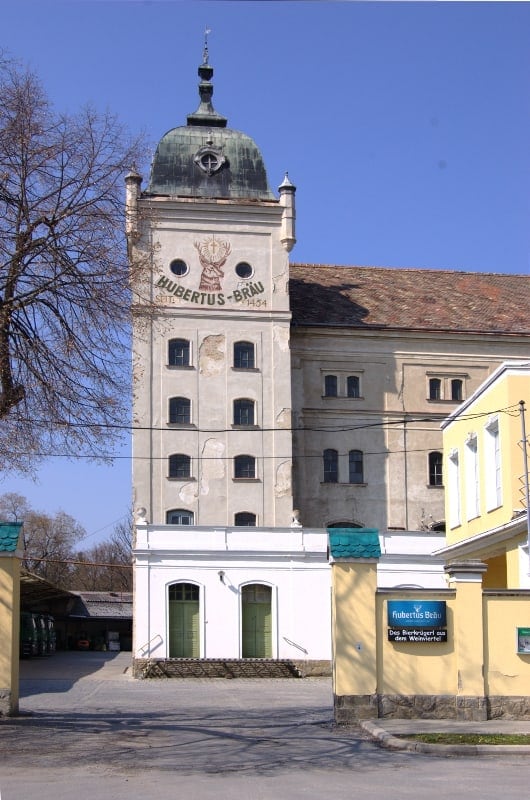 photo source: Wikimedia Commons
The history of Hubertus Brewery dates back to 1454 in Laa an der Thaya, Austria. In the decade prior, the city suffered and to revive the economy, the leaders of the city sought a brewing license. It was finally awarded to them in 1454 by Ladislaus Posthumus, Duke of Austria, King of Bohemia and Hungary. In return for the license, the King asked that the city give him a barrel of beer on all high holidays.
For the next four centuries, the city of Laa leased the right to brew beer from the King, but in 1847, Anton Kühtreiber bought the brewing rights from the city and established Hubertus Bräu. Today, the company is owned by the sixth generation of the Kühtreiber family.
---
9. Spaten Brewery
Year Established: 1397
Country of Origin: Munich, Germany
Available Beers: Oktoberfestbier; Alkoholfrei; Dunkel; Light; Maibock/Premium Bock; Munich Club-Weissbier; München; München Hell; Oktoberfestbier Ur-Märzen; Optimator; and Pils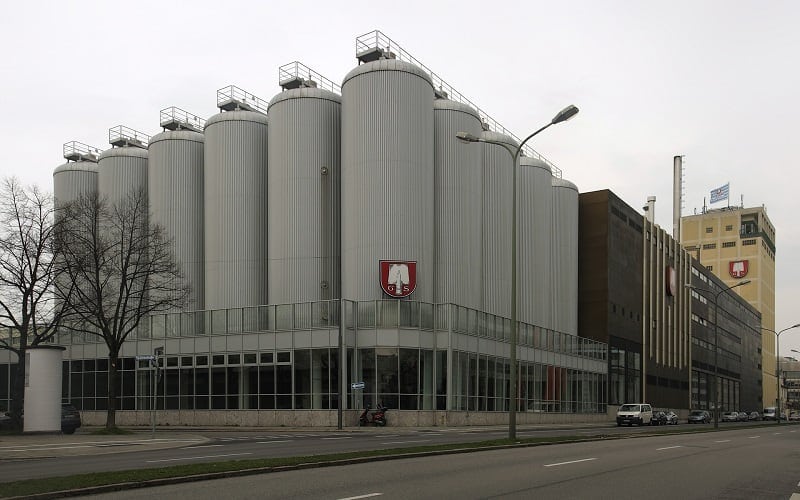 photo source: Wikimedia Commons
The Spaten Brewery is credited as being one of the most important breweries in the development of lager brewing. The brewery was first founded in 1397 by Hans Welser and remained in his family until 1522. Over the next few centuries the brewery changed ownership until Munich's most prestigious brewing family, the Sedlmayrs, acquired it in 1807.
Gabriel Sedlmayr, who was the brewmaster for Germany's royal court, turned the company into Munich's lead brewery. After the elder Sedlmayr's death, his sons Gabriel and Joseph took over the brewery. Joseph left to buy Leist brewery and Fraziskaner after that. In 1922, Spaten merged with the Franziskaner Leist brewery to form Spaten-Franziskaner-Leistbräu. The now-merged company was purchased by Anheuser-Busch InBev in 2003.
---
8. Stella Artois
Year Established: 1366
Country of Origin: Leuven, Belgium
Available Beers: Pale Lager (Pilsner) and Cidre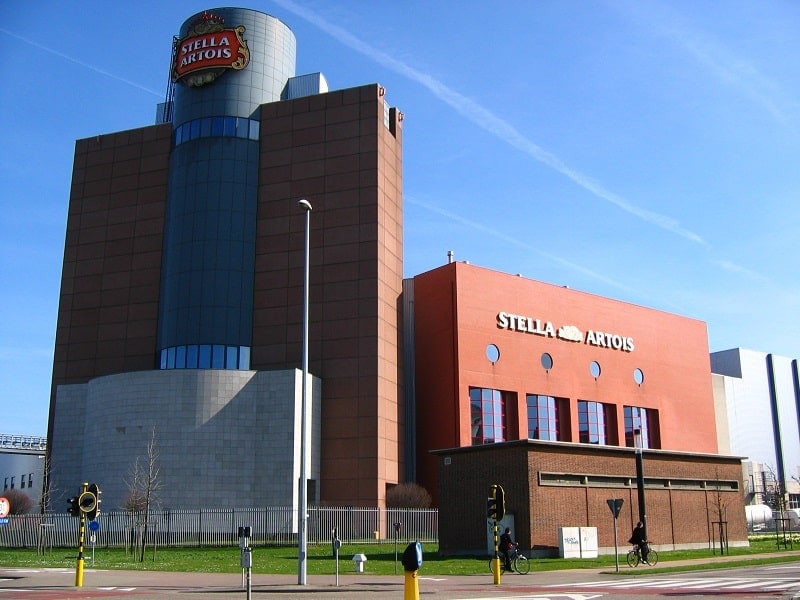 photo source: Wikimedia Commons
Stella Artois' origins date back to 1366 when the Den Hoorn brewery was founded in Leuven, Belgium. Den Hoorn established the brand's quality which is still present in Stella Artois' products. In 1708, Sébastien Artois became the head brewer of Den Hoorn and in 1717, he purchased the brewery. He changed its name to Brouwerij Artois. To honor the brewery's origins, Artois kept Den Hoorn's last name on the brewery and Den Hoorn's symbol is still a part of Stella Artois' logo.
The first batch of beer to be called "Stella" was brewed in 1929 as a special Christmas beer and was named after the Christmas Star. Brouwerij Artois was a founding member of Interbrew in 1988. Interbrew merged to form InBev in 2004 and today Stella Artois is owned by the Anheuser-Busch InBev (AB InBev) brewing company.
---
7. Franziskaner Weissbier
Year Established: 1363
Country of Origin: Munich, Germany
Available Beers: Hefe-Weissbier Naturtrüb; Hefe-Weissbier Dunkel; Franziskaner Royal; Weissbier Kristallklar; Hefe-Weissbier Lecht; Franziskaner Natur Russ; Franziskaner Kellerbier; Franziskaner Alkoholfrei; Franziskaner Alkoholfrei Holunder; Franziskaner Alkholofrei Zitrone; Franziskaner Alkholofrei Blutorange; and Perfect Draft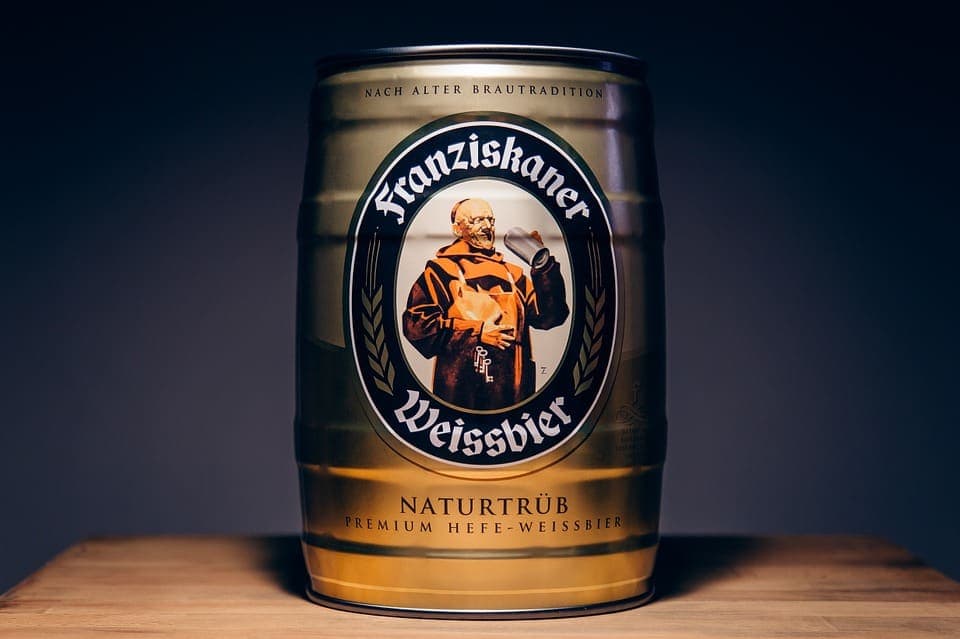 photo source: maxpixel.freegreatpicture.com
Franziskaner Weissbier started around 1363 and is named for the Franciscan monastery which was nearby. The brewery moved locations, but retained its original ownership until 1861 when Joseph Sedylmayr became the company's sole owner. He had previously bought stocks in the Franziskaner brewery in 1858 and owned another brewery called Leist. In 1865 the Leist brewery was shut down and all of its production was moved to the Franziskaner brewery, which became Franziskaner Leist Bräu.
The company trademarked its iconic monk logo in 1909 under the direction of Gabriel Sedylmayr III. Franziskaner Leist Bräu merged with the Spaten brewery, which was also owned by the Sedylmayr family, in 1922 – the company changed its name to Spaten-Franziskaner-Leistbräu AG.
The current owner of Spaten-Franziskaner group is company AB InBev (Anheuser-Busch InBev), which includes such brands as Budweiser, Corona, Stella Artois, and Beck's.
---
6. Augustiner-Bräu
Year Established: 1328
Country of Origin: Munich, Germany
Available Beers: Lagerbier Hell; Edelstoff; Heller Bock; Weißbier; Pils; Oktoberfestbier; Maximator; and Dunkel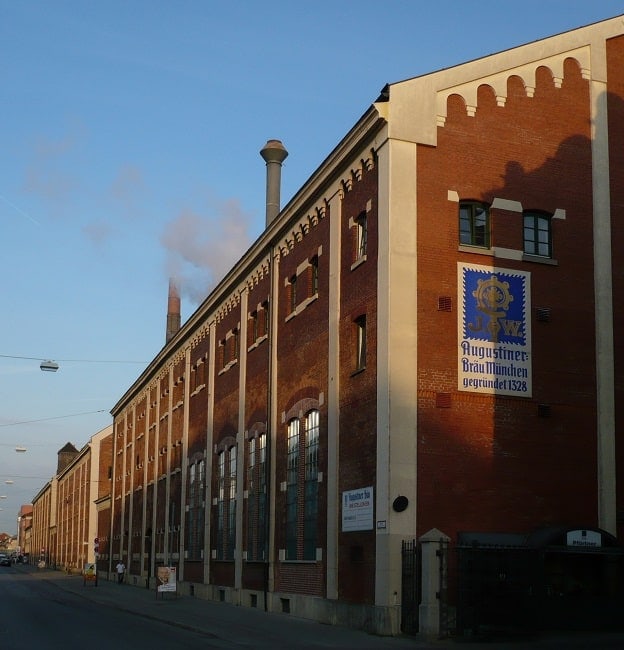 photo source: Wikimedia Commons
Augustiner-Bräu dates back to the early 14th century when Augustinian Hermits built a brewery just outside of Munich, Germany near their monastery. The brewery was first mentioned in 1328 and this is the date that Augustiner uses for its founding year. For the next few centuries the monastery supplied the Bavarian Royal Wittelsbach family with beer until 1589, when they founded their own brewery called Hofbräuhaus.
The Augustiner brewery remained in its original building (even after the monks were forced to leave the monastery in 1803) until 1817. It was moved to Neuhasser Strasse and purchased by Anton and Therese Wagner in 1829. Since then, Augustiner has been a privately owned family business.
---
5. Gaffel Becker & Co.
Year Established: 1302
Country of Origin: Cologne, Germany
Available Beers: Kölsch; Fassbrause; Cascara; SonnenHopfen; Mamma Nero; Schwester Herz; Papa Rhein; and Plüsch Prumm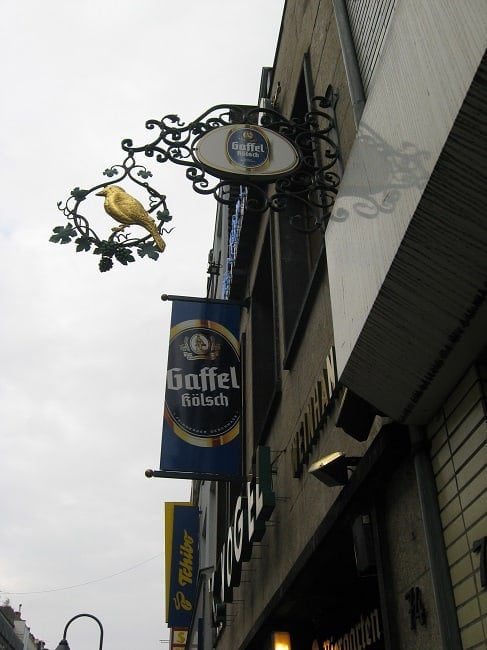 photo source: Wikimedia Commons
Gaffel Becker & Co. traces its history to 1302 when the first breweries on Eigelstein Street in Cologne, Germany were entered into public record. According to Gaffel, a brewery from this time period was located exactly where the the modern Gaffel brewery stands today.
Over the years, the brewery located on Eigelstein 41 changed ownership and in 1908 the Becker Brothers bought the property. They rebuilt the building to resemble an old guild house and renamed their altbier (a top-fermenting beer native to this region in German) brewery "In der Gaffel." The company is currently a midsized brewery (which primarily sells in and around Cologne) and it is owned and operated by the fifth generation of Beckers.
---
4. Bolten Brewery
Year Established: 1266
Country of Origin: Korschenbroich, Germany
Available Beers: Alt; Ur-Alt; Ur-Weizen; Malz; Landbier; Helles; Natur Pilsener; and Nikolaus Spezial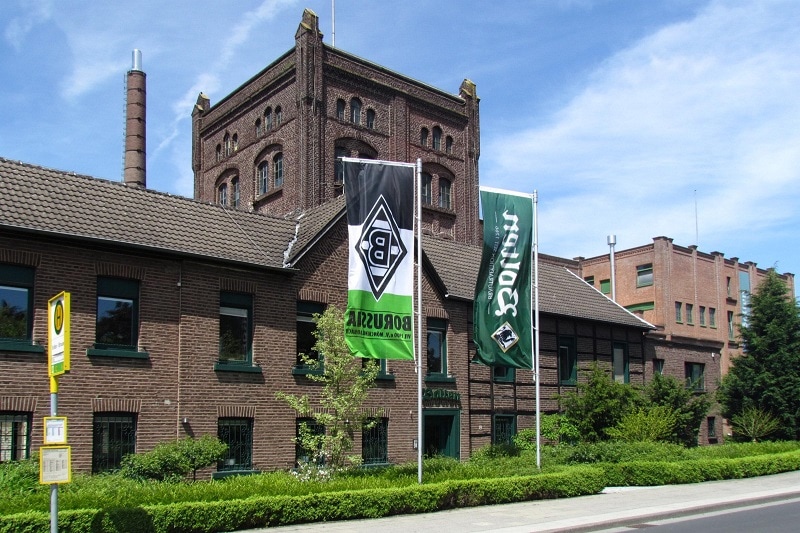 photo source: Wikimedia Commons
Bolten Brewery is the oldest altbrier brewery in the world. Altbrier is an old style German beer that is top-fermented instead of bottom fermented like modern lagered beers. The brewery was founded in 1266 by Heinrich der Brauer from the Lordship of Myllendonk.
This small brewery's techniques have been passed down from generation to generation and its recipes and quality have stayed mostly the same. Unlike a few of the other old breweries on this list, Bolten is determined to remain small and not be taken over by a larger international beer company.
Today, Bolten Brewery is owned by Michael Hollmann who vows that the brewery's traditions will remain intact.
---
3. Affligem Brewery
Year Established: 1070
Country of Origin: Opwijk, Belgium
Available Beers: Blonde; Double; Triple; 1074; Cuvée Florem; Cuvée Carmin; Cuvée des Pères; and Cuvée Natalis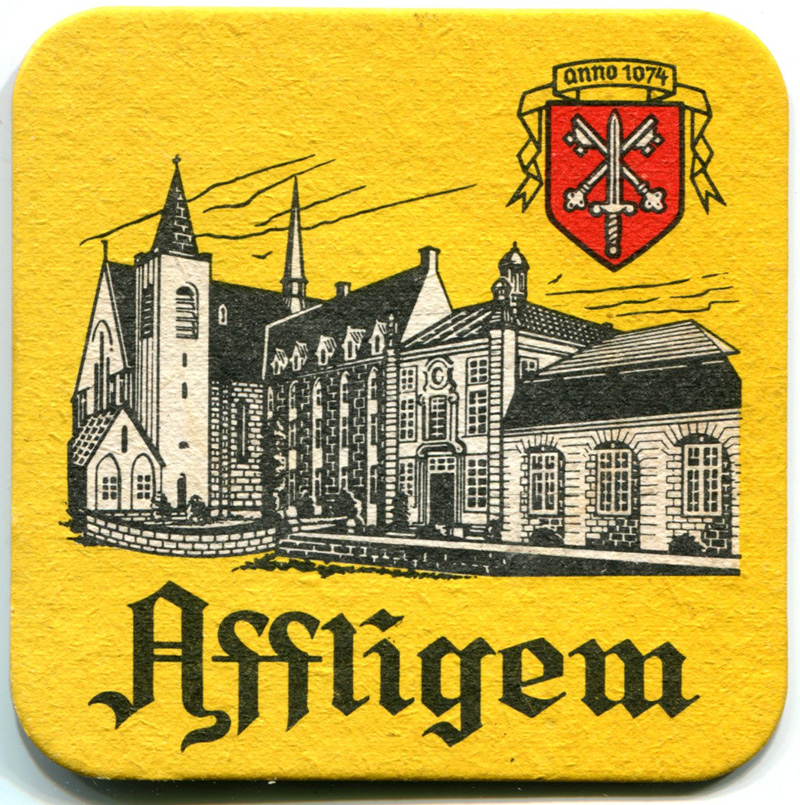 photo source: Flickr
Affligem Brewery also started as a monastic brewery. The abbey was established in 1070 and a decade later its monks began brewing Affligem beer. For the next few centuries, the monks lived peacefully and continued to brew their beer. However, around the 14th century the abbey and the brewery sustained damage from invading troops and the abbey was completely destroyed in 1580.
The monks rebuilt the abbey and the brewery, but were forced to shut down again in 1794. They did not return to the abbey until 1870 and the brewery was reopened in 1885. The abbey's brewery was closed permanently one final time in 1940 and since 1970, Affligem abbey beers have been produced by the De Smet brewery, which changed its name to Affligem Brouwreij. Today, the brewery is owned by Heineken International.
---
2. Weltenberg Abbey Brewery
Year Established: 1050
Country of Origin: Kelheim, Germany
Available Beers: Dukles Radler; Hefe-Weissbier Alkoholfrei; Hefe-Weissbier Dunkel; Hefe-Weissbier Hell; Kloster Anno 1050; Kloster Asam-Bock; Kloster Barock Dunkel; Kloster Barock-Hell; Kloster Kellerbier Naturtrub; Kloster Oktober-Festbier; Kloster Urtyp Hell; Kloster Winter-Traum; Mai Bock; and Pils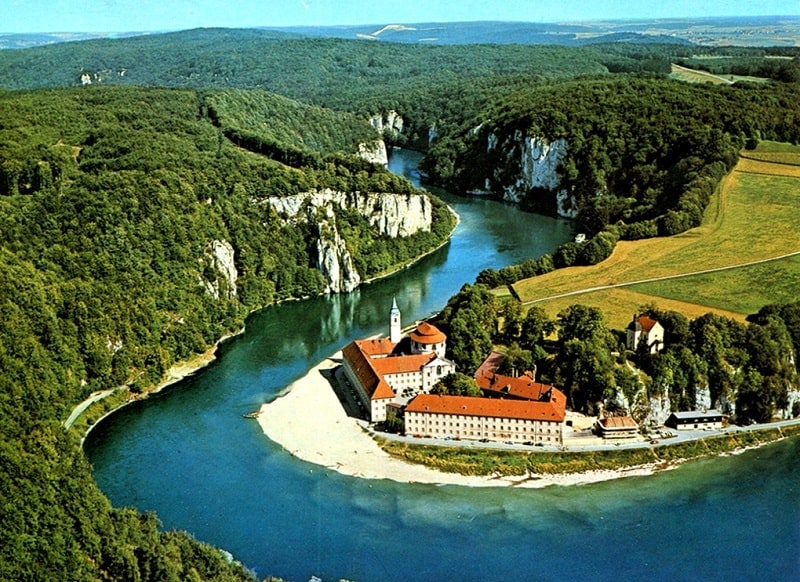 photo source: Flickr
Like other early breweries, the Weltenberg Abbey Brewery began as a monastery. The monastery was initially founded around 620 and is considered the oldest monastery in Bavaria. The abbey was rebuilt several times and the current buildings only date back to the early 18th century.
In 1050, the monastery brewery was officially established and the monks began selling beer.
The abbey was dissolved in 1803 and all of the buildings, including the brewery, were sold off. It was re-founded about 40 years later and all of the properties were repurchased. Since 1913, the abbey has been independent and it continues to sell beer. Today, there is also a large restaurant at the abbey, which is operated by a tenant. The restaurant serves the abbey's cheese and beer along with other food and drinks.
---
1. Weihenstephan Brewery
Year Established: 1040
Country of Origin: Bavaria, Germany
Available Beers: Hefeweissbier; Hefeweissbier Dunkel; Kristallweissbier; Vitus; Korbinian; Originl Premium; Pilsner; Festbier; and limited edition Braupakt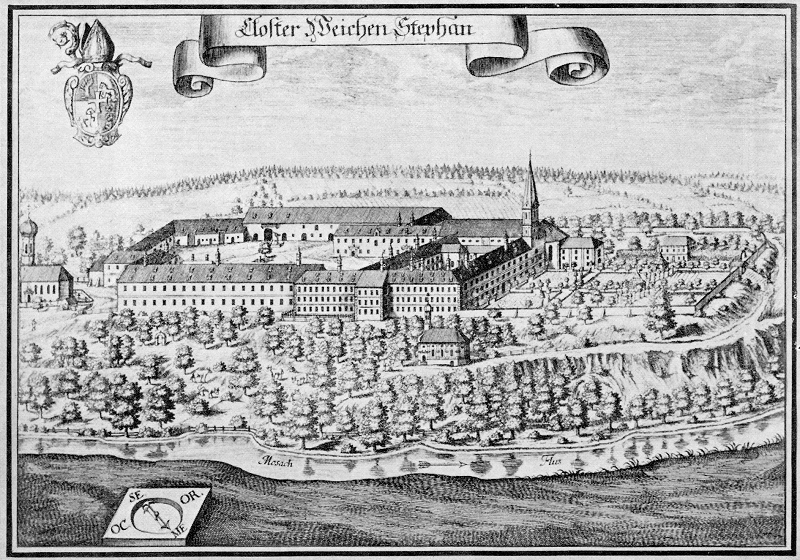 photo source: Wikimedia Commons
The Weihenstephan Brewery is the oldest continuously-operating brewery in the world. The brewery's origin story begins in 725 when Saint Corbinian established a Benedictine monastery in Weihenstephan. Around 768 the monastery began brewing beer because there was a hop garden in the monastery's vicinity.
Weihenstephan Monastery's monks continued to beer brew over the next few hundred years and in 1040 their beer brewing became official. Abbot Arnold obtained a license to brew and sell beer, which marked the official beginning of the Weihenstephan Monastery Brewery. In 1921, the brewery got its modern name: Bavarian State Brewery Weihenstephan. Since 1923, the brewery has used the Great Seal of the Bavarian State as its corporate logo.
OTHER POSTS YOU MAY BE INTERESTED IN