Dublin is a city that has been around for centuries. It's one of the oldest cities in Europe and one of the most popular tourist destinations in the world. There are countless things to do in Dublin, whether you're a tourist or a local.
This city has something for everyone, from famous landmarks to hidden gems that are off the beaten path. The best thing about Dublin is that it's a city that doesn't feel like a city.
It has the charm of an old European town but with modern amenities and conveniences. There are plenty of things to do in Dublin, whether you're an outdoor enthusiast or want to relax by taking in some culture.
But did you know Dublin is also home to some of the oldest bars in the world? If you're looking for a place to grab a drink, why not try out one of these 10 oldest bars in Dublin?
10. The Palace Bar
Year Established: 1823
Location: 21 Fleet Street, Temple Bar
Owner: Bill Aherne's Family
Architectural Style: Georgian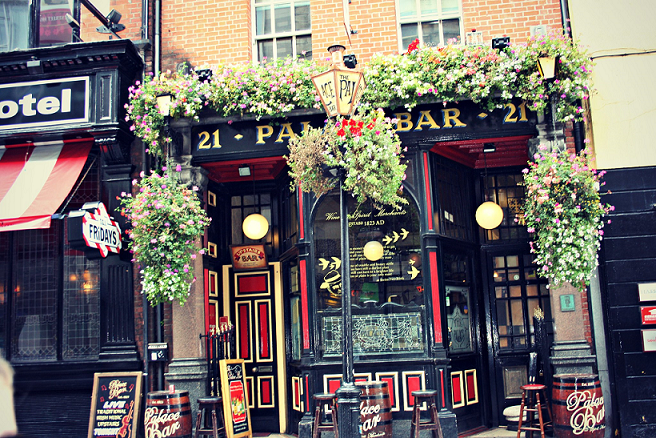 photo source: Flickr via Meg Marks
The Palace Bar is a crucial link between Dublin's long history of literary taverns and the 19th-century Victorian bar. Under the patronage of R.M., this ancient tavern transformed over the 1940s and 1950s into the hub of global fame and intellectual rejuvenation.
The Irish Times Editor at the time was (Bertie) Smyllie. It served as the Fourth Estate's social hub for the reporters, correspondents, and editors of Dublin's three daily newspapers.
A family by the name of Hall soon after the Palace's construction in 1823. Early in the 20th century, the Ryan family from Tipperary seized control of the establishment.s In 1946, "The Widow Ryan" sold it to Bill Aherne for £27,000. Many others felt he was foolish to spend this much money, but Bill said he had found a good deal.
Did You Know?
The Palace has the same interior design as when it originally opened its doors to visitors 189 years ago.
---
9. Slattery's
Year Established: 1821
Location: 129 Capel Street
Owner: John Slattery
Architectural Style: Victorian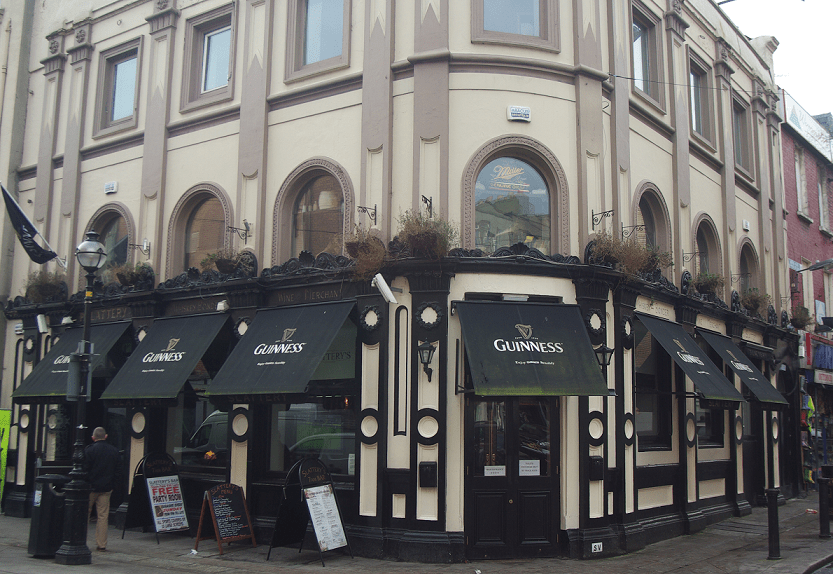 photo source: Wikimedia Commons
Slattery's Bar, one of the social and cultural landmarks of Dublin's rich licensed tradition, is a resplendent building that sprawls across the corners of Little Mary Street and Capel Street.
Since 1821, when Capel Street was one of Dublin's primary commercial thoroughfares, this location has had a license.
That year, publican John McKenna obtained his first license at No. 126, where he gradually established a profitable beverage business. In the 1850s, this bar was closed for a spell as extensive renovations were done.
The architectural impacts of such remodeling are still evident today thanks to the superb outside ornamental stucco exterior and the curved Victorian first-floor windows.
Did You Know?
In 1892, Slattery's obtained its renowned 7 am opening license to handle the massive amount of business coming from the just-established Dublin Corporation Markets on Mary's Lane.
---
8. Toner's
Year Established: 1818
Location: 139 Baggot Street Lower
Owner: Mick Quinn and Frank Quinn (acquired in 1987)
Architectural Style: Victorian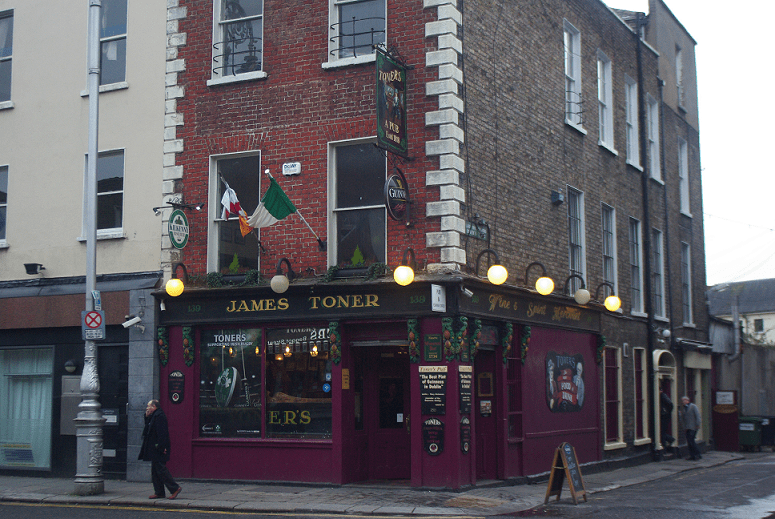 photo source: Wikimedia Commons
Speaking about Dublin's illustrious authors, it's said that W.B. Yeats frequently visits Toner's on Baggot Street more than any other establishment.
Even if its rigidity may irritate you somewhat, Toner's is still a far better option than any other bar if you could only visit one. Toner's is, quite simply, one of Dublin's best bars.
If you're looking for a quiet pint with friends or a place to sit and watch the world go by, this isn't it. Toner's is one of the few places left that still feels authentic in its own eccentric way.
In addition to having a charming old Victorian interior that is cozy in the winter, Toner's also opens out into a fairly sizable beer garden in the back.
Did You Know?
It's one of the best outdoor locations in the city and ideal for a couple of beers in the sunshine.
---
7. Kehoe's
Year Established: 1803
Location: 9 Anne Street S.
Owner: Louis Fitzgerald Group
Architectural Style: Victorian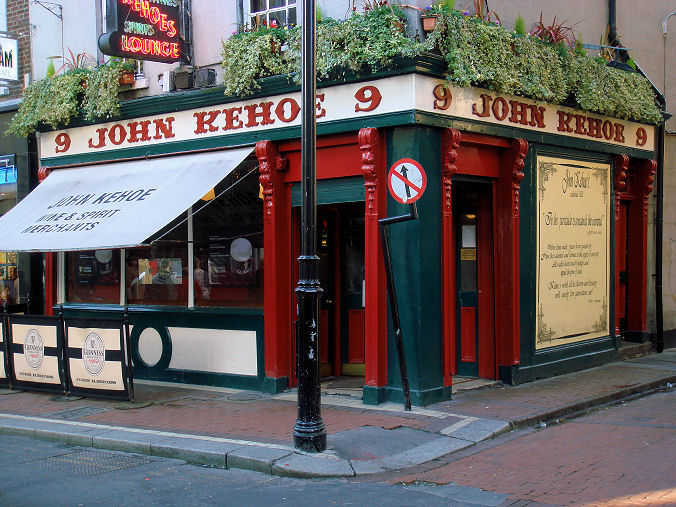 photo source: Flickr via Larry Koester
When the revolutionary winds blew through Dublin in 1803, Kehoe's Bar received its initial license. These days, business professionals, academics, tourists, and shoppers all frequent this ancient bar.
You approach the Heritage Bar through saloon-style stained glass mahogany doors, which are unaltered, undisturbed, and beautifully sporting the aging patina of their years.
Several mahogany barriers offer privacy, relaxation, and solitude. Consider ordering a Guinness while you're here and while waiting for it to settle, inspect the magnificent Victorian black bar, which was lavishly carved from genuine dark-grained mahogany wood.
Did You Know?
The interior of Kehoes was renovated in the Victorian style towards the end of the 19th century, and it has been kept to the current day.
---
6. Johnnie Fox's Pub
Year Established: 1798
Location: Glencullen, Co.
Owner: McMahon Family
Architectural Style: Traditional Irish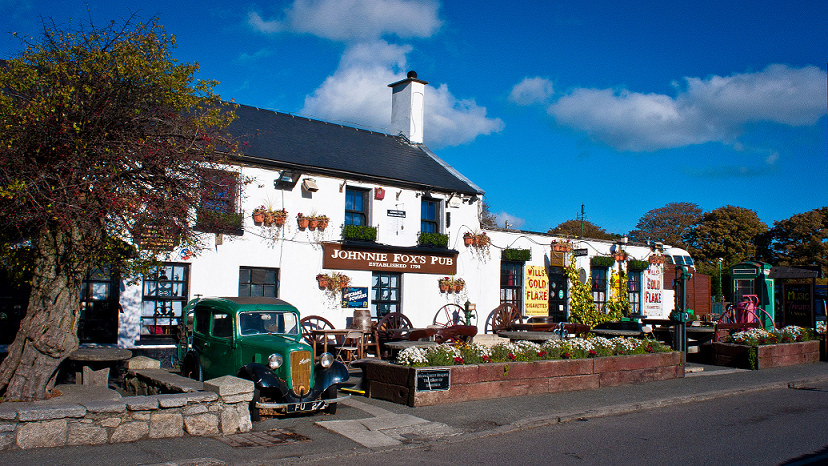 photo source: Wikimedia Commons
Sessions for traditional music continue now, much as they did in the past. Indeed, Johnnie Fox has earned a reputation for it because of the ad hoc nature of its meetings.
During the chilly winter days and evenings, storytellers may frequently be seen sitting by the open turf fires in the bar.
Live entertainment has always been a hallmark of Johnnie Fox's, and it still is today, but in a more organized manner with the presence of one of our numerous house bands or vocalists or with the internationally known Johnnie Fox's dancers.
In summary, there is classic and thrilling entertainment with Johnnie Fox's personal touch seven nights a week and naturally during the day on Saturdays and Sundays.
Did You Know?
Its renowned supper and entertainment, "Hooley Night," features one of the best dance acts in the nation.
---
5. Mulligan's Pub
Year Established: 1782
Location: 8 Poolbeg Street
Owner: Mick Smyth Family
Architectural Style: Art Deco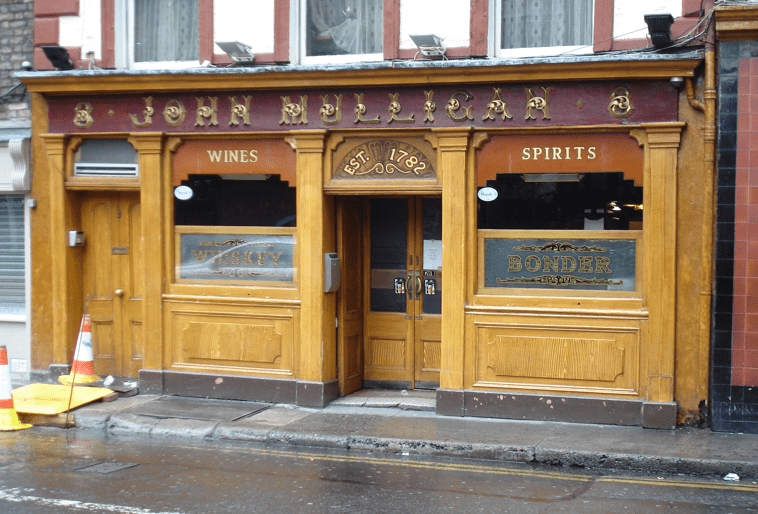 photo source: Wikimedia Commons
Mulligans Pub is one of the oldest locations in the capital city of Ireland, as it has been in operation since 1782.
A third generation of the Cusack family, who inherited it from Kinsmen, is currently serving the house's legendary Guinness and powerful whiskey to senior clients. The décor hasn't changed much over the ages.
As a journalist for the Hearst Journalistic, John F. Kennedy visited Mulligans in the middle of the 1950s and was shown Joyce's favorite seat at the bar. Mulligans has long been a wonderful newspaper and theatrical pub. Since then, many have visited the literary shrine and are constantly doing so.
Although the Mulligan team has been around for a while, they have matured beautifully, much like the location itself.
---
4. The Stag's Head
Year Established: 1770
Location: 1 Dame Street
Owner: Louis Fitzgerald Group
Architectural Style: High Victorian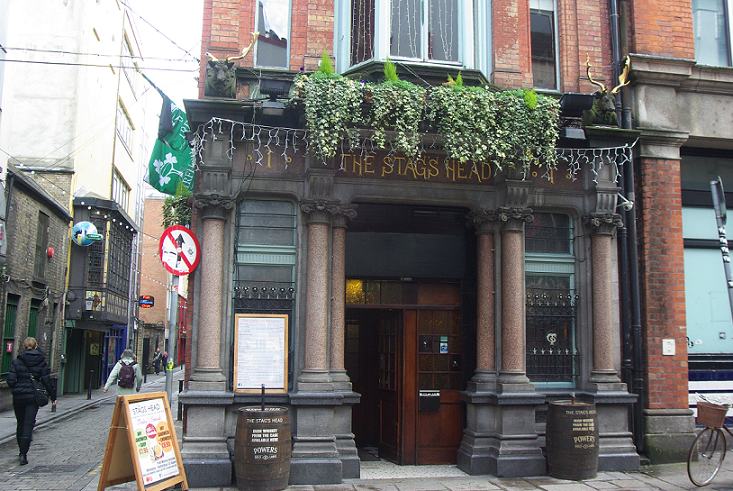 photo source: Wikimedia Commons
The Stag's Head, a traditional Dublin bar known for its friendliness, cuisine, and legendary pint of Guinness, is a popular destination for drinkers. You may fill a library with the history of this monument once you enter it.
The Stag's Head, a Westmoreland businessman who immigrated to Ireland in the 1870s and is located just a short distance from Grafton Street's bustle, is the creation of George Tyson.
In the early 1890s, he purchased the property to establish Dublin's most cutting-edge and unique Victorian pub—the first one in the city to be lit by electricity.
With much hoopla and notable patronage, including that of the Lord Lieutenant and the most esteemed figures in Victorian society of the day, the event unveiled its doors to the public in May 1894.
Did You Know?
Private parties, business events, and group reservations all take place on the top level.
---
3. Hole in the Wall Pub
Year Established: 1610
Location: Blackhorse Avenue, Phoenix Park, Castleknock
Owner: Mc Caffery Family
Architectural Style: Unknown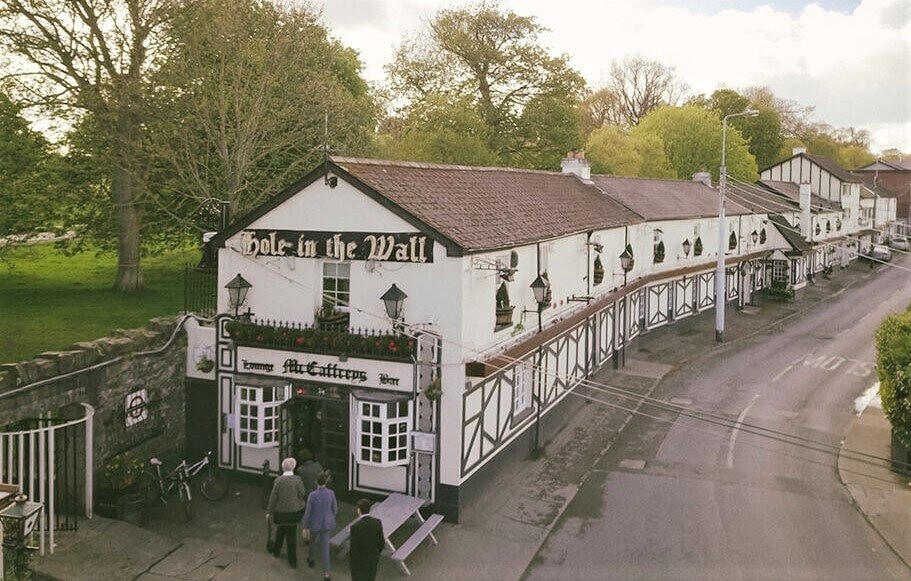 photo source: The Dublin Publopedia
Near Phoenix Park and Dublin Zoo, on Blackhorse Avenue, is where you'll find The Hole in the Wall. The custom of pouring beverages through a hole in the wall, which has been practiced here for around 100 years, inspired the name The Hole in the Wall.
Even though British soldiers were not allowed to leave Phoenix Park, they could still access the Hole in the Wall to get their beer.
President Sean T. O'Kelly, another resident of the Park, would stop over for a quiet drink in the 1950s. There is a lot of presidential memorabilia at the bar. The Hole in the Wall dates back to 1610. It was formerly a coach house; it is the closest thing to a tavern inside the 1700 acres of Phoenix Park.
---
2. Man O'War Pub
Year Established: 1595
Location: Courtlough, Balbriggan
Owner: Martin McNulty
Architectural Style: Traditional Irish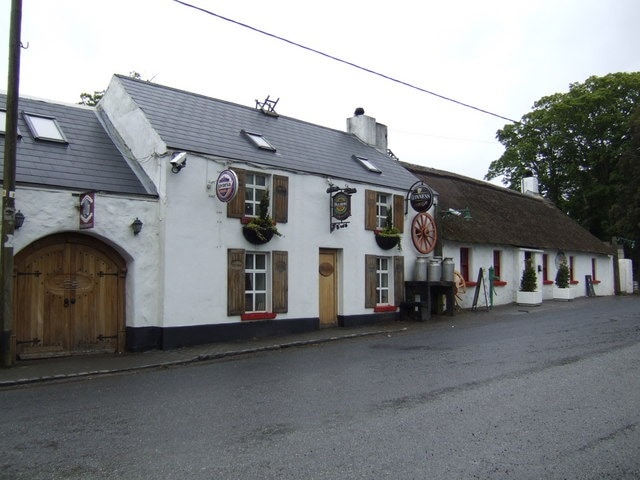 photo source: Wikimedia Commons
The Man O'War Public House is located on a hill on the historic Dublin to Belfast Road and was mentioned in documents from as early as 1595.
A turnpike (toll booth) was located at the Man O'War Pub, and the Dublin to Dunleer Turnpike (1732–1855) was established by an act of parliament in 1732.
Since it was midway along the turnpike route, weary travelers paused at the Man O'War for refreshments. In July 1792, Wolfe Tone ate his breakfast here. Austin Cooper and Dr. John Gamble, two more well-known guests, also wrote about their stays at the Man O'War.
Did You Know?
In 2014, the Man O'War Pub celebrated its 400th year of providing superb food and beverages in a vibrant and traditional Irish ambiance.
---
1. The Brazen Head
Year Established: 1198
Location: 20 Lower Bridge Street
Owner: Stepmark Inns (2004 – present)
Architectural Style: Georgian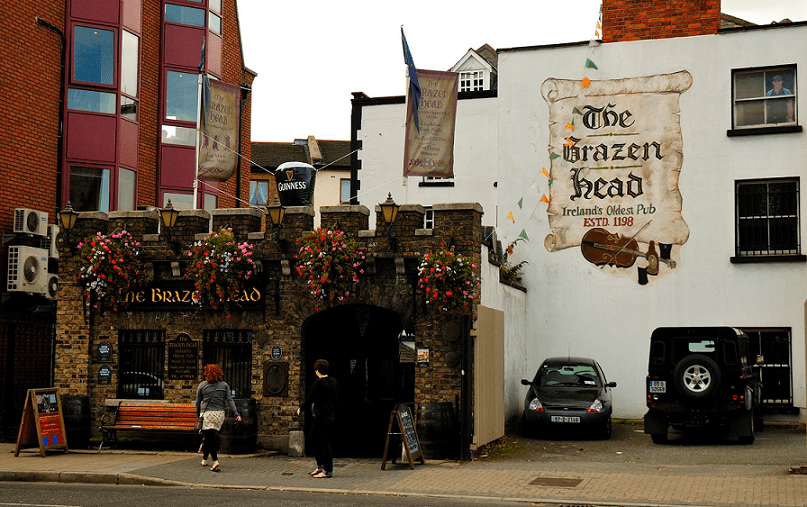 photo source: Wikimedia Commons via Roman Kharkovski
The Brazen Head, established in 1198, is considered Dublin's oldest bar. This is a popular destination for travelers seeking live entertainment and authentic meals since it offers old-world charm with contemporary Irish pub banter.
While there is some disagreement over whether they have been serving beer here since that almost mythical date, archaeological research conducted in the area next to The Brazen Head between September and November 1989 revealed evidence of human habitation there as early as the 13th century when efforts to reclaim the riverside marshland were initiated.
Did You Know?
H.B. Clarke's map of medieval Dublin, drawn between the years 840 and 1540, does not show The Brazen Head, but according to McMahon, there was another "large structure" nearby, known as the "Carles Inn."
OTHER POSTS YOU MAY BE INTERESTED IN