Before Chris Evans became Earth's favorite first avenger, he had a string of films that received lukewarm success. And slowly but surely, he started to shed his teen heartthrob image, paid his dues, and worked his way up the ranks as an actor showcasing versatility that got the studio heads to take him seriously as a performer.
Cut to 2022, and after his decade-spanning Marvel run as America's soldier with a heart of gold, Captain America, he's become one of the highest-paid actors working today. The Boston native shares his last name with three siblings, all of whom share careers in the industry.
If you're ready to learn more about the man behind the shield, and the brothers and sisters that tether him to reality, join us as we rank Chris and his siblings from oldest to youngest!
4. Carly Evans (September 15, 1978 – Present)
Age (as of July 29, 2022): 43
Born: Massachusetts
Occupation: Actor, Teacher
Known For: Sister of Chris Evans
Carly Evans is best known as the oldest sister of the Evans ensemble, but that shouldn't take away from her accomplishments as a thespian! She played Mary Connelly in The Bill – a police drama television series that aired between 1984 to 2010, following officers and detectives from Sun Hill Police Station in East London.
She's the daughter of Lisa Evans, an actress known for One Life to Live, and Dr. George Evans. They married in July 1977 and have four children together. Carly is married to Ryan DuBray, and they share three kids – Ethan, Miles, and Stella.
Did You Know?
According to IMDb, Carly shares her innate gifts for the stage as a drama teacher at Lincoln-Sudbury Regional High School in her hometown, Boston, Massachusetts.
---
3. Chris Evans (June 13, 1981 – Present)
Age (as of July 29, 2022): 41
Born: Boston, Massachusetts
Occupation: Actor
Known For: Captain America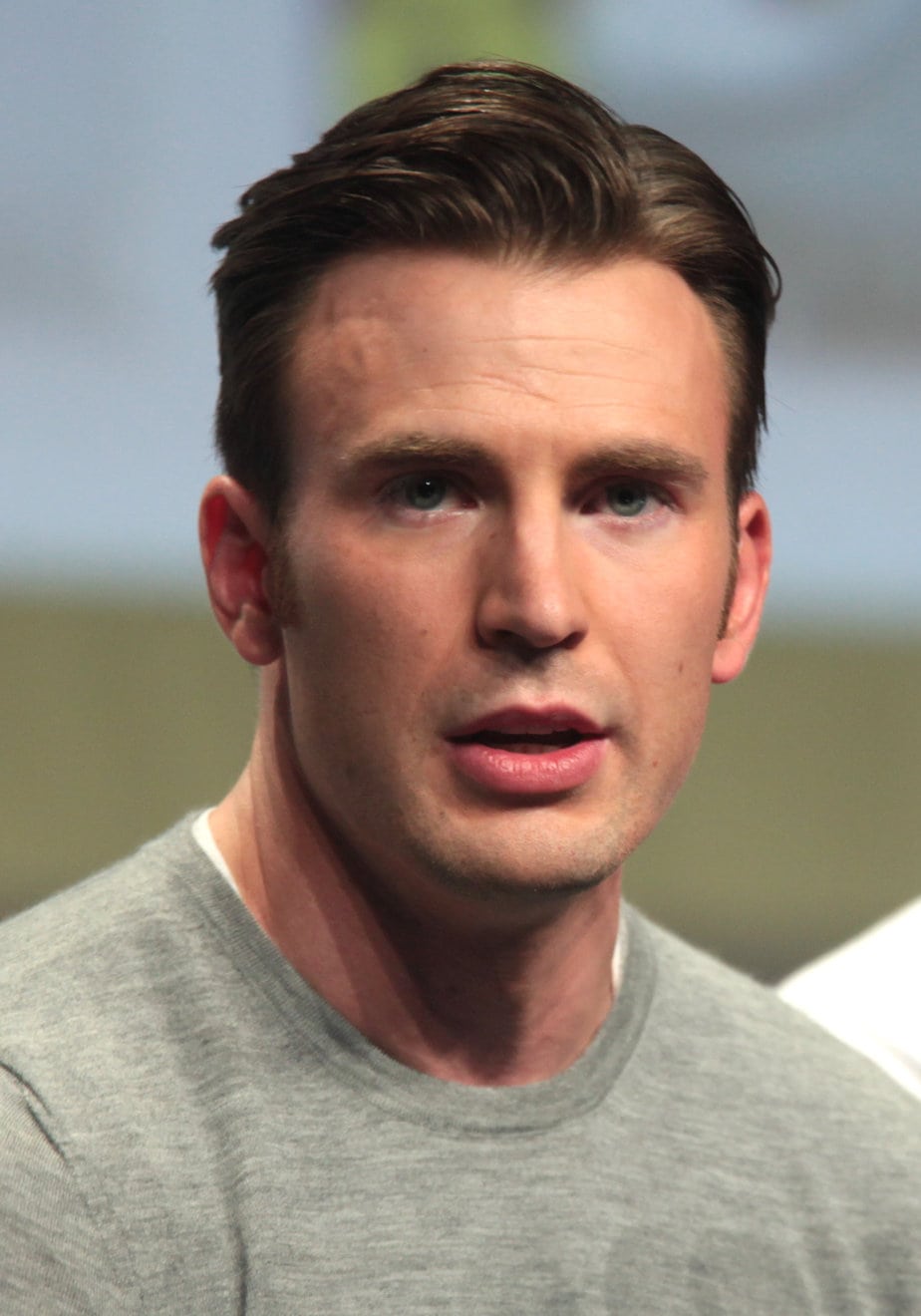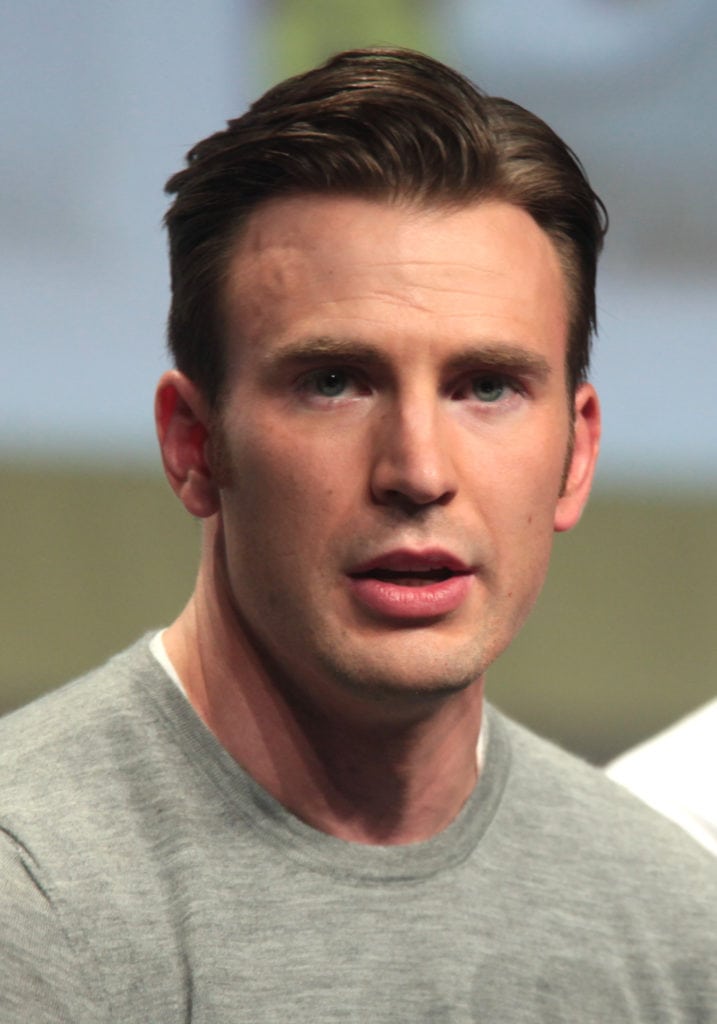 photo source: commons.wikimedia.org
So much time has passed that younger generations may not remember that Chris Evans's first foray into the superhero genre didn't begin with one of the most iconic characters in American history. He made a few pit stops in other superhero franchises before landing the role of a lifetime. Evans was introduced to the world of caped and flying crusaders with his appearance as Johnny Storm in the Fantastic Four franchise. It wasn't met with much praise, but that was no fault of Chris. His performance was seen as one of the redeeming qualities of those Fantastic Four films in 2005 and 2007.
Evans popped up in more film adaptions of comic book properties, including TMNT, Scott Pilgrim vs. the World, and Snowpiercer, before he had his "big break" in Hollywood. And since he hung up the shield, he's turned himself into one of the best dramatic actors working today, showcasing a range many didn't expect in films like Knives Out, Gifted, and The Gray Man.
Chris was born in Boston to a mother who was an actress and artistic director of the Concord Youth Theater. Taking after his mom, he took a liking to musical theater as a boy and enrolled in acting camp, where he played Randolph MacAfee in Bye Bye Birdie. When we hear actors tell stories about their childhoods, it seems more often than not, their first taste of performance came in the comfort of their living rooms, performing for family and friends. For Chris and his family, it was no different. Before his senior year of high school, Chris was already preparing for the future, spending the summer in New York taking classes at the Lee Strasberg Theatre and Film Institute.
After his final appearance in 2018 as Steve Rodgers in Avengers: Endgame, Chris took a few steps away from the big-budget money printing machine that is the Marvel Cinematic Universe and made his Broadway debut in the play Lobby Hero in 2018. Ben Brantley of The New York Times described his performance as a "terrific Broadway debut" and a "marvel of smooth calculation and bluster." If there was ever a critique that could epitomize what it means to "wax poetic," we found it in this glowing review.
Politically, Chris has no qualms about sharing his convictions. As the man inside the iconic Captain America suit, his opinions inevitably hold a little more weight than your average superstar. In 2012, he confirmed his support for same-sex marriage, stating, "It goes without saying that I'm completely in support of gay marriage. In ten years we'll be ashes that this was an issue." He's been a longtime supporter of progressive platforms, endorsing Hillary Clinton's 2016 presidential campaign, and was a vocal critic throughout Donald Trump's presidency.
Evans, Mark Kassen, and Joe Kiani launched a website called A Starting Point in 2020 dedicated to presenting videos by elected officials, presenting their opinions and ideals on all the hot-button issues that concern most Americans today. It essentially serves as a one-stop, easily accessible place for politically curious voters to learn firsthand about a politician's platform without having to jump through hoops and without having to do excessive research to get answers to their questions. The selling point for contributors is to allow them to share their thoughts, unfiltered and uninterrupted so that a conversation can be had from a place of understanding.
Did You Know?
Chris Evans risked his life and career when he decided to respond to a fan question asking him who his favorite superhero was growing up.
"I probably shouldn't say that – it's DC. I'm gonna get in trouble. But those Michael Keaton movies, those were pretty big, so yeah I'll say Batman," he told The Hollywood Reporter."
You can follow Chris on Instagram, where he shares updates on his life, career, and political and philanthropic activism with over 17 million followers.
---
2. Scott Evans (September 21, 1983 – Present)
Age (as of July 29, 2022): 38
Born: Sudbury, Massachusetts
Occupation: Actor
Known For: One Life to Live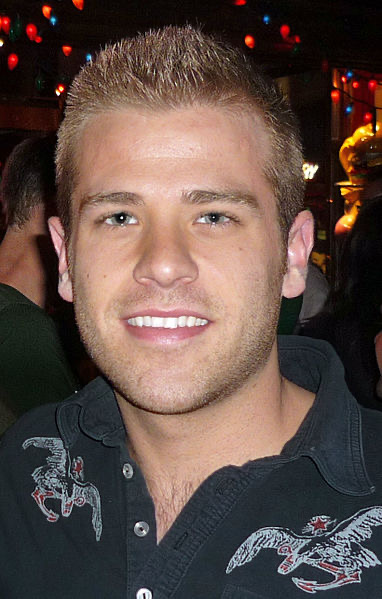 photo source: commons.wikimedia.org
Scott Evans is best known for his role as police officer Oliver Fish on the ABC soap opera One Life to Live. He began his career at New York University, where he studied theater. His first introduction as a working actor came on One Life to Live in 2008. Following the success of his recurring role on the daytime soap opera, which was only supposed to last for five episodes but turned into 137, he made brief appearances on the shows Guiding Light, Law and Order: Criminal Intent, and Fringe.
Scott is also known for his appearances with Chris on The Tonight Show with Jimmy Fallon, where they can be seen taking part in games that test the strength of their brotherly love as well as sharing embarrassing stories of one another to a national audience all in the name of entertainment.
Did You Know?
Evans came out as gay at 19-years-old, which explains his older brother's unrelenting dedication to fighting for equal rights in America.
You can also find Scott on Instagram!
---
1. Shanna Evans (June 11, 1986 – Present)
Age (as of July 29, 2022): 36
Born: Queens, New York
Occupation: Costume Designer
Known For: Sister of Chris Evans
Shanna Evans is the youngest of the Evans siblings at 36-years-old!
Even though Shanna didn't join the family business in front of the screen, she's still just as plugged into the industry, having worked as a costume designer for several years. It's unclear if she was involved with any of Chris's projects, whether on screen or on stage.
She's out of the public eye except for the occasional appearance she'll make when her brother is in the running for some shiny hardware at an awards ceremony.
Did You Know?
Other details of her personal and professional are mostly unknown, but she is also the daughter of Lisa and Robert Evans.