The Golden Age of Porn started around the late 1960s and lasted until the mid 1980s. Around this time, the first major adult film stars or pornstars began to emerge. At the height of their careers, some of these pornstars became so famous that they were able to cross over into mainstream success.
Some of them had very short careers and distanced themselves from the porn industry, while others thoroughly enjoyed their careers as pornstars and were active for several decades. Most of them starred in some of the most iconic adult films, which has earned them a permanent place in popular culture.
Note that this list is arranged by the year of the pornstars' first films.
8. Ron Jeremy (March 12, 1953 – Present)
First Major Film: Olympic Fever (1979)
Years Active: 1978 – 2018
Country of Origin: United States of America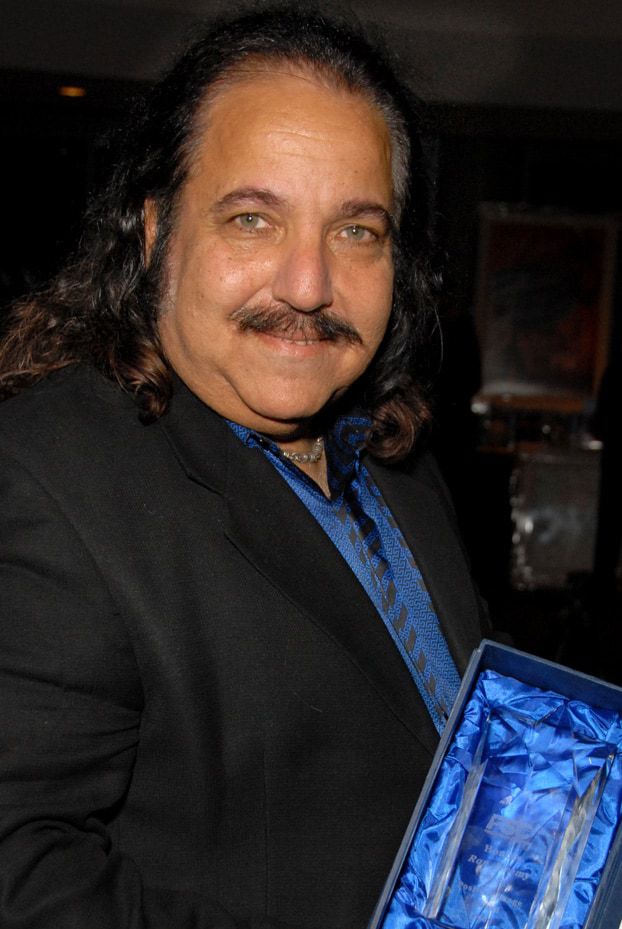 photo source: Wikimedia Commons
Of all the pornstars on this list, Ron Jeremy (Ronald Jeremy Hyatt) is hands down the most famous. He is a major household name and has appeared in a number of mainstream films and movies. Jeremy has had the longest career of any pornstar and he is still currently active in the industry. Additionally, Jeremy is considered the No. 1 pornstar of all time.
Jeremy's career began in the early 1970s when he tried to pursue a legitimate Broadway career. He was unable to find much work and his girlfriend at the time convinced him to send his pictures to Playgirl magazine so he could make some money. This gamble was successful and Jeremy used the opportunity to start a career in the adult film industry.
Jeremy has starred in thousands of pornographic films and is even listed in the Guinness Book of World Records for "Most Appearances in Adult Films."
---
7. Bambi Woods (July 12, 1955 – Unknown)
First Major Film: Debbie Does Dallas (1978)
Years Active: 1978
Country of Origin: United States of America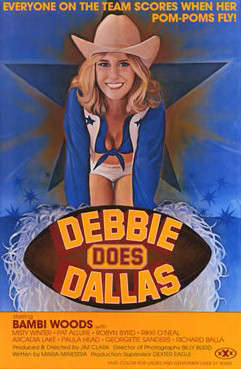 photo source: Wikipedia
Bambi Woods was a one hit wonder in the porn industry. Her one and only film, Debbie Does Dallas was a huge hit and for a moment it seemed like Woods would become the next big pornstar. However, Woods was blindsided by all the attention she got for starring in the film and she was upset when the publicity led to her family finding out that she had starred in an adult film.
Woods said that she only appeared in the movie because she owed a friend some money and she arranged for Woods to star in the film. Unfortunately, Woods spent all her earnings and her friend helped her land a job as an exotic dancer.
In the mid-1980s, Woods completely disappeared and no one is sure where she is or if she's even still alive. Many people believe that she died of a drug overdose or other mysterious circumstances.
In 2007 a woman claimed to be Woods and said that she wanted nothing to do with her past. However, the interviewer she communicated with solely by e-mail could not identify if the woman was actually Woods.
---
6. Gloria Leonard (August 28, 1940 – February 3, 2014)
First Major Film: The Opening of Misty Beethoven (1976)
Years Active: 1974 – 1984
Country of Origin: United States of America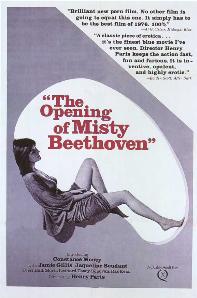 photo source: Wikipedia
Gloria Leonard (Gale Klinetsky) was a prominent adult film star in the 1970s and early 1980s. Before starting a career in porn, Leonard had various jobs in the music and film industry. In the early 1970s, when Leonard was looking for work, she contacted casting agent Dorothy Palmer, who did not initially tell her that she had been cast in a pornographic film.
Leonard began appearing in hardcore pornos in 1974 and stayed active in the industry until she retired in 1984. During her decade-long career, Leonard starred in over 40 adult films. Her best-known role was as the star of The Opening of Misty Beethoven in 1976.
Following her acting career, Leonard became the publisher of High Society magazine, a pornographic magazine similar to Playboy, in 1977 and held the position for the next 14 years. She is also credited as a phone sex line pioneer as she was one of the first people to use "900 numbers" as an additional revenue stream.
Unlike some of the others on this list, Leonard enjoyed her time as a pornstar and became a lifelong advocate for the adult film industry.
---
5. Peter Berlin (1942 – Present)
First Major Film: Nights in Black Leather (1973)
Years Active: early 1970s – 1980s
Country of Origin: born in Germany but moved to United States of America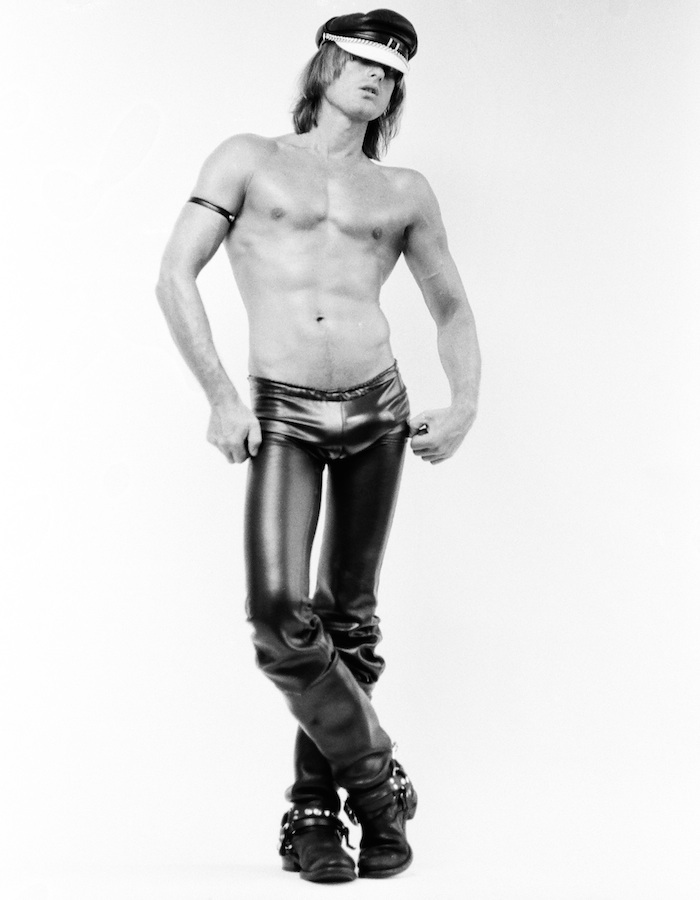 photo source: Paper Magazine
Peter Berlin (Armin Hagen Freiherr von Hoyningen-Huene) rose to prominence as a gay sex symbol in the 1970s. Long before he starred in his first adult film, Berlin was known in San Francisco for his suggestive clothing — which he designed/sewed himself — as well as his self-portraiture. Berlin's look was emblematic of the 1970s and he embodied the attitude of the the time period.
Berlin was born in Germany and worked as a photographer in his early 20s, he photographed some of Europe's biggest celebrities and film stars at the time. In the early 1970s, Berlin moved to San Francisco and collaborated with his friend Richard Abel on the hardcore porn film called Nights in Black Leather.
Berlin played the lead role and created the poster for the film, which helped make it a hit in San Francisco's underground gay community. To follow up on the success of his first film, Berlin directed, produced, wrote, and starred in That Boy, which was also a major hit. He made four more short films before retiring from the limelight in the 1980s.
---
4. Georgina Spelvin (March 1, 1936 – Present)
First Major Film: The Devil in Miss Jones (1973)
Years Active: 1957 – 1982
Country of Origin: United States of America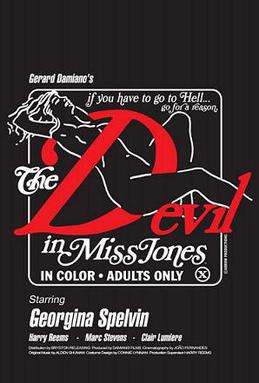 photo source: Wikimedia Commons
Georgina Spelvin (Shelley Graham) was a chorus girl and appeared in Broadway productions of Cabaret, Guys and Dolls, Sweet Charity, and The Pajama Game before becoming an adult film actress in the late 1950s. She held various jobs in the theater including choreographer, director, and lighting technician.
Spelvin transitioned to porn after she was introduced to adult film director Gerard Damiano. Her first adult film was The Twilight Girls, a softcore lesbian film from 1957.
Over the next decade, Spelvin appeared in a few sexploitation films. Her big break came when she starred in The Devil in Miss Jones in 1973.
Spelvin appeared in over 70 pornographic films before retiring from the industry in 1982.
Because of her fame, Spelvin managed to land a few regular roles in mainstream films and shows such as Police Academy, Police Academy 3: Back in Training, Dream On, and The Lost World.
---
3. Marilyn Chambers (April 22, 1952 – April 12, 2009)
First Major Film: Behind the Green Door (1972)
Years Active: On and off from 1972 – early 2000s
Country of Origin: United States of America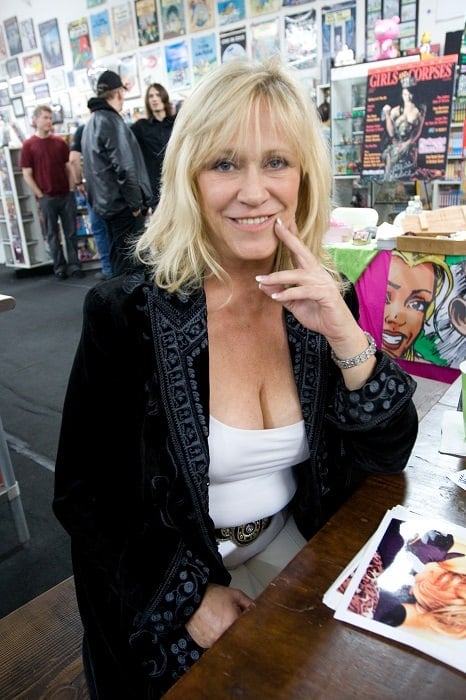 photo source: Wikimedia Commons
Like most of the actors on this list, Marilyn Chambers did not set out to become a pornstar, but ended up becoming one of the first well-known adult film stars. While Chambers was still in high school, she forged her mom's signature so she could go to auditions. She ended up landing a few modeling jobs, most famously as the Ivory Soap girl on the Ivory Snow soap box.
Chambers had a few small roles in a couple of mainstream films before she went to audition for Behind the Green Door. When Chambers found out it was a pornographic film, she almost left but the producers convinced her to stay after they told her she looked like Cybill Shepherd. The success of Behind Green Door launched Chambers career.
Chambers went on to become one of the biggest pornstars of all time and she came and went from the porn industry for 30 years.
---
2. Linda Lovelace (January 10, 1949 – April 22, 2002)
First Major Film: Deep Throat (1972)
Years Active: 1969 – 1976
Country of Origin: United States of America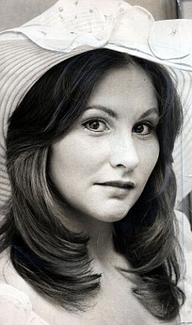 photo source: Wikipedia
Although Casey Donovan rose to stardom a year before Linda Lovelace (Linda Susan Boreman), she is often considered to be the first true pornstar. After the success of Deep Throat in 1972, Lovelace became a household name. Lovelace started her porn career sometime in the late 1960s and continued to appear in adult films until 1976. She was set to star in the erotic movie Forever Emmanuelle, but dropped out after she vowed that "God had changer [her] life."
After 1976, Lovelace never appeared nude in a film again. She became a born again Christian and a spokesperson for the anti-porn movement. Around this time, Lovelace alleged that her husband Chuck Traynor was abusive and forced her to appear in Deep Throat.
In the suit to divorce Traynor, Lovelace alleged that he threatened to shoot her and beat her if she did not appear in the movie. Despite her personal problems with her porn career, her brief role as a pornstar earned her a place in popular culture.
---
1. Casey Donovan (November 2, 1943 – August 10, 1987)
First Major Film: Boys in the Sand (1971)
Years Active: 1971 – 1986
Country of Origin: United States of America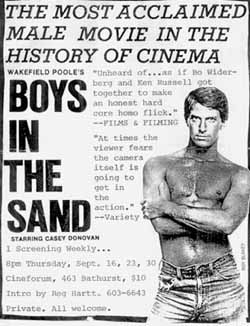 photo source: Wikipedia
Casey Donovan starred in Boys in the Sand, the first pornographic feature film to achieve major mainstream success — this makes Donovan the oldest pornstar in the world. He was the first adult film star credited on film and the first gay icon in pornography. Donovan's debut film, Boys in the Sand was the first gay porno to be shown in theaters.
Donovan, whose real name is John Calvin Culver, was briefly a Latin teacher before he became a male model. He began his career in porn in 1971 with a small role in a low budget film called Ginger.
That same year, Boys in the Sand came out and Donovan spent the next 15 years as a successful adult film star. Donovan tried to cross over into mainstream acting a few times and had some success in stage productions such as Captain Brassbound's Conversion and The Merchant of Venice.
OTHER POSTS YOU MAY BE INTERESTED IN