Brad Pitt and Angelina Jolie might be some of the last few classic movie stars before the rise of social media came to create instant fame for so many we now recognize on a first-name basis.
They're the most recognizable faces and names in Hollywood and a couple that's been the sole focus for more tabloid pieces and article op-eds than there are stars in the sky. Their marriage, relationships, divorce, and efforts to adopt kids around the globe have been subject to scrutiny, praise, and everything in between.
We all know that this former Hollywood power couple has been talked about enough. What more could there possibly be said about the professional and intimate details of their lives that haven't been plastered on the covers of Vanity Fair or Vogue already?
So we decided to take some time to learn a little more about the wonderful kids that are the centerpieces of the Jolie-Pitt family. Join us while we rank the five Jolie-Pitt siblings from oldest to youngest!!
6. Maddox Chivan Jolie-Pitt (August 5, 2001 – Present)
Age (as of May 17, 2022): 20
Born: Cambodia
Nationality: American, Cambodian
Occupation: Producer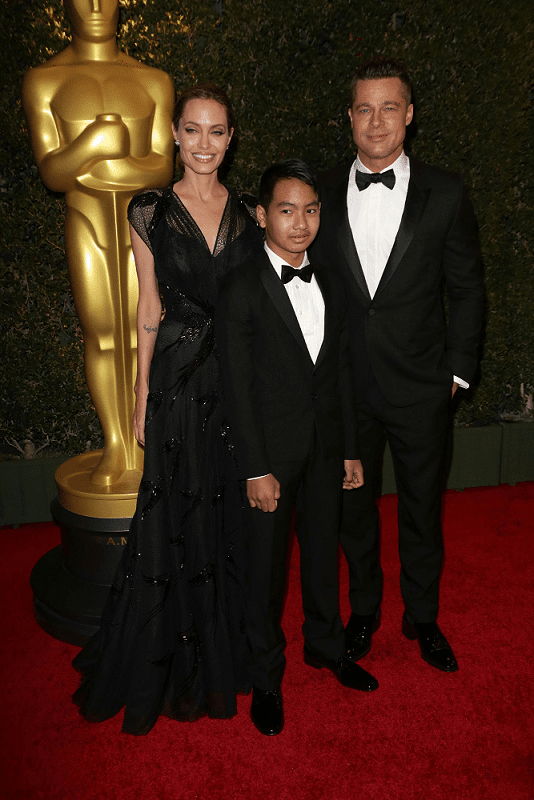 photo source: depositphotos.com
Maddox Chivan Jolie-Pitt is the oldest child of Angeline Jolie and later, Brad Pitt. His story of finding his way to his family and becoming part of Angelina's life is a heartwarming one.
Maddox began his life as an orphan in a Cambodian village. Angelina, who was then married to Billy Bob Thornton in the early 2000s, came across the young Maddox.
Her heart was immediately captured by the young boy who first caught her eye while on a trip with the U.N. He locked eyes with Jolie, flashed a smile, and the rest was history. Their fate as mother and son was sealed at that moment.
Upon splitting from Billy Bob, his last name was changed to include Pitt when Brad Pitt officially adopted him in 2006.
Did You Know?
Maddox prefers to stay behind the camera when it comes to showbiz. He did, however, play an uncredited zombie in his dad's apocalyptic zombie film, World War Z. He worked as an executive producer on First They Killed My Father in 2017.
---
5. Pax Thien Jolie-Pitt (November 29, 2003 – Present)
Age (as of May 17, 2022): 18
Born: Ho Chi Minh City, Vietnam
Nationality: Vietnamese, American
Occupation: Photographer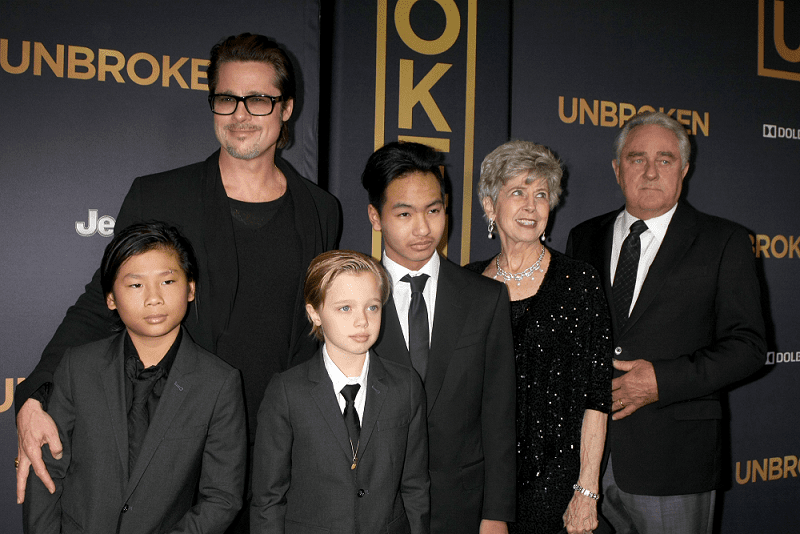 Young Pax featured to the left of Brad Pitt
photo source: depositphotos.com
Pax Thien Jolie-Pitt is the Vietnamese adopted child of Angelina and Brad. He became a part of the star-studded family at 3-years-old in 2007 when he was taken in by Angelina from the Tam Binh Vietnam orphanage.
In an article for People magazine, Jolie raved about the relationship between Pax and Maddox, who is the closest in age.
"Pax and Maddox have really connected because they're closer in age and are brothers, so they have moments when they bond together against everybody else in the family."
His interests range from music, filmography, and photography. He's described as a great kid. Though he leaves the acting for his A-list parents, he's no stranger to film, playing a minor role in the dark fantasy epic Maleficent, starring Angelina Jolie.
Did You Know?
Pax Jolie-Pitt voiced the character Yoo in the hugely successful third installment of the animated hit Kung Fu Panda.
---
4. Zahara Marley Jolie-Pitt (January 8, 2005 – Present)
Age (as of May 17, 2022): 17
Born: Hawassa, Ethiopia
Nationality: Ethiopian, American
Occupation: Actress, Fashionista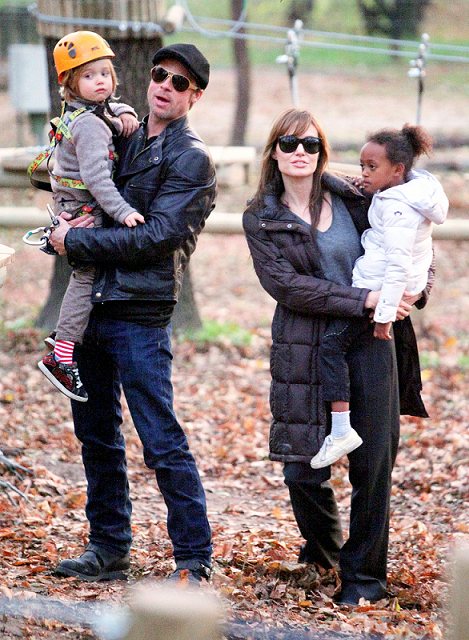 Young Zahara carried by Angelina Jolie
photo source: depositphotos.com
Zahara Marley Jolie-Pitt he and her sisters Shiloh and Vivienne have to team up against the boys in the family.
She's described as a lover of all things fashion, and from taking a glance at red carpet premiers she accompanies her mom to, it's evident mom and dad's good taste rubbed off on her.
Zahara was adopted the same year she was born in 2005, from an orphanage in Addis Ababa, Ethiopia.
In July 2020, for a TIME 100 talk, Angelina Jolie described how even though she was raised in America, she is just as much a child of Ethiopia, closely connected with a love for her home country.
"She is my family, but she is an extraordinary African woman and her connection to her country, her continent, is her own, and it's something I only stand back in awe of."
Did You Know?
Zahara was the voice of Meng Meng, one of the triplets in Kung Fu Panda 3, and an extra alongside Pax in Maleficent.
---
3. Shiloh Jolie-Pitt (May 27, 2006 – Present)
Age (as of May 17, 2022): 15
Born: Swakopmund, Namibia
Nationality: American, African
Occupation: Actress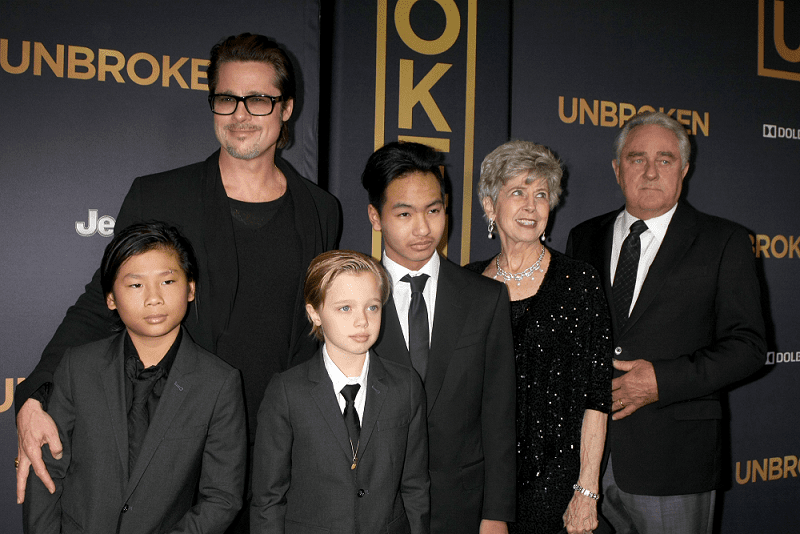 Shiloh in middle of brothers Maddox and Pax
photo source: depositphotos.com
Shiloh Jolie-Pitt ad and Angelina's first biological daughter.
Born in Namibia to escape the lenses of the paparazzi, Shiloh lives a very private life thanks to the sheltering of her parents. When the public does catch a glimpse of Shiloh, it's generally for a philanthropic mission or red carpet events she attends with mom and dad.
At 15, she has an unmistakable resemblance to both parents and maybe one day will take up the mantle as the next actress in the family.
For her filmography, she also had a small role in Kung Fu Panda 3 alongside her siblings and an uncredited role in the 2008 classic starring her father, The Curious Case of Benjamin Button.
Did You Know?
Shiloh holds a world record for becoming the youngest person to be immortalized at Madame Tussaud's London wax museum, where you'll find other world famous celebrities. In the exhibit, Shiloh is depicted as a 2-month-old baby in the arms of Angelina and Brad.
---
2. Knox Léon Jolie-Pitt (July 12, 2008 – Present)
Age (as of May 17, 2022): 13
Born: Nice, France
Nationality: French, American
Occupation: Actor
Knox Leon Jolie-Pitt is one-half of the twin duo between him and his sister, Vivienne. At 13-years-old, it's believed that he is about one minute older, born at 6:27 p.m, hence why we decided to place him as number two on this list!
Like his siblings, he's rarely seen unless it's for one of his parent's red carpet promotional events.
He joined his siblings for the Kung Fu Panda 3 family affair, with a minor voice role in the animated smash hit.
Did You Know?
Knox received his unique first name from Brad Pitt's paternal grandfather, who had an equally fascinating name – Hal Knox Hillhouse. His middle name, Leon, comes from Angelina's great-grandfather. Like Shiloh, Knox and Vivienne also happen to have an unintentional world record.
---
1. Vivienne Marcheline Jolie-Pitt (July 12, 2008 – Present)
Age (as of May 17, 2022): 13
Born: Nice, France
Nationality: French, American
Occupation: N/A
Vivienne Marcheline Jolie-Pitt is the youngest of the Jolie-Pitt siblings!
Vivienne Jolie-Pitt edges out her twin Knox, born just one minute later at 6:28 p.m via C-section. Vivienne's middle name is meant to honor Angelina's grandmother Marcheline Bertrand. In 2014, Vivienne already got some experience making movies, thanks to her role as a young Princess Aurora in her mom's fantasy film Maleficent.
Brad and Angelina split after filing for divorce in 2016. In 2018, Angelina began sharing custody of the children while all six lived with their mom.
Did You Know?
Vivienne reportedly takes an interest in entrepreneurship and philanthropy like mom and dad.
OTHER POSTS YOU MAY BE INTERESTED IN