There isn't a show on earth quite like the one that the WWE puts on for its millions of ravenous fans from around the world. Talent from all over comes to participate in the event that blends theater, spectacle, and athletic ability, all into one package. It's the kind of entertainment even grandma and grandpa can enjoy, as much as they may be ashamed to admit it!
High flying acrobatics, death-defying stunts, surreal pain tolerance, and a taste for the theatrical endear the entertainers of the WWE to us, and they become enduring memories as we grow up. And sometimes, these larger-than-life figures even feel like members of our homes. What makes it so special is the variety and representation you'll see when you tune into a match. Seasoned veterans and young rookies have the chance to go head-to-head in matches that taught us to expect the unexpected.
Today, we're going to look at some of the youngest high-flyers in the company and find out who among them is the youngest WWE wrestler of all time!
8. Saraya-Jade Bevis
Age: 19
Born: 08/17/1992
Hometown: Norwich, United Kingdom
Ring Name: Paige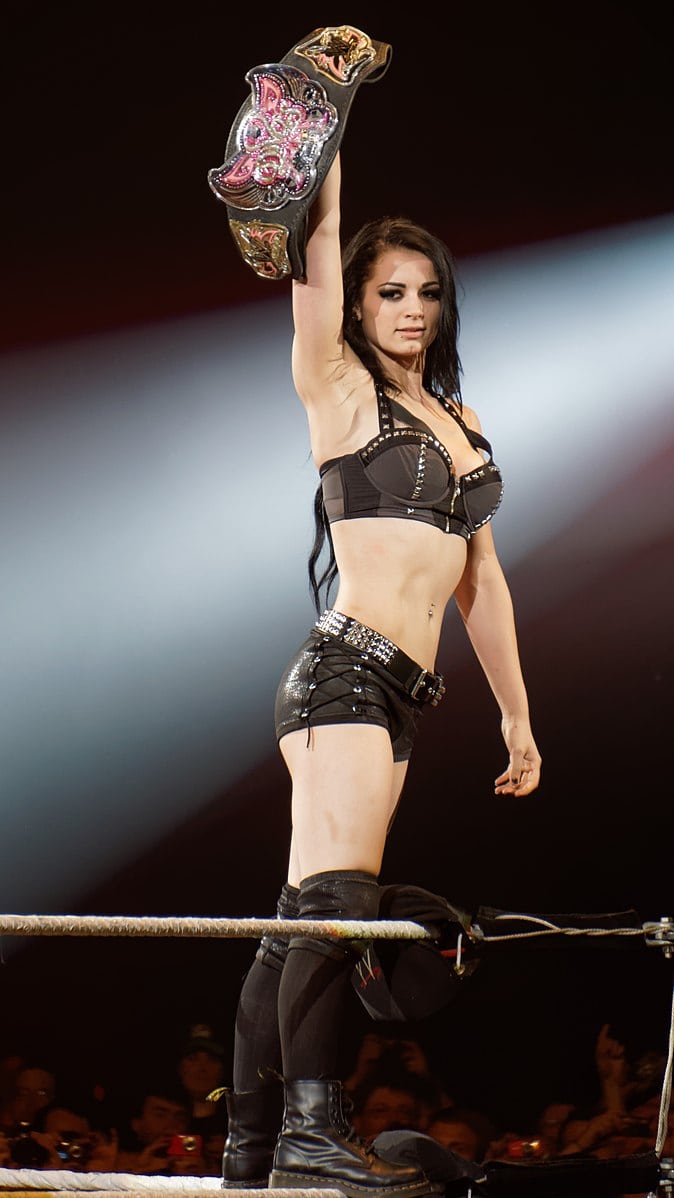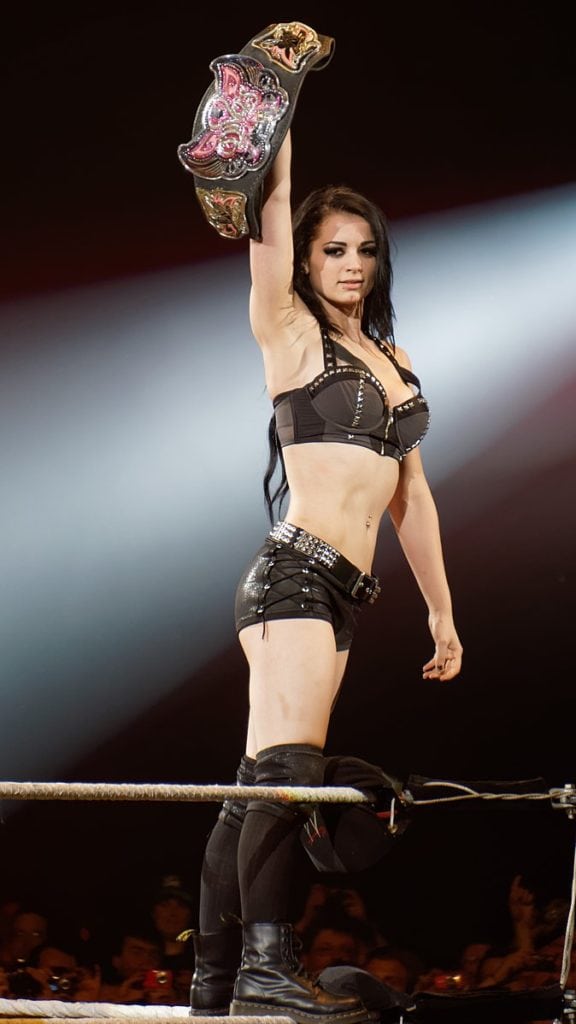 photo source: commons.wikimedia.org
Saraya Bevis, known simply as Paige in the ring, is one of the more well-known female phenoms in WWE wrestling. She may be the oldest person we mention on this list at only 19-years-old, but she's the youngest WWE Divas Champion at 21. She made her WWE debut at 19, but her first brush with professional wrestling came in 2005 at 13-years-old for her family's World Association of Wrestling Promotion.
Paige retired in 2018 after dealing with a few devastating injuries, one of which required a neck surgery. Her career was a tremendous success, and she gained worldwide praise from peers and fans. By any metric or standard, retiring at 29 is a win-win. Considering her career began at 13, she was more than ready to let go of the physical demands of the job.
Did You Know?
Channel 4 produced a documentary about Paige and her wrestling family called The Wrestlers: Fighting with My Family, which was eventually adapted into the popular 2019 feature film, Fighting with My Family. It starred a household name, WWE alumni Dwayne "The Rock" Johnson, Stephen Merchant, and Florence Pugh.
---
7. Barbara Coba
Age: 19
Born: 01/15/1987
Hometown: Jacksonville, Florida
Ring Name: Kelly Kelly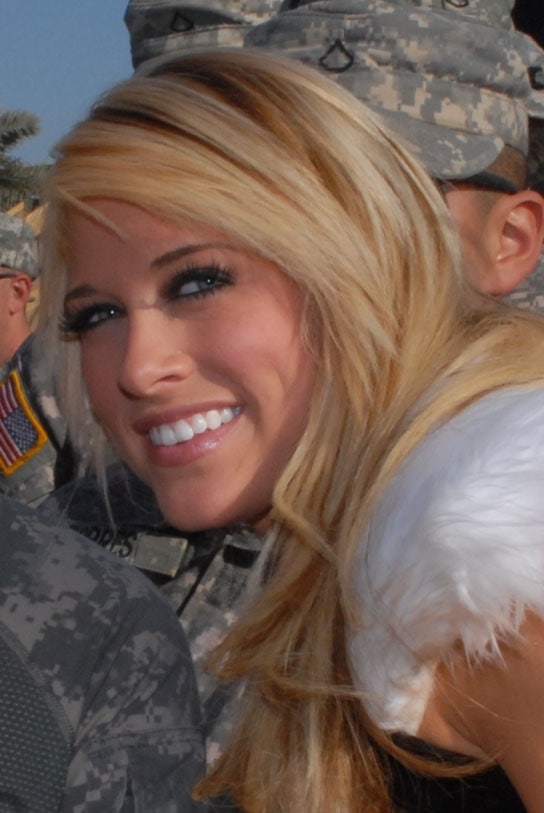 photo source: commons.wikimedia.org
Barbara Blank Coba, or Kelly Kelly in the ring, is a current American professional wrestler with an unconventional path to the canvas. At 19-years-old, she was scouted by WWE recruiters looking for a valued combination of athletic blonde bombshells. Barbara Coba worked as a model for Venus Swimwear and Hawaiian Tropic before she turned into the WWE superstar we know today.
She made her debut for the ECW brand in June 2006, initially in a non-wrestling role, as a ring announcer and referee.
Did You Know?
Like many wrestlers before her, the art of performance is the strong suit of these acrobatic entertainers. For Kelly Kelly, that led to a film career, where she debuted in the 2020 film Disturbing the Peace.
---
6. René Goguen
Age: 19
Born: 12/15/1983
Hometown: New Brunswick, Canada
Ring Name: René Dupree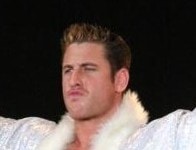 photo source: commons.wikimedia.org
René Dupree was the first wrestler in WWE history to win a title as a teenager at 19-years-old. But technically, Dupree was signed to the company at just 18! He comes from a family wrestling enterprise, much like Paige, as he's the son of Canadian Maritimes wrestling promoter Emile Dupree.
He's a two-time World Tag Team Champion. Once with Sylvain Grenier under the name Tag Team La Résistance, and second with Kenzo Suzuki.
Did You Know?
Dupree has gone global with his talents, working for Japanese promotions All Japan Pro Wrestling, Wrestle-1, and Hustle.
---
5. Matthew Hardy
Age: 19
Born: 09/23/1974
Hometown: Cameron, North Carolina
Ring Name: Matt Hardy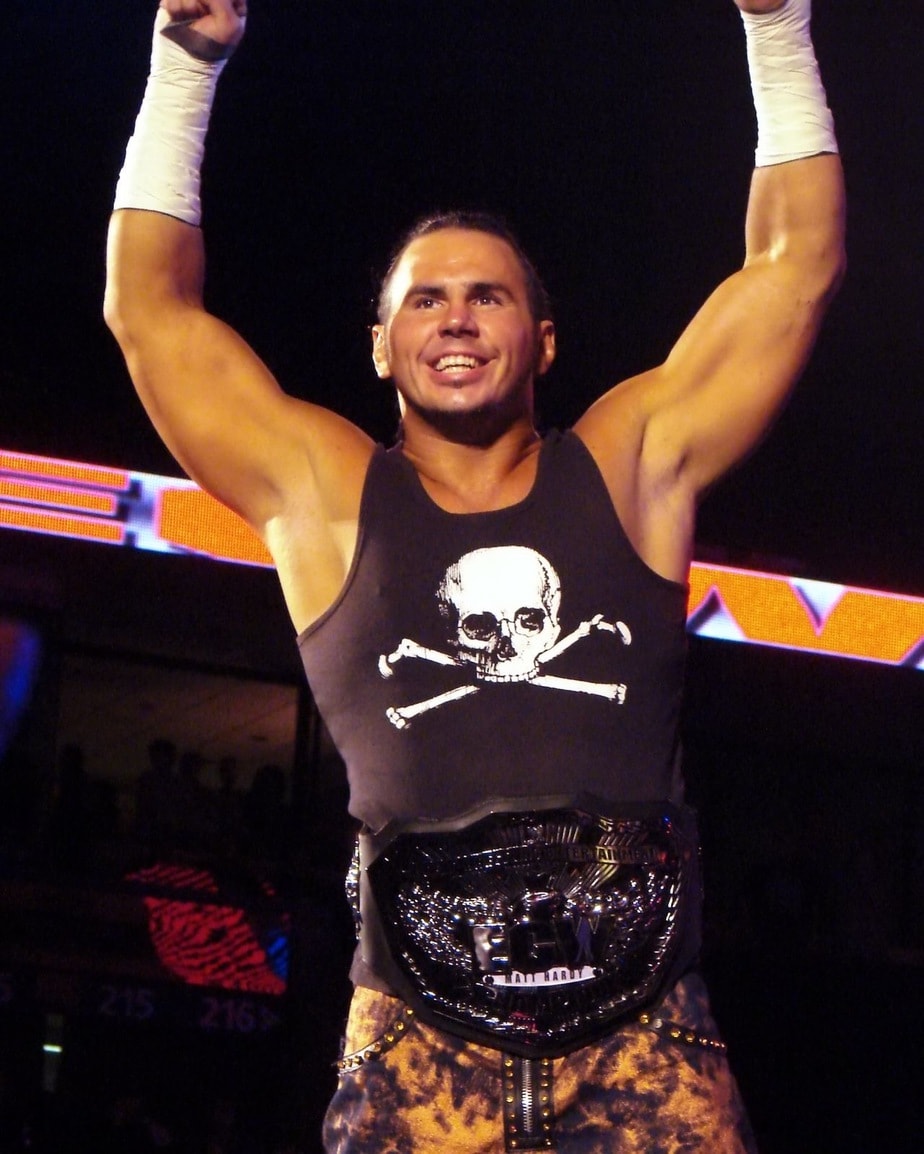 photo source: commons.wikimedia.org
Matt Hardy has become the stuff of legend within the WWE fraternity. Not only because of his electric, highly entertaining style, but for his impressive longevity in a sport that's one of the most physically demanding of all combat sports. Hardy debuted at 19-years-old with his real-life brother, Jeff. Dubbed The Hardy Boyz, they quickly rose through the ranks as a tag-team duo in the early 2000s.
Hardy is a 14-time world tag team champion and has been out on the canvas putting his body on the line throughout four decades for our entertainment. In 2022, the 47-year-old currently has 21 total championships, with perhaps more on the way!
Did You Know?
Hardy has been praised for his ability to reinvent his image at different points in his career. For this underrated but difficult skill, he won the Wrestling Observer Newsletter Best Gimmick Award twice.
---
4. Taylor Rotunda
Age: 18
Born: 05/26/1990
Hometown: Brooksville, Florida
Ring Name: Bo Dallas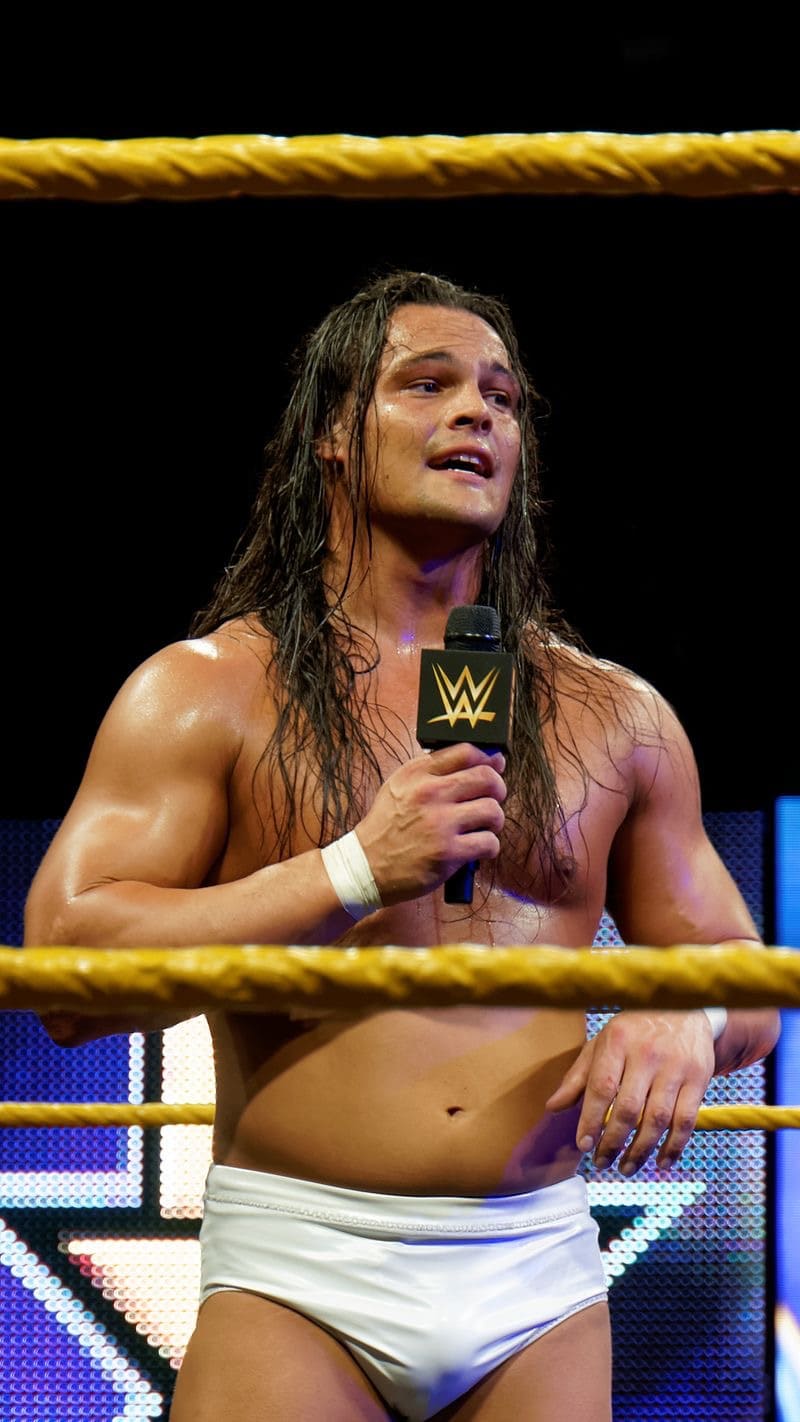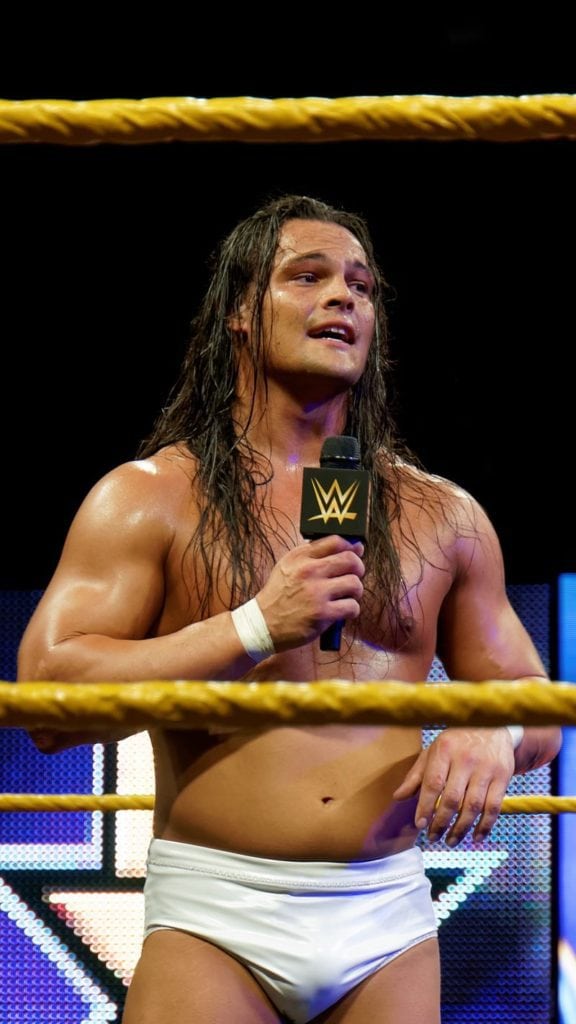 photo source: commons.wikimedia.org
Taylor Rotunda went by Bo Dallas in the ring. If that isn't the most quintessential wrestler name on the planet, we don't know what is. This American wrestler was introduced to the big show (no pun intended) at 18-years-old. It's no surprise he grew up to become a WWE superstar when you look at the pedigree he comes from.
His grandfather (Hall of Fame), Blackjack Mulligan, father, Mike Rotunda, and uncles Barry and Kendall Windham were professional wrestlers. An injury to the neck forced him into an earlier than anticipated retirement in 2021, along with other unforeseen circumstances like the release of his tag team partner Curtis Axel.
Did You Know?
Bo Dallas logged some impressive achievements by the time he retired at 31. He is an NXT Champion, WWE 24/7 Champion and WWE Raw Tag Team Champion.
---
3. Kenneth Doane
Age: 17
Born: 03/16/1986
Hometown: Southbridge, Massachusetts
Ring Name: Kenny Dykstra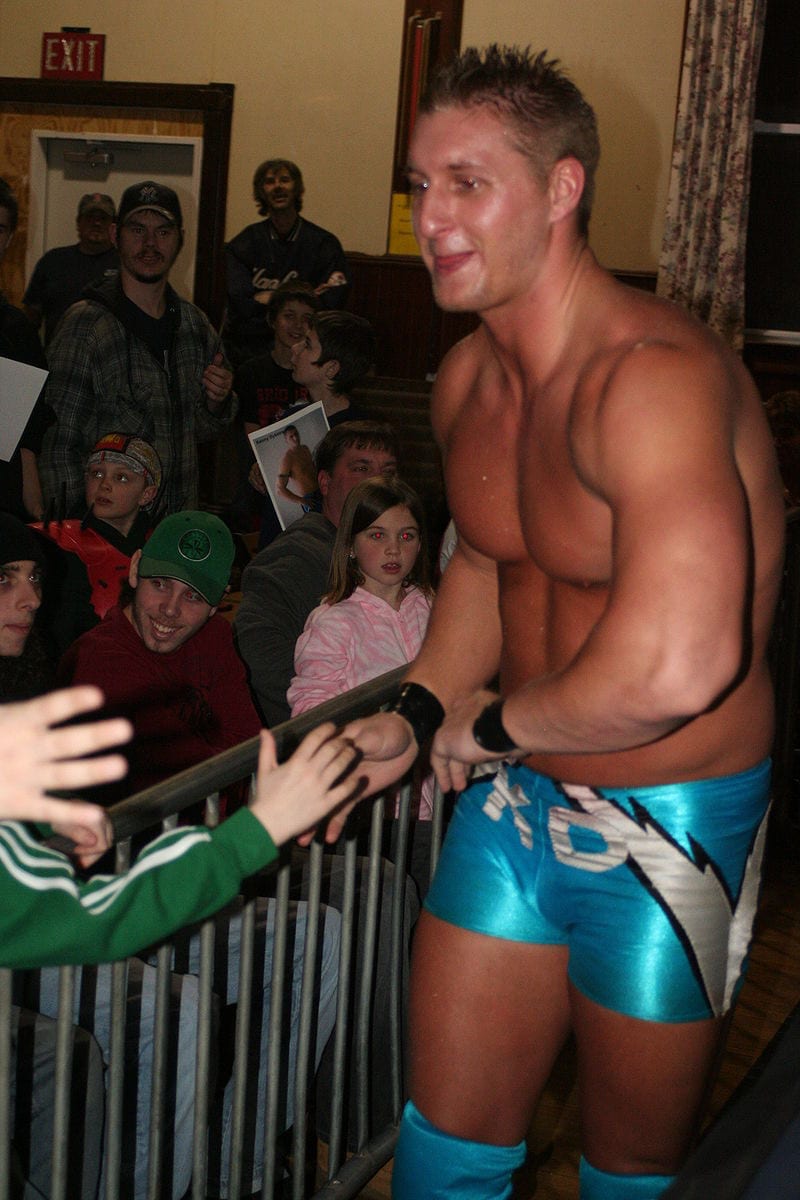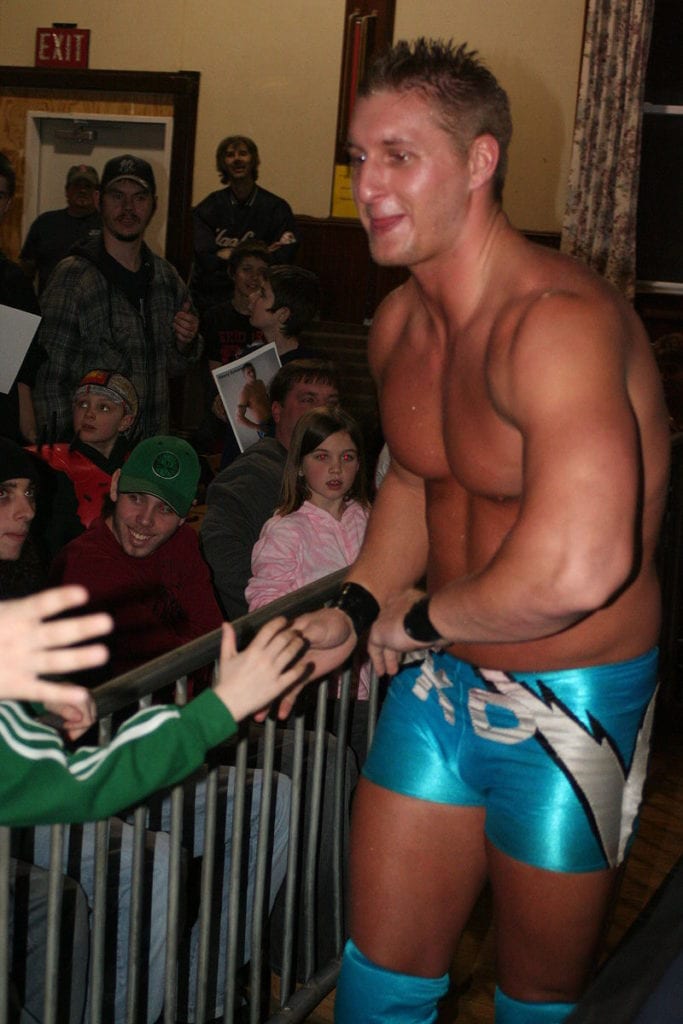 photo source: commons.wikimedia.org
Kenneth Doane made his professional WWE ring debut at just 17-years-old, as Ken Phoenix. He's best known as a member of The Spirit Squad. That was surely a name that struck fear into the hearts of their opponents!
Kenny was a pro by 17, just two years after he made his wrestling debut in 2001.
Did You Know?
Kenneth Doane now works as a trainer at the WWE Performance Center.
---
2. Jeffrey Hardy
Age: 16
Born: 08/31/1977
Hometown: Cameron, North Carolina
Ring Name: Jeff Hardy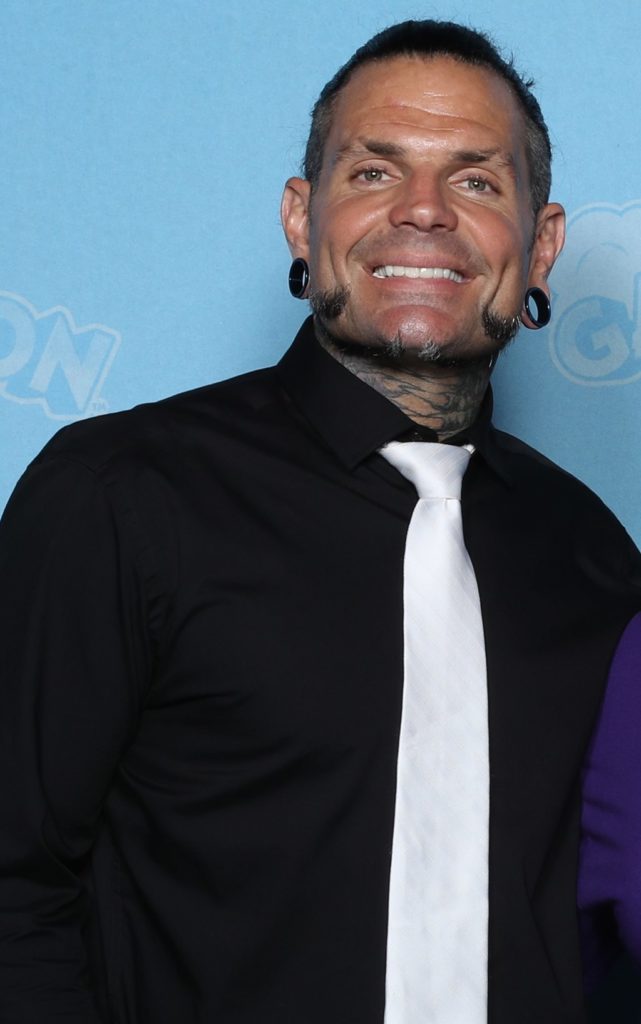 photo source: commons.wikimedia.org
Jeff Hardy was the second piece to the dynamic-duo that made up The Hardy Boyz, alongside his brother Matt. The brotherly duo rose together as young professional wrestlers and eventually became the greatest tag team in professional wrestling history. Their high-flying acrobatic style can be traced back to their time performing in the Trampoline Wrestling Federation, which sounds just as entertaining as it is ridiculous.
Jeff Hardy has won six world championships, a WWE championship, and a WWE World Heavyweight Championship.
Did You Know?
Jeff Hardy isn't just a muscly, dumb brute, which are stereotypes that tend to get attached to the death-defying athletes in the WWE. Since his retirement, he's made music, painted, and is a member of the band PeroxWhy?Gen. He and his brother wrote an autobiographical memoir titled The Hardy Boyz: Exist 2 Inspire – a New York Times Best Seller.
---
1. Nicholas Cone
Age: 10
Born: 2008
Hometown: N/A
Ring Name: Nicholas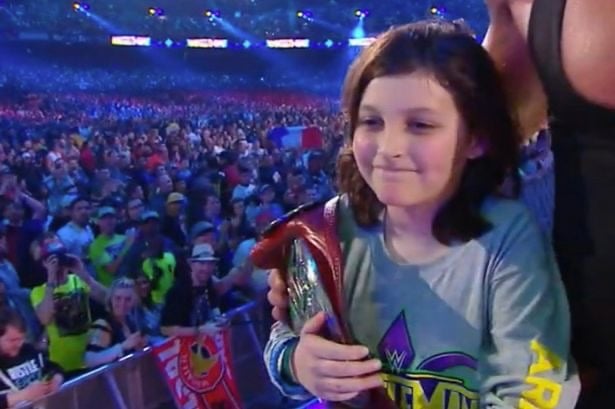 photo source: mirror.co.uk
The Youngest WWE Wrestler was the unsuspecting boy in the crowd – Nicholas.
Nicholas was 10-years-old when he made his sudden professional ring debut with Braun Strowman. The 6'8" titan of the ring was set to fight for the WWE Tag Team title against the champions Sheamus and Cesaro. Strowman's mystery partner would be revealed on the night.
Instead of finding a professional wrestler to help him win the most important fight of his life, Strowman showed us his brilliance as a tactician, understanding how the element of surprise is as powerful a tool as experience. So, he picked the young Nicholas out of the crowd to take on Sheamus and Cesaro. The two proved to have great chemistry and won the Raw Tag Team title.
Did You Know?
If you thought that it would be inappropriate and risky to put a 10-year-old boy into the ring with professional, 300+ pound wrestlers and elite acrobats, then don't worry. Nicholas was a plant in the crowd and the son of WWE referee John Cone. The unlikely pair made history. For a fleeting moment, they were champions of the world until they vacated the titles on Raw the next night.