The National Basketball Association (NBA for short) is a league many have not only watched, but dreamed about being be a part of. Some have aspired to be players, while others would be satisfied with an involvement in the league in any capacity.
The NBA has not been around as long as one might think. In 1949, the Basketball Association of America (BAA) and National Basketball League (NBL) merged to form the National Basketball League (NBA). Since then, 143 different coaches have taken the floor to coach an NBA game.
Let's take a journey to learn about the eight coaches who were the youngest to take the floor for the first time.
8. Magic Johnson (35 Years Old)
Years Coached: 1 Season
Career Record: 5 wins and 11 losses – 31.3% Winning record
Team Coached: Los Angeles Lakers
Former Player: Yes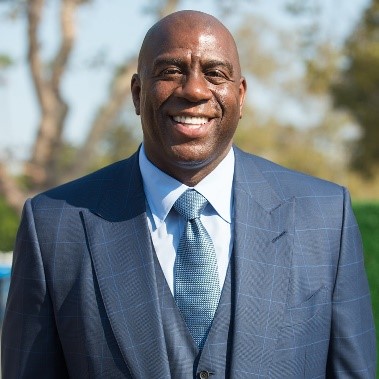 photo source: Biography.com
There is no better name to start this list off than the one and only Magic Johnson.
Primarily known for his stellar career as a player, Johnson got the chance to coach the Los Angeles Lakers for a short time. However, his time was cut short after only 16 games as the coach.
Though he wasn't a coach for long, Magic Johnson will always go down as one of the most prolific basketball players of all time who also coached in the NBA.
Did You Know?
Outside of basketball, Magic Johnson started a production company called Magic Johnson Entertainment. He also started a record label called 32 records.
Today, all of Johnson's ventures are combined into one company called Magic Johnson Enterprises. This conglomerate is worth approximately $600 million, and consists of various different industries that even includes some Burger King restaurant franchises and 24-hour fitness gyms.
---
7. Stu Jackson (35 Years Old)
Years Coached: 3
Career Record: 58 wins and 78 losses – 42.6% winning record
Team Coached: New York Knicks and Vancouver Grizzlies
Former Player: No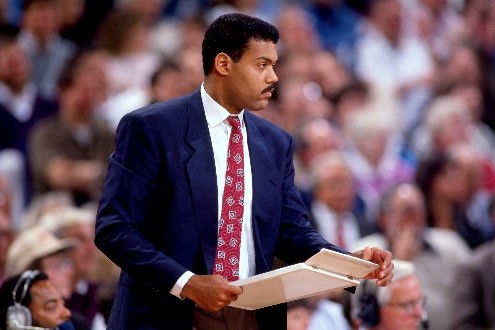 photo source: Msgnetworks.com
Stu Jackson certainly has an interesting career as an NBA head coach.
In his very first season, Jackson coached the New York Knicks to a 45-win season and a playoff visit. He was even able to win a playoff series – though he would eventually lose in the second round.
Stu Jackson accomplished these impressive feats at the young age of 35. After this first season, he was only able to then win 13 of his next 54 games. Both his tenures in New York and Vancouver ended in termination.
Did You Know?
Although Stu Jackson played his collegiate career at both Oregon University and University of Seattle, he now sits as the Director of Basketball Operations for a French club, Élan Béarnais, based in Pau. Jackson is quoted recently as saying, "Club Élan Béarnais can be the gold standard of franchises around Europe."
This club is currently in 4th place out of 18 teams in the 2021-22 season.
---
6. Jeff Van Gundy (34 Years Old)
Years Coached: 11
Career Record: 430 wins and 318 losses – 57.5% winning record
Team Coached: New York Knicks and Houston Rockets
Former Player: No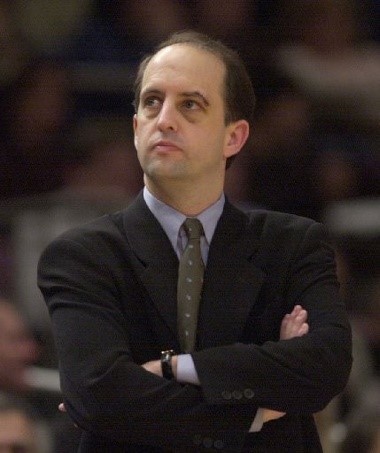 photo source: Nj.com
Whether you know Jeff Van Gundy as a former coach or as a current broadcaster, he is no stranger to the Association. His coaching career spanned 11 seasons, and he even led the New York Knicks to the championship in his fourth season.
In addition to his impressive coaching achievements, Van Gundy has proven to be every bit as successful as a sports broadcaster. Van Gundy has been broadcasting since his coaching career ended in 2007, and he is a part of the broadcasting team that calls the NBA finals each season.
Did You Know?
Jeff had a successful playing career of his own. He is a two-time All Rochester selection in 1979 and 1980 for Brockport Central High School. Jeff later went on to play at Nazareth College, where he still owns the school record for highest free throw percentage at 86.8%.
---
5. George Karl (34 Years Old)
Years Coached: 27
Career Record: 1175 wins and 824 losses – 58.8% winning record
Team Coached: Cleveland Cavaliers, Golden State Warriors, Seattle Super Sonics, Milwaukee Bucks, Denver Nuggets, Sacramento Kings
Former Player: Yes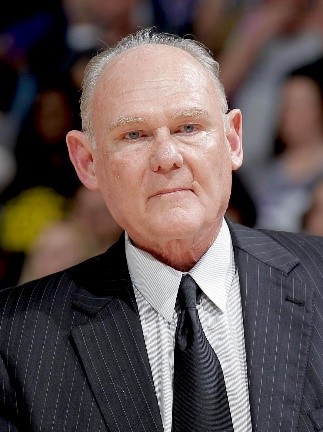 photo source: https://www.foxsports.com
Another very prominent name when it comes to the National Basketball Association is George Karl. People of all ages who follow the sport know his name, as Carl spent 27 long years coaching.
Carl coached six teams during his tenure, with his greatest success coming in 1995 when he took the Seattle Super Sonics to the championship. After 25 years of coaching, he finally won the coveted Coach of the Year Award in 2012.
George Karl is an iconic figure in the NBA, and highly esteemed among players and colleagues alike.
Did You Know?
George Karl survived 2 separate stints of cancer. He received the Jimmy V Award for perseverance at the 2010 ESPY awards. He also supports cancer research and care through his own foundation, The George Karl Foundation.
---
4. Lawrence Frank (34 Years Old)
Years Coached: 9
Career Record: 279 wins and 335 losses – 45.4% winning record
Team Coached: New Jersey Nets and Detroit Pistons
Former Player: No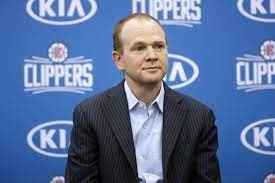 photo source: Latimes.com
Some would attribute Lawrence Frank's success primarily to his career as an NBA executive (rather than as a coach); however, Lawrence holds the NBA record for a rookie head coach of 13 consecutive wins, as well 6 straight on the road. He also won Eastern Conference Coach of the Month on four different occasions.
Despite all of this, his tenure was long, but not very successful. In nine seasons, he took his team to the playoffs just four times – a fact that can't be overlooked when summing up Frank's career as a coach.
Did You Know?
Frank is currently the President of Basketball Operations for the Los Angeles Clippers. He won NBA Executive of the Year in 2020. This came after being responsible for bringing Kawhi Leonard from Toronto to Los Angeles, and taking the team to back-to-back Western Conference semi-final games.
---
3. Kaleb Canales (34)
Years Coached: 1
Career Record: 8 wins and 15 losses – 34.8% winning record
Team Coached: Portland Trailblazers
Former Player: No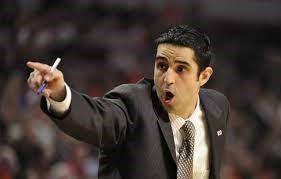 photo source: https://www.oregonlive.com
Video intern to NBA Head Coach?
This path sounds extremely unlikely, but it is the exact path that Kaleb Canales ended up taking when he was hired to work for the NBA. Originally hired as a video intern for the Association in 2005, Canales was eventually promoted to Video Coordinator before pivoting to a new career within the NBA in 2009.
It was during that summer that Canales coached Portland's league team, which eventually led to his opportunity to become Head Coach in 2012. Despite his stroke of luck in landing the position, the opportunity did not last long. Canales coached only 23 games with a subpar record.
Today, Kaleb Canales is an assistant coach for the Indiana Pacers.
Did You Know?
Kaleb was just recently hired as the assistant head coach for the Mexican National Basketball team. Mexico has seen little success on the international stage when it comes to basketball; they have never won a medal in five appearances at the FIBA World Cup, and have only ever qualified for the Olympics 5 times. Kaleb is looking to bring a medal to his native country.
---
2. Sidney Lowe (33 Years Old)
Years Coached: 5 Seasons
Career Record: 79 wins and 228 losses – 25.7% Winning Record
Team Coached: Minnesota Timberwolves and Memphis Grizzlies
Former Player: Yes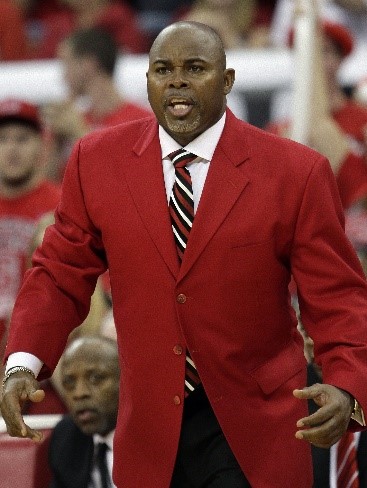 photo source: https://www.usatoday.com
Basketball has always been everything for Sidney Lowe.
Beginning his high school career at a small town in Maryland called Hyattsville, Lowe went on to play at North Carolina State University. After spending 8 seasons as a player for the NBA, he took on an assistant coaching job in 1991.
Halfway through 1992, Lowe finally got his chance to become Head Coach for the sport he loved so much. Although it was not a tenure that proved beneficial from a winning percentage at either franchise, Sidney is still putting his wealth of basketball knowledge to work as an assistant coach for the Cleveland Cavilers today.
Did You Know?
Sidney Lowe was the starting point guard for the 1983 North Carolina State Wolfpack team which won the championship. This team took down number one ranked Houston University in the final game. Sidney was indeed the facilitator of this offense in this game accounting for 8 of the teams 13 assists.
---
1. Ryan Saunders (33 Years Old)
Years Coached: 3 (2018-2021)
Career Record: 43 wins and 94 losses – 31.4% Winning Record
Team Coached: Minnesota Timberwolves
Former Player: No (college)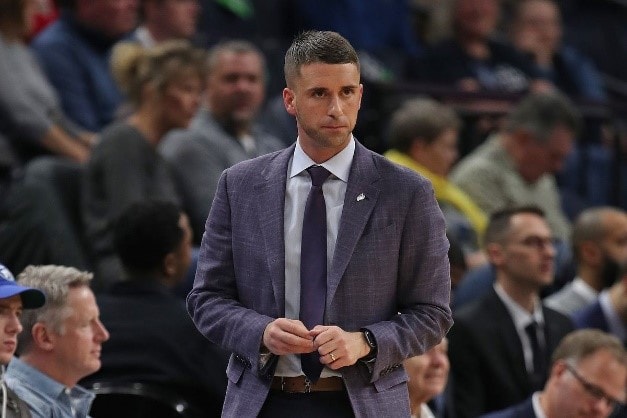 photo source: Bulletsforever.com
Ryan Saunders is the youngest NBA Head Coach ever to coach in the NBA.
Saunders has been learning the game of basketball since his early life. The son of a very successful 17-year veteran, NBA coach Flip Saunders, basketball has always run in Ryan's blood.
At just 23 years old, Saunders got his first assistant coaching job for the Washington Wizards. His assistant coaching career spanned a decade before he became Head Coach for the Minnesota Timberwolves in 2018.
Despite the fact that his head coaching career came to an end after just three seasons, Ryan is a wealth of knowledge when it comes to basketball, between his upbringing and the many years of experience he now carries. He remains a very sought-out candidate for any coaching position in the league.
Did You Know?
As mentioned, Ryan was just recently terminated from the Minnesota Timberwolves. He now teaches a sports leadership class at Northwestern University. This course is designed to give students a chance to develop moral and ethical values while studying Sports Management.
OTHER POSTS YOU MAY BE INTERESTED IN