Not many people know that the origins of drag are extremely ancient and date back to the Elizabethan era! In fact, during this period, women were not allowed to perform on the stage, and men had to act in both male and female roles.
The first documented drag queen was John Cooper, who chose the drag name of Princess Seraphina. He lived in London in the 18th century and used to wear women's clothes even outside of the theater.
Throughout the years, drag kept developing till the early 21st century, when the first edition of Rupaul's Drag Race came out, making this form of art mainstream.
Nowadays, there are plenty of drag queens all over the world, and more and more young kids are getting interested in this form of art.
This is why, today, we're here to talk about the eight youngest drag queens currently performing!
8. Charli Paul Frank Monét Finch (August 14, 2001 – present)
Age: 20
Known As: Anubis Finch
Nationality: English, Egyptian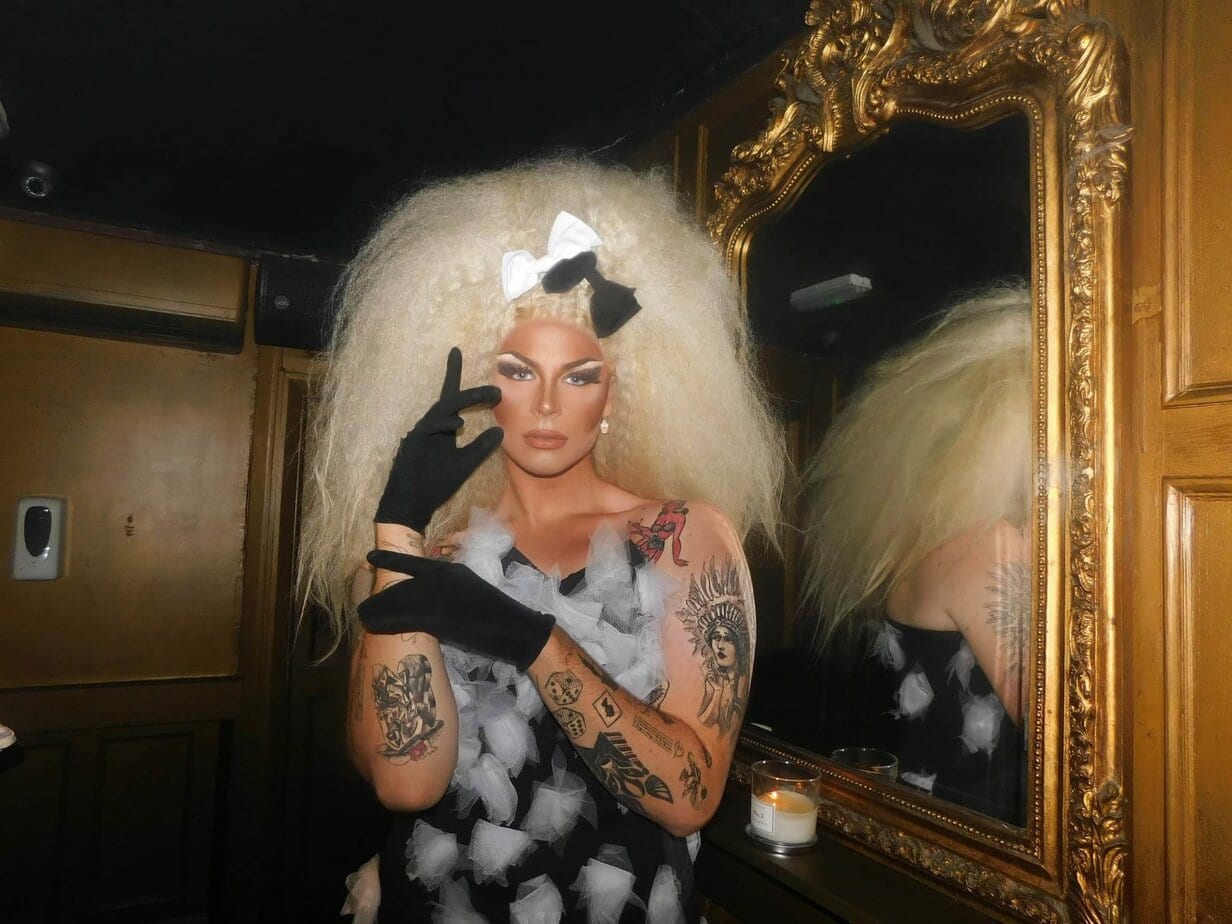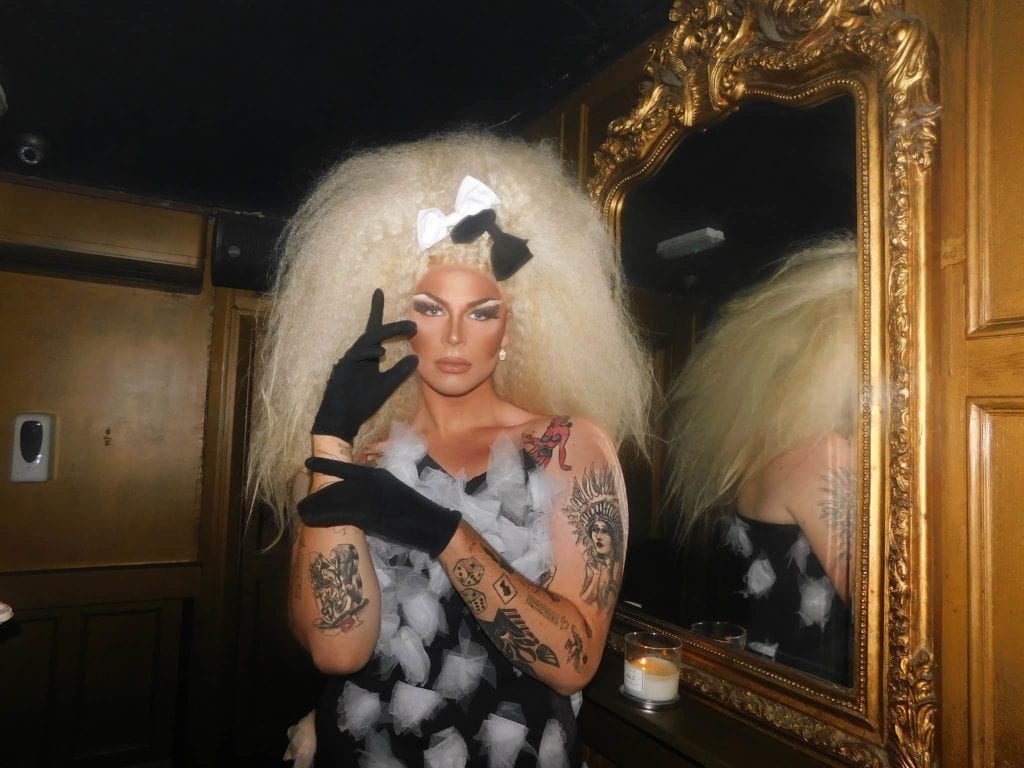 photo source: wikimedia.org
Charli Paul was one of the contestants on the third season of RuPaul's Drag Race UK.
Known as Anubis Finch, this drag queen is originally from Brighton. Referring to her experience at RuPaul's Drag Race UK she declared: "It was the most scary, horrible thing of my life, but I don't regret it for a thing and I wouldn't change it."
Charlie reached popularity when he lost nine stones following the death of his father. He is also known as a jazzist musician and has independently released his first debut EP, 'Anubis', in September 2019.
Did You Know?
Charlie chose the name Anubi as an homage to his father. His dad was of Egyptian origins and passed away a few years before Charlie's debut as a drag queen in RuPaul's Drag Race UK.
---
7. Luke Fenn (October 10, 2001)
Age: 20
Known As: Krystal Versace
Nationality: English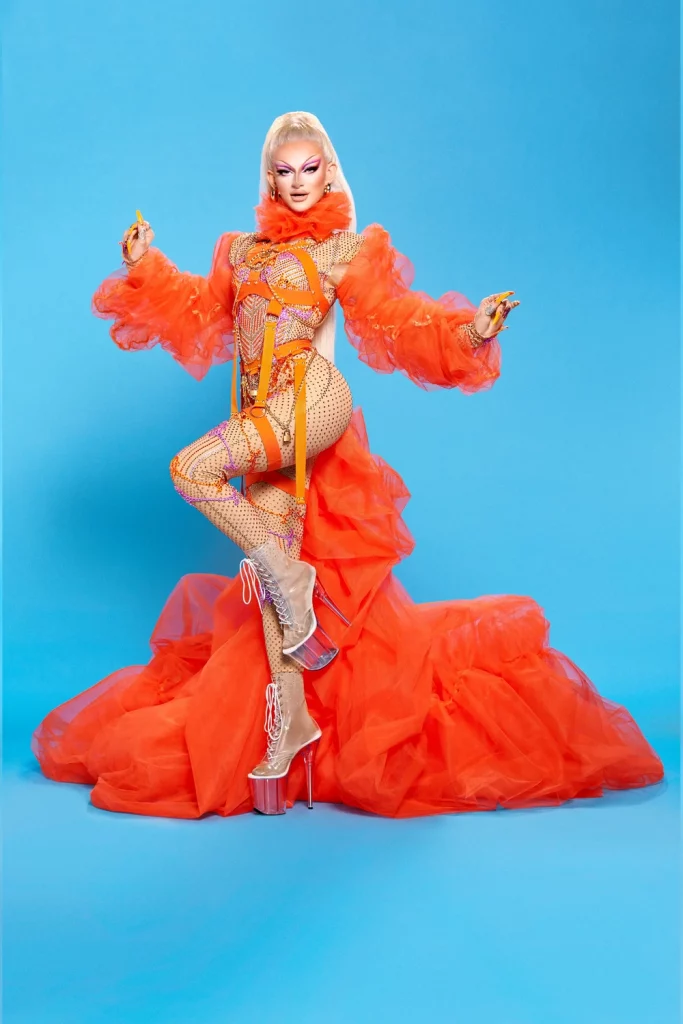 photo source: rupaulsdragrace.fandom.com
Luke Fenn is one of the youngest drag queens who participated in the famous show RuPaul's Drag Race UK.
He performed when he was only 19 years old and proceeded to be crowned the UK's Next Dragqueen Superstar, becoming the youngest ever Rupaul's drag queen winner.
Luke took part in the third season of RuPaul's Drag Race in the UK and distinguished himself from the very first episode. In fact, he won the first two main challenges! One of these consisted of a top-two lip sync against Victoria Scone, another participant in the show.
Known by the drag name of Krystal Versace, he managed to reach the final episode together with Ella Vaday and Kitty Scott-Claus. In the last challenge, these three drag queens were given the task to write, record, and perform their own remix of 'Hey Sis, It's Christmas'. They also challenged each other at a lip-sync of You Don't Own Me by Dusty Springfield, following which, Krystal was proclaimed the winner.
Did You Know?
According to Luke, he decided to choose the name Krystal Versace when he was 19 while discussing it with a guy. It was, in fact, this guy who suggested the name Crystal, even though Luke later changed it to Krystal as it felt more aligned with his character.
---
6. Sam Carlin (2007)
Age: 14-15
Known As: Cherry West
Nationality: Scottish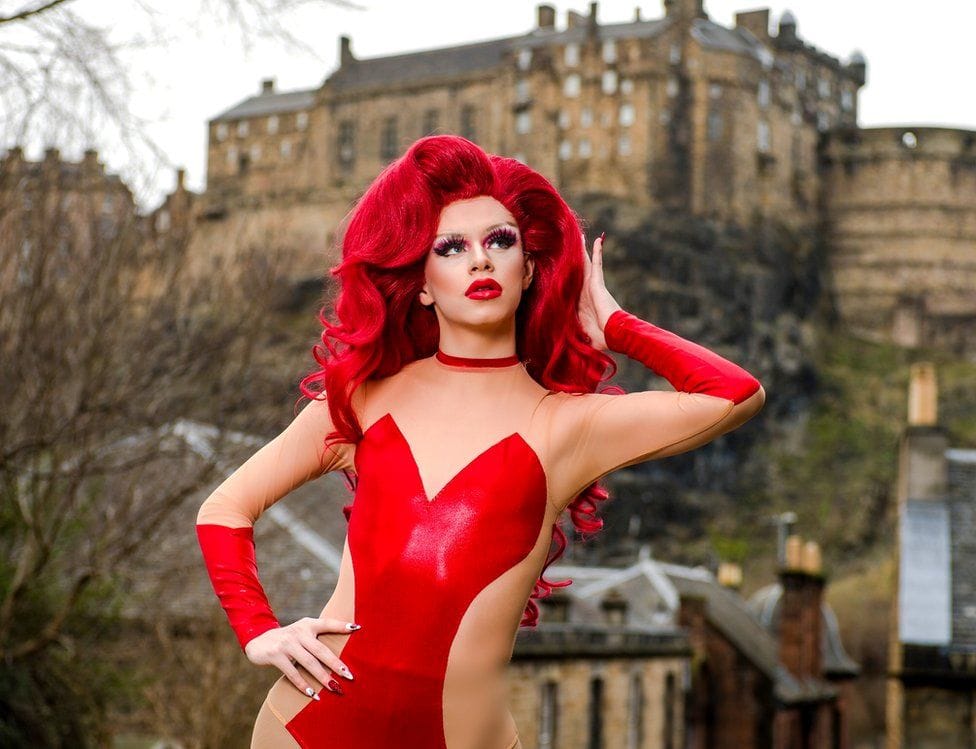 photo source: www.bbc.com
Despite being only 14 years old, Sam Carlin is conquering the drag queen world!
Originally from Edinburgh, Sam first learned about drag queens when, at the age of 10, he went to a show together with his parents. He then started to watch RuPaul's Drag Race and decided he wanted to create his own character.
According to Sam, he watched the show for about a year before getting into drag. He began by looking at wigs and different drag styles to find his own.
Sam had always been into performing, even before discovering the drag queen world. In fact, he has been singing since he was eight years old and was also part of a boy band for a short period of time.
Sam always had a passion for music and drama and often sang at karaoke. In the past, he also performed at the Edinburgh International Festival, a world-renowned event featuring music concerts and visual exhibitions.
Did You Know?
Cherry West is an abbreviation of Cherry West, the Redberry from Edinburgh. Sam chose this drag name as he extremely values his origins.
---
5. Logan Kelly (2007)
Age: 14
Known As: Candy Featherbottom
Nationality: Australian
photo source: www.abc.net.au
Logan Kelly is one of the youngest drag queens on the scene at the moment!
He made his debut when he was only ten years old, performing at North Ipswich Bowls Club, located southwest of Brisbane. His character, Candy Featherbottom, was created in Taboo, a family-friendly drag club. During one of the performances, one of the drag queens challenged Logan to walk in high heels, and he did so without hesitation. That's when this young boy started to think about pursuing a career in the drag world.
Describing Candy, Logan affirms: " Candy is a very… unique character, she is really strong. She definitely feels energetic, excited."
Throughout the years, Karl Eastaghffe, the founder of Taboo, together with the other drag queens performing here, have become mentors for young Candy Featherbottom. Logan now plans to continue his career as a drag queen and hopes to become a famous actor.
According to Logan, people in his school are sometimes curious about Candy, but luckily he never had negative experiences caused by his passion.
Did You Know?
Logan is also a black belt in karate!
---
4. Ron Kixen (2008)
Age: 13-14
Known As: Olivia Limehart Sky
Nationality: Canadian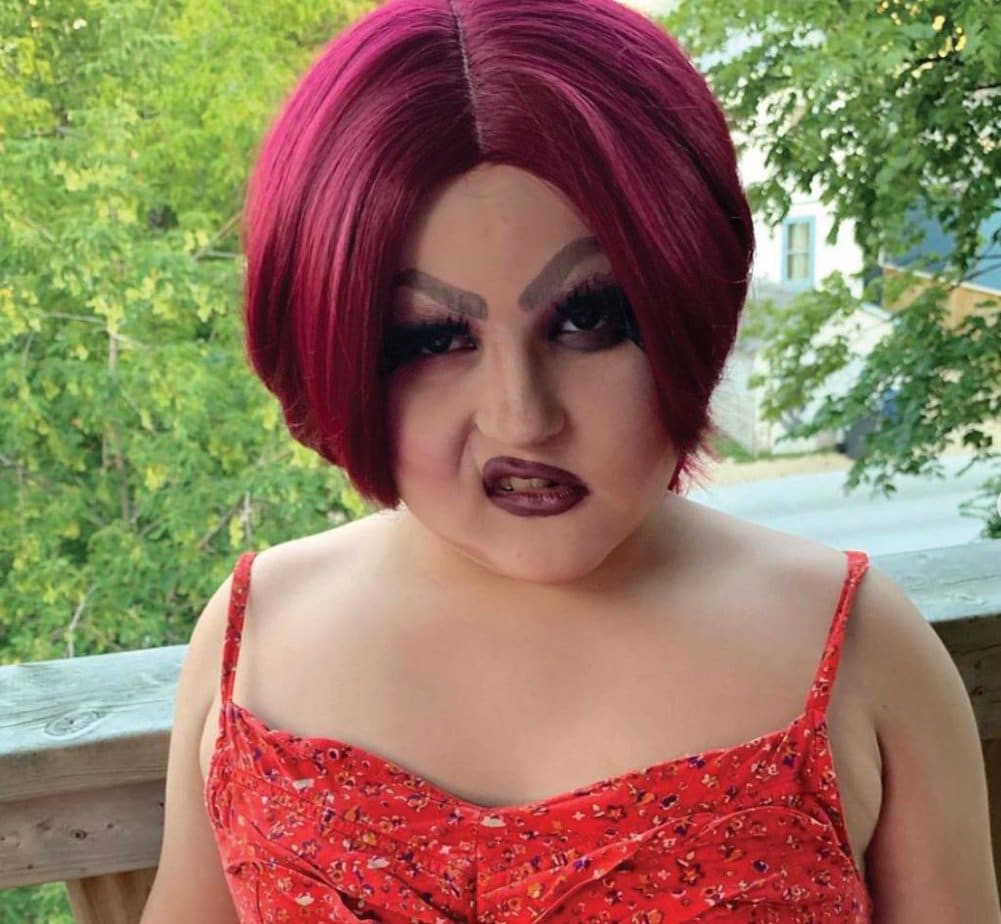 photo source: issuu.com
Known for her iconic eyebrows and extreme eyelashes, Olivia Limehart Sky is one of the youngest drag queens at the moment!
Ron Kixen, aka Olivia, started to drag after seeing Kim Chi, a season eighth contestant of RuPaul's Drag Race. He soon told his mom, Issa Kixen, about his desire to get into drag, and she was extremely supportive.
According to his mom, Ron used to be a very shy boy, and she was hoping that drag may help him with his confidence.
We could confidently say that the plan worked perfectly, as now Olivia regularly performs also thanks to the support of other drag queens such as Vida Lamour DeCosmo and Anita Stallion.
Did You Know?
Olivia said she is usually very nervous before each performance. However, as soon as she gets on stage, these feelings disappear: "Once I'm on stage, it feels super awesome. I'm more confident in drag."
---
3. Nemis Quinn Melancon Golden (September 15, 2008)
Age: 13
Known As: Queen Lactatia
Nationality: Canadian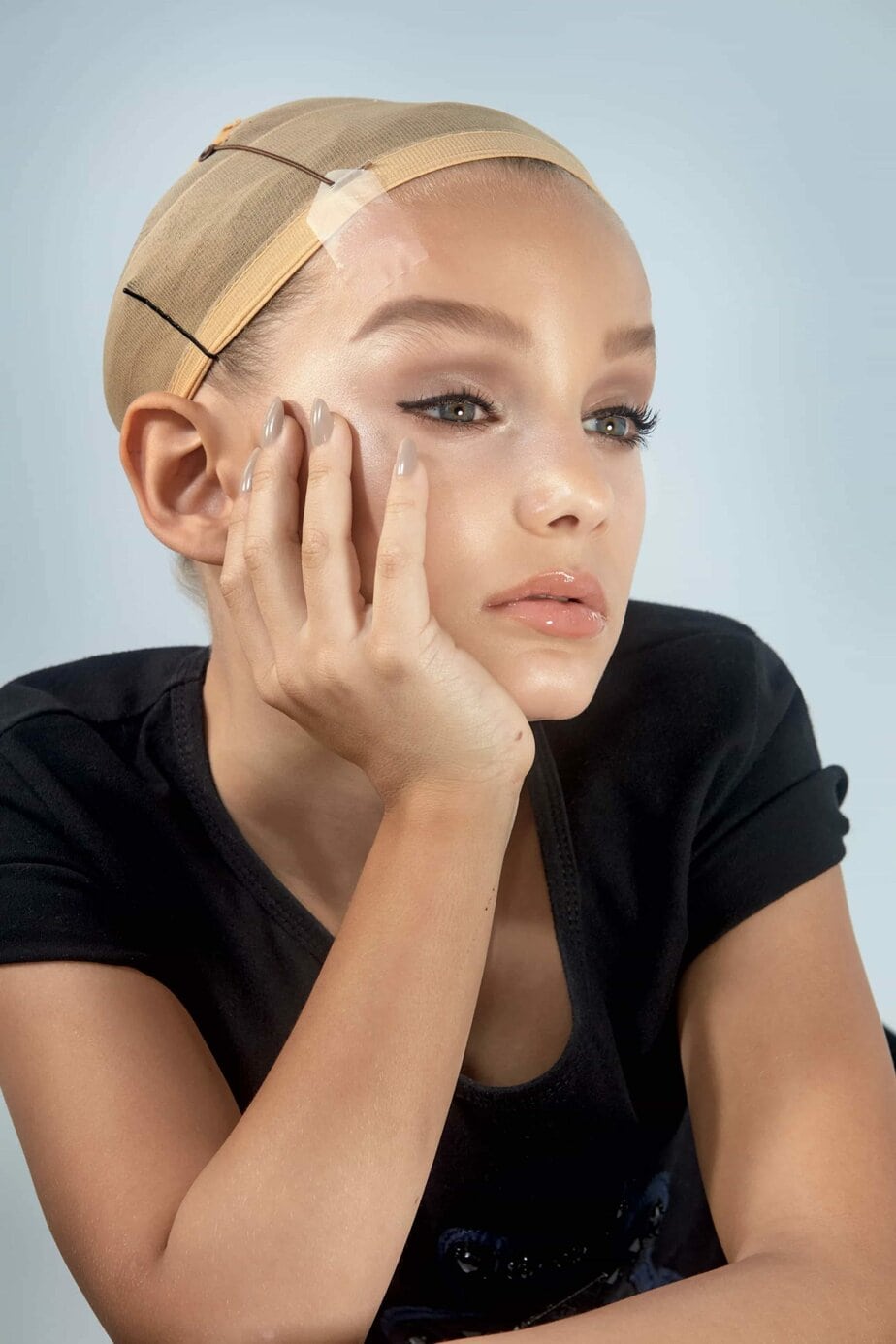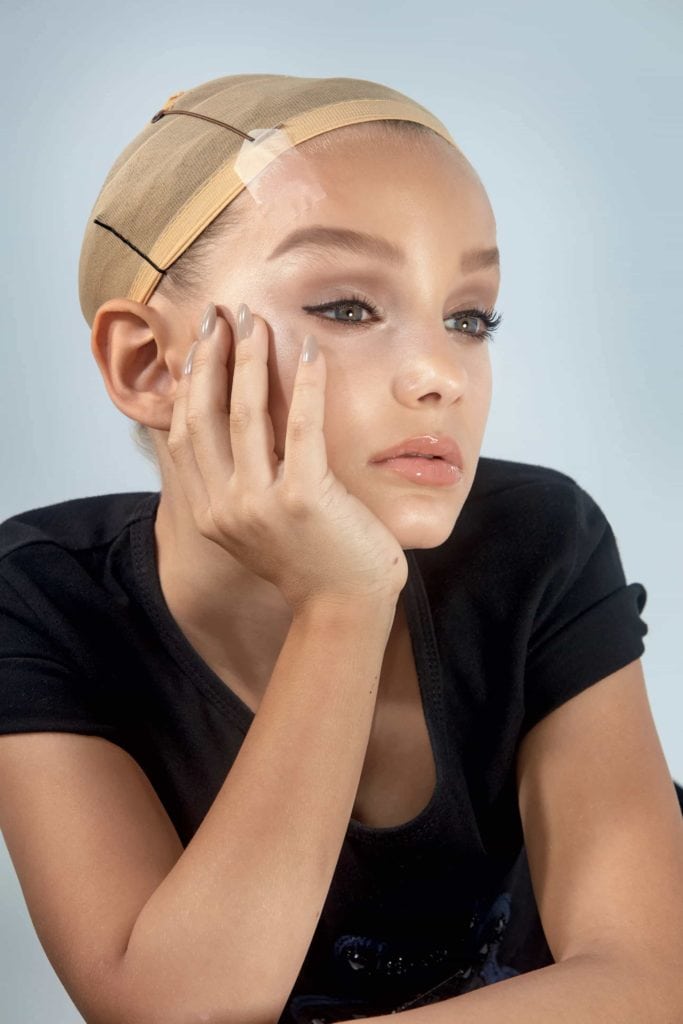 photo source: www.teenvogue.com
Nemis Quinn always wanted to be a drag queen even though he started to take this passion seriously when his sister showed him the famous tv show RuPaul's Drag Race. At the time, he was only seven years old but was determined to become a drag queen. He soon gave himself the name of Queen Lactatia and began to take voguing classes.
Nemis became so good at this type of dance that he was allotted a spot at a major vogue house in New York, the House of Mizrahi.
Nemis' mom, Jessica Mélançon, is particularly supportive of her son's choices. During an interview, she declared she extremely admires Nemis' confidence and always does her best to support him by helping curate his looks.
Did You Know?
One of Queen Lactatia's favorite songs is 'Born This Way' by Lady Gaga. "It has an amazing message that I try to apply to myself," said Nemis. "People are born differently. But we're all people, and we all have the same rights."
---
2. Fabian Butler (2009)
Age: 12-13
Known As: Francheska Valley
Nationality: English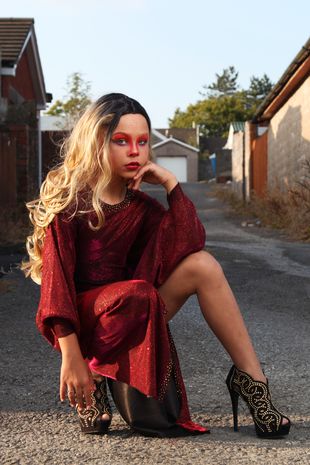 photo source: www.mirror.co.uk
Fabian Butler, known by the drag name of Francheska Valley, is among the youngest drag queens at the moment.
He was born in Britain and became famous after being interviewed by hosts Holly Willoughby and Phillip Schofield. During the show, he was also surprised by a lovely message from Courtney Act, a famous drag queen from Australia.
As it often happens with young talents, several viewers were concerned with his young age, however, many were the ones who showed their appreciation for the kid's talent.
According to Fabian, he started to play with his mom's clothes and makeup at a very young age and began to take makeup seriously when he was seven. At this age, he also started to try dresses on and experiment with different makeup to match his style. This hobby soon became a true passion and now Fabian performs with the drag name of Francheska Valley.
Did You Know?
Fabian's dad, Darren, admitted he had a hard time accepting his son's hobby. He first hoped it was a passing stage, but as his son became more and more interested in drag queens, he realized it was more than a hobby for him. Now Darren is proud of Fabian and has managed to accept his son's life.
---
1. Cadyn Gardner (2010)
Age: 11-12
Known As: Dezaray Star
Nationality: English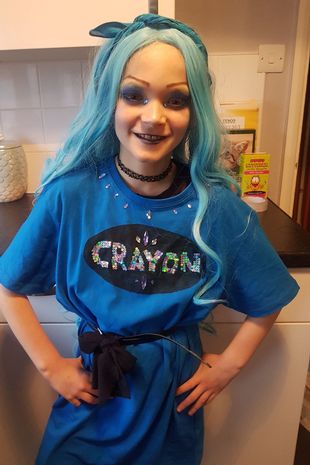 photo source: www.mirror.co.uk
Cadyn Gardner is currently the youngest drag queen as he's only twelve years old.
According to his mom, Fay, Cadyn started to put makeup on at the tender age of nine, in November 2019, after watching RuPaul's Drag Race.
Many people on the internet criticized Fay's choice to support her kid in this passion by claiming that she's just doing so to reach popularity on TikTok. But Fay doesn't seem to be paying attention to negative comments. (https://www.creativesystems.com/)
Even though Cadyn had some issues with bullies due to his passion, he's extremely proud of his drag queen character. In fact, according to his mom, he never hides this hobby, and during an introductory zoom call in secondary school, he openly declared in front of all his classmates that he was a drag queen.
LGBQ rights are an important topic in Cadyn's family. In fact, Cadyn's mom is a lesbian, and her brother is transgender. Cadyn hopes one day he will be able to work as a firefighter while keeping drag as a hobby.
Did You Know?
According to Fay, also Cadyn's brother had a passion for drag queens. In fact, during an interview, she declared: "[Cadyn would] love to inspire others that age to get into drag. His little brother did it with him a few times and they had the greatest time."