Kelly Clarkson is an American singer, songwriter, and television personality. She was born in Fort Worth, Texas, to Jeanne Ann and Stephen Michael Clarkson. Her mother was a first-grade English teacher, while her father was an engineer.
When Kelly was only six years old, her parents divorced. As a consequence, she was separated from her siblings. Following the divorce, Kelly's mother remarried a man called Jimmy Taylor.
Kelly studied at Pauline Hughes Middle School, and it was during this period one of the teachers found out about her spectacular voice. In the seventh grade, the school's choir teacher, Cynthia Glenn, overheard her singing and asked her to audition for the choir.
In 2000, Kelly graduated from Burleson High School, where she performed in several musicals such as Annie Get Your Gin, Brigadoon, and Seven Brides for Seven Brothers. She then started voice training, hoping to get a scholarship for a music college.
Unfortunately, Kelly did not grow up with her brother and sister. In fact, following her parent's divorce, her brother went to live with his father while her older sister relocated to her uncle and aunt's house. Luckily, the three reunited later in life.
If you would like to know more about this family, keep reading. We created a list of Kelly Clarkson's siblings ranked oldest to youngest.
Kelly also had two step-siblings from her father's first wedding. Unfortunately, we could not find any information about them. For this reason, we decided not to include them in our list.
3. Jason Clarkson (1973 – present)
Current Age: c. 49/50 Years Old
Birthplace: Unknown
Jason Clarkson is Kelly's oldest sibling, as he was born in 1973. After his parents divorced, he moved to California with his father, where he spent his teenage years. This is why Jason got close to his sisters only later in life.
The family reunited only in 2001 when Jason got married. During an interview, Kelly declared, "The year before I actually auditioned for Idol, my brother got married in Alaska and we all met up there and it was kind of then [that] we kept in contact." Jason and Kelly are now quite close, and Jason even took part in one of her music videos for her song Walk Away.
Unfortunately, apart from this, not much is known about Kelly's oldest sibling.
---
2. Alyssa Clarkson (1976 – present)
Current Age: c. 46/47 Years Old
Alyssa Clarkson is Kelly's older sister. Unlike her brother and sister, she neither grew up with her mother nor with her father. In fact, she was raised in North Carolina by her uncle and aunt.
Alyssa also reunited with her family at her brother's wedding in 2001. Despite this, she is now very close to her sister Kelly as the two live just a short walk away from each other.
In an interview, Kelly declared, "We have a lot of lands, we all live on the same land (…). My land kind of slopes — I live up on the top part, my brother lives at the way bottom, and my sister lives on the side. It's cool though!"
Apart from this, not much is known about Alyssa.
---
1. Kelly Clarkson (April 24, 1982 – present)
Current Age (as of February 2023): 40 years, 9 months, 15 days
Birthplace: Fort Worth, Texas, United States
Profession: Singer and talk show host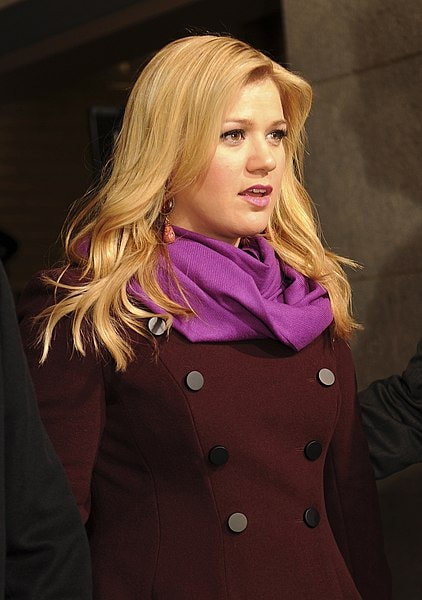 photo source: commons.wikimedia.org
Kelly Clarkson is the youngest member of her family. She became known all over the US in 2002 after her performance on the first season of American Idol.
Kelly's voice was appreciated by the judges and the audience, and she won the show's first edition. This earned her a record deal with RCA, an American record label owned by Sony Corporation of America.
Kelly debuted with her single, A Moment Like This. The song was incredibly popular and became the US most-sold single in 2002. Not surprisingly, the song was included in Kelly's first album, Thankful, which came out in 2003.
Her second album, Breakaway, was released the following year and was completely different from the first one, as it featured pop-rock songs. The album was a worldwide success and sold 12 million copies. Breakaway also earned Kellyn two Grammy Awards.
In 2007, Kelly published her third album, My December. Unfortunately, this was not as successful as the previous one. Despite this, Kelly kept producing music and published six albums. The last one, When Christmas Comes Around, was released in 2021.
Talking about her personal life, in 2012, Kelly started to date the son of her former manager, Brandon Blackstock. The two tied the knot on October 20, 2013. Together, they gave birth to a baby daughter whom they called River Rose. Later, they also had a son, Remington Alexander, who was born in April 2016. Unfortunately, the wedding ended in a divorce finalized only in 2022.
Similarly to many other celebrities, Kelly is also an active philanthropist. For instance, in 2007, she participated in a fundraiser event called Idol Gives Back, whose main goal was raising funds to help people in Africa living in poverty. Kelly also got involved with the organization Houses of Hope, which helps build orphanages in South Africa.
Kelly loves animals and owns a ranch in Texas for unwanted animals. Here, she takes care of amputee goats, horses that survived colic, and blind dogs. She also tries to find adoptive families for them; whenever she can't, she keeps the animals on the ranch.
Did You Know?
Before reaching worldwide fame through American Idol, Kelly worked as a cocktail waitress.
OTHER POSTS YOU MAY BE INTERESTED IN