Neighborhood classics and cultural staples fill any list of the oldest steakhouses in New York City. It's hard to imagine anything more immovably "New York" than a great neighborhood steakhouse.
This list of the 8 oldest steakhouses in NYC includes those in continuous operation as well as those that have closed periodically in the last century. All of them still exist and can be enjoyed by those with a nose for great steak and a penchant for New York life.
8. Sparks Steak House
Founded: 1966
Location: 210 E 46th St.
Know for: Veal chop, sirloin, smoked salmon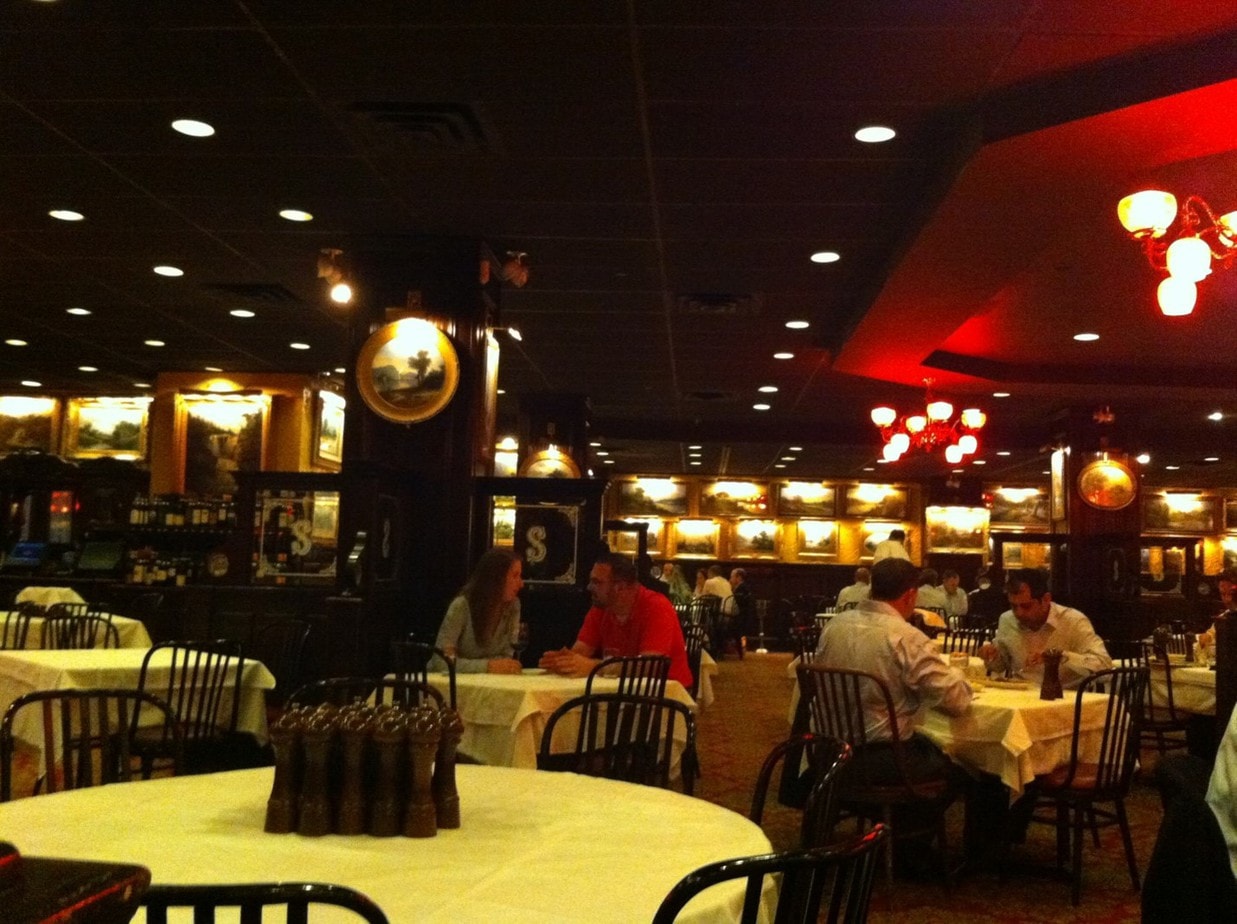 photo source: Wikimedia Commons
Sparks Steak House was founded in Manhattan by brothers Pat and Mike Cetta. They started by buying Sparks Pub on E 18th St. and turning it into a world-class Italian steakhouse. In 1977, they moved to what is now their modern location on E 46th, a restaurant that can seat nearly 700 guests.
The aged beef, seafood, and rare wine selection make this place a staple in Italian fine dining. Their veal chops and sirloin steaks are nearly as famous as their Scorsese-style mob entanglements.
Specifically, two bosses of the famous Gambino crime family, Paul Castellano and Thomas Bilotti, were shot and killed at the entrance to Sparks in 1985, a hit that was ordered by John Gotti.
Did you know?
Sparks Steak House has been featured in several films, due to its authentic, high-end décor and grisly history. This includes a famous scene in the film The Comedian between gangster staples Robert De Niro and Harvey Keitel.
---
7. Gallagher's Steakhouse
Founded: 1927
Location: 228 W 52nd St.
Know for: Steak tartare, New York Strip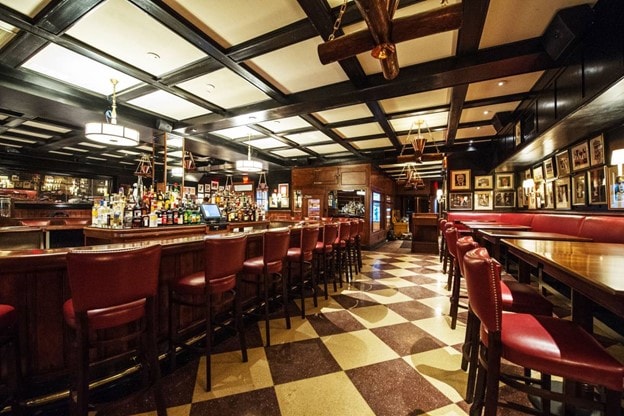 photo source: NYCgo
Gallagher's Steakhouse was opened during the 1920s as a speakeasy, at the height of Prohibition. It will not be the last steakhouse on this list with these humble origins. What began as a meeting place for sports celebrities, Broadway stars, and gamblers, is now one of the best places in the Theater District of Manhattan to get a great steak.
Gallagher's features a trophy room for private dining, business meetings, and more. It was closed in 2013 to be renovated and now includes a new menu featuring old and new dishes, as well as an all-new look.
Did you know?
When liquor became legal in 1933, Gallagher and Solomon turned their speakeasy into a steak house, the first on Broadway. It is believed that Gallagher's is the first place that "New York Strip" steak was ever served. This restaurant is where it got its name.
---
6. Frankie & Johnnie's
Founded: 1926
Location: 320 W 46th St.
Know for: Crab cocktails, lamb chops, porterhouse for two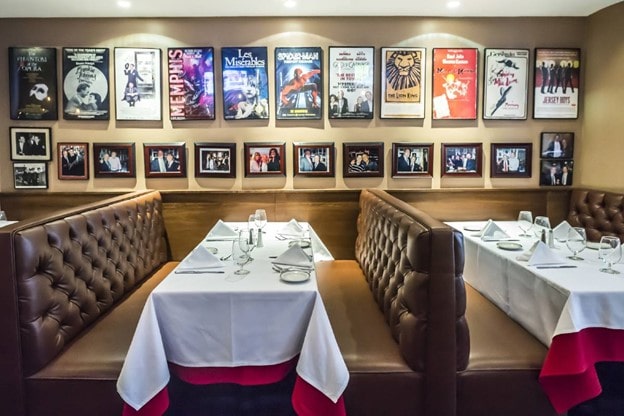 photo source: NYCgo
In the 1920s, Frankie & Johnnie's was a whiskey joint and speakeasy, right in the middle of Prohibition. It was founded by a couple of waiters named Frankie and Johnnie. It was purchased by one of its waiters in the 1980s and has been building in old-school steakhouse appeal ever since.
The location on 46th has a private dining room and beautiful bar, including modern retro décor like hardwood floors and Oxford leather seats. The place is famous for its original culinary favorites, done with a modern flair. These include shrimp scampi, cocktails of jumbo lump crabmeat, lamb chops, potato pancakes, and a mouthwatering porterhouse steak for two.
Did you know?
Frankie & Johnnie's is not the oldest continuously operating steakhouse on this list. In fact, this isn't even its original location. It was originally on 45th street but moved around its 90th anniversary up the road to West 46th to accommodate larger crowds in a more modern atmosphere.
---
5. The Palm
Founded: 1926
Location: 840 2nd Ave
Know for: Fine dining steak and Italian food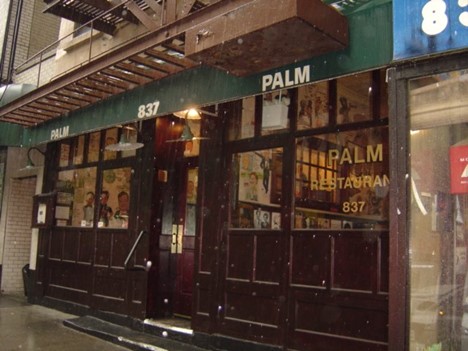 photo source: Wikimedia Commons
The Palm opened in 1926 as a fine-dining Italian restaurant, bringing neighborhood Italian cuisine from New York's Little Italy to Manhattan. Bozzi and Ganzi, the restaurant's founders, began serving Nova Scotia lobsters and bone-in USDA Prime beef, which propelled the restaurant to fine dining status.
Today, The Palm is an international chain of fine dining restaurants. It was bought in 2020 by Tilman Fertitta and saved from bankruptcy. Since then, the loyalty program has been replaced and this has angered long-time customers used to the luxurious royalty rewards of The Palm's 837 Club, including free lobster and vacation getaways. They now only offer a $25 restaurant credit.
Did you know?
The Palm is also famous for celebrity caricatures drawn for the restaurant's walls. These include politicians, sports figures, and other celebrities.
---
4. Peter Luger Steak House
Founded: 1887
Location: 178 Broadway
Know for: Porterhouse for four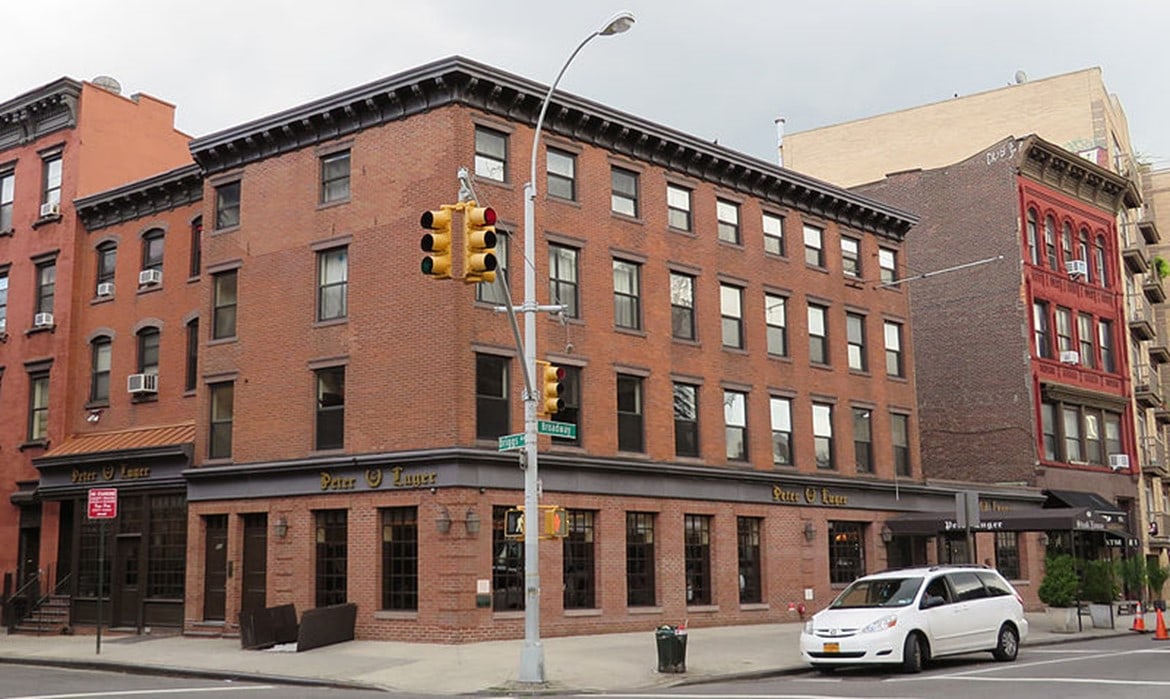 photo source: Wikimedia Commons
The Peter Luger Steak House has a location in Williamsburg in Brooklyn and another on Long Island. The Broadway location is the first, known for its old Europe-inspired dining room and porterhouse for two. The inside of the restaurant is styled with wooden beams, brass chandeliers, beer-hall tables, and a long wooden bar.
Originally called "Carl Luger's Café," the Peter Luger Steak House remained in the same family until 1950 where it was bought cheaply at auction due to the restaurant's decline. It has since risen in prominence and even has a Michelin Star.
Did you know?
The menu at the Peter Luger Steak House is not large. It focuses on their famous porterhouse steak, which can be ordered as a meal for two or four.
---
3. Keens Steakhouse
Founded: 1885
Location: 72 W 36th St.
Know for: Mutton chops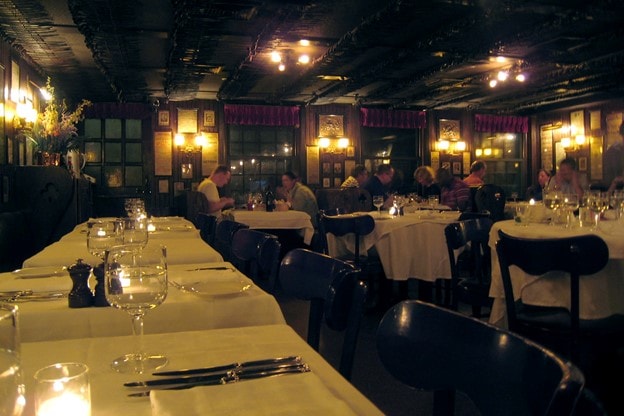 photo source: Flickr
Keens Steakhouse was established in 1885 by Albert Keen in the Theater District of Midtown Manhattan. They are known as much for their amazing steak and world-famous mutton chops as for their collection of clay smoking pipes (more on that in a bit).
Keen's Steakhouse was renovated in 1979 when it changed owners. This was also when it was renamed Keens Steakhouse (it was originally called Keen's English Chop House). There are few better steakhouses in the Garment District, and none older than Keens.
Did you know?
Travelers in old England, circa the 1600s, stored their clay pipes at the inn they were staying in because they were too fragile to take with them. Keens Steakhouse made this tradition part of its own when it stored its patrons' pipes and ordered thousands from the Netherlands.
It now stores over 50,000 clay pipes, managed by a warden and delivered by "pipe boys." Some of the most famous pipes on display at Keens include those of Teddy Roosevelt, Babe Ruth, Albert Einstein, Buffalo Bill, and Liza Minnelli.
---
2. Old Homestead Steakhouse
Founded: 1868
Location: 56 9th Ave
Know for: New York sirloin and colossal crab cakes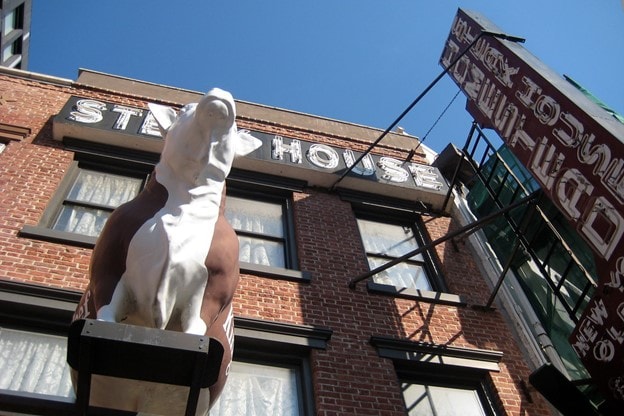 photo source: Flickr
The Old Homestead Steakhouse, as the name suggests, is a tried-and-true institution dating back over 150 years. Not much has changed at The Old Homestead, on purpose – the current owners, Greg and Marc Sherry, know that venerated institutions survive for a reason. They can proudly claim to own the oldest continuously operating steakhouse, not only in the city but in the whole United States.
The restaurant was opened by a German family as the Tidewater Trading Post. Harry Sherry bought the place in the 40s after doing his time as a resident dishwasher. It's still in his family and still features the cow statue sent to the restaurant by a Texan proud of the meal he had there. This has since become the icon of the restaurant.
Did you know?
Wagyu beef, bred in Japan and known throughout the world as being of the highest possible quality, was introduced to America at the Old Homestead Steakhouse. The cows are fed more on feed and less on grazing, giving the meat a higher fat content. In the 1990s, the Sherry brothers worked to become certified to import the steak to their customers, who became the first Americans to partake of the amazing beef within their own borders.
---
1. Delmonico's Steakhouse
Founded: 1837
Location: 56 Beaver St.
Know for: Boneless rib-eye cut steak, aka, Delmonico Steak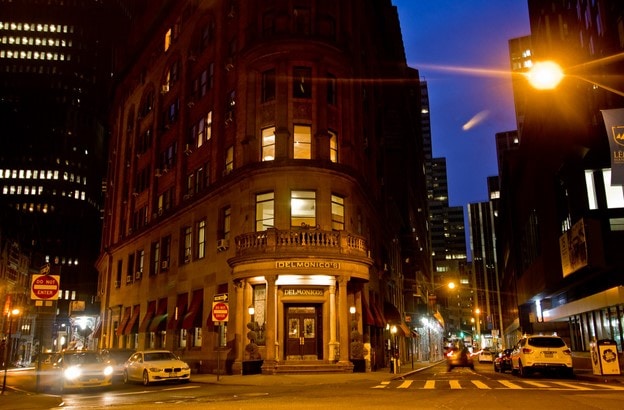 photo source: Flickr
The Delmonico's name now adorns many restaurants in the city. However, the original location on Beaver St. in the Financial District is the homeland of the Delmonico Steak, which is now a widely imitated, never-bettered cut of meat. It's become so synonymous with their methods that steakhouses around the country will call a thick-cut ribeye a "Delmonico."
The original family relinquished ownership of Delmonico's in 1923. However, in 1926, it was purchased by Oscar Tucci who used the building as a speakeasy. Though the Tuccis no longer own the place either, Delmonico's remains a classic New York establishment and is the oldest steakhouse in NYC.
Did you know?
Many famous dishes claim their origin place to be Delmonico's Steakhouse, though some are widely debated. It is one of the first restaurants to allow guests to order dishes separately, rather than as part of a meal, also featuring the first separate wine list.
Dishes that have claimed their origin at Delmonico's (to varying degrees of certainty) include Chicken à la King, Eggs Benedict, Baked Alaska, Manhattan clam chowder, and Lobster Newberg.
---
The Takeaway
The oldest steakhouses in NYC exude the city's classic culture as well as its new culinary excellence. The traditions of fantastic steak-eating exemplified by these steakhouses represent New York City history at its finest (and most delicious). From weathered beerhalls to fine dining establishments, these steakhouses are all worth including on an NYC bucket list if you find yourself in the Big Apple hungry for more than just the nightlife.