Potato chips are now snacking's long-standing king. It's doubtful that they've been absent from a single party in the last century! When you look at them from a historical perspective, it becomes apparent how obsessed the world is with potato chips. The world has changed for a century, but potato chips have barely changed at all.
Potato chips are an institution. These 8 brands represent the oldest branches of that empire, stretching back over 100 years to define comfort food the world over.
8. Wise Foods, Inc.
Location: Berwick, Pennsylvania
Founded: 1921
Known for: Cheez Doodles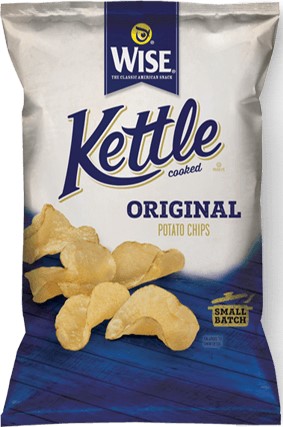 photo source: Wise Snacks
Wise Foods, Inc. was founded 100 years ago as of 2021 in Berwick, Pennsylvania. They now have snack retailers in 15 eastern U.S. states and territories, including Vermont and Washington D.C. They are famous for their potato chips but also their cheez Doodles, popcorn snacks, and pork rinds. They were bought by Arca Continental in 2021, making Wise Foods, Inc. technically a Mexican snack food company now.
Earl Wise founded Wise Foods as a potato chip company. He got the idea by working in Wise Delicatessen and seeing how many potatoes went to waste. He began frying them and selling them to customers by the bag instead of throwing them away.
The company was acquired in 1964 by Borden, the milk company, and has since changed hands several times.
Did you know?
The potatoes sold by Wise from his parents' restaurant were greasy and left ugly spots on the bags. This led to the invention of waxed paper bags for food transport.
---
7. Utz Brands, Inc.
Location: Hanover, Pennsylvania
Founded: 1921
Known for: Acquiring other companies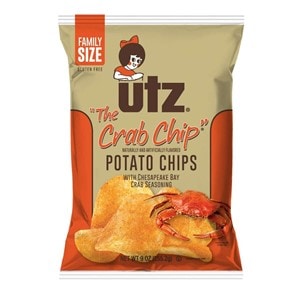 photo source: Utz Snacks
This won't be the last time you see Hanover, Pennsylvania on this list. Sleepy Hanover is famous for being a hub of corporate innovation when it comes to snack foods, housing several potato chip company headquarters, including Utz Brands, Inc.
Founded in 1921 and named Hanover Home Brand Potato Chips, Utz was initially worth around $300. The couple William and Salie Utz cranked potatoes out by hand, frying, salting, and delivering them to local grocery stores in Hanover and Baltimore.
Post-WWII, the company expanded into more production facilities. Since the 1980s, it has grown by 20% annually and now acquires rival snack food companies to increase its holdings even more.
Did you know?
Utz Brands acquired Inventure Foods, Snyder of Berlin (more on that later), and Vitner's. They are now a publicly traded company after merging with Collier Creek Holdings.
---
6. The Smith's Snackfood Company
Location: Cricklewood, London
Founded: 1920
Known for: Australian branches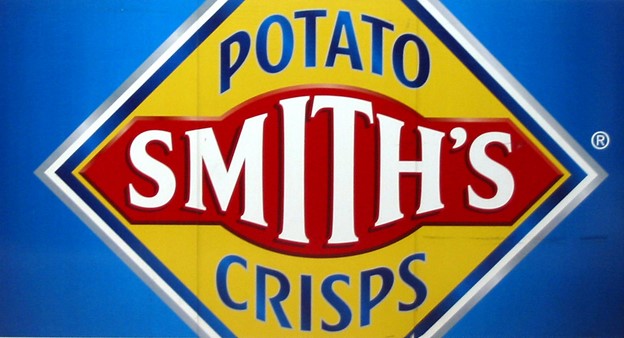 photo source: Flickr
The Smith's Snackfood Company has been known for its chips for over 100 years. They were founded in Cricklewood in London, England and opened their second branch in Australia in 1932. They are currently owned by PepsiCo. and even operate their own vending machines company called Smith's Snackvend Stand.
The original product was a salty twist of dough sold in paper bags in London. They expanded during the depression to Australia, helped along by increases in technology despite the dire economic conditions. Even though Australians say "chips" like Americans do, Smith's labeled their snacks as "crisps," the British term, until 2003. They're now chips for everyone.
Did you know?
In the 1980s, The Smith's Snackfood Company tried to coattail on the success of childlike alien visitors in TV and film like E.T. and Alf and debuted a new mascot. His name was Gobbledok. He had a human-like face with a feline nose, pointed ears, a furry reddish-brown body, and a hankering for (what else?) Smith's potato crisps.
---
5. Grippo's
Location: Cincinnati, Ohio
Founded: 1919
Known for: The loop pretzel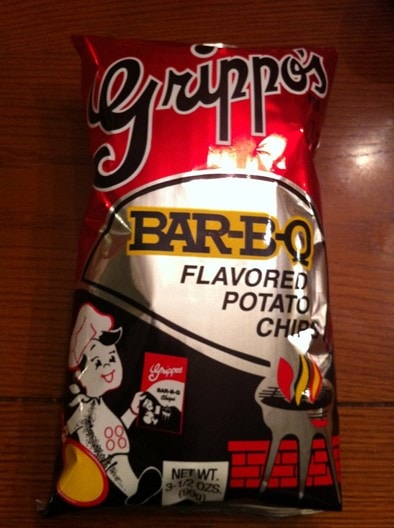 photo source: Flickr
Angelo Grippo began producing snacks in 1919 in Cincinnati, Ohio. His company first operated from a one-room office in the city's downtown, becoming famous for its pretzels, which were sold for a penny apiece in Cincinnati retailers. Grippo's is credited with inventing the loop pretzel to prevent them from breaking as much, as well as the looping machines popularly used to make braided and twisted pretzels.
In 1959, Grippo's began manufacturing potato chips, including Bar-B-Q chips, salt and vinegar chips, and sweet onion chips.
Did you know?
Grippo's originally began life as a manufacturer of rolled sugar cones for ice cream. They used their experience rolling and dusting cones and converted their system into a potato chip cooking and flavoring process. They are now famous for their Bar-B-Que potato chips.
---
4. Mikesell's Potato Chip Company
Location: Dayton, Ohio
Founded: 1910
Known for: Being the oldest continuously operating potato chip manufacturer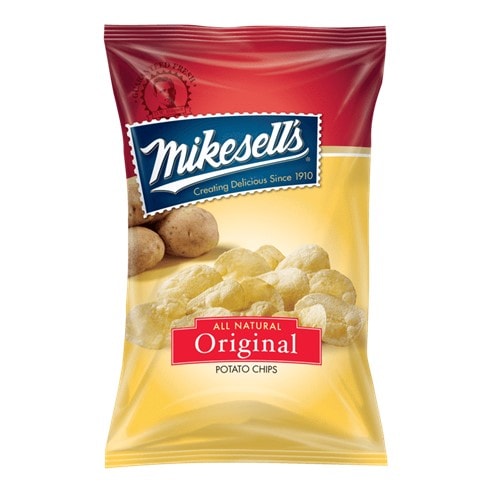 photo source: Mikesell's
Mikesell's Potato Chip Company cannot claim the top spot as the oldest potato chip brand. However, as a continuously operating private enterprise, it has a lot to be proud of. Where other brands have closed, temporarily or permanently, Mikesell's has stuck it out for over a century of continuous operation.
It was founded in Dayton, Ohio in 1910 and retails its snacks in Ohio as well as Illinois, Indiana, and Kentucky. Daniel W. Mikesell was originally a dried sausage producer. He changed gears to potato chips when he started marketing "Saratoga Chips" through his company. In 1925, the Mikesell's name and modern brand identity were finalized.
Did you know?
Saratoga Chips are a famous legend among snack food historians. The story goes that in 1853, a picky diner, railroad tycoon Cornelius Vanderbilt, visited Moon's Lake House where he ordered potatoes. Deeming them thick and greasy, he sent them back and asked for them to be fried thinner. At this point, the chef, George Crum, was so fed up with the request that he sliced them as thinly as possible and fried them as dark as possible, accidentally inventing the potato chip.
This story has been widely retold as the origins of the potato chip. However, in his lifetime, Crum was never acknowledged for this feat, despite the popularity of potato chips. It is now suspected that his sister may have done the deed instead. Vanderbilt's biographer also insists that he could not have been that diner.
---
3. Snyder's of Hanover
Location: Hanover, Pennsylvania
Founded: 1909
Known for: Pretzels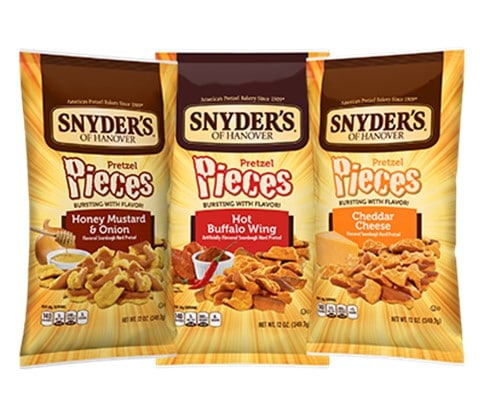 photo source: Snyder's of Hanover
Snyder's of Hanover is a bakery in Pennsylvania known for its snack food since 1909. They have specialized in pretzels for over a century and remain one of the nation's largest snack producers, taking in a yearly revenue of $652 million. It now sells its products in the U.S., Canada, Asia, the Middle East, and Central Europe.
In 1950, Snyder's was reformed into two new entities: Snyder's of Berlin and Snyder's of Hanover. The Hanover branch is no longer associated with the Berlin one as the company was purchased and turned into Hanover Foods and again converted into an independent company in the early 1980s.
Did you know?
Jays Foods, another old snack food brand founded in 1927, declared bankruptcy in 2007 and was bought by Snyder's of Hanover. Snyder's now distributes Jay's entire line of potato chips, pretzels, and popcorn snacks throughout the Midwest.
---
2. Tri-Sum Potato Chips
Location: Leominster, Massachusetts
Founded: 1908
Known for: America's oldest potato chip manufacturer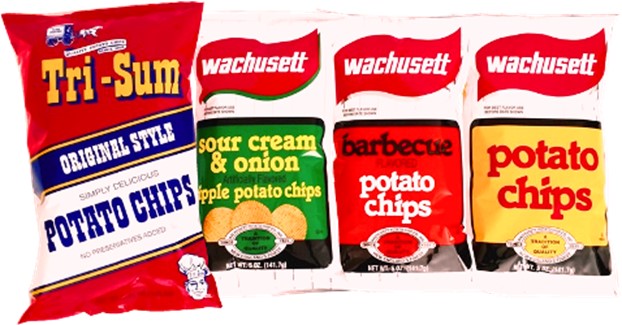 photo source: Tri-Sum
Tri-Sum Potato Chips is a New England staple, founded in Leominster, Massachusetts as the aptly named, Leominster Potato Chip Company in 1908. J.P. Duchesneau was hand-cooking potato chips and delivering them to homes by carriage at this time, an idea that took root as an establishment that has endured for over a century.
The 1930s saw a change of management when Duchesneau's sons took over and changed the name to Tri-Sum. The company began expanding and remains a 4-generation institution of this famous family, who continues to produce fan-favorite chips.
Did you know?
The 1990s was a height of competition for snack food companies like Tri-Sum Potato Chips. New England alone housed over 80 local snack companies all vying for the same potato chip-munching audience. As a result, staples like Boyd's and Blackstone closed forever. But Tri-Sum went the distance.
---
1. KP Snacks
Location: Slough, UK
Founded: 1853
Known for: World-famous nuts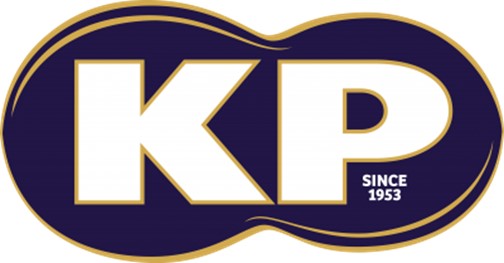 photo source: KP Snacks
The oldest potato chip brand is KP Snacks. Founded in Slough in the UK in 1853, they are now 168 years old and still going strong. They are a German-owned company but produce snacks in Britain that are made from nuts, potatoes, and corn, including chips or "crisps."
Originally, KP Snacks was a confectionary company, specializing in pickles and jam. In the 50s, they were a common sight at cinemas in the form of a salted, roasted hazelnut snack. In fact, they are the largest purchaser of nuts on earth. They buy them through sustainability projects in Central and South America, Asia, and Africa.
Did you know?
Slough is a town in Berkshire, England, West of Central London in the Thames Valley, partway between the rural outlying areas and the London metro. Not only is it the location of the headquarters of KP Snacks, but TV fans should recognize it as the location of the sales office of the paper company in the British version of The Office. When the office moved to Scranton, Pennsylvania for the American version, they wrote its address as "Slough Avenue."
---
The Takeaway
The oldest potato chip brands are global institutions because people have never stopped snacking, not for over 100 years. The appeal of their salty, crunchy goodness shows no signs of slowing as companies rise and fall in pursuit of potato glory, to be bought out by the companies that have been going at it since before the world went to war.
OTHER POSTS YOU MAY BE INTERESTED IN