California has long been known for its wine-making culture, with vineyards planted across the state since the early 1900s. The climate in California is ideal for growing grapes, with warm days and cool nights that allow for grapes to bloom at their most flavorful time of year.
Its soils are rich in nutrients—including calcium, iron, and potassium—which makes them perfect for growing these types of crops.
California's coastal regions have a mild climate, which allows grapes to flourish while they ripen on their vines. This is especially true during the summer months when temperatures can reach as high as 100 degrees Fahrenheit.
California has a long history when it comes to wine, and there are many wine regions that have a rich history. It has a long history of producing its own wines and pioneering vintages that are famous throughout the world.
So, if you're someone who's into wine, we will talk about in this article the eight oldest wineries in California and some interesting facts about them.
8. Pacini Vineyard
Year Built: 1965
Location: Mill Creek Road-Talmage, CA
Owner: Lorenzo Pacini, III
Still in Business: Yes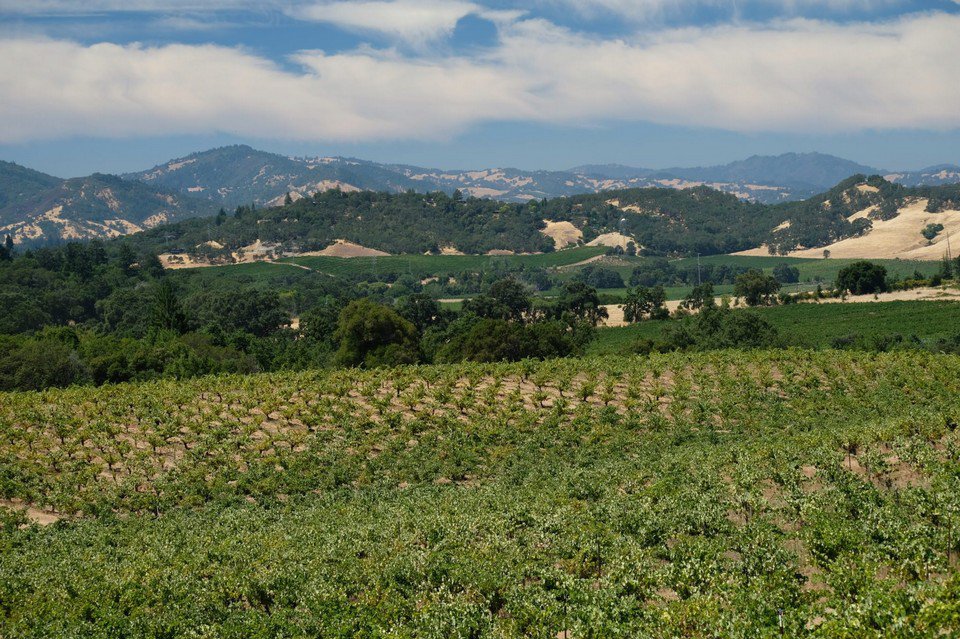 photo source: paciniwines.com
The history of Pacini Vineyards, which is located in the heart of California's Napa Valley, dates back to 1965, when Larry and Lillian Pacini founded the estate. Today, the company is owned by the third generation of family members and boasts many accolades for its efforts to preserve its heritage and maintain sustainable practices.
Did You Know?
Almonds and walnuts were also grown on the Pacinis' property.
---
7. Hooper Vineyard
Year Built: 1894
Location: Santa Cruz Mountains
Owner: John Hooper
Still in Business: No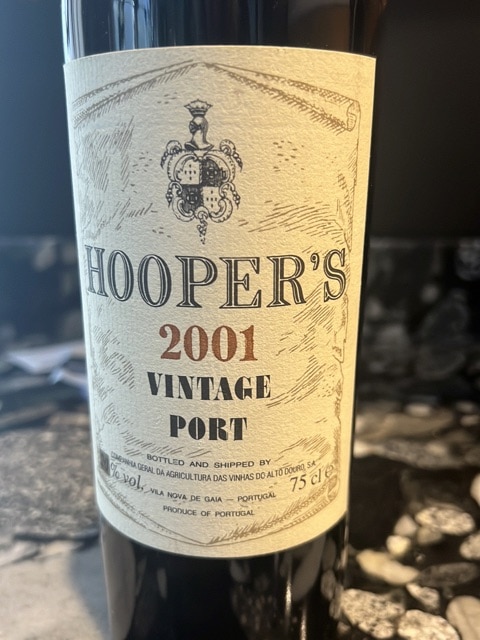 photo source: vivino.com
John Hooper, a banker from San Francisco, founded the Hooper vineyard in 1894. He bought the Woodside property as a weekend getaway for his family of seven kids to get away from the bustle of late-20th-century San Francisco.
In the 1840s, Count Artoston Harazthny brought 40 acres of Cabernet Sauvignon and Zinfandel grapes from his home country of Hungary to Northern California. Harazthny decided to plant 1,000 vines in a small valley, but the chilly moisture from the Pacific Ocean made it difficult for the grapes to ripen.
This was the original piece of land where Hooper built the vineyard.
Bill Walsh, the head coach of the San Francisco 49ers and a member of the Pro Football Hall of Fame, lived on a piece of the original Hooper property in Woodside in the middle of the 1990s. He hired Woodside Vineyards to revive the old vines in his backyard. Year after year, the plants continue to mature and produce delicious Chardonnay grapes.
---
6. Beringer Vineyards
Year Built: 1876
Location: 2000 Main St, St Helena, CA 94574
Owner: Walter Klenz
Still in Business: Yes

photo source: beringer.com
The Beringer Vineyards California company was founded in 1876 by Jacob Beringer, a German immigrant who started selling wines in Napa Valley. The Beringer family name is also well-known for being the namesake of the Beringer brand of wines, which has been produced since then.
The California wine industry was just starting to take off when Jacob Beringer started selling his wines, and he was one of the first people to make a business out of it. The family owned its own vineyard, but they also purchased grapes from other growers in the area.
Did You Know?
To extend their operations, Chinese workers started building a 1,200-foot tunnel to store the wine for maturing so that there would be space for the fermentation tanks.
---
5. Schramsberg Wines
Year Built: 1862
Location: Calistoga, California
Owner: Jack and Jamie Davies
Still in Business: Yes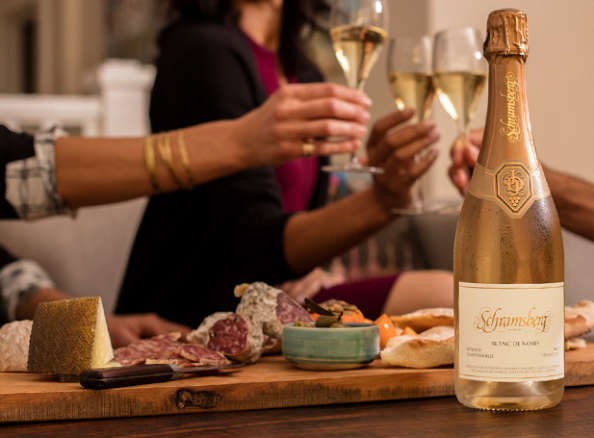 photo source: schramsberg.com
The beginning of Schramsberg may be traced to the 19th century, when German immigrant Jacob Schram established his residence and winery on Diamond Mountain.
In 1965, Jack and Jamie Davies restored the Schramsberg estate, which had been abandoned for more than a century. Their goal was to make sparkling wine. This innovative spirit brought Schramsberg and the Davies accolades and acclaim from all over the world throughout the years.
Did You Know?
World history has also been impacted by Schramsberg. President Nixon and Chinese Premier Zhou Enlai shared a "Toast to Peace" in 1972 using the Blanc de Blancs.
---
4. Charles Krug
Year Built: 1861
Location: 2800 Main St, St Helena, CA 94574
Owner: Peter Mondavi, Sr.
Still in Business: Yes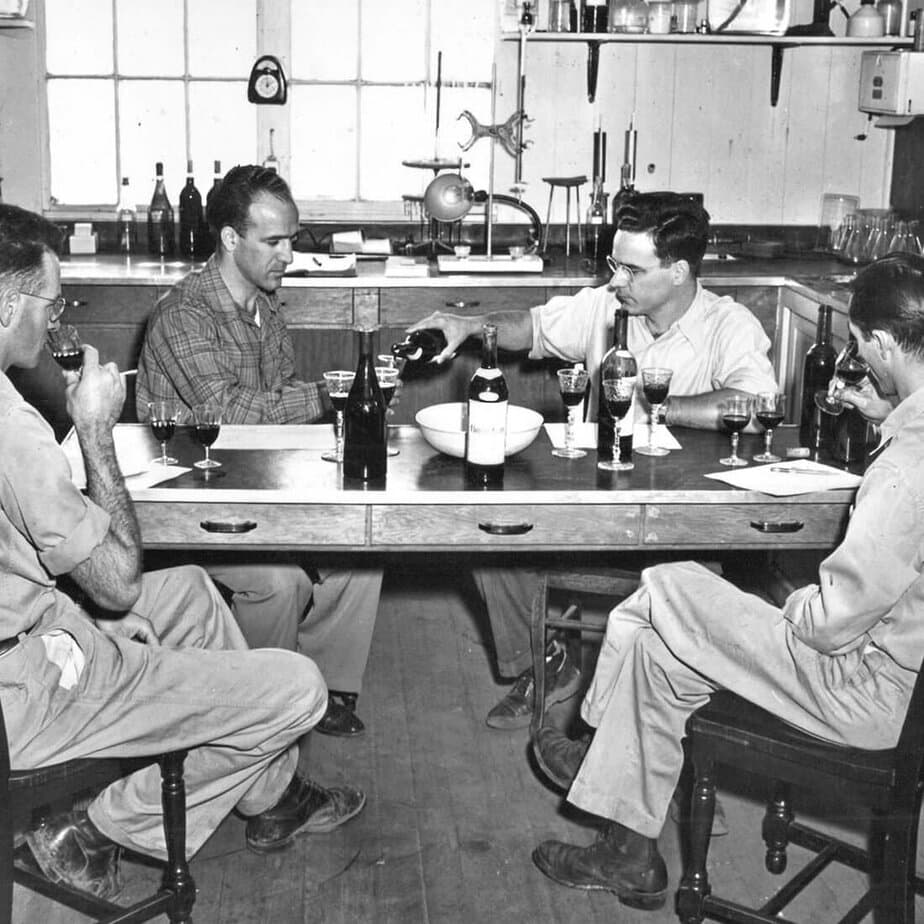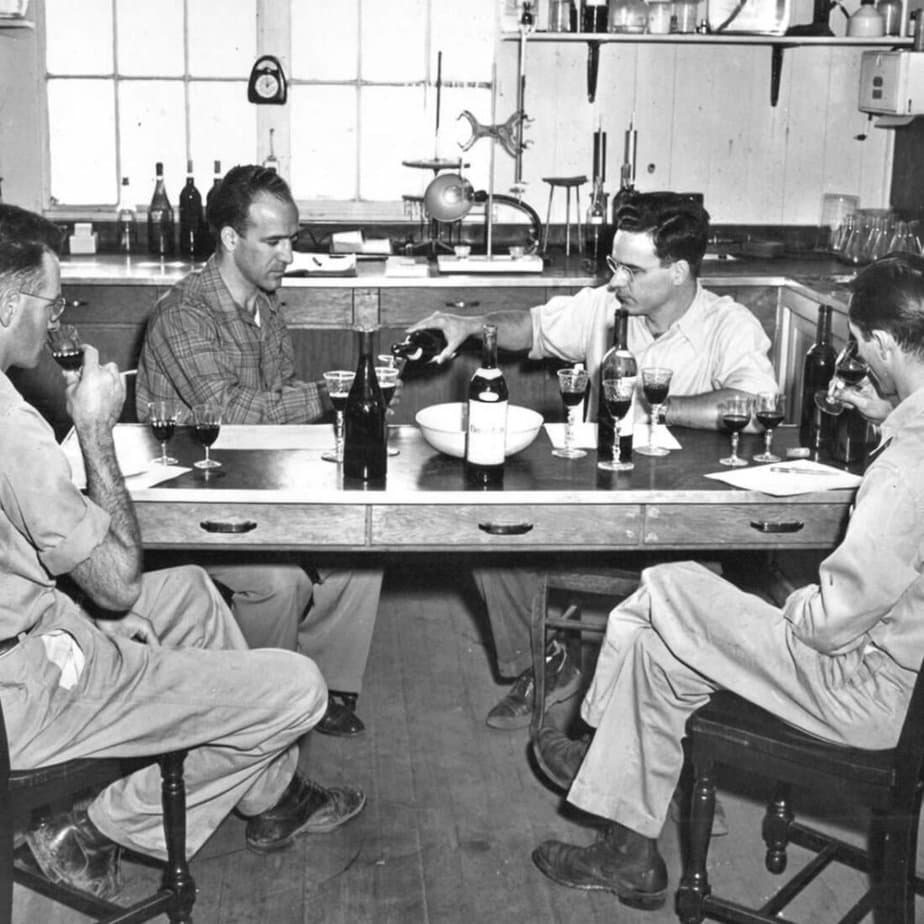 photo source: charleskrug.com
The 540 acres of property north of St. Helena, California, that Krug used to build a vineyard and start his winery in 1861 were part of the dowry Bale left for him. Charles Krug introduced novel winemaking concepts to California. Beginning with carefully chosen rootstocks, varieties, and vineyard locations, he started creating wine using a cider press for pressing.
The budding California wine business benefited from the expertise he learned and imparted.
In 1894, James Moffitt Sr. bought the winery after Krug passed away. Robert Mondavi convinced his parents, Cesare and Rosa Mondavi, to pay $75,000 to buy the dormant property from Moffitt in 1943. Robert Mondavi started his wine career there and worked there until he started his own vineyard in 1966.
The winery is still in operation and is owned by Peter Mondavi, Robert's younger brother.
Did You Know?
In the movie Top Gun, Tom Cruise and Kelly McGillis enjoy a bottle of Charles Krug.
---
3. Hendry
Year Built: 1859
Location: 3104 Redwood Rd, Napa, California
Owner: Mike and Molly Hendry
Still in Business: Yes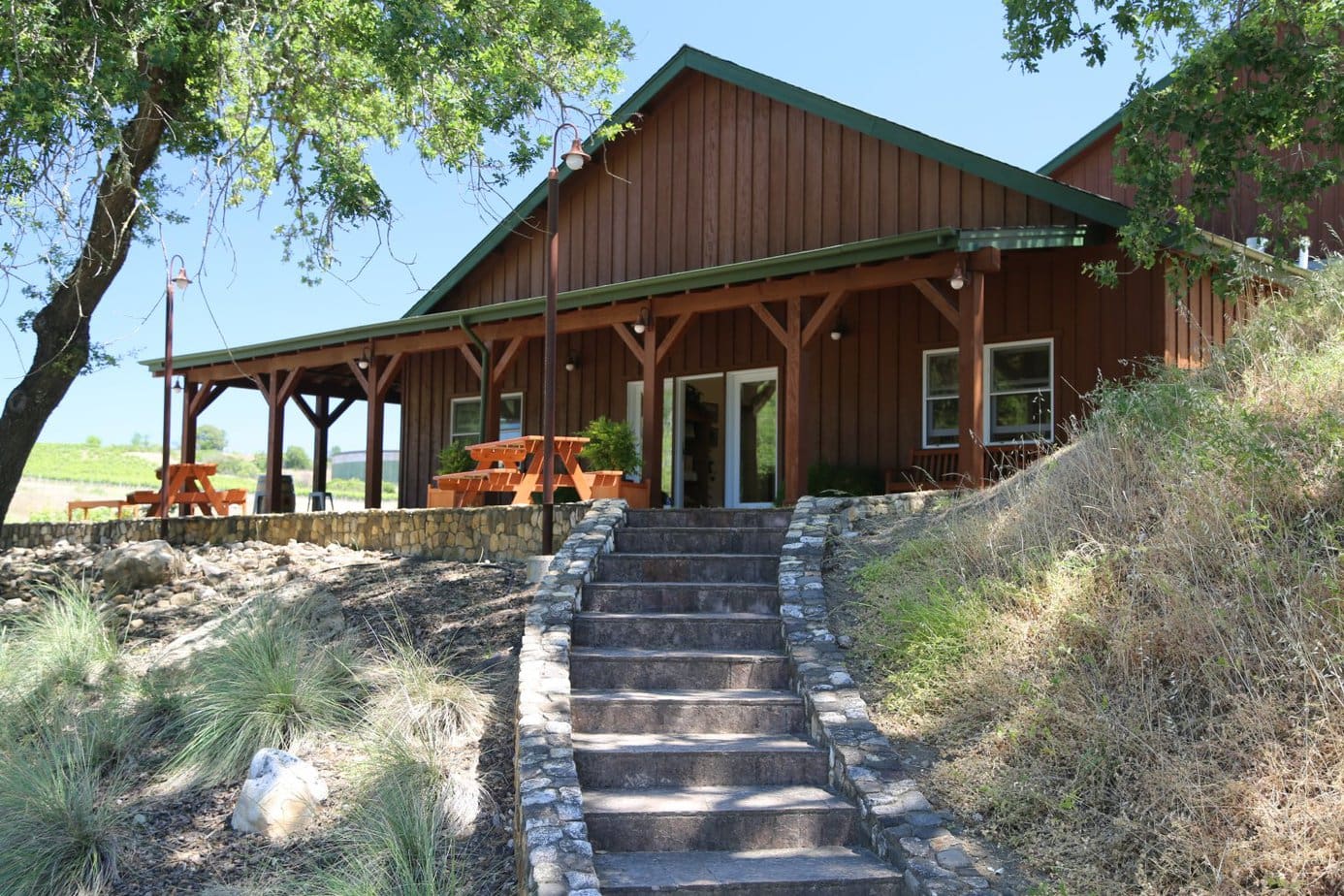 photo source: napawineproject.com
One of the original vineyards in Napa was part of what is now the Hendry Ranch. Frederick and John Sigrist, two pioneering winemakers, started here in 1859 and quickly possessed one of Napa's largest vines.
By 1880, George Barth and John Buhman were the ranch's owners, and grapevines had been planted on every available square foot. The late 1800s planting boom in Napa was immediately followed by a devastating slump.
The period of prohibition was one issue Hendry ran into. Although Prohibition only lasted from 1920 to 1932, its consequences were felt for much longer. The amount of vineyard land in Napa exceeded 20,000 acres in 1890, and it wasn't surpassed again until 1974.
---
2. Buena Vista
Year Built: 1857
Location: 18000 Old Winery Road, Sonoma, California
Owner: Jean-Charles Boisset
Still in Business: Yes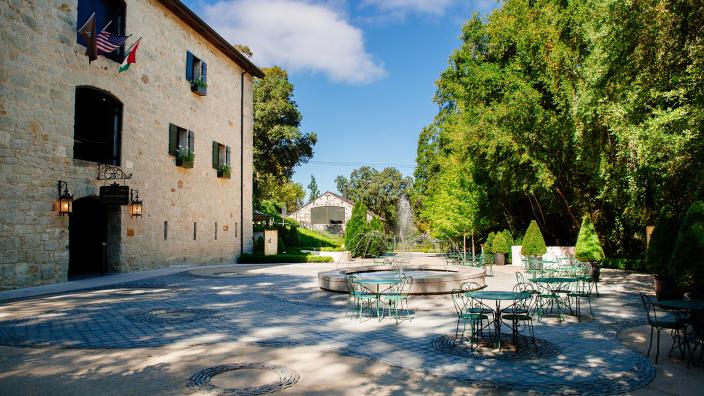 photo source: assets.simpleviewinc.com
One of California's first premium wineries, Buena Vista, was established in 1857, and it has a proud and colorful history. The tale is currently being revived thanks to Jean-Charles Boisset's vision.
The company's creator, Agoston Haraszthy, the self-styled "Count of Buena Vista," was a flamboyant and quirky pioneer with a genuine love and unwavering commitment to California wine. As the first premium winery in California and undoubtedly the most colorful, Buena Vista Winery has a long and enticing history.
The Count is regarded as California's most celebrated and flamboyant vinicultural pioneer and evangelist. He was a dedicated farmer, an experimental innovator and vintner, a respected author, a clever businessman, and a brilliant and tremendously zealous advocate.
Did You Know?
The first winery in California to make wines with European varieties is Buena Vista.
---
1. D'Agostini Winery
Year Built: 1856
Location: Plymouth-Shenandoah Rd., Plymouth, California
Owner: Sobon Estate
Still in Business: Yes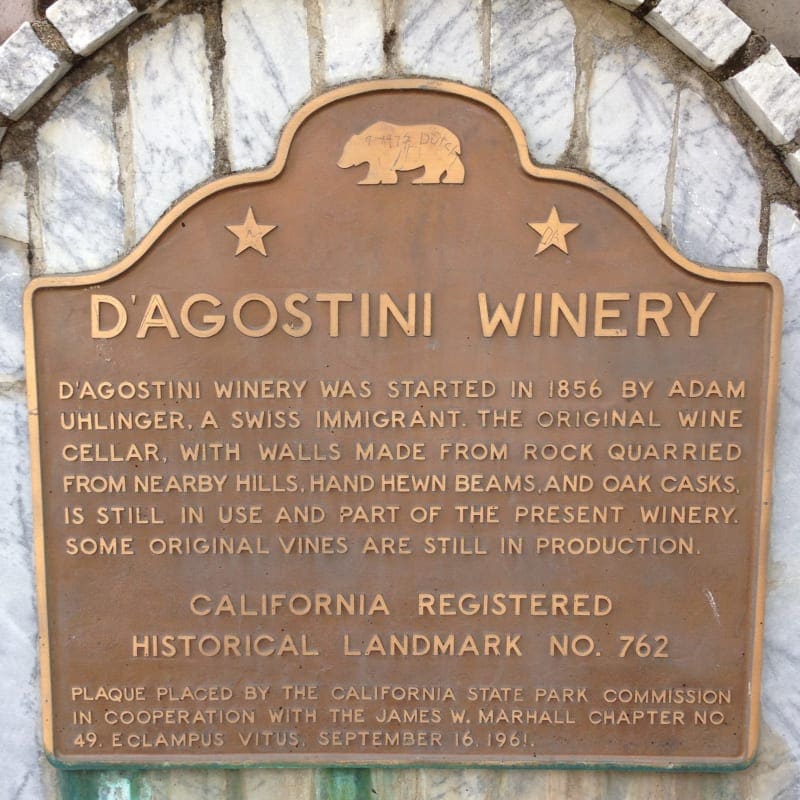 photo source: cloudinary.com
Started in 1856 by Swiss immigrant Adam Uhlinger, the D'Agostini Winery in Plymouth is the oldest winery in California.
Enrich D'Agostini bought the winery and the 125 acres of its vineyard in 1911. The Sobon Estate Winery now owns D'Agostini Winery, which stands out for being the longest-running manufacturer of Zinfandel wines.
The original wine cellar still stands as a component of the Shenandoah Valley Museum at the D'Agostini Winery location of the Sobon Estate winery, with walls constructed from limestone quarried from neighboring hills, hand-hewn beams, and oak casks.
The museum, which houses a collection of objects that chronicle the history of the region's wine region, is housed in one of the original D'Agostini Winery buildings. Only a few wineries survived as a result of prohibition and the local population reduction combined, but fortunately, D'Agostini Winery survived all of them.
Did You Know?
Despite the fact that Adam Uhlinger founded the winery, Enrico D'Agostini, who acquired it in 1911, is credited with giving the monument its name.