When was the last time you set foot in a bookstore?
Today, buying books consists of browsing web pages and clicking the download button to choose a book in digital form. It's a process foreign to book buyers of centuries past. Their only option was perusing shelves of texts and buying great finds at a traditional bookstore.
Though books in paperless form have cornered about 3.2 billion dollars in book sales, the honored state of physical books is alive and well. In fact, there are more bookstores in the world right now than there were in 1930. Around 10,000 bookstores exist in the United States alone.
Let's take a journey through time and pay homage to bookstores everywhere by exploring six of the ever oldest bookstores in the world.
6. Argosy Books
Year established: 1925
Location: New York City, USA
Still open?: Yes
Founder: Lewis Cohen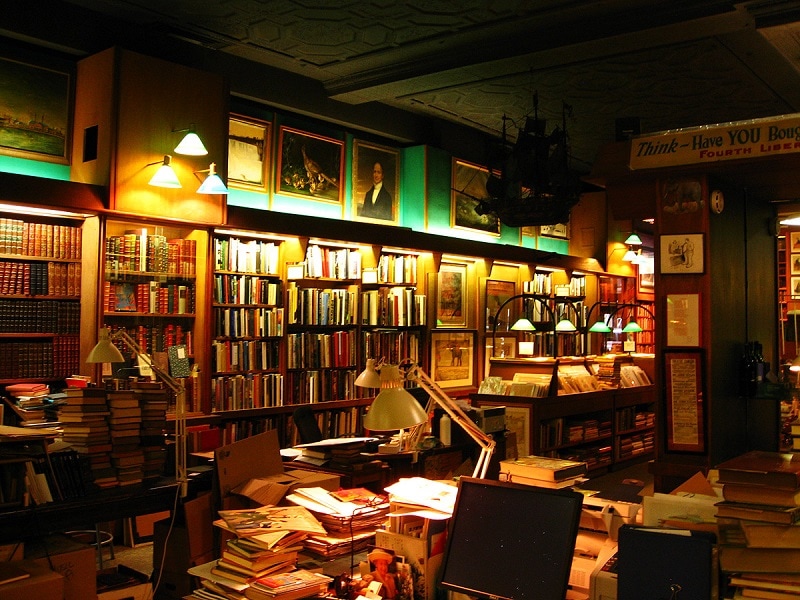 photo source: Bookstores of New York: Argosy Books
Argosy Books is a treasure for American bibliophiles who revel in rich history and rare editions. This family-owned store is an institution among bookstores in the US, and it stands open for business today.
Founded in 1925 in New York City by Lewis Cohen, The Argosy survived three moves and three generations of family ownership. Its earliest home was in The Bible House on Manhattan's book roe, located on 4th Avenue.
Cohen chose to call it The Argosy so that it would appear on the first pages of phone books. It was a good call on his part. Over the years, the Argosy's loyal customers included the likes of Benjamin Franklin, Jacqueline Kennedy, and President Bill Clinton.
This oasis of literature specializes in selling rare editions of Americana, treasured artifacts of US history, and medical texts. Still, anything from greeting cards to first editions of the New York Times Bestsellers can be found here.
The Argosy suffered major damage in 2012, thanks to the crumbling of a neighboring building during Hurricane Sandy. Bricks from the affected building fell through its roof, destroying two floors worth of American treasures, including congressional papers signed by Thomas Jefferson.
A year later, the store was restored to full capacity. Its six floors of history, art, and literature continue to captivate New York City locals and tourists who quickly turn into customers.
---
5. Morpurgo
Year established: 1860
Location: Split, Croatia
Still open?: no; closed in 2017
Founder: Vid Morpurgo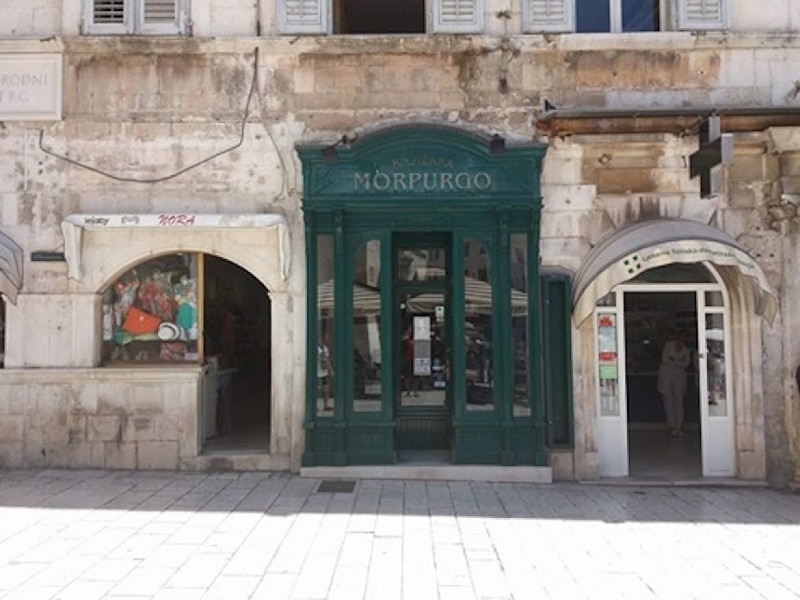 photo source: Total-Croatia-News.com
Morpurgo opened its humble doors in July 1860. It was the Brainchild of Croatian intellectual leader, Vid Morpurgo. This bookstore was intended as "the people's square" of Split, its town of origin.
Vid Morpurgo was a Renaissance man of sorts, so it was natural for him to have founded his town's intellectual center. Not only did Morpurgo collect and sell texts from all over Europe, but he held daily meetings in the store where all of the town's intellectuals congregated to discuss the regions current affairs. Morpurgo's welcoming atmosphere, including its reading room, was significant because there were no libraries in Croatia at the time.
In 1862, Vid Morpurgo used his bookstore to launch a newspaper, "Il Nazionale" meaning The people's Paper. This launched his reputation as the literary keeper of the region of Dalmacia. Over the years, Morpurgo built up an impressive network of literary suppliers, about 70 percent of which were foreign. By 1918, Morpurgo had 406 foreign suppliers. That year, it started selling English texts supplied by London and The United states in addition to its rich selection of books from Italy, France, Eastern Europe, Vienna, and Germany.
After Vid Morpurgo's death in 1911, several family members took over the keeping of his bookstore. The store was seized by the Soviet State in 1947. After Croatia's independence from the communist state, the bookstore was privatized once more, and stood under the name Luka Botic. In 2017, the store was forced to close, a decision mourned by the lovers of literature in its town.
---
4. Librairie Galignani
Year established: 1801
Location: Paris, France
Still open?: Yes
Founder: Galignani Family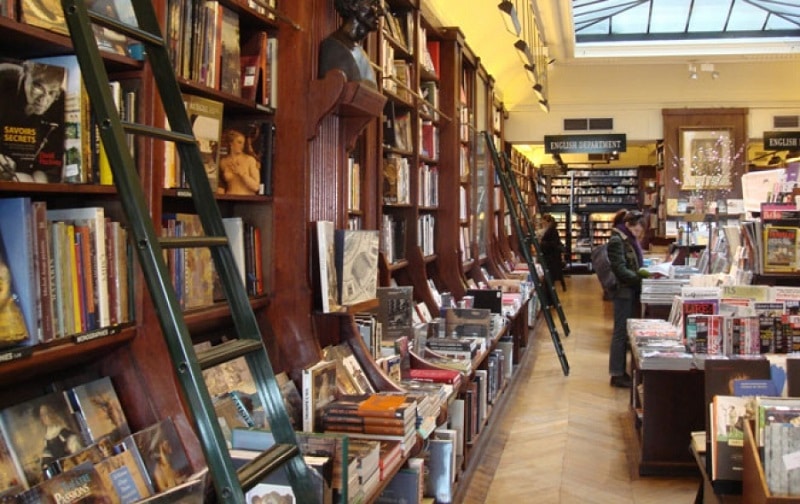 photo source: Librairie Galignani
The Librairie Galignani is the oldest English bookstore in a European country outside of The UK. Started by the Galignani family as part of their publishing empire, this bookstore was an expansion to the publishing house on Rrue Vivienne. Its opulent architecture and English-language services attracted many American and English expats as well as Paris's intellectuals and artists. The literary elite met in one of two meeting rooms within the shop on a regular basis.
The Galignani family started publishing a daily newspaper which brought even more traffic to their bookstore. In 1856, the bookstore was moved for the first time to its current location at the rue de Rivoli. It sits prominently between the Louver Museum and La Place de la Concorde.
---
3. Hatchards
Year established: 1797
Location: London, UK
Still open?: Yes
Founder: John Hatchard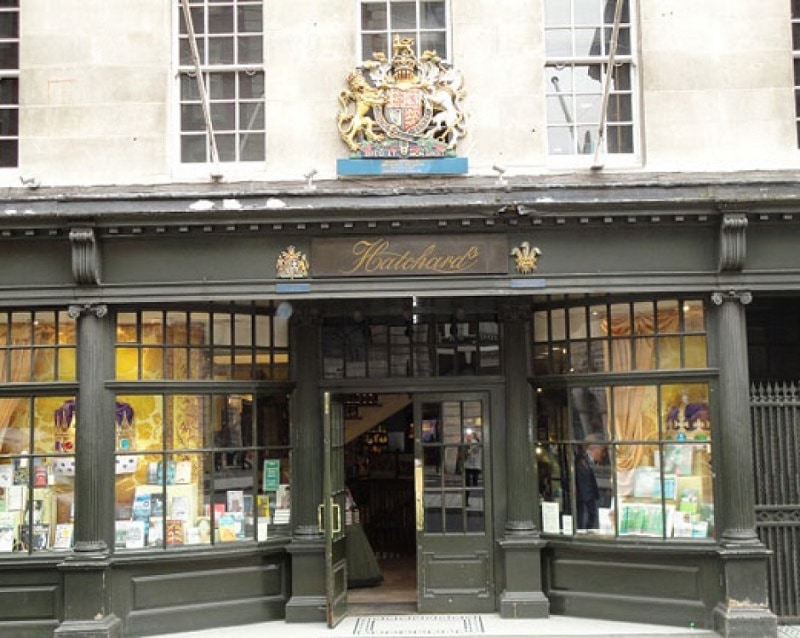 photo source: Waterstones
Hatchards is the oldest bookstore in the United Kingdom. Founded on London's famed Piccadilly road by businessman John Hatchard, this bookshop survived two locations and numerous high-profile owners.
Hatchard's grew from a small but reverent book collection from a well-known 18th century book seller, Simon Vandenbergh. It stocked an extensive range of British and foreign literature, ranging from the classics to modern bestsellers.
A credit to its vast selection, Hatchards is a British institution favored by UK royalty. This unique endorsement of Hatchards by British royalty is punctuated by the three royal warrants currently held by the bookstore.
For over two centuries, Hatchards enjoyed thriving sales and success on one of London's most famous streets. It only moved once to its permanent location at 187 Piccadilly road. In 1956, the bookstore was acquired by William Collins, Sons. Later, the literary Trader known as Pentos purchased it in 1991. Pentos was acquired by Waterstones. Therefore, hatchards is currently owned and operated by Waterstones.
In 2014, Hatchards opened a second location St. Pancras International. The new shop, somewhat smaller than the original, is located next door to Fortnum and Mason, allowing their mutual business interests to thrive.
---
2. Moravian Bookshop
Year established: 1745
Location: Bethlehem, Pennsylvania, United States
Still open?: Yes
Founder: Samuel Powell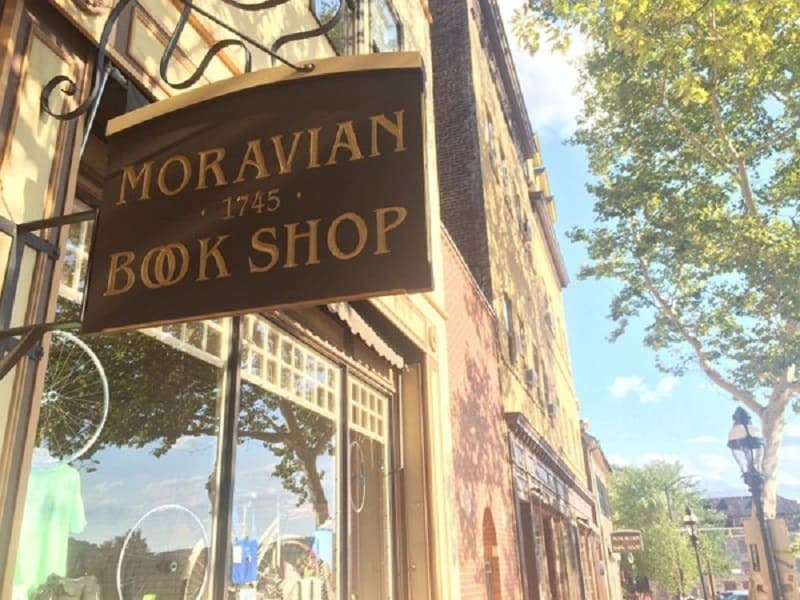 photo source: LehighValleyLive.com
The Moravian Bookshop, located in the center of historic Bethlehem, Pennsylvania, is the oldest continuously-operating bookstore in the United States. It survived two moves including a move to its original location.
In 1745, Samuel Powell, owner of the Church's Crown Inn was appointed to run a new bookstore for the Moravian Church. Though at first the store sold only religious texts, it quickly expanded to selling secular texts as well.
The Moravian Church also had a publication building in Bethlehem. The bookstore was moved to that location in 1871. While there, it was more closely associated with the church than before.
When the bookstore was acquired by Moravian College, its location changed once more. It moved a few blocks from the publishing center to Main Street.
The bookstore became prominent for its Moravian star, which was donated by a star-making factory in Germany in 2013. The star was technically donated to the Moravian Church for its belfry. The star is 6 feet tall and features 26 points, making it the most recognizable symbol in the region.
While the college still owns the Moravian Bookshop, it recently transferred management to Barnes & Noble, a major bookshop chain in the US. This move caused some controversy among locals who believe that the bookstore would no longer remain true to its history. The college assures its patrons that the bookstore's authenticity will stay intact.
---
1. Bertrand Bookstore
Year established: 1732
Location: Lisbon, Portugal
Still open?: Yes
Founder: Pedro Faure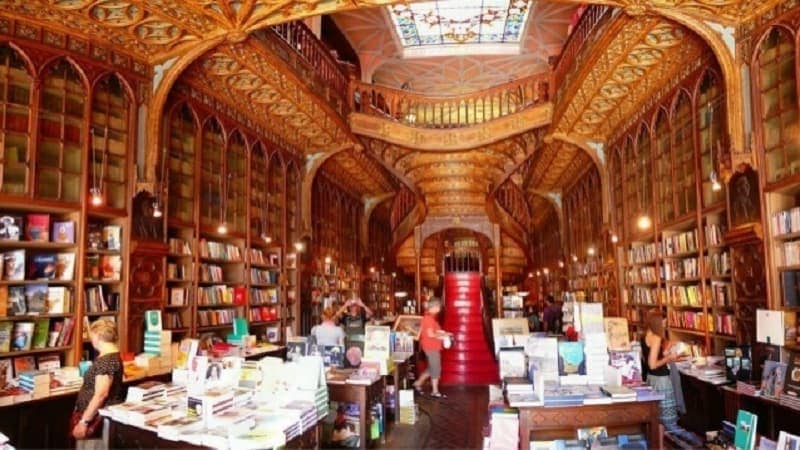 photo source: Bertrand Bookstore
Located in the heart of Lisbon, Portugal is Bertrand bookstore, also known as Livraria Bertrand. It was opened by Pedro Faure, a Portuguese visionary who later sold the shop to the Bertrand brothers. Bertrand holds the title of the oldest bookstore in the world in the Guinness Book of World Records. Over two centuries, it expanded into its own publication and printing press. Today, Bertrand is a well-established chain of bookstores throughout Portugal.
The store began as a small shop in the heart of Rua Direito do Loreto. Its intricate interior architecture and the vast collection of worldly literature attracted Portugal's most prominent authors, such as Alexandre Herculano, Eca de Queiros, and Oliveira Martins.
In 1755, the original location of the Bertrand Bookstore was destroyed by an earthquake that leveled much of Lisbon. Emerging from this tragedy, Faure's son-in-law reopened the store in its second location at Capela de Nossa Senhora das Necessidades in "Senhor Jesus da Boa Morte."
Faure's son-in-law was Pierre Bertrand, a French bookseller with whom Faure struck up a business partnership before Bertrand married Faure's daughter. Prior to the earthquake Bertrand's brother joined the business, and he was the owner who ran the store in its second location. Eighteen years after reestablishing the bookstore, the Bertrand brothers moved it yet again to Rua Garrett, where it still stands today.
The place of paperbacks and hardcover's in today's digital world is widely contested by book lovers around the world. The current consensus is that independent bookstores are quietly closing their doors for good, one by one. However, the fact that most of the stores featured in this list are still operating and succeeding today shines a flicker of hope on the future of traditional books.
OTHER POSTS YOU MAY BE INTERESTED IN