A tattoo is a small piece of artwork (often made of pigment) that is usually placed on your skin. Tattoo, also called "tat", refers to the art in which a description or design is drawn with any type of equipment, often consisting of needles and pigments. A tattoo carries a lot of meaning, and it is not simply a mark or image that we restlessly throw away.
A tattoo artist is an individual who designs and creates tattoos for clients. They are responsible for applying ink to the human body, which can be done with a variety of tools and techniques. Tattoo artists may also work in other areas of the arts, such as fine art or illustration.
Up for this kind of topic? You've come to the right place, as this article gathered all the twelve oldest tattoo artists in the world to discuss fascinating things about them, which you may find interesting.
12. Hannah Aitchison (December 20, 1966 – present)
Age: 55 years old
Nationality: American
Career Started: 2006
Still in Business: Yes
photo source: pinimg.com
Hannah spent many years working at Deluxe Tattoo in Chicago, but she recently migrated to Pittsburgh, Pennsylvania, where she now tattoos in her shop, Curiosity Shop, where she also works in other mediums and collects curiosities and antiques.
She is still on the road, working, among other places, at artist collectives and tattoo conventions. She gained notoriety as a result of her participation in Seasons 1-3 of the TLC reality series LA Ink.
Did You Know?
Hannah is an excellent knitter, in addition to being a great tattoo artist.
---
11. Mark Bodé (February 18, 1963 – present)
Age: 59 years old
Nationality: American
Career Started: 1990s
Still in Business: Yes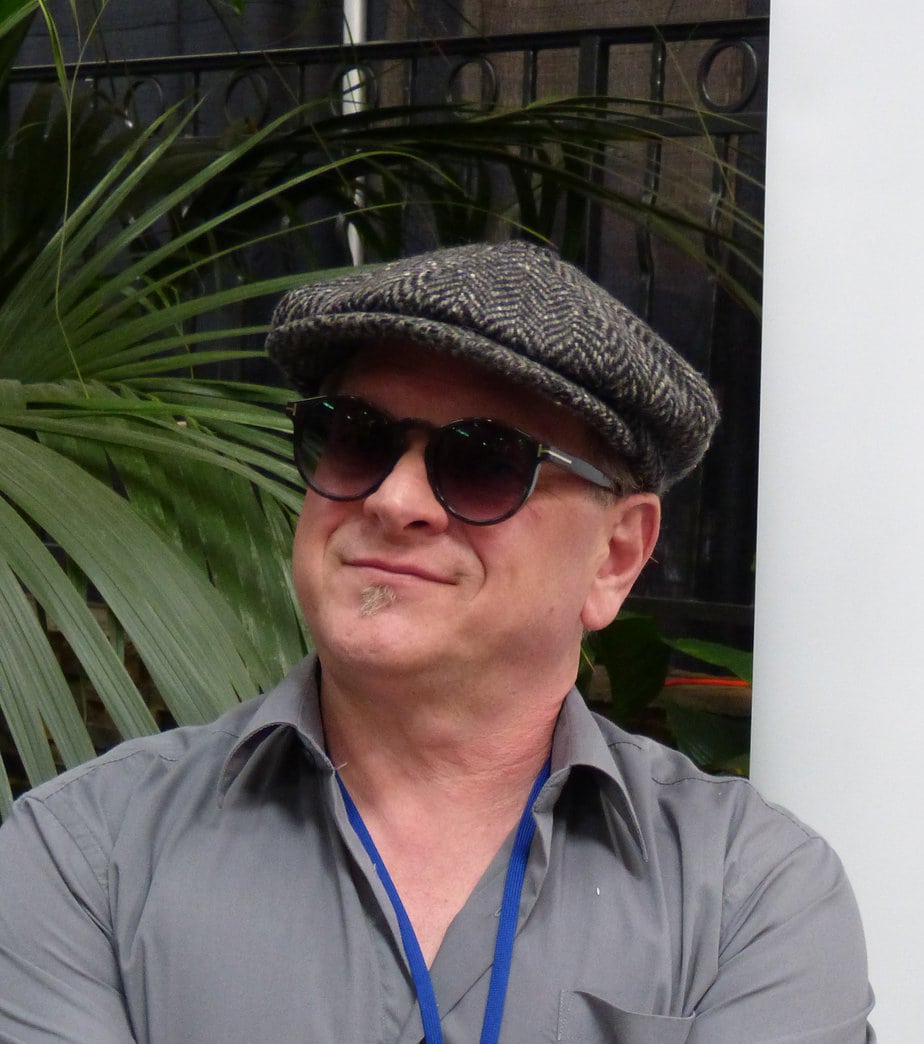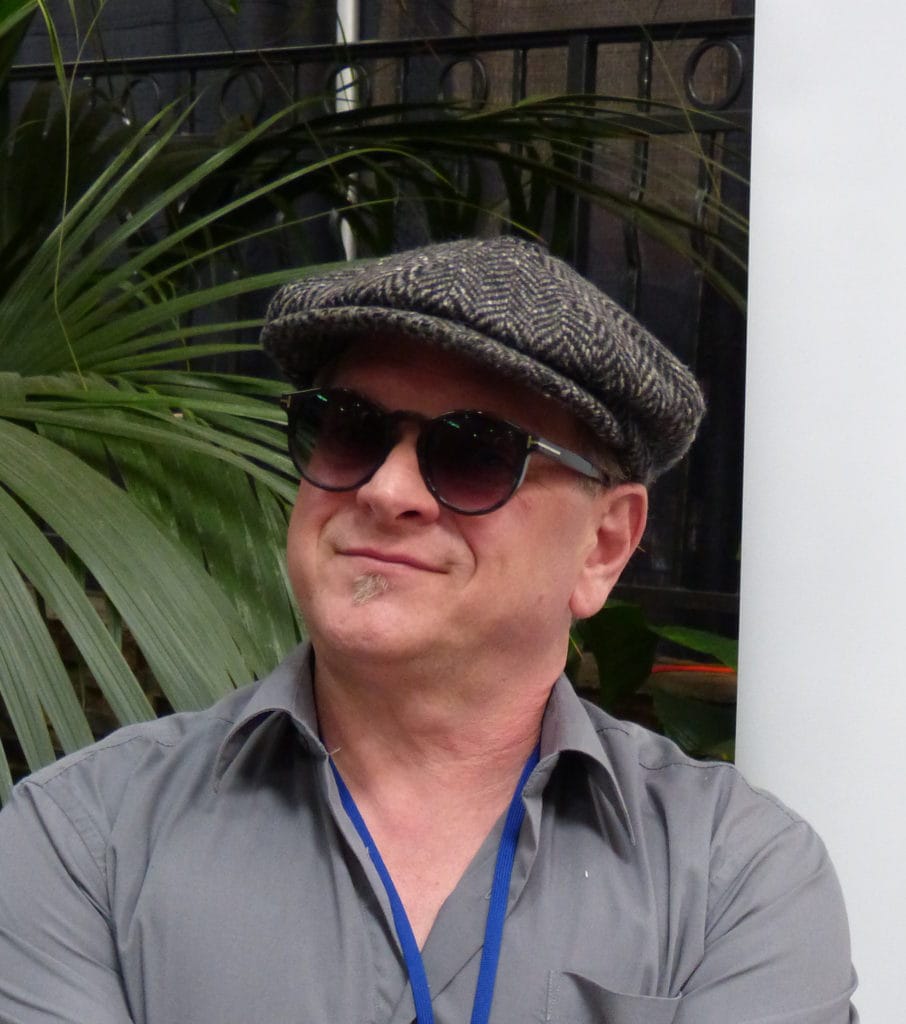 photo source: wikimedia.org
While attending The Art School in Oakland, California, Bodé worked on his father's unfinished project "Zooks the First Lizard in Orbit" for Heavy Metal. He majored in Fine Arts at The School of Visual Arts (SVA) in New York in 1982. At San Francisco State University, he further studied animation.
Bodé met Archie Goodwin, the editor of Marvel Comics, while they were both students at SVA. Goodwin was launching a new publication called Epic Illustrated, and started to collaborate with Bodé.
Did You Know?
Miami Mice, a comic book in black and white that Rip Off Press released in 1986, was created by Bodé.
---
10. Jacki Randall (1959 – present)
Age: 63
Nationality: American
Career Started: 1990
Still in Business: Yes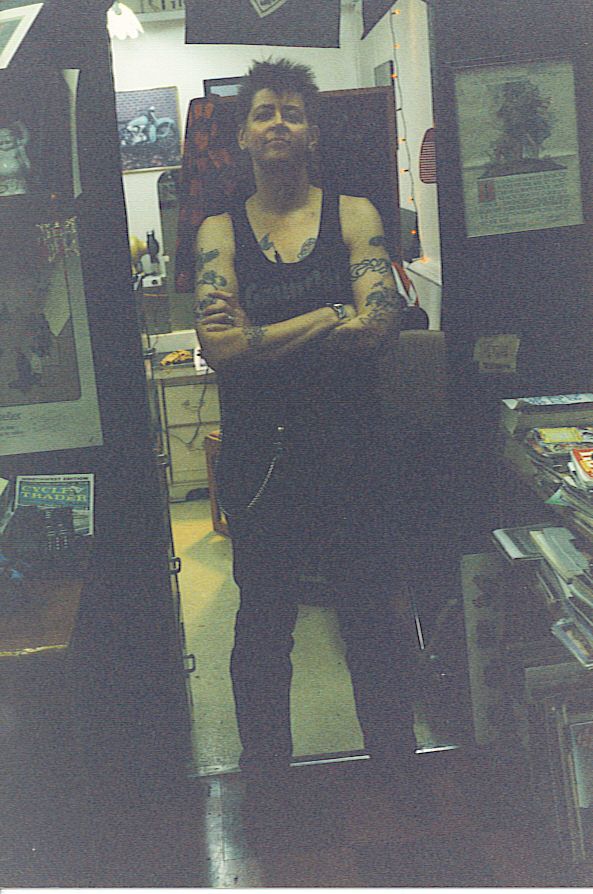 photo source: pinimg.com
In his senior year of high school, Randall worked as a portrait artist at Hersheypark in Hershey, Pennsylvania. Randall chose to pursue a career as a self-employed artist and musician after graduation instead of accepting a scholarship offered by the York Academy of Art.
Lesbian themes and relationships, as well as leather and motorcycle culture, are prominent subjects in Randall's comic strips, which she creates as a cartoonist. Erotic paintings, commissioned pieces for churches, and Baltimore murals are all represented in Randall's body of work.
Did You Know?
Randall and her boyfriend moved to Baltimore in 2006, where she established Charm City Tattoo as her own tattoo shop.
---
9. Alex Binnie (1959 – present)
Age: 63
Nationality: American
Career Started: 1970s
Still in Business: Yes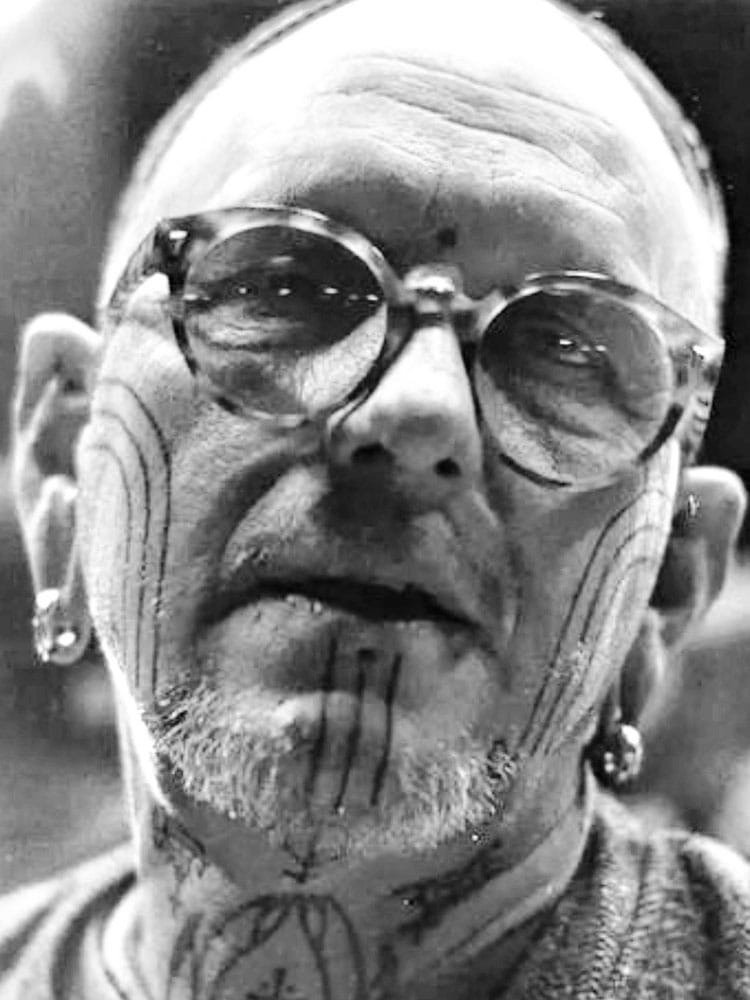 photo source: 1770tattoo.com
In 1982, Alex Binnie graduated from the South Glamorgan Faculty of Art and Design with a BA (Hons) in Fine Art. He started off as an AV technician at the Royal Postgraduate Medical School before switching to the United Medical and Dental Schools of Guy's and St. Thomas' Hospitals as a medical illustrator in 1985.
He is renowned for his skill as a tattoo artist and for being a part of the group of individuals who developed and spread the Western world's use of elaborate tribal patterns.
Did You Know?
Henk Schiffmacher's publication of 1000 Tattoos gave Binnie's art to a large audience.
---
8. Henk Schiffmacher (March 22, 1952 – present)
Age: 70
Nationality: Dutch
Career Started: 1980s
Still in Business: Yes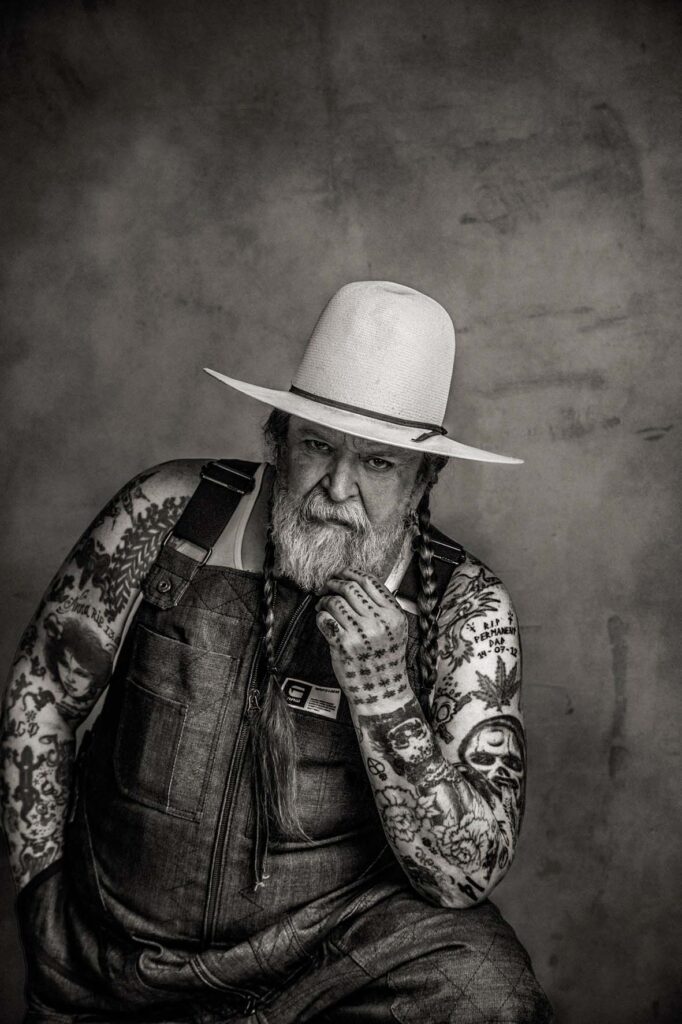 photo source: urbanlifestylesa.co.za
Henk traveled the globe studying the history, iconography, and vocabulary of tattooing after learning the trade by tattooing himself and polishing it by spending an entire week inking GIs when the US navy was in town.
In that time, he has gathered what is known as the Schiffmacher Tattoo Heritage, one of the world's biggest collections of modern and historical tattoo memorabilia. A massive XL tome featuring Henk's extraordinary collection has been released by Taschen.
Did You Know?
Henk traces the development of tattooing beginning in the 1700s in the publication, which contains more than 40,000 images and a wealth of information.
---
7. Mary Jane Haake (1951 – present)
Age: 71 years old
Nationality: American
Career Started: 1980s
Still in Business: Retired in 2018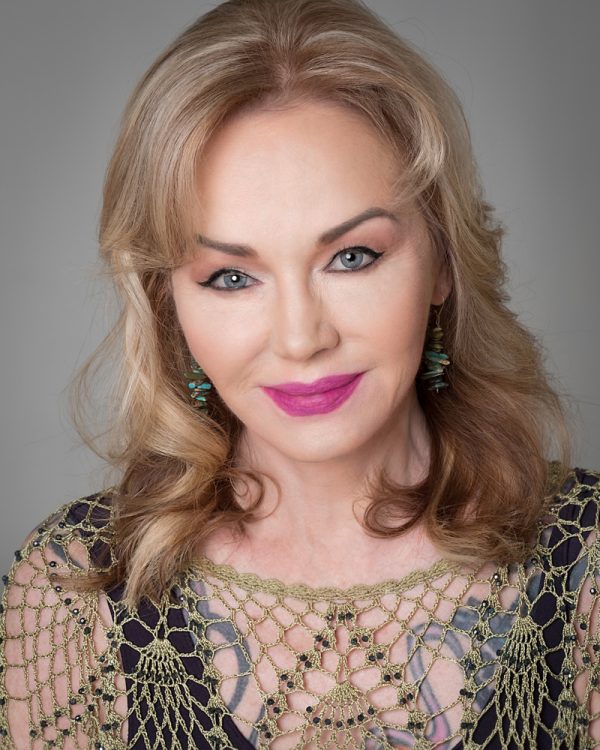 photo source: hiphemp.com
Haake started sharing her meals with Grimm and his wife, Julia, to hear the tales of his illustrious career. She didn't have to wait long to start working at the tattoo parlor. She began a four-year apprenticeship before enrolling in the Pacific Northwest College of Art, where she majored in painting and sculpture.
During her final year, she convinced the faculty to accept tattooing as her senior thesis topic. In contrast to the three street-level tattoo parlors that were operating in Portland at the time, she established Dermigraphics in 1981, seeing clients exclusively by appointment.
Did You Know?
When she was five years old, she recalls being mesmerized by a man who had a train tattoo over his chest that stretched from arm to arm. It pushed her to be a tattoo artist in the future.
---
6. Shotsie Gorman (1951 – present)
Age: 71 years old
Nationality: American
Career Started: 1970s
Still in Business: Retired in 2006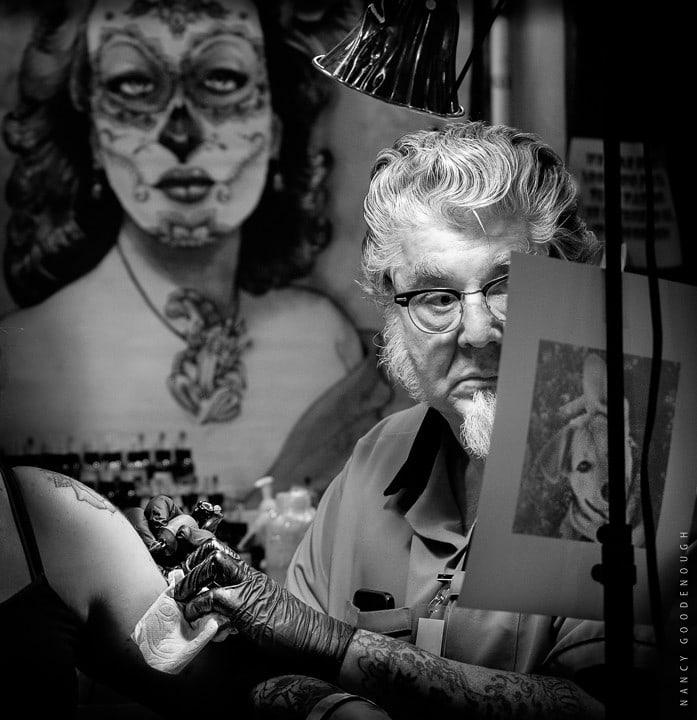 photo source: staticflickr.com
Through the use of heroic sized black and gray pictures, Shotsie aesthetically advanced tattoo art. By changing the direction of tattoo history, Shotsie is recognized by his colleagues as one of the tattoo artists who contributed to the art form's current ubiquity and appeal.
An award-winning glossy journal called "Tattoo Advocate Journal" was produced by Shotsie and explored topics including radical feminist Gorilla girls, women's rights in the arts, and tattoos on Malcolm X that were socially out of the ordinary for the period.
Did You Know?
Shotsie is currently an involved part of the North Bay literary scene.
---
5. Vyvyn Lazonga (March 18, 1947 – present)
Age: 75 years old
Nationality: American
Career Started: 1970s
Still in Business: Retired in the 2000s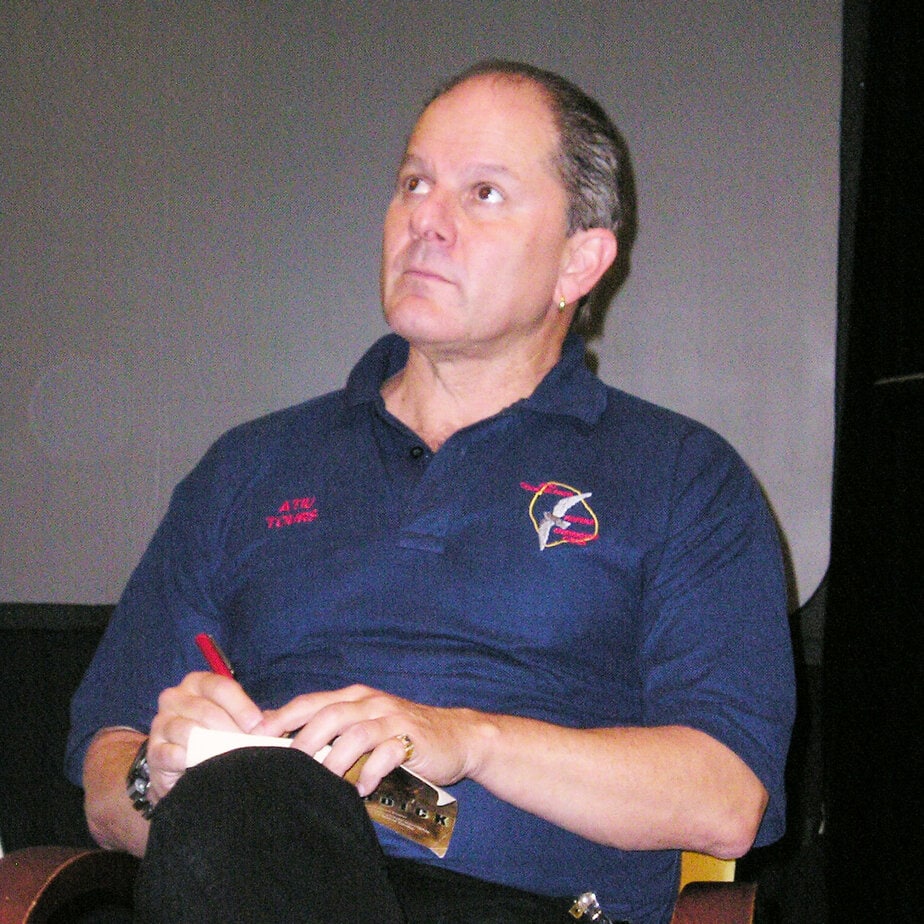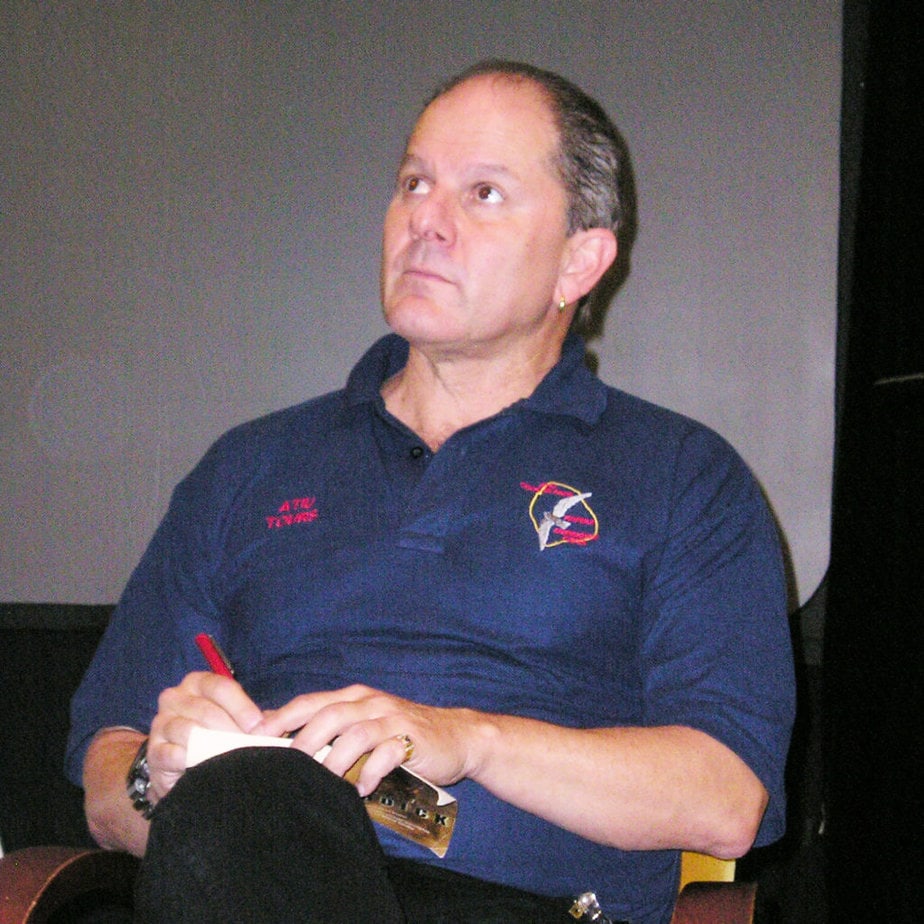 photo source: pinimg.com
The tattoo artist Vyvyn Lazonga was taught by Danny Danzl and started her profession in Seattle in the early 1970s. As opposed to her husband or another male store owner, she was the first woman to work for herself in the industry.
There weren't many women tattooed at the time she started tattooing, let alone those who were employed as tattoo artists. There were not many female tattoo artists on the west coast when she began her business in 1979.
She had a hard time getting a full apprenticeship and being treated equally in her industry. When it comes to the use of massive full-body tattoos, she was a pioneer in the West.
Did You Know?
Her work opened numerous opportunities for women in the tattoo industry, and it is still cited as an example of a fine artist who successfully incorporated the tattoo medium into their work.
---
4. Alan Dean (November 18, 1946 – present)
Age: 75 years old
Nationality: British
Career Started: 1990s
Still in Business: Yes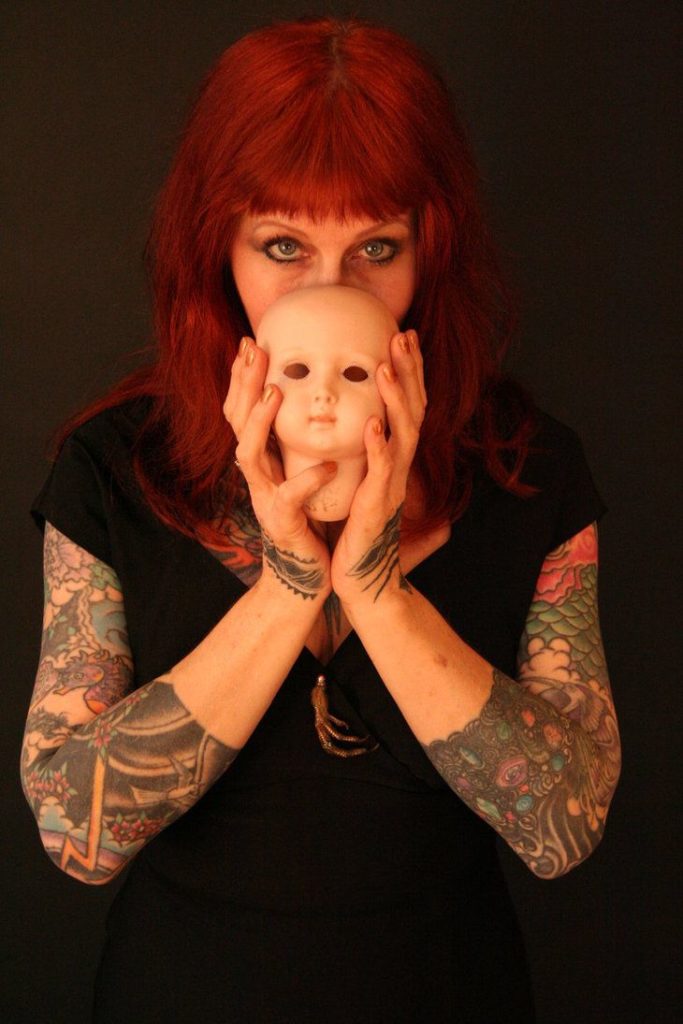 photo source: wikimedia.org
Three Tattoo UK studios in the greater London region are owned by British tattoo artist Alan Dean. With more than 25 years of experience, Dean has one of the top tattoo studios in the UK. His studios are well-known across the world, and he frequently attends and sponsors tattoo conventions around the world.
Did You Know?
The International Association of Media Tie-In Writers presented Foster with the Grand Master award in 2008.
---
3. Horiyoshi III (March 9, 1946 – present)
Age: 76
Nationality: Japanese
Career Started: 1966
Still in Business: Retired in 1971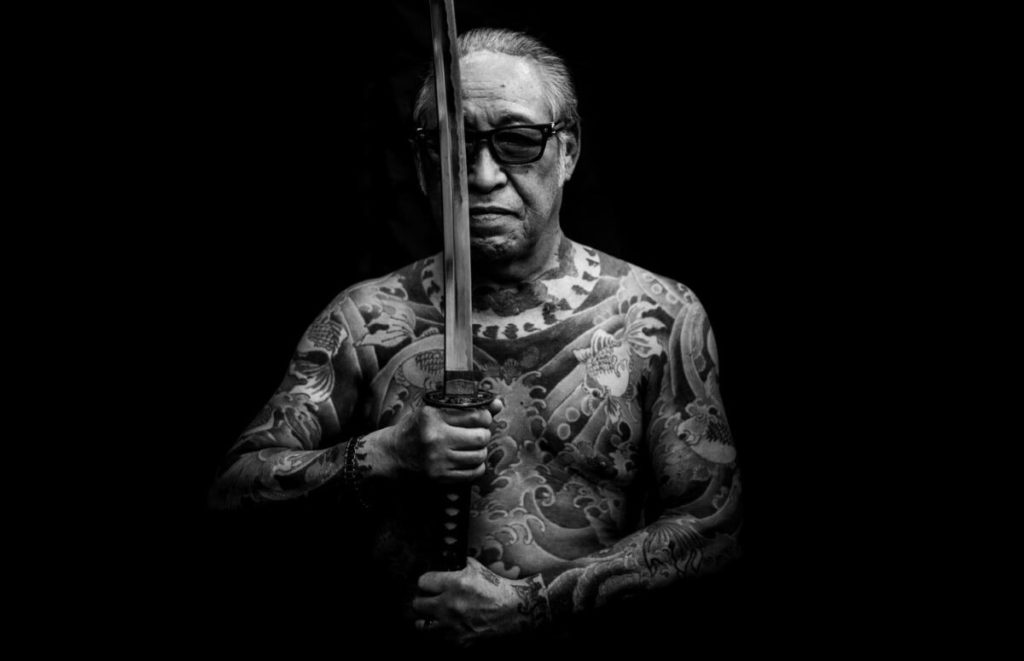 photo source: squarespace-cdn.com
Japan's foremost tebori (hand-tattooing) master is Horiyoshi III. While the tattoo industry in Japan continues to be one of secrecy and exclusivity, Horiyoshi III has broken through taboo and attained renown on a national and worldwide scale.
Horiyoshi III, who was born Yoshihito Nakano, inherited his title from the late Yoshitsugu Muramatsu, also known as Shodai Horiyoshi, a tebori master and instructor. For 10 years, Horiyoshi III served as Shodai Horiyoshi's apprentice.
By age 28, Shodai Horiyoshi had finished hand-tattooing Horiyoshi III's bodysuit. Despite the fact that ukiyo-e officially came to an end in 1868, Horiyoshi III artwork preserves the essence of Edo's depictions of the floating world while infusing it with his own style and a modern viewpoint.
Did You Know?
The artwork of Horiyoshi III combines the past, present, and future by depicting Japanese folktales, calligraphy, and religious themes in sumi (black ink) and conventional mineral paints.
---
2. Don Ed Hardy (January 1945 – present)
Age: 77
Nationality: American
Career Started: 1970s
Still in Business: Retired in 2006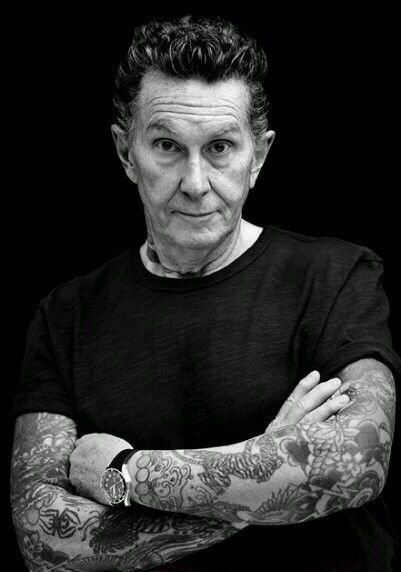 photo source: pinimg.com
Since the 1970s, Don Ed Hardy has been tattooing professionally, focusing on the medium's Asian roots and exploring its fine art potential. The first non-Asian to enter that realm, he resided in Japan in 1973 and studied with a master of traditional tattooing. In Japan, he continued these studies throughout the 1980s.
Together with Francesca Passalacqua, he founded Hardy Marks Publications in 1982. Since then, they have authored, edited, and published more than 25 alternative art publications.
In 1987, they relocated their main residence to Honolulu, where Hardy picked up his painting, sketching, and printing skills once more. Younger artists are carrying on his distinctive style of work and continue to grow at his San Francisco workshop, Tattoo City.
Did You Know?
Aside from exhibiting his own works, Hardy also organized a number of shows for charitable institutions and galleries, and gave talks at art galleries and colleges.
---
1. Apo Whang-od (February 17, 1917 – present)
Age: 105
Nationality: Filipino
Career Started: 1970s
Still in Business: Yes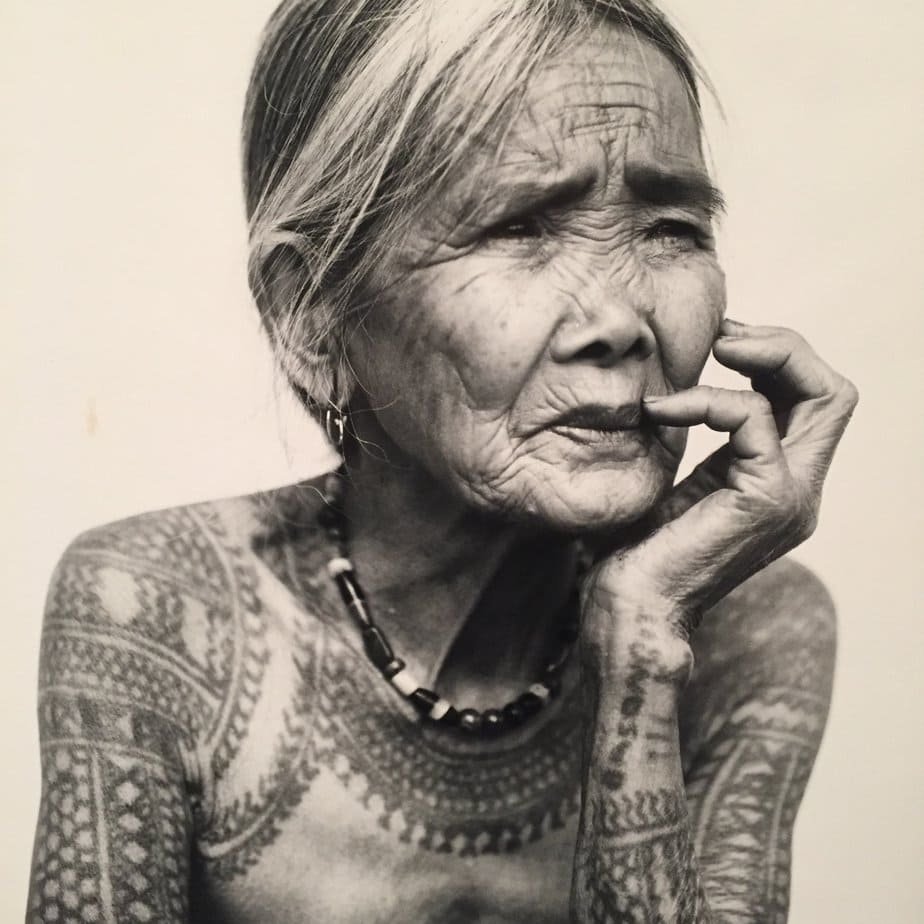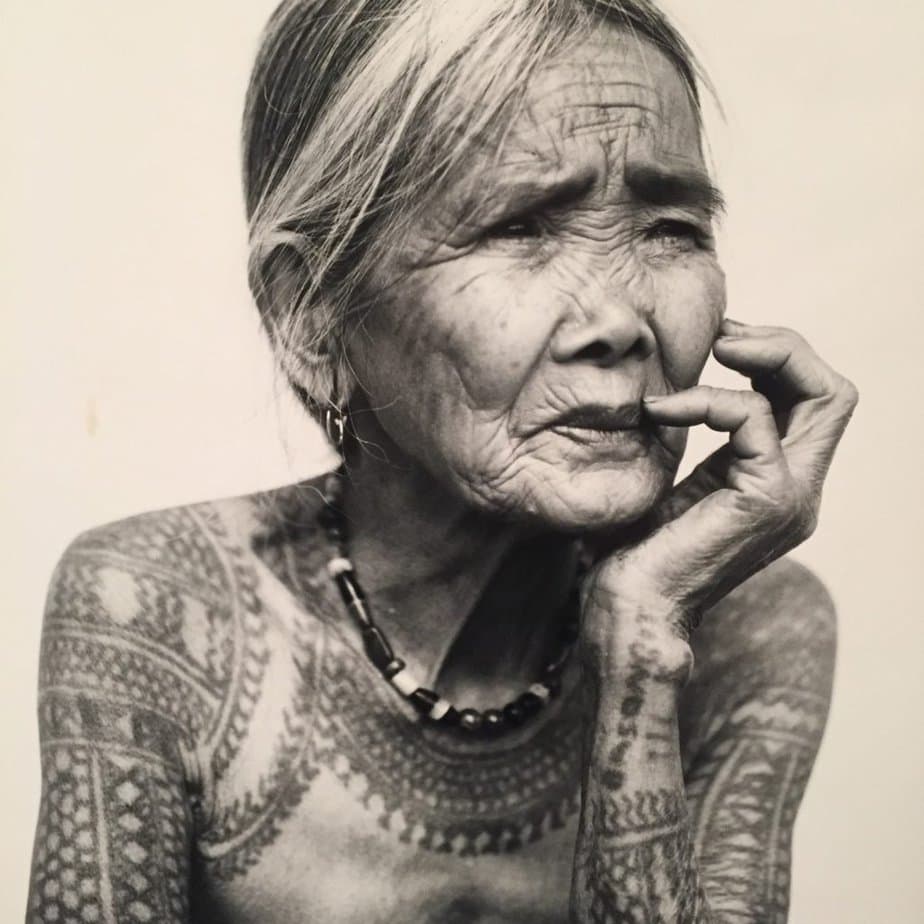 photo source: cloudinary.com
Apo Whang-od is the oldest tattoo artist from the Philippines. The symbols in the tattoos are the tribe's warriors, who go as far as killing their opponents to defend their communities, were these headhunters. In their view, it stands for bravery and courage. She also tattooed tribal women, who are known for having tattoos and having skin that is both beautiful and graceful.
Whang-od is a living example of the batok, or hand by hand tattooing culture of the tribe. Her body is covered in tattoos of various symbols and patterns. She claimed that it took a day to thoroughly tattoo each of her arms. She described how her father celebrated by killing a pig once her corpse was covered.
Whang-od never had a spouse. During the Japanese occupation, Whang-od lost her significant other, and she hasn't found another since. Since she doesn't have any children of her own, she is teaching her granddaughter Grace Palicas to continue the tribe's tattoo legacy.
Did You Know?
Charcoal and water are the main ingredients of Whang-tribal od's tattoo ink. Once combined, a thorn from a citrus tree, either a calamansi or a pomelo, is used to tap it into the skin.