A door's design seems utilitarian and universal: a wooden slab with a doorknob that moves on hinges. However, after a quick study of ancient and antique doors, it's clear that this common object served many purposes throughout history. Various cultures have designed and innovated doors for spirituality, convenience and protection. Read the list below to open your eyes to the doors' multi hyphenate nature.
12. Dutch Colonial Style Doors
Year: 1600s
Found in: Barns
Materials: Wood and hinges
Design Overview: Appears to be an average door, but has a horizontal division that allows the top half to open.Two middle hinges hold the door together in case the user wants to open the entire thing.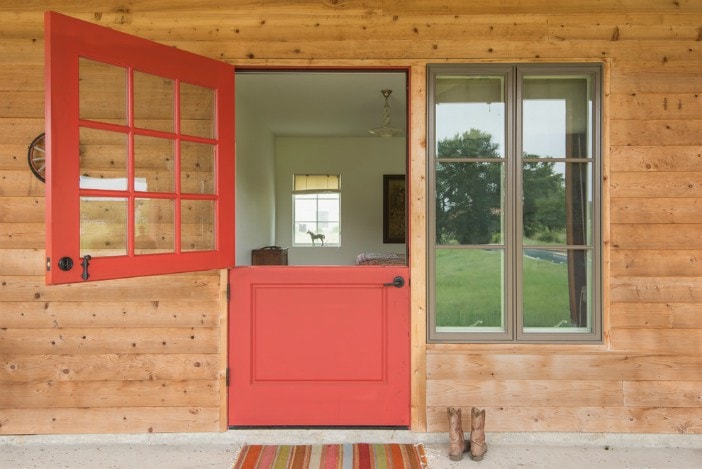 photo source: Jacob Bodkin Photography
The Dutch Colonial style came with Dutch immigrants who traveled to the American colonies. While the door itself isn't ornate, a reflection of the Puritan religion that was common at the time, it still has interesting features. In particular, Dutch doors have a horizontal division that allows the top half of the door to be opened while the bottom remains stationary. The design permitted farmers to let light into barns without losing their animals.
---
11. Monastery Door at El Escorial
Year: 1567
Found in: El Escorial, but inspired Spanish architecture in other places.
Materials: Wood and wrought iron
Design Overview: Heavy wooden door with wrought iron studs that raises instead of swinging.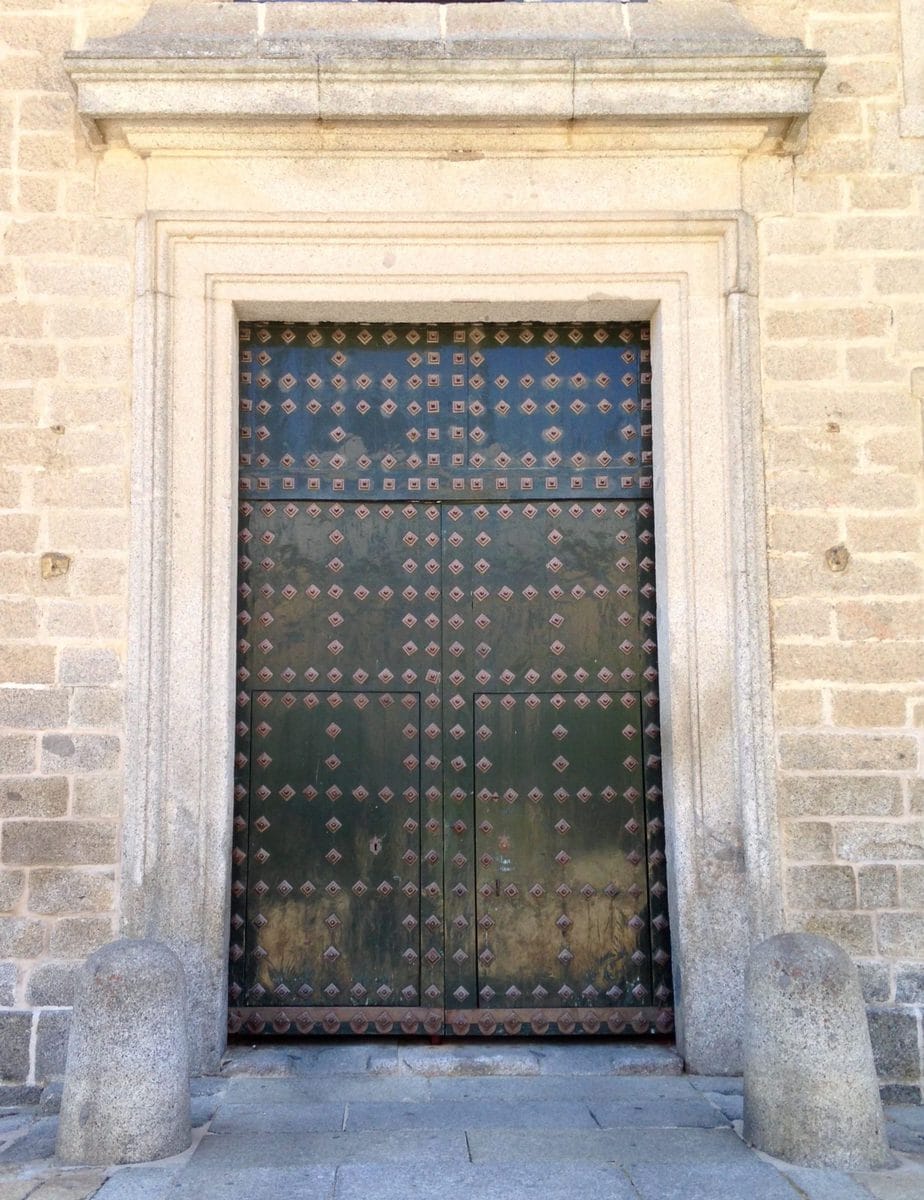 photo source: Fernando Berenguer via Pinterest
El Escorial is a massive site that includes several buildings in tribute to King Charles V and is credited with ushering in the Spanish Renaissance. While in use, it functioned as a tomb, castle, library, museum and university. Charles V's son, King Philip II, commissioned royal architect Juan Bautista de Toledo to design the project. The completed structure has over 1,200 doors. The door at the entrance to the monastery was made of wood with wrought iron decorations, lacking the same ornamentation of other doors on this list. Like the portcullis, these doors raise to open, rather than move back and forth.
---
10. Gates of Paradise
Year: 1425
Found in: The Baptistery of San Giovanni
Materials: Wood and bronze
Design Overview: Function as normal doors would, but they stand out for their beautiful carvings and golden color.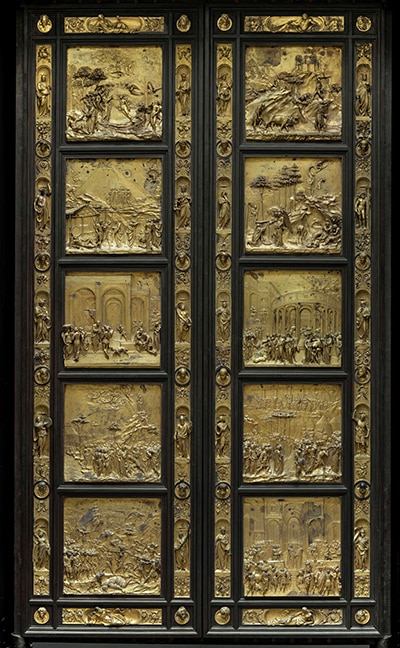 photo source: Lorenzoghiberti.org
The Gates of Paradise are a pair of bronze gilded doors made by artist Lorenzo Ghiberti for the Baptistery of San Giovanni in Florence, Italy. They got their name from the artist Michelangelo, who was mesmerized by their golden detailing. Ghiberti divided the doors into five sections that all depict scenes from the Old Testament. Around those scenes he placed decorative borders with symbols and busts. The Gates of Paradise stand out against other Medieval doors, which do not feature such detailed art in their divisions.
---
9. Gothic Cathedral Doors
Year: c. 1400-1500
Found in: Cathedrals
Materials: Wood and wrought iron
Design Overview: High reaching and pointed, but work as any normal door.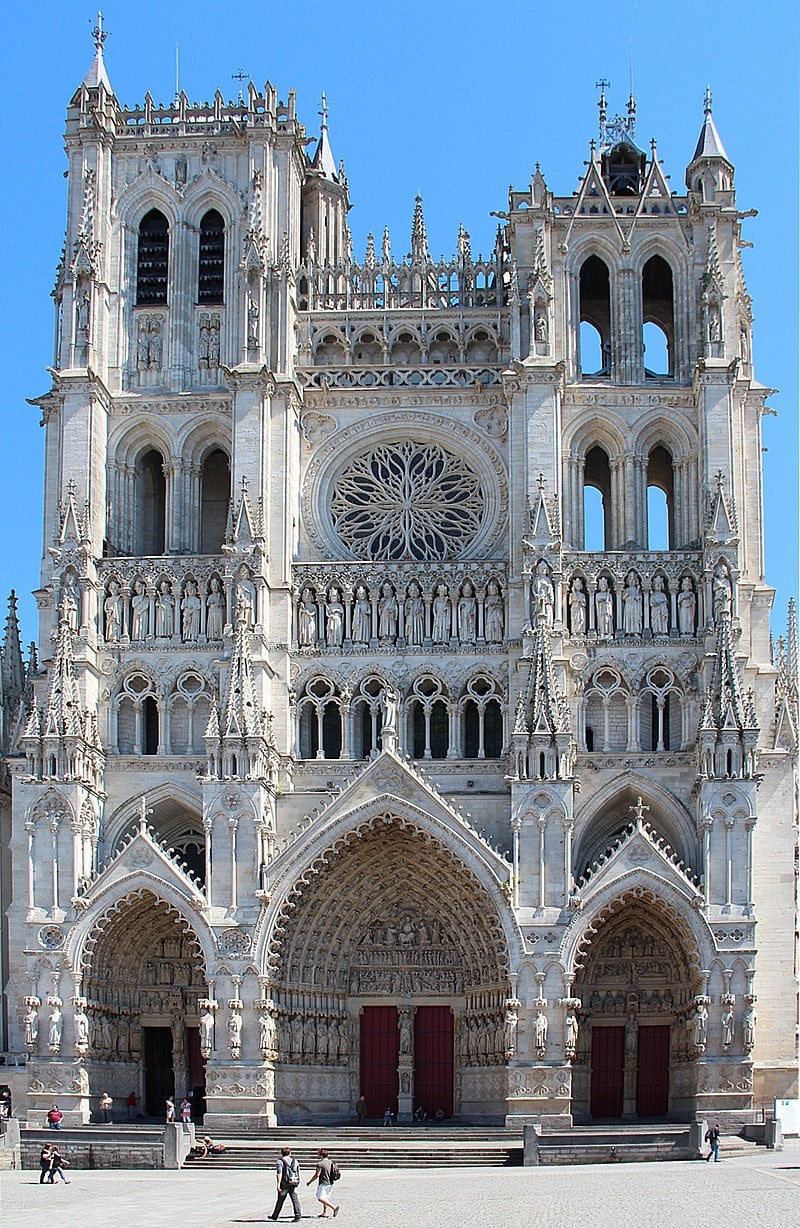 photo source: Jean Pol GRANDMONT – CC By 3.0
Gothic architecture followed Romanesque as the premier design choice for churches and cathedrals in Europe. While there are clear similarities between the two styles, Gothic architecture was more angular as shown in the common door design at the time. Gothic doors featured pointed tops or archways and delicate detailing that reflected the more intricate nature of the Gothic style.
---
8. Shoji
Year: 1192
Found in: Homes
Materials: Wood and tough paper
Design Overview: Latticed doors with removable paper coverings that slide.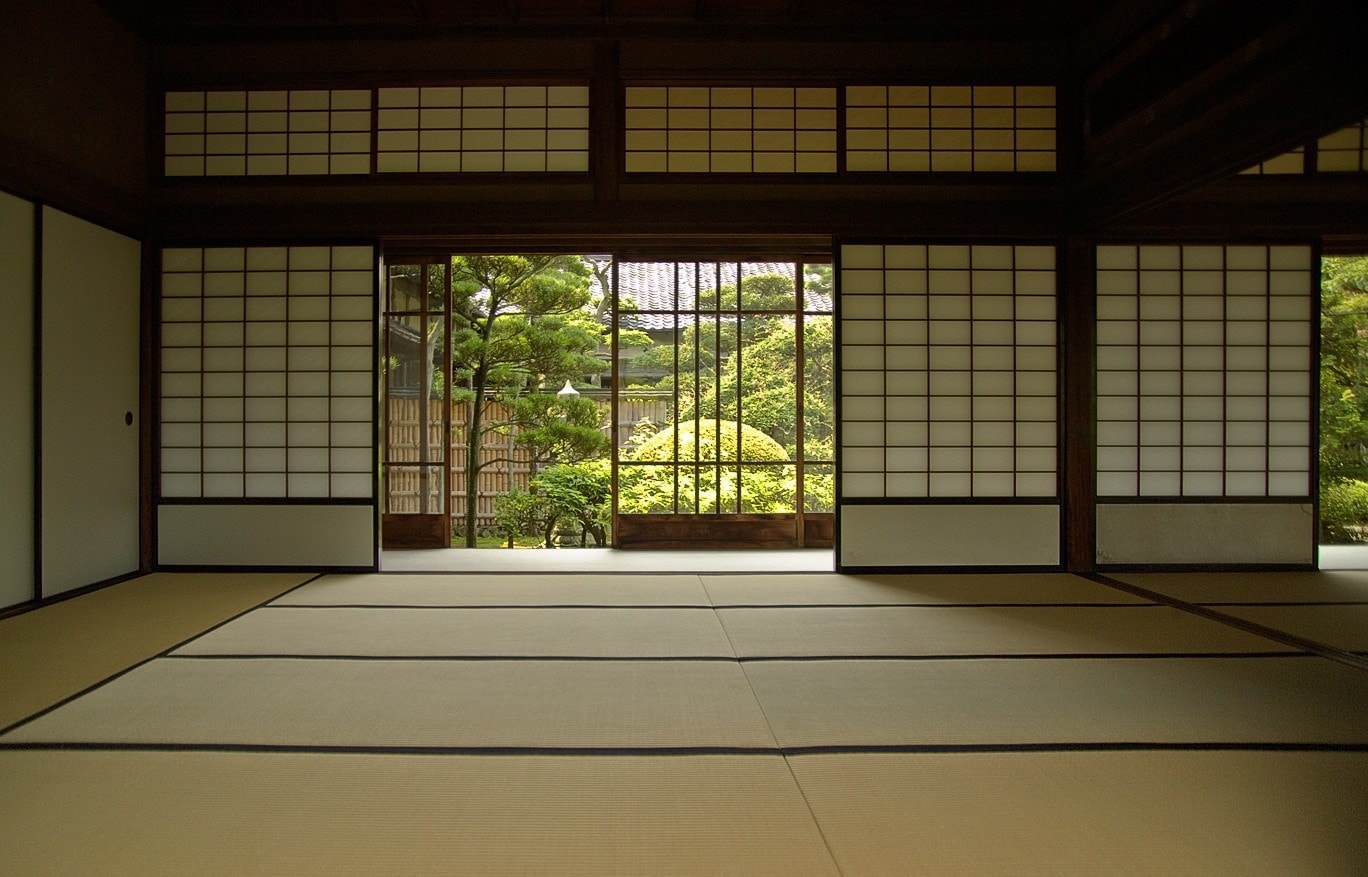 photo source: All About Japan
Shoji are delicate, latticed partition doors usually filled in with white paper that separate a room from an outdoor space. When the tough paper is left on, it allows for a soft light to enter the room. During the humid Japanese summers, the paper is removed so air can circulate. While Shoji appeared around 1192 during the Kamakura Period, they are still common in modern Japanese households, a testament to their clever, practical design.
---
7. Medieval Portcullis
Year: 476 / c. 1100
Found in: Castles
Materials: Wood, metal or a combination of the two.
Design Overview: A suspended gate held up by chains or ropes that rests in a castle's vertical stone grooves. During attack, guards would release the chains and easily lower the portcullis. The door itself is latticed with spiked ends.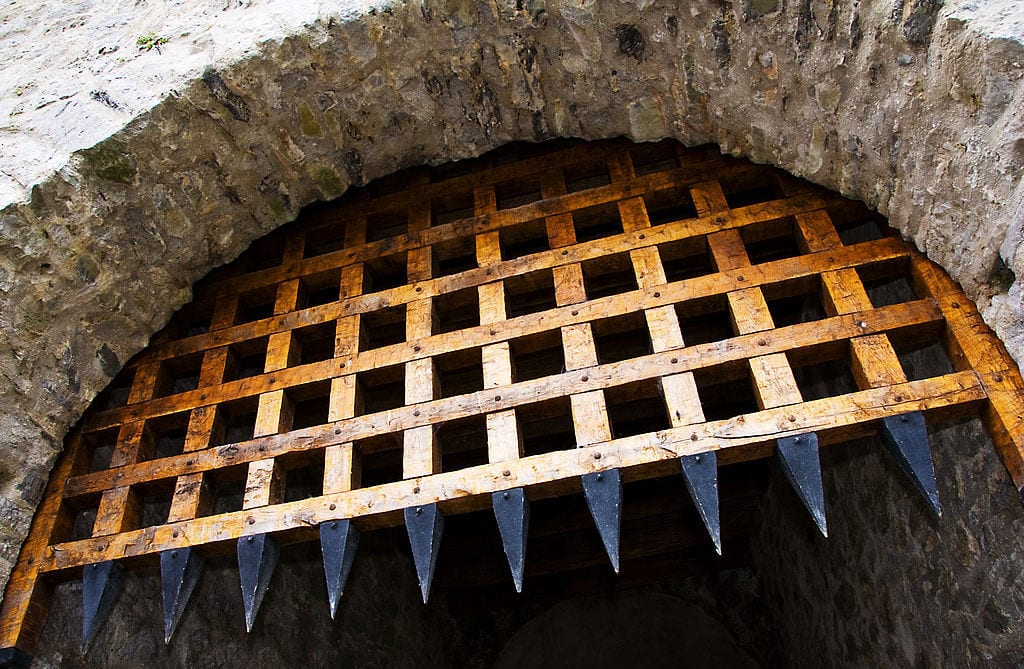 photo source: Kevin King – CC by 2.0
Nothing quite says "Welcome home" like a menacing gate. The Medieval portcullis, which has roots in sixth century Rome, was a latticed gate that blocked intruders from entering castles. Although it was left hoisted up on most occasions, during surprise attacks or an imposing sense of danger, castle guards readily dropped the suspended gate through a pulley system. These gates were very heavy and fell efficiently, also making them dangerous for any unlucky passersby standing under them at the time of attack. In other cases, soldiers used the portcullis as a strategic device, corralling the enemy between two of them for an easy attack. Most castles had at least one portcullis at their main entrance, but they could be outfitted with several at different entrances.
---
6. Romanesque Doors
Year: c. 900
Found in: Churches
Materials: Wood and metal
Design Overview: Either rectangular or round and usually doubled. They rest under rounded archways that feature religious ornamentation.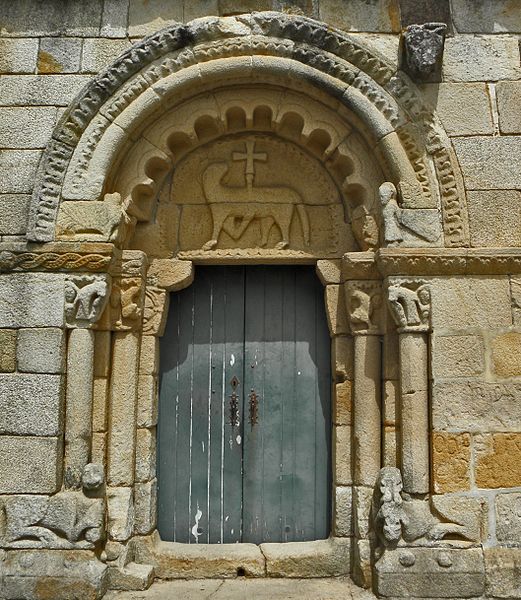 photo source: Amaiamos – CC 2.0
Romanesque style architecture encapsulates a variety of cultural styles, including those from the Roman, Byzantine and Ottonian empires. The style emerged alongside Christianity's growing popularity as there was a new need for larger religious buildings to house monks, priests, nuns, and worshippers. Architects fitted doors in Romanesque buildings under rounded decorative arches of varying sizes.
---
5. Itakarado Doors
Year: 693
Found in: Palaces, homes and temples
Materials: Cypress wood
Design Overview: Made of plain cypress wood and functioned as a typical door.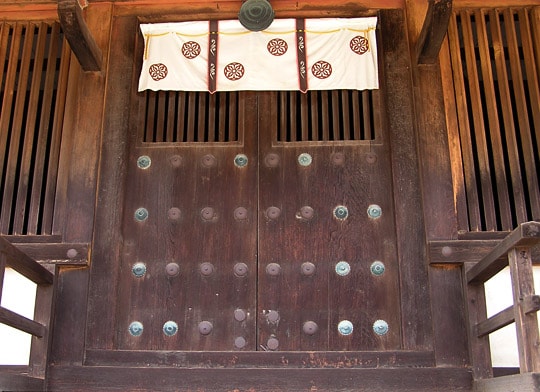 photo source: JAANUS
Itakarado doors are basic cypress wood panels that usually have carved rectangles and, sometimes, metal ornaments as their only decoration. Throughout the generations, designers improved upon itakarado doors by using thicker wood and even switching out a single plank for multiple attached ones. The earliest example of such doors can be found in Horyuji— an ancient Buddhist temple.
---
4. Chinese Foot Sensor Door
Year: c. 604
Found in: Royal library
Materials: Unclear, most likely wood and a pulley system
Design Overview: Unclear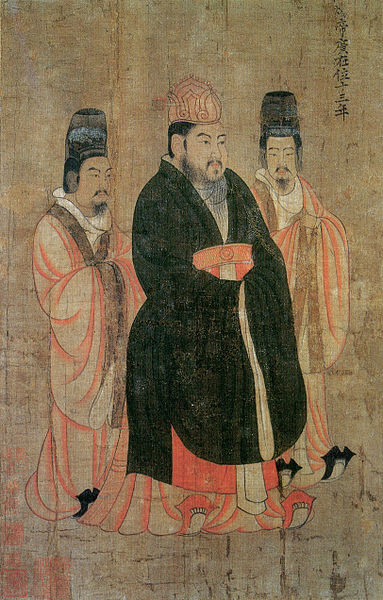 photo source: Wikimedia Commons – Public Domain
Many people might assume that automatic doors are a modern invention, they have existed since ancient times. The seventh century door from China, created under the direction of Emperor Yang of Sui, used a foot sensor that opened the door and allowed visitors into the royal library. Although little information is known on how this door functioned, one can assume it involved a series of levers and pulleys triggered by the foot touching a particular spot.
---
3. Pantheon Doors
Year: 125 CE
Found in: Roman Pantheon
Materials: Bronze
Design Overview: Several feet tall and quite heavy, but function on hinges as a typical door does.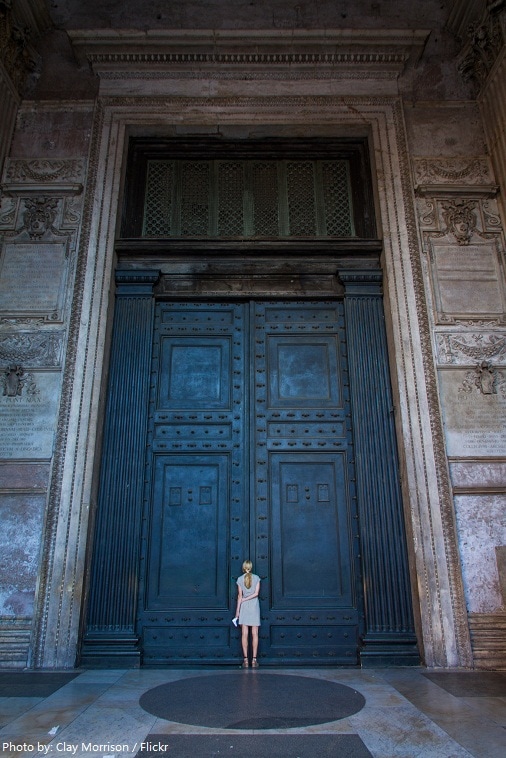 photo source: Clay Morrison via Flickr
While not as intricate as the doors from Egypt or India, the Pantheon's doors are impressive in their sheer size alone at 20 tons each. Some scholars concur that they are the original doors from ancient Rome, but others posit that they are smaller, unpainted replicas from the sixteenth century. With the fall of Rome, pillagers and competing empires took countless amounts of valuable goods so it's reasonable to question the authenticity of the Pantheon's doors. In ancient times, Romans most likely passed through these doors to worship the gods, but scholars are still unsure of the building's exact purpose.
---
2. Egyptian Ka Doors
Year: 2686 BC
Found in: Tombs and temples
Materials: Limestone or wood
Design Overview: Usually a slab of limestone with various drawings and inscriptions that was fixed to a wall. On occasion, Ka doors would be able to swing.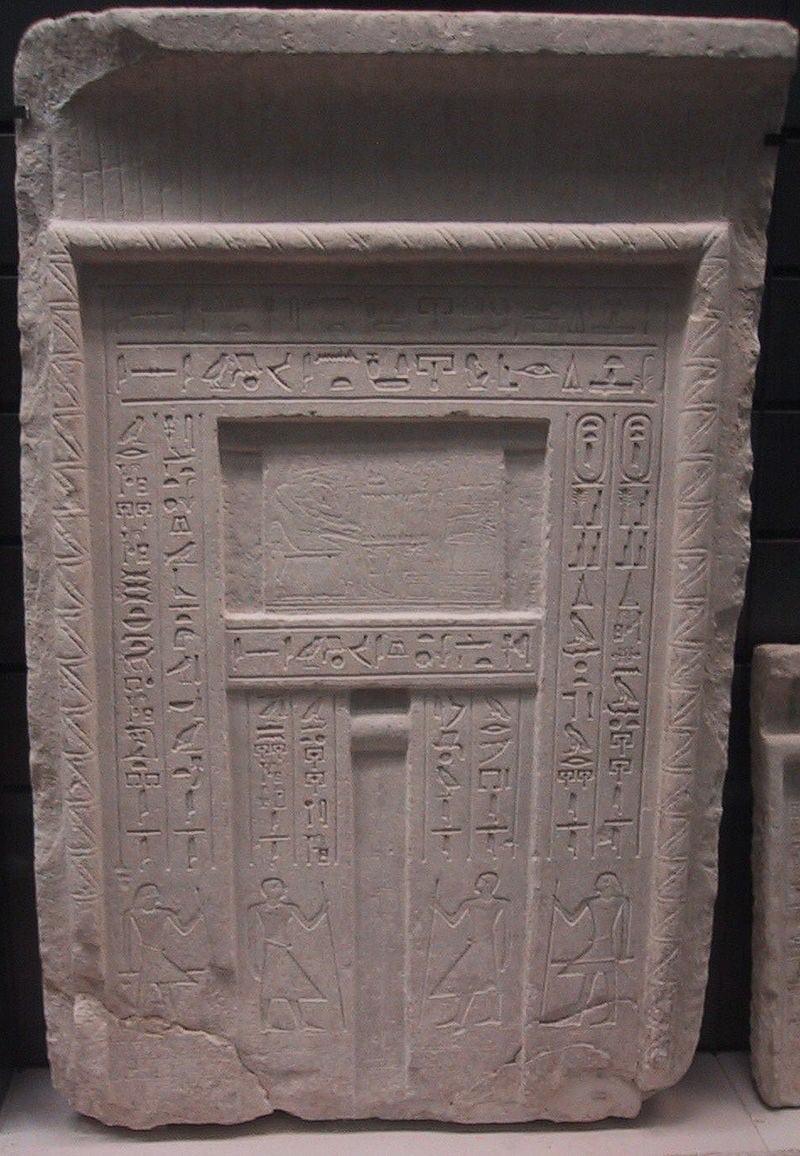 photo source: Rama CC by SA-2.0 FR
Ka doors, Ka being an element of the soul, were false doors in tombs that allowed the soul to pass between the lands of the living and the dead. Mourners left offerings for the deceased on tables near Ka doors so they could easily access them. Besides humans who had passed on, false doors also allowed the living world to interact with specific deities at temples. False doors were often put on the western side of a tomb or temple since ancient Egyptians associated the west with death. Depending on a family's wealth, some tombs had multiple false doors for each person.
---
1. Indian Carved Doors
Year: Unknown
Found in: Homes and fortresses
Materials: Wood and/or metal
Design Overview: Large wooden doors with intricate engravings that reflected the social, religious and political climates at the time they were made. Some doors featured large spikes to stop enemies from pushing them down.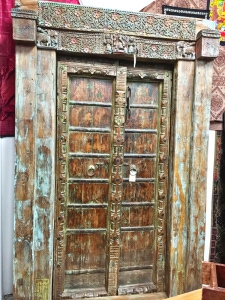 photo source: Mogul Interior Designs
Carved doors from India often depict important figures from Hinduism, one of the most popular religions in the country. In general, door designs reflected the political, religious and social climates in which the doors were built. The Hindu god Ganesh, who has an elephant head, was often etched into the top of the door. As the god responsible for removing obstacles, his placement on a door makes sense. More literally, elephants were often employed in ancient warfare and would break down doors and other barriers. To avoid a weak point, doors on forts and other military bases were massive with spikes to discourage the animals from pushing them down.
OTHER POSTS YOU MAY BE INTERESTED IN