The quarterback is one of the positions in football which requires the most skill and intelligence. So much so, that you need to be able to scan a defense and know what they are doing immediately after the ball is snapped into your hands. If you are wrong, you will be punished by a lineman or linebacker flattening you onto the turf within seconds. Or worse, turn the ball over with a fumble or interception. This is why QBs receive some of the most respect out of all positions in the sport.
If anybody wants to become the oldest NFL QB of all time, they will have to play quite a lengthy career, or at least come back in the league near their 50s. In any case, the skill and mental effort required for pursuing a professional QB position will be the biggest inhibitor in getting this record.
Here are the oldest NFL QBs that played in the league. They are current of former starting QBs, backup QBs, or could even have played before the NFL merger. With the exception of Tom Brady, each QB on this list is retired.
10. Tom Brady
Age: 40
Team(s):  New England Patriots
Professional From:  2000 – Present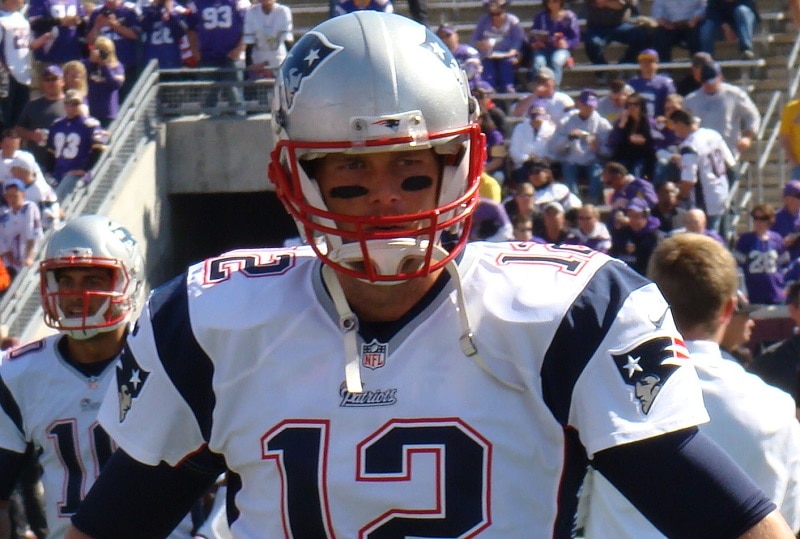 Tom Brady is the oldest QB on this list that is currently active, and there seems to be no sign of stopping him. Having already won 5 Super Bowls, 12 Pro Bowl selections, and a guaranteed spot in Canton, it is hard to understand what keeps the man going. Perhaps he really just loves the game that much.
When you talk about Tom Brady, his head coach Bill Belichick also quickly comes to mind. The two have been a dynamic duo all throughout their respective careers together, making a big mark on NFL history.
Interesting Facts:
Has played in (and won) more playoff games than any other NFL player (34).
Has appeared in more Super Bowls than any other NFL player (7).
Has won more games than any other NFL player (208).
Every season of his career has been played under head coach Bill Belichick.
---
9. Brett Favre
Age: 41
Team(s):  Green Bay Packers, Atlanta Falcons, New York Jets, Minnesota Vikings
Professional From:  1991 – 2010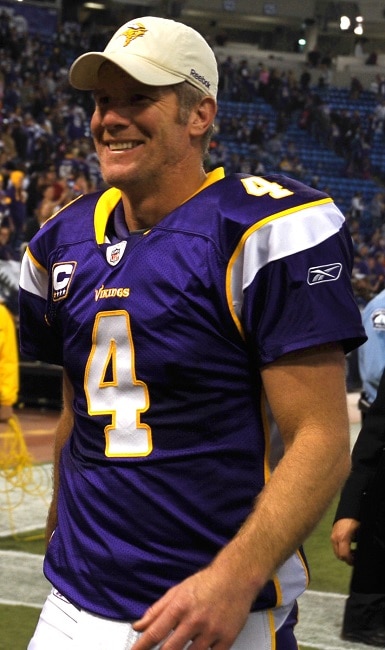 photo source:  Wikimedia Commons
Brett Favre has had his share of success and pitfalls alike. Although he is a Super Bowl champion and one of the most decorated players in history, he also holds the NFL records for most fumbles and interceptions in a career.
However, he was also selected to 11 Pro Bowls during his lengthy career and received the NFL MVP award three years in a row from 1995 to 1997. He is regardless easily one of the best QBs to play in the league.
Interesting Facts:
First QB in history to beat all 32 teams since the merger
First NFL player to become a grandfather while playing in the league.
Part of the 1990s NFL All-Decade Team
---
8. Mark Brunell
Age: 41
Team(s):  Jacksonville Jaguars, Green Bay Packers, Washington Redskins, New Orleans Saints, New York Jets.
Professional From:  1993 – 2011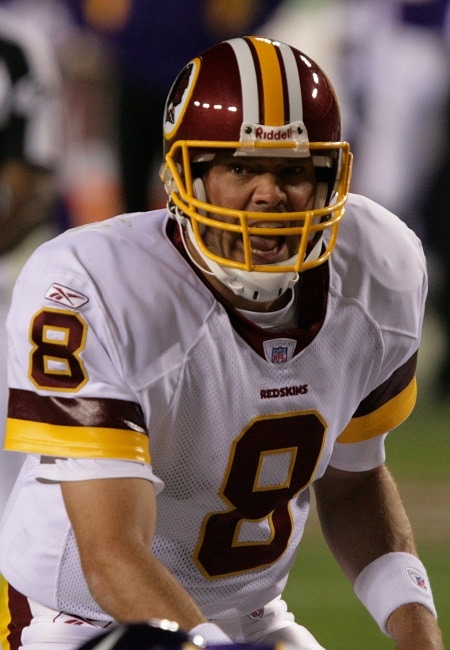 photo source:  Wikimedia Commons
Mark Brunell may not have had a career marked with several different Super Bowl rings, MVP awards, and Pro Bowl selections, but he is one of the only QBs in history to say that they were the founding QB for a franchise. In fact, he's only one of a handful people that can live to say this.
As a backup, Brunell received a ring in Super Bowl XLIV, and also was the NFL's passing yards leader in 1996. At age 41, he decided to retire from the league.
Interesting Facts:
Super Bowl XLIV champion
1996 passing yards leader.
First ever QB for the Jacksonville Jaguars.
---
7. Earl Morrall
Age: 42
Team(s):  Detroit Lions, San Francisco 49ers, Pittsburgh Steelers, New York Giants, Baltimore Colts, Miami Dolphins.
Professional From:  1956 – 1976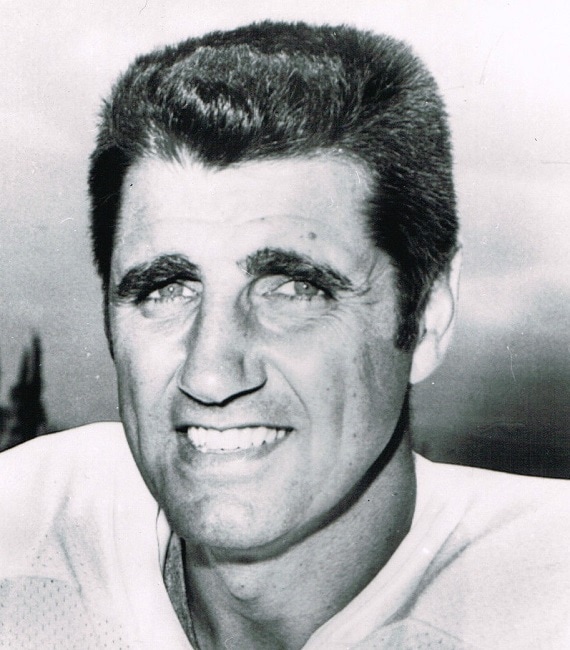 photo source:  Wikimedia Commons
After being drafted second overall in the 1956 NFL draft, Morrall probably didn't know that he was getting into a career which would span over 20 years. Playing both as a starter and a backup, he was probably most successful for his time as a backup. During the 1968 season after Johnny Unitas became injured, he led the team to an NFL championship and 13 – 1 record.
Interesting Facts:
3x Super Bowl champion (after merger)
One-time NFL champion (before merger)
2 Pro Bowl Selections
1968 NFL MVP.
---
6. Doug Flutie
Age: 43
Team(s): 
Professional From:  1985 – 2005
photo source:  Wikimedia Commons via Craig Michaud
One of the most impressive accomplishments of Doug Flutie's career came before he was even a professional quarterback. As we can see in the above video, Flutie also became well-known as one of the grandfathers of the "Hail Mary" pass.
As a player in the CFL, he would go on to win the championship three separate times before making a second return to the NFL. He would later go on to a Pro Bowl and become one of the oldest NFL QBs of all time.
Interesting Facts:
1984 Heisman Trophy recipient.
Played in the CFL and NFL.

Won the CFL Grey Cup three times.

1998 Pro Bowl Selection.
---
5. Vinny Testaverde
Age: 44
Team(s):  Tampa Bay Buccaneers, Cleveland Browns, Baltimore Ravens, New York Jets, Dallas Cowboys, New England Patriots, Carolina Panthers.
Professional From:  1987 – 2007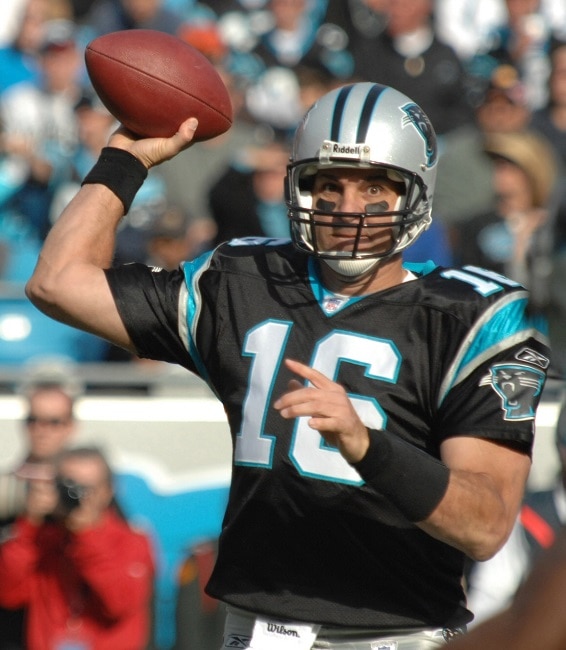 photo source:  Wikimedia Commons
Few QBs in NFL history have played for such a wide array of teams as Vinny Testaverde. Having a career that lasted throughout 21 seasons, Vinny Testaverde is one of the legends who dedicated the entire prime of his physical life to the sport.
Interesting Facts:
1986 Heisman Trophy Recipient.
NFL record holder for most consecutive seasons with at least one TD pass (21).
NFL record holder for the most separate players to throw a TD pass to (70).
---
4. Warren Moon
Age: 44
Team(s):  Edmonton Eskimos, Houston Oilers, Minnesota Vikings, Seattle Seahawks, Kansas City Chiefs
Professional From:  1978 to 2000
photo source:  Wikimedia Commons
Nobody except Warren Moon has had such tremendous success in both the CFL and NFL. After winning 5 straight Grey Cups with the Edmonton Eskimos, he eventually decided to switch over to the NFL.
After being selected to 9 Pro Bowls and holding several records, he became one of the oldest QBs in the NFL. At the age of 44, he retired from professional football.
Interesting Facts:
9 Pro Bowl Selections.
1989 NFL Man of the year and 1990 Offensive Player of the Year.
1990 NFL passing TD leader.
Won 5 straight Grey Cups in the CFL before going to the NFL.
---
3. Steve DeBerg
Age: 45
Team(s):  San Francisco 49ers, Denver Broncos, Tampa Bay Buccaneers, Kansas City Chiefs, Miami Dolphins, Atlanta Falcons
Professional From:  1976 to 1998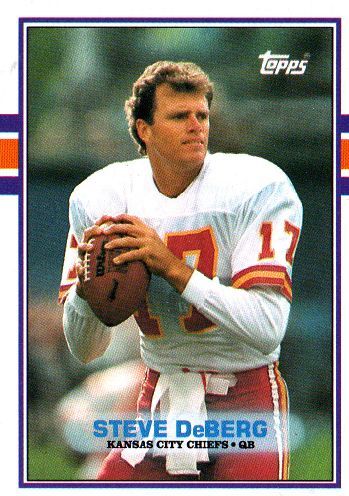 photo source:  Famous Fix
Steve DeBerg may not have a ton of Super Bowl rings, but after returning out of retirement in 1998, he became the oldest player to start in an NFL game after the merger. Although, to his defense, he is the oldest starting NFL QB who was well-versed in passing.
DeBerg only started one game in the 1998 season, but was eventually a part of the team that went on to compete in Super Bowl XXXIII, making him also the oldest ever player included on a Super Bowl roster.
Interesting Facts:
One of the best play-action QBs in NFL history.
At 45, is the oldest player ever included on a Super Bowl roster for Super Bowl XXXIII
Retired in 1993 before returning for the 1998 season as the backup for the Falcons.

Started one game in 1998.
---
2. John Nesser
Age: 46
Team(s):  Colombus Panhandles
Professional From:  1909 – 1921
photo source:  Wikimedia Commons – John is second from the left
Probably due to the differences in football culture during the 1920's, Nesser isn't widely recognized is a QB despite records illustrating that he lined up in the QB position up to his year of retirement in 1921.
Nesser played his last game as a starting QB on September 25, 1921, just months after his 46th birthday. Technically, the Panhandles were one of the NFL's first teams.
Interesting Facts:
Was the oldest QB in NFL history until broken by George Blanda
The oldest player in NFL history that was born in the 1800s.
One of a group of 6 brothers who played for the same NFL team.
Comes from a family with 12 children.
---
1. George Blanda
Age: 48
Team(s):  Chicago Bears, Baltimore Colts, Houston Oilers, Oakland Raiders.
Professional From:  1949 to 1975
photo source:  Wikimedia Commons
Although Blanda spent the majority of his late career as a backup QB, he was also a kicker. This makes him the oldest ever NFL QB, but not the oldest starting QB. He had once the great "honor" of being the NFL's leading career interception thrower until that record was eventually broken by Brett Favre.
Regardless, Blanda is not just the oldest NFL QB, but also the oldest player to ever play in the NFL. Playing all the way to the age of 48, it is difficult to imagine any QB ever breaking this record.
Interesting Facts:
Tied for most passing TDs in one game (7)
Holds the record for most seasons played (26)
Oldest player to play in the NFL.
26 professional seasons played.