Since 1966, the Super Bowl has been a major American tradition that has marked the end of every National Football League (NFL) season. Typically played in early February, the game is broadcast in more than 170 countries, and is more or less its own holiday.
Of the 50+ games played since the Super Bowl's beginnings, there have been several quarterbacks of winning teams that did not necessarily have youth on their side as they competed for the title, making their win that much more remarkable. Many of these quarterbacks finished their NFL career with the honor of a Super Bowl win; some even set records that stand to this day.
Interestingly, the oldest NFL players to win a Super Bowl are all quarterbacks – so we're about to run through the eight oldest quarterbacks in Super Bowl history to win the championship.
8. Bart Starr
Age during championship: 34
Team: Green Bay Packers
Date of win: January 15, 1967
Total # of Super Bowl wins: 2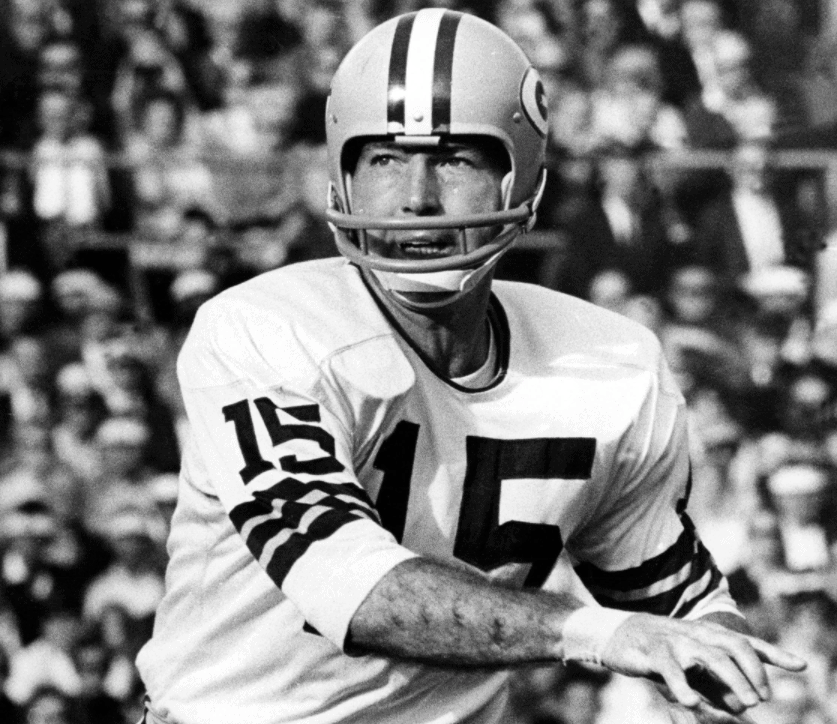 photo source: NBC News
The first quarterback ever to win the Super Bowl, Bryan Bartlett "Bart" Starr played for the Green Bay Packers in the first ever 1967 Super Bowl championship game. He completed 16 out of 23 passes that night, was named Most Valuable Player of the team.
Starr grew up in Montgomery, Alabama, and attended college at the University of Alabama. There, he met Johnny Dee, the basketball coach for the school, who was a friend of the Personnel Director for the Green Bay Packers. He signed with them for $6,500, with a $1,000 advance, and the rest is history.
Starr was known as "the best Packer ever" until Brett Favre usurped the title. He was inducted into the Pro Football Hall of Fame in Canton, Ohio in 1977.
Did you know?
Bart Starr originally quit his high school football team after just two weeks. He returned and continued with the sport after his father gave him the choice between being a part of the team, or working in the family garden.
---
7. Len Dawson
Age during championship: 34
Team: Kansas City Chiefs
Date of win: January 11, 1970
Total # of Super Bowl wins: 1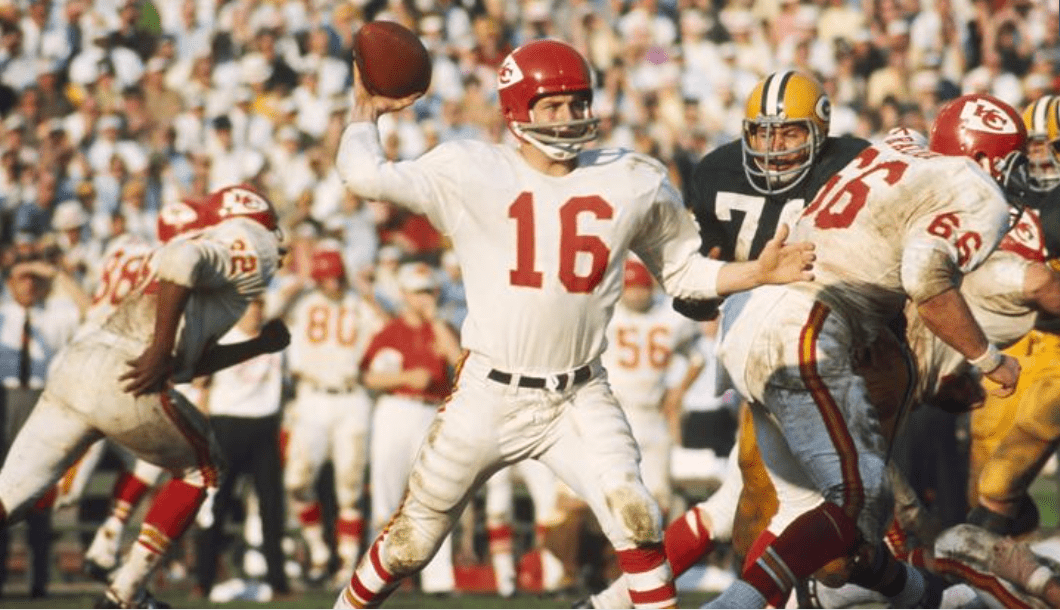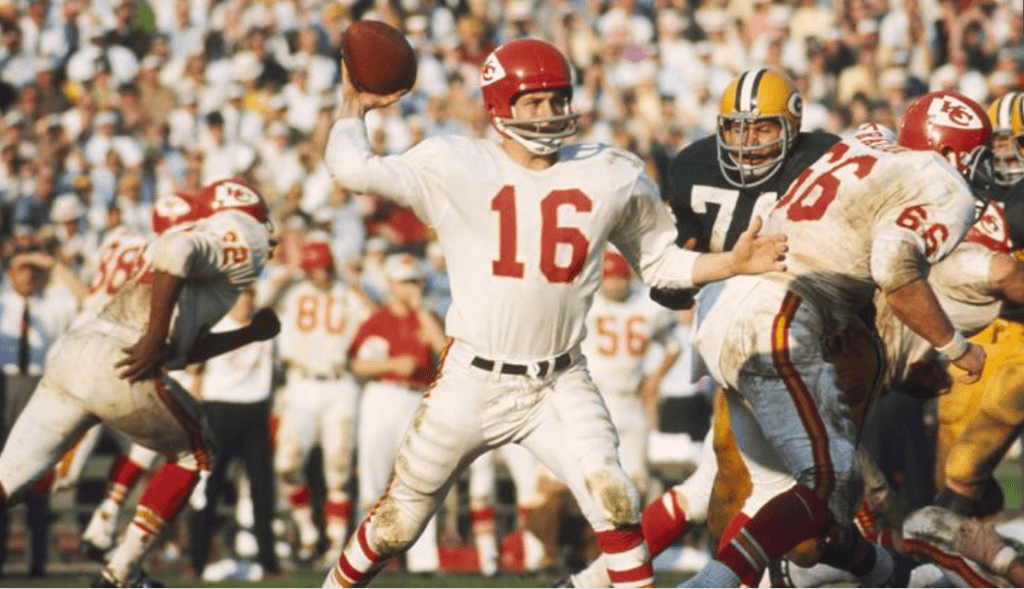 photo source: Kansas City Business Journal
Like his opponent Bart Starr, Len Dawson played in the first 1967 Super Bowl for the Kansas City Chiefs, but lost that initial championship to the Packers. He would go on to lead the Chiefs to victory in 1970 against the Minnesota Vikings. Dawson was 34 years old at the time.
Dawson carries several prominent titles and honors in the world of football, including a place in the NFL Hall of Fame (1987), NFL Man of the Year (1973), and NFL's Order of the Leather Helmet (2000).
Today, at 86 years old, Dawson hosts "Inside the NFL," which he has been doing for the last 22 years. For the last 16 years, he's also been a member of the Chiefs Radio Broadcast Team.
Did you know?
In 1991, Dawson was diagnosed with early-stage prostate cancer at the age of 56, but managed to get the disease under control. He has now been cancer-free for more than two decades.
---
6. Roger Staubach
Age during championship: 34
Team: Dallas Cowboys
Date of win: January 15, 1978
Total # of Super Bowl wins: 2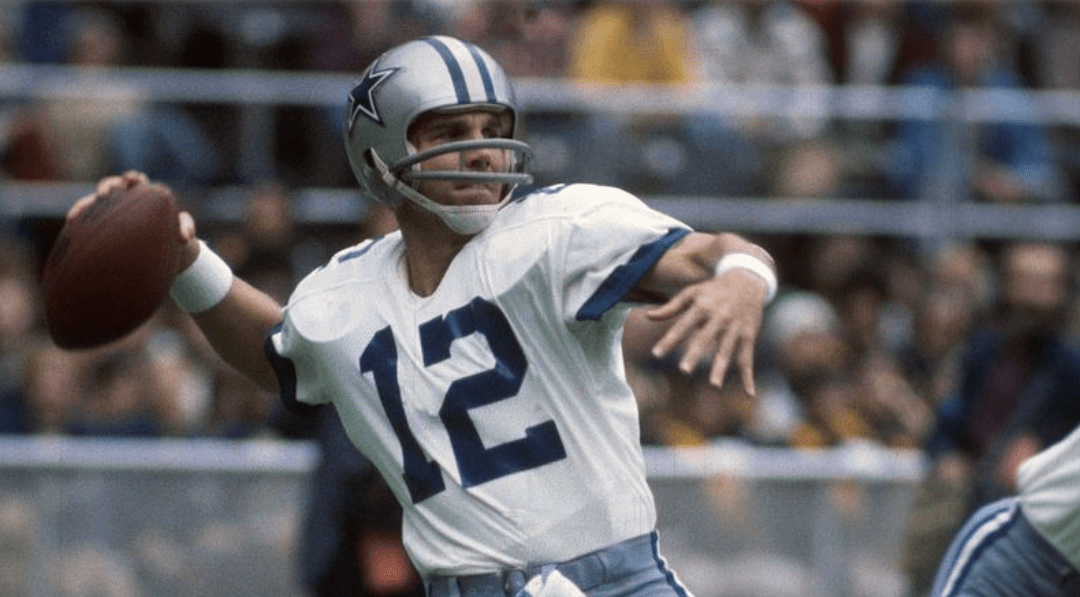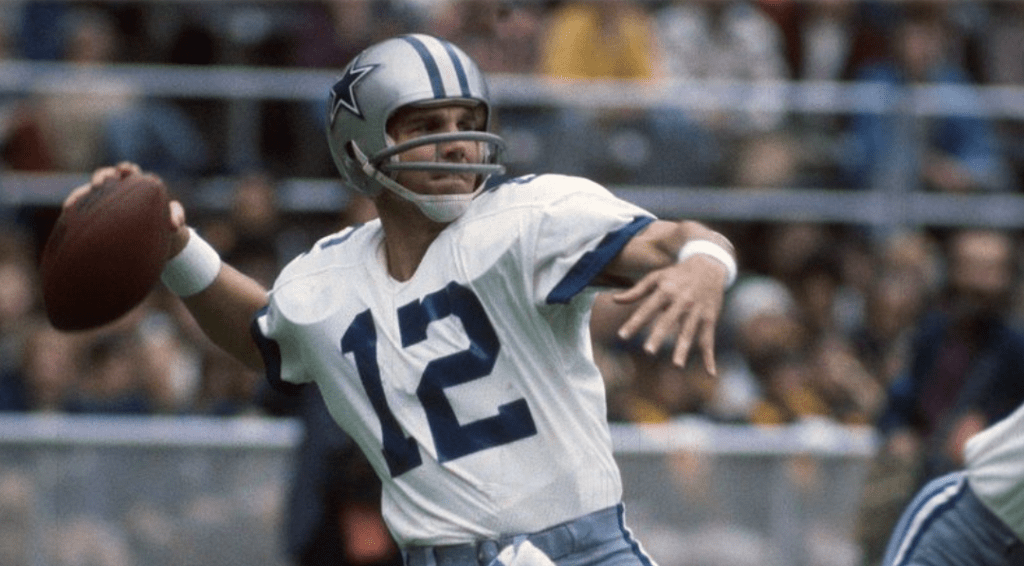 photo source: Sun Sentinel
Roger Staubach – also known as "Roger the Dodger," "Captain America," and "Captain Comeback" – won the Super Bowl Championship with Dallas Cowboys in 1978. He is regarded today as one of the most respected football players of all time, and the best football player of his generation.
Staubach grew up in Cincinnati, Ohio as the son of a salesman, and leveraged his love for football as an opportunity for college. At the Naval Academy, his coach, Wayne Hardin, deemed Staubach "the greatest quarterback the Navy ever had." He went on to play for the Dallas Cowboys after the 10th round of the 1964 Draft, with a delayed career in the sport due to his Naval commitments.
Did you know?
Roger Staubach is staunchly Catholic. Together with his teammate, Drew Pearson, he popularized the "Hail Mary" pass, telling reporters after his 1975 game against the Vikings: "It was a Hail Mary pass. I just threw it up there as far as I could."
His statement described a seemingly miraculous pass made during the last 24 seconds of the game, which the Vikings had appeared to win. Thanks to that "Hail Mary" pass, the Cowboys ended up scoring something of an impossible victory.
---
5. Jim Plunkett
Age during championship: 36
Team: Los Angeles Raiders
Date of win: January 22, 1984
Total # of Super Bowl wins: 2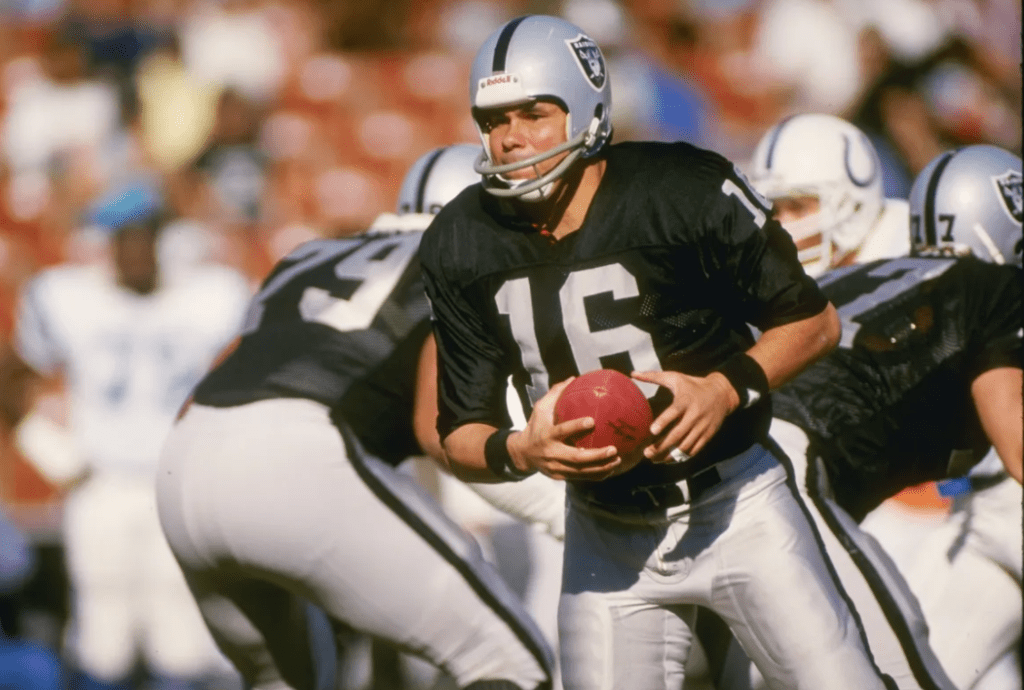 photo source: sbnation.com
Born in San Jose, California to Native American and Hispanic parents, Jim Plunkett played for the Los Angeles Raiders and carried them to the Super Bowl in 1984. Prior to signing with the Raiders, he had previously played for the New England Patriots and the San Francisco 49ers.
Plunkett is a graduate of Stanford University, where he won the Heisman Trophy in 1970. He was also the number one pick of the 1971 NFL Draft, and named the AFC Rookie of the Year by "The Sporting News."
Today, Plunkett resides in Atherton, CA with his wife, Gerry. Before retiring, his salary was $400,000 – $600,000 per year, and as of 2019 has a net worth of $10M.
Did you know?
The former NFL star and Super Bowl champ, now 69 years old, is currently suffering from Bell's Palsy as a result of prior football injuries – ten concussions, to be specific. As of 2017, he had undergone 18 surgeries in an attempt to alleviate his condition.
---
4. John Elway
Age during championship: 37
Team: Denver Broncos
Date of win: January 25, 1998
Total # of Super Bowl wins: 2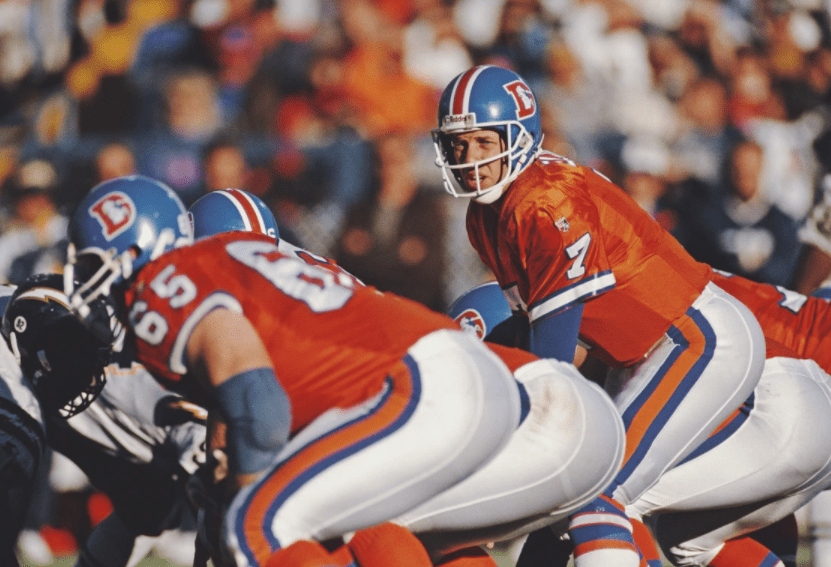 photo source: Today
16 seasons. 47 fourth quarter comebacks. 51,475 yards. 9 Pro Bowls.
…These are some of the stats of John Elway, former NFL player for the Denver Broncos. Like Jim Plunkett, the former quarterback of the Broncos graduated from Stanford, where he played college ball before going pro. He spent the entirety of his football career as a Bronco.
Elway is best known as a rusher of the ball, and is one of just two players to ever score a rushing touchdown in four different Super Bowl championship games. He is also one of two quarterbacks to retire immediately following a Super Bowl victory.
Did you know?
The most famous of Elway's comebacks occurred during the 1986 American Football Conference championship game against the Cleveland Browns. Elway scored a 98-yard touchdown for the Broncos during the final seconds of the game, which resulted in a tie between the rivals. His famous touchdown became known as "the Drive."
---
3. Johnny Unitas
Age during championship: 37
Team: Baltimore Colts
Date of win: January 17, 1971
Total # of Super Bowl wins: 1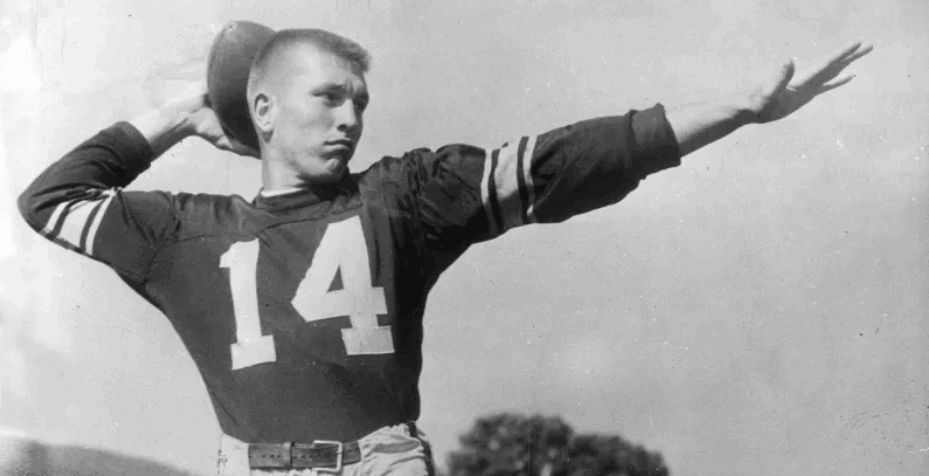 photo source: Pittsburgh Post-Gazette
Johnny Unitas had a long career in football – 17 years – that consisted primarily of his position as quarterback for the Baltimore Colts. He is considered to be one of the all-time greatest NFL quarterbacks, particularly after a 1958 victory against the New York Giants in the championship game. This game in particular greatly contributed to the NFL's rise in popularity.
Unitas started his career playing for a semiprofessional team for $6 per game while working construction jobs in Pittsburgh. He was signed by the Colts in 1956, when football was just becoming a major spectator sport in the U.S. He proceeded to play for 18 seasons.
Did you know?
Unitas failed to earn a football scholarship to the University of Notre Dame due to his smaller frame. At the time, he weighed just 145 lbs. However, he went on to play for the University of Louisville in Kentucky, during which time he grew to 6'1" and 190 lbs.
---
2. Peyton Manning
Age during championship: 39
Team: Denver Broncos
Date of win: February 7, 2016
Total # of Super Bowl wins: 2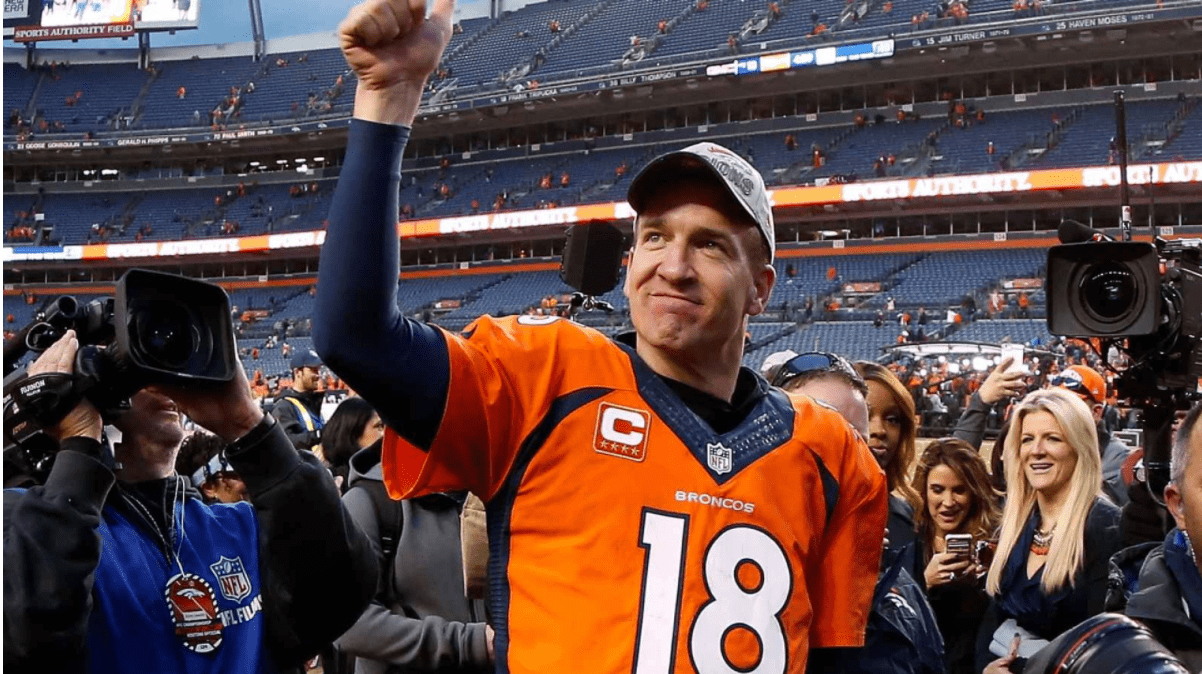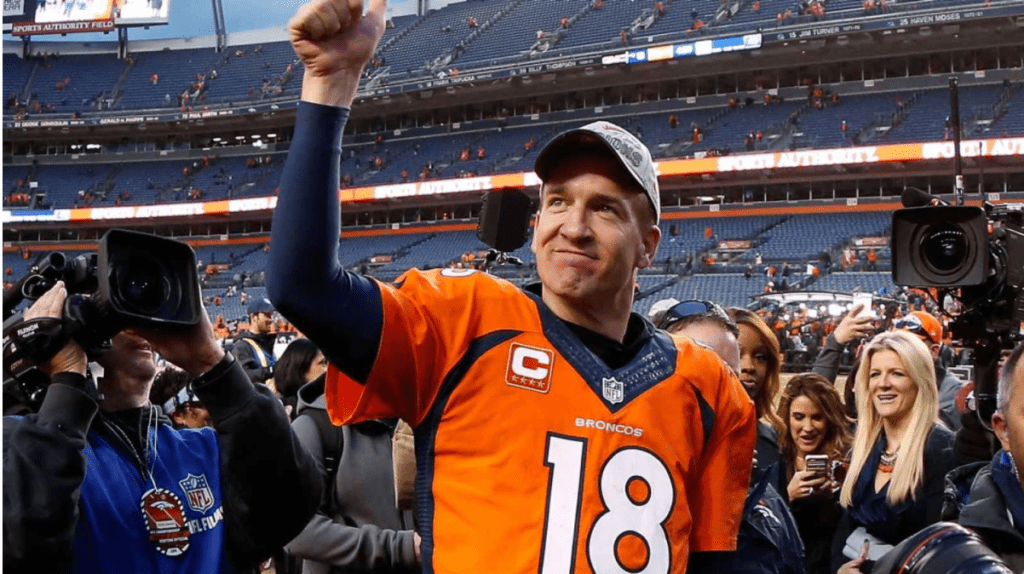 photo source: inc.com
At 6'5", 230 lbs., Peyton Manning had a long and successful football career as quarterback for the Indianapolis Colts and the Denver Broncos. He is considered to be one of the greatest quarterbacks of all time, and led both the Colts and the Broncos to victory in the 2007 and 2016 Super Bowl championship games.
Manning attended the University of Tennessee, where he was starting quarterback for four years. He also won the 1996 Sullivan Award for being the country's top amateur athlete, and was picked for first-team All-American in 1997.
Today, at 45 years old, Manning is retired from football, and runs the Peyback Foundation with his wife, Ashley. The foundation benefits disadvantaged children by providing leadership and growth opportunities for them, and is based out of Colorado.
Did you know?
Peyton Manning's personality is among the most magnetic compared with other major athletes. He is typically well-known among football fans and also those who do not follow the sport. Because of this, Manning is said to have achieved a level of popularity that few other football players have reached.
---
1. Tom Brady
Age during championship: 43
Team: Tampa Bay Buccaneers
Date of win: February 7, 2021
Total # of Super Bowl wins: 6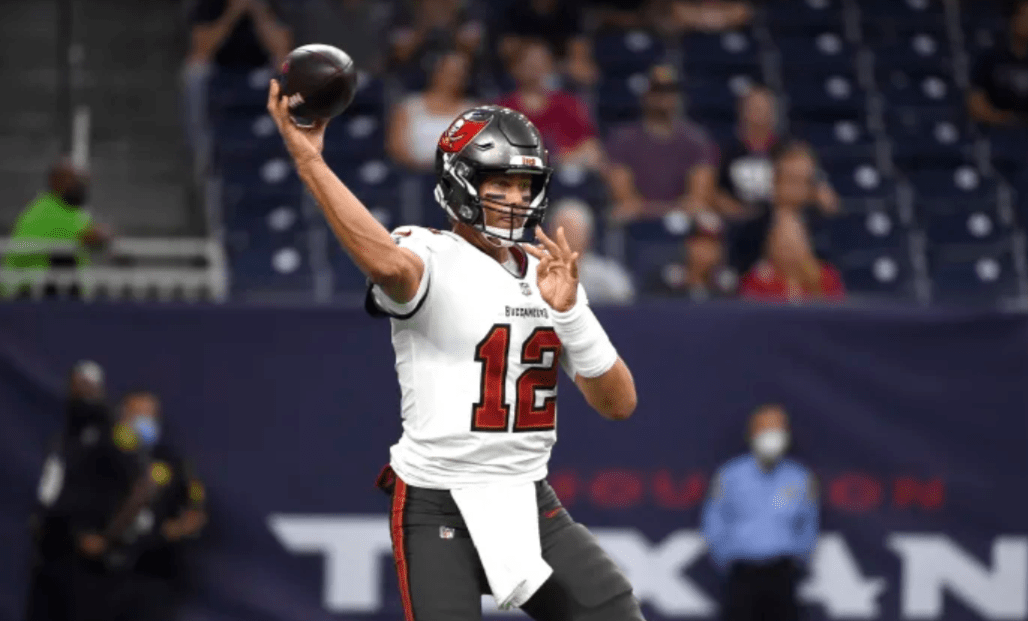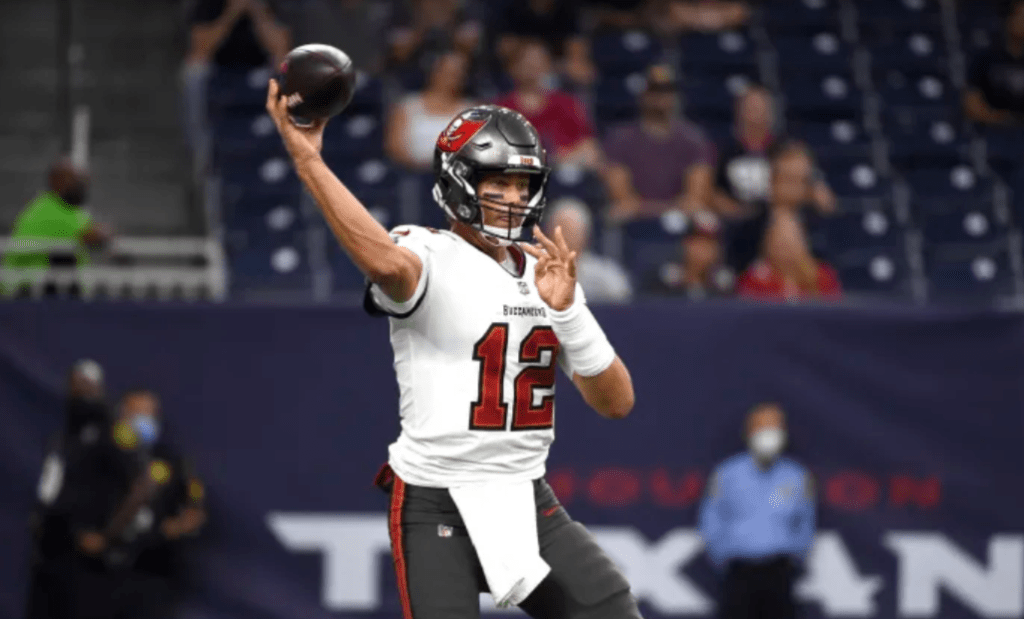 photo source: Yahoo News
Tom Brady is the oldest quarterback to win a Super Bowl.
With a career spanning 19 seasons, Brady is the engine that just keeps going – age hasn't gotten in the way (yet) of his passion for football. Best-known for being the quarterback with the most Super Bowl championship wins under his belt, Brady recently signed with the Tampa Bay Buccaneers, where he promptly went on to secure them a Super Bowl win.
The majority of Brady's career has been spent playing for the New England Patriots, with whom he signed in 2000. He allegedly left the Patriots to play for the Buccaneers because of their refusal to honor requested changes to his contract.
Tom Brady is now 44 years old, and plans to continue playing pro ball until he is at least 45; however, he did state that he feels he "owes it" to his family to retire soon. He is married to Brazilian supermodel Gisele Bundchen, and has three children.
Did you know?
Tom Brady is an all-around athlete, and is actually a very good baseball player. He was, at one time, drafted by the Montreal Expos as a catcher.
OTHER POSTS YOU MAY BE INTERESTED IN