The NBA, much like other professional sports, is a young man's game. Past the age of 26, you'll hear players being called the "elder statesman," or the "savvy veteran." The point here is that anyone who manages to keep their spot in the league for more than just a few years is a winner, and among the greatest to ever pick up a basketball.
But this particular list isn't just for those who just survived the league. It's for the ones
who, despite their seniority, achieved the pinnacle of individual success as the most valuable player in the league.
Stay right here as we take a look at eight of the oldest ballers to ever win an NBA MVP!
8. Wilt Chamberlain
Born: 08/21/1936
Team: Philadelphia 76ers
MVPs: 4
Age: 31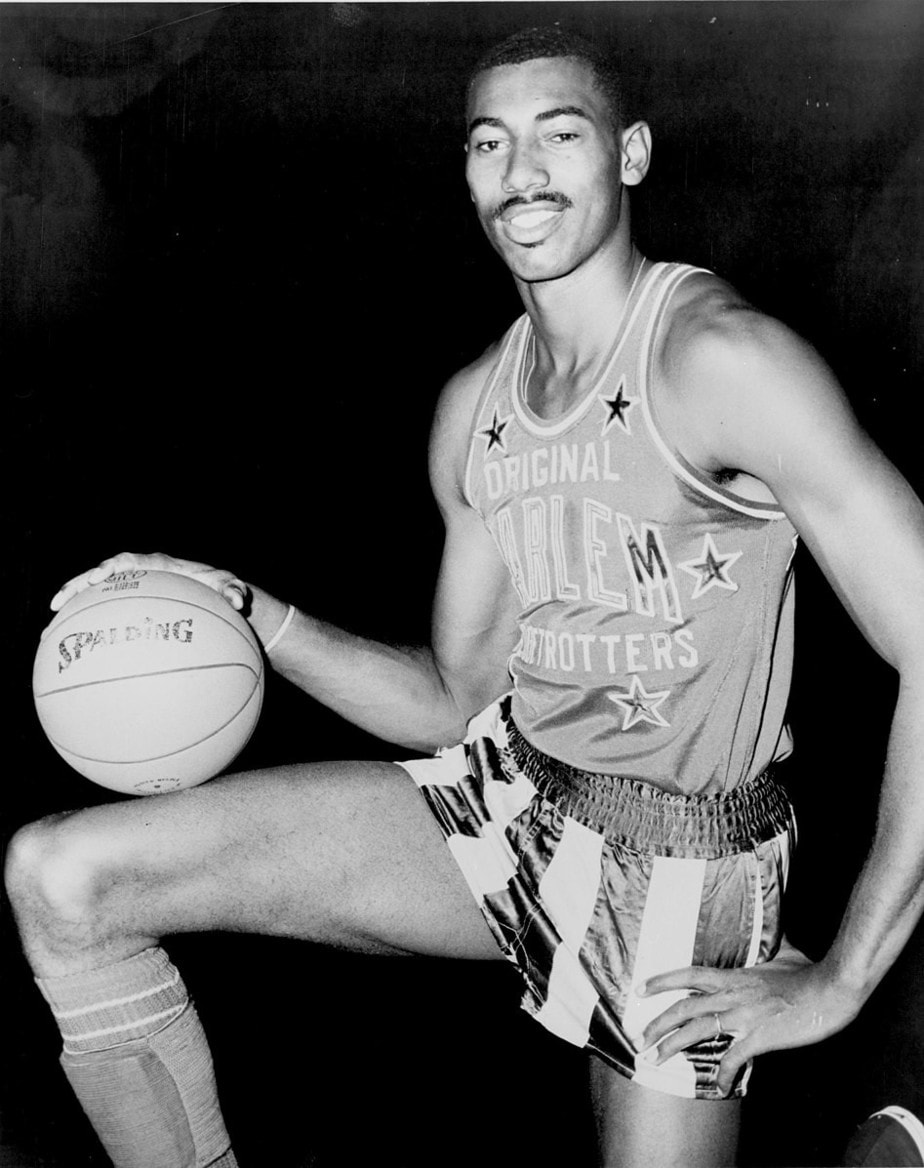 photo source: commons.wikimedia.org
Wilt Chamberlain touted a professional playing career from 1958 to 1973. He was a 2x NBA champion, Finals MVP, 13x NBA All-Star, and a 4x NBA MVP, but who's counting?
The record speaks for itself. He is regarded as one of the true legends of the game, and was an important ambassador. His name is mentioned practically every time the NBA is discussed.
His last league MVP came at the age of 31, just five years before his retirement in 1973. The Sixers also held the best record for the third consecutive season but lost in the playoffs, blowing a 3-1 lead to the Boston Celtics.
Did You Know?
Wilt was a Harlem Globetrotter. In his era, the NBA didn't accept new rookies until after their senior year in university was completed. To circumvent the rule and have a chance to play professionally, he signed with the Globetrotters in 1958 for $50,000.
---
7. Hakeem Olajuwon
Born: 01/21/1963
Team: Houston Rockets
MVPs: 1
Age: 31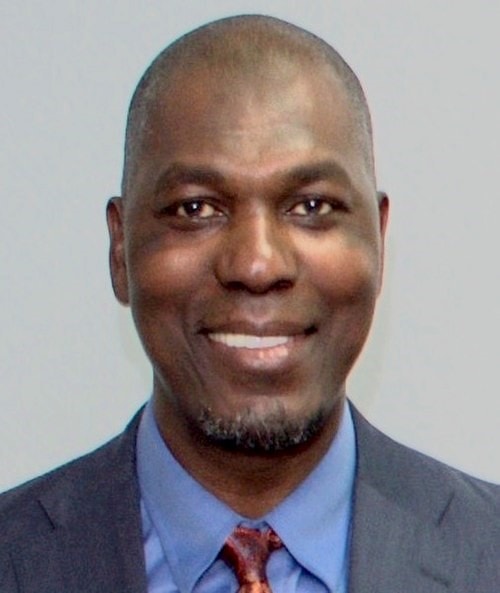 photo source: commons.wikimedia.org
Hakeem "The Dream" Olajuwon's playing career spanned from 1984 to 2002. He was a 2x NBA champion, 2x NBA Finals MVP, 12x NBA All-Star, and of course, an MVP.
Olajuwon won his MVP after Michael Jordan's first retirement. With the power void that Jordan left behind, Olajuwon seized the moment and claimed his place as the league's best in the 1993-94 season. League MVP didn't seem to quench his thirst, considering he had to embellish the resume with a Defensive Player of the Year and Finals MVP accolade in the same season. It was an all-time year for an all-time player.
Did You Know?
Though Hakeem was born in Lagos, Nigeria, he is as native to Houston as anyone born in the city itself.
Before being drafted to the Rockets, Hakeem spent his collegiate career playing for the Cougars at the University of Houston. His legacy as a Houston and NBA icon is cemented and immortalized.
---
6. Steve Nash
Born: 02/07/1974
Team: Phoenix Suns
MVPs: 2
Age: 31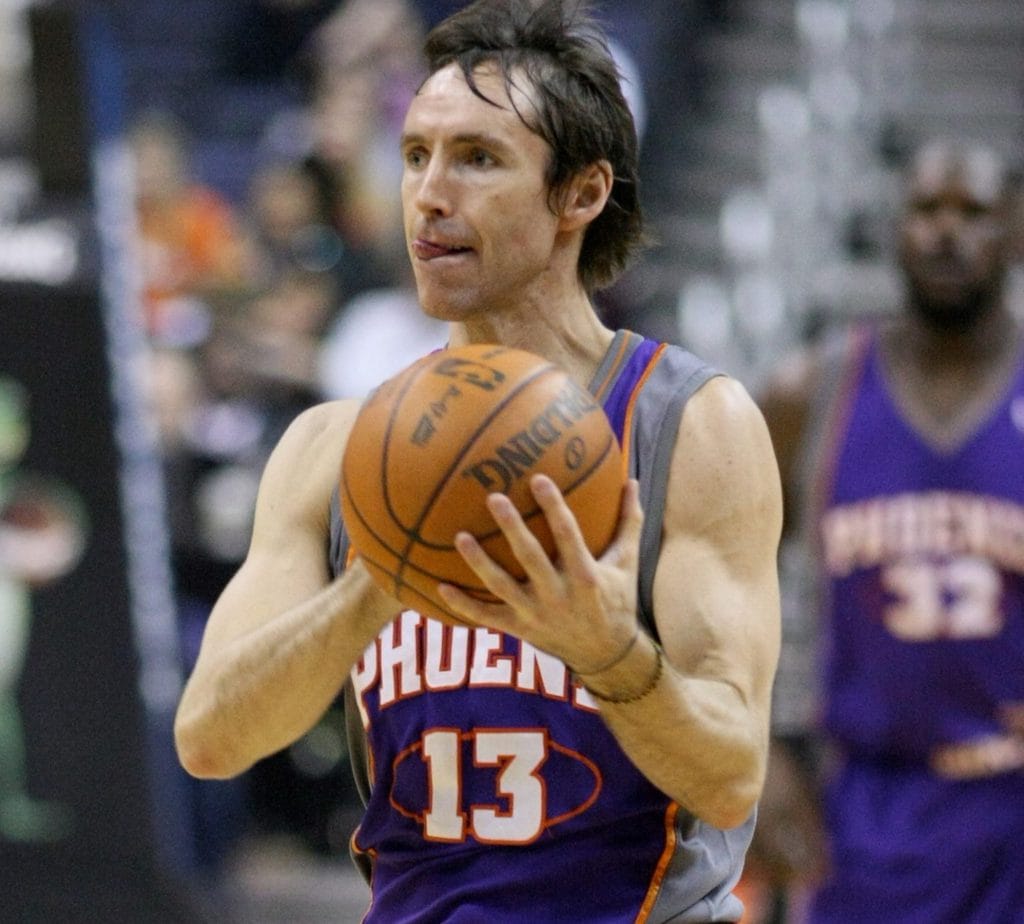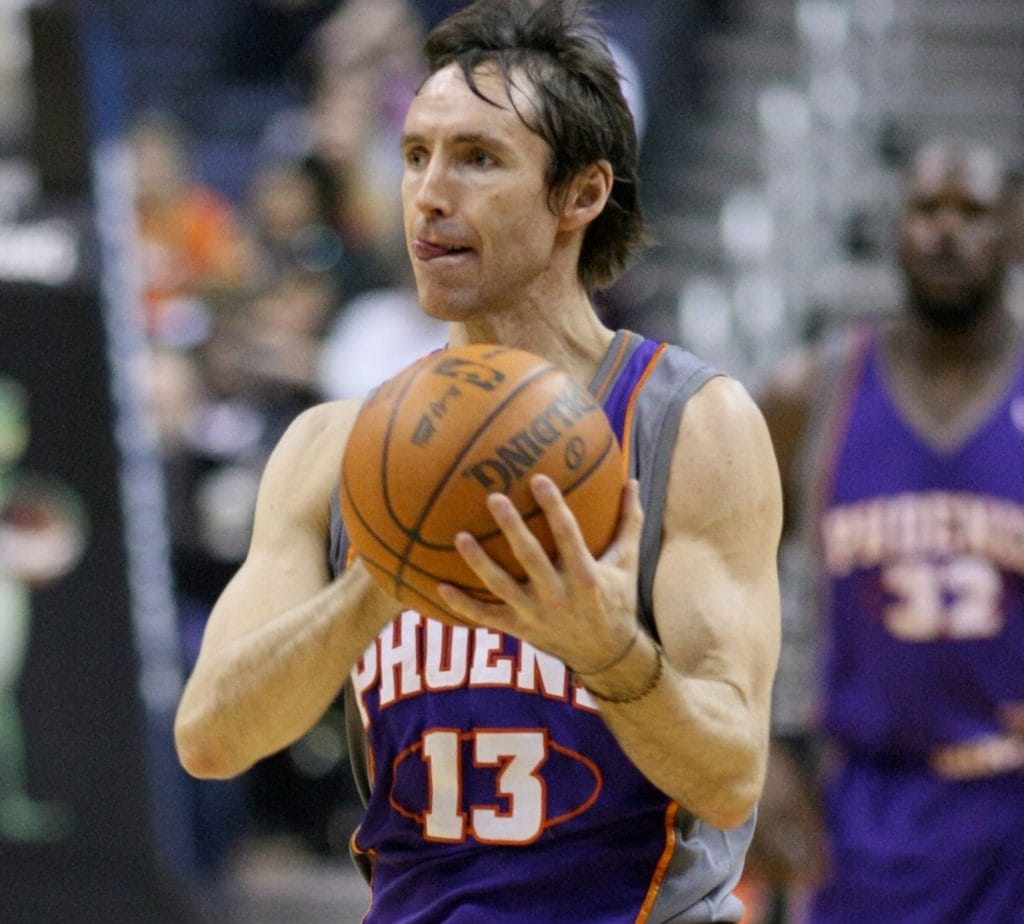 photo source: commons.wikimedia.org
Steve Nash's illustrious playing career went from 1996-2015. He was an 8x All-Star, 5x assists leader, and a 2x NBA MVP. He was also recently named to the NBA 75th anniversary team.
The Suns, led by Nash, were considered what the modern-day Warriors are now: high octane, entertaining, electric offensive output. Nash was the old-school Steph Curry, but with a mid-range focus as opposed to the long three from the logo. For that reason, Nash was named an MVP for a second time, following up last season's MVP honor at 31 years old.
Did You Know?
As of 2021, Steve Nash is the head coach of the Brooklyn Nets. For those of us who followed the game intensely and watched those famous battles between Kobe and Nash, it's no surprise that an expert floor general transitioned his talents into a head coaching gig in which he is excelling.
---
5. Kareem Abdul-Jabbar
Born: 04/16/1947
Team: Los Angeles Lakers
MVPs: 6
Age: 32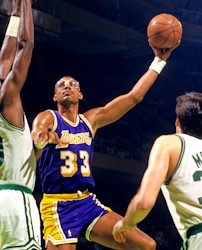 photo source: commons.wikimedia.org
Kareem was more than just a movie star fighting alongside Bruce Lee, and more than just a prolific writer in his post-career life. He also happens to be the greatest basketball player of all time (depending on who you ask and their generation).
Before becoming a Lakers legend, Kareem played for the Milwaukee Bucks. Though he quickly became a household name with his classic skyhook, it wasn't until he was traded to the Lakers that he became one of the greats. Kareem was later joined by the young phenom and rookie, Magic Johnson, marking the birth of the Showtime Lakers.
A 6x NBA champion, 2x NBA Finals MVP, and a 6x MVP winner, Kareem is the sole record holder for NBA MVPs.
Did You Know?
Abdul-Jabbar is a best-selling author. He's written numerous op-ed pieces, books, and provided social commentary on a broad range of topics surrounding the plight of African-American struggles, economic injustice, race, and religion.
---
4. Michael Jordan
Born: 02/17/1963
Team: Chicago Bulls
MVPs: 5
Age: 32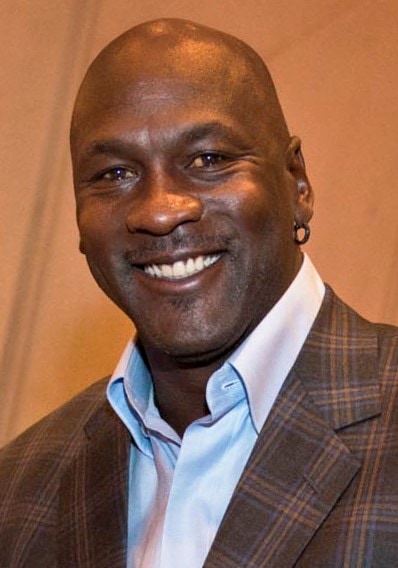 photo source: commons.wikimedia.org
It's Michael Jordan. Need I say more?
In case you were living under a rock, Michael is considered the greatest basketball player of all time. He is an undefeated 6x champion in the Finals, 14x All-Star, Defensive Player of the Year, and a Rookie of the Year.
At 32, this would be his fourth MVP award in the 1995-96 season, followed by an NBA Finals victory. It was a record-setting 72-10 season, only recently surpassed by the Golden State Warriors in 2015-2016 when they registered a 73-9 season.
Did You Know?
Jordan had a stint as a minor league baseball player for the Chicago White Sox. He famously stated that baseball was his first love thanks to his father, who tragically passed away in July of 1993. This served as the catalyst for him to take a break from basketball in 1993 and pursue his father's dream.
---
3. Karl Malone
Born: 07/24/1963
Team: Utah Jazz
MVPs: 2
Age: 33
photo source: commons.wikimedia.org
Karl Malone was the bruiser and muscle behind John Stockton and the Utah Jazz. He was a 14x All-Star, 11x All-NBA First Team, and a 3x NBA All-Defensive First Team member.
Coming off of his great performance en route to his second gold medal in the 1996 Olympics, Malone carried that rhythm over to the following NBA season. He registered an average of 9.8 rebounds and just over 27 points per game, with a record of 64-18 to show for it.
Did You Know?
Malone was brought on as director of basketball promotion and a conditioning coach for his alma mater, Louisiana Tech University. His jersey hangs in their rafters. Later, he returned to the Utah Jazz as a mentor and coach for the Center's position.
---
2. Michael Jordan
Born: 02/17/1963
Team: Chicago Bulls
MVPs: 5
Age: 34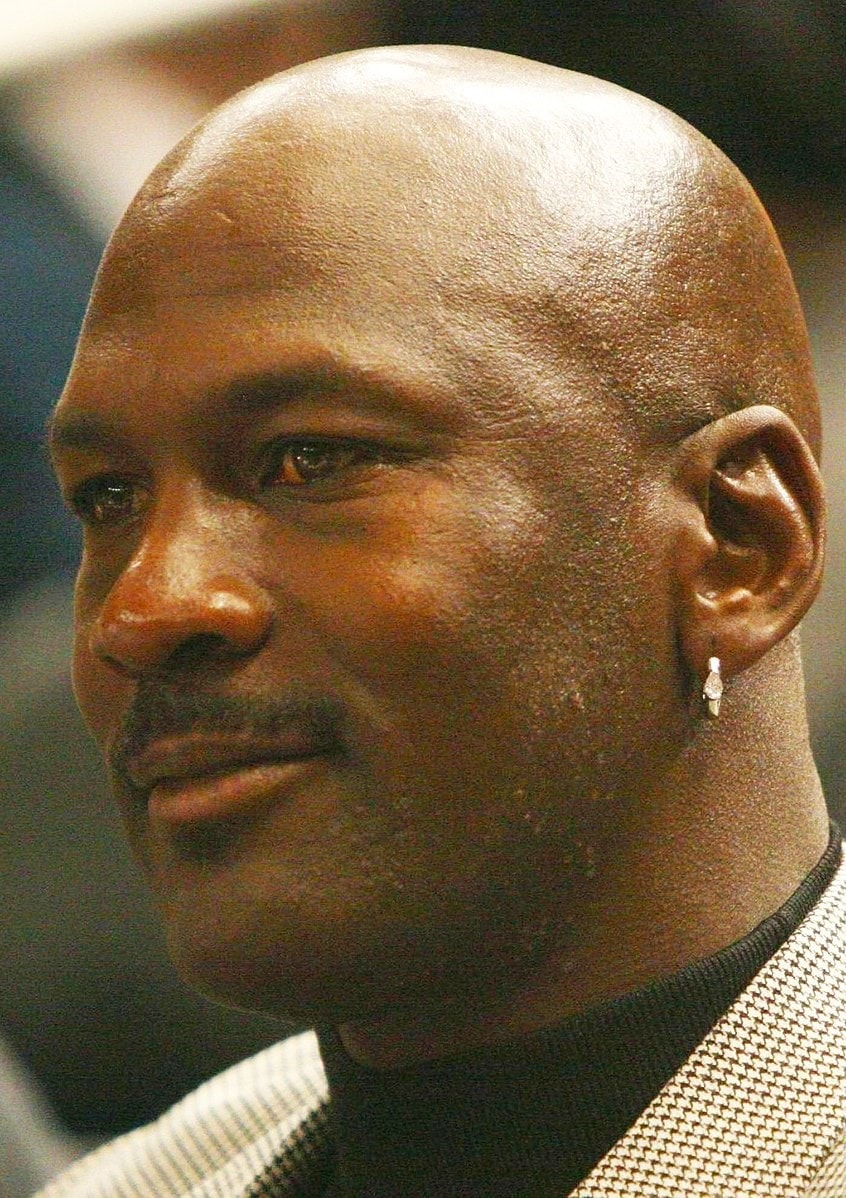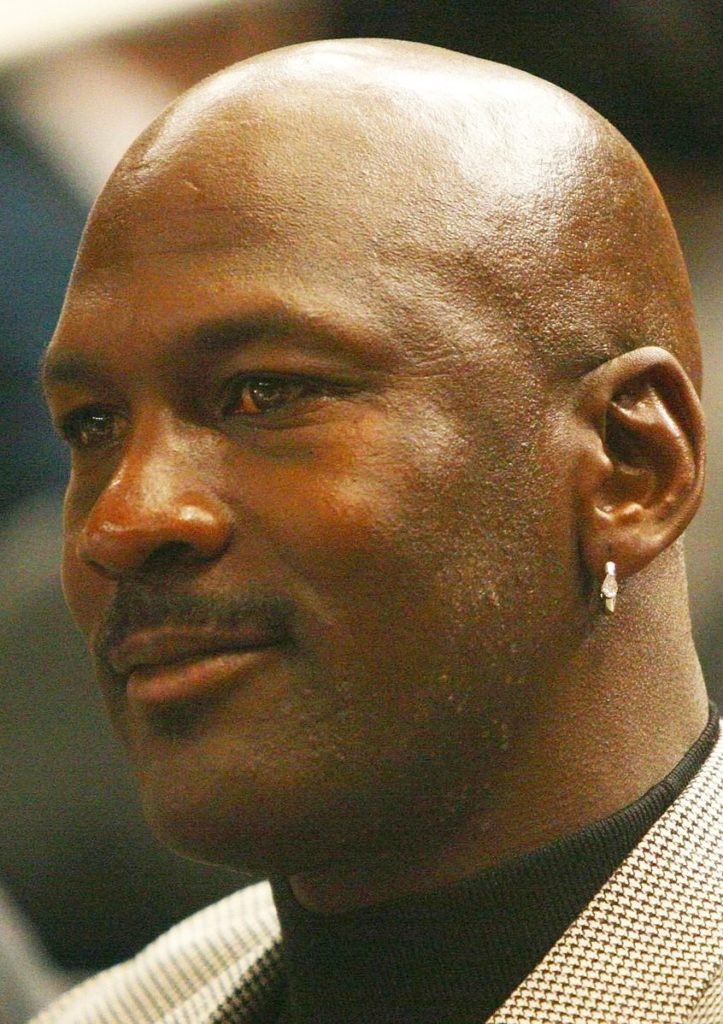 photo source: commons.wikimedia.org
Déjà vu? He's so nice, we just had to list him twice!
Michael Jordan answered Malone's MVP year with another of his own. This was after besting them in the NBA Finals the season prior.
Malone's Jazz and Jordan's Bulls met and lost yet again in a hard-fought six game battle. Jordan's sixth Finals win also marked his second retirement; his final season as a Chicago Bull was dubbed "The Last Dance."
Did You Know?
"The Last Dance" was covered in a Netflix documentary, eponymously titled, "The Last Dance." It chronicles Jordan and the Bulls' historic dynasty, woven together with never-before- seen footage and unique insights from the players themselves.
---
1. Karl Malone
Born: 07/24/1963
Team: Utah Jazz
MVPs: 2
Age: 35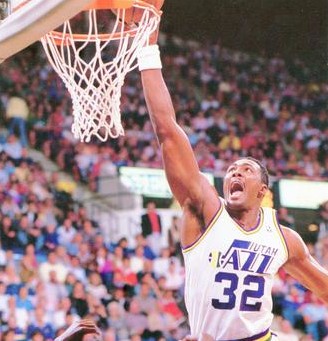 photo source: commons.wikimedia.org
Karl Malone is the oldest NBA MVP.
…There he is again! Though Malone was the recipient of those patented Michael Jordan beatdowns in the finals, his consolation prize is making it to the end of this list and being recognized as the oldest NBA MVP at 35 years old.
At 35, Malone notched an average of 11.3 rebounds, 4.7 assists, and nearly 22 points per game. Despite Malone not winning, his storied career is one for the record books. We'd be hard-pressed to imagine a player accomplishing what he managed to do at 35 years old. It's a real testament to his athletic prowess, gifted genetics, and maybe just a touch of luck to top it all off.
Did You Know?
Malone was quite politically active. He has donated to several Republican candidates, most notably George W. Bush during his 2004 reelection campaign. He also served on the Board of Directors of the National Rifle Association.