Cartoons, whether in print or on screen, have been children's companions for generations. The funny characters who enter homes and hearts usually have humble beginnings that contrast the billion dollar empires that now exist because of them. Cartoons show not only the potential for imagination and animation, but the ability to become something beyond what anyone could conceivably imagine.
12. Scooby Doo
Year Made: 1969
Creator: Fred Silverman
First Appearance: "Scooby-Doo"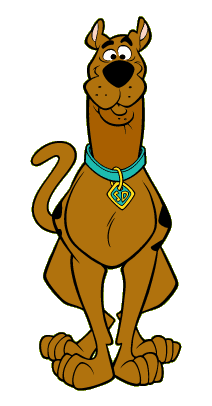 photo source: CBS
Scooby Doo, the iconic scaredy-cat talking dog, first appeared in the 1960s cartoon series "Scooby-Doo," along with the other members of the Mystery Gang and their classic Mystery Machine. The television series was produced in an effort to move from the more intense superhero genre into comedy. The basic formula in the original cartoon proved to be a hit with audiences and has remained unchanged ever since. Scooby Doo himself has also maintained his key characteristics, like his fearful personality, healthy appetite, funny voice and blue collar. Scooby has appeared in several television series, spin offs, films, and merchandise since his inception.
---
11. Speed Racer
Year Made: 1966
Creator: Tatsuo Yoshida
First Appearance: "Mach GoGoGo"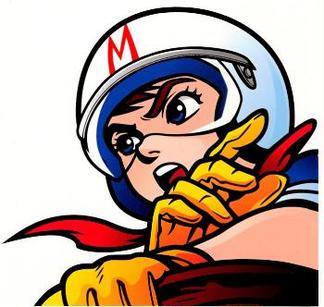 photo source: Tatsunoko Productions
Speed Racer is regarded for being one of the first Japanese animes to find success in America. The teenage racing prodigy first appeared in a 1966 manga entitled "Mach GoGoGo." The following year, an American production company gained the rights and produced the "Speed Racer" television series, which ran until 1968. The protagonist Speed Racer trains to become the best race car driver in the world, using his special car the Mach 5. He's helped by his family, including father Pops Racer, and girlfriend Trixie.
Speed Racer is known for his red, white and blue color scheme, which features on his helmet and race car. The cartoon's vibrant colors might have played a role in its popularity as color TVs began to replace black and white ones. He has remained in American popular culture and even had a live action movie in 2008.
---
10. The Pink Panther
Year Made: 1963
Creator: Friz Freleng, Blake Edwards and Hawley Pratt
First Appearance: "The Pink Panther"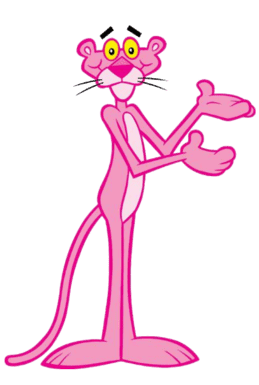 photo source: MGM Home Ent. (Europe) Ltd
The Pink Panther first appeared not as a standalone character himself, but as a symbol for a coveted pink diamond with a distinctive panther shaped crack that must be retrieved by French detective Jacques Clousseau. The opening credits feature the animated panther dancing along to the beat of the iconic Pink Panther theme by Henry Mancini. The Pink Panther saw great success as a film franchise and even got his own television series, which did feature the animated panther in the starring role. Most recently, Steve Martin took on the role of Inspector Clousseau in a 2009 live action film.
---
9. The Jetsons
Year Made: 1962
Creator: Hanna-Barbera
First Appearance: "The Jetsons"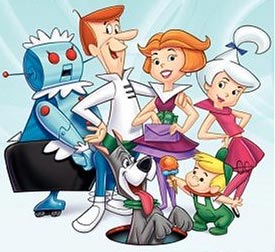 photo source: Universal Studios
The Jetsons family, who appeared on a television show of the same name, allowed audiences to imagine a future of robots and flying cars. A creation of cartoon giants William Hanna and Joseph Barbera, the Jetsons featured the day to day life of a family in 2062, their talking dog and their robot maid. They served as a counterpart to another iconic Hanna-Barbera series, the Flintstones. While the original show only lasted one season, the Jetsons remain an emblem of the 1960s and its fascination with the space race. They were revived in the 1980s, appeared in comics and video games, and even had a crossover TV movie with the Flintstones in 1987.
---
8. Alvin, Theodore and Simon
Year Made: 1960
Creator: Ross Bagdasarian Sr.
First Appearance: "The Chipmunk Song (Please Christmas, Don't be Late") / "The Alvin Show"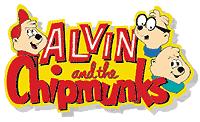 photo source: Bagdasarian Productions
While several other vintage cartoons had their start on a comic strip or animated short, the fictional anthropomorphic singers Alvin, Theodore and Simon made their debut in a song. "The Chipmunk Song (Please Christmas, Don't be Late") was an instant hit and the chipmunks moved to animation in 1961 for a television series (Along with several songs). Bagdasarian voiced all three chipmunks as well as their human caretaker, David Seville. Each chipmunk had a distinct personality. Alvin was the leader, Theodore the shy one, and Simon the smart one. After Bagdasarian's death, his son revived the chipmunks in the 1980s and they have continued to produce music, films, and TV specials as well as two live action movies.
---
7. Tom and Jerry
Year Made: 1940
Creator: William Hanna and Joseph Barbera
First Appearance: "Puss Gets the Boot"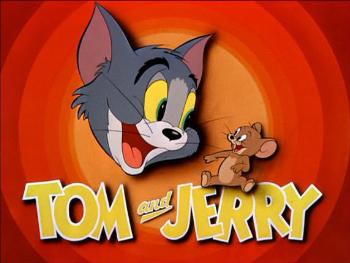 photo source: Warner Bros
Tom and Jerry first appeared in the 1940 cartoon "Puss Gets the Boot." After losing at the Oscars, Hanna and Barbera held a contest to revamp the cat and mouse characters. This contest led to the grey cat being named Tom and the brown mouse, Jerry. Tom and Jerry have seen several redesigns and imaginations in their looks and plot lines, but the general reverse "cat and mouse" theme remains the same.
Tom and Jerry also had a strong international presence as the series featured little to no dialogue, making it easy to translate and enjoy for a non-English speaking audience. They appeared in various shorts, had their own TV show, and have been revived for appearances in modern television shows and films.
---
6. Woody Woodpecker
Year Made: 1940
Creator: Walter Lantz, Ben Hardaway
First Appearance: "Knock, Knock"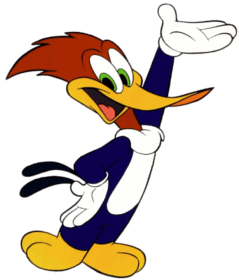 photo source: Walter Lantz Productions
Woody Woodpecker's popularity showed that the 1940s had an inclination for screwball comedy. Ben Hardaway, who also created Bugs Bunny, generated the original character for Walter Lantz's animation studio. Woody's design became simpler over the years throughout his many appearances in cartoon shorts and was established in a television series entitled "The Woody Woodpecker Show" in 1957. Lantz continued to produce Woody Woodpecker content until the 1970s, when his studio shut down.
---
5. Bugs Bunny
Year Made: 1938
Creator: Ben Hardaway and Tex Avery
First Appearance: "Porky's Hare Hunt"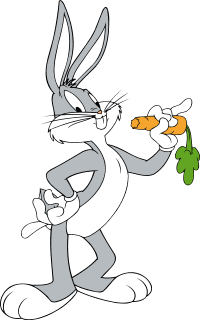 photo source: Warner Bros
Bugs Bunny was a collaborative effort from his creators, gaining his various signature characteristics, like his Brooklyn accent and sarcastic personality, from their different opinions on what would make him a star. Designer Chuck Jones, in particular, influenced Bugs' general storyline. Fearing that audiences would find the character annoying if he constantly had the upperhand in situations, Jones made other characters cheat Bugs Bunny so he had a justifiable reason to get back at them.
Creator and director Tex Avery developed his catchphrase "What's Up, Doc?" after a common Texan saying. The first standalone Bugs Bunny cartoon, which featured his nemesis Elmer Fudd, premiered in 1940 and earned an Academy Award nomination. Bugs Bunny has experienced continued fame, even starring alongside Michael Jordan in 1996 classic "Space Jam."
---
4. Betty Boop
Year Made: 1930
Creator: Max Fleischer
First Appearance: Dizzy Dishes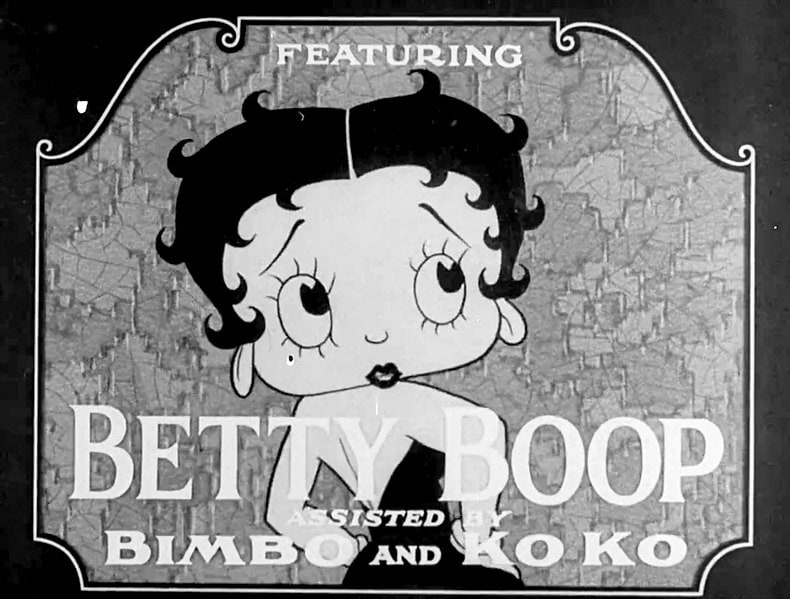 photo source: Wikimedia Commons – Public Domain
Betty Boop is one of the most beloved and controversial cartoon characters to date. Betty Boop's first appearance was as an anthropomorphic dog in "Dizzy Dishes" (1930). The year after, she was fully human, unique in her position as a standalone female cartoon character. Her design emphasized her sex symbol status and there remains a dialogue about whether or not Betty Boop is a stereotype or a feminist icon (or, perhaps, somewhere in between.).
Max Fleischer based Betty Boop on several popular flapper women, but she holds an uncanny resemblance to "Baby" Esther Jones, an African American singer. Unfortunately, Jones never received compensation for the use of her likeness in the cartoon as it's assumed she passed away before she could receive her lawsuit money.
---
3. Popeye
Year Made: 1929
Creator: Elzie Crisler Segar
First Appearance: Thimble Theatre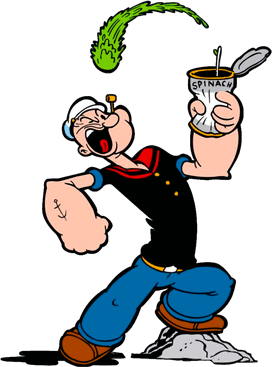 photo source: King Features Syndicate
Besides showing kids the importance of eating spinach, Popeye has become a timeless piece of American popular culture. He first appeared in the newspaper comic "Thimble Theatre" in the late 1920s. From there, he was in several cartoon shorts from the 1930s to 40s with his signature pipe and fighting attitude. He also had a comic book series that was published from the 1930s into the 70s, as well as a regular cartoon television series in the 1960s and 70s. In 1980, he got a live action feature film with Robin Williams as the lead.
---
2. Mickey Mouse
Year Made: 1928
Creator: Walt Disney
First Appearance: "Steamboat Willie"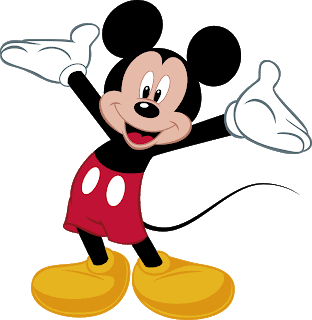 photo source: Disney Enterprises, Inc.
Although he's known for his bright disposition, Mickey Mouse was born of disaster. Prior to Mickey, Walt Disney created Oswald the Lucky Rabbit, who was meant to be his big star. Due to some licensing issues, Universal Distributor Charles Mintz took over Oswald's license and forced Disney back to square one. Disney designed a proto – Mickey Mouse, but failed to entertain audiences with his cartoon shorts. Finally, he struck gold with "Steamboat Willie," in 1928, which appeared as a short before a film. It was the first cartoon with synchronized sound and gave Disney enough funds to start his own company.
---
1. Felix the Cat
Year Made: 1919
Creator: Either Otto Messmer or Pat Sullivan
First Appearance: "Feline Follies"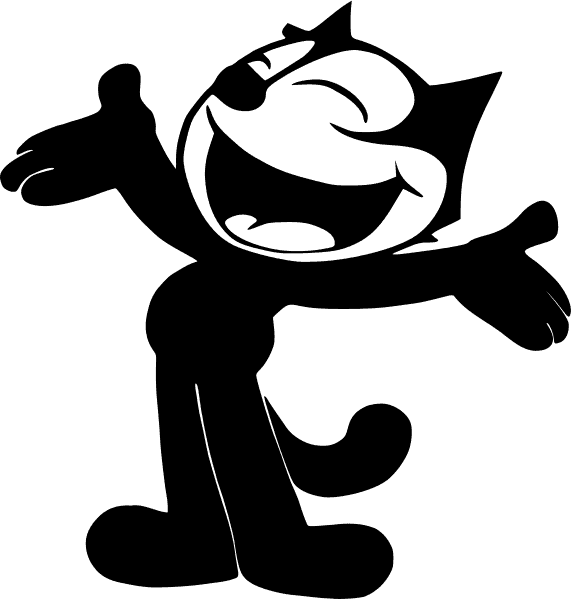 photo source: Wikimedia Commons – Public Domain
Nowadays, Felix is best known as the funky cat clock whose eyes and tail move back and forth. The world was first introduced to Felix the Cat in a silent animated short entitled, "Feline Follies." Characteristic of his silent film format, Felix's creators based him off famed silent actor and comedian Charlie Chaplin. After his debut, Felix became a popular newspaper fixture as part of a Sunday comic strip.
With redesigns and growing recognition, Felix went on to have his own television show from 1958 to 1962. Felix the Cat is considered one of the first animated icons and his consistent redesigns by cartoonists familiar with his history allowed him to adapt to over 100 years of pop culture enthusiasts, solidifying his celebrity status.
OTHER POSTS YOU MAY BE INTERESTED IN